MTB News & racing round-up for September 16, 2005
Edited by Steve Medcroft
Welcome to our regular round-up of what's happening in the dirt. Feel free to send feedback, news and gossip to mtb@cyclingnews.com
First women's freeride competition held in Canada
By Steve Medcroft
Over Labor Day weekend, Portland-based Mountain Cycle sponsored the first-ever women's freeride competition; the Slope Sistair Invitational in Hemlock Valley Resort, B.C., 100 kilometers east of Vancouver. Founded by freerider Stephanie Nychka, the all-female field was awarded points during competition runs for flow, style, air and tricks on a short downhill course near Whistler.
After two qualifying runs on Saturday, five finalists competed in two sets of two runs -- one set Sunday morning, the other Sunday afternoon – on a rain-soaked course that featured pink flamingoes, car jumps, gap jumps, and a curved wall. At the end of the day, Marcie Shatula of North Vancouver came out on top and walked away with a brand new Mountain Cycle Sin frame and a $1000 check.
"This event could not have gone better," Shatula said after the awards ceremony. "Especially considering it was the first one ever!"
"We all had such a great time… it was just amazing," said founder and 3rd place finisher Nychka.
Minneapolis-based Nychka created Slope Sistair as a venue for women freeriders to showcase their talent after she spent the summer riding in Whistler. Friends with Mountain Cycle-sponsored rider Kevin Landry, Nychka took the idea the Portland-based frame manufacturer. "We met Stephanie at Crankworks," says Mountain Cycle's Rob Linberg. "We were impressed with her riding and her passion for freeride." Linberg says his company jumped at the chance to become the event's inaugural sponsor.
Linberg says that he expects there will be a 2006 Slope Sistair with hopefully an expanded field. "It was a great event and a good way to advance the sport. Everyone wants to do it again next year."
Results
1 Marcie Shatula 
2 Sarin Black 
3 Stephanie Nychka 
4 Kara Boelema 
5 Kelli Sherbinin 
Haro fires Chris Sheppard
After his recent suspension by the Canadian Cyling Federation for testing positive for EPO, Chris Sheppard's sponsor Haro has fired the rider. Sheppard had raced for Haro Bikes for a total of 7 years and played an integral role in the research and development of Haro's mountain bike line.
"We're obviously disappointed with this news," said Jim Ford, Haro's President/CEO. "Chris has been a great ambassador for Haro and the sport of mountain biking for many years. Despite the serious nature of this situation, we still view Chris as a good person who made a bad mistake."
Keeping with Haro's zero tolerance policy when it comes to its athlete's use of banned performance enhancing drugs, Sheppard has been immediately released from his racing contract, the company said.
US MTB season climaxes at Mammoth
By Steve Medcroft
Jeremy Horgan-Kobelski wins XC in 2004
Photo ©: USA Cycling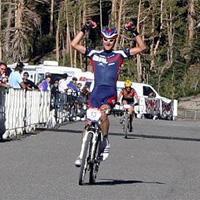 The U.S. mountain bike season comes to a close this weekend in Mammoth Mountain, California where for the second year in a row National Championships will be awarded in one-day pro/elite, semi-pro, expert, and junior expert category Downhill, Mountain Cross, Super D, Short Track, Cross Country and Marathon competitions.
Racing starts Thursday with the Marathon National Championship. Held on a 22.5-mile circuit, the three-lap fire road and single-track marathon course climbs 2,716 feet per lap. The men's race will likely be a battle between Chris Eatough (Ellicott City, MD) who won the NORBA National Championship Series and Jay Henry (Avon, Colo.). Henry beat Eatough in two NORBA marathons this season and even led the series at one point but sacrificed a chance at the NORBA series to compete in the Marathon World Championships the weekend of the mandatory NORBA series. In the women's marathon, it will be interesting to see who lines up to challenge two-time NORBA Series Marathon and 2005 U.S. 24 Hours Solo National Champion Monique Sawicki Calimesa, Calif.).
Racing ends Sunday's with Downhill competition. In the men's race last year's top two - Chris Del Bosco (Vail, Colo.), Duncan Riffle (Santa Barbara, Calif.) - should get their most serious challenge from twenty-year old Cody Warren (Haro Racing) who was the highest-placed American in the NORBA series in 2005.
Click here for the full preview
Gunn-Rita Dahle diary: A great winning streak
Another fantastic gold at the World Championships
Another rainbow jersey!
Photo ©: Rob Jones

We had a terrific day of World Championship action at Livigno on September 4. I was deeply moved when I received yet another World Championship gold and heard the Norwegian national anthem being played way up in the Italian Alps. We managed to win the main event of the year, and I'm very proud and honoured to be allowed to wear the rainbow jersey for yet another season. First of all, Kenneth and I would like to congratulate all our sponsors and partners with the latest win at worlds. You are all very important to the success that we've experienced this year, and we hope you're all as happy as we are. We are proud of what we've achieved together with our pro team, Multivan Merida Biking Team, and our personal sponsors, and we're really happy that we'll be working together for many years to come. It's Tuesday morning and the delight of having won is still very much there, and probably will be for a while to come. It takes time to digest such an incredible day as we experienced in Livigno. Hundreds of things happen in the time you're awake, but most of these things don't really make sense until later.
Read the entire Gunn-Rita Dahle diary entry here.
Crank Brothers rolls out U.S. Gran Prix of Cyclocross Series, Version 2.0
On the heels of a successful inaugural year, title-sponsor Crank Brothers has returned for a second helping of North America's most dynamic cycling series: the 2005 U.S. Gran Prix of Cyclocross Series. The six-race series, starting October 8 in Portland, Ore., will make stops in the thriving hotbeds of American cyclocross throughout the fall season, with the overall series champions crowned November 20 in San Francisco, CA.
"The great reception and great racing in last year's U.S. Gran Prix of Cyclocross series set the bar high," said Series Marketing Director Bruce Fina. "Together with the country's best promoters and visionary cyclocross sponsors, we are looking forward to an exceptional second edition of this national cycling series."
"The U.S. Gran Prix of Cyclocross is so valuable to us, that we wanted to be a part of it again the second year," said Christina Orlandella, Marketing Director of Crank Brothers. "We were so pleased with the outcome last year. Crank Brothers is happy to continue to support the sport of cyclocross as a whole."
The Crank Brothers U.S. Gran Prix of Cyclocross Series schedule for 2005:
Race 1: October 8 – Cannondale Stumptown Cyclocross Classic, Alpenrose Dairy, Portland, OR.
Race 2: October 9 – Rad Racing Gran Prix of Cyclocross, Ft. Steilacoom Park, Tacoma, WA.
Race 3: October 29- Michelob ULTRA Grand Prix of Gloucester #1, Stage Fort Park, Gloucester, MA.
Race 4: October 30 -Michelob ULTRA Grand Prix of Gloucester #2, Stage Fort Park, Gloucester, MA.
Race 5: November 19 - Surf City Cyclocross (30th Anniversary), Watsonville Fairgrounds, Watsonville, CA.
Race 6: November 20 - Clark Natwick Grand Prix, Golden Gate Park, San Francisco, CA
All six races will be held under UCI category and competition regulations. U.S. Gran Prix of Cyclocross Series leaders will be recognized at the conclusion of each event with leaders' jerseys.
Overall winners in the Elite Men, Elite Women, U-23, and Junior Men categories will receive automatic selection to the World Cyclocross Championships in Zeddam, The Netherlands, January 28-29, 2006. Master 35+ Men will also be ranked.
For complete U.S. Gran Prix of Cyclocross details, go to www.usgpcyclocross.com.
Whitmore's Landscaping Super Cross Cup two weeks away
New York's biggest cyclocross race is back for 2005, as the first UCI race weekend on the USA's east coast will take place in the east end of Long Island on October 1-2. The Whitmore's Landscaping Super Cross Cup will be a double race weekend this year, offering a UCI Class 2 event on Saturday and a UCI Class 1 event on Sunday. With a total prize purse of over $10,000 for the weekend, it has already started to attract national attention as some of the top riders in the country have already committed to come to Long Island.
Defending men's champion Mark McCormack (Clif Bar) will be returning with a repeat victory in mind, but his task is already becoming difficult with the attendance of current U23 national champion Jesse Anthony (Clif Bar) and Jeremy Powers (Jelly Belly/Pool Gel), who will be competing here before heading out to Europe for another campaign abroad. On the women's side, the California based Velo Bella squad is expected to make an appearance, including powerhouse Barbara Howe. Expect this list to expand as more announcements are made about additional riders coming to Long Island.
Spectators will also be treated to live music, food, and prizes during the weekend's races. "We are working with Pioneer Event Services to provide "Supafan prize packages" to the most outlandish, noisiest, fired up fan for each of Sunday's elite races", said Barley Dunne, technical coordinator for the series. Sunday will also feature Thyme & Again's world famous chili, and the hotly contested Circus-Man Ice Cream kids challenge, set to start before the elite men's race.
Racing begins Saturday at 11am and Sunday at 9am with beginner races, masters, juniors, and amateur men's fields offered in addition to the elite races. The races will take place again this year at the Southampton Youth Services facility, which provided a challenging and very demanding course to all of the riders that participated last year.
XC, DH Round 1 & MTNX Round 2, Glenorchy, Tasmania
Tasmania is set to host the only combined downhill, cross country and mountain cross event in the 2005/06 Australian National Series Mountain Bike Australia has announced.
Racers will have the opportunity to check out Australia's latest purpose built mountain bike park during the event. The Glenorchy Mountain Bike Park is only 15 minutes out from Hobart's city centre and was created with the help of world-renowned course designer Glen Jacobs. Think Sydney Olympics, World Cup, World Championships—Glen has designed over 150 courses in 17 countries, yet he calls this, "The most exciting project for years - the location, the tracks, the people. The place is set to become a major mountain biking destination. There is nothing else like it in Australia."
The Bike Park has been professionally designed by Glen Jacobs. The XC course is a 20 to 30 minute circuit with the start/finish area at the race village. The entire course should be negotiable for most experienced riders however there is no shortage of tree roots and rocks to keep racers on their toes. The Downhill starts at an elevation of approximately 400m and drops down to the race village 160m. The MTN-X course is located in the centre of the race village; six meters wide with multiple line options. Expect the lead to change often on this monster—Australia's biggest Mountain Cross course.
A huge event is in store, a professional commentator, timing contractor, lots of local support and a prize pool expected to exceed $10,000 including some awesome prizes and giveaways—like a Kona jump bike thanks to Treadlies bike shop and Kona.
The Australian National Mountain Bike Series. Round 1 Downhill & Cross Country races will be held October 29 and 30, 2005.
Launceston Mountain Bike Club 6hr
Missed out on the N-Zo 12hr? Then the Launceston Mountain Bike Club has just the thing - the LMBC 6-Hour endurance race is to be held at Four Springs on Sunday, September 25th.
Offering team and solo categories, the event is offering over $1000 in spot prizes and an all-day barbeque for fans. Register by email by the 23rd to save time or line up the fday of the race and register on site. Entry forms and further information can be accessed on the race's Web site at www.lmbc.com.au.
Construction begins on Sydney's new MTB venue
Construction is underway on a world class mountain biking facility close to the city of Sydney, with Olympic Park the venue for the $250,000 mountain cross course - the most expensive of its type ever to be built in Australia.
The course is also the most geographically central mountain bike facility in Australia, with most of Sydney's population located within an hour of the site. This is good news for mountain bikers, who would otherwise have to travel for upwards of an hour to reach other comparable riding destinations.
Work began one week ago, and will take a total of four weeks to be completed - on completion it will be open to all members of the public. It should be finished in time for the opening race in the national MTNX series, with the Bicycling Australia Mountain Cross event to be held on Friday 21 October, drawing many of Australia's top mountain bike riders returning from a season spent racing in Europe and the US. Nathan Rennie, former world champion and world cup winning downhill rider, will lead the line up of riders. However, you don't have to be a professional rider to take part, with the event open to all riders, from juniors to elite men's and women's categories.
For more information on all these events visit www.bicyclingaustralia.com.
Previous News Next News
(All rights reserved/Copyright Knapp Communications Pty Limited 2005)