MTB News & racing round-up for November 23, 2005
Edited by Steve Medcroft
Welcome to our regular round-up of what's happening in the dirt. Feel free to send feedback, news and gossip to mtb@cyclingnews.com
Marla Streb's Costa Rican Paradise
By Steve Medcroft
Marla Streb
Photo: © Beth Seliga

The four-hundred or so competitors in last week's La Ruta de los Conquistadores weren't the only top-level mountain bikers in Costa Rica. Former U.S. National Champion and self-proclaimed downhill goddess Marla Streb was spotted at the La Ruta sidelines. She was in Cost a Rica to scout locations for a planned mountain-bike vacation park.
"We got the idea last year while I was racing La Ruta," Streb said by email Tuesday afternoon. "It's so beautiful and there's something special about riding through the jungle with all the exotic animals and plants. There are plenty of dirt (mud) roads to ride. Unlike hiking, you can really get into the deep forest on a bike."
Streb says she and husband Marc Fitzgerald are planning to turn a parcel of forest and turn it into a mountain-bike destination. "Instead of a touring company, that takes the riders from point to point, we plan a lodge and private trail system in a hub and spoke format. We'll have private singletrack with some north shore style stunts in the rainforest. From the lodge location, there (will be) miles and miles of challenging dirt (& mud) roads and ocean views and easy beach access. The 4X4's get stuck all the time. It will be all-inclusive pricing that will include new model year high end full suspension XC bikes and pro mechanic support. Jungle night rides. Healthy and organic food, as well as the other kind ...fried. Daily laundry, bike wash, and body massage. Horses, surf and boogie boards, etc. I'll also conduct skills clinics and lead some rides but we want it to be self-directed; you can ride all day, or sleep on the beach all day. Accommodations will be in private jungle cabins, solar powered, as green as possible. Boutique in scale accommodating up to 20 guests for 3 to 5-day visits."
Streb says the park would cater to tourists from "the North American and European market. The idea is that we'll be open for riding during the winter season when most places are closed back home. We'd like to attract riders of all types from beginner to serious. Women and couples too. Anyone interested in adventure travel and eco-touring."
Streb and Fitzgerald have been working on the business plan for some time and have both settled on the general area for the park and put together some personal financing. "After we conclude the purchase of the property, I'll consider taking on some limited partners to acquire more land but right now we're looking at forming a non-profit to operate the park. I've also spoken with IMBA and they're really interested in using our park as a model for trail building for the rest of Costa Rica's national park system. We're also building a web site for marketing and sales."
Besides the land and forests, the park would take advantage of Costa Rica's human resources as well. "Part of the plan is to employ the local population and help out the local economy by using the forest's natural resources in a sustainable and ecological way. The trails and will be built (by locals) under IMBA (and my) supervision."
Streb says she hopes to have the park open for the 2006 winter season. Stay tuned to Cyclingnews for more information as it becomes available.
24 Hour MTB Nationals move to Wisconsin
After three years in Spokane, Wash., the 2006 USA Cycling 24 Hour National Mountain Bike Championships will move to Nine Mile County Forest, located five miles west of Wausau, Wis. Slated for July 29-30, the "24-9" or "24 Hours of 9 Mile" presents a mix of single and double-track events.
Nine Mile County Forest has hosted the race for seven years, though 2006 will be the first year the 24 Hours of 9 Mile has held the national championship distinction. "The 24-9 is the largest 24-Hour race in the Midwest," "said Kevin Eccles, event director. "We're excited to be hosting the national championships in Wisconsin and expect it to be a great event."
Riders will compete for championship jerseys in the junior four-person 18 and under, master four-person 30+, men's solo open, women's solo open, male open four-person and female open four-person categories. In addition to these categories, riders will also have the opportunity to compete in additional non-championship categories. Look for these categories and additional information to be listed on their Web site at www.24-9.com
Kirt Voreis

Race ready

Kirt Voreis with team-mates

Kirt Vories re-signs with Santa Cruz
Kirt Voreis has re-signed with the Santa Cruz Syndicate and will be the mastermind behind the Santa Cruz Syndicate Allride Tour. Voreis has had previous success with his Allride tour and will resume the tour under the banner of Santa Cruz Bicycles and the Syndicate. He will take his talents for racing, dirt and street comps, and filming and combine his competition travels with a demo program, as he travels the nation promoting the Santa Cruz brand.
Voreis says, "I want to continue to progress Santa Cruz Bicycles through as many avenues as I can. My goals are to generate more interest in mountain bikes as well as continue to progress the sport and develop products. Besides that, with Peaty, Rennie, Goldman, Waddell and Hendershot, it's going to be fun kicking everyone's butt this year!"
Voreis will travel with a fleet of Santa Cruz bicycles taking the bikes to Santa Cruz dealers around the nation. Santa Cruz's finest lineup will be loaded with Syndicate sponsored product such as the most up to date Sram/Rock Shox products on the market. Taking the bikes to the people and getting them out to ride on choice equipment will be a focus of the program.
"Having Voreis out in the trenches promoting the brand is invaluable to us at Santa Cruz Bicycles. Voreis is an amazing bike rider and personality in the sport. From filming to racing, dirt and street, and now the Santa Cruz Syndicate Allride demo program, Voreis will be covering a lot of ground for us. Were pleased to have him back onboard." says Rob Roskopp, owner of Santa Cruz Bicycles.
Look for Voreis and the Santa Cruz Syndicate Allride Tour at a location near you in 2006!
Atherton awarded Young Sportswoman
Britain's 17-year-old junior world downhill champion Rachel Atherton has won the Sunday Times Young Sportswoman of the Year award in a gala ceremony held at Old Billingsgate Market in London on Thursday, November 17. The awards honour outstanding achievement at every level of women's sport.
Atherton was up against nominees from mainstream sports such as football, cricket and netball, and was surprised to win. After accepting the award from Lord Sebastian Coe, who is not only a multi Olympic medalist but also Chairman of the 2012 London Olympic Games, Rachel gave an impromptu speech.
After the ceremony, Atherton said, "I was honestly in shock. This is a real surprise. I honestly had no idea that I would win. It is a real honour to be nominated against other such impressive sports women, such high profile sports, so I'm really happy for the sport that we got noticed this way. They showed footage of me racing in Fort William and then Lord Coe commented how different I looked all dressed up for the awards and not in my race kit! He was really interested in the sport and asked me lots of questions."
Full suspension for the big guy
By Steve Medcroft
Barry Wicks' Kona The King
Photo ©: Steve Medcroft

What's tall and fast and orange all over? No, this isn't one of those jokes you find in the Big Book of Gags for Seven Year Olds, but it is a trick question; one that has two answers. Because depending on what race you're watching, the answer could be Ryan Trebon or Barry Wicks, Kona's basketball team-sized pro mountain bike and cyclocross racers.
In cyclocross, the first orange alien you usually see is Trebon. After winning the U.S. Gran Prix of Cyclocross last year, he has come into the 2005/06 season in strong form, winning several times already and planning to head to Europe in December to take on the World Cup field. In 2005 NORBA mountain bike races, you were more likely to see Wicks though; especially since Trebon spent the last half of the season rehabilitating a wrist he broke on a crash during the International Tour de 'Toona..
These two riders present an interesting challenge for Kona engineers, one that any tall cyclist knows well; traditional bikes are not designed around riders well over six feet tall.
Read the entire Barry Wicks Kona The King pro bike review here.
Rockwell rages on: An interview with Myles Rockwell
Myles Rockwell
Photo ©: Red Bull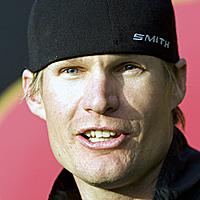 Red Bull's Road Rage event, held over the weekend of November 5-6, was a chance for mountain bikers and road riders to compete in order to see who could descend the fastest. The weekend's big winner was former downhill world champ Myles Rockwell, who won the time trial and pack race to take home $6000. But wouldn't that be small fry for a former world champ? Cyclingnews' Les Clarke finds out that being a retired downhill mountain biker isn't all about glamour, girls and maybe the odd bit of coaching.
After winning the world championship crown in 2000, Rockwell retired from professional downhill riding in 2002, with injuries during 2001 taking away his motivation to perform at the highest level. "When you're not healthy, it just doesn't feel very good; you just want to get better and I was kind of at the end, mentally, when I won world's in 2000."
Click here for the full interview.
Patently innovative: a look at the state of MTB suspension
Are design restrictions limiting the spread and development of suspended mountain bikes? James Huang looks at the major players, their designs and the way new entrants are innovating their way round existing patents.
Hardtails may not be dead, but I sure wouldn't consider the category to be terribly healthy as full suspension definitely ruled the mountain bike scene at this year's Interbike. True, hardtails are still lighter, simpler, and often just faster in certain situations, but for most of us, full-suspension is the way to go as it offers drastically improved control and traction, more comfort, and the ability to simply do things that just weren't possible before (or you didn't have to skills to do…). Much as front suspension revolutionized the sport back in the early 90s, rear suspension technology is changing the face of the mountain bike industry and there's clearly no turning back from here. In response to consumer demand, bike manufacturers have had to drastically revamp their off-road lineups to reflect this change in the marketplace.
The big players
Currently, rear suspension is dominated by just a handful of major designs, each of which has proven itself to work well in a variety of applications. These include the simple single-pivot as used by Cannondale and Foes; the related "faux bar" designs (as they do not incorporate a pivot in front of the rear axle and, hence, behave like single-pivot designs) such as from Kona; true four-bar linkages such as Specialized's FSR and Ellsworth's ICT; complex Virtual Pivot Point (VPP) systems as used on Santa Cruz's Blur and Intense's Spider XVP; and a few other less-common designs such as Maverick's Monolink system. All of these suspension geometries, save for most of the single-pivot and faux bar designs, are thoroughly patented, and the patent holders fiercely defend them. And rightly so as lots of money goes into the development of each of these systems and they're no reason whatsoever to give away that intellectual property for free.
Read part one of James Huangs' MTB suspension feature here.
Aussie XC national series #2 wrap-up
Adelaide's Chris Jongewaard was determined to claim first place in the National Series cross country round today in Nannup, Western Australia. The 26 year old now holds the lead position for the Commonwealth Games selection race in three weeks' time in Melbourne. "I had to get out in front," admitted Jongewaard.
"It went well for the first lap then I had a bit of trouble getting started," he said, adding, "Second lap was good and I just hung onto it until the end."
"The course definitely challenged me. I'm not too much of a climber," he said. "During practice I didn't think there was too much climbing but obviously when you race it it's different."
Click here for the full report & results.
Aussie Downhill series #2 wrap-up
Perth's Sam Hill dominated the second round of the National Series Downhill Sunday in Nannup, Western Australia. The world silver medallist won by a clear margin of 2.17.25 and also took out the fastest run of the day.
Hill, who helped to design the course was happy with how the course stood up to racing. "We did three runs today so the course didn't change too much throughout the day," he said.
Click here for the full report & results.
(All rights reserved/Copyright Knapp Communications Pty Limited 2005)