MTB News & racing round-up for November 9, 2005
Edited by Steve Medcroft
Welcome to our regular round-up of what's happening in the dirt. Feel free to send feedback, news and gossip to mtb@cyclingnews.com
Rennie nails his big jump - sort of
By Steve Medcroft
Rennie flies
Photo ©: Red Bull

On November 3, three hours outside the opal mining town of Cooper Pedy on the road to Oodnadatta, Australia, Nathan Rennie launched a Santa Cruz V-10 off a 12-meter ramp in an attempt to reach the world record bicycle long distance jump of 116 feet. For the attempt, being filmed by a crew for a 30-minute television special ostensibly called the Red Bull Mountain Gap, 2003 downhill World Cup champion Rennie was towed to the ramp by motorcycle at 96 kilometers per hour.
"Nathan just rang from the jump site at 5:45 Australian Eastern Daylight Time with news of his 121 foot record jump," Rennie's father Bruce said in an email on Friday. The jump has been classed as 'unofficial' by the Guinness Book of Records because of (a) crash on landing which has prevented any further attempts at this time."
According to his father, Rennie "flat landed the front wheel and 'blew up' three quarters of the way down the landing ramp. Nathan separated his shoulder and smashed his prized Troy Lee full face helmet, as well as sustaining cuts and bruising to most of his body."
Rennie is said to be in good spirits despite the crash. "(He) is elated with his effort and feels the setup could be used for much bigger jumps in the future," said his father. "After viewing the raw film footage, Nathan and the Red Bull crew were stoked with the jump, and are looking forward to putting together the half hour package for Red Bull on free to air T.V."
Photography
For a thumbnail gallery of these images, click here
Images by Red Bull
Steve Peat signs with Santa Cruz Syndicate
Steve Peat
Photo ©: Santa Cruz

One of mountain biking's worst-kept secrets has been confirmed as the Santa Cruz Syndicate team has announced that top British downhiller Steve Peat has inked a deal with the team. Peat will join the powerhouse squad of the Santa Cruz Syndicate to achieve the goal of world recognition in the gravity arena. The Syndicate alliance will support Peat for the next three years as the two-time UCI World Cup downhill champion continues his royal reign.
Peat said, "I am excited to be able to ride the Santa Cruz range of bikes, especially the V-10." On his web site, he added "I am very thankful to all at Orange [Orange Mountain Bikes England; his sponsor through 2005] for helping me win 2 World titles and numerous other races. It has been long and very hard for me to come to this decision but I truly think it is the best for my racing career. To have a professional race set up like Santa Cruz behind me is going to allow me to focus 100% on my racing. I am sad to leave Orange and would like to thank everyone there for making the last 4 years fun and supporting me at the races."
Nathan Rennie (L) and Steve Peat
Photo ©: Santa Cruz

Rob Roskopp, owner of Santa Cruz Bicycles said, "I'm excited we were able to get Steve to become part of the Syndicate. I aimed to create a group of powerful, talented riders and personalities. The addition of Steve will further enhance the program. I expect that Steve's incredible bike handling skills coupled with the V-10 will produce many wins. With Steve's years of racing experience I have no doubt he'll bring great insight into further developing future Santa Cruz products."
Peat will compete globally in downhill and 4X events which include: UCI World Cup Series, UCI World Championships, British National Championships, and select events in Europe and North America.
Photography
For a thumbnail gallery of these images, click here
Images by Santa Cruz
Rain promises hardest Ruta de los Conquistadores ever
By Rob Jones in San Jose, Costa Rica
Several mountain bike races contend for the title of the world's toughest off-road race. Australia's Crocodile Trophy has two weeks in the vast expanses of the Outback, with heat and dust to contend with; Canada's TransRockies offers a week in similar isolation, with serious mountains, while its sister event, Europe's TransAlp tackles the sheer steepness and hostility of the Alps. Then there's South Africa's Cape Epic, a week of taxing riding in some of the world's wildest country.
La Ruta de los Conquistadores, which starts Friday, November 11 may only be three days long, but it easily takes its place in the roster of world's toughest MTB races, and qualifies for the descriptor "epic". The stats are mind-boggling:
- 320 kilometres of riding
- over 9,000 metres of climbing, with the highest point at 3,100 metres
- riders from 27 countries and five continents
The race began thirteen years when ago Roman Urbina read about the Spanish Conqueror Juan de Caballon and his 20 years trip on the mountains of Costa Rica, in his attempt to explore the country. De Caballon's expedition started at the Pacific Coast and finished in the Caribbean. Urbina - a recognized Costa Rican athlete and adventure man - decided to emulate that long voyage himself.
Captivated by the histories of that Spanish general, he and another 34 brave adventurers started the trip across nine of Costa Rica's twelve microclimates. An adventure that led them to crossing the rain forest, volcanoes, high mountains and crystalline rivers.
Roman decided that such a trip had to turn into an annual competition and that's how La Ruta de los Conquistadores was born. It is now in its 13th year, and is the final event of what is becoming know as the annual "Grand Slam" of endurance racing: Cape Epic, TransAlps, TransRockies and La Ruta.
"More than a race, La Ruta is a personal growth journey. That's the difference with the traditional competitions of World Cup," explains Roman Urbina.
"There are some segments that cannot be traveled even in 4X4 vehicles or motorcycles. Imagine what type of event is the one that we organize! The competitors will not have any access to external support and must trust in their own tenacity and, in some cases, in the help of other competitors," adds Urbina.
This year Thomas Frischknecht (Swisspower) will attempt to become the first non-Costa Rican to win the overall title. Frischknecht is the first world champion (mountain bike and cyclo-cross) to enter La Ruta, and has won marathon World Cups. However, La Ruta is like doing three marathons back-to-back. Other pros on the start list include Americans Walker Ferguson and Jeremiah Bishop, and Spain's Alejandro Diaz de la Pena (Maxxis-MCS).
Costa Ricans make up the largest contingent of entries, with 193 riders, followed by the U.S. (107) and Canada (34). The top local hope is Deiber Esquivel, who won the Pan Am Championships in Mexico City only a few week ago.
Urbina explains that the locals take defending the title very seriously. "They work together as a team, and train all year for this race. Some riders will go out early, forcing the [foreign] riders to chase, and then another local will come by at the end."
An added obstacle this year could be the torrential rain that has been falling. Normally, it is dry at this time of year, but the record-breaking hurricane season (although further north) has extended the rainy season.
"If it keeps raining like this, it will be the hardest La Ruta ever." promises Urbina.
La Ruta de los Conquistadores 2005
Stage 1 - November 11: Garabito, Puntarenas (Pacific Coast) to Santa Ana, San Jose (Central Valley), 114.1 Km (70 miles) - Max. alt: 1,158 meters at Grifoalto de Mora - Total ascent: 4,526 meters (15,000 vertical feet)
Stage 2 - November 12: San Jose to Turrialba, 77.9 Km. (50 miles) - Max. alt: 3,010 meters (Irazu Volcano) - Total ascent: 2,729 meters (9,000 vertical feet)
Stage 3 - November 13: Turrialba to Moin Port, Limón, 126.4 Km. (80 miles) - Max. alt: 898 meters (Santa Teresita de Turrialba) - Total ascent: 1,785 meters (6,000 vertical feet)
NORBA 2006 announced
The 2006 U.S. NORBA National Mountain-Bike Series schedule has been announced. Starting later in the calendar year than the '05 season (in May instead of March), the calendar features a streamlined six races (vs. eight last year) and hits new venues in Los Angeles and North Carolina. The 2006 U.S. National Championships will be held in July in Mammoth Lakes, California; a schedule that brings the U.S. in line with the rest of the World's national championship calendar.
The opening round of the series is at Frank G. Bonelli Regional Park in San Dimas, Ca, between May 5-7. Less than 50 km east of Los Angeles, the season opener marks the return of the national mountain bike series to the state of California after the traditional stop in Big Bear Lake was cancelled in 2004.
After a month long break the series resumes with two consecutive weekends on the east coast. Sugar Mountain Resort in Banner Elk, N.C. hosts its first-ever national series event June 10-11 and is followed by a return to a familiar site as Mount Snow Resort in West Dover, Vt. hosts round three June 17-18.
The series then returns to Deer Valley Resort in Park City, Utah for round four July 8-9 before taking another brief hiatus. For the second consecutive year, the series then heads to Brian Head Resort in southern Utah for round five August 4-6 before heading to Snowmass Resort in Aspen, Co. for the series finale on August 12-13.
Stay tuned to Cyclingnews for a full analysis of the 2006 NORBA schedule.
2006 National Mountain Bike Series
NMBS # 1 - May 5-7: Los Angeles, CA
NMBS # 2 - June 9-11: Sugar Mountain, NC
NMBS # 3 - June 16-18: Mount Snow, VT
NMBS # 4 - July 7-9: Deer Valley, UT
USA Cycling Mountain Bike National Championship - July 20-23: Mammoth Lakes, CA
NMBS # 5 - August 4-6: Brian Head, UT
NMBS # 6 - August 11-13: Snowmass, CO
Looking back at the 3 Peaks: the Keith Bontrager diary
Keith
Photo ©: Phil Ingham

November 6, 2005 - It's been over a month since this race went down, and I have been pretty slack... errr... busy since. When I have time to write these things they tend to get longer. I am not sure if that is good or bad.
The bike biz and racing have taken me from Santa Cruz to North Yorkshire, to Utah and then spit me out in Costa Rica, all in a month. I am here for a few days, hiking a bit, and hacking along in very poor Spanish before I have to make a presentation to dealers in this country (in English unfortunately). There is finally time to catch up a little.
My temporary office is on the patio outside my $30/night room in La Fortuna, Costa Rica. La Fortuna is a backpacker's travel spot, simple, cheap and friendly. It would have been nice to work on my farmer's tan a bit in an attempt to smear the mid-thigh and upper arm transitions I've burned in with all the miles on the bike this year, but there are some storms raging right off the coast in the Caribbean that are, according to George W's crack team of Sunday Science advisors, NOT the product of the global climate changes that are NOT occurring because we are cranking up our own version of the earth's heater a bit too much... Never mind. Still it's the tropics, and it is warm enough.
Read the entire Keith Bontrager diary here.
Mountain biker dusts road cyclists as the fastest descender
Mountain biker Myles Rockwell
Photo ©: Red Bull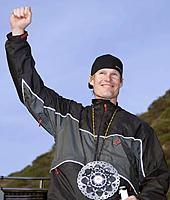 The ground shook in Malibu November 5th as many of the nation's best road cyclists and mountain bikers plunged down the legendary Tuna Canyon to determine once and for all the fastest descender at the inaugural Red Bull Road Rage, co-sponsored by Giant Bicycle and Avid Brakes. Mountain biker Myles Rockwell cleaned up, taking home first place in both the Time Trial and Pack Races. At 58 mph, the fastest speed of the day was awarded to David McCook as part of the Avid Brakes speed trap.
"It's nice to shut everybody up. Everyone thought it was going to be McCook or Lopes, but it's nice to be the underdog. I didn't really prepare in any special way. I did a couple of spin classes and that's it," exclaimed Myles after completing his winning time trial run in just 4 minutes and 24.7 seconds, earning the coveted crown as the fastest downhill descender. Not far behind was road cyclist David McCook.
See the full story, pictures and final results for the Red Bull Road Rage here.
Three World Champs to race Aussie National Series #2
Both the second fastest man and second fastest woman in the world will be riding in the National Mountain Bike Series on 19 & 20th November near Bunbury. Former World Champion downhiller, Sam Hill, silver medalist from this year's Livigno, Italy World Championships held recently in Italy will get to race in his home state for the first time since winning the prestigious title. Hill is also the current National Series Leader after dominating the first National Round in Tasmania in October.
The women's field has recently been bolstered by the entry of World Champion Silver Medalist, Sabrina Jonnier from France . Jonnier is currently ranked third in the World on the UCI rankings after a successful World Cup Series.
Joining the World class line-up is Junior World Downhill Champion, Amiel Cavalier from Woolongong. Cavalier missed a top placing in the first round in Hobart after injuring his leg in the final run.
Competitors will come from the east coast of Australia, Adelaide, Northern Territory and Tasmania. The second National Round of the Olympic sport, Cross Country, will be held on Saturday with the Downhill on Sunday.
(All rights reserved/Copyright Knapp Communications Pty Limited 2005)