MTB News & racing round-up for November 3, 2005
Edited by Steve Medcroft
Welcome to our regular round-up of what's happening in the dirt. Feel free to send feedback, news and gossip to mtb@cyclingnews.com
Twenty-four hours of cold and dark
Twenty-four hour races are supposed to be summer events, right? (Or at least held in climes where the idea of staying up all night riding a bike is a fairly pleasant proposition.) The team behind the Strathpuffer 24-Hour has taken this quaint notion and thrown it right out the window - Strathpuffer will be held on January 14-15 at Castle Leod near Strathpeffer, just north of Inverness, Scotland.
Cyclingnews tech ed John Stevenson remembers Grundig Series events at Strathpeffer back in the '90s, complete with long Scottish summer evenings. But in January, things will be reversed - Strathpuffer will feature a long Scottish winter night, with sunset about 4pm and the sun not peeking out until about 9am the next morning. And at this time of year, snow is not unlikely and it's certain to be cold.
For those hardy souls who are up to the challenge, the Strathpuffer 24 certainly looks like good value for money. Entry is just UKP24, which the organisers describe as "the best pain/price ratio ever". Quite.
For more information or (gulp) to sign up, visit the promoter's Web site: strathpuffer.co.uk
Rennie prepares for world record jump
Australian downhill rider Nathan Rennie is in final preparations for his world record jump attempt, travelling from Sydney to outback South Australia yesterday where the jump will take place. 'The Painted Desert', where the jump will take place, is three hours outside the opal mining town of Cooper Pedy on the road to Oodnadatta. Filming on a 30-minute special on the jump has already begun, with the jump scheduled for Thursday, weather permitting.
Rennie is attempting to jump in excess of 116ft, the current world record for a jump on a bicycle. A special 12 metre long, 3 metre wide ramp has been constructed and the 2003 world cup downhill champ will be towed into the ramp by motorcycle to reach the required speed for a successful attempt.
Seven Pan Am medals for U.S. mountain bikers
USA Cycling
The U.S. National Mountain Bike Team collected seven medals over the weekend – two of them gold – at the Pan American Mountain Bike Championships outside Mexico City.
Mary McConneloug (Chilmark, Mass.) rode to a Pan American Championship in the elite women's race to lead an all-American podium that included a silver medal performance from Kelli Emmett (Colorado Springs, Colo.) and a bronze medal effort from Willow Koerber (Ashville, N.C.).
"I was leading in the first lap and then flatted. Kelli, Willow and the Canadian rider passed me, and it took me awhile to get back on. Finally in the last lap I was able to pull ahead and get a little gap. I am thrilled with the win and I think this was a great cultural experience for everyone." McConneloug said afterwards.
Kona re-signs two time Crankworx winner
The Kona Bicycle Company has announced the contract renewal of slopestyle superstar Paul Basagoitia. Basagoitia, a Kona Clump Team Rider since 2005, BIKE Magazine's Breakthrough Performer in 2005's Video Awards for his performance in NWD 5 and winner of the Crankworx Slopestyle event two years running, is now contracted with Kona through 2007.
"I'm psyched to be back with Kona," said Basagoitia. "The main reason I chose to stay with Kona is because it's a really tightly knit company; everyone's really close. They're a great company to ride for, and a lot of fun."
Jake Heilbron, owner of Kona Bicycles, said of Basagoitia, "We're very excited Paul decided to stay with Kona. His consistent podium finishes prove he is among the best, if not the best, of today's freeride stars. Paul is a huge talent, and we're predicting big things from him in the future."
As well as riding and competing for Kona's Clump team, Basagoitia will collaborate with Kona's engineers and product managers to design a signature line of freeride equipment, using his experience at the top of the competitive circuit to help create high-performance gear.
"I'm stoked to be in on the design process," said Basagoitia, who has always been interested in product engineering. "I'm looking forward to working with Paddy White and Dr. Dew and make some really cool stuff."
Hans Rey launches Wheels 4 Life
Trials star Hans Rey - known for his spectacular displays of bike handling at shows and major races all over the world - has announced the launch of a non-profit charity organisation, Wheels 4 Life, that aims to help raise the standard of living of people in Third World countries by providing them with bikes.
"For many people, a bicycle can make all the difference to escape the vicious circle of the poverty trap," Rey said in announcing this charity. "I have travelled to almost 60 countries, and have met and sometimes worked with people who make much less than US$200 per year. Often they live in remote villages and the only form of transportation they have is their feet. It is often too long of a walk to get to a job, go to school or to the market to sell their goods."
"Wheels 4 Life will also support healthcare workers, nurses and doctors to enable them to be more mobile, allowing them to see more patients in less time. I'm working with local agencies, organisations, schools and healthcare groups to assure the bikes donated will end up in the hands of people who really need them. All of my work is on a volunteer basis, and I pay all of my own expenses while working for W4L. We will keep administrative costs to a minimum to assure that the maximum amount of money goes to purchasing bikes."
A donation of $150 will buy a person a brand-new 6-speed bicycle that is specially designed for the rural areas and has durable, easy-to-replace components. This price includes all shipping, duty and tax costs.
You can help Hans by donating to Wheels 4 Life through the organisation's website, www.wheels4life.org.
Spinner Aeris fork review: A knife-edged tool for the XC racer set
Cross-country racers are accustomed to choosing from just a few forks. Spinner's light but effective Aeris is one that deserves to be added to the range of options, according to James Huang.
The Aeris from Spinner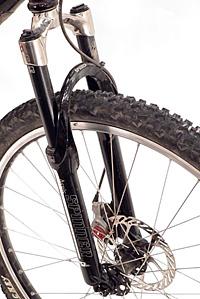 Spinner has been a huge OEM fork manufacturer for 20 years but isn't widely known as an aftermarket company. It began designing and marketing forks for the aftermarket about 10 years with a line of price-point forks stamped with the InSync brand, but these are unlikely to have made an impact on the consciousness of most 'serious' mountain bikers.
For 2006, though, Spinner is proudly selling under its own name and is aiming straight for the ultrahigh-end XC race fork market with the incredibly light Aeris.
Spinner uses a unique forged and polished titanium crown

Is my scale broken?
First things first: when I say "incredibly light", I mean it. My disc-specific test fork, with a 180mm steerer tube had an actual weight of exactly 1215 (2.7 lb), including a standard starnut. Okay, so it's not quite 1.1kg as advertised, but it's pretty close.
Many users will end up with less steerer tube anyway and will come closer to hitting that mark. Either way, that's an impressive figure no matter how you look at it, but when you consider that the fork is fully featured with 80mm of travel, reasonably-sized 28.6mm stanchion tubes, and 'stable platform' damping, that number holds even more significance.
As expected, a lot of effort went into reducing the chassis weight. The lower legs are cast magnesium, the crown is forged titanium (yes, titanium), and the upper legs and steerer are both made from a Scandium alloy. Even all of the aluminum bolts and fittings are drilled out like crazy.
Read the entire Spinner Aeris review here.
Previous News Next News
(All rights reserved/Copyright Knapp Communications Pty Limited 2005)