MTB News & racing round-up for August 31, 2005, part 2
Edited by Steve Medcroft
Welcome to our regular round-up of what's happening in the dirt. Feel free to send feedback, news and gossip to mtb@cyclingnews.com
Alison Dunlap Interview; Ending an Era
Photo ©: Rob Karman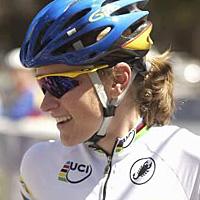 By Steve Medcroft
Three-time US National Cross Country Champion, 2001 World Mountain Bike Champion and two time Olympian Alison Dunlap (Luna Chix), ended her NORBA National Series career with a win in Mount Snow on Saturday. After a decade of racing during which she won a host of titles, the 36-year-old American left the sport in the best way possible. Cyclingnews' Steve Medcroft spoke with Dunlap about the end of an era and her plans for life after racing.
Dunlap has said she wanted a NORBA National win during her final season to feel like she was going out on top, and although she had podiumed in four 2005 NORBAs before Mount Snow, Dunlap had only this one last chance to win. The Luna Chix rider slipped into the lead ahead of Willow Koerber (Subaru - Gary Fisher) after the end of the first of three six-mile laps and never looked back, winning the race in front of family, friends, and the mountain-bike community she has given so much to in the past decade; a fitting finale to her NORBA Nationals career.
Dunlap is now one race away from ending a cycling career that started with road racing in the mid nineties. She took up cycling after being cut from her Division A Colorado College soccer team, and became the only female member of the school cycling club, winning the women's National Road Racing Championship in her senior year.
After placing 37th at the Atlanta Olympic Road Race, she met professional mountain biker and future husband Greg Frozley and soon switched her attention to mountain biking. The rest, as they say, is history. Dunlap went on to win NORBAs, US National Championships, Pan Am Games, World Cups, a World Cup Championship and, ultimately, the 2001 UCI World Championships in Vail, Colorado.
Cyclingnews: Knowing that your career is coming to a close, how were you feeling coming into this weekend?
Alison Dunlap: I've been mentally getting ready all season for the day when I'm done so I've been sad at every race I do - I think about how I'm never going to do that one again or that I'm never going to be at Mount Snow again. Or last week, I was like "thank God, I'm never going to be in Snowshoe!" But at the same time it's been really exciting to go do these races. So I would say that I was excited coming to Mount Snow but I'm definitely ready to be done with the season and done with my career.
Read the entire Alison Dunlap interview here.
Tech update: Carbon MTB wheels from Bontrager
Bontrager carbon MTB wheel

In our tech news section a couple of days ago we featured some prototype carbon fiber wheels from Bontrager that one of our spies had spotted at the Snowmass NORBA round. We dropped Keith Bontrager a line to get more informaiton, but he wasn't able to get back to us before our publication deadline.
KB has now got back to us to say, "Those wheels are very early prototypes, nothing more. The idea is to get a feeling for what happens when pros, rough singletrack, and carbon rims mix. Testing the water..." So anyone who was excited about getting carbon rims for their racing MTB should calm down.
Bontrager did spill a bit more detail though, in response to our questions about weight, rotor fixing, spokes and tubeless compatibility. "The rims are actually a little heavier than the lightest aluminum rims we can make, though they are lighter than the current tubeless Race X Lite rims," he said. "he hubs can go whatever direction we choose (probably Center Lock given the recent trends). There is no sound technical reason for plain gauge spokes. These are just quick and dirty for now.
"The rims are not tubeless ready at the moment, though the race team guys can set them up without tubes using the usual work-arounds. They will eventually be tubeless.
"As these things go, eventually may be a while off."
In the Pits at NORBA
With the season's end approaching, there was a fair bit of new stuff in the pits at the final round of the NORBA series at Mt Snow this weekend. Here's a quick look at some of it.
Travis Brown's Trek 69er proto

Travis Brown's 69er
Trek pro Travis Brown wheeled out this extremely unusual singlespeed with different sized wheels at Mt Snow.
Brown says he really likes the handling characteristics of mountain bikes with 700C (aka 29in) wheels, as well as the superior ability of the bigger wheels to roll over obstacles. But he prefers 26in wheels for their light weight and quicker acceleration. To get the best of both worlds, then, here's the 69er, with a 26in rear wheel and a 29in up front.
There's more - See the entire In the Pits at NORBA report here.
Top Pro Cyclists make time for Juniors at screening of 'Pro'
Movie screening benefits the NorCal High School Mountain Bike League
August 29th, 2005 (Berkeley, CA) – This week top professional cyclists are in town preparing for America's toughest bike race, the Barclays Global Investors Grand Prix in San Francisco this coming Sunday. The start list includes Tour de France stars George Hincapie, Ivan Basso, and Freddie Rodriguez. Meanwhile, a handful of pro racers are going out of their way to support local junior bicycle racers at an exclusive screening of the feature film called 'PRO,' which documents the 2004 Wachovia US Pro Championship race and benefits the NorCal High School Mountain Bike League.
Pro athletes Freddie Rodriguez (Davitamin-Lotto), Michael Sayers (HealthNet-Maxxis), and Erik Saunders (Mcguire-Langdale) will be greeting fans and signing autographs prior to this epic cycling film by Jamie Paolinetti.
'PRO' is showing on Saturday, September 3rd, 7:00 PM at Wheeler Hall on the UC Berkeley Campus. Director Jamie Paolinetti will introduce the film and answer audience questions. Tickets are just $10 and kids 15 and under admitted free. More info at www.norcalmtb.org or call (510) 325-6502. Advanced ticket purchase is recommended. Parking available at Milvia and Bancroft.
The Nor Cal High School Mountain Bike League is a non-profit organization open to students from both public and private schools. The league provides coaching and camaraderie to help students achieve both competitive and non-competitive cross-country mountain biking goals in a safe and enjoyable manner. The next season of events begins with a Coaches Training Conference in December, beginner riding camps in February, and the six-race series commencing in March. For more information and/or to organize an informational meeting in your town visit www.norcalmtb.org.
Wildside MTB opens registration for 2006
Wildside, the four-day, seven-stage mix of mountain bike endurance racing and recreational tour based on Tasmania, celebrates its fifth birthday in 2006. Over $25,000 of product will be given away to the 300-rider field during the event. The cash prize pool includes $1,000 to the overall winners and a 'Dash for Cash' event.
During the four days of Wildside, riders covers 140km of competition and 60km of cruising on some of the best tracks from the mountains to the sea through one of the most diverse, wild, and spectacular landscapes in Australia – Tasmania's west coast. The event starts near Cradle Mountain on January 28th, 2006 and finishes in Strahan (two of Tasmania's adventure and tourism icons) on the 31st.
Run under the MTBA banner, the event is sponsored by bike-related companies such as SRAM, Pearl Izumi, Oakley, Mountain Designs, Polar, Rock Shox, Budget, Apis Consulting, Southern Cross TV, Events Tasmania and Honey Stinger. New to the event will be Specialized, Subaru (Neil Buckby Motors) and Freestyle FX – a signs and graphic company. For more information and to enter the event, check out www.wildsidemtb.com.
Rockwheelers get permission to build MTB tracks
A proposal for Townsville's (North Queensland, Australia) first purpose built mountain bike course on Mt Stuart has received conditional support from City Hall. The go ahead allows planning to proceed for the downhill cross-country trail on a section of council road reserve on the Mt Stuart Scenic Drive.
The proposal has been put forward by the Townsville Rockwheelers Mountain Bike Club, which has developed a detailed management plan for track design, construction, maintenance, and risk management.
Deputy Mayor Cr Ann Bunnell said the council's Community Development Services staff assisted the bike club in establishing a Trailcare Committee and a Sustainable Trails Network for the city. "The council is supportive of the proposal, but it is important that the every effort is made to limit any impacts the track may have on the local environment and the club is receptive to what we are saying," Cr Bunnell said.
"Council staff have been providing club officials assistance on a range of issues including the establishment of a committee for the sustainable and proper management of the trail and other trails like it in the city,"
The council's support requires the bike club to meet a range of conditions including:
undertaking a flora and fauna survey along the proposed track with support of council;
meet any Legal and Risk Management requirements;
provide adequate public liability insurance;
enter into an agreement with council to manage and maintain the trail in an environmentally sustainable way.
AUstralian MTB governing body MTBA congratulated the Rockwheelers for their persistence and patience approach in putting forward the plan and the Townsville City Council for their forward and pro-active thinking about sustainable MTB activity in the city.
A complete 24-hour race on one battery?
NiteRider Technical Lighting Systems releases the MOAB
Lighting specialist NiteRider says it now has stock of its new MOAB Lighting System, named not for the legendary riding area, but after after the battery pack that gives it an almost-unprecendented run time. The system is built around the Mother Of All Batteries, a new 18-ounce, 7.2Ah Lithium-Ion pack. The Moab HID+LED system has a runtime of up to 12 hours utilizing its three brightness levels, while the integrated LEDs will burn for 720 hours on a full charge.
24-hour endurance racers can now ride solo from dusk until dawn on one battery, potentially meaning faster race times as transitions and therefore lap times get faster without the need to change or charge batteries. Even with a slightly greater total system cost, riders will be able to save money by not needing to invest in multiple batteries and charging systems.
The Moab system also boasts a charge time of just 4.5 hours, if it is ever fully drained, new gold-plated connectors for long lasting performance and to aid in the systems versatility both a helmet and handlebar mount are included.
More information: www.niterider.com
(All rights reserved/Copyright Knapp Communications Pty Limited 2005)