MTB News & racing round-up for August 24, 2005, part 2
Edited by Steve Medcroft
Welcome to our regular round-up of what's happening in the dirt. Feel free to send feedback, news and gossip to mtb@cyclingnews.com
Endurance MTB socialising - Part I
Not content with just riding a 100-mile endurance MTB event, Elden Nelson (aka 'the Fat cyclist') wanted to share the experience of over 900 people riding this tough race - so taking out his voice recorder was the obvious thing to do. He couldn't do 900 interviews in 100 miles, but tried gallantly, and brings us real tales from the peloton - at Colorado high altitude.
Bikes ready for punishment
Photo ©: Steve Peterson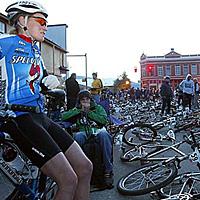 Bike racing is a pretty internally-focused sport. You're thinking about your strategy, your legs, your suffering, your energy level. You, you, you. The only time you tend to think about other people is when you want to either use them or to pass them.
Pretty darned selfish, if you ask me.
On August 13, I raced the Leadville 100 - a 100-mile mountain bike race in Leadville, CO - the highest city in North America. Ranging from 9000 feet up to 12,600 feet with about 12,000 feet of climbing altogether, it's recognized as a brutal, demanding race that requires strength, endurance, and concentration to get through.
Here's the thing, though. I'd done the race eight times before, and while I wasn't worried about finishing, you can guess that with the nickname "Fat Cyclist" I knew I wouldn't be setting a personal best.
So why not use the race as an opportunity to get to know my fellow mid-pack riders? I picked up a small voice recorder - one that easily tucked under the elastic of my shorts, rolled up to the starting line, and set out to see what a serious epic race is like if you treat it like a tea party.
And please note: I did not cherry-pick riders. I had never met any of these riders before talking with them during this ride. My rider selection criteria were simple: they had to be near me and going approximately my speed.
Read the rest of Part 1 here
Read Part II here.
Keith Bontrager at Singlespeed Worlds: Many prologues, one stage
August 22, 2005 - I had a day in Santa Cruz after coming in from Calgary and then I was off on the plane to State College, PA for some decompression and a bit more riding at SSWC05 [Singlespeed World Championships 2005].
Singlespeed worlds is a different sort of event. It's an endurance race with a unique character and format. In addition to the various associated social activities (many of which increase one handed fluid lifting strength, and later on in the evening, balance...) there is plenty of riding to do.
Check Hurl's report from the UK event held a few years back for background. As I see it, the weekend will be divided into stages, with many prologues and then the race at the end.
The first prologue for me was getting there. The weather in Chicago was going wrong and every air route in the nation going in that direction backed up. I was supposed to get into Pittsburgh at 11 PM. A two hour delay made that unlikely, and I was resigned to a hotel room in the Windy City. But when I finally got to Chicago they'd held the flight, and all of the other connecting flights in order to get as many people to where they were going as possible. Apparently UAL didn't want to buy 10,000 hotel rooms. Can't blame them for that.
See the entire diary entry here.
Geoff Kabush diary: Bring on the final
I'm number one'
Photo ©: Steve Medcroft

It has been a good month since I last wrote; weekend off... NORBA Utah... weekend off... NORBA West Virginia. One of the nice things was with a weekend off I got to make it back up to Canada and enjoy some fine summer weather and downtown living at my new condo in Victoria; Hotel Kabush has officially closed. Managed to spend the whole week without making a grocery shop; overheated my van trying to make it to Mr Schum's bachelor party; enjoyed the wedding; got my van back home barely; had a good time showing Pink around Vic with too much to do and too little time; and then I was off for another couple of months of racing.
Vegas was the first stop, being the closest airport to Brian Head Utah and NORBA #6; closest being about three hours and several thousand feet with the base being at 9000ft and the XC course going up to 11,000ft; good fun. XC wasn't so good with a slashed sidewall and a limp home for 9th place; this left JHK back in front for the series after a strong victory. At least the weather held out as the day before the "Team Giant 4 Fun" boys got stuck in a freezing hail storm preride and were rumoured to have struggled to make it back to their condo with gloves smelling like piss. Adam didn't seem to feel the effects and after a strong XC ride he was on the attack in the STXC. After Neethling took the first lap prime for the downhillers and just about took out Wells, the action was fast and furious. I managed to bridge to Adam and timed my attack well to take the win and a stranglehold on the STXC series.
A week off at home in Albuquerque meant some good time for training as things focus in on the end of the season and my big goals for the year.
See the entire diary entry here.
New Zealand Team for Worlds
The New Zealand team is in the final stages of preparations for the UCI Mountain Bike and Trials World Championships. New Zealand has a team of 27 riders competing, including two defending World Champions Vanessa Quin and Scarlett Hagen, and two other world ranked top ten riders (Kashi Leuchs in Cross Country and Justin Leov in Downhill).
Quin and Hagen have both being racing well on the World Cup circuit with Hagen competing in the Elite women's competition, even though she is still a Junior.
Reigning New Zealand Cross Country National Champion Rosara Joseph (Wellington) has been in great form in recent weeks, with numerous top ten finishes in the European Swiss Power Cups, including a third place in last weekend's round.
Justin Leov also continued his great form with a 7th placing at the latest World Cup Downhill round in Pila, Italy on Sunday (August 21).
Elite Cross Country Men: Kashi Leuchs (Dunedin), Mike Northcott (Mangakino), Wayne Hiscock (Wellington).
Under 23 Cross Country Men: Marcus Roy (Te Anau), Aaron Tuckerman (Blenheim)
Elite XC Women: Rosara Joseph (Wellington), Sonia Foote (Rotorua), Robyn Wong (Wellington), Jenny Smith (USA)
Junior Cross Country Men: Clinton Avery (Rotorua), Luke Mills (Nelson), Carl Jones (Whakatane)
Junior Cross Country Women: Michelle Bellamy (Nelson)
Elite DH Men: John Kirkcaldie (Wellington), Des Curry (Rotorua), Nathan Rankin (Levin), Justin Leov (Blenheim), Tom Holland (Rotorua), Craig Pattle (Rotorua), Glenn Haden (Wanganui).
Elite DH Women: Vanessa Quin (Tauranga), Jenna Makgill (Auckland)
Junior DH Women: Scarlet Hagen (Queenstown)
Junior DH Men: Mike Skinner (Auckland), Samuel Blenkinsop (Wanganui), Kieran Bennett (Nelson), Cameron Cole (Hamilton).
Susy Pryde is the team manager.
2006 Kiwi World Championships promoters head to Livigno
As the 2005 UCI Mountain Bike & Trials Championships get underway in the Italian alpine town of Livigno in Northern Italy, the minds of New Zealand's national mountain bike team and support staff is not just on the races – they will be looking to learn everything they can about throwing a World Class World Championships – because Worlds heads to Rotorua, New Zealand in 2006.
Rotorua was awarded the World Championships by the UCI in December 2004. "They (the UCI) have given every mountain biker on the planet just the excuse they need to visit New Zealand," says Dave Donaldson, chairperson of the local organizing committee for 2006. "For Kiwis, it is the opportunity to showcase our trails to the mountain biking world and to see the world's best in action in our own backyard." The event village and courses for the World Championships will be purpose built on the slopes of Mount Ngongotaha.
So with their event only one-year off, and with support from support from Air New Zealand, Tourism New Zealand and Destination Rotorua and Events Venue Rotorua, New Zealand is sending current world Elite Women's Downhill Champion Vanessa Quin and Junior Women's Downhill Champion Scarlett Hagen to race as well as a team from the 2006 Worlds in Livigno to promote next year's event.
If you're headed to Livigno yourself, the Kiwi crew invites you to visit them at the New Zealand House at Le Mirage from 5 to 6pm every evening from Wednesday, August 31 to Sunday, September 4. If you can't be there in person, check their 2006 web site for regular updates and news about the Kiwis in Action.
Cougar Mountain Classic Festival signs major sponsors
The 2nd annual Infineon Technologies Cougar Mountain Classic (formerly known as the California Outdoor Sports Championships), announced today their official bicycle, tire and suspension sponsors. The event takes place Sept. 9-11, 2005 and will bring several thousand amateur and professional mountain bikers, gravity racers, road cyclists, trail runners, road runners, vendors, media, and outdoors sports fans to the three-day festival at Infineon Raceway in Sonoma, CA.
Gary Fisher, dubbed the "Founding Father of Mountain Bikes" by Smithsonian Magazine, and whose inspiration for the creation of his mountain bikes came from the mountains and terrain surrounding the San Francisco Bay Area, will be an Official Bicycle co-sponsor for the event. Trek, America's largest bicycle manufacturer since 1976, has signed on as an Official Bicycle co-sponsor for the event. Kenda USA, the event's official Tire sponsor, will be providing 360 pairs of tires to all event category winners. X-Fusion Shox, a designer and manufacturer of high-performance mountain bike suspensions, is the event's Official Suspension sponsor.
The three-day Cougar Mountain Classic is a partnership between Sea Otter Classic LLC and Infineon Raceway. The Infineon Technologies Cougar Mountain Classic is the end-of-summer festival of road cycling, mountain biking, gravity racing, running, and expo and bookends its sister event, Monterey's world-renowned Sea Otter Classic, April's unofficial cycling season opener.
The event offers one last chance for riders to qualify for the National Off Road Bicycling Association (NORBA) National Championships that take place one week later, Sept. 17-18, in Mammoth Mountain, CA. The event also offers a full program of road and offroad cycle racing and is listed on the National Road Calendar (NRC) and the American Mountain Bike Challenge (AMBC) series. In addition to pro, amateur and recreational road and mountain bike cycling events for all age groups and skill levels, the event offers a pro and amateur All American Trail Running Association (AATRA) sanctioned running event called the 15K Road/Off-Road SuperRun.
Event Overview:
What: 2nd Annual Infineon Technologies Cougar Mountain Classic
When: September 9-11, 2005
Where: Infineon Raceway
Road Cycling: Road circuit race, (NRC, NCNCA)
Mountain Bike: Cross-Country, Short track, Downhill, Mountain-cross (NORBA, AMBC affiliated)
Running: Road and trail running race (AATRA)
Expo: Trade team trailers, cycling and running vendors, family activities, wine tasting, vintage bicycles
Swap Meet: Buy. Sell. Trade. Pro teams and sales rep.'s sell off used gear and excess stock
(All rights reserved/Copyright Knapp Communications Pty Limited 2005)