MTB News & racing round-up for August 18, 2005, part 1
Edited by Steve Medcroft
Welcome to our regular round-up of what's happening in the dirt. Feel free to send feedback, news and gossip to mtb@cyclingnews.com
An interview with Ned Overend: Just another year
Photo ©: Specialized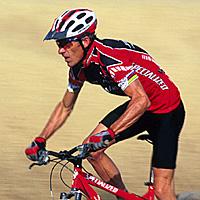 Ned Overend doesn't know how to retire. Although mountain biking's inaugural World Champion quit in 1996 at the age of 41, he immediately joined the fledgling XTERRA off-road triathlon circuit and scooped up a couple of their World Championships before retiring again in 2003. And even with a second chance at the easy life, Overend couldn't let elite-level competition go. Cyclingnews' Steve Medcroft caught up with this man of perpetual motion to talk about life at 50.
Overend explains, "Racing is the most exciting thing I do. When you're in a race and you're mixing it up, even if you're not at the front and you're mixing it up with a group of guys in the middle of the pack, you're still pushing yourself; on the climbs, on the downhills, in a variety of situations. The excitement and personal satisfaction that comes when you push yourself that way still motivates me."
That thrill of competition motivated Overend enough in 2005 alone that, on the eve of his 50th birthday and at a time when he could be playing bocce ball and chasing early-bird specials, he's been seen on almost a dozen start lines. Including one in Angel Fire, New Mexico (July 9-10, 2005) for the first UCI World Cup cross country race on US soil in three years, a race in which he managed to place 18th.
Click here for the full interview
Australian team training in Colorado
By Steve Medcroft
Team Australia

Yo! Team Australia in da house.

Aussie juniors sweep the podium

Emma Colson (r) and Niki Fisher

I spy, with my little eye

The Australian National Mountain Bike Team drew attention to itself this past weekend in Colorado's State MTB Championships. Team members hogged the podiums across the board. Emma Colson (Topbike Tours - Giant) won the pro women's race with Niki Fisher (Trek) close behind in second, Erica Oldfield (QLD academy of Sport) won the junior women's race and junior men Lachlan Norris (Cannondale/Maxxis), Andrew Arthur (Clarence Street Cyclery) and Gary Millburn (Cannondale/Maxxis) swept their event.
Quietly training for the Livigno, Italy World Championships (August 28 to September 4, 2005) in the U.S., the Australians were at an altitude camp in Silverthorne, Colorado (population 5,000). "We've got a group of twelve athletes and five staff here," explains Colson, Australia's current national cross-country champion.
The camp is partly funded by the Australian Institute of Sport and organized by National Team Coach Damien Grundy. "We've been here about two and a half weeks," says Colson. "(Coach Grundy) put the trip and training camp together. He knows a lot of the trails around here and has been giving us very specific workouts, specific efforts."
Silverthorne sits at 8,751 feet. "We're trying to acclimatize since worlds is at altitude (Livigno sits at 5,980 feet)," Colson says. "The highest mountain in the whole of Australia is Mt Kosciuszko – (2,228 meters or 7,300 feet). And you can't even ride to the top of it."
Colson says she and the other athletes felt the effects of altitude their first day in Silverthorne. "We all had trouble breathing, headaches. We brought a physiologist with us and did lactate tests and on the first day; we were sky high."
It took a while for Colson to feel comfortable. "I've done a lot of riding in Europe and ridden up to altitude but some of the passes I've ridden here (in Colorado) are higher than I've ever lived before. It's a weird feeling: your heart and lungs give out before your legs do - like you can never use all the strength in your legs."
One week after arriving in Silverthorne, Colson says that everyone in the group is acclimatized. "The tests show it, as do the results in the Colorado races. And I'm feeling good, feeling lean." The group heads to West Virginia on Wednesday then will transfer to Milan two days after racing the NORBA at Snowshoe. "The key from here," says Colson, "is to stay healthy, cope with the travel and not eat too much."
Nor-Cal High School Mountain Bike League
The Northern California Mountain Bike League, a grass-roots mountain biking league that provides open competitions throughout northern California for high-school based mountain-bike teams of all skill levels, is gearing up for its fifth season of competition. League founder, Matt Fritzinger, a teacher at Berkeley High, founded the league with the 2001 NorCal High School Mountain Bike Series and provides this announcement to launch their season:
Outreach and support for new teams: This Fall (September - October), the League will be conducting extensive outreach to help new teams form. Let us help promote an organizational meeting in your town! By bringing together interested students, parents, and potential coaches things can get rolling pretty quickly. Meetings can be held at schools, bike shops, or even a private home -- please contact fritz@norcalmtb.org to schedule a meeting in your region. We thank Bikes Belong and Gary Fisher Bicycles for supporting our outreach efforts.
"PRO" - The Movie - Saturday, September 3, 2005: What does it take to compete in the USPRO Championship? Find out, Saturday, September 3rd at 7 p.m., at a special screening of the epic film "PRO", at Wheeler Hall on the UC Berkeley campus. Also meet some of the pros of PRO, including "Fast" Freddie Rodriguez, Mike Sayers and Eric Saunders. Tickets are just $10 and kids 15 and under are free. All proceeds benefit the NorCal High School Mountain Bike League. Space is limited, so get your tickets today. Visit norcalmtb.org.
Andy Hampsten to host 2005 benefit dinner - Saturday, November 12, 2005: Come celebrate five years of high school cycling at the 2005 League benefit dinner. Located in one of the original 1939 World's Fair buildings (lending its magnificent Art Deco aura to the event), the dining and dancing will be hosted by 1988 winner of the Giro d'Italia and Tour de France stage winner, Andy Hampsten. Fine foods by Back to Earth and an expansive auction are planned so please mark your calendar for NOVEMBER 12th! Invites will be mailed in September -- e-mail fritz@norcalmtb.org your mailing addresses to receive an invite (snail mail).
IMBA to present at Australian Bike Show
IMBA trail specialist, Joey Klein, will present 2 seminars at the Bicycling Australia Show, October 22 and 23. The 2005 Australian Bike Show is being held at The Dome, Sydney Showground located in Sydney Olympic Park.
Joey Klein has worked with the International Mountain Bicycling Association (IMBA) for the past seven years, traveling around the world, and sharing his knowledge on trail design, construction, and maintenance with tens of thousands of mountain bikers.
He has also worked with the governments, mountain bike, and trail advocacy organizations of Scotland, Wales, England, Northern Ireland, Italy, Israel, Canada, and the United States to build the sport of mountain biking on each country's public lands. Currently, Joey is working for IMBA's Trail Solutions, a program he helped develop in 2002. Since the program's inception, he has designed well over 300 miles of mountain bike trails, creating everything from family friendly singletrack to world-class downhill and freeride trails to build the sport all over the world.
Joey has made two previous trips to Australia to assess the country's mountain bike resources and potential, working with dozens of groups to build momentum for more and better mountain biking opportunities. This is his third trip to Australia and he will travel coast to coast during a 7-week road trip.
Joey will speak on Saturday 22nd October and Sunday 23rd October at 4pm in the Dome Theatrette, ground floor, off the main foyer.
If you are passionate about mountain biking and want to know what you can do to enhance MTB features in your area don't miss this opportunity to hear one of the best and most experienced trail experts in the world.
Armstrong to ride with Bush
Seven-time Tour winner Lance Armstrong will join US president George Bush on a mountain bike ride at Bush's ranch in Crawford, Texas this coming weekend. Armstrong, who retired from cycling three weeks ago, told ABC's This Week, "It's a dream scenario for me. Now that President Bush doesn't run anymore, he rides his mountain bike fanatically. People wonder why he stays at the ranch so long, it might be the mountain bike trails."
Armstrong cautioned that it wasn't likely to be a relaxing ride. "I know people who have ridden with him," said Armstrong. "I can tell you he's one very competitive guy. Very competitive, there's no talking. A few minutes of warm-up time, a little chitchat, then you go."
Despite having connections with Bush and his Democrat rival John Kerry, Armstrong maintains that he is not going into politics, reiterating that the stress and the time away from his family would be too much. That aside, he did offer this comment on the money spent on the US's involvement in Iraq. "As a survivor, I think we would be better spending money on an illness like cancer," he said.
George Bush gave up running a few years ago due to a knee injury, but the 59 year-old likes to keep fit. He also rode with a group of journalists last Saturday, and told USA Today's Sal Ruibal, "I love exercise. Prior to learning about mountain biking, I was a jogger. And then, like a lot of baby boomers, my knees gave out. I believe that mountain biking is going to be an outlet for a lot of people my age. I'm 59, and people are going to realize you get as much aerobic exercise - if not more - on the mountain bike without being hobbled."
Bush added that by exercising in this way, he was trying to encourage overweight and unfit Americans to do the same. The cost of treating the USA's "obesity epidemic" is huge. "What it takes is organization and discipline and setting priorities," said Bush. "And I think exercise ought to be one of the top priorities for Americans."
Cyclist dies in Norwegian Marathon MTB Championships
By Øyvind Aas
A tragic accident marred an other wise great race in and around Drammen, where the Norwegian Marathon Mountain Bike Championships were held in conjunction with the P4 Mountain Bike Race on the weekend.
The race was run in a three clover patterned course with riders entering the main square in Drammen three times. It was after the first lap that disaster struck. On a makeshift bridge built especially for the race, so that riders can pass over and under on their way in and out of the main square, a 37 year-old rider came off and landed on his head on the paving stones below.
Medics and an ambulance were quick to respond, but the rider died in hospital the night after the race.
"This is very sad and tragic to experience when we have done our outmost to ensure the safety of the riders." Race organizer Svein Bolsad said to Drammens Tidende.
Marius Meinseth was just behind the deceased rider when he crashed. "We came into the town at high speed. At the last edge of the bridge he jumped, but his rear wheel landed at an angle and he came off hard, face first," said a shocked Meinseth.
The organizers will now review the security of the race. Before the race, they were most concerned about how to protect riders from the traffic, but never expected anything like this could happen on the square.
534 riders participated in the 68km long race that was held for the second time. The mountain bike race that takes in some of the best trails Drammen has to offer is highly regarded among the racers.
Get ready for TransHimalayas
Possibly inspired by the success of the TransAlps and TransRockies multi-day team epics, Himalayan Adventure Sports & Tourism Promotion Association (H.A.S.T.P.A.) and the Tourism and Youth Services and Sports Department Government of Himachal Pradesh is putting on a similar event in the Indian Himalayas mountains.
The race, divided into seven days of three legs of racing each day, will start October 6, 2005 in Shimla and end October 12 in Kulla. The course is 680 km longand includes singletrack, downhill and road sections in the Himalayas of Himachal Pradesh, India; the host state.
Details of the event and entry forms can be found at www.mtbhimachal.com
The Vaude Highland Fling is go
Entries are now open for the Vaude Highland Fling, a 100km MTB Marathon race taking place in the Southern Highlands of NSW, Australia on November 13. Entry can be made by visiting www.wildhorizons.com.au, and the first 500 entrants will receive a Vaude Highland Fling daypack.
Participants have the option of competing in the Full Fling (100km solo), the Half a Fling (approx 55km) or the Flinging Threesomes (Teams of Three riding 27km, 44km and 29km respectively). Besides product prizes, there is $6000 cash up for grabs with $1000 going to each of the winning elite men and women.
Final Australian World's team
Cycling Australia has announced the 34 member Australian mountain bike team to contest the 2005 MTB World Championships being staged in Livigno, Italy from August 28th to September 4th. Key to events each rider will contest: XC - Cross Country, DH Downhill, 4X - Four Cross, T - Trials
Elite Men
Bryn Atkinson (Kergunyah, VIC - 09.12.82) DH, 4X
Wade Bootes (Miami Keys, QLD - 30.05.74) 4X
Dylan Cooper (Downer, ACT - 30.06.79) XC
Jared Graves (Toowoomba, QLD - 16.12.82) DH, 4X
Michael Hannah (Bayview Heights, QLD - 21.11.83) DH, 4X
Sam Hill (Glen Forrest, WA - 21.07.85) DH, 4X
Chris Kovarik (Pacific Pines, QLD - 01.03.78) DH, 4X
Brent Miller (Melba, ACT - 19.04.81) XC
Joel Panozzo (Mt Beauty, VIC - 15.07.79) DH, 4X
Nathan Rennie (Merrimac, QLD - 31.05.81) DH, 4X
Sid Taberlay (Blackman's Bay, TAS - 22.01.80) XC

Elite Women
Emma Colson (Fitzroy, VIC - 25.10.68) XC
Niki Fisher (Downer, ACT - 08.05.79) XC
Niki Gudex (Gordon, NSW - 19.07.78) XC
Katrina Miller (NSW lives Varsity Lakes, QLD - 15.09.75) 4X
Claire Whiteman (Conder, ACT - 05.09.78) DH, 4X

U23 Men
Shaun Lewis (Aberfoyle Park, SA - 14.08.86) XC
Trent Lowe (Mooroolbark, VIC - 08.10.84) XC
Daniel McConnell (Bruthen, VIC - 09.08.85) XC

U19 Men
Andrew Arthur (Kirrawee, NSW - 11.02.87) XC
Joe Brewer (Canterbury, VIC - 08.02.88) Junior T
Cal Britten (Bright, VIC - 17.03.88) XC
Amiel Cavalier (Figtree, NSW - 24.03.87) DH
Ayden Eves (Mackay, QLD - 01.11.87) DH
Joel Healy (Woori Yallock,VIC - 14.11.87) XC
Sam Hocken (Leongatha, VIC - 27.04.87) DH
Daniel Johnston (Alice Spring, NT - 14.10.88) XC
Hugh Mansfield (St Ives, NSW - 27.07.87) DH
Garry Millburn (North Turramurra, NSW - 02.02.87) XC
Lachlan Norris (Barkers Creek, VIC - 21.01.87) XC
Christopher Panozzo (Tawonga South, VIC - 04.08.87) DH
Liam Panozzo (Mt Beauty, VIC - 14.11.87) DH
Darren Pokoj (Greenbank, QLD - 16.01.87) DH

U19 Women
Erica Oldfield (Brassall, QLD - 12.05.87) XC
(All rights reserved/Copyright Knapp Communications Pty Limited 2005)