MTB index page for all MTB content
US ProXCT #3 and Kenda Cup East #2 - Bump and Grind - 3
Pelham, Alabama, USA, May 31, 2009
Race 1 - May 31: Cross Country: Elite men & women
Taberlay sprints to Bump'n'Grind victory
By Dave McElwaine in Pelham, Alabama
Sid Taberlay (Sho-Air/Specialized) won the final Sprint
Photo ©: Dave McElwaine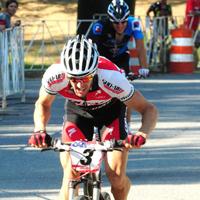 Sid Taberlay (Sho-Air/Specialized) won the Elite Men's race at Oak Mountain State Park in an exciting sprint finish against Jeremy Horgan-Kobelski (Gary Fisher/Subaru). Taberlay's team-mate Max Plaxton finished third and retained the U.S. Cup leader's jersey, while Todd Wells (Specialized) and Seamus McGrath (Jamis) took fourth and fifth respectively.
The weather for today's race was a steamy 90 degrees. Although most of the course consisted of twisty tree-covered singletrack, riders had to work hard to stay hydrated.
Taberlay had a great start and got to the singletrack first, followed by Ryan Trebon and Geoff Kabush. Before the first lap was over however a lead group consisting of Taberlay, Plaxton, Horgan-Kobelski, Wells, Kabush (Rocky Mt./Maxxis), and McGrath were together for the pavement run into the start/finish area.
United States of America Champion Adam Craig and former champion Ryan Trebon were gapped on this first lap and never were able to close down the distance. Both Trebon and his team-mate Barry Wicks then suffered wheel mechanicals that wrecked any chance of a high finish.
While the leaders traded pulls it appeared that Wells and Horgan-Kobelski were responsible for setting much of the pace. Kabush uncharacteristically came unglued from the lead group. While this has happened before, Kabush is generally able to work his way back to the leaders but that wasn't the case today.
This is the first time in years that Kabush has not been on the final podium. Kabush admitted he was a bit worn out from all the World Cup travel.
"That was one of the funnest races I've ever done," said Max Plaxton. "It was so fast that literally trees were just a blur. We were pretty evenly matched in the lead group but Sid and I had numbers and that made the difference."
Taberly didn't agree with Plaxton's view on the race. "It might have looked like fun, and probably was fun in practice, but the race certainly was not as much fun," he said. "There was always someone pushing the pace. I think most of the day we were all hoping the finish line was coming a bit quicker than it did.
"I attacked up the final climb," he added. "JHK came across but I pretty much just sat on him…and waited until the right opportunity at the finish."
Horgan-Kobelski appeared stronger and more aggressive than any other outing this season. "I felt great," he said. "I was trying to make hard moves from the start to whittle down that group rather than roll the dice at the end. I was climbing as well or better than anyone out there.
"Sid and Max literally sat on my wheel right until the finish," added Horgan-Kobelski. "There was nothing I could do."
Pendrel bumps and grinds to first U.S. Cup win
Catherine Pendrel (Luna Women's MTB) gets her first
Photo ©: Dave McElwaine

Catherine Pendrel, the number one ranked International Cycling Union (UCI) rider in the world, got her first U.S. Cup win today Georgia's steamy Oak Mountain Park. Pendrel had to battle her own Luna team-mate Georgia Gould, but won in an exciting sprint to the finish. Katerina Nash made it a clean sweep for the Luna squad by finishing third, while Pua Sawicki (Ellsworth) and Kelli Emmette (Giant) claimed fourth and fifth respectively.
The professional course at Oak Mountain State Park was 5.3 miles long, with approximately the last mile on pavement. The buff, twisty singletrack was described by many racers as one of the most enjoyable courses of the year. While there were a few short, steep, ups and downs, the 500 feet of climbing per lap was flatter than what the racers normally face. During the first four miles of singletrack there were very few places to pass. Getting a good start was critical to winning this race.
The race began on a one kilometre section of pavement that was intended to separate the racers. However a huge pack led by Nash all arrived at the singletrack within seconds of one another. Quickly a lead group formed with the three Luna women and United States of America Cyclo-cross Champion Katie Compton (Team Sho-Air).
It appeared that the lead changed frequently at the front until Nash was dropped from the group. "I had a little accident and lost the group," said Nash. "On the road stretches I just couldn't close it so the gap kept getting bigger and bigger."
Compton appeared strong and was having little problem matching the pace of Gould. This was her first national mountain bike race after her long World Cup Cyclo-cross season.
Compton began having trouble breathing due to an asthma attack on the final lap. She attempted to continue racing but ultimately was taken by ambulance to a hospital where she was treated and released.
"After the first lap Katie, Georgia, and I were working together and pulling our share," said Pendrel. "But Katie dabbed on one of the climbs and she wasn't able to close the gap.
"Georgia and I were off the front," she added. "That's where we really started to work like a team. We tried to drive the pace as hard as we could. I don't win many sprints, so I knew if I could jump the last corner I could win…and that's what I did."
Pendrel fought hard and smart on the final run to the finish line, according to Gould. "I pulled the whole way down the pavement," said Gould. "I probably should have gone a little bit more inside on the corner because she kind of chopped me on the corner. But that's racing. I'll get to chop her in the next race."
The race for fourth between Sawicki and Emmett developed nearly immediately. "I had a really bad start so I had to chase a bit and settle in," Sawicki said. "We were right there with each other. I didn't want it to come down to a sprint because I thought she would probably out-sprint me. So luckily on the climb I was able to get a gap and keep it."
The weather played a factor today, with a temperature near 90 degrees and relatively high humidity riders were feeling the effects as the afternoon wore on. Fortunately the vast majority of the race was under the shade of the thick forest.
The large crowd today enthusiastically cheered the riders, especially Heather Irmiger (Gary Fisher/Subaru) who was celebrating her 30th birthday. Many of the racers commented after the race about all the support they got from fans on the course.
Gould retained the U.S. Cup leader's jersey, despite finishing runner up at the round. The next U.S. Cup race will be in Colorado Springs on June 13-14.
Photography
For a thumbnail gallery of these images, click here
Images by Dave McElwaine/www.trailwatch.net
Results
Elite Men

1 Sid Taberlay (Aus) Sho-Air/Specialized            1.39.41
2 Jeremy Horgan-Kobelski (USA) Gary Fisher / Subaru    0.02
3 Max Plaxton (Can) Sho-Air/Specialized                0.22
4 Todd Wells (USA) Specialized                         0.24
5 Seamus Mcgrath (Can) Jamis                           0.46
6 Geoff Kabush (Can) Rocky Mt./Maxxis                  2.40
7 Adam Craig (USA) Giant                               3.44
8 Troy Wells (USA)                                     3.45
9 Rotem Ishai (Isr)                                    4.29
10 Andy Schultz (USA)                                  4.35
11 Colin Cares (USA)                                   4.40
12 Sam Jurekovic (USA)                                 5.49
13 Carl Decker (USA                     )              6.03
14 Ryan Woodall (USA)                                  6.04
15 Thomas Turner (USA)                                 6.05
16 Samuel Schultz (USA)                                6.06
17 Eric Tonkin (USA)                                   6.09
18 Kris Sneddon (Can)                                  6.54
19 Ryan Trebon (USA)                                   7.52
20 Manuel Prado (CRc)                                  8.57
21 Tristan Cowie (USA)                                 9.29
22 Samuel Koerber (USA)                               10.17
23 Travis Livermon (USA)                              10.18
24 Dana Weber (USA)                                   10.30
25 Travis Woodruff (USA)                              10.49
26 Mitch Comardo (USA)                                10.50
27 Adam Snyder (USA)                                  11.53
28 Dylan Alesio (USA)                                 12.33
29 Robert Marion (USA)                                12.34
30 Scott Frederick (USA)                              13.05
31 Aaron Elwell (USA)                                 13.51
32 Andrew Alesio (USA)                                14.02
33 Rickey Visinski (USA)                              14.20
34 Justin Raynes (USA)                                14.25
35 Kalan Beisel (USA)                                 14.26
36 Lucas Livermon (USA)                               15.45
37 Michael Mooradian (USA)                            16.11
38 Drew Edsall (USA)                                  16.32
39 Raymond Hall (USA)                                 17.06
40 Nathan Wyatt (USA)                                 18.22
41 Gregory Carpenter (USA)                            18.23
42 Craig Wohlschlaeger (USA)                          19.13
43 Matt Rotroff (USA)                                 19.45
44 Blake Zumbrunnen (USA)                             19.51
45 Brandon Curtis (USA)                               19.52
46 Jakob Prater (USA)                                 20.19
47 Sean Sindt (USA)                                   21.38
48 Martin Kell (USA)                                  25.47
49 Macky Franklin (USA)                               45.47
50 Ross Bowden (USA)                  
51 Jordan Kahlenberg (USA)            
52 Martin Cox (USA)                   
53 Andrew Reardon (USA)               
54 Seamus Powell (USA)                
55 Dustin Greer (USA)                 
56 Paul Kolb (USA)                    
57 Joshua Rosby (USA)                 
DNF  Will Black (USA)                 
DNF  Daniel Kindregan (USA)           
DNF  Kelly Magelky (USA)              
DNF  Eric Pirtle (USA)                
DNF  Alex Ryan (USA)                  
DNF  Jason Sager (USA)                
DNF  Barry Wicks (USA)        

Elite women

1 Catharine Pendrel (Can) Luna                     1.29.38
2 Georgia Gould (USA) Luna                            0.01
3 Katerina Nash (Cze) Luna                            2.17
4 Monique Pua Sawicki (USA) Mata                      4.10
5 Kelli Emmett (USA) Giant                            4.28
6 Heather Irmiger (USA) Subaru / Gary Fisher          6.09
7 Lea Davison (USA) Rocky Mt./Maxxis                  7.26
8 Susan Butler (USA)                                  8.09
9 Kathy Sherwin (USA)                                 9.55
10 Kimberly Flynn (USA)                              11.53
11 Anina Aaron (RSA)                                 12.18
12 Jamie Dinkins (USA)                               13.46
13 Erin Disterheft (USA)                             13.50
14 Chloe Forsman (USA)                               15.07
15 Maureen Kunz (USA)                                16.23
16 Kylie Krauss (USA)                                21.23
17 Philica Marion (USA)               
18 Tracey Wallace (USA)               
DNF  Willow Koerber (USA)             
DNF  Katherine Compton (USA)          
DNF  Aleksandra Rokita (Pol)