MTB index page for all MTB content
MTB World Cup XC #3 & 4X #2 - CDM - CDM
Houffalize, Belgium, May 2-3, 2009
Main Page Results Previous Race Next Race World Cup Standings
Race 4 - May 2: Elite men four cross
Graves gets Houffalize glory
By Rob Jones in Houffalize
Jared Graves was unstoppable
Photo ©: Rob Jones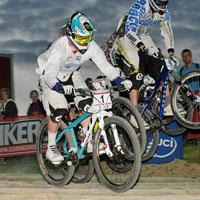 The four cross is a new event for the Houffalize World Cup venue, which lived up to its history of providing exciting racing with numerous lead changes and crashes. Jared Graves (Yeti Fox Shox) took his second consecutive win to cement his overall series lead.
With wide open turns, the term "hole shot" meant less than usual. "You could see by the number of crashes that guys were taking chances," said Graves. "There was no one line, which made it very hard to protect a lead, and a fast start wasn't that meaningful."
One rider that was impacted by the crashes was men's UCI World Champion Rafael Alvarez de Lara Lucas (Specialized), who was run into from behind coming out of the first corner by someone trying to cut the corner. His day was over after his front wheel resembled a pretzel following the crash.
Despite the mayhem Graves was clearly the class of the men's field, unbeaten through all the rounds, constantly jumping away out of the gate and then holding off late attempts to catch him. By the time the men reached the quarter finals, Graves had a shadow - Dan Atherton (Animal Commencal), who finished second to Graves in the quarterfinals, semifinals and the medal final. Roger Rinderknecht (GT) and Joost Wichman (RSP) rounded out the final four.
Photography
For a thumbnail gallery of these images, click here
Images by Rob Jones/www.canadiancyclist.com
Results

1 Jared Graves (Aus) Yeti Fox Shox Factory Race Team                
2 Dan Atherton (GBr) Animal Commencal                               
3 Roger Rinderknecht (Swi) GT Bicycles                              
4 Joost Wichman (Ned)                                               
5 Romain Saladini (Fra) Team Sunn                                   
6 Mickael Deldycke (Fra)                                            
7 Gee Atherton (GBr) Animal Commencal                               
8 Kamil Tatarkovic (Cze)                                            
9 Johannes Fischbach (Ger) Ghost A.T.G. Pro Team                    
10 Quentin Derbier (Fra)                                            
11 Joey Van Veghel (Ned)                                            
12 Lukas Mechura (Cze) Chain Reaction Cycles/Intense                
13 Michal Prokop (Cze)                                              
14 Jurg Meijer (Ned)                                                
15 Matej Vitko (Svk)                                                
16 Adam Stasek (Cze) Ghost A.T.G. Pro Team                          
17 Dominik Gspan (Swi)                                              
18 Lewis Lacey (GBr) Chain Reaction Cycles/Intense                  
19 Matthieu Faury (Fra)                                             
20 Florian Gottschlich (Ger)                                        
21 Tom Dowie (GBr)                                                  
22 Daniel Prijkel (Ned)                                             
23 Adrian Kiener (Swi)                                              
24 Ludovic Gadois (Fra) Team Vario Racing                           
25 David Graf (Swi)                                                 
26 Bernard Kerr (GBr)                                               
27 William Evans (GBr)                                              
28 Jakub Riha (Cze)                                                 
29 Will Longden (GBr)                                               
30 Stefan Scherz (Ger)                                              
31 Dominik Gladen (Ger)                                             
32 Oliver Fuhrmann (Ger)                                            
33 Gracia Cédric (Fra)                                              
34 Filip Polc (Svk) MS Evil Racing                                  
35 Duncan Ferris (GBr)                                              
36 Thomas Schäfer (Ger) Solid Aclass Factory Team                   
37 Radim Kvacek (Cze)                                               
38 Lukas Jaeger (Swi)                                               
39 Sidney Gerber (Swi)                                              
40 Kevin Locquet (Fra)                                              
41 Marek Pesko (Svk)                                                
42 Reto Schmid (Swi)                                                
43 Scott Roberts (GBr)                                              
44 Petr Muhlhans (Cze)                                              
45 Jan Ersek (Svk)                                                  
46 Jan Novak (Cze)                                                  
47 Laurent Georges (Bel)                                            
48 Werner Muther (Swi)                                              
49 Guido Tschugg (Ger) Ghost A.T.G. Pro Team                        
50 Scott Beaumont (GBr) Rocky Mountain UK                           
51 Johnny Magis (Bel)                                               
52 Nico Seidel (Ger) Ghost A.T.G. Pro Team                          
53 Aiko Göhler (Ger)                                                
54 Pascal Seydoux (Swi)                                             
55 David Axelsson (Swe)                                             
56 Jeremy Morland (Fra)                                             
57 Martin Frei (Swi)                                                
58 Kristof Lenssens (Bel)                                           
59 Randal Huntington (Aus)                                          
60 Patrick Campbell-Jenner (GBr)                                    
61 Ziga Knez (Slo)                                                  
62 Jordan Gould (GBr)                                               
63 Jens Völker (Ger)                                                
64 Rafael Alvarez De Lara Lucas (Spa) Specialized Factory Racing    

Teams

1 Animal Commencal                            53 pts
2 Yeti Fox Shox Factory Race Team             40
3 GT Bicycles                                 30
4 Suspension Center                           30
5 Team Sunn                                   22
6 Ghost A.T.G. Pro Team                       19
7 Chain Reaction Cycles/Intense                9

World Cup Standings after two rounds

Individual

1 Jared Graves (Aus) Yeti Fox Shox Factory Race Team                            250 pts
2 Roger Rinderknecht (Swi) GT Bicycles                                          135
3 Dan Atherton (GBr) Animal Commencal                                           120
4 Michal Prokop (Cze)                                                           108
5 Romain Saladini (Fra) Team Sunn                                               100
6 Rafael Alvarez De Lara Lucas (Spa) Specialized Factory Racing                  75
7 Joost Wichman (Ned)                                                            68
8 Johannes Fischbach (Ger) Ghost A.T.G. Pro Team                                 45
9 Mickael Deldycke (Fra)                                                         40
10 Cédric Gracia (Fra)                                                           40
11 Gee Atherton (GBr) Animal Commencal                                           30
12 Scott Beaumont (GBr) Rocky Mountain UK                                        30
13 Kamil Tatarkovic (Cze)                                                        25
14 Quentin Derbier (Fra)                                                         17
15 Guido Tschugg (Ger) Ghost A.T.G. Pro Team                                     17
16 Lukas Mechura (Cze) Chain Reaction Cycles/Intense                             15
17 Joey Van Veghel (Ned)                                                         14
18 Sascha Meyenborg (Ger)                                                        14
19 Darryn Stow (RSA)                                                             11
20 Jurg Meijer (Ned)                                                              6
21 Filip Polc (Svk) MS Evil Racing                                                6
22 Matej Vitko (Svk)                                                              4
23 Adam Stasek (Cze) Ghost A.T.G. Pro Team                                        2
24 Premek Tejchman (Cze)                                                          2

Team

1 Suspension Center                                                              80 pts
2 Yeti Fox Shox Factory Race Team                                                80
3 Animal Commencal                                                               67
4 Ghost A.T.G. Pro Team                                                          47
5 Team Sunn                                                                      44
6 GT Bicycles                                                                    30
7 Norco World Team                                                               30
8 Specialized Factory Racing                                                     30
9 Rocky Mountain UK                                                              18
10 Chain Reaction Cycles/Intense                                                 15
11 MS Evil Racing                                                                 7