MTB index page for all MTB content
Jelenia Gora Trophy - Maja Wloszczowska MTB Race - 2
Poland, May 9, 2009
2008 Results Results
Friedel and Pendrel win in Jelenia Gora
Catharine Pendrel (Luna) wins
Photo ©: Marek Tyniec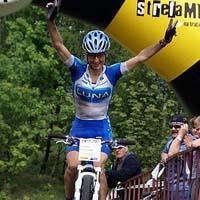 Catharine Pendrel (Luna) and Jiri Friedl (Merida Biking Team) claimed the first edition of the Jelenia Gora Trophy – Maja Wloszczowska MTB Race. Maja Wloszczowska herself , the Polish silver medallist from the Olympic Games in Bejing, China, took the second place in the UCI category 2 event. Simultaneously, she played the role of host and patron of the event.
Canadian Pendrel, US National Champion Mary McConneloug (Kenda Seven Notubes) and former Olympic champion Miguel Martinez were the biggest names drawn to the event which was attended by some of the best Polish, Czech and Russian riders, too.
Pendrel ruled the women's race. Flying over the technical course at Paulinum Mountain, she took the advantage from the start and finished first despite a crash on the downhill. Wlosczowska, Anna Szafraniec (JBG-2 Professional MTB Team) and McConneloug battled for second place with Wlosczowska coming out on top.
Jiri Friedl (Merida Biking Team) tops the men's podium.
Photo ©: Marek Tyniec

The elite men's race was unexpectedly dominated by Czech riders. Friedl and Filip Eberl (Scott Scania Team Kolin) started strongly, loosing Martinez, who couldn't keep their tempo on the uphills. The best Polish rider, Marek Galinski (JBG-2 Professional MTB Team) was slowed by technical problems and eventually finished ninth.

Friedl took the first place in the end with Eberl in second at two minutes and Martinez in third. Adrian Brzozka (JBG-2 Professional MTB Team) finished fourth as the top Polish rider of the day.

Pendrel and Friedl both took home prizes of 1,000 euro.
Photography
For a thumbnail gallery of these images, click here
Images by Marek Tyniec
Results

Elite men

1 Jiri Friedl (Cze) Merida Biking Team               1.43.35
2 Filip Eberl (Cze) Scott Scania Team Kolin             2.00
3 Miguel Martinez (Fra)                                 3.31
4 Adrian Brzozka* (Pol) JBG-2 Professional MTB Team     4.38
5 Maxim Gogolev (Rus) Leningrad Region                  4.58
6 Marek Konwa* (Pol) Team Utensilnord                   5.27
7 Kornel Osicki* (Pol) JBG-2 Professional MTB Team      6.38
8 Rafal Hebisz (Pol) MTB-Silesia Rybnik                 7.24
9 Marek Galinski (Pol) JBG-2 Professional MTB Team      8.41
10 Michael Broderick (USA) Kenda Seven Notubes          9.33
11 Piotr Brzozka* (Pol) JBG-2 Professional MTB Team    10.06
12 Denis Vorontsov (Rus) Russian Team                  11.16
13 Lukas Sablik (Cze) Scott Scania Team Kolin          11.32
14 Dmitry Medvedev (Rus) Karo - Film                   13.03
15 Ivan Seledkov (Rus) Russian Team                    13.04
16 Anton Gogolev (Rus)                                 13.46
17 Radovan Bierski (Cze)                               14.20
18 Markus Loisl (Aut)                                  17.38
19 Pavel Priadein (Rus)                                19.16
20 Tomas Pesek (Cze)                                   20.00
21 Pawel Wojczal (Pol)                                 21.14
22 Anton Fomin (Rus)                                        
23 Arkadiusz Kielbasa (Pol)                                 

Elite women

1 Catharine Pendrel (Can) Luna                       1.37.30
2 Maja Wloszczowska (Pol) Reprezentacja Polski          4.35
3 Anna Szafraniec (Pol) JBG-2 Professional MTB Team     5.21
4 Mary Mcconneloug (USA) Kenda Seven Notubes            5.04
5 Aleksandra Dawidowicz (Pol) Reprezentacja Polski      8.16
6 Paula Gorycka (Pol) Reprezentacja Polski             15.27
7 Yana Klishina (Rus) Karo - Film                      24.20
8 Aleksandra Rokita (Pol) KS Lechia Piechowice         25.30
9 Elena Babikova Gogoleva (Rus) Leningrad Region       34.01
10 Paulina Hebisz Rydzik (Pol)                              
11 Magdalena Sadlecka (Pol)                                 

Junior women

1 Weronika Rybarczyk (UKS Trojka Jarocin)            1.40.49
2 Monika Brzezna (Sleza Felt Sobótka)                   8.07
3 Anna Kuniej (Sleza Felt Sobótka)                      8.55
4 Anna Pawlowska (Sleza Felt Sobótka)                  16.06

Junior men

1 Bartlomiej Wawak (UlKS Victoria Kozy)                55.35
2 Arkadiusz Zabinski (Goodman Zator)                    7.31
3 Unknown                                               7.49
4 Mateusz Dubieniecki (Kwisa Luban)                     8.59
5 Michal Czapla (Kk Sirbud Walbrzych)                  11.40

Amateur men

1 Jan Martin (Racing Team Dknv)                      1.03.38
2 Norbert Slowinski (VIP)                              14.43
3 Rafal Boronski (M-G LKS)                             15.06
4 Karol Januczkiewicz (KS Lechia Piechowice)           21.08
5 Mariusz Rysak (VIP)                                  25.50

Master men

1 Tomasz Pierwocha (JBG-2 Professional MTB Team)       57.21
2 Jarek Miodonski (Kcp Gorskie Orly Bergamont)          6.57
3 Krzystof Podolski (Rmf-Fm Pepsi-Max)                  7.52
4 Zdzislaw Pihulak (Alfa Wil Zary MTB Team)            16.17
5 Maciej Lewandowski                                   28.23

VIP

1 Krzystofa Belz                                       12.06
2 Zbigniew Olejnik (VIP)                                0.51
3 Zenon Osendowski (Bgz Jelenia Gora)                   1.07
4 Tomasz Sieminski                                      1.14
5 Robert Krzewinski (VIP)                               1.37