MTB index page for all MTB content
Dirt Sweat & Gears - NE
Fayetteville, Tennessee, USA, May 9, 2009
Bishop, Rusch win in worst conditions ever
By Dave McElwaine in Fayetteville, TN
Jeremiah Bishop (Mona Vie/Cannondale)
Photo ©: Dave McElwaine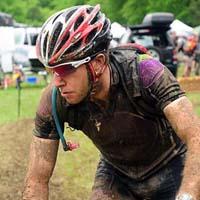 Jeremiah Bishop (Mona Vie/Cannondale) claimed victory at this year's edition of Dirt, Sweat, and Gears. The rider described conditions at the event, which had a high rate of attrition, as "the worst conditions I have ever raced in".
The Fayetteville area received seven inches of rain in the week prior to the race and downpours began right at the starting gun. The resulting mud made riding nearly impossible. Harlan Price (Independent Fabrications), in a negotiated truce with Bishop, finished second while Andy Applegate was third.
"No strategy could prepare a man for what we underwent today," said Bishop. "It was hard to ride, even downhill. It was a test of survival, like an adventure race. I went out pretty quick early and paced with the duo teams, and that strategy worked out. I've done some really wicked 24 hour races, but this is really beyond explanation."
In the women's race Pua Sawicki led by a large margin for a couple laps, but dropped out due the muddy conditions and a crash. This opened the door for Rebecca Rusch to take the win, followed by Rebecca Tomaszewki in second place.
Rebecca Rusch lifts her bike for the last time
Photo ©: Judy Rusch

"It's just not fun any more and not worth the torture, even on the equipment," said Sawicki. "This lap was 100 percent push and every two seconds you're trying to clean your bike. It's not about who can ride any more."
Rusch had been given some pre-race instructions by her coach. "Not to tank myself, keeping in mind that this is training for World's and not my peak race," she recalled. "Staying safe is a major priority."
"This is one of my favorite places to ride but right now it's really a little dangerous," she added. "Lots of exposed sideways roots and lots of places you can mess up."
Sam Koerber and Thomas Turner (Gary Fisher 29er Crew) came from several minutes down to win the Duo Open Pro race. Chip Meek won the Solo Single Speed Pro Open race.
That's one really muddy
Photo ©: Dave McElwaine

Koerber made a late race adjustment that worked out for them. "We put on some (borrowed) narrower tires," he said. "A lot of people probably started with the right tires. I was able to ride at least half of the course instead of nothing."
The initial heavy rain thinned out the mud on the course, making the first lap times under one hour. But as the rains subsided, the mud thickened dramatically, and lap times increased to over two and a half hours, even for Bishop.
By the end of the day, most racers had dropped out of the race. Only about 20 percent of the 10 mile course was actually rideable. The thick mud collected on the bikes, increasing their weight to over 50 pounds, making it impossible for the wheels to turn. Racers had no choice but to carry their heavy bikes for miles at a time.
All-time muddiest bike?
Photo ©: Dave McElwaine

Some interesting strategies evolved as a result of the carnage. One woman, who reported that there was virtually no section of the course she could ride, shouldered a lighter road bike and took off walking the course. The Velocity men's duo team switched to trail running shoes and lighter single speed bikes. One racer found an ingenious way to cross a tire on his back so that it would cushion his back when carrying the bike.
Evan Plews, one of the pre-race favorites told a similar story to dozens of other racers. "I couldn't ride my bike any more and I couldn't carry it," he said. "I'm 6'1'' and a strong guy but the thing was so heavy I couldn't carry it without it cutting my back…then my drive train tore off."
The only benefit that racers enjoyed due to the horrific conditions was that with lap times so long, it made for early finishes. Since it was taking three hours to complete a lap, there was no point in heading out for another lap after 6:00 PM even though the race was not to end until 9:00 PM
Harlan Price (Independent Fabrications)
Photo ©: Dave McElwaine

Despite the on and off rain, the race had a vibe that is rarely seen in the world of shorter cross-country racing. There was live music, multiple barbeque venders, freely flowing beer on tap, and lots of partying in the large tent city. Lots of people raced in costumes while spectators brought their small children and dogs to enjoy the festival atmosphere.
There was so much bike swag and prizes to give out to the racers that it took up an entire horse stall in a nearby barn. Prizes included bike frames, bike trainers, Ergon products, and dozens of other items. Bishop took home a check for $1500.
Many of the top cross country racers will head down the road to the Bump'n'Grind US Cup Pro XCT on May 31.
Photography
For a thumbnail gallery of these images, click here
Images by Dave McElwaine/www.trailwatch.net
Images by Judy Rusch
Images by Chris Baker
Results
Solo elite men

1 Jeremiah Bishop                               4 laps
2 Harlan Price                                  4
3 Andy Applegate                                4
4 Brandon Draugelis                             2
5 Josh Tostado                                  2
6 Ernesto Marenchin                             2
7 Erik Nielson                                  2
8 Lee Unwin                                     2
9 Chris Baker                                   2
10 Evan Plews                                   1
11 Chris Janiszewski                            1

Solo elite women

1 Rebecca Rusch                                 4 laps
2 Rebecca Tomaszewski                           4
3 Sandra Tomlinson                              3
4 Pua Sawicki                                   2
5 Danielle Musto                                2
6 Suzan Falvey                                  2
7 Rita Jett                                     1

Duo Pro team

1 Outspokin' Bicycles/Gary Fisher 29er Crew     5 laps
2 Terrapin Racing Duo 1                         5
3 Union College                                 4
4 Terrapin Racing Duo 2                         4
5 Velocity Bicycles                             3
6 Moots                                         2
7 Team Swiftwick                                2

Solo singlespeed elite men

1 Chip Meek                                     5 laps
2 John Mylne                                    4
3 Jonathon Robbins                              4
4 Greg Martin                                   3
5 Jamie Pillsbury                               2
6 Dave Holmes                                   2
7 Dejay Birtch                                  2

Four-person amateur team

1 Starbrite Carwash                             4 laps
2 Cedar Bluff Cycles                            4
3 Moots Suits                                   4
4 Cartecay Bike Shop                            3
5 Studs on Steeds                               2
6 Mickie's Mafia                                2
7 Rush Limbaugh's Hillbilly Heroin              2
8 Here for the Raffle III                       2
9 Unintendos                                    2
10 Topeak- Ergon                                2
11 Rochester Mills Brewery                      2
12 Team Luv Handles                             2
13 Beer:30                                      2
14 Good for a Lap                               2
15 starbrite/MOAB                               1
16 Team Ride for Reading                        1
17 Tha Dirty Dirty                              1
18 Hop Dogs /Queen City Wheels                  1
19 team biker's choice                          1
20 team clysdale                                1
21 Scenic City Velo / Krystal                   1
22 Alabama High Tess                            1
23 BMW Bianchi                                  1
24 The Bear Slayers                             1

Four-person singlespeed (with some costumes)

1 Racer X                                       4 pts
2 Wooden Wave                                   3
3 BUMP n' Uglies                                2
4 monocog                                       1
5 Suck Creek Cycles                             1

Duo amateur men

1 Starbrite Carwash                             3 pts
2 Faster Mustache: Yallbros                     3
3 Faster Mustache : BroBots                     3
4 NSW Flyin' Frogs Sponsored by Ellsworth       3
5 Pain Train                                    3
6 Billy Bob and the Intense Turtle              3
7 Slo-Mo and G-String                           2
8 Team Bikers Choice                            2
9 Fessler Fitness                               2
10 Quatro                                       2
11 Zephyr Wheel Sports                          2
12 FM: BurkaBurkaAbuGabe                        2
13 Coolmanchu                                   2
14 RetroTec/Chris King                          1
15 DOS                                          1
16 Hairy Scary Racers                           1
17 Murray State                                 1
18 Nothing Special                              1
19 TEAM BAP                                     1
20 Bock And Calls                               1
21 Harpeth Bicycles                             1
22 L&L Racing                                   1
23 Left for Dead                                1
24 Krispy Kremes                                1
25 Panama Red                                   1
26 Frank & Josh                                 1

Duo Co-ed Amateur

1 Wood-N-Wave Co/Ed Duo                         3 laps
2 KK&Kranz                                      3
3 Team Hitched                                  3
4 Pace and Grace                                2
5 Faster Mustache                               2
6 Trek Store Cincinnati                         2
7 BUMP Mash & Spin                              2
8 Worm and a Bucket/SCO                         2
9 Seven Hills                                   2
10 Blonds Have More Fun                         1
11 The Trek Store Madonnas of Cincinnati KY     1
12 Pimp N' Ho                                   1
13 Drink Ride                                   1

Solo Amateur men

1 John Carr                                     3 laps
2 Jonathan Kindig                               3
3 Randy Kerr                                    2
4 Jonathan Schmidt                              2
5 John Karrasch                                 2
6 Jarret Kinder                                 2
7 christopher stark                             2
8 John Brodzky                                  2
9 jonathan schmidt                              2
10 Brian Schaefer                               2
11 Travis Williams                              2
12 Joseph Jefferson                             2
13 Blaine Heppner                               2
14 Lonnie Vogan                                 2
15 Daniel Ward                                  1
16 Lee Foster                                   1
17 todd essig                                   1
18 Eddie Whittemore                             1
19 Steve Swindall                               1
20 Michael Jarosz                               1
21 Bill Ostrowski                               1
22 Woody Deutsch                                1
23 Christopher Holzner                          1
24 Mark Chubb                                   1
25 Chris Booker                                 1
26 David Swift                                  1
27 Jonathan Rogers                              1
28 Tom McGill                                   1
29 Freddy Steele                                1
30 Mike Pierce                                  1
31 Andrew Ingram                                1
32 David Keedy                                  1
33 Adrian Hruszkewycz                           1
34 Derek Bryan                                  1
35 Kevin Conerly                                1

Solo singlespeed amateur men

1 Adam DeGardeyn                                3 laps
2 Chris Ivory                                   2
3 Doug Pierce                                   2
4 Hardwick Gregg                                2
5 Brendan Gibbs                                 2
6 Brian Archer                                  2
7 Scott McConnell                               2
8 Chad Brandon                                  2
9 Scott Lee                                     2
10 Jeff Scott                                   2
11 Greg Curl                                    2
12 Rob Youngren                                 2
13 chris pesce                                  2
14 Lee Neal                                     2
15 Greg Lawrence                                1
16 Mike Cassibry                                1
17 Joseph Queen                                 1

"Here for the Beer" Mixed Amateur teams

1 Misfit Psycles                                3 laps
2 Kelly's worst nightmare                       2
3 Mudslingers                                   2
4 Cartecay Bike Shop                            2
5 Cul De Sac                                    1
6 Dutch Rudders/Ride for Reading                1
7 St. andrew's-sewanee school                   1
8 Party Liquor                                  1
9 Sparky                                        1

Duo amateur women

1 Two Krystal Chiks                             2 laps
2 Vantaggio/Specialized SCV                     1
3 Running from Spiders                          1

Solo amateur women

1 Julia Radmann                                 2 laps
2 Andrea Wilson                                 2
3 Amy Mace                                      1
4 Leslie Trussler                               1
5 Ruth Cunningham                               1
6 Julie Urlaub                                  1
7 Karen Rogers                                  1
8 Denise Weber                                  1
9 Elizabeth Mccalley                            1