MTB index page for all MTB content
SoCal League Finale: Cowpie Classic - NE
Los Olivos, California, USA, May 3, 2009
2008 Results Results
Cowpie Classic hosts inaugural SoCal League series finals
Amanda Duarte
Photo ©: Michael McClure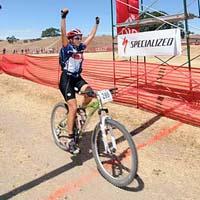 The Southern California Interscholastic Cycling League successfully completed its inaugural series with the Cowpie Classic event, held at the Stump Grinder Dirt Club private mountain bike area, at Los Olivos on May 4.
"To say it's been way better than expected, or I'm ecstatic, would probably be understatements. It really couldn't have gone better. A lot of local people put an immense amount of work and talent into making this series happen, but without Matt Fritzinger and the NorCal League we simply couldn't have done it. His formula and experience created our success, it's that simple," said Quintin Easton, president of the SoCal League.
The SoCal series, which is funded primarily by the Easton Sports Development Foundation, attracted more than 100 high school students from 14 school and composite teams in its inaugural four-race series, beginning March 8. Racing categories included Varsity, Junior Varsity, and Freshman / Sophomore combined. The events generated such enthusiasm that some students traveled up to six hours to race.
The start of the JV Boys race.
Photo ©: Michael McClure

The Newport Beach Composite team led the series from start to finish, despite sustained pressure from the Hemet High School riders. Yucaipa High School finished a close third. Newport Beach team coach, James May, said "The kids were awesome. I'd love to take credit, but really it was the kids, and a great group of parents. The kids did a lot of it on their own, they organized a lot of their own training, they're very motivated, and they're a really fun group to work with."
May is a teacher at Corona del Mar High School. His next move, he says, is to expand the scope of the team, adding relevance at a more recreational level to kids who are just interested in learning about the sport and who have no feeling yet for racing.
Zach Valdez
Photo ©: Michael McClure

Winners of the individual series titles were headed up by Varsity category riders Zachary Valdez (Hemet) and Tiana Row (Independent). For Valdez, the series win was a huge accomplishment. "I've been racing for a few years now, but I've not had a result like this. This is pretty big, it's pretty cool! It's pretty cool to be able say I've won the series!"
Valdez was unsure of his prospects going into the series, but his target soon came into focus. "After the first race I realized it would be nice to win the series. I started training a lot harder and everything," he said. Tiana Row was not present at the final but still won the series.
Amanda Duarte (Indpendent), who won junior varsity girls series; Tucker Trotter (Yucaipa), junior varsity boys; Leila Carrillo (Newport Beach Composite), freshman/sophomore girls; and Ricky Riedl (Palos Verdes Composite), freshman/sophomore boys.
This league has brought with it feelings of joy and surprise to all that participated in the inaugural series. Tucker Trotter's feelings about his win could easily apply to the whole league: "I'd never raced a mountain bike before the first race of this series. I couldn't even imagine getting on the podium back then, let alone winning the whole series! I'm super happy, super-stoked. I've never really won anything – a soccer match maybe, but that's different. Nothing this big."
The California Interscholastic State Championships will be held at Boggs Mountain in Cobb, California, May 17.
Photography
For a thumbnail gallery of these images, click here
Images by Michael McClure
Results
Varsity Boys

1 Eric Landman (Independent)             1.44.29
2 Zachary Valdez (Hemet)                    1.31
3 Nicolas Avellaneda (Independent)         10.37
4 Kortlin Mason (Yucaipa)                  12.25
5 Matts Hanssens (Newport Beach)           16.25
6 Kyle Simpson (Hemet)                     19.25

Junior Varsity Girls

1 Amanda Duarte (Independent)            1.42.59
2 Jasce Goldsmith (Hemet)                   7.46
3 Brooke Pickett (RHS Racing)              14.53
4 Dana Pickett (RHS Racing)                14.58

Junior Varsity Boys

1 Tucker Trotter (Yucaipa)               1.11.35
2 David Pretzinger (Rim High)               4.38
3 Ryan Matter (RHS Racing)                  4.39
4 Quint Berkemeier (Rim High)               6.04
5 Kaleb Doucette (Yucaipa)                  8.41
6 Brad Beler (Yucaipa)                     13.03
7 Joshua Bloodsworth (Rim High)            15.42
8 Jakob Basham (Rim High)                  15.54
9 Thomas Ferber (RHS Racing)               16.04
10 Luis Ramos (Channel Islands)            18.09
11 Cody Doran (RHS Racing)                 19.17
12 Jose Hernandez (Channel Islands)        21.57
13 Jeremy Marcus (Rim High)                27.28
14 Jerod Gamache (Yucaipa)                 28.46
15 Armen Doumanian (Glendale)              35.55
16 Jeremy Waier (Rim High)                 37.44
17 Greg Miller (Hemet)                     40.14
18 Zach Danko (Independent)                41.53
19 Eric Steinert (Glendale)                49.36
20 Nathan Parrott (Hemet)                  50.44
21 Dakota Wilson (Yucaipa)                 50.45
22 Graeme Lock (Glendale)                1.02.00

Freshman / Sophomore Girls

1 Leila Carrillo (Newport Beach)         1.39.17
2 Rachael Somerville (Newport Beach)        7.09
3 Irma Mejia (Channel Islands)             17.56
4 Katie Draffen (Palos Verdes)             18.44
5 Marquel Vargas (Warner High)             18.47
6 Pamela Bogust (Glendale)                 18.51
7 Felicia Perez (Yucaipa)                  18.56

Freshman / Sophomore Boys

1 Ricky Riedl (Palos Verdes)             1.09.49
2 Brady Kiss (Yucaipa)                      0.39
3 Justin Brewer (Inland Valley)             9.07
4 Joel Turner (Hemet)                       9.50
5 Alec Nolte (Yucaipa)                     10.55
6 Steven Gamache (Yucaipa)                 11.00
7 Dakota Bridges (Yucaipa)                 12.43
8 Trent Brudin (Hemet)                     12.44
9 Vicente Gonzalez (Yucaipa)               13.40
10 Lance Bird (St Francis)                 14.09
11 Russell Mays (St Francis)               14.43
12 Neil Houser (Yucaipa)                   15.09
13 Brandon Kirkham (Hemet)                 15.26
14 Tyler Molnar (Independent)              18.52
15 Steve Shushnar (St Francis)             19.00
16 Dillen Maurer (Glendale)                19.47
17 Jesse Carrillo (Newport Beach)          19.48
18 Peter Morris (Newport Beach)            20.17
19 Shane Somerville (Newport Beach)        21.56
20 Tyler Peery (Chain Reaction)            22.30
21 Matthew Misetich (St Francis)           24.10
22 Humberto Solarzano (Channel Islands)    31.39
23 Steven Lansing (Chain Reaction)         32.50
24 Jonathan Sedgwick (Hemet)               36.01
25 Cameron Aubert (St Francis)             37.07
26 Gregory Celentano (West Ranch)          38.14
27 Roberto Equihua (Channel Islands)       38.51
28 Reily Pratt (Glendale)                  42.53
29 Andres Ochoa (Channel Islands)          43.05
30 Clayton Burns (Rim High)                43.34
31 Weston Weaver (Glendale)                51.09
32 Drake Cheatham (Palos Verdes)           51.17
33 Daniel Verde (Glendale)                 51.23
34 Andy Acosta (St Francis)                51.30
35 Steven Ayoob (St Francis)               51.35
DNF Connor McClafferty (West Ranch)