MTB index page for all MTB content
US ProXCT #1 and Kenda Cup West #2 - Fontana National - 3
Fontana, California, USA, March 28-29, 2009
Main Page Results Previous Race Next Race
Race 5 - March 29: Cross country: Elite & Category 1
Kabush makes it four in a row at Fontana
By Dave McElwaine in Fontana, California
Geoff Kabush (Rocky Mountain/Maxxis)
Photo ©: Dave McElwaine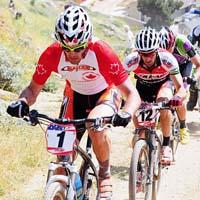 Geoff Kabush (Team Maxxis-Rocky Mountain) won again at Fontana despite trailing a talented ShoAir team until the final lap. Newly acquired ShoAir racer Max Plaxton had to settle for second place, although he had led most of the race. Jeremy Horgan-Kobelski (Gary Fisher/Subaru) out-sprinted his teammate Sam Schultz for third. Adam Craig (Giant) finished fifth.

The newly designed cross country course proved to be much more challenging than in years past. It featured a steep, technical climb, followed by technical, downhill singletrack. Even the leaders were forced off their bikes at time due to deep sand an rocky obstacles. For the first time in race history, a major section of course was open to pros only.

"The course is more condensed, more technical...a better mountain bike course," said Craig. "I definitely got a little loose a couple times on the bottom of the pro section and didn't die which is good."

The race turned out to be quite tactical as Plaxton and Sid Taberlay (ShoAir) were the only team with numbers among the leaders. Initially Taberlay set a blistering pace but Plaxton broke free and made it up the steep climb first. Kabush was forced to do all the chasing, with Taberlay and Jeremiah Bishop (MonaVie/Cannondale) in tow.

Max Plaxton (Shoair/Specialized)
Photo ©: Dave McElwaine

On the fourth lap, Taberlay got around Kabush and was able to effectively block on the descent. This allowed Plaxton to open a 15-second lead entering the next pavement climb.

"My training was going well and I knew I was 100% coming in here" said Kabush. "I had to deal with the ShoAir mafia there for a while...but that's the benefit of having a team. I just tried to stay relaxed because I knew it was going to come down to the last lap."

Kabush was right in that the younger Plaxton faded a bit on lap five, allowing Kabush not only to catch him, but put some significant distance on him before the finish line.

The race for third heated up dramatically as Taberlay appeared to be blown with the Gary Fisher duo chasing him down. "We caught Sid on the long stretch on the fourth lap," said Sam Schultz. "As soon as we hit the climb it was just Adam (Craig), Jeremy (Horgan-Kobelski), and me. Jeremy was riding the climb super hard."

As usual there was a bit of chaos
Photo ©: Dave McElwaine

"We made a gap on Adam at the paved climb, but his descending skills got him back pretty close to us again," said Schultz. "At the end, Jeremy and I sprinted for the finish, and he took it."

One of the most dramatic rides of the day was by Todd Wells (Specialized) who broke a chain at the start. Despite losing six to eight minutes due to the repair, he was able to pick off over one hundred riders and finish ninth overall. It certainly begs the question as to what he might have done if he had not suffered the mechanical.

The US Cup weekend appeared to be a huge success. The elite men's field of 110 riders was the largest in the history of the race. The festival atmosphere brought in large crowds, many of whom had never seen a bicycle race before.

Many of the top pros will head to the first World Cup race in South Africa on April 11-12. For most racers, the Sea Otter Classic on April 16-19 will be their next major race. It will also be stop number two on the US Cup ProXCT calendar.
Georgia Gould powers her way to a win
By Dave McElwaine in Fontana, California
Georgia Gould (Luna Women's MTB)
Photo ©: Dave McElwaine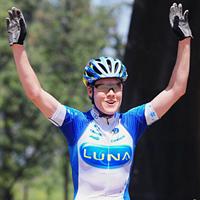 Georgia Gould and Luna teammate Catheine Pendrel had a slugfest at Southridge Park. Gould's superior power on the flats allowed her to take a 36-second victory over Pendrel. A resurgent Heather Irmiger (Gary Fisher/Subaru) took third convincingly, while 20-year-old Emily Batty (Trek Bicycle Store) took fourth, and Willow Kroeber (Gary Fisher/Subaru) finished in fifth place.

The newly designed course at Fontana is made up of three distinct parts; a rather massive, technical climb complete with slick rock, sand, and grass; a technical singletrack descent with some major obstacles; and a very long flat run into the finish.

Gould took the hole shot and led the women's field up that first steep climb. She held a lead over Pendrel until the beginning of the climb on lap two when Pendrel passed Gould and seemed to be riding away. As the race progressed, however, it became apparent while Pendrel owned the climbs, Gould was superior on the two other sections of the course. When Pendrel would get away, Gould would repeatedly bring her back.

"I had a great start. I tried not to go out too hard on the first climb so I would not be too blown up," said Gould. "Then (later), Catherine passed me... she was strong on the climbs, and I was a little stronger on the flat sections."

Catherine Pendrel (Luna Women's MTB)
Photo ©: Dave McElwaine

"I felt strong. I definitely have great form right now and am climbing really well," said Pendrel. "I just felt really off on the descents. Georgia was really schooling me on the downhills. "Whatever gaps I would get on the climbs, she would reel me in between the flats and the descents. I started riding better as the race went on but so did she."

Behind the leaders, Irmiger rode the entire race alone in third place. She appeared to climb nearly as well as the leaders and rode very consistent laps.

Batty (Trek Bicycle Store) has had an amazing start to her season. Last weekend, she won the Under 23 Pan American Continental Championship. By finishing fourth in Fontana, she improved her position by one spot over last year. It's been awhile since anyone Batty's age has achieved multiple national series podiums.

"I felt absolutely awesome," said Batty after the race. "The heat was playing in my favor coming from Tucson... the course was just phenomenal."

Koerber also rode a consistent race. She appeared to be climbing well, and she descended far better than most of the racers. She finished approximately six minutes behind Gould.
Photography
For a thumbnail gallery of these images, click here
Images by Dave McElwaine/www.trailwatch.net
Results
Elite men
 
1 Geoff Kabush (Can) Team Maxxis-Rocky Mountain         1.50.36
2 Max Plaxton (Can) ShoAir/Specialized                     0.43
3 Jeremy Horgan-Kobelski (USA) Subaru-Gary                 1.38
4 Sam Schultz (USA) Subaru-Gary                            1.39
5 Adam Craig (USA) Giant Mtb Team                          2.14
6 Sid Taberlay (Aus) ShoAir/Specilaized                    3.58
7 Derek Zandstra (Can) 3 Rox Racing                        4.41
8 Seamus McGrath (Can) Jamis Factory                       5.20
9 Jeremiah Bishop (USA) Monvie Cannondale                  5.34
10 Todd Wells (USA) Specialized                            5.36
11 Troy Wells (USA) Team Cliff Bar                         6.55
12 Andy Schultz (USA) Kenda/Tomac/Hayes                    6.56
13 Carl Decker (USA) Giant Mtb Team                        8.13
14 Kris Sneddon (Can) Kona                                 9.01
15 Adam Morka (Can) Trek Store Racing Team                     
16 Barry Wicks (USA) Kona                                  9.17
17 Travis Livermon (USA) Champion System/Cannondale       10.01
18 Manuel Prado (USA) ShoAir/Specilaized                  10.25
19 Stefan Widmer (Can) Rocky Mountain/Different Bike      10.43
20 Tad Elliott (USA) U23 National                         11.18
21 Rob Squire (USA) Us National Team                      11.28
22 Peter Glassford (Can) Trek Store Racing Team           13.04
23 Adam Snyder (USA) 3-D Racing                           13.31
24 Colin Cares (USA) Kenda/Tomac/Hayes                    14.13
25 Cameron Jette (Can) Trek Bicycle Store                 15.02
26 Mitchell Peterson (USA) Monvie Cannondale              15.13
27 Bryan Alders (USA) Monavie-Cannondale.Com              15.44
28 Bart Gillespie (USA) Monavie/Cann                      16.00
29 Robert Marion (USA) Kenda/Kmc/Hayes                    16.12
30 Dana Weber (USA) Trek/World Bicycle Relief             16.15
31 Tj Woodruff (USA) Adventure 212/Specialized            16.47
32 Alex Grant (USA) Monavie-Cannondal.Com                 17.01
33 Steve Larsen (USA)                                     17.39
34 Drew Edsall (USA) Scott Usa/Wtb                        18.06
35 Erik Tonkin (USA) Kon                                  18.14
36 Spencer Paxson (USA) Team S&M Young Guns               18.30
37 Braden Kappius (USA) Clif Bar                          18.53
38 Mitchell Hoke (USA) Colorado College                   19.00
39 Cody Peterson (USA) Dedicated Athlete                  19.04
40 Ryan Woodall (USA) Dedicated Athlete/Industry          19.37
41 Trevor Downing (USA) Team Devo                         19.40
42 Ethan Gilmour (USA) U23 Nat Team                       20.19
43 Jeff Herrera (USA) Adrenaline Race Team/Titus          21.24
44 Ken Onodera (Jpn) Subaru-Gary Fisher                   21.56
45 Aaron Bradford (USA) Onsite Ultrasound                 22.23
46 John Bennett (USA) Whole Athlet                        23.37
47 Chris Peariso (USA) Adventure 212/Specialized          23.54
48 Simon Happy (Can) Rst Velo Sports                      24.05
49 Aaron Olson (USA) Unattached                           24.11
50 Robert Herber (USA) Dixon Art                          24.36
51 Kalan Beisel (USA) Procycling/Cts                      24.38
52 Jason Siegle (USA) Bear Valley Bikes                   25.20
53 Colin Osborn (USA) Bikeparts.Co                        26.13
54 Greg Carpenter (USA) Devo/Giant                        26.17
55 Yuki Saito (Jpn) Topeak-Ergon                          26.25
56 Nathan Ringquist (USA) 3D Racing                       27.15
57 Paul Freiwald (USA) Pivot Cycles                       27.32
58 Ryan Clark (USA) Cynergy Cycles                        27.42
59 Stephen Ettinger (USA) Black Diamond Sports Therapy    28.45
60 Chris Suter (USA) Adrenaline-Titus                     29.57
61 David Williams (USA) Bear Valley Bikes                 29.58
62 Charles Jenkins (USA) Cytomax/Khs                      31.20
63 Sean Donovan (USA) Cytomax/Khs                         32.06
Pulled
64 Leonardo Sandoval (USA) One Man Show                        
65 Matt Wittler (USA) Lost Coast Brewery                       
66 Matt Freeman (USA) Pass Pt/Gary Fisher                      
67 Dax Kastrin (USA) Sport System Mtc                          
68 Nate Byrom (USA) Northstar/Giant                            
69 Michael Mooradian (USA) Spin Bike Sh                        
70 Corey Ward (USA) Team Chico & Specialized                   
71 Alfredo Cruz (Mex) Auto-Tec                                 
72 Alex Boone (USA) Helens/Subar                               
73 William Ross (USA) Kaladi Bros/Subway                       
74 Eric Bierman (USA) Steven K Sports                          
75 Justin Maka (USA) Sdg/Azonic/Tekbolt                        
76 Jan Koles (USA) Mafia Racing                                
77 Garnet Vertican (USA) Giant                                 
78 Romolo Forcino (USA) Bear Valley Bikes                      
79 Seamus Powell (USA) /Windham Mt Outfitters                  
80 Chad Stoehr (USA)                                           
81 Brian Bain (Can) Cmc/Bow Cycl                               
82 Matthew Connors (USA) Fisher 29Er Crew                      
83 Jacob McClelland (Can)                                      
84 Tom Koerner (USA) Bear Valley Bikes                         
85 Blake Harlan (USA) Jamis Factory Team                       
86 Tom Sharp (USA) Contentworks                                
87 Rich Weis (USA) Kenda/Taser                                 
88 Noah Holcomb (USA) Cannondale Factory                       
89 Derek Hermon (USA) Bear Valley Bikes                        
90 Steve Kinney (USA) Steven K Sports                          
91 Hal Helbock (USA) Cytomax/Khs                               
92 Zachary Griffin (USA) Finishline                            
93 Matt Rotroff (USA) Inland Construction                      
94 Veeze Price (USA) Bear Valley Bikes                         
95 Daniel Kindregan (USA) Gt Dirt Coalition                    
DNS Miles Neisser (USA) Arts Cyclery/Bionicon                  
DNS Bryan Vanvleet (USA) Khs Bicycles                          
DNF Miguel Valadez (Mex) Mex-America                           
DNS Rob Sousa (USA) Comotion Sports/Yeti                       
DNS Ryan Trebon (USA) Kona                                     
DNS Ignacio Torres (Mex) Turbo                                 
DNF Alex Ryan (USA) Ccn/Cannondale                             
DNF Roger Bartels (USA) Team Norcal Bike Sport                 
DNF Eric Batty (Can) Trek Bicycle Store Team                   
DNS John Nobil (USA) Bear Valley Bikes                         
DNS Tim Allen (USA) Niner                                      
DNF Scott McKelvey (USA) Palm Springs                          
DNF Sam Jurekovic (USA) ShoAir/Specialized                     
DNS Macky Franklin (USA) Team Devo                             
DNF Jason First (USA) Sho-Air/Crank Brothers                   
DNF Aaron Elwell (USA) Crrt/Monster/T6                         
DNF Menso De Jong (USA) Santa Cruz Bicycles                    
DNF Charlie Pendry (USA) Inland Construction                   
 
Elite women
 
1 Georgia Gould (USA) Luna Womens MTB Team              1.35.13
2 Catherine Pendrel (Can) Luna Womens MTB Team             1.36
3 Heather Irmiger (USA) Subaru-Gary                        3.07
4 Emily Batty (Can) Trek Bicycle Store Team                4.46
5 Willow Koerber (USA) Subaru-Gary                         6.10
6 Amanda Sin (Can) 3 Rox Racing                            6.12
7 Kelli Emmett (USA) Giant MTB Team                        9.14
8 Pua Sawicki (USA) Ellsworth                              9.51
9 Melanie McQuaid (Can) ShoAir/Specilaized                10.15
10 Allison Mann (USA) Ie Bikes                            11.43
11 Kathy Sherwin (USA) Kenda/Tomac/Hayes                  13.23
12 Chloe Forsman (USA) Luna Womens MTB Team               14.55
13 Amanda Carey (USA) Kenda/Tomac/Hayes                   15.03
14 Krista Park (USA) Incycle/Magura/Notubes               16.35
15 Aleksandra Rokita (Pol) Lechia Piechowice              18.25
16 Natasha Hernday (USA) Amgen                            18.26
17 Anina Aaron (USA) Kenda/Kmc/Hayes                      18.27
18 Sue Butler (USA) Monavie/Cannondale.Com                20.35
19 Zephanie Blasi (USA) Kenda/Titus                       22.46
20 Maureen Kunz (USA) Lost Coast Brewery/Marin Bikes      23.05
21 Sarah Kaufmann (USA) Titus/Roaring Mouse               23.54
Pulled
22 Joy Duerksen (USA) Pass Physical Therapy                    
23 Heather Ranoa (USA) Intense Cycl                            
24 Philicia Marion (USA) Kenda/Kmc/Hayes                       
25 Jamie Stamps (USA) Another Bike Shop                        
26 Danae York (USA) Velobum.Com/Turner                         
 
Cat 1 Men 17-18
 
1 Kevin Fish (USA) Bicycle Sport Shop                   1.40.46
2 Davis Bentley (USA) Whoe Athlete                         1.23
3 Russell Finsterwald (USA) Procycling/Front Ran           2.48
4 Riley Predum (USA) Whole Athlete                         3.50
5 Kyle Kraakevik (USA) Fetish Cycle                        6.41
6 Joseph Yohan (USA)                                       7.47
7 Tylor Giger (USA) Vos-Cycles Gladiator                  10.22
8 Nicolas Avellaneda (USA)                                11.02
9 Michael Suggs (USA)                                     28.40
10 Kurt Delahooke (USA)                                   34.42
DNF Kody Adams (USA) Cannondale                                
DNF Ben Sukys (USA) Miramonte High Schoo                       
DNF William Curtis (USA) Whole Athlete                         
DNF Nicholas Newcomb (USA) Whole Athlete                       
 
Cat 1 Men 15-16
 
1 Bryan Duke (USA) Vos/Cycles                           1.15.29
2 Anthony Smith (USA) Whole Athlete                        1.45
3 Casey Williams (USA) Bear Valley Bikes                   2.31
4 Ryan Geiger (USA) Bionicon/Schwalb                       5.34
5 Gene Capinas (USA) Team Mata                            12.19
6 Justin Brewer (USA) Cycopath                            12.48
DNF Matthew Thome (USA) Backbone/Pmb                           
 
Cat 1 Men 19-24
 
1 Victor Michelt Figueroa (USA) Cerro Bike              1.34.42
2 Brandon Cross (USA) Monavie-Cannondale                   3.36
3 Yoshio Garcia (USA) Coates Cyclery                       4.40
4 Zachary Keller (USA) Adrenaline/Titus                   16.17
5 Danny Munoz (USA) ShoAir                                17.20
6 Scott McClave (USA) Simi Cycling                        20.43
7 Vu Le (USA) Helens/Subaru-Gary F                        21.23
8 Ryan La Bar (USA) Bike Magazine                         23.33
9 David Robertson (USA) Coates Cyclery                    36.40
 
Cat 1 Men 25-29
 
1 Ely Woody (USA) Vv Ccles                              1.36.11
2 David Santos (USA) Steven K Sports                       2.34
3 Adrian Scott (USA)                                       3.54
4 John Parson (USA) Simply Fit                             4.52
5 Eric Schuda (USA) ShoAir/Specialized                     6.17
6 Kurt Janssen (USA) Dons Bikes                           12.09
7 Chris Thibodeau (USA) Sierra Express Racin              14.01
8 Jestin Kuettel (USA) Taser/Kenda                        17.54
9 Philip Monell (USA) Helens Fisher                       18.22
10 Justin Wolff (USA) Specialized                         19.02
11 Lyle Warner (USA) Helens/Subaru Fisher                 19.13
12 Jeff Dambrun (USA) Coates/On Deck Found                20.14
13 Ryan Hernandez (USA) Sc Velo                           24.00
14 Dan Nielsen (USA) Bear Valley Bikes                    25.08
15 Steve Marshall (USA) Bear Valley Bikes                 28.49
16 Sean Robman (USA) Pasadena Cyclery                     50.21
DNF Bobby Langin Jr (USA) Platinum Performance                 
DNF Fred Dreier (USA)                                          
DNF Douglas Herington (USA)                                    
 
Cat 1 Men 30-34
 
1 Gary Douville (USA) ShoAir/Sonance                    1.32.58
2 Brian Butler (USA) Joselyns/Hammer                       5.32
3 Joel Baty (USA) Olympic Bike Shop                        6.28
4 Wesley Reutimann (USA) Helens/Fisher/Subaru              6.57
5 Justin Mann (USA) Ie Bikes                              10.06
6 Humberto Castro (USA) Jenson Usa                        10.15
7 Matthew Perry (USA) Chicken Ranch                       10.22
8 Eric Christenson (USA) Outsideallday.Com                10.54
9 Marco Arocha (USA) ShoAir/Sonance                       15.12
10 Daniel Perez (USA) Jenson Usa                          16.21
11 Stuart Gonzalez (USA) Powerbar/Fox/Kenda               17.33
12 Adam Hart (USA) 29Er Crew Fisher Bik                   20.46
13 Uldis Liepins (USA) Trisports                          21.05
14 Edwin Escamilla (USA) Tribex Racing                    25.16
15 Jacob Harris (USA) Mcc                                 26.49
16 Matthew Severson (USA)                                 27.15
17 Robert Wilcher (USA) Chicken Ranc                      36.38
DNF Eric Nelson (USA) Team Possabilities                       
DNF Griffith Vertican (USA) Celo Pacific                       
DNF Daniel Wells (USA)                                         
DNF David Sheek (USA) Outsideallda                             
 
Cat 1 Men 35-39
 
1 Matt Ohran (USA) Monavie/Cann                         1.38.50
2 Matthew Cochran (USA) Fast Friday                        0.43
3 John Mylne (USA) Niner/Ergon                             1.30
4 Timothy Sparks (USA) ShoAir/Sonance                      2.17
5 Alexis Seletzky (USA) Cynergy                            2.46
6 Kyle Ashton (USA) Village Pedd                           3.23
7 Daniel Stromborg (USA) Helens/Subaru Fisher              4.07
8 Ben Jones (USA) Celo Pacific                             4.37
9 Ben Capron (USA) ShoAir/Sonance                          4.53
10 Mike Oceguera (USA) Sc Velo                             7.01
11 Mario Correa (USA) ShoAir/Sonance                       7.12
12 Jermaine Brown (USA) Velo Pro/Kon                       7.56
13 Ryan Cox (USA) ShoAir/Sonance                           8.19
14 Chris Kasey (USA) Team Cohort                          10.08
15 Bryan Taylor (USA)                                     10.39
16 John Saliamonas (USA)                                  11.08
17 David Lamon (USA) Team Ape                             13.44
18 Bradley Newby (USA)                                    14.52
19 Peter Sproul (USA) Chicken Ranc                        15.24
20 Glen Gronsky (USA) Nema/Stkfgr                         17.28
21 Michael Negrete (USA) Sc Velo                          23.06
22 Jeff Dotterweich (USA) Helens/Subar                    23.17
DNF Chris Messina (USA) Flow Mg                                
DNF Michael Heindel (USA) Flow Mg Racing                       
DNF Fabrice Gallez (USA) Swamis                                
 
Cat 1 Men 40-44
 
1 Mike Hileman (USA) ShoAir/Sonance                     1.37.59
2 Dario Fredrick (USA) Whole Athlete                       0.09
3 Todd Booth (USA) Platinum Performance                    2.05
4 Bill Daley (USA) Trek Bikes Of Ventur                    2.08
5 Doug Urbach (USA) Platinum Performance                   3.48
6 Robert Kmetz (USA) ShoAir/Sonance                        6.57
7 Jon Flagg (USA) Simple Green                             7.37
8 Paul Romero (USA) Bear Vally Bikes                       8.51
9 Brian Dickey (USA) Colavita                              9.53
10 Henry Valenzuela (USA) Unattached                      10.01
11 Jay Hammond (USA) Bear Valley Bikes                    10.52
12 Sean Smith (USA) Linked Cycling                        12.30
13 Steve Boyd (USA)                                       13.13
14 Chris Marsiguerra (USA) Joselyns                       13.39
15 Lance Voyles (USA) Giant                               17.06
16 Lee Bird (USA) Pasadena Athletic As                    17.32
17 Erik Trogden (USA) Celo Pacific/Turner                 19.16
18 Peter Smuts (USA) Team Doppelganger                    20.10
19 John Schmidt (USA) ShoAir/Sonance                      21.36
20 Carlos Zamora (USA) Carlos Obriens Racin               21.46
21 Elmo Kassin (USA) Bear Valley Bikes                    22.49
22 Scott Palmer (USA) Covina Valle                        23.26
23 Garin Frost (USA)                                      25.00
24 Bobby Lincoln (USA) Competitive Cyclist                27.41
25 Rich Anderson (USA) Mogul Restaurant/Bod               39.31
26 Thomas Smuts (USA)                                     43.33
DNF Mark Campaigne (USA) Celo Pacific                          
DNF Barrett Brauer (USA) Bike Religion/Flowfo                  
DNF Mike Hecker (USA) Coastal Tree Care/Sg                     
DNF Travis Sluder (USA)                                        
DNF Stephen Smith (USA) Team Mbs                               
 
Cat 1 Men 45-49
 
1 Johnny Omara (USA) ShoAir/Specilaized                 1.36.42
2 Brad Stephenson (USA) ShoAir/Sonance                     2.20
3 Dermot Carroll (USA) Bikestyle Usa                       2.54
4 Tim Zandbergen (USA) ShoAir/Sonance                      4.41
5 Bud Donatoni (USA) Platinum Performance                  5.29
6 John Swanguen (USA)                                      7.15
7 Johnny Dalton (USA) Velocity                            10.56
8 David Sullivan (USA) ShoAir/Sonance                     11.06
9 David Stowell (USA) Cal-Coast Bi                        16.30
10 Richard Kim (USA) ShoAir/Sonance                       17.08
11 Keith Koller (USA) Johnny Yuma's                       18.27
12 Brian Teed (USA)                                       19.49
13 Ralph Bonnin (USA) Odi-Southrid                        26.52
14 Robert Martinez (USA) Rocket Sport Racing              42.37
DNF Alan Rishel (USA) Zia Velo                                 
DNF John Biron (USA) Platinum Performance                      
DNF Adan Guzman (USA) Helens/Subaru Fisher                     
 
Cat 1 Men 50-54
 
1 Bobby Langin Sr (USA) Platinum Performance            1.14.04
2 Dean Swank (USA) Bear Valley Bikes                       4.46
3 Steve Silva (USA) Platinum Performance                   7.55
4 Michael Hines (USA) Team Ranchos                         8.33
5 Robert Winston (USA) Swamis Racing                       8.59
6 Joe Gallal (USA) Velocity                                9.57
7 Curt Morlock (USA) Henderson Bike Shop                  12.48
8 Eric Airheart (USA) Santa Clarita Velo                  13.18
9 Patrick Eldridge (USA) ShoAir/Sonance                   15.44
10 Robert Meeker (USA) Montrose Bike                      16.13
11 Lee McEachenn (USA) Cal Coast Bicycles                 17.25
12 Steve Herrera (USA) Coveralls                          18.14
13 Phil Beckman (USA) Dons Bike Of                        18.35
14 Christopher Logan (USA) Monadnock Cycling              19.30
15 Garner Palenske (USA) Cal-Coast                        22.16
16 Kevin Quigley (USA)                                    22.53
DNF Steve Wright (USA)                                         
 
Cat 1 Men 55-59
 
1 Jon Miller (USA) ShoAir/Sonance                       1.18.54
2 Gary Shuey (USA)                                         1.29
3 Richard Manzella (USA) Echelon                           7.05
4 Reed Mayne (USA) Swamis                                 14.39
5 Eric Storm (USA)                                        18.39
6 Dick Newson (USA) Cutthroat Racing                      35.21
7 Jim Pitkin (USA)                                        41.33
DNF Glen Fraser (USA)                                          
DNF Jorge Hernandez (Mex) Turbo                                
 
Cat 1 Men 60-64
 
1 Stan Ford (USA) Cycopath                              1.28.57
2 Bob Blatner (USA) ShoAir/Sonance                         5.40
3 David Ortega (USA) Cal Coast Bicycles                    7.57
DNF Jon McLennan (USA) Velo Club La Grange                     
 
Cat 1 Men 65+
 
1 Jurgen Leiser (USA)                                   1.50.52
2 Frederick Schmid (USA) Bicycles Out                      0.58
3 Gary Foster (USA) Cycopath                               4.46
4 Buzz Brockway (USA) Team Ape                             6.04
5 Ron Riley (USA) Scccc                                   11.00
6 Russ Fay (USA) Folsom Breakouts                         15.24
7 Brian Kiniry (USA)                                      35.23
DNF Garo Mooradian (USA) Otbmbc                                
DNF Terry Dahl (USA) Platinum Performance                      
 
Cat 1 Women 15-18
 
1 Essence Barton (USA) Devo/Nso                         1.27.52
2 Deidre York (USA) Velobum.Com                            6.38
3 Christine Weir (USA) Northstar At Tahoe                  8.36
4 Tiana Row (USA) World Cycles                            45.19
1 Kari Studley (USA) Velobella                          1.28.55
2 Lesley Paterson (USA) Zoot                               1.08
3 Claudia Espinoza (USA) Devo                              2.10
4 Lisa Crowe (USA) Dons Bikes                              5.47
5 Brooke Warner (USA) Subaru/Gary Fisher                   8.12
6 Shelli Stevenson (USA) Team Jose Ole                     9.21
7 Vanessa Humic (USA) Backbone Adventure C                12.10
DNF Lauren Ziedonis (USA) Basalt Bike & Ski/Co                 
 
Cat 1 Women 30-39
 
1 Rachel Schmidt (USA) ShoAir/Sonance                   1.40.05
1 Heidi Volpe (USA) ShoAir/Sonance                        57.23
2 Tamara Tabeek (USA) Black Mountain Bicyc                 0.19
3 Karen Lundgren (USA) Bear Valley Bikes                   0.50
4 Heidi Bowen (USA) Giant Factory Team                     9.45
5 Kathryn Lapointe (USA) Quality Bicycyle                 18.13
DNF Karen Rishel (USA) Zia Velo                                
DNF Angela Wimbery (USA) Cal Coast                             
 
Cat 1 Women 50+
 
1 Sue Fish (USA) Kalyra Racing                          1.19.47
DNF Nancy Seidler (USA) ShoAir/Sonance                         
 
Cat 1 Single Speed
 
1 Todd Stephenson (USA) ShoAir/Sonance                  1.43.02
2 Scott Miller (USA) Niner                                 2.29
3 John Merriam (USA) Slime                                 4.09
4 Courtland Keith (USA) Aiage                              5.57
5 Jon Fugitt (USA) Flow Mg Racing                          6.02
6 Craig Sisino (USA) ShoAir/Sonance                        7.09
7 Mark Scheetz (USA) Coates Cyclery                        7.14
8 Coley King (USA) Smell The Glove                         8.21
9 Keith Richards-Dinger (USA)                             14.10
DNF John Cordoba (USA)