MTB index page for all MTB content
Kenda Cup West #1 - Bonelli Park - NE
San Dimas, California, USA, March 1, 2009
2008 Results Results
Taberlay plays team tactics for win
Kenda's Andy Schultz drives it at the front.
Photo ©: US Cup - Kenda Cup West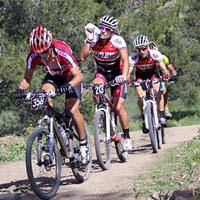 Clear skies, an all-new cross country course, temperatures in the 80s and a record 680+ racers were the elements of a perfect script for Bonelli Park, which hosted the opening round of the US Kenda Cup West on Sunday. The men's elite cross country race was nothing short of a barn burner as a field of 40 pro men lined up. In the end, Sid Tablerlay rode solo to a win after breaking away with help from teammate Sam Jurekovic (Sho-Air/Specialized) and Andy Schultz (Kenda/Tomac/Hayes).
Speed Television's Jason Britton of the show Super Bikes led out the neutral start while riding a stand up wheelie on his custom Kawasaki 600 stunt bike.
After Britton peeled off the front, the race was on for the next four laps. Immediately KHS/Cytomax rider Chuck Jenkins put the power down at the front as he began the first climb. Jenkins held the tempo just until the top when Jurekovic took over. That lead was short-lived as national series regular Andy Schultz (Kenda/Tomac/Hayes) went to the front before the first major downhill and applied the pressure. Schultz's aggressive riding quickly separated the men from the boys and the field was down to four with Schultz, Jurekovic, Taberlay and Mexico's Emmanuel Valencia in tow.
The group of four remained intact into the second lap until the first climb, where Taberlay tested the field for the first time. Only Team Turbo's Valencia was able to respond, and Schultz and Jurekovic slipped behind. Taberlay, knowing he had the numbers, decided to sit up and wait for teammate Jurekovic to bridge up. However, that didn't last long as Schultz again turned the screws as soon as he made contact with Taberlay and Valencia and then proceeded off the front.
Sid Taberlay (left) follows Jason Britton's instructions
Photo ©: US Cup - Kenda Cup West

"After I settled in, I made an initial attack to test the guys because Valencia was climbing really well today," said Taberlay.
Andy Schultz drove the pace at the front with Jurekovic, Taberlay, Valencia in tow. Taberlay and Jurekovic responded, however Valencia's first effort to match Taberlay's acceleration put him in difficulty. Now on the back section of the 7.5-mile loop, it was down to three riders. With an obvious mismatch -- with two Sho-Air/Specialized riders in the group -- the five-time Australian National Champion Taberlay decided he had had enough and made a go off the front.
"Once Andy and Sammy J got back on, Andy punched it again. But once we brought that back and got rid of Valencia, I thought I should take another go," said Taberlay.
Taberlay absconded off the front leaving Schultz as the odd man out. He had to drag around former U23 National Champion Sam Jurekovic, who was playing perfect team tactics. Going through the feed zone climb starting lap three, Taberlay had opened up over 1:15 lead ahead of Schultz and Jurekovic. Off the back of that duo came Valencia, dangling 35 seconds further back.
The US Cup start finish line packed with racers and spectators
Photo ©: US Cup - Kenda Cup West

Behind thenm, Sho-Air/Specialized's Manny Prado and KHS/Cytomax rider Sean Donovan scrapped over fifth and sixth position. The rest of the men's elite field was shattered with groups coming through intermittently several minutes back.
Once out front, Taberlay cooled the afterburners as he came through the feed zone with heavy traffic on the fourth and final lap. A minute later, Jurekovic appeared all alone as he had dislodged Schultz and was all alone in second. Forty five seconds later, Schultz appeared alone in third.
"From there on out, my manager was giving me time checks so I could manage my effort," said Taberlay.
At the finish line, Taberlay won, beating Jurekovic by 16 seconds. Schultz was one minute back.
Kenda Cup West elite men's podium:
Photo ©: US Cup - Kenda Cup West

"I've really been logging the base miles in these last few weeks, so I was more than happy to assist Sid or Manny in anyway I could," said Jurekovic. "We talked with our team manager Ty Kady prior to the race, and it was agreed we would work as a team and see how the chips fell. To come across in second feeling like I did was just icing on the cake."
"This course was definitely fast, so team tactics really came into play," said Schultz. "Unfortunately my other teammates weren't here, so I ended up on the short end of the stick once it was down to the three of us, but hey that's racing. That said, I feel like my training is coming along nicely and I should have some more horsepower at the Pro XCT race in Fontana when my teammates arrive."
Another nine minutes passed before Donovan and Prado emerged after catching Valencia on the last lap. Coming down the pavement into the tight hairpin finish it was Donovan and Prado side by side, with Donovan just edging out Prado for fourth, making it three of five for the powerhouse Sho-Air/Specialized factory domestic team.
In the women's race, American Krista Park won with a time of 1:40:41. She defeated Canadian Melanie McQuaid (Sho-Air/Specialized) by 1:31. Natasha Hernday (Amgen) was third.
McQuaid led for more than the first half of the race. Behind her, Park bided her time, gradually bringing her back and then keeping her in sight before launching her attack.
"After a while I saw her up ahead. I sped up just a bit to keep her in sight," said Park. "On the third lap, Todd told me to go, and I started closing the gap."
"I made contact before I meant to and just hung back for a while as I wasn't sure how hard we would have to go once I tried to pass her," said Park, who was concerned about not overheating on an unseasonably warm day. "Once I decided to go, I was surprised with how good my legs felt, I was able to pedal away."
Photography
For a thumbnail gallery of these images, click here
Images by US Cup - Kenda Cup West
Results

Cross country       Super D
 
Cross Country

Elite men

1 Sid Taberlay (USA) Sho-Air/Specialized             1.48.04
2 Sam Jurekovic (USA) Sho-Air Specialized               0.16
3 Andy Schultz (USA) Kenda/Tomac/Hayes                  2.16
4 Sean Donovan (USA) Cytomax/KHS                        9.15
5 Manuel Prado (USA) Sho-Air/Specialized                9.18
6 Emmanuel Valencia (USA) Turbo                        10.20
7 Charles Jenkins (USA) Cytomax/KHS                    11.44
8 Adam Snyder (USA) 3-D Racing                         12.23
9 Dana Weber (USA) Trek/World Bicycle                  13.31
10 Menso De Jong (USA) Santa Cruz Bicycles             16.48
11 Michael Lee (USA) Oakley                            16.59
12 Michael Telega (USA) California Giant Berry         17.57
13 Miguel Valadez (Mex) Mex-America                    19.55
14 Romolo Forcino (USA) Bear Valley Bikes              20.03
15 Hal Helbock (USA) Cytomax/KHS                       20.06
16 Miles Neisser (USA) Arts Cyclery                    20.11
17 Justin Maka (USA) Sdg/Azonic/Tekbolt                21.11
18 Matthew Connors (USA) Fisher 29Er Crew              24.35
19 Peter Andersen (USA) Capbols Racing                 24.38
20 Tom Koerner (USA) Bear Valley Bikes                 25.37
21 Ryan Clark (USA) Cynergy                            25.43
22 Leonardo Sandoval (USA)                             25.49
23 Jason Siegle (USA) Bear Valley Bikes                26.32
24 Scott Mckelvey (USA) Palm Springs                   27.12
25 Paul Freiwald (USA) Kenda                           27.20
26 Chad Stoehr (USA) Blue Competi                      28.05
27 Matt Freeman (USA) Pass Pt/Gary Fisher              30.12
28 Alex Boone (USA) Helens/Subar                       30.13
29 Ben Sullivan (USA) Red Rock Racing                  32.04
30 Noah Holcomb (USA) Cannondale Factory               38.16
31 David Williams (USA)                                45.49
32 Chad Elmer (USA) Bear Valley Bikes                  57.49
DNF Ray Storm (USA) Pronghorn                               
DNF John Nobil (USA) Bear Valley Bikes                      
DNF Eric Bierman (USA) Steven K                             
DNF Derek Hermon (USA) Bear Valley Bikes            
        
Elite women

1 Krista Park (USA) Unattached                       1.40.41
2 Melanie Mcquaid (Can) Sho-Air/Specialized             1.31
3 Natasha Hernday (USA) Amgen                           3.36
4 Heather Ranoa (USA) Intense Cycl                     11.43
5 Joy Duerksen (USA) Pass Physical Therapy             12.33
6 Sarah Kaufmann (USA) Titus/Roaring Mouse             13.30
7 Carolyn Popovic (USA) Bear Valley Bikes              14.29
DNF Jamie Stamps (USA) Bicycle Planet  

Cat 1 men 17-18

1 Zachary Valdez (USA)                               1.07.53
2 Kurt Delahooke (USA)                                  3.55
3 Kody Adams (USA) Cannondale                           7.02
4 Michael Suggs (USA)                                   9.10
5 Nicolas Avellaneda (USA)                             15.45
DNF Garrett Garcia (USA) Ladera Cycle                       

Cat 1 men 15-16

1 Ryan Geiger (USA) Bionicon/Schwalbe                1.05.35
2 Casey Williams (USA) Bear Valley Bikes                2.22
3 Gene Capinas (USA) Team Mata                          9.32
4 Matthew Thome (USA) Backbone/Pmb                      9.37
5 Justin Brewer (USA) Cycopath                         18.46

Cat 1 men 19-24

1 Yoshio Garcia (USA) Coates Cyclery                 1.37.59
2 Anton Petrova (USA) Titec                             3.28
3 Vu Le (USA) Temple City                               8.18
4 Brock Olson (USA) Binghams Northshore                 9.48
5 Scott Mcclave (USA) Simi Cycling                      9.50
6 Stephane Roch (USA)                                  19.12

Cat 1 men 25-29

1 Ely Woody (USA) Vv Ccles                           1.31.39
2 Jon Husk (USA) Adams Ave Bicycles                     0.44
3 John Parson (USA) Simply Fit                          1.25
4 Greg Buhl (USA) Trek                                  3.27
5 Philip Monell (USA) Helens Fisher                     8.39
6 Adrian Scott (USA)                                   10.44
7 Everett Dupee (USA) Cycopath                         10.53
8 Adam Poytress (USA) Platinum                         13.12
9 David Santos (USA) Steven K Sports                   15.35
10 Chris Thibodeau (USA) Sho-Air                       16.55
11 Bobby Langin Jr (USA) Platinum                      20.05
12 Kurt Janssen (USA) Dons Bikes                       22.01
13 Steve Marshall (USA) Bear Valley Bikes              27.38
14 Ryan Hernandez (USA) SC Velo                        35.49
15 Lyle Warner (USA) Helens/Subaru Fisher              44.57
DNF Lucas Wiens (USA) Intense                               

Cat 1 men 30-34

1 Marco Arocha (USA) Sho-Air/Sonance                 1.33.23
2 Griffith Vertican (USA) Celo Pacific                  2.36
3 Matthew Perry (USA) Chicken Ranch                     2.39
4 James Walsh (USA) B&L Bike & Spt                      4.36
5 Humberto Castro (USA) Jenson Usa                      6.22
6 Nathaniel Drozd (USA) Great Basin Imaging             7.16
7 Uldis Liepins (USA) Trisports                         7.27
8 Justin Mann (USA) Ie Bikes                            7.44
9 Daniel Perez (USA) Jenson Usa                         7.46
10 Stuart Gonzalez (USA) Powerbar/Fox/Kenda             7.47
11 Jon Stewert (USA) Stevens Bike                       9.36
12 Chase Schoen (USA) Platinum                         11.52
13 Wesley Reutimann (USA) Helens                       11.54
14 Frank Flores (USA) Judgement Velo/Tbov              11.56
15 David Sheek (USA) Outsideallda                      13.18
16 Eric Palmer (USA) Ucsd Cycling                      14.50
17  Guzman-Newton Scott (USA) Poison Spider Bicycle    16.42
18 John Barbachano (USA) Team Block                    16.53
19 Adam Hart (USA) Fisher Bikes 29er Crew              17.39
20 Matthew Severson (USA)                              19.38
21 Robert Wilcher (USA) Chicken Ranch                  20.44
22 Eric Nelson (USA) Team Possabilities                20.47
23 Daniel Stevenson (USA) SC Velo                      25.25
DNF Mark Koep (USA) Optimized Image                         

Cat 1 men 35-39

1 Ben Capron (USA) Sho-Air                           1.32.39
2 Matthew Cochran (USA) Fast Friday                     2.22
3 Jeremiah Root (USA) Stevens Bicycle                   3.36
4 John Mylne (USA) Niner/Ergon                          3.49
5 Alexis Seletzky (USA) Cynergy                         4.05
6 Mario Correa (USA) Sho-Air/Sona                       4.38
7 Ben Jones (USA) Celo Pacific                          5.17
8 John Saliamonas (USA)                                 5.26
9 Daniel Stromborg (USA) Helens/Subaru Fisher           5.57
10 Timothy Sparks (USA) Sho-Air/Sona                    6.56
11 Mike Oceguera (USA) SC Velo                          8.43
12 Jeff Dotterweich (USA) Helens/Subar                  8.46
13 Rene Pulido (USA) SC Velo                           10.28
14 Ryan Cox (USA) Sho Air                              10.56
15 Jermaine Brown (USA) Velo Pro                       11.01
16 Scott Parsons (USA)                                 11.28
17 Kyle Ashton (USA) Village Peddlers                  11.58
18 Jason Charlebois (USA)                              12.16
19 Michael Heindel (USA) Flow Mg                       12.24
20 Robert Snyder (USA) Backbone                        12.57
21 David Lamon (USA) Team Ape                          14.13
22 Michael Holk (USA) Joselyns                         14.33
23 Steve Martins (Can) Hardcore Cc                     15.41
24 Nathan Wood (USA) Joselyns                          17.03
25 Michael Negrete (USA)                               18.44
26 Stephen Ray (USA) Stevens Bike                      19.31
27 Chris Kasey (USA) Team Cohort                       20.47
28 Rodrigo Flores (USA) Tm Response                    26.37
29 Josh Wiggins (USA) Spike Shooter                    26.58
30 Jeff Botelho (USA)                                  30.31
DNF Raymond Caballero (USA) Helens/Fisher                   
DNF Eric Woods (USA) Sho-Air                                

Cat 1 men 40-44

1 Bill Daley (USA) Trek Bikes                        1.32.44
2 Mike Hileman (USA) Sho-Air                            2.53
3 Rich Bartlett (USA) Block/Possab                      3.32
4 Todd Booth (USA) Platinum                             4.40
5 Robert Kmetz (USA) Velosport                          6.00
6 Michael Raschke (USA) Metal Mtn                       6.54
7 Bill Mosher (USA) Sho-Air/Sona                        7.52
8 Henry Valenzuela (USA) Unattached                     8.26
9 Elmo Kassin (USA) Bear Valley Bikes                   9.08
10 Roylance Bird (USA) Paa/Remax                       10.11
11 Tom Andrews (USA)                                   11.02
12 Jay Hammond (USA)                                   11.40
13 Scott Palmer (USA) Covina Valley                    11.41
14 Doug Urbach (USA) Platinum                          12.53
15 Sean Smith (USA) Linked Cycling                     13.14
16 Roger Moore (USA) Platinum                          14.46
17 John Schmidt (USA)                                  15.10
18 Chris Marsiguerra (USA) Joselyns                    17.39
19 Mark Campaigne (USA) Celo Pacific                   17.40
20 Michael Wilson (USA)                                18.07
DNF Erik Trogden (USA) Turner                               
DNF Ian Allen (USA)                                         
DNF Brian Dickey (USA) Colavita                             
DNF Clifford Clermont (USA) Swamis Racing                   

Cat 1 men 45-49

1 Johnny Omara (USA) Sho-Air/Specialized             1.30.43
2 Bud Donatoni (USA) Platinum                           1.04
3 Tim Zandbergen (USA) Sho-Air                          2.17
4 Brad Stephenson (USA) Sho-Air                         3.37
5 David Sullivan (USA) Sho-Air/Sona                     4.19
6 John Biron (USA) Platinum                             8.13
7 David Stowell (USA) Cal-Coast                        10.18
8 Johnny Dalton (USA) Velocity                         11.26
9 Greg Carlton (USA) SC Velo                           12.09
10 Richard Kim (USA) Sho-Air/Sona                      15.20
11 Adan Guzman (USA) Tm Helens                         15.40
12 Andy Osburn (USA) Platinum                          17.31
13 James Leist (USA)                                   17.49
14 Larry Price (USA) Flow Mg                           28.31
15 Raul Tarango (USA) Bear Valley Bikes              1.11.23

Cat 1 men 50-54

1 Bobby Langin Sr (USA) Platinum                     1.02.14
2 Joe Gallal (USA) Velocity                             2.52
3 Robert Winston (USA) Swamis Racing                    6.33
4 Steve Silva (USA) Platinum                            6.52
5 Michael Hines (USA) Team Ranchos                      8.50
6 Curt Morlock (USA) Henderson Bike Shop                9.44
7 Dean Swank (USA) Bear Valley Bikes                   10.39
8 Steve Herrera (USA) Coveralls                        11.33
9 Stu Brydges (USA)                                    13.00
10 Eric Airheart (USA) Santa Clarita Velo              13.47
11 Phil Beckman (USA) Dons Bike                        16.37
12 Robert Meeker (USA) Montrose Bike                   19.48

Cat 1 men 55-59

1 Jon Miller (USA) Shoair/Sonace                     1.05.06
2 Gary Shuey (USA)                                      3.00
3 Richard Manzella (USA) Echelon                        4.26
4 Jorge Hernandez (USA) Turbo                           5.54
5 Glen Fraser (USA)                                     6.41
6 Don Faulhaber (USA)                                  21.06

Cat 1 men 60-64

1 Stan Ford (USA) Cycopath                           1.12.04
2 Bob Blatner (USA) Sho-Air/Sonace                      2.01
3 David Ortega (USA) Cal Coast                         10.00

Cat 1 men 65+

1 Frederick Schmid (USA) Bicycles Out                1.22.55
2 Gary Foster (USA) Cycopath                            0.23
3 Terry Dahl (USA) Platinum                             5.38
4 Brian Kiniry (USA)                                   10.59
5 Ron Riley (USA) SCCCC                                17.15
DNF Garo Mooradian (USA) OTBMTB                             
DNF Buzz Brockway (USA) Team Ape                            

Cat 2 men 14 & under

1 Shane Skelton (USA) Montrose Bike Shop             0.38.32
2 Nathan Pherigo (USA) SC Velo                          1.46
3 Willie Mcclure (USA) Mata Keiki                       3.33
4 Josh Larson (USA) Linked                              5.15

Cat 2 men 15-16

1 Kyle Willett (USA) Absolute Bikes                  1.13.02
2 Brandon Dillard (USA) Owens Healthcare                0.23
3 Quint Berkemeier (USA)                                3.09
4 Travis Glysson (USA) Fca Endurance                    3.19
5 Tyler Sandoval (USA) Voodoo Cycles                    5.10
6 Ryan Odle (USA)                                       8.54
7 Ryan Matter (USA)                                     9.02
8 Tyler Obrien (USA)                                   10.42

Cat 2 men 17-18

1 Brandon Droese (USA) Platinum                      1.12.38
2 Chris Johnson (USA)                                   3.55
3 Nicholas Caldera (USA) Tri-Sport Racing              11.00
4 Bryce Semonian (USA) 661/Spy Optics                  15.19

Cat 2 men 19-24

1 Chris Jackson (USA)                                1.02.52
2 David Robertson (USA) Coates Cyclery                  4.07
3 Matthew Johnson (USA)                                 6.20
4 Peter Nagy (USA) Trek San Diego                      10.14
5 Troy Delia (USA) Foes Racing                         12.39
6 Ari Henning (USA)                                    13.13
7 Steven Carcano (USA) SC Velo                         18.19
8 Colby Weber (USA) Mafia Racing                       20.38
9 John Miller (USA) La Habra Cyclery                   23.00
10 Brian Crooks (USA)                                  30.52
11 Ian Mclean (USA)                                    35.54
DNF Perry Lieber (USA)                                      
DNF Ryan Kershek (USA)                                      

Cat 2 men 25-29

1 Max Foorman (USA) Bike Religion                    1.03.18
2 Aaron Johnson (USA) Sho-Air                           2.10
3 Chris Burke (USA)                                     6.18
4 Alvin Chen (USA)                                      9.44
5 Josh Oskins (USA) Sand Canyon Cyclery                10.06
6 Ara Movsessian (USA) Backbone                        12.46
7 Ryan Weeger (USA)                                    14.06
8 Jeremy Maldonado (USA) Sho-Air/Sona                  15.36
9 Michael Cruz (USA) Incycle/SC Velo                   15.57
10 Christoph Arntz (USA)                               16.40
11 Matt Andersen (USA)                                 19.40
12 Paul Trinkeller (USA)                               22.23
13  Hammerschmidt Brook (USA) Manny Inc                30.12
DNF Allen Lin (USA) Pasadena Athletic                       

Cat 2 men 30-34

1 Jason Rusnak (USA) Sho-Air                         1.09.05
2 Alfredo Marquez (USA) Mex-America                     0.49
3 Daniel Wells (USA)                                    0.50
4 Greg Branam (USA)                                     1.40
5 Michael Barbee (USA) Circle City Cyclery              5.17
6 Jack Harrison (USA)                                   6.27
7 Oliver Forger (USA)                                   6.32
8 Bryan Brusick (USA) Bv Bikes                          8.32
9 Patrick Green (USA)                                  12.53
10 Nick Gualtieri (USA) SC Velo                        13.47
11 Greg Hixon (USA) Sho-Air/Sonance                    26.05
DNF Matt Smith (USA) Sho-Air                                
DNF Louis Ordung (USA)                                      
DNF Jason Chiodo (USA) Pasadena Cyclery                     

Cat 2 men 35-39

1 James Renwick (USA)                                1.04.35
2 Felix Nagelin (USA)                                   0.38
3 John Umale (USA)                                      4.15
4 Rick Vangrin (USA) Sho-Air/Sona                       4.39
5 Javier Vega (USA)                                     5.38
6 Ryan Damato (USA) Linked Cycling                      6.35
7 Zach Thorp (USA) Tm Redlands                          6.37
8 Nicholas Snider (USA)                                 6.38
9 Chris Schaper (USA) Paa/Cutters                       7.36
10 Billy Mercier (USA)                                  8.08
11 Joe Hockensmith (USA)                                8.10
12 Tim Van Gilder (USA) Troupe Racing Co                9.33
13 Christoph Bautista (USA) SC Velo                     9.33
14 Norberto Oropez (USA) Pasadena Athletic              9.48
15 Justin Rosen (USA) Sho-Air                          10.19
16 Roy Alvarado (USA) Troupe Racing Co                 11.23
17 Scott Linder (USA)                                  12.12
18 Jason Broussard (USA)                               14.16
19 Jeff Stanners (USA) Dons Bikes                      14.45
20 Dean Bricker (USA)                                  15.49
21 Samuel Dagan (USA) Del Sur Red Necks                15.59
22 Juan Diaz (USA) Specialized                         17.26
23 Ben Blank (USA) Troupe Racing                       17.49
24 Ryan Johnson (USA) Tld                              20.42
25 Jason Miyagishima (USA) 5 Hour Energy/661           21.26
26 Enrique Resendez (USA) Coates Cyclery               22.09
27 Omar Estrada (USA) Aqua Al2/SDBC                    22.34
28 Josh Meehan (USA) Monster Media                     22.38
29 Mike Owens (USA) Dons Bikes                         24.56
30 Geoffrey Eyer (USA) Ie Bikes                        26.12
31 Bradley Bailey (USA) Skelanimals                    41.32
DNF Jason Butler (USA) Aqua Al2/SDBC                        

Cat 2 men 40-44

1 Tony Osburn (USA)                                  1.04.52
2 Terry Crouse (USA) Paa/Remax                          1.17
3 Matt Ford (USA) Sho-Air                               2.00
4 Derric Swinfard (USA) Monster Media                   2.16
5 Chaz Maclaughlin (USA) Unattached                     3.05
6 Doug Farnham (USA)                                    4.55
7 Clinton Campbell (USA) Sho-Air/Sona                   5.23
8 Aaron Transki (USA) Platinum                          6.42
9 Rob Ramirez (USA) Chicken Ranc                        6.59
10 John M Reveles (USA) Platinum                        7.02
11 Theodore Posch (USA) Fullerton Bi                    7.05
12 Kevin Bailey (USA) Rio Strada                        7.52
13 Sean Mccoy (USA) Sho Air                             8.07
14 Darin Tanikama (USA)                                 8.22
15 Wade Arnold (USA) SC Velo                            8.29
16 Brian Grimm (USA)                                    9.25
17 Michael Mascott (USA) Pasadena Athletic              9.43
18 Paul Hauck (USA) Santa Clarit                        9.47
19 Jim Spotts (USA)                                     9.56
20 Steve Copeland (USA)                                10.50
21 Chris Duburg (USA) Tri-Sport Racing                 12.50
22 Bill Cuttler (USA) Chicken Ranc                     14.40
23 Tim Bryant (USA) Nokia                              15.31
24 Simon James (USA)                                   16.52
25 Thomas Smuts (USA)                                  18.47
26 Marq Prince (USA) Velo Sport                        18.55
27 Eddie Ramirez (USA) Pasadena Athletic               20.05
28 Edward Mercado (USA)                                20.50
29 Alfredo Cabrera (USA) Pasadena Athletic             23.18
30 Paul Albarian (USA)                                 39.49
DNF Michael Vert (USA)                                      
DNF Curt Alexander (USA)                                    
DNF Mike Henderson (USA) Canari Clothing                    

Cat 2 men 45-49

1 Francisco Vidal (USA) Santa Clarita Velo           1.09.57
2 Mark Milam (USA)                                      1.28
3 Yoshimi Tsujio (USA)                                  1.47
4 Vincent Sabotin (USA) Idyllwild                       2.07
5 Dave Lettieri (USA) Chicken Ranc                      2.14
6 Charlie Stone (USA) SC Velo                           2.15
7 Robert Rodgers (USA) Sho-Air/Sona                     2.30
8 Dan Turner (USA)                                      2.47
9 Bill Valleroy (USA) Cycopath                          2.49
10 Richard Baylor (USA) Amgen                           3.44
11 Robert Swigart (USA) Sho Air                         5.00
12 Randy Rush (USA) Backbone                            7.01
13 Tom Gabehart (USA) Cal Coast Bi                      7.39
14 Brian Bennett (USA) Amgen Cycling                    7.59
15 James Aldrich (USA) Linked Cycling                   8.33
16 Rick Morris (USA) Bear Valley Bikes                 10.40
17 Mike Rauls (USA) Sho-Air/Sona                       10.43
18 Rod Garratt (USA) Chicken Ranc                      11.03
19 David Culbertson (USA)                              11.36
20 Dale Agar (USA) 53 X 11 Coffee                      15.22
21 Dean Spahr (USA) Block                              17.30
22 Tony Finch (USA)                                    20.17
23 Andy Somerville (USA) Team Duke                     25.02
24 Steve Row (USA) World Cycles                        29.26
DNF Rick Grebner (USA) Sho-Air/Sona                         
DNF John Flores (USA) Bv Bikes                              
DNF Keith Greene (USA)                                      
DNF John Robinson (USA) Solidskate                          

Cat 2 men 50-54

1 Alan Braff (USA) Metalmtn                          1.10.38
2 Hugo Martin (USA) Santa Clarit                        1.26
3 Dee Folse (USA) Sho-Air/Sona                          1.57
4 Ken Germain (USA) Sho-Air                             3.11
5 Mike Weber (USA)                                      3.14
6 Mark Luke (USA) Platinum                              3.25
7 Shigy Suzuki (USA) Platinum                           3.52
8 Byron Beck (USA) Platinum                             4.36
9 James Reilly (USA) Triatholan Lab                     5.24
10 Don Jackson (USA) Sho-Air/Sona                       7.18
11 Mark Wronksi (USA) The Path                          7.19
12 Tim Brewer (USA) Cycopath                            7.40
13 Peter Eaton (USA) Sho-Air/Sona                       9.57
14 Gary Stewart (USA) Esi Grips                        10.30
15 Larry Veiga (USA)                                   10.44
16 Jeff Kinney (USA) E Cycling Store                   11.07
17 Gary Scheidler (USA) Sho-Air/Sona                   11.46
18 Doug Benedon (USA) Bear Valley Bikes                13.39
19 Steve Bertrand (USA) Platinum                       14.32
20 Mark Olsen (USA) Oakley/Turne                       15.10
21 Gary Bojorquez (USA)                                24.46
22 Clint Sandusky (USA) Yucaipa Bks                    34.47
DNF Kevin Wolfe (USA) Outer Circle                          
DNF John Langton (USA) Lv Velo/Penta                        

Cat 2 men 55-59

1 Bob Rich (USA)                                     1.04.33
2 Mike Roberts (USA) Judgement Velo                    11.29
3 Greg Painter (USA) Nutrilite                         12.54
4 Tod Hostetler (USA) Team Ape                         19.47
5 Philippe Minniti (USA) Team Ape                      24.18
6 Charles M Ducsay (USA) Possabilitie                  35.35
7 Steve Engelgau (USA) Bear Valley Bikes               45.31

Cat 2 men 60-64

1 Bruce Ramsey (USA) SC Velo                         1.26.48
2 Roger Sexton (USA) Team Ape                           0.22
3 Mitch Marich (USA) PMBC                               7.42
4 Dan Aul (USA)                                        17.41
DNF Jarron Lucas (USA)                                      

Cat 2 men 65+

1 Robert Dahlgren (USA) Paa/Remax                    1.24.47
2 David Martin (USA) Coates Cyclery                    19.23

Cat 2 Clydesdale men 34 & under

1 Gary Locken (USA) Tri-Sport Racing                 1.15.31
2 Rudy Aragon (USA) Pasadena Athletic                  20.48
3 Kenneth M Lanewood (USA)                           1.09.08

Cat 2 Clydesdale men 35+

1 Greg Turner (USA) Westlake Cyclery                 1.13.22
2 Chad Rivetti (USA) Team MBS/Montrose Bi               2.50
3 Andrew Hart (USA) Bear Valley Bikes                   2.51
4 Michael Dulin (USA) Back Alley                        4.03
5 Jimmy Reed (USA) Linked Cycling                       6.28
6 Mike Abbott (USA) Chicken Ranc                        7.13
7 Matt Dodd (USA) Sc Vello                              7.42
8 Rick Watts (USA) Shoair                               9.26
9 Harry Burr (USA) Monster Media                       13.06
10 Rod Christiansen (USA) Surf City Cy                 22.27
11 Paul Amodei (USA) Coates Cyclery                    23.22
12 Londo Whitney (USA)                                 35.18

Cat 3 men 15-18

1 Christian Yellott (USA)                            0.36.40
2 Dallin Davidson (USA) Sho-Air                         4.28
3 Joshua Duvall (USA)                                   4.52
4 Edward Kranfli (USA) St Francis Racing                4.53
5 Glenn Rauch (USA) Aqua Al2/SDBC                       6.02
6 Jacob Blanez (USA) Rhs Racing                         7.06
7 Lance Bird (USA)                                      7.46
8 Angelo-Ma Leombruni (USA)                             8.13
9 Garret Velerio (USA)                                  9.22
10 Jeremiah Reid (USA)                                  9.26
11 Dustin Arbuckle (USA)                               11.58
12 Cody Doran (USA) Rha Racing                         13.00
13 Boomer Beatty (USA)                                 14.35

Cat 3 men 19-24

1 Jose Vidal (USA)                                   0.42.24
2 Derrick Pavlisin (USA) Orange Cycle                   1.11
3 Matt Jackson (USA)                                    2.45
4 Ray Snoke (USA) Aqua Al2/SDBC                         3.01
5 Daniel Strudwich (USA)                                4.04
6 David Schultz (USA)                                   8.38

Cat 3 men 25-29

1 Michael Cockroft (USA)                             0.36.49
2 Kenny Ormonde (USA) SC Velo                           0.57
3 Mike Williams (USA) Sho-Air/Sonance                   1.01
4 Diego Mendonca (USA) Sho-Air/Sonance                  3.42
5 Chris Coppinger (USA)                                 3.58
6 Jeremy Goodrich (USA) Linked Cycling                  6.25
7 Calvin Lefebvre (USA) Sho-Air                         6.30
8 Jon Krellwitz (USA) Bar Hoppers                      15.23
9 Jason Cooper (USA)                                   15.27
10 Matt Greeley (USA)                                  16.18
11 Mike Sandoval (USA) Lost Souls                      25.22
12 Michael Segura (USA)                                52.13
DNF Jason Wolf (USA)                                        

Cat 3 men 30-34

1 Jason Richter (USA)                                0.37.10
2 Mykyta Yurtyn (USA)                                   0.23
3 Greg Ledesma (USA)                                    0.42
4 Radford Hallman (USA)                                 1.09
5 Jaramie Duke (USA)                                    2.21
6  Laureanoramos Jose (USA)                             4.43
7 Humberto Andrade (USA)                                5.35
8 Edwin Ramos (USA)                                     6.24
9 Gustavo Silvestre (USA)                               6.35
10 Joseph Orense (USA) Pasadena Mtn Bike Cl             7.27
11 John Dang (USA) Sho-Air/Sonance                      7.39
12 Tim Glatfelter (USA) Linked Cycyling                 7.48
13 Adam Gabler (USA) Gabler                            10.07
14 Jonathon Henry (USA)                                13.09

Cat 3 men 35-39

1 Eric Weilmeyer (USA)                               0.37.32
2 Kerry Langdale (USA)                                  1.19
3 Sonny Yalung (USA) Padjack Racing                     1.25
4 Greg Villenueve (USA) Velo Pro                        1.52
5 David Magdaleno (USA) Nutrilite                       1.58
6 Rob Landa (USA)                                       2.28
7 David Lieu (USA)                                      4.41
8 Brian Mignosa (USA) Nrc/Pedalmasher                   5.06
9 Steve Minne (USA)                                     6.07
10 Darren Hill (USA)                                    6.23
11 Guillermo Delgadillo (USA) PMBC                      6.42
12 Duc Nguyen (USA) Nutirilite                          7.15
13 Craig Lassen (USA)                                   7.27
14 Jason Sunukjian (USA) Velo Pro                       8.34
15 Harold Mendoza (USA)                                 8.40
16 Mark Tansey (USA)                                   12.38
17 Scott Schwartz (USA) Tm Lazy Ind                    12.39
18 Glenn Garvida (USA)                                 23.29
19 Francisco Castillo (USA)                            29.57
DNF Demetrio Villagran (USA)                                

Cat 3 men 40-44

1 Bob Leaming (USA)                                  0.36.08
2 Mike Franze (USA)                                     0.56
3 Chris Baldewin (USA) Velocity                         2.06
4 Abraham Meltzer (USA) Pasadena Athletic               2.08
5 Vladimir Popovic (USA) Sho-Air/Sona                   2.26
6 John Chen (USA)                                       3.24
7 Matthias Jezek (USA) Sho-Air/Sonance                  3.48
8 Paul Thompson (USA) Sho-Air/Sonance/Velo              4.37
9 Chad Smart (USA) Shoair/Sonance/Velos                 4.39
10 Darius Khayat (USA)                                  6.01
11 Scott Delameter (USA)                                7.29
12 Al Barrett (USA)                                     9.25
13 Wayne York (USA)                                    11.38
14 Kent Courter (USA)                                  14.05
DNF Kevin Corcoran (USA)                                    

Cat 3 men 45-49

1 Robert Higgins (USA) Team Chicken Ranch            0.37.59
2 Steve Hagye (USA)                                     2.09
3 Ronald Coyle (USA)                                    3.33
4 Mark Thome (USA) PMBC/Backbon                         4.03
5 Mark Rusin (USA)                                      4.58
6 Scott Lundgren (USA)                                  5.39
7 Jeff Cardone (USA)                                   12.15
8 Scott Dowd (USA)                                     23.50
9 Barry Traband (USA) Nutrilite                        28.06
10 Cal Vandervoort (USA) Privettear                    36.06

Cat 3 men 50-54

1 Greg Knight (USA)                                  0.37.54
2 Taylor Coffroth (USA) SDBC                            3.55
3 Scott Skelton (USA)                                   4.10
4 William Woody (USA) Victorville                       4.26
5 Kurt Wiese (USA)                                      5.22
6 Dale Carter (USA) Sho-Air/Sona                        8.47
7 Jeff Turk (USA)                                       9.19
8 Mark Dan (USA) Nutrilite                             13.21
9 John Martin (USA) Nurtilite                          15.42

Cat 3 men 55+

1 Bob Wolf (USA)                                     0.45.20
2 Chris Winsor (USA)                                    1.37
3 Dennis Chandler (USA)                                 5.52
4 Ken Johnson (USA)                                    44.21
5 Harrison Graham (USA)                                51.07
DNF Keith Honda (USA)                                       

Cat 3 clydesdale men 34 & under

1 Kris Hernandez (USA) Barhoppers                    0.43.08
2 Skyler Gambrell (USA) Team Barhoppers                 0.32
3 Grant Coffin (USA) Firehouse Fabrication              3.41
4 Jeremy Damato (USA) Linked Cycling                    5.31
5 Juan Cuevas (USA)                                     6.52
6 Matt Ross (USA) Barhopers                             8.55
7 Donald Mccullough (USA) Nutirlite                    24.16
8 Cesar Jimenez (USA) Nutrilite                        25.27

Cat 3 clydesdale men 35+

1 Carlos Aguirre (USA) PMBC                          0.42.51
2 David Le Ance (USA) Sho-Air/Sonance                   0.01
3 Christoph Lewis (USA) Linked Cycling                  5.45
4 Scott Vlahos (USA)                                    6.51
5 Ross Thompson (USA) Coates                           11.49
6 James Diaz (USA) Team Nutrilite                      19.09
7 Larry Russell (USA) Fiberwise                        45.48                     

Cat 1 women 15-18

1 Deidre York (USA) Velobum.Com                      1.23.01
2 Tiana Row (USA) World Cycles                         29.43

Cat 1 women 19-29

1 Claudia Espinoza (USA) Devo                        1.16.42
1 Allison Mann (USA) Ie Bikes                        1.06.45
2 Lisa Crowe (USA) Dons Bikes                           9.24
3 Brooke Warner (USA) Subaru/Gary Fisher               15.31
4 Shelli Stevenson (USA) Team Cole                     18.33
5 Vanessa Humic (USA) Backbone                         23.02
DNF Hillary Waddell (USA) Sho-Air Sonance                   

Cat 1 women 30-39

1 Rachel Schmidt (USA) Sho-Air/Sona                  1.19.49

Cat 1 women 40-49

1 Heidi Volpe (USA) Sho-Air/Sona                     1.12.49
2 Vicki Chernoff (USA) Afp/Velo                         2.52
3 Heidi Bowen (USA) Giant Factory Team                  5.21
4 Regina Froemmling (USA)                              10.20
5 Kathryn Lapointe (USA) Quality Ape                   18.47

Cat 1 women 50+

1 Nancy Seidler (USA) Shoair/Sonace                  1.39.25

Cat 2 women 19-29

1 Abb-I Cooper (USA) Proman Hit Squad                1.16.13
2 Sloane Pellegrin (USA) Sb Training                    8.51
3 Danielle Brown (USA) Sho-Air/Sonnance                 8.56
4 Cassie Charlebois (USA)                               9.19
5 Amanda Schaper (USA) Platinum                        13.18
6 Rebecca Carlson (USA)                                44.01

Cat 2 women 30-39

1 Meredith Ford (USA) Sho-Air/Sona                   1.21.01
2 Kim Lyons (USA) Chicken Ranch                         3.40
3 Anneke Marvin (USA)                                   6.25
4 Cynthia Miranda (USA)                                 6.26
5 Suzanne Steiner (USA)                                 7.24
6  Lambert-Oropez Carlyn (USA) Pasadena Athletic       18.13
DNF Allison Klenske (USA)                                   

Cat 2 women 40-49

1 Laura Knight (USA) Fizik/Knog/Hammer               1.21.31
2 Susan Thompson (USA) Paa                              3.12
3 Kat Post (USA) Platinum                               4.20
4 Lina Cervantes (USA)                                  6.53
5 Jeanne Scheetz (USA) Coates Cyclery                  10.04
6 Christine Lisnock (USA)                              16.46
DNF Mariann Thomas (USA) Platinum                           

Cat 2 women 50+

1 Jodi Martin (USA) Coates Cyclery                   1.27.11

Cat 3 women 15-18

1 Amanda Duarte (USA)                                0.54.37

Cat 3 women 19-29

1 Crystal Mendez (USA)                               0.48.19
2 Katie Nessly (USA)                                    1.41
3 Virginia Cabrera (USA) Tri-Sport Racing              14.09
4 Rhiannon Freilley (USA) Barhoppers                   23.16

Cat 3 women 30-39

1 Denise Henderson (USA) Team C.I.C.L.E.             0.44.53
2 Kelley Brunson (USA) Bear Valley Bikes                5.30
3 Loren Langford (USA)                                 11.00
4 Catherine Klenske (USA)                              30.37

Cat 3 women 40-49

1 Lisa Doud (USA)                                    0.45.05
2 Kathy Coyle (USA)                                     0.50
3 Darcie Loth (USA)                                     3.41
4 Stephanie Rivera (USA) Platinum                       6.53
5 Liz Price (USA) Paa                                   8.14
6 Claire Campaigne (USA)                                9.32
7 Janice Martin (USA) Nutrilite                        10.50
8 Anita Valenzuela (USA) Unattached                    11.50
9 Kim Finch (USA) Mtnbikerider.Com                     22.37

Cat 3 women 50+

1 Anne-Cathe F Roch-Levecq (USA)                     0.57.37

Junior men 10 & under

1 Cole Avery (USA) Fast Friday                       0.43.54
2 David Polley (USA) Landis/Trek                       22.47
3 Jonah Sanchez (USA)                                  38.35
4 Drew Campaigne (USA)                                 44.49
5 Andrew Comer (USA)                                   45.19
6 Toby Mcclure (USA)                                   54.29

Junior men 11-12

1 Troy Sladeck (USA) Santa Cruz                      0.40.20
2 Christian Husband (USA)                               8.44
3 Crosby Whitney (USA)                               1.36.41

Junior men 13-14

1 Kenny Polley (USA) Landis/Trek                     0.38.50
2 Sidney Beck (USA) Solid Rock                          3.28
3 Devin Arenas (USA) Paa                               11.35

Junior women 14 & under

1 Mariana Valadez (USA) Club Tijuana                 0.49.42
2 Courtney Comer (USA) Acqua Al2/SDBC                  39.00

Tandems

1 Edward/Ju Sibby (USA) Ie Bikes                     0.40.39

Cat 1 singlespeed men

1 Todd Stephenson (USA) Sho-Air/Sonance              1.35.25
2 John Merriam (USA) Slime                              0.09
3 Scott Miller (USA) Niner                              2.08
4 Coley King (USA)                                      3.24
5 Courtland Keith (USA) Aiage                           4.51
6 Jon Fugitt (USA) Flow Mg                              6.25
7 John-Rhys Newman (USA) Nokia Design                   7.15
8 Craig Sisino (USA) Sho-Air/Sona                       8.32
9 Mark Scheetz (USA) Coates Cyclery                    14.18
10 Brett Wolf (USA) Sho-Air                            15.30

Elite singlespeed men

1 Allan Laframboise (USA) Dons Bikes                 1.36.59
2 Josh Kelley (USA) Sho-Air/Specialized                 1.36

Cat 2 singlespeed men

1 Peter Park (USA) Platinum                          1.04.22
2 John Reuter (USA)                                     1.47
3 Benjamin Dewitt (USA)                                 2.30
4 Geoffrey Albert (USA) Hup United                      7.11
5 Joey Dolowy (USA) Outer Circle                        7.23
6 Matt Vaughan (USA) Sho-Air                            8.22
7 Alexander Donoghue (USA)                              9.37
8 Paul Hubbell (USA) Moto Tabs                         11.22
9 Rudy Melendez (USA) Paa                              22.19
10 Jake Bossard (USA) Get Back                         35.19
11 Jeff Steinhart (USA) Pasadena Athletic              42.06
12 Annette Padilla (USA) Celo Pacific                1.04.56
DNF Paul Bracken (USA) Pasadena Athletic                    

Super D

Elite men

1 Eric Bierman (USA) Steven K           7.19.66
2 Daniel Cortina (USA) Cr1/Nema         0.14.37
3 Ray Storm (USA) Pronghorn             0.39.52
4 Leonardo Sandoval (USA)               0.39.98
5 Derek Hermon (USA) Bear Valley        1.15.39

Elite women

1 Jamie Stamps (USA) Bicycle            8.55.02

Open Junior men 18 & under

1 Ryan Geiger (USA) Bionicon            7.30.07
2 Tyler Sandoval (USA) Voodoo           0.43.45
3 Casey Williams (USA) Bear Valley      0.51.26
4 Michael Suggs (USA)                   0.51.56
5 Kyle Willett (USA) Absolute Bi        1.26.47
6 Bryce Semonian (USA) 661/Spy          1.46.35
7 Jacob Blanez (USA) Rhs Racing         2.30.21

Open men 19-29

1 David Santos (USA) Steven K Sp        7.16.22
2 Brian Crooks (USA)                    0.40.60
3 Dan Nielsen (USA) Bear Valley         0.48.91
4 D.J. Limardi (USA) Velo Pro           1.29.97
5 Steve Marshall (USA) Bear Valley      1.53.24
6 Derrick Pavlisin (USA) Orange         2.56.62

Open men 30-39

1 Gerry Cody (USA) Dons Bikes           7.16.55
2 Brant Hatton (USA) Kenda              0.21.19
3 Steve Martins (Can) Hardcore          0.58.87
4 Jeff Stanners (USA) Dons Bikes        1.46.47
5 Omar Estrada (USA) Aqua Al2/Sd        1.59.23
6 Shane Scrimager (USA)                 3.29.43
7 Barry Williams (USA) Orthosour        3.33.55
8 Christian Santos (USA) Sho-Air        4.01.09
9 Moises Ramirez (USA) Mtnbikeriders    5.32.50
DNF Joseph Renzucci (USA)                      

Open men 40-49

1 Rich Bartlett (USA) Block/Poss        7.42.62
2 Stephen Smith (USA) Team Mbs          0.27.16
3 Mitch Tolson (USA) Velo Pro           0.36.50
4 Andrew Hart (USA) Bear Valley         1.04.13
5 Mike Abbott (USA) Chicken             1.33.12
6 Darrell Mcinroe (USA)                 1.40.48

Open men 50-59

1 Robert Meeker (USA) Montrose          8.20.04
2 Ed Brown (USA) Velo Pro               0.07.28
3 Rich Fersch (USA) Race Haus           0.49.84
4 Steve Bertrand (USA) Platinum         1.20.54
5 Jeff Harbison (USA) Veloprocy         2.28.71
DNS Steve Engelgau (USA) Bear Valley           

Open men 60+

DNS James Van Manen (USA)                      

Open women 19-29

1 Lisa Crowe (USA) Dons Bikes           9.28.86
2 Vanessa Humic (USA) Backbone          1.18.08
3 Larisa Katzman (USA)                  3.09.43

Open women 30-39

1 Kelley Brunson (USA) Bear Valley     12.48.02