MTB index page for all MTB content
US ProXCT #4 and Kenda Cup West #6 - Sand Creek International - 3
Colorado Springs, Colorado, USA, June 12-13, 2009
Race 1 - June 12: Short track: Elite men & women
Wells take second short track of the season
By Dave McElwaine in Colorado Springs
Todd Wells (Specialized) wins
Photo ©: Dave McElwaine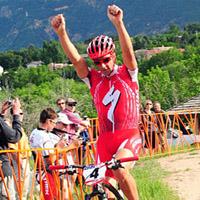 Todd Wells (Specialized) bested a defiant Jeremy Horgan-Kobelski (Gary Fisher/Subaru) to solidify his lead in the Trailwatch.net Short Track Series. Geoff Kabush (Team Rocky Mountain-Maxxis) took third and won "Most Aggressive Rider" as he sliced through the pack from a very poor starting position. Adam Craig (Giant) finished fourth while his teammate Carl Decker was fifth.
"I tried to attack mid-race and I got a gap then kept it to the finish," said Wells. "My focus is now on short track and to have some good cross country races here and there."
Racers were treated to spectacular views of the mountains at Bear Creek Regional Park. While a bit of rain came down during the race, it had no effect on the outcome. The course caused some major fits for riders as there were virtually no passing lanes. With the exception of one short steep climb the course was all narrow singletrack. Riders had to plan passes on the one section of doubletrack, making for a bit of chaos at that one spot on the course.
As has become almost commonplace, Todd Wells won the start and got onto the singletrack first. Initially a large group that included Horgan-Kobelski, Troy Wells (Cliff Bar), Kabush, Sam Schultz (Gary Fisher/Subaru) and Adam Craig were mixing it up behind Wells. Within a few laps, Schultz flatted and had to drop out.
By the sixth lap, Wells and Horgan-Kobelski opened about a 50 meter gap on Kabush and the rest of the chasers. Over the next two laps they slowly increased their lead. On lap 10, Adam Craig made a massive effort and briefly moved past Kabush into third place.
"I had thought that I would jump across to Jeremy and Todd...then I had the 'altitude reality' and could not maintain it," said Craig. Within a lap Kabush made the move past Craig to reclaim third place.
On lap 11, Wells made a small attack that put a 25-meter gap between him and Horgan-Kobelski. This gap grew slightly until the end of the race. Behind them the chasers were fairly strung out so there were no finishing places contested by sprints.
Several racers, including Kabush, were confused by the signs the officials were posting during the race. At one point the signs were changed from minutes remaining to laps remaining. Kabush and others commented that they thought there was more time left than there actually was.
In an interesting move, the entire Sho-Air Specialized team did not race the short track event. Apparently they were hoping to save energy for Saturday's cross country race at Cheyenne Mountain Park. Since the powerful Sho-Air team have been living near sea level, they will need every advantage they can get to compete with Colorado natives Todd Wells and Jeremy Horgan-Kobelski.
Heather Irmiger gets her first short track win
Heather Irmiger (Gary Fisher/Subaru) wins
Photo ©: Dave McElwaine

Heather Irmiger (Gary Fisher/Subaru) took on the best short track racers in North America on Friday and won convincingly. Always a bridesmaid at these events, Irmiger has been seen on countless podiums but has never taken the top step before. United States champion Katie Compton (Spike Shooter) was the odds-on favorite to win the race but had to settle for second place. Luna teammates Catherine Pendrel, Katerina Nash, and Georgia Gould finished third, fourth, and fifth respectively.
"I wanted to be near the front and not get caught up in a crash" said Irmiger. "I wanted to be first or second the whole race but every time I was second I started to get that weird energy."
Runner up Compton talked about the action on the closing lap. "The last lap Heather and I were accelerating up the last hill and she beat me to the singletrack. I tried to sprint at the end but she just shut the door."
Irmiger, who lives and trains at altitude in Boulder, Colorado appeared to have little problem with the 6,000 ft altitude of the race. While Colorado Springs resident Kelli Emmett (Giant) won the start, Irmiger quickly went to the front and pushed the pace. In addition to winning the race, she won the "Most Aggressive Rider" award and collected a $250 check for her efforts.
Irmiger was racing on her 29er carbon fiber Superfly for the first time, after training on it all week. The 29-inched wheel bikes, while slow to be accepted by international racers, have been making a splash this year in North America. Today, the top two finishers in both the men's and women's short track races were on 29ers. These included Todd Wells (Specialized), Jeremy Horgan-Kobelski (Gary Fisher/Subaru), Heather Irmiger, and Katie Compton. Irmiger said, "I'm racing the Superfly 29er again tomorrow and I'm really excited about it."
Most of the race involved a lead group of Irmiger, Compton, Nash, Gould, and Pendrel. On the second lap, Catherine Pendrel (the number one ranked rider in the world) took the lead. Two laps later, Compton went to the front with an uphill attack. Only Pendrel and Irmiger could respond. A small gap opened to Katerina Nash and Georgia Gould uncharacteristically was further back.
By the sixth lap, Irmiger regained the lead and was followed closely by Compton and Nash. Katerina Nash has won more short track racers over the past five years than any other racer in North America. Typically she makes an attack late in the race but today did not appear to have the horsepower to deal with the hard charging leaders.
By lap eight, Gould was dropped from the lead group while the other four contenders were still led by Irmiger. As Irmiger continued to ratchet up the pace, only Katie Compton was able to hold her wheel. Both riders sprinted up the doubletrack climb on the last lap but Irmiger made it to the singletrack first. From that point on, it was nearly impossible to pass on the final half lap and Irmiger rolled to victory.
The Elite Women will compete in the cross country event on Saturday at Cheyenne Mountain Park. With over 1,000 feet of climbing per lap followed by a twisty, technical descent, the racing should be exciting. The same women who led the short track event are also expected to battle at the front of the cross country race.
Photography
For a thumbnail gallery of these images, click here
Images by Dave McElwaine / www.trailwatch.net
Results

Elite Men
 
1 Todd Wells (Specialized)                       
2 Jeremy Horgan-Kobelski (Gary Fisher/Subaru)    
3 Geoff Kabush (Team Rocky Mountain-Maxxis)      
4 Adam Craig (Giant)                             
5 Carl Decker (Giant)
  
Elite Women
 
1 Heather Irmiger (Gary Fisher/Subaru)           
2 Katie Compton (Spike/Shooter)                  
3 Catherine Pendrel (Luna Women's MTB)           
4 Katerina Nash (Luna Women's MTB)               
5 Georgia Gould (Luna Women's MTB)