MTB index page for all MTB content
MTB World Cup DH & 4X #4 - CDM
Fort William, Scotland, Great Britain, June 5-7, 2009
Main Page Results Previous Race Next Race World Cup Standings
Race 4 - June 6: Elite men four cross
Graves repeats in Fort William and extends World Cup lead
By Rob Jones in Fort William
Jared Graves, Lukas Mechura and Johannes Fischbach
Photo ©: Rob Jones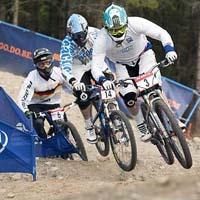 Round four of the men's four cross in Fort William, Scotland saw all of the top-eight qualifiers except Graves knocked out before the medal final, most victims of poor starts and few passing opportunities after the first corner.
After a third in the previous World Cup round broke his winning streak, Graves made it clear that it wasn't going to happen again here in Fort William, where he is the defending champion. The Australian won all of his heats leading up to the final convincingly, and left nothing to chance in the final, leading out of the first straight and easily holding off Romain Saladini (Team Sunn) in the final.
"Graves is still too strong for me," said Saladini, "especially in the first straight, but I'm just happy to finally make the finals for the first time this season."
Men's podium
Photo ©: Rob Jones

Graves had qualified third, behind round three winner Joost Wichman (Netherlands) and Roger Rinderknecht (GT Bicycles), however, Wichman was knocked out in the quarter finals, and Rinderknecht in the semi finals, leaving Graves the only one of the top eight qualifiers to make it to the medal round. Lukas Mechura (Chain Reaction/Intense) and Jurg Meijer (Netherlands) were the other riders to make the final, finishing third and fourth respectively, while former world champion Michale Prokop (Czech Republic) took the fifth podium spot after winning the consolation race.
"I'm really, really happy to win here, to be back at the top after losing out in Vallnord [round three]," said Graves. "For me, Fort William is the best World Cup of the series, and to win here for the second year in a row is pretty special."
Graves now holds a commanding lead in the World Cup series standings, with 450 points to second placed Saladini's 240, who is just five points ahead of Rinderknecht.
Photography
For a thumbnail gallery of these images, click here
Images by Rob Jones / www.canadiancyclist.com
Results
1 Jared Graves (Aus) Yeti Fox Shox Factory Race Team               
2 Romain Saladini (Fra) Team Sunn                                  
3 Lukas Mechura (Cze) Chain Reaction Cycles/Intense                
4 Jurg Meijer (Ned)                                                
5 Michal Prokop (Cze)                                              
6 Roger Rinderknecht (Swi) GT Bicycles                             
7 Pascal Seydoux (Swi)                                             
8 Rafael Alvarez De Lara Lucas (Spa) Specialized Factory Racing    
9 Guido Tschugg (Ger) Ghost A.T.G. Pro Team                        
10 Scott Beaumont (GBr) Rocky Mountain UK                          
11 William Evans (GBr)                                             
12 Lewis Lacey (GBr) Chain Reaction Cycles/Intense                 
13 Joost Wichman (Ned)                                             
14 Dan Atherton (GBr) Animal Commencal                             
15 Johannes Fischbach (Ger) Ghost A.T.G. Pro Team                  
16 Will Longden (GBr)                                              
17 Quentin Derbier (Fra)                                           
18 Matej Vitko (Svk)                                               
19 Sascha Meyenborg (Ger)                                          
20 Joey Van Veghel (Ned)                                           
21 David Graf (Swi)                                                
22 Thomas Schäfer (Ger) Solid Aclass Factory Team                  
23 Daniel Yeomans (GBr)                                            
24 Patrick Campbell-Jenner (GBr)                                   
25 Filip Polc (Svk) MS Evil Racing                                 
26 Kamil Tatarkovic (Cze)                                          
27 Tom Dowie (GBr)                                                 
28 Michal Marosi (Cze)                                             
29 Dominik Gspan (Swi)                                             
30 Ludovic Gadois (Fra) Team Vario Racing                          
31 Bernard Kerr (GBr)                                              
32 Werner Muther (Swi)                                             
33 Javier Guijarro Villacieros (Spa) XMS-Devinci World Cup Team    
34 Thomas Tokarczyk (USA)                                          
35 Scott Roberts (GBr)                                             
36 Petrik Brückner (Ger)                                           
37 Duncan Ferris (GBr)                                             
38 Matthieu Faury (Fra)                                            
39 Richard Cunynghame (GBr)                                        
40 Sidney Gerber (Swi)                                             
41 Martin Frei (Swi)                                               
42 Nicolas Gspan (Swi)                                             
43 Dave Richardson (GBr)                                           
44 Tom Knight (GBr)                                                
45 Adrian Weiss (Swi) Scott 11                                     
46 James Norton (GBr)                                              
47 Bela Thalmann (Ger)                                             
48 Kieran Mcavoy (GBr)                                             
49 Adrian Kiener (Swi)                                             
50 Heikki Hall (USA)                                               
51 Ghislain Ricci (Fra)                                            
52 Richard Norton (GBr)                                            
53 Stefan Scherz (Ger)                                             
54 Stephen Simms (GBr)                                             
55 Jan Svub (Cze)                                                  
56 Mark Van Lankveld (Ned)                                         

Teams

1 Yeti Fox Shox Factory Race Team                                  
2 Chain Reaction Cycles/Intense                                    
3 Team Sunn                                                        
4 Norco World Team                                                 
5 GT Bicycles                                                      
6 Ghost A.T.G. Pro Team                                            
7 Specialized Factory Racing                                       
8 Suspension Center                                                
9 Rocky Mountain UK                                                
10 Animal Commencal 

World Cup standings after four rounds

1 Jared Graves (Aus) Yeti Fox Shox Factory Race Team               450 pts
2 Romain Saladini (Fra) Team Sunn                                  240
3 Roger Rinderknecht (Swi) GT Bicycles                             235
4 Joost Wichman (Ned)                                              201
5 Michal Prokop (Cze)                                              175
6 Dan Atherton (GBr) Animal Commencal                              126
7 Luke Madill (Aus) GT Bicycles                                    100
8 Rafael Alvarez De Lara Lucas (Spa) Specialized Factory Racing    100
9 Lukas Mechura (Cze) Chain Reaction Cycles/Intense                 94
10 Jurg Meijer (Ned)                                                91
11 Guido Tschugg (Ger) Ghost A.T.G. Pro Team                        51
12 Tomas Slavik (Cze)                                               50
13 Johannes Fischbach (Ger) Ghost A.T.G. Pro Team                   49
14 Scott Beaumont (GBr) Rocky Mountain UK                           47
15 Mickael Deldycke (Fra)                                           40
16 Cédric Gracia (Fra)                                              40
17 Filip Polc (Svk) MS Evil Racing                                  36
18 Pascal Seydoux (Swi)                                             30
19 Gee Atherton (GBr) Animal Commencal                              30
20 Kamil Tatarkovic (Cze)                                           25
21 David Graf (Swi)                                                 20
22 Sascha Meyenborg (Ger)                                           20
23 Quentin Derbier (Fra)                                            17
24 William Evans (GBr)                                              14
25 Joey Van Veghel (Ned)                                            14
26 Lewis Lacey (GBr) Chain Reaction Cycles/Intense                  11
27 Patrick Campbell-Jenner (GBr)                                    11
28 Darryn Stow (RSA)                                                11
29 Michal Marosi (Cze)                                               8
30 Matej Vitko (Svk)                                                 4
31 Will Longden (GBr)                                                2
32 Marek Pesko (Svk)                                                 2
33 Adam Stasek (Cze) Ghost A.T.G. Pro Team                           2
34 Premek Tejchman (Cze)                                             2

Teams

1 Yeti Fox Shox Factory Race Team                                  150 pts
2 Suspension Center                                                140
3 GT Bicycles                                                      111
4 Team Sunn                                                         99
5 Norco World Team                                                  95
6 Ghost A.T.G. Pro Team                                             77
7 Animal Commencal                                                  74
8 Chain Reaction Cycles/Intense                                     60
9 Specialized Factory Racing                                        46
10 Rocky Mountain UK                                                30
11 MS Evil Racing                                                   25