MTB index page for all MTB content
South Island Cross Country Cup #1- NE
Dunedin, New Zealand, February 1, 2009
2008 Results Results
Sharratt and Gerrie capture point-to-point cross country wins
Racers start the Otago Peninsula Challenge
Photo ©: Shanine Hermsen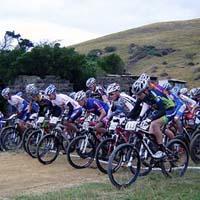 Over 370 racers took up the 43km point-to-point Otago Peninsula Challenge, which doubled as the opening round of the South Island Cross Country Cup in Dunedin. The race ran the length of the peninsula, starting at Smails Beach and finishing on Tairoa Head. A short course option was also on offer, which doubled as the course for competing walkers and runners – combined entries resulting in over 700 competitors.
Local competitors enter the race in large numbers, as it is a unique, once-a-year opportunity to access the area, which crosses 10 private properties. Mountain biker Olympian Kashi Leuchs enjoyed racing in his home town but was not racing competitively, instead enjoying the stunning Peninsula scenery. 70 of the competitors took the race more seriously while racing for the South Island Cup, and will now go on to compete in two further rounds in Timaru and Queenstown.
In the elite men's race, Brendon Sharratt lead from the beginning, tackling the challenging course with included several large climbs smoothly, crossing the finish line in one hour, 56 minutes and 54 seconds. Ash Hough was not far behind and placed second, with Jon Richardson coming in a close third, crossing the line just two seconds after Hough.
Brad Tilby who came in 10 seconds behind Richardson said, "There was a good group of us riding at the same pace, in the end it came down to a battle of attrition from the climbs and extreme winds but Brendon was ahead right from the start."
One of the riders who kept up with the tight group of elite men was young ripper Anton Cooper, and at just 14 years old, that is a spectacular achievement. Cooper was the fifth fastest rider of the day completing the race in an astounding two hours and 22 seconds, only three and a half minutes behind Sharratt.
"I did well in the first climb and enjoyed riding with the elite riders," said Cooper. "It was tough to hang on, but it is my favourite point to point race, and I am stoked with my result." Cooper aspires to make the World Championship mountain bike team and one day race in the Olympics.
The elite women also had a tough competition on their hands with the top three only five minutes apart at the finish. Jeanette Gerrie clocked in at two hours, 18 minutes and 36 seconds taking first. Local ladies Sara McDonald placed second with Erin Green close behind in third. McDonald said, "It was a very good race, it was so close and exhilarating."
The next round in the NZCT South Island Cross Country Cup will be held in Timaru's Centennial Park next weekend in partnership with the X-Scenic Race.
Photography
For a thumbnail gallery of these images, click here
Images by Shanine Hermsen
Results
Elite men

1 Brendon Sharratt                 1.56.54
2 Ash Hough                           2.42
3 Jon Richardson                      2.44
4 Brad Tilby                          2.54
5 Craig Tolson                        3.55
6 Oliver Whalley                      4.23
7 Tony Hogg                           4.42
8 Marcus Roy                          5.29
9 Tim Madgwick                        8.54
10 Kashi Leuchs                      10.20
11 Jeremy Inglis                     10.23
12 Scott Green                       10.53
13 Mickey Fan                        16.16
DNS Nic Smith                             
 
Elite women

1 Jeanette Gerrie                  2.18.36
2 Sara MacDonald                      1.07
3 Erin Greene                         5.16
4 Cathy Hamer                         5.45
5 Sara Taylor                         6.14
6 Karen Collins                       6.24
7 Samara Sheppard                     9.59
 
Under 15 men

1 Craig Oliver                     2.42.14
 
Under 17 men

1 Anton Cooper                     2.00.22
2 Tayla Harrison                     12.44
3 Joel Macmillan                     22.52
4 Oli Austin                         24.17
 
Under 19 men

1 Richard Anderson                 2.01.44
2 Logan Horn                          1.53
3 Bradley Hudson                      2.58
4 Locky McArthur                      5.53
5 Jamie Hawke                         5.59
6 Jeff Notman                        14.51
7 William Bowman                   1.00.13
 
Under 19 women

1 Rachel Richards                  2.48.14
DNS Sarah McDonald                        
 
Senior men

1 Brent Miller                     2.04.08
2 Braid MacRae                        5.38
3 David Clark                         7.44
4 Sam Thompson                        9.00
5 Mark Richards                      10.13
6 Kadin Morse                        19.40
7 Rob Owens                          23.45
8 Alistair Loan                      39.03
9 Stephen Blissett                 1.07.07
 
Senior women

1 Sam Yeo                          2.43.16
2 Celia Lie                          20.06
3 Olivia Johnstone                   27.35
 
Master 30+ men
1 Kyle Wood                        2.00.46
2 Josh Findlay                        6.25
3 Nick Emery                         11.28
4 Craig Atwill                       16.07
5 Andrew Ballantyne                  18.44
DNS Philip Causer                         
 
Master women

1 Hannah Thorne                    2.27.51
2 Sharon Prutton                      6.59
3 Dallis Waters                      22.20
 
Master 40+ men

1 Bruce Jenkins                    2.13.39
2 Green Peter                         0.49
3 Peter Green                             
4 Ian McDonald                        1.10
5 Simon Coventry                      5.09
6 Karl Ratahi                        15.04
7 Tony Avery                       1.06.53
8 Chris Thomas                     1.14.19
9 Phil Te Tana                     1.38.48
 
Master 60+ men

1 Geoff Hunt                       2.35.16
2 Kerry Goodhew                      40.15
 
Fastest 8 men

1 Brendon Sharratt (elite men)     1.56.54
2 Ash Hough (elite men)               2.42
3 Jon Richardson (elite men)          2.44
4 Brad Tilby (elite men)              2.54
5 Anton Cooper (U17 men)              3.28
6 Kyle Wood (elite men)               3.52
7 Craig Tolson (elite men)            3.55
8 Oliver Whalley (elite men)          4.23
 
Fastest 3 women

1 Jeanette Gerrie (elite women)    2.18.36
2 Sara MacDonald (elite women)        1.07
3 Erin Greene (elite women)           5.16