MTB index page for all MTB content
Australian MTB Series #5 - 2
Glenorchy MTB Park, Hobart, Tasmania, Australia, February 28-March 1, 2009
Main Page Results Previous Race
Race 4 - March 1: Downhill
Cory captures series final and Douglas upsets
Leigh Douglas
Photo ©: Evan Jeffery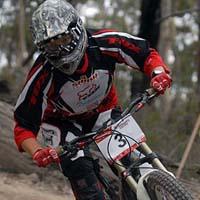 In the women's downhill national series final in Hobart, Tasmania's Leigh Douglas caused an upset when she beat national champion Claire Whiteman from Canberra. Douglas won in 3:59.67 and took the national series title from Whiteman after a three-year domination of the series. A former Canadian, Douglas competed in her first season in the elite class and impressed by qualifying fastest in the first run at the Glenorchy Mountain Bike Park.

After holding the monopoly for three years, Whiteman had to be content with second overall. Fellow Tasmanian Emma Lewis placed second while Whiteman claimed third.

Canberra's Ben Cory turned the tables in the elite men's race by taking the win in 3"11.03. Series leader Joshua Button from Coffs Harbour was able to maintain the lead by placing second just half a second behind Cory. At 19, Button claimed his first national series overall title.

Third was former World Junior Champion Amiel Cavalier from Wollongong. Local rider Kaine Cannan placed eighth.

Cory qualified with the fastest time all day with a 3:09.99 run.

Ben Cory manages a win
Photo ©: Evan Jeffery

After taking some time off, Cory has returned stronger than ever and claimed his first win of the national series. Although Cory joked about training and explained he just loved riding it did seem the upcoming UCI Mountain Bike And Trials World Championships in September has sparked some interest.
"The idea of racing World Championships in your home town would be unbelievable," said Cory. "It would be great to be selected but whether or not that's a possibility, I'm not sure yet."
In one of the closest races of the season was in the Under 19 division with any three riders such as Shaun O'Connor, Rhys Willemse or Tamryn Murrell. O'Connor won and claimed the series win for a second time. National Champion Willemse was unlucky and struck a tree, but finished in second place claiming second overall in the series. Willemse was unharmed. Local Antony Moore was third in the Under 19 category.
Photography
For a thumbnail gallery of these images, click here
Images by Evan Jeffery / www.evanjeffery.blogspot.com
Results
Elite Men

1 Ben Cory                                              3.11.03
2 Joshua Button (Mongoose-SRAM)                         0.00.42
3 Amiel Cavalier (Giant bicycles)                       0.02.05
4 Darcy Murrell                                         0.02.74
5 Rick Boyer                                            0.03.35
6 Dave West (Giant)                                     0.05.11
7 Reece Atkinson                                        0.07.28
8 Kaine Cannan (4Shawagencies)                          0.10.53
9 Liam Paiaro (Santacruz)                               0.12.92
10 Sam Hocken                                           0.14.63
11 Trevwah Burke (Streamline)                           0.15.47
12 Oliver Kristevic (Dunbar cycles)                     0.16.17
13 Brad Oien                                            0.16.30
14 Harry Armstrong (Derrico cycles)                     0.16.48
15 Adam Smithson (GT bicycles)                          0.16.64
16 Robert Armstrong (Veggie express)                    0.16.92
17 Toby Breheny                                         0.18.66
18 Cody Eichhorn (Gamutogio)                            0.18.78
19 Michael Manning                                      0.18.95
20 Emyr Davies (Santa cruz bikes)                       0.19.74
21 James Hall (Bike addiction)                          0.20.41
22 Alex Swann (Kona)                                    0.21.09
23 Lucas Kuncewicz (Dh direct)                          0.21.35
24 Evan Swartz                                          0.21.54
25 Craig Yates (Giant Australia)                        0.22.04
26 Ben Goff                                             0.22.28
27 Josh McDonald (Dirtart)                              0.22.39
28 Stuart Keep (4Shawagencies)                          0.22.70
29 Simon Buzacott (JT cycles)                           0.24.38
30 Jason Mennitz                                        0.25.66
31 Llewellyn Cameron                                    0.27.26
32 Tim Harrington (Toby breheny)                        0.30.68
33 Rowan Saunders                                       0.31.53
34 Jarrod Sansom                                        0.31.89
35 Ben Hunter                                           0.32.23
36 Cameron Allonby (Fortheriders.com)                   0.34.18
37 Ben Osbourne                                         0.37.11
38 Michael Watt                                         0.37.41
39 Tim Nielsen                                          0.44.70
40 Matt Swann (Kona,YVC)                                0.44.81
41 Obi Nobel                                            0.45.13
42 Matt Wise (Giant bicycles.)                          0.46.26
43 Andrew Brett (Aldgate bike shop)                     0.46.52
44 Joe Mullan (BMCR)                                    0.51.86
45 Nick Rudzki (Bigupstpkym)                            0.53.04
46 Nicholas Cruickshank                                 1.05.13
47 Simon French (Dirt Art)                              1.13.73
48 Matt Vincent (Scvimports)                            4.27.26
49 Hayden Lester (Ashgrovecycles.com)                   5.24.44
DNS Ricky Lee (Intensebikes)                                   
DNS Benjamin Fairbanks                                         

Elite Women

1 Leigh Douglas (4Shawagencies-Treadlies)               3.59.67
2 Emma Lewis                                            0.13.90
3 Claire Whiteman (Onyabikecivic)                       0.19.17
4 Cara Smith (Onyabikecivic)                            0.20.00
5 Leonie Picton                                         0.35.74
6 Sarah Booth (C.R.I.M.E.Cycles)                        0.47.69
7 Jayne Rutter (Biomechanics cycles)                    0.50.44
8 Rebecca Foxen                                         1.36.62
DNS Sarsha Huntington (Norco)                                  
DNS Julia Boer (Onyabike)                                      
DNS Edwina Hughes                                              

Under 19 Women

1 Jasmin Rosa                                           5.02.33
2 Emily Hockey (JTcycles-Adelaide)                      0.47.92
DNS Bec Kirss (Fortheriders.com)                               

Under 19 Men

1 Shaun O'connor (Thormx)                               3.16.75
2 Rhys Willemse (Supersports)                           0.02.18
3 Antony Moore (Venture cycles)                         0.03.32
4 Hans Hadley                                           0.03.38
5 Taimryn Murrell                                       0.03.56
6 Aden Wyber (Berettas bikehubgeelong)                  0.05.80
7 Laurie Dinham (Cycleworx)                             0.07.62
8 Marcus Fairbanks (None)                               0.09.75
9 Selby Press (Cyclingo)                                0.10.45
10 Ben Barrett (Kona,Shimano)                           0.11.38
11 Ben Nylen (Banshee)                                  0.11.90
12 Daniel Lavis (Ironhorsebikes)                        0.14.96
13 Aaron Oates (Cyclingo and johnnyc)                   0.15.04
14 Lewis Winton                                         0.17.12
15 Keiran Volk (EWRT)                                   0.17.33
16 Michael Bourne (Konafactory)                         0.18.44
17 Josh Johnston (Cyclingo)                             0.20.98
18 Ryan Hunt (Banshee bikes)                            0.25.20
19 Josh Dickinson                                       0.28.85
20 George Newham                                        0.29.03
21 Kieran Brown (Anaconda)                              0.35.23
22 James Shepherd (Crimecycles)                         0.37.83
23 Lachlan Saunders                                     0.43.73
24 Bobby Davies                                         0.47.05
25 Anthony Ghobril (Bscbikes)                           5.30.72
26 Jesse Went (Maladjusted)                            12.32.89
DNF Tom McTurk                                                 

Under 17 Women

1 Katelyn Humphris                                      5.01.73
2 Christie Batt (Oonya bike civic)                      0.39.82
DNS Emma Vejvoda                                               

Super Master Men

1 Martin Griffith (Switchmode powers upplies)           5.15.19

Master Men

1 Geoff Lovie                                           4.04.24
2 David Badman (Blackball syndicate)                    0.40.38

Veteran Men

1 Jason Blackmore (Morewood)                            3.40.15
2 Karl Peel (Kona,Shimano)                              0.00.35
3 Adrian Spath                                          0.12.31
4 John Peterson                                         0.14.71
5 Lee Treasure                                          0.15.27
6 Robert Stone                                          0.25.20
7 Derek Martin                                          0.33.51
DNS Darren Hobby                                               
DNS Tony Ritter                                                

Expert Men

1 Steven Gebert (Konabikes,)                            3.42.62
2 Ryan De La Rue (Berettasbike hubgeelong)              0.02.46
DNF Randal Huntington                                          

Under 17 Men

1 Troy Brosnan (Mongoose,SRAM)                          3.16.60
2 Connor Fearon (JT cycles)                             0.06.99
3 David McMillan (Onyacivic)                            0.10.43
4 Sean Heywood-smith (Mum&Dad)                          0.14.39
5 Henry Blake (Mitchamcycles)                           0.20.46
6 Ben Power (Brisbaneboutiquebikes-Summerharvestpty)    0.20.91
7 James Green (Anxiousmothers)                          0.22.34
8 Joe Vejvoda (Cyclelogic)                              0.28.72
9 Grant Womersley (Mumanddad)                           0.31.15
10 Brock Harrison (The sacred ride)                     0.35.02
11 Flinders Johnston                                    0.45.18
12 Andrew Weatherhead                                   0.48.12
13 Adam Flower                                          0.48.45
14 Tim Bransgrove                                       0.48.48
15 Max Hughes (Dhdirect)                                0.48.79
16 Ben Maynard-sprague (CDC development)                0.50.95
17 Mathew (Mat) Dwyer (Testelmyrtlefordinc)             0.54.87
18 Brandon Yrttiaho                                     0.55.87
19 Jake Orr                                             1.03.00
20 Zac Townsend                                         1.05.50
21 Dylan Shea                                           1.22.32
22 Jarrod Saville                                       1.34.09
23 Josh Scott                                           1.59.87
24 Remy Adderton (Ride-Bellerive)                       4.33.15
DNS Phillip Piazza (Maladjusted)                               

Under 15 Men

1 Thomas Crimmins (Sacred ride)                         3.37.55
2 Eugene Smith (Ronge eenterprises)                     0.25.04
3 Kaine Trevor                                          0.35.47
4 Mitchell Kristiansen (Mitchell bike superstore)       0.38.50
5 Luke Ellison (Xcr junior development squad)           0.39.36
6 Brent Capel                                           0.42.83
7 Dan Booker                                            1.06.90
8 Kyle Pfitzner                                         1.09.91
9 Alistair Wood                                         1.43.05
10 David Crisp                                          3.12.64

Sport Men

1 Joshua Lycett                                         4.07.86
2 Mykel Porter                                          0.05.40
3 Aaron Atkinson (Santa cruz bikes)                     0.06.43
4 Kieran Reinboth (Locomx)                              0.11.22
5 Tom Farmer                                            0.18.80
6 Rian Goodge                                           0.44.29
DNS Alex Lane                                                  

Hardtail Senior Men

1 Ross Giblin                                           4.22.22

Hardtail Junior Men

DNS Aaron Pelttari