MTB index page for all MTB content
Australian MTB Series #5 - 2
Glenorchy MTB Park, Hobart, Tasmania, Australia, February 28-March 1, 2009
Race 1 - February 28: Cross country
Beijing Olympian back in front
Daniel McConnell happy to post a win
Photo ©: Evan Jeffery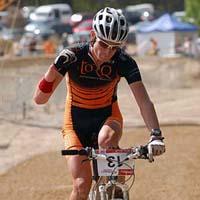 At the fifth and final Australian National Mountain Bike Series round, Daniel McConnell had his first off road win since representing Australia at the Beijing Olympics while National Champion Rowena Fry continued her winning ways in the women's race.

The 23-year-old McConnell returned to form to win the National Mountain Bike Series Final in Hobart. McConnell managed to stay ahead of a fast finishing national champion Chris Jongewaard. McConnell rode an impressive 2:03:34.

"We just all wanted to go out there and see how fast we could rider," said McConnell. "On the fifth lap I was struggling. I definitely feel a bit tired now."

McConnell was relieved to have his first national win since Beijing under his belt. "I just wanted it a bit really. It was good to come out and get the win," said McConnell.

For Jongewaard, it was a race that did not go right even from the start. "I got off to a good start, I got my foot in the pedal straight away and it was all going well then about the third or fourth pedal I unclipped and couldn't quite get it back in," he said.

"I guess I got a bit impatient and went up the climb and tried to overtake a whole heap of riders. I went down the downhill a bit too fast. I think I took a wrong line and double punctured. The rear tyre just kept going down and I had to go into the pits." Jongewaard lost over two minutes in the first lap after suffering two flat tyres (double flatted) and found himself at the 'wrong' end of the elite men's field.

Rowena Fry makes some time on the final lap
Photo ©: Evan Jeffery

"One thing after the next just kept going wrong," said Jongewaard. After crashing and gaining some ground, Jongewaard progressed through the field to eventually finish in second place. "I had fun out there. I just really enjoyed going hard. I've had it my own way for the whole year so far. To have that level of uncertainty is good for me I guess."

In what turned out to be the most unpredictable race of the series, Dylan Cooper held the lead men's race for the first two of seven laps. Cooper could not maintain the momentum into the third lap and withdrew.

Jongewaard's second placing gives him the national series overall win while Lachlan Norris placed third and also took out the Under 23 overall series title.

Rowena Fry won the elite women's race. The 26-year-old, current national champion led the elite women's field through five laps but was challenged in the first three by Katherine O'Shea.

"I had to work for it," admitted Fry. "Katherine O'Shea made me work for it. She actually was in front of me on the third lap then I just snuck past her,"

The local favourite, Fry, was cheered along by her how crowd. "It was great having a few friends and family out on the track cheering me on. Definitely I didn't want to disappoint on home turf," said Fry.

Third was Zoe King. Jo Wall and Jodie Willett finished fourth and fifth respectively.

Willett had led the series coming into the final round but O'Shea claimed the national series overall win. The Under 23 series overall winner was Canberra's Gracie Elvin.
Photography
For a thumbnail gallery of these images, click here
Images by Evan Jeffery / www.evanjeffery.blogspot.com
Results
Elite Men                                              

1 Daniel McConnell (VIC)                   2.03.34.9            
2 Chris Jongewaard                         2.08.18.6
3 Lachlan Norris (VIC) - U23               2.08.23.3
4 Charlton Durie (NSW) - U23               2.09.13.5
5 Adrian Jackson (VIC)                     2.09.44.0
6 Cal Britten (VIC) - U23                  2.10.31.6
7 Andrew Blair (NSW)                       2.11.27.9
8 Scott Liston (VIC) - U23                 2.12.04.2
9 Ben Mather (TAS)                         2.14.18.2
10 David Whitney (QLD) - U23               2.15.51.3
11 Luke Fetch (VIC) - U23                  2.19.12.3
12 Neil Van Der Ploeg (VIC) - U23          2.19.15.5
13 Joshua Carlson (NSW)                    2.21.39.8
 
One lap behind
14 Travis Frisby (SA) - U23            
15 Ben Hogarth (SA)                    
 
Two laps behind
16 Andrew Burford (TAS)                
17 Nathan Haas (ACT) - U23             
18 Daniel De Groot (TAS)               
DNF Dylan Cooper (ACT)                 
DNF Ben Grieve-johnson (TAS) - U23     
DNF Mark Flood (VIC) - U23             
 
Elite Women

1 Rowena Fry (TAS)                         1.48.34.6
2 Katherine O'Shea (VIC)                   1.49.27.4
3 Zoe King (NSW)                           1.51.22.0
4 Jo Wall (VIC)                            1.51.32.8
5 Jodie Willett (QLD)                      1.54.13.5
6 Gracie Elvin (ACT) - U23                 1.54.53.9
7 Rebecca Henderson (ACT)                  1.57.28.4
8 Emma Colson (VIC)                        1.58.08.8
9 Therese Rhodes (SA) - U23                1.58.53.7
10 Rosemary Barnes (NSW)                   2.00.40.8
11 Sarah Holmes (SA) - U23                 2.03.45.8
12 Kylie Webb (ACT)                        2.04.41.6
 
One lap behind
13 Philippa Rostan (NSW)               
14 Bianca Mauch (ACT)                  
DNS Tory Thomas (VIC)                  
 
Under 19 Men

1 Trenton Day (NSW)                        1.35.09.0
2 Michael Baker (ACT)                      1.38.35.0
3 James Peacock (VIC)                      1.41.14.6
4 Cameron Ivory (NSW)                      1.41.43.6
5 Brenton Jones (VIC)                      1.41.49.5
6 Glen Sinnott (ACT)                       1.46.38.5
7 Phillip Bellingham (VIC)                 1.48.39.5
8 Ryan Macanally (QLD)                     1.48.56.8
9 Alex Hunt (TAS)                          1.51.07.7
10 Mitchell Codner (NSW)                   1.55.42.0
11 Matt Kidd (VIC)                         2.01.26.9
 
One lap behind
12 Harrison Hughes                     
 
Two laps behind
13 Stephen Pitt (NSW)                  
 
Three laps behind
14 Brendan Johnston (NSW)                
Yet to start  Paul Matthews (TAS)       
              Harrison Hughes (TAS)                 
 
Under 19 Women

1 Gillian Burgess (QLD)                    1.16.04.0
2 Shelly Flood (VIC)                       1.37.48.4

Super Master Women

1 Peggy Douglass (ACT)                     0.58.26.6

Veteran Women

1 Su Sprott (TAS)                          0.53.34.9

Sport Women

1 Edwina Hughes (TAS)                      0.51.53.1
2 Jessica Totham (Tas)                     1.33.09.6

Super Master Men

1 David Olle (VIC)                         0.45.36.4
2 Steve Flood (VIC)                        0.49.37.4
3 Craig Saunders (TAS)                     0.52.28.4
4 Martin Griffith (NSW)                    1.05.36.4

Master Men

1 Justin Wornes (VIC)                      1.01.27.2
2 Evan James (SA)                          1.02.24.4
3 Brian John (VIC)                         1.02.45.2
4 Adrian Cooper (TAS)                      1.03.29.2
5 Craig Peacock (VIC)                      1.03.47.8
6 Glenn Hyland (TAS)                       1.08.15.6
7 John Henderson (ACT)                     1.11.03.8
8 Marcus Langham (TAS)                     1.15.10.0
9 Brent Ranson (Tas)                       1.16.01.7
10 Andrew Cooke (TAS)                      1.18.52.3

Veteran Men

1 James Downing (ACT)                      1.21.55.8
2 Dion Shaw (TAS)                          1.25.52.2
3 John Darcey                              1.27.07.9
4 Andrew Ling (TAS)                        1.39.44.1
 
One lap behind
5 Luke Whitehouse (TAS)                
6 Grant Wise (TAS)                     

Expert Men

1 Nathan Earle (TAS)                       1.39.32.0
2 John Groves (VIC)                        1.43.46.4
3 Sean Hurley (VIC)                        1.44.55.3
4 Damian French (TAS)                      1.45.00.3
5 David Jolly (TAS)                        2.00.51.4
DNF Andrew Choma (VIC)                 
DNF Rowan Smith (VIC)                  
DNF Nick Morgan (TAS)                  
 
Under 17 Men

1 Ryan Standish (NT)                       0.59.56.7
2 James Hanus (SA)                         1.00.55.7
3 Alexander Meyland (VIC)                  1.02.15.1
4 Jacob Langham (TAS)                      1.09.06.7
5 Marc Gluskie (TAS)                       1.12.19.7
6 Jack Watson (QLD)                        1.14.05.6
7 Tim Beaver (NSW)                         1.17.53.9
8 John Tulk (TAS)                          1.38.32.1

Under 15 Men

1 Ben Bradley (TAS)                        0.43.27.3
2 Luke Ellison (NT)                        0.47.22.0
3 Scott Bowden (TAS)                       0.49.12.0

Sport Men

1 Jason Mennitz (TAS)                      1.04.46.2
2 Lucas Pitt (SA)                          1.10.02.0
3 Simon Carr (VIC)                         1.13.04.6
4 Nick Miller (TAS)                        1.13.08.6
5 Tim Rowe (VIC)                           1.17.17.9
DNF Aaron Veitch (TAS)                 
DNF Paul Allen                         
 
Yet to start  Evan Jones (SA)           
Yet to start  Scott Bannister (TAS)     
Yet to start  Anthony Petty (TAS)