MTB index page for all MTB content
South African National Cup Series #4 - 2
Cascades, Pietermaritzburg, South Africa, April 4-5, 2009
Main Page Results Previous Race Next Race
Race 2 - April 5: Downhill
Commonwealth countries shine
Australia's Chris Kovarik was one of only three
Photo ©: Sven Martin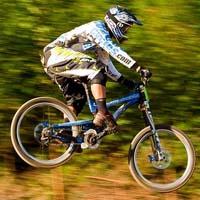 Australia's Chris Kovarik and Great Britain's Tracy Moseley led a Commonwealth country domination of the men and women's downhill podiums on Sunday. For the past three years, Australia, Great Britain, South Africa, Canada and New Zealand have excelled in the discipline. With eight of the 10 podium spots, Sunday's race was no different.
Riders from 12 countries contested the event, most using it as a build-up race ahead of this week's first round of the 2009 UCI World Cup, which will be held at the same venue.
Kovarik (Chain Reaction Cycles/Intense), currently 11th on the UCI world rankings, clocked a quick time of 3:56.09 on his second of two runs, which gave him a one-and-a-half second victory margin over South Africa's Andrew Neethling (Trek World Racing), who clocked 3:58.54 on his second run. Great Britain's Marc Beaumont (GT Racing) was third in 3:59.36 and the last of the riders to beat the four-minute mark.
"I'm really happy to have won today. It's been ages since I last did a race so to win on the first competitive outing of the new season is quite a boost for my confidence," said Kovarik, adding: "There's quite a lot of pedaling required in the middle section. Luckily I was able to power through that quite well with a mixture of standing and sitting at the right times."
Kovarik's second run was more than four seconds quicker than his first, which ironically, he put down to using his brakes more.
Great Britain's Tracy Moseley secured
Photo ©: Sven Martin

"On my first run I slid out a few times on corners which I felt cost me some time. So on the second run I braked more into the corners and it made for a smoother and faster run."
Former two-time world champion, Fabien Barel of France, was forced to miss Sunday's race following a crash in practice on Friday that dislocated his knee and may see him miss next week's World Cup. And current World Cup champion, Greg Minnaar (Santa Cruz Syndicate), who lives in Pietermaritzburg, opted to spend the weekend in Cape Town to ease the pre-race pressure on him ahead of next week's World Cup opener.
In the women's race, Moseley (Trek World Racing), had two almost identical runs, her second, just nine-hundredths of a second quicker than the first to give her a winning time of 4:34.50. She was six seconds ahead of Canadian Claire Buchar (Chain Reaction Cycles/Intense) with Frenchwoman, Emmeline Ragot (Suspension Centre) rounding out the top three positions.
"We had three of the top-six riders in the world here today, so it's a good result for me," said Moseley. "It's good to get a race like this ahead of the World Cup because you never go as fast in practice as you do in a race so it's good to be able to see where I can still improve."
Photography
For a thumbnail gallery of these images, click here
Images by Sven Martin
Images by Gary Perkin
Results

Elite men

1 Chris Kovarik (Aus)            3.56.09
2 Andrew Neethling (Rsa)         0.02.45
3 Marc Beaumont (GBr)            0.03.27
4 Justin Leov (NZl)              0.04.08
5 Fabien Cousinie (Fra)          0.05.04
6 Filip Polc (Cze)               0.05.39
7 Florient Payet (Fra)           0.05.58
8 Duncan Riffle (USA)            0.06.03
9 Julien Camellini (Fra)         0.06.59
10 Damien Spagnolo (Fra)         0.08.96
11 Steve Smith (Can)             0.09.77
12 Matt Simmonds (GBr)           0.10.63
13 Johann Potgieter (RSa)        0.11.85
14 Matti Lehikoinen (Fin)        0.11.88
15 Pierre Georges (Fra)          0.12.55
16 Dominik Gspan (Swi)           0.12.84
17 Thibaut Ruffin (Fra)          0.13.70
18 Joris Bigoni (Fra)            0.13.91
19 Wyn Masters (NZl)             0.14.54
20 Jonty Neethling (RSa)         0.15.91
21 Brad Benedict (USA)           0.15.95
22 Will Rischbieth (Aus)         0.16.43
23 Mitch Delfs (Aus)             0.17.67
24 Nicolas Ortiz (Fra)           0.18.38
25 Dennis Dertell (Swe)          0.18.59
26 Kelvin Purchase (RSa)         0.18.81
27 Louis-Bresler Knipe (RSa)     0.20.54
28 Stuart Jenkinson (GBr)        0.20.75
29 Gary Barnard (RSa)            0.21.91
30 Nathan Rennie (Aus)           0.22.14
31 Alex Bramley (RSa)            0.23.98
32 Wesley Augustyn (RSa)         0.25.39
33 Dirk Van Schalkwyk (RSa)      0.27.09
34 Darryn Stow (RSa)             0.28.06
35 Andrew Guess (RSa)            0.30.02
36 Myles Kelsey (RSa)            0.30.29
37 Jarryd Haley (RSa)            0.30.62
38 Nicolas Gspan (Swi)           0.31.31
39 Nils Hansen (RSa)             0.47.58
40 Dane Olsen (RSa)              0.49.36
41 David Dinkelman (RSa)         0.49.90
42 Gustav Kros (RSa)             0.54.84
43 Tan Hong Chun (Sin)           1.00.63
44 Chris Paxman (RSa)            1.03.65
45 Frederik Hanssom SWE          1.05.66
46 Matthew Hofmeyer (RSa)        1.11.52
47 Conrad Davies (RSa)           1.42.32
DNF Jaco Veldsman (RSa)                 
DNS Mick Hannah (Aus)                   
DNS Kevin Allemand (Fra)                
DNS Lars Peyer (Swi)                    
DNS Hayden Brown (RSa)                  
DNS Robin Wallner (Swe)                 

Elite women

1 Tracy Moseley (GBr)            4.34.50
2 Claire Buchar (Can)            0.05.50
3 Emmeline Ragot (Fra)           0.08.86
4 Fionn Griffiths (GBr)          0.17.45
5 Joanna Petterson (RSa)         0.27.83
6 Helene Fruhwirth (Aut)         0.44.07
7 Helen Gaskell (GBr)            0.45.47
8 Sarah Newman (GBr)             0.58.73
9 Risa Suseanty (RSa)            1.04.50
DNF Victoria Phillips (RSa)             

Junior men

1 Kevin Aiello (USA)             4.06.44
2 Timothy Bentley (RSa)          0.05.38
3 Laurie Dinham (Aus)            0.06.15
4 Pierre Van Der Merwe (RSa)     0.10.31
5 Simon Dinkelman (RSa)          0.16.54
6 Kenneth Sinclair (RSa)         0.28.12
7 Erik Kimmel (Cze)              0.30.98
8 Andries Van Schalkwyk (RSa)    0.35.32
9 Mark Malherbe (RSa)            0.37.06
10 Daniel Walsh (RSa)            0.40.20
11 Andrew Pottow (RSa)           1.07.38
12 Gerard Walsh (RSa)            3.00.14

Sub junior boys

1 Alan Hatherly                  4.48.21
2 Luke Evans                     0.54.03
3 Christopher Rigby              1.03.79
4 Michael Gartell                1.39.47

Youth men

1 Tiaan Odendaal                 4.27.76
2 Sven Pottow                    0.23.10
3 Alasdair Fey                   0.29.03
4 Max Sullivan                   1.14.71
5 Matthew Wortmann               1.32.61
6 Ronald Christie                1.57.51
DNF Dewald Oosthuizen                   

Sub vet men

1 Mark Hopkins                   4.50.72
2 Dan Forsyth                    0.09.46
3 Tyrone Van Rooyen              0.14.67
4 James Morland                  0.23.89
DNS Leon Pieters                        

Veteran men

1 Norman Hatherly                5.23.43
2 Neil Evans                     0.13.32
3 Eugene Haley                   0.17.89