MTB index page for all MTB content
Copa Chile - Circuito Lo Prado - 2
Lo Prado, Santiago, September 6-7, 2008
2007 Results Results
Lo Prado round kicks of Copa Chile Jeep de MTB series
By Cristóbal Sahr
Cristóbal Silva (Team ADO-Cannondale)
Photo ©: Cristóbal Sahr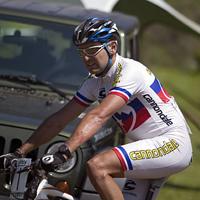 The Copa Chile Jeep 2008 kicked off with round one in the Lo Prado forest. The UCI event served as a qualifier for the Pan-American Championship that will be held in Chile in March 2009.
On Saturday, with more than 400 competitors, the Olympic style cross-country race was held, consisting on six laps to a circuit of 7.5 kilometers. The race featured the return of Cristóbal Silva (Team ADO-Cannondale), who represented Chile at the Beijing Olympic Games, and also a special guest, Luis Sepulveda (Team Sportxperts), Pan-American track gold medalist and winner of two Vueltas de Chile.
From the beginning of the race, Cristóbal Silva and Javier Püschel (Team Scott-Suzuki) were engaged in a tough battle. Only in the final laps, did Silva show his superiority and go on to a win with a time of 1:50:24.
In the elite women's race, María Elisa García (Team Quaker-Cannondale) started under pressure to defend her 2007 overall series win. The race began with a compact peloton, but in the third lap Daniella Bünzli (Team Vitalife-Cannondale) attacked her opponents and went on to win with a time of 1:32:50.
And they're off
Photo ©: Cristóbal Sahr

Downhillers got their turn on Sunday, on a steep 2km track with fast curves and a rough rock garden section. The race included Antonio Leiva (Team Sportxperts), 2006 Pan-American downhill champion, and it also marked the return of Bernardita Pizarro (Team Quaker-Cannondale), former Pan-American champion and bronze medal at the Lugano Worlds 2003.
Mauricio Acuña (Team Rocky Mountain) was the fastest in the semi-finals, but in the finals, Leiva proved himself Chile's fastest with a time of 2:48.84, two seconds ahead of Acuña.
Verónica Miranda (Team Rocky Mountain), national champion, rode under pressure in the elite women's downhill. Bernardita Pizarro was also in the mix. But it was Verónica Miranda who conquered the field with a time of 3:31.11, three seconds fastest than Pizarro, leaving everyone to wonder who will be fastest in the next round.
The next event of the Copa Chile Jeep 2008 series will be held at La Serena, IV region, on October 4-5. For more information, visit www.copachilemtb.cl.
Photography
For a thumbnail gallery of these images, click here
Images by Cristóbal Sahr /www.copachilemtb.cl
Results
Cross country 

Elite men

1 Cristobal Silva       1.50.24
2 Javier Püschel           2.33
3 Gonzalo Aravena          5.58
4 Claus Plaut              6.36
5 Francisco Corvalán      10.04
6 Matias Rivera           14.37
7 Victor Galvez           15.41
8 Francisco Muñoz         16.09
9 Manuel Miranda          16.19
10 Luis Sepulveda         18.16
11 Francisco Rojas        21.18
12 Francisco Durán        23.11

Behind one lap

13 Luis Carcamo                
14 Eduardo Saenz               
15 Patricio Figueroa           
DNF  Mario Princic             
DNF  Javier Gallardo      

Elite women

1 Daniela Bunzli        1.32.50
2 Elisa Garcia             5.12
3 Monica Jorquera          9.40
4 Maria Sepulveda         10.26
5 Paola Alfaro            11.05
6 Margarita Hernandez     11.40
7 Gabriela Vargas         12.20

Behind one lap

8 Josefina Leon                

Behind two laps

9 Romina Diaz         

U23 men

1 Hector Veas           2.00.25
2 Carlo Nawrath            1.27
3 Eyair Astudillo          3.33
4 Sebastian Valdenegro     3.55
5 Juan Hazbún              8.42
6 Alberto Bello            9.22
7 Cristián Correa         10.56
8 Julio Flores            11.19
9 Enrique Rivera          12.15

Behind one lap

10 Raúl Novoa                  
11 Sebastian Romàn             
12 Tomás Lobos                 
13 Sebastian Araya             
14 Erwin Villagra              
15 Juan Carrasco               
DNF  Sebastian Carrasco        
DNF  Bernard Danitz            
DNF  Sebastian Arpon           
 
Junior men

1 Mario Rodriguez       1.21.15
2 Ricardo Reyes            1.15
3 Luis Delgado             1.35
4 Patricio Farias          2.32
5 Nicolas Alcaino          3.20
6 Sergio Araya             4.38
7 Walter Baquedano         5.13
8 Miguel Burgos            6.35
9 Alvaro Silva             8.38
10 Alberto Rotger          9.42
11 Armando Arenas         12.07
12 Diego Rossi                 
13 Ricardo Puschell       15.00
14 Nicolas Venegas        23.27
DNF  Diego Diaz                
DNF  Gonzalo Garrao            
DNF  Ignacio Espinoza          
DNF  Patricio Seguel           
DNF  Felipe Gonzalez           

Junior women

1 Javiera Ocampos       1.12.15
2 Daniela Rojas            3.08
3 Macarena Alarcón        18.15
DNF  Elsa Rivera                  
 
Downhill

Elite men

1 Antonio Leiva            2.48.84
2 Mauricio Acuña           0.02.05
3 Pedro Ferreira           0.05.23
4 Juan Cartoni             0.06.86
5 Cristian Araya           0.08.52
6 Felipe Vasquez           0.08.92
7 Jorge Monzon             0.08.97
8 Matias Cox               0.09.76
9 Lucas Bolcato            0.11.46
10 Christian Roth          0.17.16
11 Pablo Maldonado         0.13.73
12 Paulo Gajardo           0.14.49
13 Felipe Contreras        0.14.86
14 Jorge Acuña             0.15.02
15 Juan Guzman             0.15.42
16 Erich Schmidt           0.16.52
17 Cristobal Reward        0.16.64
18 Juan Zamorano           0.17.22
19 Oscar Yunge             0.18.97
20 Dante Maureira          0.23.92
21 Francisco Pizarro       0.24.55
22 Ignacio Rojo            0.27.20
23 Julio Ramirez           0.33.52
24 Jose Diaz                      
25 Cristobal Ramirez              
26 Javier Grau                    
27 Patricio Alvarado              
28 Felipe Alamo                   
29 Sebastian Roman                
30 Enrique Genova                 
31 Cristian Ramirez               
32 Pierre Plaza                   
33 Nicolas Acevedo                
DNS  Felipe Miranda               
DNS  Felipe Saenz     

Elite women

1 Veronica Miranda         3.31.11
2 Bernardita Pizarro       0.03.46
3 Claudia Campos           0.38.24
4 Vanessa Vallarino        1.04.40
5 Andrea Melian            1.19.40
6 Cyntia Aguilera                   
 
Junior men

1 Johan Leon               2.54.42
2 Andreas Kukulis          0.02.84
3 Diego Salas              0.07.25
4 Sebastian Silva          0.07.93
6 Jorge Reveco             0.10.25
7 Antonio Ovalle           0.10.44
8 Luis Matias              0.11.81
9 Juan Sandoval            0.13.34
10 Ricardo Muñoz           0.13.41
11 Sebastian Gonsalez      0.13.46
12 Cristian Aguilar        0.14.72
13 Alexis Garcia           0.14.78
14 Jorge Acevedo           0.15.62
15 Tomas Diaz              0.18.00
16 Joaquin Aguilera        0.19.15
17 Benjamin Miranda        0.19.62
19 Luis Moreno             0.21.65
20 Sergio Ramirez          0.22.69
21 Sebastian Quiroz        0.25.50
22 Jhon Plaza              0.47.87
23 Tomas Diaz                     
24 Sebastian Gonsalez             
25 Ricardo Muñoz                  
26 Jorge Reveco                   
27 Sebastian Quiroz               
28 Luis Matias                    
29 Sergio Ramirez                 
30 Juan Sandoval                  
31 Benjamin Miranda               
32 Diego Salas                    
33 Cristobal Johansen             
34 Nicolas Arnaiz                 
35 Nicolas Fuentes                
36 Gonzalo Gonsalez               
37 Jose Agurto                    
38 Benjamin Valdivieso            
DNS  Patricio Soto