MTB index page for all MTB content
Jeep 48Straight #2 - NE
The Canyons, Park City, Utah, USA, September 20-21, 2008
Minnaar & Buhl take Utah's 48Straight
Greg Minnaar and another rider
Photo ©: Jeep 48Straight Mountain Bike Series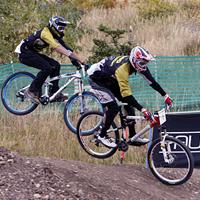 World Cup Champion Greg Minnaar and reigning World Champion and U.S. National Champion Melissa Buhl captured the second leg of the Jeep 48STRAIGHT Mountain Bike Series held at The Canyons in Park City, Utah.
Despite facing one of the strongest fields in Jeep mountain bike history and intermittent rain showers that affected the surface of the course, the experienced Minnaar and Buhl swept the competition without losing a heat, a feat all but unheard of since the event's inception.
Minnaar, with two World Cup Championships and a World Championship under his belt by age 26, reached the final by beating Cameron McCaul, Great Britain's Steve Peat and Petr Hanak. In the championship heat, Minnaar faced off against World Champion and three-time World Cup titlist Eric Carter of Temecula, California, who had earned wins against Christopher Herndon, Amiel Cavalier and U.S. National Champion Cody Warren. In the finals, Minnaar outran the veteran Carter in both runs to earn the title. Hanak topped Warren in the consolation heat to earn the final podium spot.
Melissa Buhl leads
Photo ©: Jeep 48Straight Mountain Bike Series

"This year I have had great success in dual slalom competitions, having already won two of them," said Minnaar. "I really wanted to win this one, and I pushed hard. When you add up the three World Cup wins and the overall World Cup championship, plus three dual slalom wins, this has been a solid year for sure."
Buhl's day was no less spectacular, featuring wins over Lisa Myklak and Tammy Donahugh. In the final she took on three-time world cup winner Fionn Griffiths of Great Britain. Griffiths reached the championship heat following defeats of Allie Burch and U.S. National Champion Kathy Pruitt. In the finals, Buhl was just too powerful, taking both races against Griffiths to win her long-awaited first Jeep title. Pruitt earned third place with a win over Donahugh in the consolation heat.
"I came into Utah feeling really confident, focusing on my own race and making all of the jumps I needed to make," said Buhl. "The weather definitely impacted everyone's plan, and I had to race just a bit more conservative at times than I normally would. But I'm thrilled to get out of here with the win, and I couldn't be happier with how the season went. I'm very excited about the final race in San Luis Obispo, where I like the dirt and racecourse and have a chance to win the season championship."
Photography
For a thumbnail gallery of these images, click here
Images by Jeep 48Straight Mountain Bike Series
Results

Men's finals
 
1 Greg Minnaar (RSA)            
2 Eric Carter (USA)             
3 Peter Hanak (USA)             
4 Cody Warren (USA)             
5 Chris Van Dine (USA)          
6 Amiel Cavalier (Aus)          
7 Jared Rando (Aus)             
8 Steve Peat (GBr)              
9 Mike Haderer (USA)            
10 Kyle Strait (USA)            
11 J.D. Swanguen (USA)          
12 Logan Binggeli (USA)         
13 Jonathan Watt (USA)          
14 Christopher Herndon (USA)    
15 Jake Kinney (USA)            
16 Cameron McCaul (USA)         
 
Women's finals
 
1 Melissa Buhl (USA)            
2 Fionn Griffiths (GBr)         
3 Kathy Pruitt (USA)            
4 Tammy Donahugh (USA)          
5 Leslie Slagle (USA)           
6 Allie Burch (USA)             
7 Jackie Baker (USA)            
8 Lisa Myklak (USA)             

Men's qualifying
 
1 Greg Minnaar (RSA)            
2 Eric Carter (USA)             
3 Chris VanDine (USA)           
4 Amiel Cavalier (USA)          
5 Steve Peat (GBr)              
6 Mike Haderer (USA)            
7 Kyle Strait (USA)             
8 Logan Binggeli (USA)          
9 Jonathan Watt (USA)           
10 Christopher Herndon (USA)    
11 Jake Kinney (USA)            
12 Cameron McCaul (USA)         
 
Women's qualifying
 
1 Fionn Griffith (GBr)          
2 Tammy Donahugh (USA)          
3 Leslie Slagle (USA)           
4 Lisa Myklak (USA)             
5 Allie Burch (USA)             
6 Jackie Baker (USA)