MTB index page for all MTB content
Coffs Mountain Marathon - NE
Australia, September 21, 2008
2007 Results Results
Gordon shows he is back with a win
Craig Gordon (Rock Star Racing) won
Photo ©: Evan Jeffery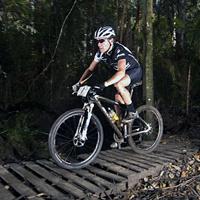 After a 12-month break from racing, Craig Gordon (Rock Star Racing) proved his is back with a win at the Coffs Mountain Marathon.
Heavy overnight rains, left the course wet and slow. Gordon, Jason English (BMC), Nick Both and Tim Bennett (Media Flight Centre) formed a break racing off the front for the first 20km. They rode at a steady pace, waiting to see who would make the first move.
At the 23km mark, the four riders hit the first major climb and Gordon decided to stretch his legs and see what the others had to offer. Getting no response, Gordon turned up the heat and accelerated away. By 50km, he had a strong lead of six and a half minutes.
As humid conditions began to take their toll on his competitors, Gordon cruised through the 72km feed station with a ever-growing 12-minute advantage. A catch looked unlikely.
Gordon crossed the line in 4:37, 17 minutes ahead of English. Bennett finished third.
After 4 hrs 37 minutes Craig crossed the finish line an impressive 17 minutes ahead of second place Jason English. Bennett was third, another 1.30 behind.
The win marked Gordon's return to racing. He was off the bike for eight months due to an altercation with a car in October 2007. A long rehabiliation with extended trainer sessions followed.
The former 24 hours of Adrenalin World Solo Champion Gordon is slated to race the Scott 24 hour racing coming up in October as well as the Crocodile Trophy.
In the women's race, Jo Bennett finished first in 6:01. She finished 14 and a half minutes ahead of Stephanie Russell, who was second, and 45 minutes ahead of Britt Caling, who was third.
Photography
For a thumbnail gallery of these images, click here
Images by Evan Jeffery
Results

Elite men

1 Craig Gordon             4.37.43
2 Jason English              17.10
3 Tim Bennett                18.07
 
Elite women

1 Jo Bennett               6.01.35
2 Stephanie Russell          14.37
3 Britt Caling               45.26
 
Men hard 18-29

1 Mark Tupalski            6.30.24
2 Cam Taylor                  9.19
3 Pat Galbraith-Robertson    10.59
 
Men hard 30-39

1 Rolf Collett             5.51.14
2 Jason Morgan                2.58
3 Paul Hooper                27.11
 
Men hard 40-49

1 Geoff Gilchrist          5.46.19
2 David Gilbert              44.15
3 John Searston              46.42
 
Men hard 50-59

1 Hans Dielacher           5.51.03
2 Kevin Jones                25.05
3 Ian Stewart                59.47
 
Men hard 60+

1 Denis Cullen             7.50.48
2 Stewart McDonald           49.03
 
Women hard 18-29

1 Anna Kricker             8.20.22
 
Women hard 30-39

1 Kim Fuller               8.00.44
2 Adrienne Dougal             0.54
3 Tracy Flintoff             34.58
 
Men soft 16-29

1 Trenton Day              2.59.09
2 Casper Oxlee                3.37
3 Kieran Poole                8.53
 
Men soft 30-39

1 Robbie Reid              3.02.11
2 Paul Hill                   1.50
3 Stephen Pickles             2.37
 
Men soft 40-49

1 Brian Cockbain           3.20.44
2 Jason Kaul                  3.59
3 Tim Cotsell                 4.43
 
Men soft 50+

1 Glen O'Grady             3.27.19
2 Rod Brannock                9.15
3 David Mcalpin              15.22
 
Women soft 16-29

1 Emma Sonerson            3.56.45
2 Helen Copus                58.57
 
Women soft 30-39

1 Belinda Blackhall        3.57.10
2 Kerry Westwood              6.20
3 Alison Anderson            17.39
 
Women soft 40-49

1 Sharon Heap              3.20.44
2 Jaye Gilchrist             40.49
3 Karen Ward                 56.44
 
Women soft 50+

1 Sandy Magennis           3.45.24
2 Gillian Duncan             46.39
3 Angela Skirving          1.12.49
 
Recreational men

1 Oliver Coutts            1.17.45
2 Glen Price                  6.36
3 James Price                 7.36
4 Edward Burton              15.23
 
Recreational women

1 Jo Beaumont              1.44.23
2 Sara Hinds                 15.13
3 Madeline Davis