MTB index page for all MTB content
Cactus Cup Stage Race - SR
Las Vegas, Nevada, USA, September 19-21, 2008
Main Page Results Overall standings Previous Stage
Stage 4 - September 22: Cross country
Sauser, Emmett take Cactus Cup win with finale victory
By Dave McElwaine in Las Vegas
World Champion Christoph Sauser (Specialized)
Photo ©: Dave McElwaine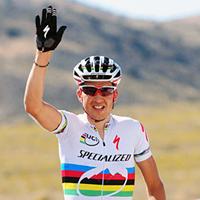 Christoph Sauser (Specialized) demonstrated why is the World Champion today by winning the 30 mile cross country stage of the Mountain's Edge Cactus Cup. Sam Jurekovic (U-23 National Team) pushed Sauser at times and finished less than two minutes behind. Carl Decker (Giant) took third place in a sprint finish against Sid Taberlay (Team Shoair), who won the previous stage.
The cross country course consisted of two laps, the first being 18 miles, followed by a 12 miles loop. Riders faced two incredibly difficult sections of trail that they had not seen before in this weekend's racing. The Black Velvet trail in the foothills of the mountains was full of rock, sand, washes, and plenty of tight turns where you could barely avoid cactus bites. Most riders who raced on a hard-tail lamented afterwards they had not chosen a dually for the race.
Halfway through the first lap the riders faced the most difficult climb of the week, a trail that locals call 'The Hurl'. The incredibly rocky, switchback-ridden climb rises 600 feet up from the desert floor. On the back is a treacherous descent leading down towards the town of Blue Diamond.
Sauser had a 15 second lead over Sam Jurekovic as the racers approached 'The Hurl'. Generally Sauser's strength is his ability to handle steep climbs, while Jurekovic is more of a power rider who can handle super technical trails.
"My tactic was to stay in second and then before the hill to go ahead and definitely be the first going up that hill," said Sauser. "I would try to make a gap even if it's only 15 seconds because you can then ride your speed and if the other guy is just a little weaker you will gain time.
"The other trail (Black Velvet) was so technical with so many cactus, and I was way ahead so I took it very conservative," he added. "Then I heard a bike noise and said to myself 'Sam is coming' so it put me under pressure again…and then I was full speed ahead."
Behind the front pair, overnight race leader Taberlay and Decker had their own battle going on. The pair came through after one lap together and third place was not decided until they sprinted to the finish.
Jurekovic bested Sauser in both the Time Trial and Super D races, despite spending six weeks off the bike with a serious injury after July's national titles. After four stages Jurekovic finished only 53 seconds behind Sauser on general classification. Taberlay finished only 3:58 behind Sauser.
"Sauser was in sight the whole time but on every climb he would pull away and I would catch him on the downhill, and on that technical section (Black Velvet) I would catch him a bit," Jurekovic said.
Tinker Juarez (Mona Vie) raced with the Elite Men, but suffered a race-ending crash on the first lap. "I was in a good position and riding really well until the point where I crashed," lamented Jaurez. "I got to the point they call 'The Big Rock', but on the other side was a rock with a big hole in it.
"My front wheel went right into it and I just pivoted and landed on my face," he said. "I had a bent rotor and a flat tire. That was kind of the end of the story."
Kelli Emmett (Giant) was looking to sweep
Photo ©: Dave McElwaine

Emmett had little trouble taking the win in the Elite Women's field over Maureen Kunz. Both women were on course for about three hours after unanimously choosing to complete both laps when asked by officials.
Emmett led Kunz by one minute as they headed up 'The Hurl'. Both could see one another easily as they traversed the many switchbacks. Emmett added another minute to her lead by the time she rounded the back side of the mountain and started the six mile climb back to the start/finish. At the end of lap one she had increased her lead to eight minutes, and just cruised to victory on lap two.
Emmett admitted afterwards the choice to do both laps instead of one wasn't the best decision. "Definitely, I did not really bring enough water with me so it was all about not going too hard," she said.
"It was super fun," Emmett added. "It was really techy so you were so focused on the rocks and steps that you didn't even notice you were climbing."
Many of the professionals will now turn their attention to making appearances for their sponsors at the Interbike Trade Show which takes place in Las Vegas this week. Several racers will also be racing in Cross Vegas, one of the first major cyclo-cross races of the season.
Photography
For a thumbnail gallery of these images, click here
Images by Jonathan Devich/

Images by Dave McElwaine /www.trailwatch.net
Results

Elite men

1 Christoph Sauser (Specialized)                       1.59.34
2 Sam Jurekovic (U23 National Team)                       1.35
3 Carl Decker (Giant Bicycles)                            5.22
4 Sid Taberlay                                            5.23
5 Benjamin Sonntag (Fort Lewis College)                   6.19
6 Rotem Ishai (Kona Super Cc)                             8.02
7 Adam Snyder (3-D Racing)                               10.16
8 Tim Allen (Waste Management)                           10.27
9 Manuel Prado                                           12.28
10 Sean Donovan                                          13.04
11 Cody Peterson (Scott Bicycles)                        16.01
12 Alex Grant (Rocky Mountain Bicycles)                  17.21
13 Andreas Hestler (Rocky Moutnain Bicycles)             17.29
14 Eric Salstrand                                        17.53
15 Blake Zumbrunnen (Revolution Peak Fasteners)          19.44
16 Nicholas Stevens (Waltworks Fuentesdesign)            21.56
17 Dave Harrison (Reddrox.Com)                           28.10
18 Yuki Saito (Waltworks Fuentesdesign)                  31.13
19 Fabio Dias (Specialized Elite Bike)                   34.29
DNF Tinker Juarez                                             
DNF Eric Ransom (Tamarack Resort)                       

Elite women

1 Kelli Emmett (Giant Bicycles)                        2.54.11
2 Maureen Kunz (Lost Coast Brewery)                      26.54                  
 
Semi-Pro men

1 Brandon Firth (Rocky Mountain)                       2.23.09
2 Rich Weis (Taser-Kenda)                                 1.11
3 Andy Rigel (Velo Bike Shop)                             9.21
DNF Matt Ohran (Monavie Cannondale)                           
DNF Leonardo Cocholice (Specialized Elite Bike)           
  
Expert men

1 Mike Hileman (Eye Gear Sport Optics)                 2.37.00
2 Jeremy Thatcher (Allegiant Air)                         9.03
3 Mark Taylor                                            23.33
4 Scott Johnson (All Mountain Cyclery)                   23.58
5 Bob Mccall (Allegiant Airlines)                        34.20
6 Jacques Hadler (Escape Adventures)                     36.48
7 Jared Fischer                                          42.54
8 Brandon Cunningham (Toshiba Santo Presented By)        48.44
DNF Todd Sims                                                 
DNF Gary Strabala                                             
DNF Gene Ruiter                                               
DNF Scott Leland               
 
Sport men

1 Chris Kasey                                          1.29.21
2 Larry Grossman                                          2.30
3 Robert Stanley                                          2.42
4 Paul Ferraro                                            5.35
5 Tony Gonzalez                                           5.46
6 Louis Baker                                             6.12
7 Jeffrey Johnson                                         7.00
8 Marias Dewet                                            7.53
9 Shawn Tyrone                                            9.02
10 Jon Horenziak                                          9.51
11 Rick Watts                                            10.07
12 Eric Neuhaus                                          12.15
13 Rodney Ward                                           12.53
14 Mark Synder                                           13.51
15 Scott Delgiudice                                      16.01
16 Mark W. Sherline                                      17.03
17 Nando Ateho                                           17.04
18 Jeff Dietrich                                         21.11
19 Greg Hayes                                            21.50
20 Chris Christiansen                                    23.21
21 Rich Urello                                           25.22
22 Mark Ross                                             25.41
23 David Lind                                            25.49
24 Erik Montville                                        26.43
25 Zane Marshall                                         29.01
26 Ceasar Contreras                                      32.59
27 Danny Trudeau                                         34.14
28 Peter Davidson                                        34.56
29 Harold Uttke                                          37.26
30 Lee Szromba                                           38.59
31 Brad Platt                                            42.03
32 Mark Colgan                                           42.50
33 Chad Haynes                                           44.53
34 Mark Maffey                                           47.06
35 Victor Sternberg                                      58.48
DNF Gary Fike                                                 
DNF Todd Neely                                                
DNF John Langton   

Sport women

1 Julie Conner                                         1.48.50
2 Michele Bliss                                           7.24
3 Jennifer Kruleski                                       8.36
4 Stephanie Vogel                                        15.06
5 Jeanne Starling                                        31.43
DNF Heather Fischer           
 
Beginner men

1 Tim Moody                                              59.17
2 Dan Eisenberg                                           3.58
3 Bill Wolfe                                              4.36
4 Joshua Javietes                                         5.11
5 Doug Murphy                                             5.16
6 Brian Larson                                            6.47
7 Todd Neely                                              7.06
8 Reggie Currie                                           8.22
9 David Herdell                                          10.07
10 Greg Phelps                                           10.56
11 Matthew Mitchell                                      13.15
12 John Haley                                            14.12
13 Brad Hendricks                                        15.56
14 Garcia Sherman                                        16.45
15 Matt Wenske                                           19.10
16 Jeff Zebarth                                          22.34
17 Albert Vasquez                                        27.07
18 Peter Obrien                                          27.32
19 Thomas Pisillo                                        36.50
20 Hyde Barton                                           46.41
DNF Van Dusen Hank                                            
 
Beginner women

1 Tracie Grey                                          2.29.28
2 Marie Harvey                                            0.07
 
Clydesdale

1 Pretner Ryan                                           58.05
2 Mark Howard                                            13.58
DNF Rick Watts                                                   

Singlespeed men 1

1 John Milne (Team Sho-Air)                            2.20.23
2 Deay Birtch (Niner Bikes)                              10.50
3 Yuri Hauswald (Marin Bikes)                            11.17
4 Jeff Mabry (Luv2Bike Racing)                           45.22

Singlespeed 2 Men

1 Marshall Evans                                       1.36.04
2 John Day                                                4.43
3 Jason Landberg                                         13.46
4 Randy Singleton                                        37.52
 
Final Classification
 
Elite Men
 
1 Christoph Sauser                                     2.35.35
2 Sam Jurekovic                                           0.53
3 Sid Taberlay                                            3.58
4 Benjamin Sonntag                                        7.12
5 Rotem Ishai                                             8.37
6 Carl Decker                                             9.14
7 Tim Allen                                              10.37
8 Adam Snyder                                            11.38
9 Manuel Prado                                           13.36
10 Sean Donovan                                          14.40
11 Andreas Hestler                                       18.09
12 Cody Peterson                                         18.52
13 Alex Grant                                            18.57
14 Eric Salstrand                                        20.15
15 Nicholas Stevens                                      24.05
16 Blake Zumbrunn                                        27.12
17 Dave Harrison                                         35.54
18 Yuki Saito                                            38.04
19 Fabio Dias                                            44.52

Elite women

1 Kelli Emmett                                         3.35.33
2 Maureen Kunz                                           28.10

Semi-pro men

1 Rich Weis                                            3.03.21
2 Brandon Firth                                           1.03
3 Andy Rigel                                             10.45
          
Expert men

1 Mike Hileman                                             264 pts
2 Brandon Cunningha                                        214
3 Bob Mccall                                               203
4 Jared Fischer                                            108

Sport men

1 Jeffrey Johnson                                          253 pts
2 Tony Gonzalez                                            222
3 Robert Stanley                                           162
4 Jon Horenziak                                            144
5 Shawn Tyrone                                             130
 
Sport women

1 Julie Conner                                             288 pts
2 Michele Bliss                                            271
3 Jeanne Starling                                          190

Beginner men

1 Tim Moody                                                276 pts
2 Thomas Pisillo                                           170
3 Doug Murphy                                              150
4 Jeff Zebarth                                              96
 
Clydesdale men

1 Ryan Pretner                                             300 pts

Singlespeed 1 men

1 John Mylne                                               208 pts
2 Deay Birtch                                              198
3 Hauswal Yuri                                             174
 
Singlespeed 2

1 Marshall Evans                                           220 pts
2 John Day                                                 190
3 Jason Landberg                                           162