Recently on Cyclingnews.com
MTB index page for all MTB content
Yellomundee MTB Grand Prix - NE
Australia, October 5, 2008
2007 Results Results
English and Beck win in Yellomundee
Jason English
Photo ©: Sportograf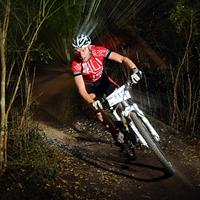 The Paddock Club at the Yellomundee Regional Park was buzzing with excitement on Sunday morning, with riders, spectators and race supporters awaiting the qualifying rounds, kicking off Rocky Trail Entertainment's MTB Grand Prix 2008. The new racing concept required every racer to complete a short qualifying "hot lap" to secure their position in the starting grid of the six-hour race that was to follow.
Jason English took out the first place in the MTB Grand Prix in the solo male category, after qualifying for Pole Position, with a total number of 17 laps on the 8.08km long track. With 13 laps, Craig Armour came in second overall in the race, after starting with a 30 second penalty in the starting grid. Another Sydney-sider, Brad Hawthorne came third after catching up to the leaders from his sixth place in the qualifying.
The women's category was dominated by Sydney's Anna Beck - after coming second in the qualifying rounds, she overtook Joanne Fox and secured the first place with 12 completed laps. Fox came in second place with eight laps in front of Belinda Blackhall who completed five laps.
The pro-riders were joined by a large crowd of newbie racers at the Pit Lane.
Photography
For a thumbnail gallery of these images, click here
Images by Sportograf
Results

Men                                                                            Laps  Time	

1 Jason English                                                                  17 6:18:08
2 Craig Armour                                                                   13	6:01:37
3 Brad Hawthorne                                                                 13	6:04:55
4 Clarence St Cyclery                                                            12	6:02:20
5 Craig Baylis                                                                   12	6:17:10
6 Cool for Cleats                                                                11	5:57:52
7 Scotta Keep Going                                                              11	6:07:28
8 Roadie                                                                         11	6:20:59
9 Rooney Jeff                                                                    10	5:28:41
10 Shane Thomas                                                                  10	5:47:31
11 Butterbean                                                                    10	6:07:25
12 Russell                                                                       10	6:16:13
13 Kev                                                                            9	5:48:32
14 Gregory Au                                                                     9	6:01:41
15 Fabian Guerrero                                                                8	4:22:04
16 James Hunter                                                                   8	5:08:59
17 Oliver Holding                                                                 7	4:36:39
18 Hamish Elliot                                                                  6	2:14:29
19 Michale Schiller                                                               5	3:13:23
20 Liam Daley                                                                     5	3:33:54
21 David Knowles                                                                  4	2:32:33
22 Wayne Smart                                                                    3	2:35:20
 	
Women	

1 Anna Beck                                                                      12 6:01:08
2 Joanne Fox                                                                      8	6:14:18
3 Belinda Blackhall                                                               5	2:46:13
4 Megan Freckelton                                                                5	3:20:41
 	
Men duo	

1 Andrew East & Troy Glennen (2 Rockstars)                                       16 5:56:48
2 Ben Dyball & Jeff Dyball (Twinkies)                                            15	6:07:30
3 Liam O'Dea & James Collins (Gary Fisher Big Wheels)                            15	6:09:06
4 Aubry Hill & Ben Micallef (Western Sydney)                                     14	6:09:57
5 Ian Bridges-Webb & Justin Gilmore (velo nova)                                  14	6:10:44
6 David Liddle & Kris Robinson (Gary Fisher Cruisers)                            13	6:10:32
7 Matthew Dunn & Desmond Hales (Yiants)                                          12	6:07:11
8 Phil Beresford & Nigel Macquet (The Skirts)                                    12	6:07:38
9 Grant Holbert & Luke Meli (Team NBR)                                           12	6:20:34
10 Nik Brill & Tony Allan (Tonik)                                                11	6:17:56
11 Miles Morrison & Noel Pope (cranky and curley)                                10	5:49:44
12 Scott Ardron & Brian Price (WSMTB Racers)                                      9	3:42:28
 	
Mixed duo	

1 Zoe King & Warren Burgess (K.O.M.)                                             15 6:06:21
2 Megan Scott & Paul Tranynor (Merida Flight Centre)                             13	6:03:00
3 Tanya Moss & Rob Booker (Sram)                                                 12	5:33:18
4 Alex Murphy & Danielle Le Breton (On The Juice)                                11	6:17:35
 	
Men trio	

1 Craig McGee, John Fudge & William Tooth (Missing Links)                        14 6:15:42
2 Aaron Lakeman, Matthew King & James Heron (Chezza Krew)                        13	6:17:59
3 Robin Weber, Tony Morris & Matt Cook (Fitmen & Robin)                          12	6:15:34
4 Peter Altstadt, Chris Yip & Scott Vincent (The Sharts)                         11	6:05:42
5 Jonathan Lam, Justin Tsoi & Thomas Lau (Unknown)                               11	6:12:44
6 Sam Rollston, Michael Burns & Brad Lusty (The FOB's)                            9	6:07:56
7 Liam Linstid, Lawrence Chiu & Tien Phan (Slow Dum Ditty)                        7	3:31:57
 	
Mixed trio	

1 Julie Witcombe, Jean-Marc Maulguet & Christian Canales (Tell Me About It)      11 6:00:56
 	
Men quartet	

1 Shane Craig, Andrew Smolinski & Pablo Santos (P.A.W)                           11 6:34:51
 	
Mixed quartet	

1 Ben Routley, Karen Routley, Wayne Dillon & Stephen Routley (Gutter Bunnies)    11 6:20:00
 	
Junior quartet	

1 James Wagner, Alex Wagner, Ryan Davies & Chad Doering (Eat My Dust)            14 6:03:58
2 Jarrod Dafter, Josh Simmonds, Billy Sewell & Jack Hazelgrove (Jason's Team)    13	6:10:41
3 Hayden Streeter, Harry Herne, Jackson Streeter & (The Highlanders)             13	6:12:55