MTB index page for all MTB content
Copa Chile - Circuito Cerra Grande - 2
La Serena, October 4-5, 2008
2007 Results Results
Round two of the Copa Chile decided in La Serena
Cristobal Silva
Photo ©: Cristóbal Sahr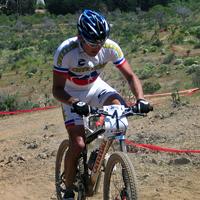 The second round of the Copa Chile Jeep 2008 was held at La Serena city. Cristobal Silva remained undefeated in the cross country while Antonio Leiva suffered a severe crash during the downhill and Mauricio Acuña took the win. The weekend's racing brought together cross country and downhill racers on some of the toughest tracks on the national circuit.
In the downhill qualifying race, Mauricio Acuña and Antonio Leiva were separated by only a few seconds. But then in the final, national champion Antonio Leiva, who also won round one of the Copa Chile Jeep Series, got off the track and crashed heavily, breaking his right femur. Acuña ended up in first place with a comfortable seven-second margin over second place.
"I won, but I have a bitter feeling after Antonio's crash," Acuña said while on the podium.
Veronica Miranda won the elite women's downhill event.
In the cross country, Cristóbal Silva maintained his more than year-long undefeated streak racing in Chile. "It was a tough race. I had a big crash on the last lap; however, I had a good advantage in getting first position." Javier Püschel and Gonzalo Aravena finished second and third behind Silva.
Francisca Campos won the elite women's race on home turf. Racing only two miles from her house, she said, "I spend a lot of time outside Chile, and I am grateful for the support of the spectators here at home." Daniela Bunzli and Elisa Garcia rounded out the top three.
In perhaps the closest race of the day, Catalina Corral, racing in the intermediate category, won by less than a minute over national champion, Laura Munizaga. "I'm happy to win at home and take a small revenge after the last national championship," Corral said after reaching the finish line.
Photography
For a thumbnail gallery of these images, click here
Images by Cristóbal Sahr /www.copachilemtb.cl
Results
Cross country    Downhill

Cross country 
 
Elite women

1 Francisca Campos (Chi)      1.29.19
2 Daniela Bunzli (Chi)          10.34
3 Elisa Garcia (Chi)            17.30
4 Monica Jorquera (Chi)         35.53
4 Josefina Leon (Chi)           36.53
5 Maria Sepulveda (Chi)         39.32
 
Elite men

1 Cristobal Silva (Chi)       1.56.38
2 Javier Püschel (Chi)           2.25
3 Gonzalo Aravena (Chi)          5.25
4 Claus Plaut (Chi)              9.03
5 Javier Gallardo (Chi)         14.50
6 Francisco Corvalán (Chi)      18.50

Lapped

7 Manuel Miranda (Chi)               
8 Francisco Durán (Chi)              
9 Matias Rivera (Chi)                
10 Hector Marchant (Chi)             
11 Victor Galvez (Chi)               
DNF Jorge Henrriquez (Chi)           
 
U23 men

1 Eyair Astudillo (Chi)       2.08.35
2 Enrique Rivera (Chi)           6.07
3 Sebastian Valdenegro (Chi)    11.06

Lapped

4 Erwin Villagra (Sin)               
5 Sebastian Carrasco (Chi)           
6 Carlos Castillo (Chi)              
7 Hector Veas (Chi)                  
8 Daniel Vivanco (Chi)               
9 Carlo Nawrath (Chi)                
10 David Garrido (Chi)               
11 Sebastian Arpon (Chi)             
12 Bernard Danitz (Chi)              
DNF Sebastian Araya (Chi)            
DNF Juan Hazbun (Chi)                
DNF Tomás Lobos (Chi)                
DNF Ricardo Garrido (Chi)            
DNF Miguel Neira (Chi)               
DNF Saúl Novoa (Chi)                 
DNF Cristián Correa (Chi)            
 
Young women

1 Millaray Cortez                3.03
 
Young men

1 Benjamin Silva                 2.16
2 Ignacio Gomez                  1.58
 
Promotional women A

1 Narumi Tashiro                 4.21
 
Promotional men A

1 Jeronimo Burns                 6.01
2 Diego Crisostomo               0.14
3 Ignacio Redolfi                1.01
4 Ramses Guzman                  1.08
5 Enrrique Ibarra                1.43
6 Matias Feres                   1.56
7 David Pomarolli                1.58
8 Claus Plaut                    2.50
9 Gabriel Figueroa               4.46
10 Gabriel Diaz                  4.54
DNF Diego Hanson                     
 
Promotional women B

1 Paula Sanguinetti              8.13
2 Martina Plaut                  3.13
3 Antonia Sanchez                3.14
 
Promotional men B
1 Reimundo Feres                11.50
2 Francisco Castro               0.18
3 Jhonny Hanson                  0.22
4 Ignacio Corral                 1.18
5 Kenji Otsu                     1.19
6 Diego Salinas                  4.08

Lapped

7 Pedro Opazo                         
8 Martin Diaz                         
 
Boys

1 Stefano Sanguinetti           29.08
2 Joshep Cortez                  2.33
3 Agustin Feres                  3.47
4 Marco Pomarolli                5.32
5 Vicenzo Bertolla               6.01
6 Francesco Corral               6.27
7 Luciano Cisternas              7.28
8 Pedro Burns                    8.19
9 Nicolas Espejo                10.00
10 Sebastian Herrera            22.59
DNS Ignacio Malgarini                
 
Girls

1 Isabella Dallaserra           34.39
2 Javiera Leal                   8.33
3 Veronica Quintiqueo           33.32
 
Intermediate men

1 Nicolas Prudencio             32.27
2 Vecente Diaz                   1.18
3 Alberto Villagra               2.45
4 Sebastian Anguita              3.40
5 Camilo Rodriguez               4.59
6 Boris Vasquez                  5.19
7 Giacomo Baldo                  5.40
8 Diego Rodriguez                6.45
9 Hector Melgarejo               6.58
10 Matias Saavedra               9.34
11 Sergio Colipe                 9.49
12 Ignacio Moreno               11.50
13 Ignacio Rojas                29.57
DNS Gustavo Guayquil                 
DNS Eduardo Ruiz                     
 
Intermediate women

1 Catalina Corral               40.29
2 Laura Munizaga                 0.43
3 Fernanda Castro                2.35
DNF Friz Constanza                   
 
Juvenile men

1 Matias Silva                  24.34
2 Franco Adaos                   0.21
3 Siguer Otsu                    2.33
4 Cristian Castro                2.38
5 Jean Carlo Fonceca             5.08
6 Andres Corral                  6.47
7 Felipe Garry                   7.29
8 Alejandro Almonacid            7.34
9 Samuel Del Mar                10.18
10 Santiago Diaz                12.03
11 Enzo Malatesta               12.15
12 Eduardo Rios                 13.53
13 Nicolas Hernando             14.27
14 Mario Erler                  16.12
15 Bruno Dalbosco               21.05
16 Nicolas Cartes               22.53
DNF Mirko Cruces                     
DNF Claudio Cortes                   
DNS Victor Garrido                   
DNS Patricio Ruiz                    
DNS Jaime Monsalves                  
 
Juvenile women

1 Valentina Mosalve             33.19
2 Catalina Fuentes               3.07
3 Maria Ignacia Ibañez           3.26
4 Francisca Soto                 3.51
5 Francisca Fernandez           10.49
 
Novices

1 Cristian Fredes               42.12
2 Juan Antonio Bravo             1.02
3 Nicolas Venegas                3.33
4 Manuel Alvarez                 4.46
5 Alvaro Cisterna                7.31
6 Natalia Montes                33.49
DNF Rodrigo Suarez                   
DNF Fracisco Montenares              
DQ Marcelo Arancibia                 
 
Amateurs

1 Marcelo Carrasco            1.57.24
2 Nicolas Spalloni               2.31
3 Pedro Barroso                  3.01
4 Julio Flores                   4.49
5 Felipe Salazar                11.03
6 Andres Diaz                   12.38
7 Daniel Zuñiga                 24.53
8 Rolando Garay                 26.59
DNF Felipe Covarrubias               
DNF Jose Ramirez                     
DNF Patricio Martinez                
DNF Edgardo Herrera                  
DNF Cesar Sobarzo                    
 
Master A1

1 Cristobal Zamorano          1.59.00
2 Sebastian Zamoranno            2.00
3 Daniel Figueroa                3.00
4 David Basulto                  5.00
5 Cesar Nuñez                    6.00
6 Giorgio Nattero                8.00
7 Alex Sepulveda                10.00
8 Javier Ramirez                     
9 Rodrigo Viera                 16.00
10 Jaime Bustos                 24.00
DNF Jorge Arias                      
DNF Carlos Bustos                    
DNF Sebastian Vasquez                
 
Master A2

1 Cristian Tobar              1.58.00
2 Gustavo Garrido                5.00
3 Pedro Ocampos                 11.00
4 Siguer Otsu                   20.00
5 Richard Abrigo                25.00

Lapped

6 Alfonso Arancibia                  
7 Jhonny Hanson                      
DNS Rafael Gallardo                  
 
Master women

1 Ivana Morello               1.20.00
2 Maria Olga Roman              13.00
3 Karen Araza                   15.00
 
Master women 2

1 Valerie Coxhead                     
 
Master B1

1 Juan Pablo Leria            1.25.00
2 Carlos Cardemil                    
3 Sergio Werner                 11.00
4 Patricio Diaz                 17.00

Lapped

5 Eduardo Zamorano                   
DNF Alejandro Beltrand               
DNF Mario Soto                       
DNF Bernardo Mora                    
 
Master B2

1 Cristian Castro             1.38.57
2 Luis Zelaya                    4.05
3 Marcelo Urra                   7.28
4 Benito Sanchez                18.57
DNF Alfonso Fernandez                
 
Master C1

1 Cristian De La Maza         1.09.22
2 Francisco Rivera               0.50
3 Fernando Ramirez              21.59
 
Master C2

1 Jose Tamblay                1.32.44
 
Junior men

1 Ignacio Espinoza            1.21.41
2 German Dorhmann                0.32
3 Miguel Burgos                  4.09
4 Luis Delgado                   4.46
5 Ricardo Reyes                  8.09
6 Sergio Araya                  18.45
7 Ricardo Puschell              19.04
8 Armando Arenas                19.22
9 Alvaro Silva                  27.37

Lapped

10 Alberto Rotger                    
DNF Diego Diaz                       
DNF Patricio Farias                  
DNF Bernardo Fernandez               
DNF Diego Rossi                      
DNF Patricio Seguel                  
DNF Mario Rodriguez                  
DNF Walter Baquedano                 
DNF Sergio Alcaino                   
 
Junior women

1 Daniela Rojas               1.15.06
2 Javiera Ocampos                9.05
3 Macarena Alarcón            1.13.29
            
Downhill - Final run

Elite men

1 Mauricio Acuña (Chi)         
2 Oscar Yunge (Chi)            
3 Christian Roth (Chi)         
4 Felipe Saenz (Chi)           
5 Juan Cartoni (Chi)           
6 Pedro Ferreira (Chi)         
7 Jorge Monzon (Chi)           
8 Pablo Bascuñan (Chi)         
9 Jorge Acuña (Chi)            
10 Julio Ramirez (Chi)         
11 Matias Cox (Chi)            
12 Ignacio Rojo (Chi)          
13 Jan Guzman (Chi)            
14 Felipe Contreras (Chi)      
15 Patricio Alvarado (Chi)     
16 Cristobal Renard (Chi)      
17 Javier Cozar (Chi)          
18 Paulo Gajardo (Chi)         
19 Felipe Vasquez (Chi)        
DNF Antonio Leiva (Chi)  

Elite women

1 Veronica Miranda (Chi)       
2 Vanessa Vallarino (Chi)      
3 Andrea Melian (Chi)       
 
Juniors
1 Andreas Kukulis (Chi)        
2 Ismael Fernandez (Chi)       
3 Tomas Diaz (Chi)             
4 Sebastian Gonzalez (Chi)     
5 Sebastian Silva (Chi)        
6 Sergio Ramirez (Chi)         
7 Luis Matias (Chi)            
8 Diego Salas (Chi)            
9 Carlos Caiseo (Chi)          
10 Luis Moreno (Chi)           
11 Esteban Castro (Chi)        
12 Cristian Aguilar (Chi)      
13 Guillermo Sandoval (Chi)    
14 Nicolas Fuentes (Chi)       
15 Joaquin Aguilera (Chi)      
16 Benjamin Miranda (Chi)      
17 Hector Toro (Chi)           
18 Raul Aros (Chi)             
19 Felipe Fernandez (Chi)      
20 Jorge Acevedo (Chi)                  
 
Juveniles

1 Franco Espinoza              
2 Jose Matias                  
3 Geronimo Rivas               
4 Francisco Matias             
5 Claudio Fuentes              
 
Intermediates

1 Rodrigo Yañez                
2 Alexander Grigoriew          
3 Felipe Vial                  
4 Francisco Muñoz              
5 Hernan Pizarro               
6 Nicolas Atencio              
7 Andreas Arancibia            
8 Franco Cuevas                
9 Jorge Carvajal               
10 Lucas Velasquez             
 
Novice

1 Carlos Villalobos            
2 Victor Garay                 
3 Jose Huerta                  
4 Francisco Araos              
5 David Nuñez                  
6 Claudio Soto                 
7 Marcelo Araneda              
DNF Ramon Castro               
DNF Paolo Rivera               
DNF Fabian Maturana            
 
Master C

1 Javier Moraga                
 
Master B

1 Cristian Amaro               
2 Juan Valverde                
3 Jorge Arredondo              
4 Sergio Saez                  
5 Rodrigo Von Trott            
 
Master A

1 Sebastian Vasquez            
2 Maximiliano Gonzalez         
3 Diego Recabarren             
4 Alejandro Cerda              
5 Rodrigo Amestica             
6 Juan Pablo Pizarro           
7 Alejandro Garrido            
8 Norman Torres                
9 Eugenio Silvestre            
10 Roberto Jara                
11 Alejandro Palma             
 
Rigid

1 Javier Gacitua               
2 Marcelo Novoa                
3 Sebastian Perez              
4 Felipe Velasquez             
5 Javier Tagle                 
6 Rodolfo Campusano            
7 Jorge Serra                  
8 Sergio Bustos                
9 Sebastian Velasco            
10 Juan Vicente                
DNF Simon Rojas                
 
Amateur

1 Jaime Rojas                  
2 Pablo Meza                   
3 German Valladares            
4 Oscar Huerta                 
5 Gianfranco Gherardelli       
6 Franco Rossa                 
7 Emilio Meza                  
8 Juan Pablo Gonzalez          
9 Jose Muñoz                   
10 Omar Jimenez