MTB index page for all MTB content
USA Collegiate MTB National Championships - CN
Banner Elk, North Carolina, USA, October 24-26, 2008
Main Page Results Standings Next Race
Race 1 - October 24: Cross country
Cross country national champions crowned
Lees-McRae and Fort Lewis Colleges do battle
Ben Sontag (Fort Lewis College) crosses the line victorious
Photo ©: Went Knipe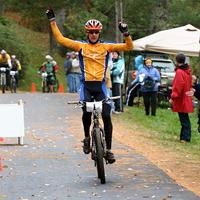 The cross country competition kicked off the USA Cycling Collegiate Mountain Bike National Championships as nearly 200 collegians raced through the campus of Lees-McRae College for the second year in a row. The first day of competition set the stage for an old-fashioned shootout between host Lees-McRae College and last year's overall team winner Fort Lewis College in Division I, while riders from nearby Brevard College and Appalachian State earned the Division II men's and women's crowns respectively.
Despite a strong challenge from Lees-McRae's Scott Stewart, Division I favorite and defending champion Ben Sonntag of Fort Lewis College was able to overtake Stewart on the final lap and repeat his victory from a year ago. Lees-McRae's Brad Perley grabbed third in the DI men's race after another favorite, Rotem Ishay (Fort Lewis College) dropped his chain at the gun, leaving him playing catch-up throughout the nearly 25-mile contest. Oregon State University's Justin Finn rounded out the podium as the only non-Lees-McRae or Fort Lewis rider in the top five.
"It was harder than last year," said Fort Lewis' Sontag. "Lees-McRae controlled the race from the start with a rider in right in front and behind me. I would make up some on the inclines, but I'd lose that on the downhill. My broken right index finger really affected my control on the descents. It was a good fight; Stewart ran a great race."
The men's DI cross country gets the competition started
Photo ©: Went Knipe

The DII men's race saw Midwest conference champion Zach Winn from Union College lead a hard charge out of the gate before succumbing to Brevard College's Tristan Cowie in the fourth of the five-lap affair. After practicing on the course for the past several days, Cowie used his technical expertise to take the win over a talented DII field including podium finishers Logan Wetzel (Western Washington University), Matthew Williams (Warren Wilson College) and Alex Hannah (Appalachian State University).
The DI women's contest was a battle between multiple-time collegiate national road and track national champion Carla Swart of Lees-McRae and the University of Tennessee-Chattanooga's Jamie Dinkins (Powell, Tenn.). Dinkins, who finished 19th at the UCI Mountain Bike World Championships U23 race in June, showed superb strength, but in the end Swart used her home field advantage to take home another crown by more than two minutes. The University of Colorado-Boulder's Eszter Horanyi took third while a pair of Fort Lewis riders, Teal Stetson-Lee and downhill specialist Sage Wilderman added to their team's point total.
"The course was pretty muddy, but it was easier and a lot more fun than last year," said Swart of the once-again wet Lees-McRae terrain. "I told myself to stay relaxed because when I get too fired up I can make mistakes."
Jamie Dinkins (University of Tennessee-Chattanooga) came in second in the DI women's contest
Photo ©: Went Knipe

After missing the race start, Appalachian State University's Rebecca Tomascewski came roaring back to take a slim victory in the DII women's race. Tomascewski narrowly out rode Melissa Marts (Colorado School of Mines) and Katherine Harris (Massachusetts Institute of Technology) in the rain shortened 15-mile race.
With parts of the Lees-McRae cross country course once used for conference downhill competitions, there was a substantial amount of climbing on the just under five-mile loop. Even though off-season modifications were made on the Lees-McRae course to make the wooded loop more ridable in wet conditions, Friday's steady rains made the surface increasingly slick as they day moved forward. As the inclement weather became more and more of a factor, the afternoon's scheduled downhill seeding runs were cancelled. Saturday's finals are planned to continue as scheduled.
With four national titles already decided, racing will resume Saturday at 8:00 am with the short-track race on the campus of Lees-McRae College. Action will then move to nearly 5,000 feet on top of Grandfather Mountain at Sugar Mountain Resort for the downhill competition slated for 2:00 pm. competition will wrap-up on Sunday morning with the dual slalom competition.
Photography
For a thumbnail gallery of these images, click here
Images by Went Knipe
Images by Caitlin Trahan
Results
Division 1 Men

1 Ben Sonntag (Fort Lewis College)                         1.54.56
2 Scott Stewart (Lees-McRae College)                          1.03
3 Brad Perley (Lees-McRae College)                            1.59
4 Rotem Ishay (Fort Lewis College)                            3.14
5 Justin Finn (Oregon State University)                      11.15
6 Eli Krahenbuhl (University of Wyoming)                     11.26
7 Blake Harlan (University of Colorado-Boulder)              11.36
8 Jean-Nicolas Enjalbert (Colorado State University)         12.34
9 Randy Lapraire (Lees-McRae College)                        13.35
10 Menso De Jong (California Polytechnic-SLO)                15.22
11 Aaron Bradford (Lees-McRae College)                       15.51
12 Eric Thompson (Lees-McRae College)                        16.53
13 Noah Singer (Fort Lewis College)                          16.56
14 Caley Fretz (Colorado State University)                   17.04
15 Aaron Oakes (North Carolina State University)             18.58
16 Eric Lau (Stanford University)                            19.50
17 Scott Leland (University of Nevada-Reno)                  21.09
18 David Reich (University of Florida)                       21.13
19 Bryan A Alders (University of Colorado-Boulder)           21.21
20 Chris Peterson (University of Colorado-Boulder)           21.43
21 Jonathan Schottler (University of Missouri-Columbia)      24.07
22 Tom Sampson (University of Massachusetts-Amherst)         25.05
23 Derek Laan (Purdue University)                            27.21
24 Chad Wells (Fort Lewis College)                           27.43
25 Ian Sullivan (University of Vermont)                      28.39
26 Martin Kell (Pennsylvania State University)               28.58
27 Aaron Ritter (Purdue University)                          30.01
28 Jonathan Dy (Ohio State University)                       30.15
29 Clayton Omer (Lindsey Wilson College)                     30.37
30 Matt Wiebe (University of Colorado-Boulder)               32.47
31 Rob Dahl (University of California-Berke)                 33.39
32 Brian Hestetune (North Carolina State University)         33.58
33 Steven Nutt (West Virginia University)                    34.35
34 Chris Hamlin (University of Vermont)                      34.36
35 Nic Magliocco (University of Vermont)                     36.30
36 Jordan Kestler (University of California-Berkeley)        37.02
37 James Ceccorulli (Portland State University)              38.08
38 James Brown (Lindsey Wilson College)                      38.27
39 Brendan Benson (University of Michigan-Ann Arbor)         39.11
40 James Angus Rose (University of New Hampshire)            39.22
41 Robert Dowling (University of Florida)                    39.56
42 Chad Haga (Texas A&M University)                          40.34
43 Jacob Seigel-Boettner (University of California-Berkeley) 41.00
44 Tyler Hawes (Clemson University)                          42.41
45 Ben Weatherly (Lindsey Wilson College)                    43.19
46 Nevin Rallis (University of Vermont)                      44.13
47 Scott Sayare (Stanford University)                        44.53
48 Brian Mayer (Virginia Polytechnic University)             46.08
49 Ivan Temnykh (Pennsylvania State Universityy)             47.56
50 Evan Halladay (North Carolina State University)           49.08
51 Sean Berry (University of New Hampshire)                  49.59
52 Jeff Lukach (University of New Hampshire)                 54.18
53 Jacob Brown (West Virginia University)                    56.00
54 Bryan Derstine (Florida State University)                 56.41
55 Andrew Ritter (Purdue University)                         59.34
56 Nicholas Reeves (North Carolina State University)       1.07.32
57 Steven Mitchell (Texas A&M University)                  1.19.55
58 Matt Kramer (University of Michigan-Ann Arbor)          1.20.51
DNF Ryan Smolko (Pennsylvania State University)                   
DNF Kevin Rice (Northern Arizona University)                      
DNF Chris Janiszewski (University of Florida)                     
DNF Colum Lang (University of New Hampshire)                      
DNF Jon Vivolo (Colorado State University)                        
DNF William Vazquez (Purdue University)                           
DNF Nitish Nag (University of California-Berkeley)                   
DNF Matthew Dooley (Lindsey Wilson College)                       
DNF Chet-Mun Liew (West Virginia University)                      
DNF Geoff Pendry (University of North Carolina)                 
DNF Michael Talley (Midwestern State University)                  
DNF Chris Hall (Colorado State University)                        
DNF Matt Rotroff (North Carolina State University)                 
DNF Jake Zimmerman (Lindsey Wilson College)                       
 
Division 1 Women

1 Carla Swart (Lees-McRae College)                         1.27.16
2 Jamie Dinkins (University of Tennessee-Chattanooga)         2.30
3 Eszter Horanyi (University of Colorado-Boulder)             5.42
4 Teal Stetson Lee (Fort Lewis College)                       6.26
5 Sage Wilderman (Fort Lewis College)                         6.47
6 Chloe Forsman (University of Arizona)                       8.02
7 Niki Dallaire (Lees-McRae College)                         10.33
8 Amanda Miller (Colorado State University)                  13.18
9 Jo Markham (Lees-McRae College)                            15.04
10 Ally Stacher (Lees-McRae College)                         15.45
11 Erica Zaveta (University of Arizona)                      16.02
12 Tina Dominic (Fort Lewis College)                         16.08
13 Sabina Kraushaar (Fort Lewis College)                     18.55
14 Anne Craig-Pena (Florida State University)                20.37
15 Stephanie White (University of New Hampshire)             22.33
16 Kristi Henne (Lees-McRae College)                         22.44
17 Ashely James (Lindsey Wilson College)                     28.48
18 Emily Gassman (University of Vermont)                     29.20
19 Jessica Lathrop (Fort Lewis College)                      29.43
20 Jessica Kutz (Pennsylvania State University)              30.17
21 Sara Hanson (Virginia Polytechnic University)             34.30
22 Sarah Lukas (Lindsey Wilson College)                      35.30
23 Jennifer Perez (Texas State University)                   36.03
24 Katie Sodergren (University of Colorado-Boulder)               
25 Mia Wilhelm (University of Colorado-Boulder)              36.39
26 Caitlyn Margolin (University of Vermont)                  37.12
27 Netana Hotimsky (University of Vermont)                   40.06
28 Emily Benson (Lindsey Wilson College)                     42.31
29 Abigail Carroll (University of Colorado-Boulder)          43.29
30 Caitlin Trahan (North Carolina State University)          46.01
31 Margaret Sullivan (Northeastern University)               48.53
32 Elizabeth Yarina (University of Michigan-Ann Arbor)       52.12
33 Abby Richmond (Texas A&M University)                      53.49
DNF Kelli Michalk (Texas A&M University)                          
 
Division 2 Men

1 Tristan Cowie (Brevard College)                          2.02.41
2 Zach Winn (Union College)                                   2.26
3 Logan Wetzel (Western Washington University)                4.48
4 Matthew Williams (Warren Wilson College)                    7.44
5 Alex Hannah (Appalachian State University)                  8.11
6 Greg Gibson (Union College)                                 9.39
7 Ryan Fawley (Appalachian State University)                  9.53
8 Alejandro Padilla (Cumberland University)                  11.12
9 Joe Schneider (Colorado School of Mines)                   11.36
10 Duncan Oliver (West Virginia Wesleyan College)            14.16
11 German Bermudez (Union College)                           14.18
12 David Bishop (Warren Wilson College)                      16.02
13 Tim Drankus (University of Wisconsin College)             16.25
14 Alex Ryan (Appalachian State University)                  17.33
15 Matthew Beaton (Colorado College)                         18.04
16 Linden Blaisus (Warren Wilson College)                    19.44
17 Kyle Mcgilvray (Western Washington University)            22.10
18 Mather Green (University of Maine)                        22.22
19 Henrique Furtado (Cumberland University)                  22.54
20 Dustin Schemel (Warren Wilson College)                    24.26
21 Brad Nelson (Union College)                               25.32
22 Matthew Wells (Brevard College)                           25.41
23 Kevin Mullervy (Mesa State College)                       26.11
24 Jeremy Chambers (Cumberland University)                   26.42
25 Matthew St. Marie (Brevard College)                       27.06
26 Blaine Benson (Michigan Technological University)         28.48
27 Michael Koballa (Appalachian State University)            29.58
28 Christoph Hurley (Colorado School of Mines)               31.00
29 Andrew Wait (Colorado School of Mines)                    31.12
30 Brent Steinberg (Mesa State College)                      32.31
31 John Shalekbriski (US Naval Academy)                      33.49
32 Ben West (Warren Wilson College)                          36.50
33 Christopher Anten (Michigan Technological University)     39.29
34 Jonathan Turner (Union College)                           42.12
35 Darren Marino (Western Washington University)             53.19
36 Tim Reinhart (Brevard College)                            57.41
37 Preston Moon (US Air Force Academy)                     1.00.44
38 Conor Mullervy (Mesa State College)                     1.02.09
39 Justin Goodin (US Air Force Academy)                    1.04.59
40 James Comes (Murray State University)                   1.23.39
DNF Matthew Johnson (Michigan Technological University)              
DNF Zachary Logan (Mesa State College)                            
DNF Shaun Higgins (Colorado School of Mines)                      
DNF Zak Grabowski (Colorado School of Mines)                      
DNF Daniel Ennis (Brevard College)                                
DNF Jeremy Smith (Western Washington University)                  
DNF Kyle Bordeau (Michigan Technological University)                 
 
Division 2 Women

1 Rebecca Tomaszewski (Appalachian State University)       1.41.36
2 Melissa Marts (Colorado School of Mines)                    0.27
3 Katherine Harris (Massachusetts Institute of Technology)    2.22
4 Rachel Millshop (Union College)                             3.39
5 Johanna Tuttle (Brevard College)                            4.45
6 Kay Sherwood (Colorado College)                             8.51
7 Naticia Slusher (Mesa State College)                        9.08
8 Julia Tellman (Brevard College)                             9.15
9 Carrie Barber (Mesa State College)                         14.36
10 Kirsten Fee (Pfeiffer University)                         15.00
11 Vanessa Emery (Warren Wilson College)                     17.45
12 Deanna Lloyd (Western Washington University)              19.11
13 Lauren Parker (Warren Wilson College)                     20.48
14 Tallulah Winquist (Warren Wilson College)                 21.41
15 Caroline Decosimo (University North Carlolina Asheville)  22.15
16 Amy Krull (Colorado College)                              25.24
17 Karen Amundson (Cumberland University)                    27.07
18 Ileana Andersen (Warren Wilson College)                   31.32
19 Courtney Steen (Colorado School of Mines)                 31.49
20 Stephanie Lareau (Wake Forest University)                 32.26
21 Maggie Cole (Mesa State College)                          35.38
22 Sarah Roberts (Colorado School of Mines)                  37.57
23 Emily Moy (St Mary's College-Maryland)                    38.11
24 Sarah Hart (Colby College Cycling)                        39.53
25 Jennifer Teerlink (Colorado School of Mines)              41.59
26 Amanda Gilbert (Appalachian State University)             54.18
27 Bethany Carter (Appalachian State University)           1.05.10
28 Sarah Sietz (Union College)                             1.07.46
29 Amy Russell (Union College)                             1.33.35
DNS Emily Yeager (Union College)                                  
DNF Delia Massey (Colby College Cycling)     

Team standings after the cross country

Division 1

1 Lees-McRae College                           188 pts
2 Fort Lewis College                           166
3 University of Colorado-Boulder               146
4 Colorado State University                    102
5 University of Vermont                         81
6 North Carolina State University               72
7 Lindsey Wilson College                        72
8 University of Arizona                         64
9 University of Wyoming                         56
10 University of Tennessee-Chattanooga          56
11 Pennsylvania State University                46
12 California Polytechnic-San Luis Obispo       43
13 University of New Hampshire                  40
14 Purdue University                            34
15 Florida State University                     34
16 Virginia Polytechnic University              33
17 Stanford University                          31
18 University of Michigan-Ann Arbor             29
19 University of Florida                        29
20 University of Nevada-Reno                    27
21 University of California-Berkeley            25
22 Texas State University                       25
23 Texas A&M University                         25
24 University of Missouri-Columbia              21
25 Northeastern University                      21
26 University of Massachusetts-Amherst          19
27 Ohio State University                        15
28 West Virginia University                     13
29 Portland State University                    11
30 Clemson University                            7
 
Division 2

1 Appalachian State University                 166 pts
2 Union College                                143
3 Warren Wilson College                        137
4 Colorado School of Mines                     137
5 Brevard College                              120
6 Mesa State College                           107
7 Western Washington University                 87
8 Cumberland University                         78
9 Colorado College                              72
10 West Virginia Wesleyan College               38
11 Massachusetts Institute of Technology        38
12 Pfeiffer University                          34
13 University of Wisconsin College-Sheboygan    31
14 Wake Forest University                       27
15 University of Maine                          27
16 St Mary's College-Maryland                   25
17 Michigan Technological University            25
18 US Air Force Academy                         23
19 US Naval Academy                             21
20 Murray State University                      19