Recently on Cyclingnews.com
MTB index page for all MTB content
Australian MTB Series #2 - NE
Illinbah, Gold Coast, Australia, November 29-30, 2008
Main Page Results Previous Race Next Race
Race 3 - November 30: Downhill
Kovarick claims national series round two
Chris Kovarik in action
Photo ©: Evan Jeffery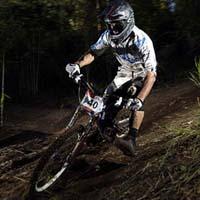 World ranked downhiller Chris Kovarik won the Australian National Downhill Series race on the Gold Coast. The 30-year-old from Brisbane claimed the win in three minutes and 46.75 seconds after qualifying fastest earlier in the day.

"I qualified fastest to see where I was at which always takes a lot out of you," Kovarik said. "At the top, I was pretty confident I could pull it off if I got through those slippery woods."

After heavy rain the day before riders had to negotiate a slippery rocky section near the top of the 1.7 km course. "For everyone it was treacherous," said Kovarik. "You couldn't get through there with your feet on!" Despite the wet conditions, Kovarik praised the course saying it was as good as any on the international World Cup circuit.

Second was Joshua Button from Coffs Harbour with three minutes and 52.57 seconds. Third place was taken out by Perth's Deon Baker in a time of four min and 5.30 seconds

A few of the top riders came to grief in the rocky forest descent including series leader Jared Graves from Toowoomba who was out of contention after his bike slipped down the hill making him two minutes slower than his qualifying run. Graves finished way down in 40th place allowing Button to take over the series lead.

Kovarik's fiancée Claire Buchar from Canada claimed the win in elite women despite falling in the slippery forest section. "I was trying to go a bit too fast," Buchar said. "The conditions are really unpredictable." Buchar rode the course in five minutes and 35.63 seconds for a comfortable five second margin ahead of her nearest rival Tasmania's Leigh Douglas.

Claire Buchar takes a completely different line
Photo ©: Evan Jeffery

Securing second place gave Douglas the series lead. Previous leader, Canberra's Claire Whiteman, moved down the series rankings after finishing in fourth place.. Third place was taken by Canberra's Caroline Buchanan.
Under 19 winner Tamryn Murrell from the Gold Coast raced the course in exactly four minutes. The 17-year-old time would have claimed a third place in elite men's category with his time. Murrell takes over the series lead from Western Australian, Will Gower. Shaun O"Connor placed second while local rider Rhys Willemse placed third.
Emily Hockey from Adelaide won the under 19 women's category.
For a national series, Gold Coast had record entries throughout the weekend with the largest group being over 350 downhill riders on Sunday. The third round of the national series continues in Geelong in two-weeks time.
Photography
For a thumbnail gallery of these images, click here
Images by Evan Jeffery / www.evanjeffery.com.au
Results
Elite men

1 Chris Kovarik (Team Chain Eaction Cycles)               3.46.73
2 Joshua Button (Mongoose, SRAM, Rock Shox)               0.04.84
3 Deon Baker                                              0.15.50
4 Ricky Boyer (Orange, Pinstripe, Rock Shox)              0.18.64
5 James Maltman (Chumba, Bike Hub)                        0.21.24
6 Aaron Bashford (Onja Bike, Civic & Belconnen)           0.21.73
7 Ryan Andrews                                            0.22.60
8 Shane Wode                                              0.24.80
9 Darcy Murrell (Super Sports, Tomac Australia)           0.25.89
10 Stuart Maldonald                                       0.26.49
11 Cody Eichorn (Ogio, Gamut, Scott)                      0.28.00
12 Harry Armstrong (Derrico Cycles)                       0.29.55
13 Amiel Cavalier (Giant, Spearman Cycles)                0.30.30
14 Lindsay Klein (Santa Cruz, For The Riders.com)         0.30.81
15 Sean Mccarroll (Cove Bikes)                            0.31.26
16 Chris Whitelock (Yarra Valley Cycles)                  0.31.64
17 Damien Bogatek (Dhdirect)                              0.34.13
18 Kaine Cannon (Mcbain Cycles, Monza)                    0.34.70
19 Brock Newling (IXS Gravity, FSA, Giant)                0.34.94
20 Jesse Beare                                            0.35.48
21 Ben Cory                                               0.35.96
22 Daniel Hallam (Giant, Mikes Bikes Miami)               0.37.92
23 Brodie Sturgess                                        0.41.39
24 Miles Mead (Kona Bikes)                                0.43.57
25 Tim Eaton (Banshee Bikes, Xxiv)                        0.43.97
26 Sam Trevor (Ashgrove Cycles)                           0.46.65
27 Rhys Atkinson (Gamit, Straitline)                      0.47.83
28 Ricky Lee (Iron Horse, Monza Imp)                      0.48.23
29 Stuart Keep (SRAM, Maxxis, 4Shaw Agencies)             0.48.32
30 Michael Manning                                        0.49.95
31 Ben Bell                                               0.51.92
32 Aiden Walker (Go Left Inc.)                            0.52.51
33 Ben Goff                                               0.53.50
34 Jock Farrington                                        0.56.98
35 Lucas Kuncewicz                                        0.58.75
36 Craig Yates (Giant Australia, SRAM)                    0.59.48
37 Cameron Allonby (For The Riders.com)                   1.02.80
38 Doug Dunn                                              1.07.19
39 Berend Boer (Edge Cycles)                              1.20.38
40 Jared Graves (Yeti, Fox Racing Shox, Oakley)           2.22.30
41 James Bashford (Onya Bike, Civic & Belconnen)          5.24.77
42 Dylan Prohm (Nicolai, Deity, Bos)                             
43 Matt Holgate (Onya Bike)                                      
44 Liam Paiaro (For The Riders.com)                              
45 Mitchell Delfs (Kenda, Tomac, Bashie Bros Budge)              
46 Todd Folland (Cove, Sombreo, JT Cycles)                       
47 Chris Coombe                                                  
48 Kyle Shipp                                                    
49 Michael Illing                                                
50 Michael Haughton                                              
51 Michael Geale                                                 
52 Ben Lyons (Sutton Industries)                                 
53 Kent Hamilton (Ogio, GT, Fox)                                 
54 Cameron Shilton (Skin, Ski & Surf)                            
55 Adam Smithson                                                 
56 Aaron Cairns                                                  
57 Clint Sellen                                                  
58 Chris Barlin                                                  
59 Craig Van Haren                                               
60 Rhys Jones (Hostile Riding Systems)                           
61 Simon Buzacott (JT Cycles)                                    
62 Alex Swann (Kona, Maxxis, Shimano)                            
63 Richard Levinson (Ashgrove Cycles, Giant Bikes)               
64 Thomas Kerney (Got None Pty Ltd)                              
65 Steven Sloots (For Theriders.com)                             
66 Jesse Sutton (Go Left Inc.)                                   
67 Matthew Hodges (Spy Optics)                                   
68 Lachlan Mazzer (Bikeology, Sutton Industries)                 
69 Timothy Mcculloch                                             
70 Tom Richards                                                  
71 Ben Ayling (99 Bikes, Maxxis)                                 
72 Jed Simons                                                    
73 Uditha De Silva                                               
74 Pat Young (Monza Imports, Ogo)                                
75 Adam Leonardi (Hayes Brakes, Skin Ski Surf)                   
76 Seaton Humphreys (Norco)                                      
77 Cillian Kennedy (Mongoose, Gravity)                           
78 Greg Palmer                                                   
79 Andrew Brett (Aldgate Bike Shop)                              
80 Tom Mallett (Corc, Persist Clothing)                          
81 Stuart Wood                                                   
82 Cameron Tomlinson                                             
83 Dean Davies (Ashgrove Cycles, Neezy Pty Ltd)                  
84 Stuart Packer (Nerang Health Clinic )                         
85 Adam Neideck (Ashgrove Cycles)                                
86 Gareth Blower                                                 
87 Jordan Payn (Dad)                                             
88 Obi Nobel                                                     
89 Scott Grundy                                                  
90 Will Rischbieth (Giant, Ogio, RXR)                            
91 Ben Morrison (Rockstar Energy Drink)                          
92 Geoffrey Grennan                                              
93 Mitchell Mckinlay (Corc, Crank Brother)                       
94 Rowan Saunders                                                
DNF Scott Zecchin                                                
DNF Brad Kelly (Specialized, Marzocchi, FSA)                     
DNS Jacob Reeves (Pedal Power Plus)                              
DNS Darrell Edwick (Nerang Mountain Bike Centre)                 
DNS Regan Arthur                                                 
DNS Johnny Trent (Nerang Mountain Bike Centre)                   
DNS Jarah Breese (Streamline, Santa Cruz)                        
DNS Jarrah Davies                                                
DNS Michael Jobson (Blackman Bicycles)                           
DNS Tom Lewis (Winning Edge Cycles)                              
DNS Grant Jones                                                  
DNS Kye Hore                                                     
DNS Sam Hocken (Kona Bikes, Mavic, Addidas)                      
 
Elite Women

1 Claire Buchar (Intense, SRAM, Maxxis)                   5.35.63
2 Leigh Douglas (4Shaw Agencies, Treadlies Bike Shop)     0.04.49
3 Caroline Buchanan (Khs Bicycles, Actas)                 0.06.19
4 Claire Whiteman (Onyabike, Belconnen, Civic)            0.18.08
5 Sarah Booth (Cryme Cycles, Mace)                        0.45.60
6 Cara Smith (Onyabike, Civic & Paton Performance)        0.55.70
7 Emma Lewis (Arrow Racing)                               0.59.44
8 Shannon Chugg                                                  
9 Jayne Rutter (Byomechanics Cycles And Repairs)                 
10 Samantha Gambrill                                             
11 Leonie Picton (Mallard Cycles)                                
DNS Lea Harley                                                   
 
Under 19 men

1 Tamryn Murrell (Tomac Australia, Super Sports)          4.00.00
2 Shaun O'connor (SRAM,Thor Mx,Santa Cruz)                0.04.61
3 Rhys Willemse (Tomac Australia, Super Sports)           0.08.58
4 Hans Hadley                                             0.18.64
5 Ben Barrett (Kona, Yarra Valley Cycles)                 0.18.72
6 Laurie Dinham (Cycleworx)                               0.19.32
7 William Gower                                           0.20.82
8 Aden Wyber (Berettas Bike Hub Geelong)                  0.21.38
9 Marcus Fairbanks (Looking For Sponsors)                 0.32.79
10 Antony Moore (Venturecycles, Pinned Racing)            0.34.81
11 Michael Bourne (Kona.Shimano,Mavic,Adidas)             0.39.49
12 Tom Rowe (Aldgate Bike Shop)                           0.41.18
13 Selby Press (Cdc Development)                          0.41.70
14 Jesse Went (Maladjusted Bicycles)                      0.42.01
15 Josh Dickinson (For The Riders.com)                    0.49.88
16 Ben Nylen (Banshee Xxiv Imports)                       0.54.01
17 Connor Robertson (Hostile Riding System)               0.56.32
18 Keiran Volk                                            0.57.59
19 Elvis Allamby                                          0.59.92
20 Ryan Hunt (Banshee Bikes, SRAM, Gamut)                 1.00.92
21 Kieran Rooney (Daddy)                                  1.05.12
22 Lewis Winton (Altitude Mountain Sports, SRAM)          1.06.21
23 Kyran Mccarthy                                         1.07.35
24 Clint Merrin                                           1.09.01
25 Matt Currie (Yarra Valley Cycles)                      1.10.18
26 Benedict Freudenmann (Pwgloves Bern Sunshine Coast)    1.10.77
27 Anthony Ghobril (Bsc Bikes, Trevwah Bouake)            1.11.43
28 Brett Slater (Cryme Cycles, Kona)                      1.35.65
29 Daniel Lavis (Allfab Constructions Pty Ltd)            2.41.12
30 Kim Bishop (Sunshine Bicycle Works Tewantin)           3.45.53
31 Kyle Pleash                                                   
32 Josh Johnston (Cdc Building, Cyclingo)                        
33 Taylor Young                                                  
34 Mark Vickers                                                  
35 Tom Lynch                                                     
36 Charles Brincat                                               
37 Tom Sanderson                                                 
38 James Shepherd (Cryme Cycles, Sportz Australasia, Kore)       
39 Keiran Sullivan                                               
40 Sam Nikora                                                    
41 Nick Jack (Bendigo Cycles)                                    
42 Brycen Trevor                                                 
43 Justin Gray                                                   
44 Bobby Davies                                                  
45 Andrew Oates                                                  
46 Nathan Thomasson                                              
47 Tom Mac Anally (In2Cycles)                                    
48 Aaron Oates (Cyclingo Bike Shop)                              
49 Joe Khan (Beerwah Cycles)                                     
50 Chris Mitchell                                                
51 Ben Mortison                                                  
52 Mitch Forbes (South East MTB Co)                              
53 Jack Middlemass (Revolution Race Gear)                        
54 Scott Kitto                                                   
55 Cory Schweikert                                               
DNF Matt Scott (Bikeology)  

Under 19 Women

1 Emily Hockey                                            7.08.43
2 Danielle Beecroft                                       0.48.86
3 Bec Kirss                                               1.03.56
4 Jaz Rosa                                                1.13.40
 
Under 17 Men

1 Connor Fearon (Cove Bikes, JT Cycles Sa)                4.17.73
2 Troy Brosnan (Mongoose, Lotek, SRAM)                    4.31.48
3 Ben Power (Brisbane Boutique Bikes)                     4.31.97
4 James Green (Downhill Direct, Imperial Products)        4.35.75
5 Phillip Piazza (Mal Adjusted,Charles Purton Imports)    4.43.66
6 Brandon Yrttiaho                                        4.46.65
7 David Mcmillan                                          4.58.89
8 Joe Vejvoda                                             5.09.24
9 Michael Cooper                                          5.13.16
10 Graeme Mudd (Intense Tyre Systems, Avent)              5.17.45
11 Henry Blake (Mitcham Cycles)                           5.19.14
12 Sam Fraser (Bern,Pow,Gravitymtb.Org)                   5.21.41
13 Flinders Johnston (Cdc Development, Mum & Dad)         5.32.41
14 Michael Pozzi                                          5.35.84
15 Joe Dymalla                                            5.35.91
16 Brock Harrison                                         5.38.20
17 James Townsend                                         5.44.26
18 Ben Forbes                                             5.56.83
19 Max Hughes (Dhdirect, Existing Buildings Group)        6.02.33
20 Jack Findlay-Clark                                     6.03.68
21 Tom Norton-Laheney (Mitcham Cycles)                    6.14.43
22 Jack Freeman                                           6.25.10
23 Aaron Shillington (Ashgrove Cycles)                    6.26.60
24 Rogan Anderson                                         6.32.68
25 Joshua Ryan                                            6.45.77
26 Dylan Marriott                                         6.49.83
27 Nelson Krellis                                         6.52.72
28 Max Nielsen (Adelaide Hills Cycles)                    7.01.37
29 Keiran Dixon (Mum )                                    7.19.73
30 Angus Morrison                                         8.22.39
31 Ben Leslie                                             8.26.17
32 Nicholas Brereton                                      8.54.66
33 Nicholas Macnamara                                     9.07.15
34 William Hickman (Nerang Mountain Bike Centre)          9.32.59
DNF Tom O'connell                                                
DNF Stephen Peasey                                               
DNF Reece Gardiner                                               
DNF Eddie O'connell                                              
DNF Jordan Wood                                                  
DNF Simon Greenhalgh                                             
DNS Zac Du Preez                                                 
DNS Zac Buckley                                                  
DNS Mathew Dwyer                                                 
DNS Alexnader Mckinlay                                           
DNS Corey Dickfos        

Under 17 women

DNS Christie Batt                                          
 
Under 15 Men

1 Thomas Crimmins (The Sacred Ride, Jindsbyne)            4.48.45
2 Mitchell Kristiansen                                    5.44.80
3 Robin Bishop (Sunshine Bicycle Works Tewantin)          6.12.93
4 Kyle Pfitzner                                           6.36.20
5 Max Warshawsky (Beerwah Cycles, Rob McVean Racing)      6.47.26
6 Josef Neubauer                                          6.51.97
7 Kaine Trevor                                            7.05.11
8 Luke Ellison (Xcr Hp Squad, Edl)                        7.21.54
9 Remy Morton                                             7.31.14
DNS Jake Bromley                                                 
DNS Trent Ellison (Xcr Junior Development, Edl)                  
DNS George Hickman (Nerang Mountain Bike Centre)                 

Veteran Men

1 Tim Richmond (Bling Industries, UFO)                    4.29.28
2 Jason Blackmore (Morewood)                              4.40.25
3 Craig Horsefield                                        5.09.33
4 Dan Wolfik (Cove, Southshore)                           5.24.29
5 Geoff Daymond                                           5.32.41
6 Drew Hamilton (Morewood)                                5.33.66
7 Ian Harwood                                             5.36.23
8 Andrew Smith (Me)                                       5.37.88
9 Ryan Scott                                              5.49.63
10 Lee Treasure (Morewood, UFO)                           6.17.30
11 Andrew Noble                                           6.28.39
12 Stephen Vanderhee                                      7.41.67
13 Brenton Blight (Red Cat Hair Waterford)                7.48.45
DNS Troy Bromley (Tinned Fruit Race Team)                        
DNS Jason Stalker (Bling Industries, Treadlies Bike Shop)        
DNS Peter Kelley                                                 
DNS Justin Green                                                 
DNS Jason Davies                                                 
DNS Robert Stone                                                 
DNS James Spargo                                                 
DNS Benjamine Kriss                                              
DNS Tony Rutter
 
Masters Men

1 Shayne Hadley                                           5.37.38
2 Geoff Love                                              5.37.77
3 Graeme Reid (Me, Myself And I)                          5.55.18
4 David Badman (Black Ball Syndicate)                     5.57.19
5 Mark Keegan (Cycle Logic, Rotec Cycles)                 6.01.51
6 Greg Bird                                               6.05.97
7 Glynn Hicks (Tomac Bikes)                               6.09.34
8 Silvo Simoes (Ashgrove Cycles)                          6.12.90
9 Darren Eckhold                                          7.04.40
10 John Stuart                                            7.27.60
11 Mike Gadd                                              7.56.17
DNS Todd Rutherford                                              

Super Masters Men

1 Martin Griffith (Switch Mode Power Supplies)            7.08.18

Expert Men

1 Steven Gebert (Crime Cycles, Hoodlife)                  4.38.72
2 Ryan De La Rue (Bereltas Bike Hub Geelong)              4.38.84
3 Daniel Whiddon                                          4.59.97
4 John Bradley                                            5.00.98
5 Rowan Crawford                                          5.02.60
6 Kane Lowe                                               5.03.13
7 Llewellyn Cameron                                       5.06.90
8 Brendan Kovarik (Morafield Road Super Cycles)           5.08.77
9 Louis Pijpers                                           5.08.10
10 Todd Matthew                                           5.09.98
11 Peter Karas (Trak Cycles, Norwood, CBR)                5.10.49
12 Bryce Stirling                                         5.11.47
13 Travis Heaps                                           5.14.29
14 Joshua Knowles                                         5.21.20
15 Tony Carson (Tc Bike Barr)                             5.24.77
16 Nicholas Bailly (Nicolai, Deity, Bos)                  5.25.29
17 James Sami (Pedal Power Plus)                          5.28.54
18 Brock Mccrobb                                          5.34.49
19 Mark Turek                                             5.39.81
20 Stefan Majewski (Tc Bike Barr)                         5.42.33
21 Rhys Ellison (Bikeology)                               5.44.86
22 Matt Walker (Drift Bikes Newcastle)                    5.53.87
23 Erek Smith (Beerwah Cycles)                            5.54.57
24 Isaac Murphy                                           5.55.32
25 Peter Appleton (Ashgrove Cycles)                       6.03.39
26 Dave Marshall                                          6.04.14
27 Liam Batt                                              6.06.77
28 Daniel Smith (Berend's Credit Card)                    6.15.20
29 Christopher Acomb (Bikeology)                          6.20.20
30 Asher Zoomers                                          6.22.74
31 James Russell                                          6.25.69
32 William Fraser (Gravity Fx)                            6.29.41
33 Ryan Armstrong                                         6.42.18
34 Chris Henderson (Me)                                   6.45.34
35 Karl Wilson                                            6.51.12
36 Adrian Johnston                                        6.56.98
37 Chris Drabble                                          7.38.13
38 Josh Mckinstrey                                        9.19.22
39 Shaun Thomson                                         11.16.65
40 Sam Butler (Ya Mum)                                   22.38.99
DNS Randal Huntington                                            
DNS Andrew Karas                                                 
DNS Brett Lancelot                                               
DNS Brice Laffin                                                             
 
Hardtail Junior

1 Dylan Price (Myself)                                    5.49.98
2 Jack Mckenna                                            6.04.91
3 Jake Campbell (Mum And Dad)                             6.22.33
4 Linden Rumball                                          7.09.83
5 Jackson Mclutchen                                      16.14.57
DNS Shane Doherty                                                
 
Hardtail Senior

1 Dale Heaps                                              5.06.76
2 Joseph Lester                                           5.47.31
DNS Zac Mac Anally                                               
 
Sport Men

1 Steven Griffiths                                        5.08.84
2 Joel Stanford                                           5.14.70
3 Joel Walker (Chest Puppies Racing)                      5.31.84
4 Josh Evans                                              5.36.64
5 Michael Dopson                                          5.39.20
6 Martin Flanagan                                         5.45.96
7 Bradley Newton                                          5.49.94
8 Ben Martin                                              5.55.33
9 Kieran Reinboth (Loco Mx, White Man Industries, Dad)    5.56.61
10 Griff Moore                                            6.03.57
11 Luke Surawski                                          6.05.99
12 Kurt Parker                                            6.14.52
13 John Burkett                                           6.25.19
14 Ben Gyelvay (99 Bikes,Green Team)                      6.32.57
15 Arjan Sidhu                                            6.49.86
16 Angus Loraine                                          6.51.77
17 Blake Highland                                         6.59.52
18 Luke Higgins                                           7.01.85
19 William Mcsweeney                                      7.02.13
20 Harry Gardner                                          7.18.60
21 Brendan Moss                                           7.25.38
22 Dylan Deschamps                                        7.27.56
23 Jonathan Giles                                         7.28.51
24 Peter Moffatt-Perusic                                  7.32.13
25 Jared Smith                                            7.48.60
26 Justin Mills (Tuckers, Avanti, Rockhampton Qld)        7.52.23
27 Jamie Le Feuvre                                        7.53.11
28 Nigel Whibley (Banshee Bikes, XXIV Imports)            7.56.73
29 William Hoy                                            8.15.50
30 Nick Sando                                             8.19.97
31 Ethan Woolley                                          8.25.44
32 Cale Anderson (Coolum Cycles, Pow Gloves)              8.55.36
33 Matthew Le Cornu                                      10.04.62
34 Anthony Licastro                                      10.58.53
35 Fraser Short                                          11.43.92
DNS Aaron Atkinson                                               
DNS Antony Sipos                                                 
DNS Nick Knight                                                  
DNS Charlie Dennis