Recently on Cyclingnews.com
MTB index page for all MTB content
Australian MTB Series #2 - NE
Illinbah, Gold Coast, Australia, November 29-30, 2008
Race 1 - November 29: Cross country
O'Shea touché
Mountain biker pursues her London Olympic dream
Katherine O'Shea rides away from the field
Photo ©: Evan Jeffery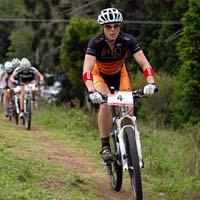 After her best finish to date, Bendigo's Katherine O'Shea has her sights firmly set on the next Olympics in London. The 29-year-old business analyst won the Olympic cross country race at the Australian national mountain bike round held in the Gold Coast hinterland on Saturday. The former softballer switched to mountain biking just three years ago after being selected for a development program for mountain bikers. The "Dirt Roads to London" program aims to prepare Australian female riders for the London 2012 Olympics.

Hot and humid conditions affected the women's field. "It was really tough," said O'Shea. "It felt like you were dripping wet. My only reward was when I was at the top of the hill, and I could pour the water over me."

O'Shea praised the "Dirt Roads to London" program aimed at building Australia's depth in women's cross country. "It's been fantastic. It got me into the sport and it's great having the other girls around to encourage you to turn up to these races. It was a tough day."

O'Shea will head overseas to race internationally next year and when asked if her long term goal of making the London Olympics was now closer she said, "Yeah for sure. Bring it on."

During the race, O'Shea kept a close eye on series leader Jodie Willett from Brisbane. "When I turned around on the climb they looked like they were miles back. I thought Jodie was going to come back," she admitted.

Willett was disappointed with second place. She had started the race conservatively, but O'Shea gained time every lap eventually winning by over five minutes. Willett thought she had gauged O'Shea's strong start. "I thought she may blow up," said Willett. "[But] when the lead was three minutes, I thought she's not blowing up!"

The peloton was all strung out
Photo ©: Evan Jeffery

Third went to fellow Bendigo rider Jo Wall, whose podium finish was her best to date and a fitting way to celebrate her 30th birthday. Wall is also a member of the "Dirt Roads to London" program.

Former national champion, Tory Thomas from Mt Beauty, withdrew due to the intense heat along with Canberra's Bec Henderson.

The elite men's cross country race started in hot conditions until the dark clouds were followed by thunder and lightning. Officials were forced to shorten the men's distance from seven to six laps due to dangerous conditions.

Early leader Aiden Lefmann from Brisbane, was unlucky to suffer a broken chain mid-way through the race. Eventual winner Adrian Jackson from Melbourne won in one hour 52 minutes and 54 seconds. Brisbane's Mark Frendo took over the lead after Lefman's mechanical trouble; however, it wasn't long until Jackson put on the pressure pulling ahead by two minutes and 10 seconds. Third place went to Canberra's Shaun Lewis just over one minute further behind.

The storm delayed the four cross racing while downhill practice was stopped. All downhill and short track cross country racing on Sunday will go ahead as usual with fine weather predicted.
Photography
For a thumbnail gallery of these images, click here
Images by Evan Jeffery / www.evanjeffery.com.au
Results

Elite Men

1 Adrian Jackson (Merida, Flight Centre)                        1.52.55
2 Mark Frendo                                                      2.10
3 Shaun Lewis (Mongoose, SRAM, Maxxis)                             3.06
4 David Whitney* (Merida Flight Centre)                            3.21
5 Murray Spink (Giant)                                             5.00
6 Andrew Blair (Redshift Racing,SRAM)                              7.03
7 Ben Henderson (Mongoose Bikes,SRAM,Maxis)                        7.23
8 Matthew Potter (Gu)                                              7.39
9 Joshua Carlson (Spearman, Giant, Fennerstotalperformance.Com)    7.56
10 Russell Collett (Yeti Cycles,Twe)                               8.12
11 Matthew Fleming (Clarence St Cyclery)                           8.18
12 Robbie Hucker* (Torq Nutrition)                                 8.19
13 Perren Delacour (Team Yeti)                                     9.40
14 Durie Charlton* (BMC Australia,Ritchegoakley,)                 10.33
15 Neil Van Der Ploeg* (Felt)                                     12.29
16 Scott Liston* (Felt, Pinnacle Cycles)                          13.43
17 Nick Both (Merida, Flight Centre)                              15.43
18 Steele Von Hoff* (Torq Nutrition)                              17.11
19 Michael Skroblin (Nerang Mountain Bike )                       18.10
20 Luke Fetch* (Torq Nutrition)                                   19.22
21 Glenn Stewart* (Cannondale, Kom, SRAM)                         19.24
22 Angus Harding* (Orbea Team)                                    22.06
23 Ben Hogarth (Giant,Mitcham Cycle Centre)                       23.27

Behind one lap

24 Alexander Pung*                                                     
25 Cal Britten* (Torq Nutrition, VIS MTB Team)                         
26 Paul Traynor (Merida Flight Centre)                                 
27 Cam Winn (Orbea, Northwave Shoes)                                   

Behind two laps

28 Aiden Lefmann (Cannondale,Rlc,Oakley,Maxxis)                        

Behind three laps

29 Paul Weymouth* (Torq Nutrition)                                     
DNF Andrew Arthur* (Clarence St Cyclery,Trek)                          
DNF Travis Frisby* (Sasi)                                              
DNS Tomas Szollosi*                                                    
DNS Guiseppe Fucile                                                    
DNS Andrew Mallett (River City Cycles)                                 
DNS Ryan Hawson (Yeti, First Undurance) 

* indicates U23                               
 
Elite Women

1 Katherine O'Shea (Torq Nutrition)                             1.51.38
2 Jodie Willett (Scody, Ediscovery Tools)                       1.56.04
3 Jo Wall (Torq Nutrition)                                      2.00.29
4 Gracie Elvin*                                                 2.04.26
5 Jo Bennett (Merida Flight Centre)                             2.05.10
6 Jenni King (Croyden Cycle Works)                              2.05.48
7 Therese Rhodes* (Ultimate Ride Bike Shop)                     2.07.27
8 Sarah Holmes* (Cycleworx, Avantiplus)                         2.10.47
9 Bianca Mauch (Tlc Cycles, Jet Black)                          2.11.40
10 Trudy Nicholas (Bike Culture)                                2.13.23
11 Sarah Riley                                                  2.22.09

Behind two laps

12 Connie Silvestri                                                    

Behind three laps

13 Melinda Jackson                                                     
DNF Tory Thomas (Torq Nutrition)                                       
DSQ Rebecca Henderson* (Mongoose Bikes,SRAM,Maxxis)                    
DNS Lee Schultz (Hampton Bicycles)     

* indicates U23                                                               
 
Junior U19 men

1 Trenton Day (Breakaway Cycles, Scott )                        1.31.13
2 Brendan Johnstone (Mongoose, SRAM, Maxxis)                    1.34.10
3 Brenton Jones (Bicycle Superstore, Gt)                        1.34.18
4 James Peacock (Merida, Flight Centre)                         1.34.19
5 Michael Codner                                                1.34.54
6 Kyle Ward (Spearman Cycles)                                   1.41.03
7 Casper Oxley                                                  1.44.21
8 Ryan Mac Anally (River City Cycles)                           1.45.07
9 Glen Sinnott (Sportsmans Warehouse,CORC)                      1.46.19
10 Nicholas Wilson                                              1.46.33

Behind one lap

11 Stephen Pitt (Blackman Cycles)                               1.32.21

Behind two laps

12 Michael Baker (Onya Belconnen)                               1.06.03
DNF Declan Kilkenny (Aussie Home Loans Chapel Hill)               55.38
DNS Josh Prete (Discovery Cycles, Cairns Adam Hansen)                  
 
Junior U17 Men

1 Ryan Standish (Ultimate Ride Bike Shop)                          0.00
2 Daniel Mcdonald                                               1.03.12
3 Alexander Meyland (Rock And Road Cycles, Giant)               1.06.41
4 James Hanus (Lifecycle Bicycles)                              1.08.18
5 Alex Hockey                                                   1.23.55

Behind one lap

6 Tim Beaver (Ayup Lighting)                                           
7 Jesse Gleeson (Mum And Dad)                                          
DNF Jack Watson (River City Cycles)                                    
DNS Max Hughes (Dhdirect, Existings Buildings Group)                   
 
Junior U17 Women

1 Maya Sidhu                                                      58.30
 
Junior U15 Men

1 Luke Ellison (Xcr Hp Squad,Edl)                                 51.24
2 Ben Hard                                                        53.16
3 Jack Jude (Sunshine Bicycle Works)                              58.52
4 Nick Mcallister                                               1.02.23
5 Trent Ellison (Xcr Junior Development Program)                1.07.59
 
Expert men

1 Ross Flewell-Smith (Chain Gang)                               1.52.56
2 Damian French (Tredlies Bike Shop)                               6.52
3 Sean Hurley (Orbea, Catlike Helmets)                            10.53
4 Darren Groves (Porsche Centre Gold Coast)                       15.13
5 Vang Nguyen                                                     25.49

Behind one lap

6 Tomas Szollosi*                                                      
7 Dean Ashley                                                          
DNF Brendan Sellers                                                    
DNF Anthony Oloman (Redback Cycles)     

Veteran Men

1 Ashley Bryant (Shortis Cycle 'N' Tri, Avanti Plus)            1.32.25
2 Peter Kreilis                                                    8.44
3 Scott Finlay (Ashgrove Cycles, Finlay Racing)                   15.55
4 Shane Bedford (Cycling Science, Fit 2 Excel)                    19.19
5 Leighton Jefferson                                              20.39
6 Drew Robertson (Merida, Flight Centre)                          20.57

Behind one lap

7 Aaron Pinkerton                                                      

Behind two laps

8 Owen Wong Doe                                                        
DNF Josh Bosschietar (Chumba Racing)                                   
DNF Gavin Finlay                                                       
DNF Mark Palmer                                                        
DSQ Andrew Wilcher (Race Elements, For The Riders)                     
DNS Graham Lewis                                                       
DNS Gavin Finlay (Ashgrove Cycles, Finlay Composites)                  
 
Veteran women

1 Clare Sellers                                                 1.32.39
 
Master men

1 Brett Stevens                                                 1.02.38
2 Justin Wornes (The Fitzroy Revolution)                        1.04.35
3 Clint Pearce                                                  1.04.46
4 John Henderson (Onya Bike Belconnen)                          1.07.35
5 Paul Hill                                                     1.10.32
6 Bill Murphy (Family, Xcr Hps, Edl)                            1.11.03
7 Evan James (Bicycle Express Adelaide)                         1.12.38
8 Jack Weitenberg                                               1.13.03
9 Craig Peacock (Merida, Flight Centre)                         1.15.22
10 John Maguire                                                 1.23.01
11 Kyle Eaglestone                                              1.30.32
DNF Jim Robinson                                                       
DNS John Clissold                                                      
DNS Chris Oliver (Nickname Is "Rabit")                                 
 
Master women

1 Heap Sharon                                                   1.19.03
2 Jo Rowell (Chain Gang)                                        1.29.20
 
Super master men

1 Kevin Jones                                                   1.08.06

Behind one lap

2 Martin Griffith (Switchmode Power Supplies)                          
 
Super masters women

1 Peggy Douglass                                                1.05.28
 
Grand master men

DNS Ashley Grivell (Algate Bike Shop)                                  
 
Sport men

1 George Tamblyn (Endura)                                         50.08
2 Nathan Perkins                                                   4.58
3 Ben Lojkin                                                       8.24
4 Lucas Pitt (Trak Cycles)                                         9.49
5 Simon Carr (Bendigo MTB Club)                                   11.01
6 Tim Rowe (Bikenow)                                              14.30
7 Todd Bray                                                       16.29
8 Aaron Hoepens                                                   20.07
9 Jesse Hillier                                                   25.32
10 Joel Hillier                                                   38.01
11 Trent Pain (My Dad)                                            39.33
12 Bruce Pain                                                     39.34
DNF Jared Hoepens                                                      
DNS Chad Hjort                                                         
DNS Spencer Pain (Bruce Pain)                                          
DNS Justin Smedley (Sportsmans Warehouse,Skins)                        
DNS Chris Major