MTB index page for all MTB content
MTB World Cup DH #1 - CDM
Maribor, Slovenia, May 9-11, 2008
2007 results Schedule Start List
Maribor opens World Cup gravity races
By Luke Webber in Pohorje, Slovenia
The rock garden really is that big
Photo ©: Luke Webber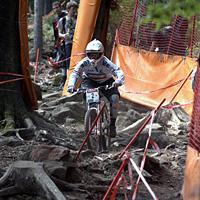 Maribor opens the downhill and four cross events this weekend following on from the initial three cross country rounds in Belgium, Germany and Spain.
After Sea Otter the biggest test of the year so far was the World Championship recce event in Val de Sol, Italy seven days ago. Unfortunately, that race confirmed the devastating news of 2007 - when it comes to downhill Sam Hill is the man to beat. He destroyed the field by nearly five seconds there and already has qualified first here in Maribor. The course is a rider's favourite and remains largely the same as last year.
Out of the start the descent heads into a wooded section over roots, before turning back to the open giving great views across Pohorje. These give way to the most brutal section of the track however, with a large rock garden littered with drops and gaps. Line choice here is critical and could win or lose the race. Conditions are currently perfect with warm temperatures and a cooling breeze. Under tyre it is dusty, but hard packed with some loamy sections in the woods emerging.
Unlike the downhill which is set to be dominated by one rider, the four cross races are the most open in years. This is due in part to BMX making its Olympic debut and the absence of multiple champion Michael Prokop, Jared Graves and most notably of all perhaps, reigning World Champion Jill Kintner.
This, accompanied by a switch of teams by Brian Lopes from factory crew GT to small independents Ibis, has added a real unpredictability to the racing. So far in qualifying it is Dan Atherton leading the way, with Kamil Tartarkovic the nearest chaser over a second down. Romain Salidini is third and in his first full World Cup season Ross Milan takes the final top spot. Lopes could only manage sixth but when the gate drops with three other riders in the mix, anything can happen.
Photography
For a thumbnail gallery of these images, click here
Images by Luke Webber / www.lukewebber.com
Schedule
Start list
Downhill

Elite men

1 Samuel Hill (Aus) Monster Energy / Iron Horse                     
2 Matti Lehikoinen (Fin) MS-Intense Factory-Racing                  
3 Steve Peat (GBr) Santa Cruz Syndicate                             
4 Gee Atherton (GBr) Animal Commencal                               
5 Marc Beaumont (GBr) Team Bike Radar                               
8 Fabien Barel (Fra) Subaru Mountain Bike Pro Team                  
9 David Vazquez Lopez (Spa) Lapierre DH Powered By Saab Salomon     
11 Mickael Pascal (Fra) Msc Bikes                                   
12 Brendan Fairclough (GBr) Monster Energy / Iron Horse             
13 Nathan Rennie (Aus) Santa Cruz Syndicate                         
14 Fabien Pedemanaud (Fra) Team Pyrenees Morewood                   
15 Josh Bryceland (GBr) Santa Cruz Syndicate*                       
16 Florent Payet (Fra) Subaru Mountain Bike Pro Team                
17 Ben Reid (Irl)                                                   
18 Dan Atherton (GBr) Animal Commencal                              
20 Andrew Neethling (RSA) GT Bicycles                               
21 Bernat Guardia Pascual (Spa) Msc Bikes                           
22 Justin Leov (NZl) Yeti Fox Shox Factory Race Team                
23 Dan Stanbridge (GBr) Mojo Orange                                 
24 Matthew Simmonds (GBr) Chain Reaction Cycles/Intense             
25 Marcus Klausmann (Ger) Team Ghost International                  
26 Samuel Blenkinsop (NZl) Yeti Fox Shox Factory Race Team          
27 Greg Minnaar (RSA) Santa Cruz Syndicate                          
28 Ruaridh Cunningham (GBr) Chain Reaction Cycles/Intense           
29 Neil Donoghue (GBr) Team Bike Radar                              
30 Marco Milivinti (Ita)                                            
31 Filip Polc (Svk) Kenda Tomac                                     
32 Adam Brayton (GBr) Playbiker - Iron Horse                        
33 Pasqual Canals Flix (Spa) Massi                                  
34 Alan Beggin (Ita)                                                
35 Thomas Braithwaite (GBr)                                         
36 Oscar Saiz Castane (Spa) Giant Mountain Bike Team                
37 Nico Vink (Bel) Dolphin-Trek Mountainbike Racing Team            
38 Adam Vagner (Cze)                                                
39 Dave Wardell (GBr)                                               
40 Cédric Gracia (Fra) Commencal - Furious - Oakley Team            
41 Ben Cathro (GBr) Mojo Orange                                     
42 Rémi Thirion (Fra) Team Sunn*                                    
43 Dominik Gspan (Swi)                                              
44 Herman Olund (Swe)                                               
45 Chris Kovarik (Aus) Chain Reaction Cycles/Intense                
46 Mike Skinner (NZl) Playbiker - Iron Horse                        
47 Tom Deacon (GBr)                                                 
48 Thibaut Ruffin (Fra)                                             
49 Claudio Caluori (Swi) Tomac Factory Racing                       
50 Fabien Cousinie (Fra)                                            
51 Joris Bigoni (Fra)                                               
52 Aurélien Giordanengo (Fra)                                       
53 Mathias Haas (Aut)                                               
54 Samuel Zbinden (Swi) Argentina Bike Gravity Team                 
55 Damien Spagnolo (Fra) Subaru Mountain Bike Pro Team              
56 Duncan Riffle (USA) Cannondale Factory Racing                    
57 Sam Dale (GBr) Cannondale Factory Racing*                        
58 Joseph Smith (GBr) Tomac Factory Racing*                         
59 Mathieu Troquier (Fra) Solid Aclass Factory Team                 
60 Bryn Atkinson (Aus) GT Bicycles                                  
61 Mitchell Delfs (Aus) Kenda Tomac                                 
62 Espen Johnsen (Nor)                                              
63 Amiel Cavalier (Aus) Giant Mountain Bike Team                    
64 Scott Mears (GBr)                                                
65 Georg Sieder (Aut) Solid Aclass Factory Team                     
66 Nick Beer (Swi) IXS Sports Division Racing Team                  
67 Nathan Rankin (NZl) Playbiker - Iron Horse                       
68 Jared Rando (Aus) Giant Mountain Bike Team                       
69 Robin Wallner (Swe)                                              
70 Frank Schneider (Ger)                                            
71 Andreas Sieber (Ger) Solid Aclass Factory Team                   
72 Matej Charvat (Cze)                                              
73 Cameron Cole (NZl) Team Maxxis                                   
74 Markus Schwab (Swi)                                              
75 Claudio Cozzi (Ita)                                              
76 Markus Pekoll (Aut) Solid Aclass Factory Team                    
77 Patrik Kotrla (Cze)                                              
78 Greg Okeefe (Irl)                                                
79 Krisztian Halasz (Hun)                                           
80 Daniel Wolfe (Irl)                                               
81 Erik Irmisch (Ger)                                               
82 Jan Cestnik (Slo)                                                
83 Mario Sieder (Aut) Solid Aclass Factory Team                     
84 Ninoslav Ruzicka (Cro)                                           
85 Jan Javornik (Svk)                                               
86 Jorge Aguin Castro (Spa)                                         
87 Wyn Masters (NZl)                                                
88 Marcel Vasko (Svk)                                               
89 Mario José Jarrin Molina (Ecu)                                   
90 Jonty Neethling (RSA)                                            
91 Bostjan Volf (Slo)                                               
92 Rémy Charrier (Fra) Team Sunn                                    
93 Tim Eaton (Aus)                                                  
94 David Smith (GBr)                                                
95 Maciej Kucbora (Pol)                                             
96 Falco Ruppert (Ger)                                              
97 Bangert Cole (USA)                                               
98 Andras Jako (Hun)                                                
99 Mauro Sirotic (Cro)                                              
100 Renato Ventura (Por)                                            
101 Joe Barnes (GBr)                                                
102 Marco Fidalgo (Por)                                             
103 Steve Smith (Can)                                               
104 Matej Drnovsek (Slo)                                            
105 Ivan Brajkovic (Cro) Mammoth                                    
106 Marcel Beer (Swi) IXS Sports Division Racing Team               
107 Andre Wagenknecht (Ger)                                         
108 Mario Hohnjec (Cro) Mammoth                                     
109 Lars Peyer (Swi) Suspension Center                              
110 Tobias Sieber (Ger)                                             
111 Julien Camellini (Fra) Chain Reaction Cycles/Intense            
112 Rowen Sorrell (GBr)                                             
113 Andraz Jersin (Slo)                                             
114 Patrick Meyer (Swi) IXS Sports Division Racing Team             
115 Livio Zampieri (Ita)                                            
116 Ralph Jones (GBr)                                               
117 Boris Tetzlaff (Aut) Solid Aclass Factory Team*                 
118 Esteban Deronzier (Fra) Sport Promotion                         
119 Martin Kafka (Svk)                                              
120 Peter Novacik (Svk)                                             
121 Michal Marosi (Cze)                                             
122 Ewan Doherty (Irl)*                                             
123 Chris Hutchens (GBr) Mojo Orange                                
124 Erik Kallstrom (Swe)                                            
125 Igor Jadlovsky (Svk)                                            
126 Rostislav Stencel (Cze) Max Cursor                              
127 Tommy Folkoy (Nor)                                              
128 Benny Strasser (Ger) IXS Sports Division Racing Team            
129 Matus Paulovic (Svk)                                            
130 Simon Charvat (Cze)                                             
131 Richard Lee (Aus)                                               
132 Thomas Jeandin (Swi) Argentina Bike Gravity Team                
133 Philip Ashbridge (GBr)                                          
134 Florent Wolter (Fra) Sport Promotion                            
135 Nino Dusak (Cro) Mammoth                                        
136 Richard Cunynghame (GBr)                                        
137 Luca Bertocchi (Ita) Playbiker - Iron Horse                     
138 Will Longden (GBr) Team Bike Radar                              
139 Dario Zampieri (Ita)                                            
140 Ondrei Barta (Cze)                                              
141 Guilhem Andre (Fra) Team Sunn                                   
142 Dusan Leposa (Slo)                                              
143 Maxime Remy (Fra) Team Sunn                                     
144 Nino Antic (Cro)                                                
145 Martin Mikulenka (Cze)                                          
146 Jörg Neuhart (Aut)                                              
147 Tibor Kolozsvari (Hun)                                          
148 Arnau Sugranes Mateu (Spa) Msc Bikes                            
149 Geritt Beytagh (USA)                                            
150 Arkadiusz Perin (Pol)                                           
151 Pierre Charles Georges (Fra)                                    
152 Walter Martinschitz (Aut)                                       
153 Alexander Evans (GBr)                                           
154 Toni Berg (Fin)                                                 
155 Quentin Derbier (Fra)                                           
156 Jakub Fiser (Cze)                                               
157 Marco Bugnone (Ita)                                             
158 Arnaud Delente (Fra)*                                           
159 Ruben Garcia Ramon (Spa) Motril-Sierra Nevada Bike Park         
160 Michal Wiesenganger (Svk)                                       
161 Massimo Rosson (Ita)                                            
162 Stephen Beattie (Irl)                                           
163 Zan Jurca (Slo)                                                 
164 Vlastimil Hyncica (Cze)                                         
165 Jordi Bago (Spa)                                                
166 Gergely Veres (Hun)                                             
167 Tobias Meister (Aut)                                            
168 Martin Strasser (Aut)                                           
169 Paolo Viola (Ita) Pro-Bike Riding Team                          
170 Oyvind Maehle (Nor)                                             
171 Scott Beaumont (GBr) Rocky Mountain UK                          
172 Tine Mahkovec (Slo) Team Scott Lactat                           
173 Christian Daxner (Aut)                                          
174 Jiri Placek (Cze) Max Cursor                                    
175 Fergus Lamb (GBr)                                               
176 Robert Smith (GBr) Reverse Components                           
177 Nicolas Gspan (Swi)*                                            
178 Roland Seereiner (Aut) Team Scott Lactat                        
179 Matthieu Gallean (Fra) Argentina Bike Gravity Team              
180 Liam Mason (GBr) Printexpress UK Mtb Team                       
181 Thomas Warmuth (Aut) 4 Elements Yeti/Hotec/Rsp                  
182 Lorenzo Suding (Ita) Playbiker - Iron Horse                     
183 Ben Baker (GBr) Printexpress UK Mtb Team                        
184 Daniel Critchlow (GBr) Chain Reaction Cycles/Intense            
185 John Holbrook (GBr) Reverse Components                          
186 Roman Roschi (Swi) Suspension Center*                           
187 Pierre Laurent Bucci (Fra) Corsica Fed Consulting               
188 Sacha Robert (Swi) Suspension Center                            
189 Valentin Juillard (Fra) Team Sunn*                              
190 Mads Weidemann (Den)                                            
191 Matej Laktis (Svk)*                                             
192 Liam Little (GBr) Reverse Components                            
193 Martin Frei (Swi)                                               
194 Pavel Cep (Cze)                                                 
195 Kristof Lenssens (Bel)                                          
196 Quentin Leroy (Fra)                                             
197 Sasa Merljak (Slo) Solid Aclass Factory Team                    
198 James Hughes (GBr) Reverse Components                           
199 Gernot Ruppert (Ger)*                                           
200 Dave Goris (Bel)*                                               
201 Niklas Wallner (Swe)*                                           
202 Kalin Rahnev (Bul)                                              
203 Rade Curcic (Srb) Team Scott Lactat                             
204 Jan Savr (Cze)                                                  
205 Jack Geoghegan (GBr)*                                           
206 Vittorio Gambirasio (Ita) Surfing Shop*                         
207 Edoardo Franco (Ita) Playbiker - Iron Horse*                    
208 Chris Boice (USA) Yeti Fox Shox Factory Race Team               
209 Yannick Colomb (Fra)*                                           
210 Dertell Dennis (Swe)*                                           
211 Kyle Strait (USA) Specialized Factory Racing                    
212 Joshua Button (Aus)                                             
213 Will Rischbieth (Aus)                                           
214 Patrik Zolei (Hun)                                              
215 Hynek Hajek (Cze)                                               
216 Didar Amin (Bul)                                                
217 Andras Szecskay (Hun)                                           
218 Zunjic Dino (Cro)                                               
219 Rok Podbevsek (Slo)                                             
220 Anton Nastev (Bul)                                              
221 Rossen Kovachev (Bul)                                           
222 Tomas Toth (Svk)                                                
223 Chris Kilmurray (Irl)                                           
224 Mike Haderer (USA)                                              
225 Mario Kranz (Lie)*                                              
226 Luca Pittino (Ita) Pro-Bike Riding Team                         
227 Janick Lieberherr (Swi) IXS Sports Division Racing Team*        
228 Kévin Danh Pha (Fra) Team Pyrenees Morewood                     
229 Bernard Kerr (GBr)*                                             
230 David Kennan (Irl)*                                             
231 Ryan Condrashoff (USA)                                          
232 Martin Markov (Bul)                                             
233 Scott Laughland (GBr) Reverse Components*                       
234 Alexander Mikowitsch (Aut) Team Scott Lactat                    
235 John Hauer (USA) GT Bicycles                                    
236 Thomas Power (Irl)                                              
237 Ben Mullen (Irl)                                                
238 Balazs Veres (Hun)                                              
239 Ben Ineson (GBr) Reverse Components*                            
240 Chris Heath (USA)                                               
241 Walter Zeidler (Aut)                                            
242 Elias Vonier (Aut)*                                             
243 Rhys Willemse (Aus) Tomac Factory Racing*                       
244 Martin Buck (Swi)*                                              
245 Lucas Meyer (Swi) IXS Sports Division Racing Team*              
246 Heikki Hall (USA)                                               
247 Bertrand Gilles (Bel)*                                          
248 John Swanguen (USA) MS-Intense Factory-Racing                   
249 Cody Warren (USA)                                               
250 Tim Hammar (Swe)*                                               
251 Sam Shucksmith (GBr)*                                           
252 Janko Zubcevic (Cro)                                            
253 Paul Aston (GBr) Solid Aclass Factory Team                      
254 Curtis Keene (USA)                                              
255 Jaka Seme (Slo)*                                                
256 Blair Christmas (NZl)                                           
257 Marco Fernandez Garcia (Spa) Motril-Sierra Nevada Bike Park*    
258 Rutar Nejc (Slo) Team Scott Lactat                              
259 Geoffrey Arthur Ulmer (USA) Playbiker - Iron Horse*             
260 Laurie Dinham (Aus) Tomac Factory Racing*                       
261 Martin Hanak (Cze)*                                             
262 Markus Olkkonen (Fin)                                           
263 Aki Färm (Fin)                                                  
264 Michael Matt (Aut)*                                             
265 Andrew Phillips (GBr) Reverse Components*                       
266 Alistair Parkin (GBr) Reverse Components*                       
267 Radek Machycek (Cze)*                                           
268 Danny Hart (GBr) Lapierre DH Powered By Saab Salomon*           
269 Stuart Jenkinson (GBr) Printexpress UK Mtb Team                 
270 Attila Kovacs (Hun)                                             
271 Kevin Mollard (Fra)*                                            
272 Seanan O'riordan (Irl)*                                         
273 Aleksanar Iliev (Bul)                                           
274 Alastair Wilson (GBr)*                                          
275 Félix Groizard (Fra)*                                           
276 Ivan Oziol (Fra)*                                               
277 Cyrille Kurtz (Fra)                                             
278 Martin Chenicek (Cze) Suzuki-Rb                                 
279 Robin Hagen (Swi) Tomac Factory Racing*                         
280 Fabrizio Grilli (Ita) Pro-Bike Riding Team                      
281 Emyr Davies (GBr) Reverse Components*                           
282 Gareth Brewin (GBr)*                                            
283 Aku Hjelm (Fin)                                                 
284 Lorenzo Dal Re (Ita) Surfing Shop*                              
285 Adam Toth (Hun)*                                                
286 Petr Heinik (Cze) Suzuki-Rb                                     
287 Camille Blanchard (Fra) Team Sunn*                              
288 Scurria Leoluca ° (Ita) Surfing Shop                            
289 David Hosang (Swi) Suspension Center*                           
290 Erik Kimel (Cze)*                                               
291 Brad Benedict (USA)                                             
292 Nicklas Fastegaard (Nor)                                        
293 Alejandro Lozano (Spa) Motril-Sierra Nevada Bike Park           
294 Nathan Vials (GBr) Reverse Components*                          
295 Walter Jammernegg (Aut)                                         
 
Elite women 

1 Sabrina Jonnier (Fra) Team Maxxis                                 
2 Tracy Moseley (GBr) Kona                                          
4 Emmeline Ragot (Fra) Suspension Center                            
6 Céline Gros (Fra) Solid Aclass Factory Team                       
7 Mio Suemasa (Jpn) MS-Intense Factory-Racing                       
8 Helen Gaskell (GBr)                                               
9 Floriane Pugin (Fra) Playbiker - Iron Horse                       
10 Fionn Griffiths (GBr) Norco World Team                           
11 Rachel Atherton (GBr) Animal Commencal                           
12 Claire Buchar (Can)                                              
13 Helene Fruhwirth (Aut)                                           
14 Petra Bernhard (Aut)                                             
15 Daniela Bossard (Swi)                                            
16 Elisa Canepa (Ita) Playbiker - Iron Horse                        
17 Diana Marggraff (Ecu)                                            
18 Miriam Ruchti (Swi) Sport Promotion                              
19 Jaymie Mart (Bar)                                                
20 Katarina Tothova (Cze)                                           
21 Anita Molcik (Aut) 4 Elements Yeti/Hotec/Rsp                     
22 Dalma Kiss (Hun)                                                 
23 Pascaline Reusser (Swi)                                          
24 Sandra Rubesam (Ger)                                             
25 Joanna Petterson (RSA)                                           
26 Maria Michalogiannaki (Gre)                                      
27 Kathleen Pruitt (USA)                                            
28 Emilie Siegenthaler (Swi) Suspension Center                      
29 Aimee Dix (GBr) Mojo Orange                                      
30 Myriam Nicole (Fra)*                                             
31 Helena Boskova (Svk)                                             
32 Birgit Braumann (Aut)                                            
33 Anais Pajot (Fra) Team Sunn*                                     
34 Katarina Pialova (Svk)                                           
35 Leoni-Caro. Dickerhoff (Ger) IXS Sports Division Racing Team*    
36 Katarina Siskova (Svk)                                           
37 Katy Curd (GBr)                                                  
38 Sophie Borderes (Fra) 

*indicates junior 

4x                                         
 
Elite men
 
65 Brian Lopes (USA)                                                
66 Filip Polc (Svk)                                                 
68 Romain Saladini (Fra)                                            
69 Guido Tschugg (Ger)                                              
70 Scott Beaumont (GBr)                                             
71 Joost Wichman (Ned)                                              
72 Dan Atherton (GBr)                                               
73 Kamil Tatarkovic (Cze)                                           
74 Jurg Meijer (Ned)                                                
75 Will Longden (GBr)                                               
76 Johannes Fischbach (Ger)                                         
78 Ross Milan (USA)                                                 
79 Mickael Deldycke (Fra)                                           
80 Dominik Gspan (Swi)                                              
83 Sidney Gerber (Swi)                                              
84 Reto Schmid (Swi)                                                
85 Michal Marosi (Cze)                                              
86 Cédric Gracia (Fra)                                              
87 Tomas Slavik (Cze)                                               
88 Joey Van Veghel (Ned)                                            
89 Sascha Meyenborg (Ger)                                           
90 Livio Zampieri (Ita)                                             
91 Matej Vitko (Svk)                                                
92 Lewis Lacey (GBr)                                                
93 William Evans (GBr)                                              
94 Tilen Frank (Slo)                                                
95 Premek Tejchman (Cze)                                            
96 Peter Prajczer (Hun)                                             
97 Daniel Yeomans (GBr)                                             
98 Lukasz Baran (Pol)                                               
99 Daniel Prijkel (Ned)                                             
100 Quentin Derbier (Fra)                                           
101 Nicolas Siedl (Aut)                                             
103 Thomas Bubla (Aut)                                              
105 Tomas Haluza (Cze)                                              
107 Mitchell Scarr (Aus)                                            
108 Nathan Rennie (Aus)                                             
110 Peter Fernbach (Aut)                                            
111 Ludovic Gadois (Fra)                                            
112 Adrian Weiss (Swi)                                              
113 Alejandro Lozano (Spa)                                          
114 Jakub Koutny (Cze)                                              
115 Nicolas Gspan (Swi)                                             
116 Robert Kulesza (Pol)                                            
117 Martin Frei (Swi)                                               
118 Federico Mattia Gemme (Ita)                                     
119 Dave Wardell (GBr)                                              
121 Adrian Kiener (Swi)                                             
122 Mirco Weiss (Swi)                                               
123 Federico Ravizzini (Ita)                                        
124 Dario Zampieri (Ita)                                            
126 Radim Kvacek (Cze)                                              
127 Lars Peyer (Swi)                                                
128 Luka Verstovsek (Slo)                                           
129 Markus Sedlak (Aut)                                             
130 Thomas Tokarczyk (USA)                                          
131 Gabor Vigh-Kiss (Hun)                                           
132 Michael Robert Haderer (USA)                                    
133 Kyle Strait (USA)                                               
135 Miran Vauh (Slo)                                                
140 Attila Kovacs (Hun)                                             
141 Robert Simecek (Cze)                                            
142 Thomas Warmuth (Aut)                                            
143 Peter Roschner (Aut)                                            
144 Thomas Krainer (Aut)                                            
146 Krisztian Meszaros (Hun)                                        
147 Peter Novacik (Svk)                                             
148 Bernard Kerr (GBr)                                              
153 Lukas Mechura (Cze)                                             
154 Mathieu Faury (Fra)                                             
155 Thomas Schäfer (Ger)                                            
156 Zdenek Nasinec (Cze)                                            
158 Adrian Hanko (Ger)                                              
159 Gabor Patay (Hun)                                               
160 Martin Buck (Swi)                                               
161 Milan Prischetzky (Hun)                                         
162 Jakub Pytlik (Cze)                                              
163 Rastislav Pirman (Svk)                                          
164 Frédéric Lange (Bel)                                            
165 Walter Zeidler (Aut)                                            
166 Sascha Vetsch (Swi)                                             
167 Ziga Knez (Slo)                                                 
168 Matthew Simmonds (GBr)                                          
170 Marek Pesko (Svk)                                               
171 Miroslav Jirka (Cze)                                            
172 Hannes Slavik (Aut)                                             
174 Ales Rogozan (Cze)                                              
175 Patrick Campbell-Jenner (GBr)                                   
176 Luka Novak (Slo)                                                
177 Matej Stapic (Slo)                                              
178 Rafael Alvarez De Lara Lucas (Spa)                              
179 Luka Strnad Peterca (Slo)                                       
 
Elite women

17 Anneke Beerten (Ned)                                             
18 Mio Suemasa (Jpn)                                                
19 Fionn Griffiths (GBr)                                            
20 Melissa Buhl (USA)                                               
21 Eva Castro Fernandez (Spa)                                       
22 Anita Molcik (Aut)                                               
23 Elisa Canepa (Ita)                                               
24 Diana Marggraff (Ecu)                                            
25 Helene Fruhwirth (Aut)                                           
26 Lucia Oetjen (Swi)                                               
27 Katarina Tothova (Cze)                                           
29 Angelika Hohenwarter (Aut)                                       
30 Marielle Jonker (Ned)                                            
31 Tereza Votavova (Cze)                                            
34 Kathleen Pruitt (USA)                                            
35 Joanna Petterson (RSA)