MTB index page for all MTB content
Sunshine Cup #5 - Race Under the Sun - 1
Limassol - Yermasogia, Cyprus, March 16, 2008
2007 Results Results Final Standings
Locomotive Soukup and Switzerland's Henzi grab wins
Kugler & Henzi take the overall titles
Men's round five podium:
Photo ©: Armin M. Küstenbrück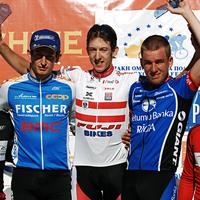 The wins of Austrian Christoph Soukup and Swiss Petra Henzi gave no surprises at Limassol-Yermasogia for round five of the Sunshine Cup. For Henzi, her win, ahead of Adelheid Morath and Tereza Hurikovas meant she also claimed Sunshine Cup overall title. Henzi's Fischer-BMC team-mate Andreas Kugler finished second in the men's race and claimed the overall title while Sweden's Magnus Darvell placed third
In the men's race, young German rider René Tann started fast together with Soukup. But within the first of six 5.8 kilometer laps, Magnus Darvell and Andreas Kugler were closing the gap. Tann soon found himself riding about 100 meters behind Soukup, Kugler and Darvell, but in lap three, Tann came back and overdid it by passing the trio to gain a position he would not be able to sustain.
"Then Kugler put his foot on the gas pedal and I went with him," Soukup reported after the race. Kugler said that he didn't attack but rode only a little bit faster. At this point Darvell was sitting in fourth position behind Tann and was not able to react. Kugler and Soukup came into a duel for the win.
Wonder if Christoph Soukup (Fuji Bikes) got to enjoy the view?
Photo ©: Armin M. Küstenbrück

Soukup was stronger on the long uphill section. So he decided to attack on the climb and made a gap. "Soukup for sure was stronger in the ascent. The locomotive took two gears higher and then he was away. But at least I'm happy with the overall title as well as with the complete four weeks racing and training in Cyprus. It couldn't have been better," Kugler said.
Soukup was afraid of Kugler catching him on the descent. The Swiss indeed did make up some ground, but Soukup's first season victory was safe, and he took the win by 1'14" over Kugler.
"I'm happy with the victory. It was a successful end of a good training camp," Soukup said.
Darvell was glad to make it to the podium. "For half of a lap, I tried to catch them again but it didn't work out. But I'm satisfied to be on the podium for the first time," he said.
A stone stops Hurikova
Petra Henzi (Fischer-BMC) on her way to winning
Photo ©: Armin M. Küstenbrück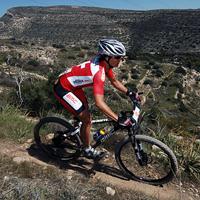 The first decisive action in the women's race happened in the first lap. After just three kilometers Adelheid Morath, Petra Henzi and Tereza Hurikova went into a downhill section. Hurikova tried to pass, took an alternative line and rolled over a stone which caused her a flat and more than six minutes.
Morath showed strong form on the uphill sections but Henzi made it her race on the downhill parts. In second lap, Morath could not close the gap to the marathon world champion. So Henzi did the rest of the four laps solo and finished first with a margin of 1'20" over the 23 year-old German.
"My first goal today was to secure the overall. But I had a lot of fun, especially in the winding downhill," said Henzi. On the final day of the Cyprus Sunshine Cup the sun shined twice for her.
Considering her overall title, Henzi was happy with a good start for Fischer-BMC. "It's very positive for the team winning both [men's and women's] overall titles. Our goal was to have a good training camp on Cyprus. The races were a plus to get the race rhythm and it worked out."
Tereza Hurikova (Ceska Sporitelna) had to run far to get to the pits
Photo ©: Armin M. Küstenbrück

Rothaus-Cube racer Morath admitted that she did the downhill section very carefully. "I didn't want to take any risk but I also am still missing some technical skills. In the climbs, I felt very strong. It's too bad what happened to Tereza. I would like have competed with her."
The Czech woman had a long run to get to the tech zone for help with her repair. "That made my legs very hard, and I needed to recover from running. Mentally it was hard to motivate myself knowing that I have no chance to take the win," Hurikova said after crossing the finish line as third with six minutes and three seconds behind Henzi.
Race organizer Mike Hadjioannou shared positive thoughts after the conclusion of the series' final round. "It was a very successful series with a lot of important riders. We got a good feedback for the changes we made. So we are looking forward to 2009," Hadjioannou said.
Photography
For a thumbnail gallery of these images, click here
Images by Armin M. Küstenbrück armin@kuestenbrueck.de
Results
Elite men

1 Christoph Soukup (Aut) Fuji Bikes               1.54.21
2 Andreas Kugler (Swi) Fischer-BMC                   1.14
3 Magnus Darvell (Swe) Rietumu Banka                 2.42
4 Maxim Gogolev (Rus)                                4.19
5 Rene Tann (Ger) German National Team               4.40
6 Michael Weiss (Aut) KTM Mountainbiker              4.54
7 Bjorn Brems (Bel) Belgium National Team            5.08
8 Aleksey Medvedev (Rus)                             6.57
9 Christof Bischof (Swi) Bikin' Cyprus MTB Team      7.06
10 Mattias Nilsson (Swe)                             7.43
11 Max Oste MacDonald (Swe)                          7.47
12 Jirí Novák (Cze)                                  8.33
13 Dries Govaerts (Bel) Belgium National Team       10.19
14 Denis Vorontsov (Rus)                            10.44
15 Nicolas Rohrbach (Swi) Central Ghost Pro Team    11.32
16 Pavel Boudnı (Cze)                               13.57
17 Andras Melts (Hun) Corratec                      14.58
18 Jirí Hudecek (Cze)                               16.05
19 Andi Weinhold (Ger) German National Team         16.16
20 Alexander Fedotov (Rus) CCL Karo Film            16.18
21 Anton Gogolev (Rus)                              16.40
22 Vladislav Neroznaks (Lat) Apollon                17.16
23 Marios Athanasiadis (Cyp) Omonoia                22.28

Behind two laps

24 Anton Fomin (Rus)
25 Oscar Ekstam (Swe) Falu CK

Behind three laps

26 Pavel Blagikh (Rus) Russian National Team
27 Francesco Panza (Ita) AEL

Behind four laps

28 Timotheos Skettos (Cyp) Omonoia
29 Nikolay Zagulaev (Rus) CCL Karo Film

Behind five laps

30 Jan Hynek (Cze)
31 Michael Weiss (Aut) Ciclopia
DNF Andi Eyring (Ger) German National Team
DNF Maxim Zhurkin (Rus) Russian National Team
DNS Giorgos Fattas (Cyp) AEL
DNS Alexis Eleutheriadis (Cyp) Lefkosia Cycling Club
DNS Dmitriy Medvedev (Rus)
 
Elite women

1 Petra Henzi (Swi) Fischer-BMC                   1.35.59
2 Adelheid Morath (Ger) German National Team         1.20
3 Tereza Hurikova (Cze) Ceska Sporitelna             6.03
4 Maaike Polspoel (Bel) Belgium National Team        6.19
5 Githa Michiels (Bel)                               7.07
6 Barbel Jungmeier (Aut) Ciclopia                    9.26
7 Ksenia Chernykh (Rus)                             10.05
8 Oxana Rybakova (Rus)                              15.19
9 Ekaterina Melnikova (Rus) MGFSO Cube              15.27
10 Evgenia Belozerova (Rus)                         21.44
11 Elena Gogoleva (Rus)                             23.26

Behind three laps

12 Yelena Petrova (Lat) Apollon
 
Junior men

1 Stepan Stepanov (Rus) Karo-Film                 1.08.13
2 Pavel Prvadein (Rus) Karo-Film                     0.37
3 Kiriakos Sketos (Cyp) Omonoia                     17.13
4 Michalis Kitis (Cyp) P. O. Nikosia                17.22

Behind one lap

5 Loukas Teodorou (Cyp) Iraklitos
DNS Aristotelis Nicolaou (Cyp) Dopi
DNS Andreas Nikou (Cyp) Omonoia
 
Junior women

1 Irina Maiysheva (Rus)                           1.06.48
2 Maria Babanova (Rus)                               1.46
 
Cadet men

1 Axileas Kiriakidis (Cyp) Dopi                   1.01.28
2 Irinaios Koutsiou (Cyp) Iraklitos                  1.19
3 Angelos Kiriakou (Cyp) S.Po.Ko.                    7.14
4 Leontios Katsouri (Cyp) S.Po.Ko.                   9.05
5 Mamas Kiriakou (Cyp) S.Po.Ko.                     16.52
6 Aleksis Charalampous (Cyp) P. O. Nikosia          24.20
7 Pavlos Farmakas (Cyp) Apollon                     31.11
DNF Loizos Theofanous (Cyp) Dopi
DNS Stavros Ioulianou (Cyp) S.Po.Ko.
 
Cadet women

1 Gianna Lagou (Cyp) D.O.P.I                        55.32
2 Christina Elefteriadou (Cyp) Apollon               6.51
3 Kostantina Gkraour (Mda) D.O.P.I                  10.10
DNS Kwstantina Kiriakou (Cyp) S.Po.Ko.
DNS Andria Hristoforou (Cyp) S.Po.Ko.
 
Girls U15

1 Mirto Skouroupati (Cyp) Apollon                 1.08.33
 
Boys U15

1 Filipos Grigoriou (Cyp) D.O.P.I                   39.43
2 Kiriakos Papacharalmpous (Cyp) Apollon             8.06
DNS Kipros Stilianou (Cyp) Apollon
 
Masters 1

1 Phillppe Weingartner (Swi)                        56.31
 
Masters 2

1 Michalis Hadjikonstantas (Cyp) AEL              1.13.04
2 Kipros Papacharalmpous (Cyp) Apollon              12.54
DNS Sofoullis Achilleos (Cyp) S.Po.Ko.

Final standings

Elite men

1 Andreas Kugler (Swi) Fischer-BMC                       415 pts
2 Roel Paulissen (Bel) Vredestein Cannondale             380
3 Maxim Gogolev (Rus) Russian National Team              330
4 Magnus Darvell (Swe) Rietumu                           286
5 Dries Govaerts (Bel) Scott USA                         282
6 Christoph Soukup (Aut)                                 260
7 Alexander Wetterhall (Swe)                             253
8 Jaroslav Kulhavy (Cze) Czech National Team             249
9 Christof Bischof (Swi) Bikin' Cyprus                   249
10 Sergiy Rysenko (Ukr)                                  247
11 Bjorn Brems (Bel) Belgian National Team               245
12 Stefan Sahm (Ger) Team Bulls                          244
13 Anton Gogolev (Rus)                                   244
14 Nicolas Vermeulen (Bel) Belgian National Team         232
15 Marios Athanasiadis (Cyp) Omonoia                     231
16 Milan Spesny (Cze) Czech National Team                227
17 Vladislav Neroznaks (Lat) Apollon                     221
18 Francesco Panza (Ita) AEL                             220
19 Mattias Nilsson (Swe) Sweden                          204
20 Karl Platt (Ger) Team Bulls                           202
21 Anton Fomin (Rus)                                     202
22 Alexander Fedotov (Rus) CCL Karo-Film                 201
23 Jiri Friedl (Cze) Merida Biking Team                  194
24 Jeremy Horgan-Kobelski (USA) Subaru-Gary Fisher       193
25 Fredrik Kessiakoff (Swe) Full Dynamix                 190
26 Jan Skarnitzl (Cze) Dimp Giant Team                   189
27 Igor Bogdan (Ukr)                                     177
28 Yevhen Medevetskyy (Ukr)                              176
29 Andriy Gumenyuk (Ukr)                                 176
30 Aleksey Medvedev (Rus)                                171
31 Nikolay Zagulaev (Rus) CCL Karo-Film                  170
32 Nicolas Rohrbach (Swi)                                166
33 Timotheos Sketos (Cyp) Omonoia                        163
34 Andreas Lieberherr (Swi) RBT Giarneriand              161
35 Andras Melts (Hun)                                    159
36 Andriy Khripta (Ukr)                                  156
37 Michael Weiss (Aut)                                   153
38 Mikael Salomonsson (Swe)                              152
39 Denis Vorontsov (Rus)                                 151
40 Pavel Blagikh (Rus) CCL Karo-Film                     149
41 Karl Markt (Aut)                                      145
42 Ilias Periklis                                        143
43 Oscar Ekstam (Swe) Sweden                             143
44 Max Oste MacDonald (Swe)                              135
45 Tim Wijnants (Bel) Davitamon-Lotto                    129
46 Pavel Boudny (Cze)                                    118
47 Lars Bleckur (Swe)                                    116
48 Josef Kamler (Cze)                                    108
49 Jiri Hudecek (Cze)                                    104
50 Andi Weinhold (Ger)                                    97
51 Dmitriy Medvedev (Rus)                                 95
52 Maxim Zhurkin (Rus) CCL Karo-Film                      93
53 Roland Plank (Aut)                                     93
54 Emil Lindgren (Swe) Full Dynamix                       85
55 Dror Pekatch (Isr) Israel                              78
56 Jan Hynek (Cze)                                        77
57 Tomas Trunschka (Cze)                                  75
58 Rene Tann (Ger) German National Team                   75
59 Ian Field (GBr) Bikin' Cyprus                          71
60 Michael Weiss (Aut) KTM Mountainbiker                  70
61 Billy-Joe Whenman (GBr)                                69
62 Jiri Novak (Cze)                                       61
63 Paul Beales (GBr)                                      57
64 Alexander Wetterhall (Swe)                             56
65 Matthias Wengelin (Swe) Sweden                         54
66 Matthew Stevens (GBr)                                  53
67 Eyring Andy (Ger)                                      52
68 Luke Smith (GBr)                                       51
69 Huseyin Balli (Tur) Turkish National Team              38
70 Huseyin Esengil (Tur) Turkish National Team            37
71 Mustofd Ceudet (Tur) Turkish National Team             35
72 Besim Tel (Tur) Turkish National Team                  34
73 Mehmet Silbmsor (Tur) Turkish National Team            33
74 Giorgos Fattas (Cyp) AEL                               30
75 Alexis Eleutheriadis (Cyp) P.O.L                       26
 
Elite women

1 Petra Henzi (Swi) Fischer-BMC                          433 pts
2 Maaike Polspoel (Bel) Belgian National Team            361
3 Tereza Hurikova (Ger) Czech National                   355
4 Githa Michiels (Bel) P.R.T.Team                        348
5 Ksenia Chernykh (Rus)                                  327
6 Elena Gogoleva (Rus)                                   299
7 Ivonne Kraft (Ger) MBC Bochum                          288
8 Natalia Krompets (Ukr) ISD                             281
9 Evgenia Belozerova (Rus) Russian National Team         236
10 Heather Irmiger (USA) Subaru-Gary Fisher              231
11 Alexandra Engen (Swe) Sweden                          223
12 Sabine Spitz (Ger) Central Ghost                      200
13 Barbel Jungmeier (Aut) Ciclopia                       193
14 Irina Slobodyan Iryna (Ukr) Ukranian National Team    187
15 Ekaterina Melnikova (Rus) MGFSU-Cube                  186
16 Oxana Rybakova (Rus) Russian National Team            185
17 Yelena Petrova (Lat)                                  176
18 Elisabeth Osl (Aut) Ghost International               165
19 Morath Adelheit (Ger)                                 165
20 Elena Gaddoni (Ita)                                   140
21 Maria Osl (Aut)                                        70