MTB index page for all MTB content
Sunshine Cup #4 - 1
Voroklini, Cyprus, March 9, 2008
Paulissen goes on a long solo for the win
Henzi takes victory while Hurikovas & Spitz crash
Roel Paulissen (Vredestein Cannondale) celebrates
Photo ©: Armin M. Küstenbrück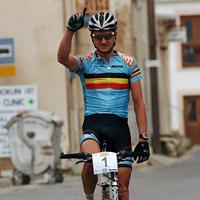 Roel Paulissen won the fourth round of Cyprus Sunshine Cup with a solo ride that lasted for the entire race. Czech racers Milan Spesny and Jaroslav Kulhavy finished second and third. In women's race, Petra Henzi earned her first victory of 2008 ahead of Tereza Hurikova and Elisabeth Osl. Two-time winner Sabine Spitz had a bad crash in the first lap and injured herself seriously.
On a technical, demanding course, the men's race evolved completely differently than the other rounds of the Sunshine Cup. Belgian Paulissen took the lead when the peloton had completed one and a half start loops and was heading out for the first of six 6.9km laps. At the end of lap one, Kulhavy had just caught up to Paulissen when the former exploded and lost contact.
"The pace I took was too hard. So I had to recover," Kulhavy explained after the race.
Paulissen was left alone in the lead until the third lap. Austrian Christoph Soukup was the next to almost close the gap to the Belgian, but the same thing happened to him as happened to Kulhavy. "He was not more than five seconds back, but then he got exhausted and I was alone again," said Paulissen. "So I had to ride the whole race without a companion. That was hard - just like the course. On the last lap, I took it calmly, but I was surprised that Spesny came that close to me." Paulissen finished 13 seconds ahead of Spesny.
Christoph Soukup descends in front of a crashing Tereza Hurikova (Czech National Team)
Photo ©: Armin M. Küstenbrück

Spesny didn't want to push hard at the beginning. So he stayed between third and fifth position together with German Moritz Milatz, who flatted in lap five, and also with Kulhavy. "The last two laps I was going full gas, especially when I reached a medal placing. I didn't expect that at all, because I'm here for training," Spesny said.
He caught Soukup, who said, "I got cramps and didn't want to take any risk and I'm happy coming through without crash." It was Spesny's best Sunshine Cup result, while Kulhavy recovered enough to pass Soukup for third.
"Local" hero Bikin' Cyprus rider Christof Bischof placed 12th. "At the beginning I had some problems but then I got a good rhythm. I'm heading the right way," said Bischof.
Henzi strong on the uphills
Petra Henzi (Fisher BMC) climbs solo
Photo ©: Armin M. Küstenbrück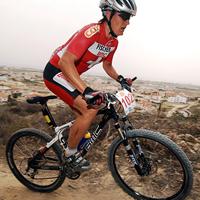 Two deciding events in the women's race happened at the same place. On the first lap, Sabine Spitz, who was then leading the women's race, tried to pass a male rider. In a gently descending but fast section before the first downhill, she took a line which resulted in a bad crash. She went over her handlebars and landed on some stones with her back. Seriously injured, she left the race. Initial medical examinations found a lot of abrasions and contusions but no broken bones; however, she was scheduled to undergo further testing.
At the same spot on the last lap, Tereza Hurikova also went over her bars. Having just been caught by Petra Henzi, she tried to pass her again to be first on the following downhill. "With my pedal, I hit a stone and I hurtled over my handlebar. I think I was back on my bike fast, but Elisbeth Osl caught me," said Hurikova, who used the last downhill to leave Osl behind and took second place by just two seconds.
It was her third second place at the Sunshine Cup. "That's a pity but I admit that Petra was very strong in the uphills," Hurikova said after passing the finish line 38 seconds behind Henzi.
The women's podium
Photo ©: Armin M. Küstenbrück

The winner was happy to come through the race without problems. "I could pace myself very well. At the beginning I didn't go that fast, but in the last lap I could close the gap to Tereza and overtake her. Finally it worked out for me, and I'm happy with that," said Henzi, who celebrated her first season win after two third places so far.
Osl was not unhappy with losing second in the final kilometers. "For me the race went very well, much more better than the week before. The more the race was going on, I felt better and better. So I'm very happy with the race."
Ivonne Kraft finished in fourth, 1:45 minutes behind Osl.
Photography
For a thumbnail gallery of these images, click here
Images by Armin M. Küstenbrück armin@kuestenbrueck.de
Results
Elite men

1 Roel Paulissen (Bel) Vredestein Cannondale       2.03.00
2 Milan Spesny (Cze) Czech National Team              0.13
3 Jaroslav Kulhavy (Cze) Czech National Team          0.30
4 Christoph Soukup (Aut)                              0.58
5 Andreas Kugler (Swi) Fisher-BME                     2.04
6 Sergiy Rysenko (Ukr) ISD Team                       2.32
7 Stefan Sahm (Ger) Bulls                             2.55
8 Maxim Gogolev (Rus)                                 3.46
9 Jiri Friedl (Cze) Merida Biking Team                4.41
10 Magnus Darvell (Swe) Rietumu                       5.11
11 Pavel Boudnı (Cze)                                 5.53
12 Christof Bischof (Swi)                             6.37
13 Igor Bogdan (Ukr) ISD                              8.37
14 Alexander Wetterhall (Swe)                         9.15
15 Matthias Wengelin (Swe)                           11.30
16 Nicolas Vermeulen (Bel) B.N.T                     12.09
17 Andras Melts (Hun) Corratec World Team            13.12
18 Anton Gogolev (Rus) Team Leningrad Region         14.51
19 Makael Salomonsson (Swe) Asarna IK                16.49
20 Ronald Plank (Aut) MTB-Clup-Oberwart              17.34

Behind one lap
21 Weinhold Andi (Ger)                                    
22 Andreas Lieberherr (Swi)                               
23 Evgen Medvetsskyy (Ukr)                                
24 Francesco Panza (Ita)                                  
25 Anton Fomin (Rus)                                      
26 Vladislav Neroznaks (Lat)                              

Behind two laps
27 Michael Weiss (Aut) Ciclopia                           
28 Maxim Zhurkin (Rus) Russian National Team              
DNF Milatz Moritz (Ger)                                   
DNF Karl Platt (Ger) Bulls                                
DNF Tann Rene (Ger)                                       
DNF Giorgos Fattas (Cyp)                                  
DNF Aleksey Medvedev (Rus) Russian National Team          
DNF Max Oste Macdonald (Swe)                              
DNF Jirí Novák (Cze)                                      
DNF Tomas Trunschka (Cze) Ceska Sporitelna Mtb            
DNF Oscar Ekstam (Swe) Sweden                             
 
Elite women

1 Petra Henzi (Swi) Fisher BMC                     1.43.52
2 Tereza Hurikova (Cze) Czech National Team           0.38
3 Elisabeth Osl (Aut) Ghost International             0.40
4 Ivonne Kraft (Ger)                                  2.25
5 Morath Adelheid (Ger) German National Team          5.39
6 Githa Michiels (Bel)                                7.39
7 Nataliya Krompets (Ukr) Ukranian National Team      9.28
8 Barbel Jungmeier (Aut) Ciclopia                    10.35
9 Maaike Polspoel (Bel) B.N.T                        12.45
10 Ksenia Chernykh (Rus) Russian National Team       14.03
11 Iryna Slobodyan (Ukr) Ukranian National Team      18.50
12 Ekaterina Melnikova (Rus) MGFSU-Cube              22.10
13 Evgenia Belozerova (Rus) Russian National Team    23.57

Behind one lap
14 Yelena Petrova (Lat) Apollon                           

Behind two laps
15 Elena Gogoleva (Rus)                                   
DNF Sabine Spitz (Ger) Central Ghost Pro Team             
DNF Schwing Katrin (Ger) German National Team             
DNF Oxana Rybakova (Rus) Russian Naitonal Team            
 
U23 Men

1 Jan Skarnitzl (Cze) Dimp Giant Team              2.07.31
2 Bjorn Brems (Bel) B.N.T                             1.38
3 Ilias Perilklis (Gre) ISD                           4.27
4 Dries Govaerts (Bel) B.N.T                          5.15
5 Eyring Andy (Ger)                                   7.58
6 Jirí Hudecek (Cze)                                 12.05
7 Marios Athanasiadis (Cyp)                          12.25
8 Andriy Gumenyuk (Ukr)                              12.58
9 Alexander Fedotov (Rus) CCL Karo Film              13.06

Behind one lap
10 Pavel Blagikh (Rus) Russian National Team              
11 Timotheos Skettos (Cyp)                                
12 Jan Hynek (Cze)                                        

Behind two laps
13 Andriy Khripta (Ukr)                                   
DNF Denis Vorontsov (Rus) Russian National Team           
DNF Tim Wijnants (Bel) B.N.T                              
DNF Dmitriy Medvedev (Rus) Russian National Team          
DNF Josef Kamler (Cze) Ceska Sporitelna MTB               
DNF Nicola Rohrbach (Swi) Central Ghost Pro Team          
DNF Alexis Eleutheriadis (Cyp)                            
DNS Lars Bleckur (Swe)                                    
DNS Mattias Nilsson (Swe)