MTB index page for all MTB content
Worldclass Marathon Challenge - NE
Offenburg, Germany, June 1, 2008
2007 Results Results
Späth and Rupp win marathon challenge
Sandro Spaeth
Photo ©: Luke Baylis (scheiderbauer.com sports)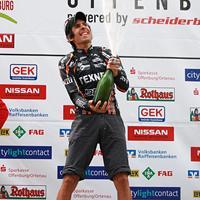 Sandro Späth and Dolores Rupp won the 110km Worldclass Marathon Challenge on Sunday in Offenburg, Germany in summery conditions.

After the highest summit, at 871m, five men formed the lead group including Späth, Thomas Zahnd, Ramses Bekkenk, Markus Kaufmann and Jörg Scheiderbauer. At kilometer 65, Kaufmann dropped off and then Scheiderbauer fell off the pace as Bekkenk attacked. Spath and Zahnd continued to hold the high pace.

On the final steep climb, last year's winner set off from the other two and went on to defend his title in four hours and 17 minutes. Bekkenk held on for second just under four minutes back. Zahnd finished third.

A Swiss racer also won the women's race. Dolores Rupp set a new record and left her competition behind. She finished in five hours and seven minutes. Fabienne Heinzmann finished second and Annette Griner took third.
Photography
For a thumbnail gallery of these images, click here
Images by www.scheiderbauer.com
Results - 110km
Elite men

1 Sandro Spaeth (Team Texner BMC Acqiris)          4.17.05
2 Ramses Bekkenk (Team Nissan)                        3.53
3 Thomas Zahnd (Team Stöckli-Craft)                   5.06
4 Jörg Scheiderbauer (Team Ghost International)      13.58
5 Markus Kaufmann (Vaude-Simplon)                    15.35
6 Lukas Kubis (Best-Bike-Parts / HAIBIKE)            16.28
7 Flurin Riedi (Thömus-Racing-Team)                  19.06
8 Claus Crone (team crone)                           24.54
9 Markus Granacher (DWF)                             25.12
10 André Ohndorf (Best-Bike-Parts/HAIBIKE)           29.11
11 Ad De Brabander (Nissan Mountainbiketeam)         29.13
12 Steffen Rust (wolfi's Bike Shop)                  40.48
13 Mario Di lorio (MTB-Sport - Paderborn)            48.41
14 Eric Wictor (WTOS Delft)                        1.07.18
15 Marcus Werf (Buke-Werf)                         1.28.06
 
Elite women

1 Dolores Rupp (PeRu Racing Team)                  5.07.41
2 Fabienne Heinzmann (TREK Dolphin)                   2.21
3 Annette Griner (Rothaus-Cube MTB Team)             25.32
4 Franciska De Vries (Bikestudio.nl)                 56.11
DSQ Elisabeth Brandau (Best-Bike-Parts/HAIBIKE)           
 
Open men

1 Stefan Siefermann (FXX Mountain Cycling Team)    4.38.26
2 Matthias Gärtner (Radhaus Winterlingen)             0.53
3 Marco Fey (Team scheiderbauer.com sp)              21.46
4 Fabian Feldmayer (Hochschule Offenburg)            23.48
5 Christian Keppel (Ebener Race Team / Cannon)       35.45
6 Philip Gehrling (www.philips-24h.de)               47.07
7 Joachim Hess (RIG Freiburg)                        51.58
8 Mathias Bischoff (Stuttgart)                       54.07
9 Axel Strohm (plusminus)                            59.40
10 Tobias Richter (Fahrradmagazin Offenburg)       1.02.34
11 Marc Freyer (Calw)                              1.05.20
12 Bernd Martin (Wurzelhopser Steinach)            1.11.57
13 Stephan Fritsch (TRUMPF Cycling)                1.14.02
14 3627 Startnummer (D)                            1.20.51
15 Benjamin Schneider (Fahrrad-Oase Bahlingen)     1.27.33
16 Thomas Buschert (Gengenbach)                    1.43.36
17 Manuel Sailer (Team Dangelmaier)                1.44.54
18 Thiemo Bauer (Gengenbach)                       1.58.02
19 Timo Künstle (Mönchweiler)                      2.02.31
20 André Holland (Emmendingen)                     2.26.27
21 Andreas Erdrich (Team 2Peak)                    2.39.58
 
Senior men 1

1 Sebastian Muth (Orbea MTB Sport)                 4.38.34
2 Ralf Egle (Müllheim)                                4.59
3 Marco Pfeiffer (Ghost Racingteam/berggott)          9.14
4 Alexander Hoferer (Team Rad # Ecke Zell a.H)       24.06
5 Thomas Burbach (borderthon)                        37.38
6 Roland Schuessele (Team-Speedzone.de)              38.51
7 Andreas Matt (Wurzelhopser)                        44.40
8 Andreas Gebert (Gifizenmoos)                       49.45
9 Alexander Bochtler (Radsport Breitner)             53.39
10 Christian Eckenfels (TRUMPF)                      54.33
11 Marco Mengel (Wurzelhopser)                       57.06
12 Markus Wiegert (BSG Sparkasse Offenburg/O)        57.06
13 Christian Ketterer (Lahr)                         58.46
14 Jens Frank (Team Decathlon Plochingen)            59.48
14 Axel Müller (www.natventure.com)                       
16 Karl Maechner (Team Chainsmoker)                1.00.35
17 Marcel Geurts (Marcel Geurts)                   1.04.46
18 Martin Welle (Ritzelrocker Fischerbach)         1.07.12
19 Jürgen Doll (Skiclub Sasbachwalden)             1.13.46
20 Stefan Huber (Limburgerhof)                     1.14.08
21 Kai Reinelt (Freiburg)                          1.15.36
22 Sven Meier (MTB-Südbaden)                       1.16.52
23 Martin Gebert (Drahtesel Schramberg)            1.17.50
24 Christoph Lange (Obernburg)                     1.21.05
25 Reto von Salis (schruubergnuss)                 1.21.59
26 Philip Stockmann (Derma Dent)                   1.22.13
27 Peter Freimuth (Team bike & fun)                1.22.36
28 Jörg Schindler (Team Postbank-Finanzberat)      1.24.35
29 Dirk Vater (Bike-Box-Fulda / Rhönrake)          1.25.17
30 Andreas Gröschl (BSG Sparkasse Offenburg/O)     1.28.18
31 Dirk Maertins (RIG Freiburg - Tune)             1.32.57
32 Christian Siegel (Freiburg)                     1.33.05
33 Peter De Schipper (Hellas Triathlon)            1.37.57
34 Uwe Herbst (Ski-club Reichenbach)               1.41.49
35 Andreas Weichert (Landratsamt Ortenaukreis)     1.42.54
36 Peter Kuessel (Kirchzarten)                     1.45.36
37 David Pocza (Yellow Rhomb)                      1.53.37
38 Jörg Witzel (Landratsamt Ortenaukreis)          1.55.00
39 Rene Vetter (Schaeffler Team)                   1.58.31
40 Mario Jung (Team Schaeffler)                    1.59.50
41 Olivier Moreaud (Schaeffler Team)               2.01.06
42 Jürgen Heizmann (Speckbrotesser)                2.09.36
43 Markus Theile (BSG-Lok-Torgau)                  2.16.26
44 Harald Bildner (Bad Peterstal-Griesbach)        2.20.30
45 Reiner Buck (STÖBER IN MOTION)                  2.20.30
DSQ Andreas Wagner (Allianz MTB-Team)                     
 
Senior men 2

1 Frank Melchien (Obernheim)                       4.51.26
2 Oliver Staiger (Express Souplesse)                  3.16
3 Peter Schnaufer (www.team-woba.de)                  9.31
4 Frank Schneider (Scott-Stiehle-Sulz)               18.30
5 Clemens Mühlan (RIG Freiburg)                      19.15
6 Steffen Sassie (Team-Speedzone.de)                 24.14
7 Peter Müller (Troehler-Sport Fehraltorf)           28.42
8 Jürgen Tieker (Waldbronn)                          30.30
9 Joachim Velten (Schaeffler Team)                   32.44
10 Christof Keller (Skiclub Mühlenbach)              37.31
11 Reinhard Schäffer (Mister Bike Pforzheim)         39.36
12 Robert Zipfel (SV Kirchzarten)                    40.54
13 Alex von Eew (tröhler)                            42.14
14 Klaus Stubert (Speedy Gonzales)                   46.01
15 Ralf Bühler (Wurzelhopser)                        53.37
16 Bernhard Becker (SC Karlsbad)                     59.25
17 Konrad Kurz (Ghost-Crankers)                      59.38
18 Volker Kronmüller (TB Cannstatt)                1.01.02
19 Andreas Udri (Wadensprenger)                    1.05.56
20 Georg Hirt (Generic.de)                         1.10.55
21 Udo Näger (A-Werk)                              1.16.19
22 Wolfgang Rieber (ASV Urloffen)                  1.24.12
23 Dominique Beaurain (Schaeffler Team)            1.28.24
24 Philippe Ranc (Schaeffler Team)                 1.36.48
25 Claus-Dieter Lang (Stober in motion)            1.41.00
26 Wolfgang Renz (Stuttgart)                       1.44.45
27 Jürgen Häusle (Team Kempf Getränke)             1.44.55
28 Thomas Leibl (Seelbach)                         2.04.25
29 Ralf Bernhard (TV Rheinzabern)                  2.07.37
30 Harald Steidl (Freiburg)                        2.07.52
31 Michel Zimmer (team geiger)                     2.13.15
 
Senior men 3

1 Ewald Wacker (Team-Speedzone.de)                 4.56.35
2 Peter Graap (Plattmacher)                          13.23
3 Hermann Schneider (Plattmacher)                    30.45
4 Michael Fenske (RSV Trompeter Bad Säcking)         35.42
5 Peter Schmidt (SC-Karlsbad)                        37.38
6 Franz Lehmann (Wurzelhopser)                       42.53
7 Mathias Pährisch (Gipfelstürmer)                   48.39
8 Josef Armbruster (SC Hausach)                    1.00.32
9 Joachim Trost (CH-Obfelden)                      1.06.41
10 Bruno Garnier (Schaeffler Team)                 1.23.07
11 Christoph Warth (Freiburg)                      1.27.44
12 Edgar Pesch (Wurzelhopser SV Steinach)          1.35.50
13 Eckhard Bergen (Derma Dent)                     1.36.38
14 Armin Ströbel (Endingen)                        1.39.37
15 Günther Maier (Böblingen)                       1.54.22
16 Uli Tanin (Speckbrotesser)                      1.57.27
17 Manfred Nock (Speckbrotesser)                   2.03.10
18 Detlef Dürrenfeld (F-Weyersheim)                2.04.30
19 Richard Schlegel (TV St.Peter)                  2.11.37
20 Andreas Michel (Schaeffler Team)                2.50.20
 
Senior men 4

1 Klaus Dinser (Spaichingen)                       4.57.47
2 Hugo van Essche (B-Hoeilaart)                      57.09
3 Peter Lais (Freiburg)                              59.18
4 Rolf Nolkemper (Wiehenbiker.com)                 1.01.31
5 Franz Fehrenbach (Wurzelhopser-SV.Steinach)      1.11.18
6 Franz Jakobs (Ski-Club Berghaupten)              1.26.17
7 Uli Bock (Offenburg)                             2.33.50
 
Open women

1 Andrea Meier (MTB-Südbaden)                      6.09.05
 
Senior women 1

1 Katrin Hill (Cross Team)                         5.43.44
2 Christina Näger (A-Werk)                           24.01
3 Claudia Langer (Specialized Craft)                 27.03
4 Susanne Lauble (Ritzelrocker Fischerbach)          57.16
5 Barbara Löffler (Freiburg)                       1.08.53
6 Inge Feuerlein (RG Uni Hamburg)                  1.25.30