MTB index page for all MTB content
24 Hours of Big Bear - NE
Big Bear, West Virginia, USA, June 7-8, 2008
2007 Results Results
Experienced pays off at Big Bear
Tinker Juarez (Mona Vie / Cannondale)
Photo ©: Harlan Price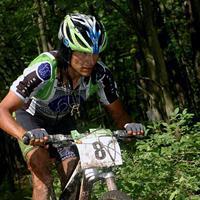 The third event of the 24 hour National Points Series (NPS), the 24 Hours of Big Bear, started just days after heavy rains the previous week threatened to make the technical, wooded course slick. Racers and support crews also battled intense heat over the weekend which altered the normal expectations of cooler conditions in the Appalachian highlands of West Virginia.
1996 Olympian-turned endurance specialist Tinker Juarez (Mona Vie / Cannondale) had his own doubts about his ability to win the men's solo division. The southern California native and resident is a bit out of his element on technical, muddy East Coast courses, but in the end his experience mitigated any unfamiliarity with regional course conditions.
Juarez used a familiar race strategy from his days on the international cross country scene: a fast start to open up a sustainable gap on his competitors. With a time of one hour, 16 minutes, he was the third on his first lap and racing with some of the team riders. For the next 5 laps, Juarez stayed in the top ten places in the overall standings, before stepping off the gas slightly.
Meanwhile, Ernesto Marenchin (Asylum Cycles) of Stow, Ohio, followed the reverse plan. Holding back slightly in the opening three laps, by nightfall Marenchin was turning nearly equal lap times with Juarez, leading to significantly faster laps number 10, 11 and 12 on Sunday morning. Juarez kept his cool in the sweltering heat, however, and the late charge by Marenchin was not enough to erase the gap sustained by the consistent, measured effort from Juarez, who took the win with 15 laps ridden and a 52 minute advantage over Marenchin.
The start
Photo ©: Harlan Price

"Marenchin deserves to be commended. He kept the pressure on me the whole race. I knew that I shouldn't panic, though, and just focused on my own performance and keeping it steady," said Juarez.
Behind Juarez and Marenchin was former Canadian national team member Jesse Jakomait (Cannondale-Absolute Bikes) in third, who bettered last year's champion Steve Schwarz (Titus Cycles). Schwarz challenged Juarez early on, before slipping back to third behind Marenchin, and finally to fourth after a mechanical problem on Sunday morning.
Carol Clemens (Dirt Rag)
Photo ©: Harlan Price

In the women's solo race, a racer registered mysteriously as "Ms. Cookie" displayed her own experience and consistency to win the class. Further research revealed "Ms. Cookie" to be the pseudonym of Carol Clemens (Dirt Rag), a Pittsburgh, Pennsylvania, resident who finished second in 2007. The early challenge was mounted by Liz Baumgardt-Kays (A&B Machine) of Rockford, Illinois, who turned two fast early laps before fading to third overall behind the quickening pace of Clemens and Heidi Schilling (Ellsworth) of Whitehall, Ohio.
"I knew from previous years that you can't start out too fast,and have to really gauge your efforts to survive the whole race," said Clemens, displaying the wisdom of a seasoned 24 racer.
Pro and expert men's teams dominated the overall results, with the iplayoutside.com/WVMBA pro men winning overall honors, followed closely by Pennsylvania-based Expert Men's team Dirty Harry's. West Virginia mountain bike icon Gunnar Shogren, racing under the identity of "Sam Hill" in the DuoPro category, set the fastest lap with a 1:07:42. His wife Betsy made it a family affair with a 1:19:04, the fastest women's lap on the day. Both Shogrens were a few minutes slower than the course record lap times they both set back in 2006.
Photography
For a thumbnail gallery of these images, click here
Images by Harlan Price
Results
Solo Men

1 Tinker Juarez (Cannondale-Mona Vie)           
2 Ernesto Marenchin (Asylum Cycles)             
3 Jesse Jakomait (Cannondale-Absolute Bikes)    
4 Steve Schwarz (Titus Cycles)                  
5 Jimmy McMillan (Giant)                        
 
Solo Women

1 Carol Clemens (Dirt Rag)                      
2 Heidi Schilling (Ellsworth)                   
3 Liz Baumgardt-Kays (A&B Machine)