MTB index page for all MTB content
11th TransAlp - SR
Germany to Italy, July 19-26, 2008
Main Page Results Overall standings Previous Stage Next Stage
Stage 6 - July 24: Naturns - Kaltern, 97.36km
Team Bulls dominates king stage
Karl Platt and Stefan Sahm (Team Bulls)
Photo ©: Oliver Kraus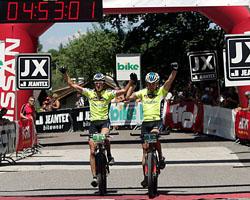 The defending champions have won the sixth stage from Naturns to Kaltern due to an impressive performance. Right at the second climb of the king stage, with its 97.35 kilometres and 3,929 metres of elevation gain, Karl Platt and Stefan Sahm from Team Bulls pulled off and continuously extended the gap to the chasing group.
In the end Team Bulls claimed the victory by seven minutes over runner-ups Martin Kraler and Heinz Verbnjak from Craft and Friends. The road cycling specialists Bjoern Papstein and Holger Sievers from IDworx-offtraxx.net took home today's third rank.
"It was way too much today," said Sahm. "This stage was damn hard! The heat did one last thing. It was brutal. And the final kilometres to Kaltern took ages. You look on your speedometer and notice that there are already more than 90 kilometres done but you still can't see the finish."
But at this point Sahm and Platt were already all alone on the track. In the climb up to Felixer Weiher, the second mountain trial of this leg, the bearers of the yellow jersey were able to ride away.
"We didn't really initiate an attack but just pedalled our rhythm. In addition, the technical demanding downhills are also good for us," said Sahm.
Defending women's champions struggle, Rocky Mountain wins
In the women classification the field is dwindling. After yesterday's stage Fabienne Heinzmann from Team Dolphin-Trek had to withdraw and today it was the defending champions Sandra and Peggy Klose from Zwillingscraft who struggled on their way up to Naturnser Alm.
"Sandra had already problems to keep her breakfast down during the warm-up" explained Peggy Klose of her twin. "You can knock me down with a feather. I have to check how it will work."
Alison Sydor and Pia Sundstedt of the leading Rocky Mountain team brought home the day's victory. The Canadian-Finnish team underlined for the sixth time now that they call the shots in the Alpes. The Norgaard sisters Anna-Sofie and Kristine from Team Cube 5 finished second in Kaltern followed by Kerstin Brachtendorf and Danièle Troesch from Fiat-Rotwild.
Photography
For a thumbnail gallery of these images, click here
Images by Oliver Kraus
Results
1 Karl Platt (Ger) and Stefan Sahm (Ger) Team Bulls                                                      4.53.02
2 Martin Kraler (Aut) and Heinz Verbnjak (Aut) Craft and Friends                                            8.26
3 Björn Papstein (Ger) and Holger Sievers (Ger) Team idworx-offtraxx.net                                   10.15
4 Frank Lehmann (Ger) and Uwe Hardter (Ger) Rothaus - Cube 2                                               11.13
5 Andreas Strobel (Ger) and Markus Kaufmann (Ger) Team Vaude-Simplon 1                                     12.56
6 Silvio Wieltschnig (Aut) and Thomas Nicke (Ger) Fiat/Rotwild                                             18.09
6 Carsten Bresser (Ger) and Daniel Gathof (Ger) Team Rocky Mountain                                             
8 Michael Schwaiger (Aut) and Markus Götz (Aut) Intersport Eybl                                            23.31
9 Benjamin Rudiger (Ger) and Matthias Bettinger (Ger) Rothaus - Cube 1                                     26.33
10 Michael Schuschardt (Ger) and Marco Schätzing (Ger) Zwillingscraft-Ideal Men I                          26.53
11 Kristof Houben (Bel) and Kristof Bomans (Bel) Janssen Cycling Team                                      29.00
12 Flurin Riedi (Swi) and Christian Biffiger (Swi) thömus-trek team                                        29.40
13 Jan Schmidt (Ger) and Benjamin Schmieg (Ger) Team Vaude-Simplon 2                                       33.35
14 Alexander Pscheidl (Ger) and Christian Schneidawind (Ger) Team TEXPA-Simplon                            33.46
15 Niels Boon (Ned) and Sjef Klerken (Ned) Boon en Klerken                                                 35.17
16 Florian Thaller (Ger) and Christian Eckart (Ger) Zwillingscraft-Ideal Men II                            35.34
17 Ralph Berner (Ger) and Sebastian Lutz (Ger) Team Votec                                                  35.54
18 Christian Kaulfersch (Ger) and Alex Kirchmair (Ger) Merida-Rotwild/RTT                                  36.36
19 David Leiman (RSA) and Roan Exelby (RSA) Team Fullimput 2                                               39.07
20 Ola Bustad (Nor) and Ole Kristian Sorland (Nor) Team Fuji Norway                                        49.20
21 Christian Brockhoff (Ger) and Samuel Faruhn (Ger) Bionicon Pro Team                                     49.57
22 Flemming Stadler (Swi) and Niculin Bazzell (Swi) Team Scuol                                             50.13
23 Philipp Hoffmann (Ger) and Alexander Stark (Ger) Scott Genius Generation                                50.47
24 Rolf Frei (Swi) and Urs Samtleben (Swi) Sport-trend-shop TREK                                           53.14
25 Fabio Degli Innocenti (Ita) and Luca Ruffa (Swi) Staff Bike 2000                                        55.50
26 Attila Marton (Hun) and Robert Halasz (Hun) BIKEMAG.hu-Meditechsc                                       57.19
27 Tobias Rauch (Ita) and Thomas Dolzani (Ita) Die Rennschnecken/Südtirol                                  57.37
28 Michael Opper (Ger) and Martin Mootz (Ger) Bonsai Bikes                                                 57.59
29 Jens-Erich Gegner (Ger) and Dominique Linz (Ger) Scott Team Heilenmann 1                                58.23
30 Thomas Zemp (Swi) and Armin Waldisberg (Swi) 4-tissimobikers Uffikon                                    58.24
31 Hannes Wörgötter (Aut) and Bernhard Widmann (Aut) Team Martins Bike Shop Unken                          59.53
32 Rallo Carles Bernat (Spa) and Ramon Sagues Portabella (Spa) ALPCROSS                                  1.00.31
33 Oleg Khazov (Rus) and Alexander Torkachenko (Rus) Velomarket-CSKA-Russia                              1.00.42
34 Ewart Van der Putten (Ned) and Bart Damen (Ned) Rocky Mountain -Peerkes Biketeam 1                    1.01.29
35 Kurt Baggenstoss (Swi) and Beat Kohler (Swi) Koba                                                     1.02.30
36 Scott Cornish and Mike Blewitt (Aus) MULE BAR                                                         1.03.40
37 Kristof Wijckmans (Bel) and Kurt Tempst (Bel) Après-Bikers                                            1.06.53
38 Wolfgang Hofmann (Ger) and Karl Fischer (Ger) Team Lechwerke/Bergziege                                1.07.16
39 Alois Vikoler (Ita) and Hans Schrott (Ita) Olmbiker                                                   1.10.06
40 Beat Amstad (Swi) and Manuel Gischard (Swi) Thömus Veloshop Mänu & Beat                               1.11.17
41 Darren Benson (Chn) and Piers Touzel (Chn) TCR                                                        1.14.00
42 Manfred Bernard (Ita) and Josef Bernard (Ita) Texmarket-Rewel                                         1.15.04
43 Paul Villscheider (Ita) and Franz Pfattner (Ita) Forer Logistic                                       1.16.00
44 Jonathan Carballo Ramirez (CRc) and Omodeo Mariano Herrera (CRc) IBP pensiones-Las Doce Horas         1.18.18
45 Filip Kuzniak (Pol) and Mateusz Maculewicz (Pol) ArcelorMittal JBL Team                               1.19.42
46 Rob Bertels (Bel) and Gerd Schaeken (Bel) granville                                                   1.21.55
47 Tom Van den Plas (Bel) and Jean-Pierre Taymans (Bel) Yellow Bikers                                    1.22.05
48 Kurt Löffler (Lux) and Steve Fries (Lux) UC DIPPACH                                                   1.22.17
49 Carl Erik Pedersen (Nor) and Stig Lokken (Nor) Team Scott/ Torshov Sport                              1.23.20
50 Andrew Wrigley and Christopher Hope Keswick Bikes                                                     1.24.08
51 Urain Zigor (Spa) and Roldan Ugarte Inigo (Spa) Ederra Team A                                         1.26.34
52 Gregori Enric Ramoneda (Spa) and Julià Bonmati Arnau (Spa) TOT VICI EN BICI                           1.27.55
53 Martin Gruber (Ita) and Patrick Wallnöfer (Ita) www.vinschgaubike.com                                 1.28.08
54 Markus Enzler (Swi) and Kevin Biehl (Swi) Team Stöckli                                                1.28.47
55 Stefan Gorscak (Ger) and Peter Reiche (Ger) Zwillingscraft                                            1.29.15
56 Pavel Vancurik and Martin Sevcik Merida Biking Team                                                   1.29.25
57 Will Thomas and Paul Butler Lava                                                                      1.32.13
58 Alexander Kostner (Aut) and Christian Angerer (Aut) rtr 31                                            1.34.49
59 Will Hayter and Martin Williamson London Dynamo / Freeridespain                                       1.35.19
60 Mike Kaiser (Ger) and Ralf Egle (Ger) MRSC Badenweiler                                                1.37.26
61 Oliver Süess (Swi) and Patrick Zollinger (Swi) Stöckli Outdoor Sports                                 1.38.07
62 Hugo Velthuis (Ned) and Mart Otten (Ned) Gazelle Transalp Team                                        1.38.20
63 Morten Iversen (Nor) and Tom Lund (Nor) Sykkelmagasinet                                               1.39.09
64 Matthew Zalewski and Andrew Blair (Aus) Redshift Racing                                               1.39.44
65 Thor Andersen (Den) and Lasse Kirkelund (Den) Die roten singen III                                    1.39.45
66 Maurizio Lazzarini (Ita) and Mario Giovanni Gorlani (Ita) lupi grigi                                  1.40.54
67 Alfredo Bormolini (Ita) and Filippo Sensoli (Ita) Team Livigno                                        1.44.33
68 Clau Derungs (Swi) and Niklaus Zippert (Swi) Ameis                                                    1.44.50
69 Wolf-Thorsten Witt (Ger) and Bojan Bohorc (Slo) Mr.Bike Pforzheim                                     1.45.57
70 Vock Balazs (Hun) and Varallyaii Laszlo (Hun) Bikemag-George KSE                                      1.47.15
71 Andreas Gebert (Ger) and Torsten Hettich (Ger) DRAHTESEL                                              1.47.45
72 Eriz Quintana Zarate (Spa) and Jorge Gonzalez Diez (Spa) Ciclos Sport 2                               1.47.47
73 Hans-Dieter Gnann (Ger) and Daniel Becher (Ger) Team Radgarage                                        1.47.51
74 Mike Seidel (Ger) and Sven Gerber (Ger) www.team-waldpark-vogtland.de                                 1.48.19
75 Michal Glowacki (Nor) and Darryl Taylor (Swi) Team NZ                                                 1.48.22
76 Friedrich Sobotka (Aut) and Andrea Chinaglia (Aut) Team Vaude Wien                                    1.48.56
77 Manfred Sagmeister (Ita) and Patrick Olivieri (Ita) Bike Club Klausen                                 1.50.29
78 Andreas Toth (Aut) and Michael Seer (Aut) www.zop-salzburg.at                                         1.50.33
79 Axel Senf (Ger) and Marcel Delmer (Ger) Hüftgold                                                      1.52.32
80 Israel Perea (Spa) and Gonzalo Ibanez (Spa) CICLOS GETXO TEAM                                         1.55.01
81 Thomas Egger (Ita) and Roland Ausserhofer (Ita) SAN. BRUNECK                                          1.56.43
82 Martin Loeliger (Swi) and Roger Loeliger (Swi) loeliger brothers                                      1.56.48
83 Martin Hollmann (Ger) and Tomasz Skrzypek (Ger) Spinning Wheelz                                       1.56.57
84 Markus Gisler (Swi) and Anthony Mayr (Swi) Sponser Sport Food                                         1.57.07
85 Mike Shchekotilov (Rus) and Dmitry Senin (Rus) redBike                                                1.58.29
86 Jodi Kooijman (Ned) and Niels Dijkstra (Ned) WTOS                                                     1.58.38
87 Dyvind Aas (Nor) and Patrick Aserud (Nor) Team Terrengsykkel                                          1.59.14
88 Göran Blaschke (Ger) and Sebastian Diekmann (Ger) Sattelfest                                          2.00.03
89 Jürgen Pamminger (Aut) and Harald Grobbauer (Aut) xxteam.at-botschnpicka.at                           2.00.55
90 Martin Müller (Ger) and Alexander Kumpf (Ger) AC Weinheim/Team Bergstrasse                            2.01.27
91 Kolja Hesse (Ger) and Andreas Müller (Ger) Bernardi Klassische Automobile                             2.02.05
92 Michael Lella (Ger) and Slim Gamh-Drid (Ger) Team-HMC Singen 2                                        2.03.38
93 Nenad Miric and Igor Jemcov Progressive                                                               2.04.40
94 Stefan Niemöller (Ger) and Jochen Hurlebaus (Ger) Bergzwerg                                           2.04.52
95 Lars Elsäßer (Ger) and Marcel Geurts (Ger) MTBC Wehrheim II                                           2.05.24
96 Brendan Banovic and Nelson Snyder Colossi                                                             2.06.49
97 Christian Casadio (Ita) and Manuel Di Barbora (Ita) Team Bike & More 8 - Surfing Shop                 2.07.57
98 Reto Aschenberger (Swi) and Samuel Krähenbühl (Swi) aaalpencruizers                                   2.08.03
99 Matthias Seidner (Ger) and Carsten Baurigk (Ger) www.team-woba.de                                     2.08.23
100 Lieven Schroyen (Bel) and Jeroen Schroyen (Bel) La Pipe 2                                            2.08.24
101 Kjetil Vatne (Nor) and Bjorn Thomas Stenersen (Nor) Northern Light                                   2.08.35
102 Morten Munch-Andersen (Den) and Christian Skovgaard Nielsen (Den) Die Roten Singen II                2.09.41
103 Maurijn de Wit (Ned) and Ralph Grootjes (Ned) Bike Action 4                                          2.10.34
104 Gal Fridman (Isr) and Avner Yassur (Isr) Epic Volvo                                                  2.12.34
105 Sebastian Kroll (Ger) and Stephan Mende (Ger) Zi.116 - BMW - Radsport - Mountainbike Team            2.13.47
106 Johannes Hund (Ger) and David Schwendemann (Ger) RSV Staubwolke Haslach                              2.13.58
107 Andreas Müller (Ger) and Johannes Mutscheller (Ger) Sherpa / SCR Schnaittach                         2.14.19
108 Heinz Posch (Swi) and Andreas Guignard (Swi) www.gasthofseefeld.ch                                   2.14.21
109 Danny Roes (Bel) and Werner Daneels (Bel) Gierke                                                     2.14.33
110 Will Kirkwood (Swi) and Magnus Akesson (Swi) Cheeky Monkey                                           2.14.35
111 Oliver Schmidbauer (Ger) and Markus Preis (Ger) SpVgg Mitterdorf                                     2.14.38
112 Markus Stephani (Ger) and Mathias Wild (Ger) tri top racing                                          2.14.58
113 Martin Ruprecht (Ger) and Herbert Ruprecht (Ger) Die Ruprecht Buaba                                         
114 Dennis Marinus (Bel) and Mariio Wouters (Bel) Gierke                                                 2.15.07
115 Alexander Lange (Ger) and Stefan Allgaier (Ger) Team Adidas Schwäbische Alb II                       2.15.59
116 Garcia Unai Paniagua (Spa) and Oscar Castro Requena (Spa) ciclos getxo                               2.17.36
117 Marcel Frenk (Ned) and Jeroen Smit (Ned) 024mtbikers.nl Team 2                                       2.17.56
118 Ninko Doornbos (Ned) and Eric Bogaard (Ned) Transalp Duchenne                                        2.18.03
119 Kevin Curtis and Joseph Berg SquareD                                                                 2.18.50
120 Stefan Knoll (Aut) and Roland Messner (Aut) Team Kramsach                                            2.18.55
121 Joachim Thiele (Ger) and Michael Stiller (Ger) Mike&JOJO                                             2.19.09
122 Stefan Hackl (Aut) and Wolfgang Hackl (Aut) RC Kollar                                                2.19.43
123 Andries van der Merwe and Johan Le Roux (RSA) Shofar                                                 2.20.10
124 Frank Hartl (Ger) and Ralph Hartl (Ger) Crazy Hartls                                                 2.20.55
125 Jochen Wehrheim (Ger) and Matthias Klug (Ger) MTBC Wehrheim I                                        2.21.18
126 Luis Franc De Ezpeleta Aguilar (CRc) and Carlos Marin Anottia (CRc) Litespeed-Fox CR                 2.21.31
127 Baz Igor (Spa) and Zugasti Felix (Spa) Ederra Team B                                                 2.21.57
128 Volker Leipner (Ger) and Andreas Decker (Ger) die Glücksritter                                       2.22.15
129 Holger Kolb (Ger) and Norbert Straub (Ger) Team Füssen                                               2.22.16
130 Matthias Markl (Ger) and Harald Stolka (Ger) moooove Racing Team                                            
131 Alexander von Engelhardt (Ger) and Burkhard Dahl (Ger) Hasenjagd                                     2.22.18
132 Tijl Verhoelst (Bel) and Stan Bovyn (Bel) K. Stoempers                                               2.22.43
133 Kris De Nef (Bel) and Peter Maes (Bel) bonanza                                                       2.22.56
134 Raphael Schweda (Ger) and Frank Schmaehling (Ger) The marvelous 2                                    2.23.13
135 Jürgen Appenzeller (Ger) and Markus Eschmann (Ger) Radladen-Ulm.de / Aktiv3.de                       2.23.29
136 Oskar Pittracher (Ita) and Andrea Canciani (Ita) GS Esercito                                         2.23.32
137 Dries Leys (Bel) and Wim Bracke (Bel) VedeTT                                                         2.24.11
138 Karsten Held (Ger) and Thomas Steimle (Ger) Schwarzfahrer                                            2.25.38
139 Thorsten Rietze (Ger) and Maik Trachte-Grundler (Ger) Gerbracht Racing/Team Nordhessen               2.26.55
140 Jörg Waldmann (Ger) and Jan Grebe (Ger) Ritchey                                                      2.26.56
141 Marcello Silva (CRc) and Victor Alfaro (CRc) Magnarealtycostarica.com                                2.27.00
142 Guido Thalmann (Swi) and Sascha Emmenegger (Swi) E-Power Team                                        2.27.05
143 Thomas Wilschrei (Ger) and André Hinzmann (Ita) Salomon-Scott Rentabike                              2.27.30
144 Göte de Pillecyn (Bel) and William Vetters (Bel) filthy lucre                                        2.27.40
145 Marco van den Berg (Ned) and Micha Salden (Ned) 024mtbikers.nl Team 1                                2.27.45
146 Philipp Weinert (Ger) and Christian Wiese (Ger) Stiftung Wadentest II                                2.27.59
147 Jesper Flach (Den) and Kim Wochner (Den) Joint Adventure                                             2.28.13
148 Johan Erlandsson (Nor) and Gaute Havik (Nor) Team Gulrot                                             2.28.16
149 Daniël Paardekooper (Ned) and Rudy Vos (Ned) team X-treme 2                                          2.30.51
150 Markus Kraus (Ger) and Robert Zwyrtek (Ger) Bäckerei Sipl/Sinoland/Fozzybike                         2.33.41
151 Jochen Raabe (Ger) and Markus Derjung (Ger) Team Cube 2                                              2.35.15
152 Bernd Bilek (Ger) and Thomas Kretzberg (Ger) ladybiker                                               2.37.45
153 Ulf Schirmeister (Ger) and Harald Kissel (Ger) Team BadenWälder                                      2.37.48
154 Paul Davies and Marcus Brueton aircom/mountain trax/torq                                             2.38.01
155 Enric De Llorens Valeri (Spa) and Franscesc Calvo Riera (Spa) Barna Powers-Basoli                    2.38.17
156 Morten Simonsen (Nor) and Geir Kjær (Nor) Team Terrengsykkel                                         2.38.36
157 Gijs Dohmen (Ned) and Joep Dohmen (Ned) Team Look-a-Like                                             2.39.35
158 Rolf Ehrismann (Swi) and Peter Ehrismann (Swi) Jeantex Bike Zone Fun Racer                           2.40.24
159 Dennis Rosenplänter (Ger) and Andreas Rosenplänter (Ger) Rosenracers                                 2.41.21
160 John Spapens (Ned) and Stephan Coppelmans (Ned) BraBikers 1                                          2.41.33
161 Marcus von Harlessem (Ger) and Dirk Vetter (Ger) Bike Corner Siegen                                  2.44.26
162 Keith Tatley and Stephen Winton Mud Island Two                                                       2.44.37
163 Andrey Zhukov (Rus) and Oleg Zamotin (Rus) World Class Russia                                        2.44.46
164 Bernd Laukenmann (Ger) and Robert Rogan (Slo) Filstaljäger                                           2.45.15
165 Remco van Bekkum (Ned) and Eelco Mosselman (Ned) Magura Q-Raceteam                                   2.49.16
166 Norbert Parusel (Ger) and Thomas Schmid (Ger) Kreuth-Tegernsee                                       2.49.30
167 Nik Heyns (Bel) and Hans Van Peer (Bel) Aventi 1                                                     2.49.35
168 Sergey Goremykin (Rus) and Sergey Gerasimchuk (Rus) Velomarket-CSKA-Russia                           2.50.58
169 Erlend Rotvik (Nor) and Bjorn Ellingsen (Nor) Krankenstein                                           2.51.17
170 Bernd Lamplmayr (Aut) and Markus Schipflinger (Aut) Allianz TEAM Tirol                               2.51.38
171 Dominik Pesta (Aut) and Stefan Schmid (Aut) Die Zwei                                                 2.53.44
172 Michael Kleinwort (Chn) and Julian Wilson (Chn) Gate Crashers                                        2.54.42
173 Jens Frank (Ger) and Jörg Schrod (Ger) Ogilvy/U3-Hohemark                                            2.55.16
174 Gero Halbgebauer (Ger) and Stefan Loehle (Swi) RSCStuttgartWest                                      2.55.22
175 Gregor Wilde (Ger) and Patrick Großpietsch (Ger) TT                                                  2.55.27
176 Oliver Kurz (Ger) and Christian Del Gaizo (Ger) rsc stuttgart west                                   2.55.38
177 Hansjörg Reiner (Ger) and Stefan Döring (Ger) Team Langsam                                           2.57.57
178 Ryan Steele and Bryan Turner Silver Back                                                             3.00.12
179 Oliver Vitt (Ger) and Andreas Hahn (Ger) kettenhunde                                                 3.01.39
180 Peter Wouters (Ned) and Schellekens Sjack (Ned) Roxky Mountain-Peerkes Bike Team 2                   3.02.16
181 Lars Naundorf (Ger) and Matthias Heineke (Ger) Lowland lawriders                                     3.03.03
182 Shane Peters (RSA) and Nicholas Stephenson (RSA) Aero                                                3.06.15
183 Tobias Wahle (Ger) and Benedikt Tigges (Ger) Sauerlandfeger                                          3.07.01
184 Guy Swolfs (Bel) and Philip Vandeput (Bel) MTBike.be                                                 3.07.15
185 John Ingle and Paul Nelson Alpine Aardvark Alpine Aardvark Alpine                                    3.07.21
186 Oliver Sequenz (Ger) and Christian Hoverath (Ger) Team Hannibal                                      3.10.28
187 Thorsten Beuter (Ger) and Georg Rücker (Ger) Team Bunnyhoppers                                       3.10.36
188 Anders Klavberg (Swe) and Johan Dovemark (Swe) Varbergs MTB                                          3.11.29
189 Mikko Merisaari (Fin) and Lauri Österman (Fin) black knights                                         3.11.47
190 Thomas Jecke (Ger) and Marcel Schmied (Ger) Schmiedo Racing                                          3.12.04
191 Sebastian Zimmermann (Ger) and Oliver Lahr (Ger) Team Sackfett                                       3.13.28
192 Matthias Kreutzer (Ger) and Andreas Grützmacher (Ger) Bike Aid Racing                                3.13.36
193 Salvador Olivares Munuera (Spa) and Soria Gonzalez Antonio (Spa) INVERSE-RM                          3.13.37
194 Iroy Cosse (Ned) and Gosse Bakker (Ned) bredabikes                                                   3.14.22
195 Christian Kafka (Ger) and Michael Hank (Ger) Lemmy's crew                                            3.14.42
196 Matthäus Lorenz (Ger) and Andreas Oess (Ger) Radhaus Winterlingen                                    3.17.48
197 Christian Bertemes (Lux) and Tom Engel (Lux) Daf Team                                                3.18.45
198 Werner Van Der Merwe and Willem Oelofse What next?                                                   3.19.48
199 Volker Hess (Ger) and David Roscher (Ger) MODI-CRAFT 2                                               3.19.56
200 Florian Erbe (Ger) and Sebastian Kurz (Ger) Team Dienstagsradler                                     3.21.34
201 Daniel Conka (Ger) and Kay Fütterer (Ger) polar-soq.de Bike Team                                     3.22.13
202 Nathan Turner and Mark Shepherd Marrow                                                               3.22.29
203 Frank Zöllner (Ger) and Sebastian Reimer (Ger) Jeantex                                               3.23.02
204 Emilio Gaspari (Ita) and Emanuelito Catalini (Ita) Team Bike & More 10 - Inergia Castel Trosino      3.23.07
205 Nehemia Paardekooper (Ned) and Alexander Paardekooper (Ned) team X-treme 1                           3.24.29
206 Michael Kunkel (Ger) and Jens Glorer (Ger) Fanta 2                                                   3.24.51
207 Menno Klunder (Ned) and Floris Klunder (Ned) klunder                                                 3.25.27
208 Matthijs Pot (Ned) and Vinne Los (Ned) Bike One Team                                                 3.27.16
209 Patrick Bews (Ger) and Fabian Kautz (Ger) ballerbrüder                                               3.27.25
210 Victor Manuel Garcia Montoro (Spa) and Alesandro Garcia Montoro (Spa) Bidone Roma Team               3.28.52
211 Ard Kessels (Bel) and Dave Raes (Bel) de zwette maanen                                               3.29.35
212 Michael Neser (RSA) and Christiaan Neser (RSA) Maties                                                3.30.56
213 Eric Behnsen (Ger) and Jakob Gross (Ger) Team Ralph Wiggum                                           3.31.27
214 Stefano Boffelli (Ita) and Michael Schulz (Ger) BOFFELLIS                                            3.31.36
215 Pascal Olislagers (Ned) and Jurgen Olislagers (Ned) chainbrothers                                    3.31.46
216 Christoph Kirchmeier (Aut) and Mario Ziegler (Aut) Mons Auriga                                       3.32.14
217 Sebastian Kelb (Ger) and Sebastian Hoyer (Ger) Jeantex Team Fahrrad-Schiwy                           3.34.49
218 Antoine Vos (Swi) and Jörgen Naaijer (Swi) Wärtsilä                                                  3.35.55
219 Eric Spahn (Ger) and Stefan Wade (Ger) Rodgau Racer                                                  3.36.02
220 Wilhelm Schaffner and Frank Werner (Zim) The latin Pirates Team                                      3.38.24
221 Oyvind Borgersen (Nor) and Ole Christian Lunna (Nor) Lunna/Borgersen                                 3.39.58
222 Jaroslav Kohoutek and Tomas Zapletal Merida Brno                                                     3.40.28
223 Thomas Hofmuth (Ger) and Robert Stöckl (Ger) Sensor-Technik Wiedemann                                3.41.18
224 Ilja Van Ermingen (Ned) and Erik Schmetz (Ned) Dirty Deeds - Men                                     3.42.35
225 Shane Thomson (RSA) and Marco Pulvirenti (RSA) Team Fullimput 1                                      3.43.29
226 Christian Trummer (Aut) and Wilfried Macher (Aut) Bikecenter Schager                                 3.46.12
227 Michael Hey (Ger) and Martin Mattlener (Ger) Team xenoon                                             3.46.23
228 Dennis Wolf (Ger) and Tim Block (Ger) Desperados                                                     3.46.54
229 Holger Hoffmann (Ger) and Tobias Hoffmann (Ger) Craft and friends                                    3.48.18
230 Bob Stroomer (Ned) and Martin Rijswijk (Ned) Gaus & SB Biking                                        3.48.43
231 Frank Prußat (Ger) and Christian Schmidt (Ger) TAC'os                                                3.49.49
232 Sascha Söhngen (Ger) and Andreas Stettin (Ger) fat-tire-flyer1                                       3.50.25
233 Marcus Kim (Ger) and Tim Callies (Ger) Mokka Team                                                    3.51.23
234 Patrick Faust (Ger) and Niels Mayer (Ger) Transen                                                    3.52.18
235 Harald Pfurtscheller (Swi) and Paul van`t Hullenaar (Aut) the adventurers                            3.52.29
236 Andreas Stueckler (Aut) and Jürgen Steiner (Lie) Gsiberger                                           3.54.25
237 Michael Ebner (Aut) and Gilbert Pfanner (Aut) Zwei Himmelhunde auf dem Weg zur Hölle                 3.57.51
238 Patrick Dressel (Ger) and Jörn Rischmüller (Ger) Wir sind dann mal weg ...                           3.58.48
239 Jens Endler (Ger) and Yves Pojtinger (Ger) Waldknecht                                                4.00.25
240 James Hinsby (Aut) and Sebastjan Kocijancic (Aut) SPIRIT FOR ADVENTURE                               4.01.37
241 Ruben Gonzalez (Spa) and Aitor Idigoras Lasaga (Ger) Ciclos Sport 2                                  4.02.12
242 Daniel Seipp (Ger) and Sebastian Christ (Ger) Meanmachine                                            4.02.56
243 Bart Schoenmaekers (Bel) and Bart Jordaens (Bel) Aventi Racing Team 2                                4.03.13
244 Robert Jacobs (Ned) and Geert-Jan Moors (Ned) MOORS-GIJSMAN ASSURANTIEN                              4.03.38
245 Paul Meijboom (Ned) and Joep Houten (Ned) Witte Tonnies                                              4.06.15
246 Andreas Herrmann (Ger) and Markus Widmann (Ger) Netviewer                                            4.06.22
247 Marco Van den Helm (Ned) and Sven Stoffelen (Ned) BraBikers 3                                        4.06.35
248 Tilman Gollner (Ger) and Jörg Hafner (Ger) Qurius-Team                                               4.06.58
 
Women
 
1 Alison Sydor (Can) and Pia Sundstedt (Ger) Team Rocky Mountain                                         5.56.10
2 Anna-Sofie Noorgard (Den) and Christin Noorgard (Den) Team Cube 5                                         3.44
3 Kerstin Brachtendorf (Ger) and Daniele Troesch (Fra) Fiat/Rotwild                                        38.17
4 Gunn Hilleren (Nor) and Monika Olofssen (Nor) Team Scott/ Torskov Sport                                  54.29
5 Barbara Merkofer (Swi) and Margrit Jörg (Swi) Giant Swiss Ladies                                       1.01.44
6 Natascha Binder (Ger) and Bettina Dietzen (Ger) Conway - immer 2 mal mehr wie Du!                      1.35.23
7 Christin Kehrli (Swi) and Astrid Keusen (Swi) Heidies - Scott                                          2.04.27
8 Emily Brooks and Jane Reedy keswickbikes.co.uk                                                         2.33.35
9 Andrea Hiller (Ger) and Katja Holzer (Ger) moooove RacingTeam                                          3.03.50
 
Mixed
 
1 Werner Fischer (Swi) and Milena Landtwing (Swi) Institut Ftan/Velo Franz Univega                       6.01.41
2 Heike Hundertmark (Ger) and Sam Baeten (Ger) Rothaus - Cube 3                                             6.10
3 Jon Richardson (NZl) and Sara MacDonald (NZl) R & R Sport                                                 6.30
4 Anita Steiner (Swi) and Cornel Bamert (Swi) Team Stöckli Wädenswil                                       14.57
5 Claudia Till (Ger) and Franz Trattler (Ger) Zwillingscraft-Ideal-Mixed                                   28.15
6 Marco Carrer (Swi) and Eva Carrer (Swi) Kraftwerk Rennteam                                               50.11
7 Andrea Kuster (Swi) and Lars Vollmer (Ger) Die Königskinder 69                                           51.28
8 Iztok Dogsa (Slo) and Spela Skrajnar (Slo) GANESHATEAM-vegepower                                         52.12
9 Paul Bühler (Swi) and Sabina Compassi (Swi) Lumpaz                                                     1.00.41
10 Andre Paschke (Ger) and Conny Marquardt (Ger) Steppenwolf Bikes/Bonsai                                1.01.48
11 Miguel Alia Gonzalez (Spa) and Nuria Lauco Martinez (Spa) ALPCROSS-BARNA POWERS                       1.07.27
12 Katrina Brown and Peter Dennis Deeside Total Endurance                                                1.13.02
13 Marlen Ulrich (Swi) and Andy Stadelmann (Swi) voremzmorgä                                             1.15.46
14 Thomas Bretting (Ger) and Silvia Klee-Bretting (Ger) BerGaMont                                        1.15.57
15 Doris Steenfatt (Ger) and jens Ludwigs (Ger) Team Conway 2                                            1.27.38
16 Christine Dietsche (Swi) and Wolfgang Fischer (Ger) Supernova-lights.com                              1.27.53
17 Kurt Anderau (Swi) and Judith Locher (Swi) Repack the grease                                          1.35.49
18 Vicenc Pacios Pujado (Spa) and Pujado Merce Pacios (Spa) Bici Sprint                                  1.36.51
19 Reiner Künzel (Ger) and Stefanie Hartmaier (Ger) Team mabitz                                          1.42.28
20 Martijn Bilthof (Ned) and Petra Bruin de (Ned) Bar End                                                1.46.10
21 Sibylle Schnarr (Swi) and Marco Frank (Swi) Farfallina                                                1.48.12
22 Anton Lebutsch (Aut) and Barbara Lebutsch (Aut) Jeantex Sports Experts                                1.49.09
23 Dirk Henke (Ger) and Nicola Baum (Ger) NIDI - Racing Team                                             1.53.58
24 Kristof Schoonbaert (Bel) and Sofie De Wulf (Bel) VT4                                                 1.54.49
25 Marisa Tosi (Can) and Roy Custodio (Can) RAM2                                                         2.05.13
26 Susanne Juranek (Ger) and Henning Früchtenicht (Ger) buhl-bikes.de                                    2.05.37
27 Steffen Cramer (Ger) and Ilka Scholz (Ger) RC Diana                                                   2.16.43
28 Andre Feldmann (Ger) and Katrin Hellwig (Ger) Team Rheinenergie                                       2.20.36
29 Paul Ziegler (Ger) and Anette Kaufmann (Ger) ap                                                       2.25.16
30 Sven Meier (Ger) and Andrea Meier (Ger) mtb-südbaden                                                  2.28.03
31 Greg Norombaba and Lisa Riehl Norombaba                                                               2.30.08
32 Corinna Geldsetzer (Ger) and Frank Schonath (Ger) RMV Concordia Strullendorf                          2.31.17
33 Sebastiaan van der Greft (Ned) and Nicoletta de Jager (Ned) Bikers Bussum                             2.32.04
34 Alexandra Dessombes (Ger) and Jens Witt (Ger) Blümchenpflücker                                        2.39.25
35 Carl Huygen (Bel) and Natalie Franken (Bel) Carl & Nat                                                2.39.54
36 Vittorio Viglino (Ita) and Piera Morando (Ita) Team Flinstones                                        2.40.38
37 Susanne Ernst (Ger) and Wolfgang Ernst (Ger) Bike-doc.de                                              2.46.57
38 Iris Ohlig (Ger) and Oliver Schmitt (Ger) Aufwärts!                                                   2.48.19
39 Spalek Miroslav and Spalkova Mirka REV_Kebek Chomutov                                                 2.48.53
40 Esther Stockhofe (Ger) and Christoph Prokop (Ger) Schlickenrieder II                                  2.49.02
41 Alberto Puddu (RSA) and Landy Puddu (RSA) Amashova                                                    2.49.11
42 Tom Hemmant and Lucy Dove (Ger) London Dynamo special pair                                            2.49.32
43 Peter Keil (Ger) and Pia Graulich-Kring (Ger) Schneider Sports                                        2.56.20
 
Master
 
1 Ekkehard Dörschlag (Aut) and Heinz Zörweg (Aut) Team KTM                                               5.16.53
2 Walter Platzgummer (Ita) and Johann Grasegger (Ger) Scott-adidas-Naturns                                  6.31
3 Siegfried Hochenwarter (Aut) and Georg Koch (Aut) Team Generali                          9.56
4 Udo Bölts (Ger) and Werner Wagner (Ger) Team Cube 3                                                      20.49
5 Andi Schatz (Ger) and Andreas Bühler (Ger) Team goX                                                      25.05
6 Walter Perkmann (Ita) and Hansjörg Oberkalmsteiner (Ita) AMONN OFFICE Team                               32.32
7 381                                                                                                      43.48
8 Hansjürg Gerber (Swi) and Daniel Feuz (Swi) ZellwegerArchitektenThun                                     49.18
9 Thomas Rüegg (Swi) and Max Bertschinger (Swi) Thomax Bike Team                                           52.00
10 Roman Untersee (Swi) and Roland Störi (Swi) Team Ebneter                                                55.37
11 Uwe Windmüller (Ger) and Martin Schneider (Ger) MODI-CRAFT 1                                            57.10
12 Andreas Graf (Swi) and Martin Altermatt (Swi) Move on                                                 1.02.10
13 Günter Sandmann (Ger) and Silvester Weinmeyer (Ger) Team Hummel - Radlabor                            1.06.57
14 Axel Rücker (Ger) and Frank Wittmann (Ger) IsarRider                                                  1.07.40
15 Mike Hogan and Thomas Dooley Chipotle-Titus-Velo News                                                 1.10.09
16 Uwe Scherzer (Ger) and Stephan Kühnel (Ger) medfachschule.de                                          1.17.11
17 Thomas Mennecke (Ger) and Matthias Ocklenburg (Ger) SCHIERKER FEUERSTEIN RACING TEAM                  1.17.59
18 Franco Martini (Ita) and Bruno Furlan (Ita) ISOLMANT-RTTR                                             1.18.49
19 Enzo Macor (Ita) and Paolo Zanoner (Ita) Team Bike & More 9 - Marcialonga                             1.26.56
20 Hans Theo Hell (Ita) and Andrea Giuliani (Ita) Team Kaltern                                           1.32.15
21 Thorsten Damm (Ger) and Veit Susallek (Ger) Auf ein Neues !                                           1.34.14
22 Dominick Hegarty (Irl) and Michael Jordan (Irl) Irish Austrilian Coalition                            1.36.25
23 Giancarlo Cassani (Ita) and Giovanni Bombardini (Ita) Team Bike & More 1 - S.C. Velociraptor          1.45.34
24 Dieter Marquardt (Ger) and Martin Perrot (Ger) CARBO(N)-JUNKIES                                       1.45.45
25 Markus Thomas (Ger) and Michael Gerhartz (Ger) Team Schmidde M www.cannondalestore.de                 1.45.54
26 Greg Anderson and George Oertel Bald Eagles                                                           1.48.54
27 Marcus Werf (Ger) and Joachim Oberföll (Ger) Bike-werf/ team-speedzone.de                             1.49.54
28 Bo Falck Hansen (Den) and Carsten Lundby (Den) HMTBK SRAM B3                                          1.50.50
29 Phil Miles and Steve Davidson Pocket Rockets                                                          1.50.53
30 Alberto Coto (CRc) and Melvin Rojas (CRc) Litespeed - Costa Rica                                      1.54.29
31 Frank Drechsel (Aut) and Rainer Hilbrand (Aut) Rocky Mountain/Kleinwalsertal                          1.55.28
32 Martin Hanemaaijer (Ned) and Frank Feijen (Ned) Bike action 1                                         1.59.06
33 Detlef Buser (Ger) and Andreas Hahn (Ger) Die Pulloverschweine                                        1.59.31
34 Stefano Ciarleglio (Ita) and Franco Amati (Ita) TRIANGOLO LARIANO                                     2.00.02
35 Andreas Hanke (Ger) and Sepp Gschwendtner (Ger) Redheads                                              2.00.13
36 Stephan Wagner (Ger) and Michael Breiner (Ger) Toxoholics                                             2.01.31
37 Stephan Hummitzsch (Ger) and Rico Hauk (Ger) Ponta-versal-Bike-Team                                   2.01.53
38 Stefan Pöhlmann (Ger) and Harry Geiger (Ger) Deutsche Mountainbike-Union e.V.                         2.01.56
39 Gerald Vogel (Ger) and Anders Skantz (Ger) Eddy-Merckx                                                2.02.53
40 Stefano Pasqua (Ita) and Rudy Prandi (Ita) Team Riva del Garda                                        2.06.47
41 Andreas Hauser (Aut) and Martin Ullrich (Aut) powerman on Tour                                        2.06.53
42 Wolfgang Schaupp (Ger) and Norbert Fischer (Ger) UPHILL                                               2.07.15
43 Andreas Köhler (Ger) and Stefan Fritz (Ger) Not & Elend                                               2.09.01
44 Wolfgang Pohl (Ger) and Nico Wich-Schwarz (Ger) VIVALPIN                                              2.10.32
45 Hubert Pernter (Ita) and Manfred Klammsteiner (Ita) Dynamik bike                                      2.13.23
46 Peter Wiese (Ger) and Andreas Rüther (Ger) Langenberg Marathon                                        2.13.24
47 Stefan Koller (Ger) and Karlheinz Volkmann (Ger) Blackmasters                                         2.14.14
48 Geir Sundin (Nor) and Alexander Holm (Nor) Team Froy 1                                                2.14.45
49 Arthur Van Wezel (Ned) and Carlos Van Wanrooy (Ned) peaplastics                                       2.14.52
50 Andrea Massaccesi (Ita) and Fabrizio Tobaldi (Ita) Team Bike & More 4 - Avis Cingoli                  2.16.05
51 Gary Shields and Grant Miller LavaMen                                                                 2.16.35
52 Daniel Sandoz (Swi) and Johan Walraven (Ned) BraBikers-4                                              2.16.41
53 Tibor Kaufmann (Ger) and Frank Puschold (Ger) Die Thüringer                                           2.17.20
54 Alexander Ubland (Ger) and Karl-Heinz Becker (Ger) Tourguides                                         2.18.36
55 Matthias Wolf (Ger) and Walter Schmitz (Ger) RSLC Holzkirchen                                         2.20.50
56 Felix Prinz (Ger) and Hrvoje Brlek (Ger) Max und Moritz                                               2.21.01
57 Claus Wachsmann (Ger) and Klaus Rübensaal (Ger) Team Cube 1                                           2.21.55
58 Drew Geer and Mark Gouge Chipotle/Velonews                                                            2.22.27
59 Domenico Mozzone (Ita) and Giorgio Delfino (Ita) Team Bike & More 2 - Team Olmo 1                     2.22.43
60 Johnny McCabe (Irl) and Gerry McCabe (Irl) Cuchulainn Warriors                                        2.22.47
61 Frank Raschke (Ger) and Thomas Grimm (Ger) Team Taberski Berlin                                       2.24.16
62 Bart Grevink (Ned) and Wim Vangelder (Ned) wv Noordveluwe                                             2.26.29
63 Marc Roggen (Bel) and Paul Andries (Bel) La Pipe 1                                                    2.28.05
64 Pierre Debs and Michael Fleischmann (Ger) Nucking Futz                                                2.29.08
65 Ian Palmer and Paul Trott Wheelbase                                                                   2.29.35
66 Stephen Mark and Patrick Meffan 2 Kiwis                                                               2.30.37
67 Stephen Davies (Aus) and Richard Paine (Sin) Think Global                                             2.31.02
68 Philippe Droz (Swi) and Roland Fetzer (Swi) Debil bikers                                              2.33.45
69 Josef Riedenauer (Ger) and Christian Steigerwald (Ger) bike & surf                                    2.34.05
70 Heiko Höfner (Ger) and Jens Martin (Ger) Team IQ Busch & Müller                                       2.35.45
71 Michael Fischer (Ger) and Maik Rotermund (Ger) MTB Hamburg                                            2.36.19
72 Günther Palla (Aut) and Michael Müller (Aut) Mountain Bike Holidays                                   2.37.37
73 Abraham Dolf (Swi) and Thomas Pfeffer (Swi) Ameis-Master                                              2.37.47
74 Stefan Jungmann (Aut) and Walter Schimpfössl (Aut) Ischgl Haibike Team                                2.41.04
75 Karli Hachenberg (Ger) and Andi Fetter (Ger) Westerwald-Express                                       2.41.15
76 Louis Brockhoven (Bel) and Wim Waeckens (Bel) DC-Construct Team                                              
77 Harry Krischanz (Aut) and Gernot Mittersteiner (Aut) Freundliche Ältere Herren                        2.44.54
78 Thomas Fischer (Ger) and Peter Stoll (Ger) Deam Bratwurscht                                           2.45.44
79 Steffen Winkelmann (Ger) and Uwe Gosch (Ger) Team Südharz                                             2.46.38
80 Reto Rickenbach (Swi) and Markus Christ (Swi) Swiss Mountain Raiders                                  2.47.48
81 Andreas Bichler (Aut) and Reinhard Bichler (Aut) Bike & Run Imst                                      2.47.57
82 Clemens Huber (Ger) and Isidor Kaffl (Ger) Dore & Clemens                                             2.49.18
83 Andrew Overfield (Ger) and Christopher Koch (Ger) African Dirt Pigs                                   2.50.23
84 Truls Lura (Nor) and Roald Misje (Nor) Team Misje Rederi                                              2.53.00
85 Holger Sperb (Ger) and Bernhard Gangkofer (Ger) Berggorillas                                          2.53.44
86 Frank Rautenberg (Ger) and Stephan Angerer (Ger) Stiftung Wadentest                                   2.53.53
87 Peter Wortmann (Ger) and Jochen Eiting (Ger) Haard Racing Team                                        2.54.19
88 Helmut Seidel (Ger) and Michael Goffin (Ger) Mplus                                                    2.59.32
89 Noel Magermans (Ned) and Erwin Rothkrantz (Ned) Dirty Deeds - Masters                                 3.02.09
90 Josef Saska and Otta Matousek IT Challenge                                                            3.09.22
91 Christoph Kemmer (Ger) and Udo Laber (Ger) Zwillingscraft Friends                                     3.13.38
92 Gerald Straßer (Aut) and Stefan Kubach (Ger) Bikepiraten von TMS                                      3.23.16
93 Loris Tinelli (Ita) and Giampaolo Cristoforetti (Ita) Team Todesco                                    3.24.37
94 Stefan Seltenhofer (Ger) and Alfred Schönemann (Ger) Alfred-Stefan                                    3.25.57
95 Jean Éric Lacotte (Fra) and Daniel Degeans (Fra) transalp raid aventure                               3.27.14
96 Christian Hanawitsch (Ger) and Johannes Edelhäuser (Ger) Biber Power                                  3.27.50
97 Larry Michienzi (Can) and Peter Male (Aus) muscat tears                                               3.28.52
98 Wolfgang Blittersdorf (Ger) and Martin Paffenholz (Ger) Team WM                                       3.29.23
99 Paolo Beltramo (RSA) and Wayne Mac Farlane (RSA) Azzuri                                               3.30.04
100 Antony Gray and Michael Spiteri team milo                                                            3.30.44
101 Michael Laverty (Irl) and Declan McCabe (Irl) cooley bulls                                           3.32.57
102 Markus Greif (Ger) and Dieter Dobitsch (Ger) Hirschvogel Automotive                                  3.33.43
103 Hans Hörmann (Ger) and Wilfried Hoffmann (Ger) Team High 5                                           3.35.01
104 Adalbert Kramer (Ger) and Jan-Peter Rudolf (Ger) avolonia.com                                        3.35.09
105 Erik van Nispen (Ned) and Gerrie van Dijk (Ned) The Dutch Giants                                     3.35.50
106 Niklaus Hess (Swi) and Alexander Hess (Ger) Die Rocky Mountain Brüder                                3.36.10
107 Ronald Vogely (Ned) and Leon Van der Schoor (Ned) Death on Arrival                                   3.37.04
108 Mike Saunders and Alan Sparks S&S                                                                    3.39.25
109 Jonathan Morton and John Denny Cheshire Crankers                                                     3.39.34
110 Toscana Sergio (Ita) and Angeli Graziano (Ita) Team Paganella-Trentino                               3.41.53
111 Jos Van Der Velden (Ned) and Daan Maijer (Ned) Politie amsterdam                                     3.42.16
 
Senior masters
 
1 Ferdinand Ganser (Ger) and Georg Niggl (Ger) ept connect                                               5.55.10
2 Walter Ehrler (Swi) and Marcel Arnold (Swi) Giant Swiss D'Ürner Oldies                                    4.56
3 Bill Benson (Can) and Don Sissons (Can) Team Syngenta Prairie Boys                                       29.15
4 Gerhard Moll (Ger) and Alfred Jocher (Ger) Scott Team Heilenmann/MOM grand Masters                       44.16
5 Core Silvio (Ita) and Maltauro Ruggero (Ita) Maghagati                                                   46.59
6 Terje Lund (Nor) and Sigurd Roeggen (Nor) Team Scott/ Torshov Sport                                      51.13
7 Jiri Cesal (Swi) and Urs Güntensperger (Swi) BBT BüliBikeTigers                                          58.03
8 Peter Potocnik (Aut) and Michael Haas (Aut) Zweirad Janger Simplon                                     1.02.53
9 Thomas Jäger (Ger) and Hans-Peter Thönnes (Ger) Jeantex V-Max senior                                   1.11.23
10 Georg Heugenhauser (Aut) and Georg Streitberger (Aut) Team Tirol                                      1.20.11
11 Pio Tomasetig (Ita) and Giuseppe Zanini (Ita) Team Granzon                                            1.30.24
12 Jesper Crone (Den) and Thomas Maegaard (Den) HMTBK Mountaintop 1 SRAM                                 1.30.33
13 Thomas Brugger (Aut) and Helmut Lau (Aut) Rocky Mountain/Kleinwalser Tal                              1.34.01
14 Alois Rey (Swi) and Erich Schuler (Swi) Hopp Schwyz                                                   2.09.02
15 Martin Strik (Ned) and Henk Willems (Ned) 024mtbikers.nl Team 3                                       2.23.57
16 Tony Cole (RSA) and Dennis Lawrie (RSA) Cool Bananaz!!                                                2.32.50
17 Chris De Villiers (RSA) and Roelof Oosthuizen (RSA) Batman and Robin                                  2.39.06
18 Erik Loubser (RSA) and Dewald Botha (RSA) De vosse                                                    3.00.47
19 Thys Neser (RSA) and Brett Sachs (RSA) Oshkosh                                                        3.02.13
20 Frank Dittrich (Ger) and Rudi Wild (Ger) Blumentopf Racing Team 1                                     4.04.50
20 Reinhold Schwulera (Ger) and Erik Schwulera (Ger) Vater & Sohn                                               
 
General classification after stage 6
 
Men
 
1 Karl Platt (Ger) and Stefan Sahm (Ger) Team Bulls                                                     23.45.57
2 Martin Kraler (Aut) and Heinz Verbnjak (Aut) Craft and Friends                                           14.43
3 Andreas Strobel (Ger) and Markus Kaufmann (Ger) Team Vaude-Simplon 1                                     39.36
4 Frank Lehmann (Ger) and Uwe Hardter (Ger) Rothaus - Cube 2                                               45.50
5 Björn Papstein (Ger) and Holger Sievers (Ger) Team idworx-offtraxx.net                                   51.11
6 Silvio Wieltschnig (Aut) and Thomas Nicke (Ger) Fiat/Rotwild                                             55.14
6 Benjamin Rudiger (Ger) and Matthias Bettinger (Ger) Rothaus - Cube 1                                     58.27
8 Jan Schmidt (Ger) and Benjamin Schmieg (Ger) Team Vaude-Simplon 2                                      1.12.56
9 Carsten Bresser (Ger) and Daniel Gathof (Ger) Team Rocky Mountain                                      1.15.20
10 Alexander Pscheidl (Ger) and Christian Schneidawind (Ger) Team TEXPA-Simplon                          1.26.05
11 Michael Schwaiger (Aut) and Markus Götz (Aut) Intersport Eybl                                         1.30.47
12 Flurin Riedi (Swi) and Christian Biffiger (Swi) thömus-trek team                                      1.52.17
13 Michael Schuschardt (Ger) and Marco Schätzing (Ger) Zwillingscraft-Ideal Men I                        1.53.37
14 Ralph Berner (Ger) and Sebastian Lutz (Ger) Team Votec                                                1.55.53
15 Florian Thaller (Ger) and Christian Eckart (Ger) Zwillingscraft-Ideal Men II                          2.12.15
16 Christian Brockhoff (Ger) and Samuel Faruhn (Ger) Bionicon Pro Team                                   2.13.58
17 Kristof Houben (Bel) and Kristof Bomans (Bel) Janssen Cycling Team                                    2.18.56
18 Christian Kaulfersch (Ger) and Alex Kirchmair (Ger) Merida-Rotwild/RTT                                2.25.45
19 Niels Boon (Ned) and Sjef Klerken (Ned) Boon en Klerken                                               2.43.53
20 Ola Bustad (Nor) and Ole Kristian Sorland (Nor) Team Fuji Norway                                      3.16.50
21 Rolf Frei (Swi) and Urs Samtleben (Swi) Sport-trend-shop TREK                                         3.30.58
22 David Leiman (RSA) and Roan Exelby (RSA) Team Fullimput 2                                             3.32.06
23 Jens-Erich Gegner (Ger) and Dominique Linz (Ger) Scott Team Heilenmann 1                              3.34.19
24 Philipp Hoffmann (Ger) and Alexander Stark (Ger) Scott Genius Generation                              3.43.25
25 Oleg Khazov (Rus) and Alexander Torkachenko (Rus) Velomarket-CSKA-Russia                              3.45.24
26 Fabio Degli Innocenti (Ita) and Luca Ruffa (Swi) Staff Bike 2000                                      3.48.39
27 Thomas Zemp (Swi) and Armin Waldisberg (Swi) 4-tissimobikers Uffikon                                  3.50.54
28 Paul Villscheider (Ita) and Franz Pfattner (Ita) Forer Logistic                                       3.52.33
29 Mike Kaiser (Ger) and Ralf Egle (Ger) MRSC Badenweiler                                                3.53.00
30 Flemming Stadler (Swi) and Niculin Bazzell (Swi) Team Scuol                                           4.08.33
31 Jonathan Carballo Ramirez (CRc) and Omodeo Mariano Herrera (CRc) IBP pensiones-Las Doce Horas         4.13.12
32 Beat Amstad (Swi) and Manuel Gischard (Swi) Thömus Veloshop Mänu & Beat                               4.30.29
33 Rallo Carles Bernat (Spa) and Ramon Sagues Portabella (Spa) ALPCROSS                                  4.31.23
34 Rob Bertels (Bel) and Gerd Schaeken (Bel) granville                                                   4.33.07
35 Attila Marton (Hun) and Robert Halasz (Hun) BIKEMAG.hu-Meditechsc                                     4.34.11
36 Manfred Bernard (Ita) and Josef Bernard (Ita) Texmarket-Rewel                                         4.34.49
37 Ewart Van der Putten (Ned) and Bart Damen (Ned) Rocky Mountain -Peerkes Biketeam 1                    4.41.54
38 Tobias Rauch (Ita) and Thomas Dolzani (Ita) Die Rennschnecken/Südtirol                                4.46.26
39 Kurt Baggenstoss (Swi) and Beat Kohler (Swi) Koba                                                     4.49.45
40 Wolfgang Hofmann (Ger) and Karl Fischer (Ger) Team Lechwerke/Bergziege                                4.53.04
41 Alois Vikoler (Ita) and Hans Schrott (Ita) Olmbiker                                                   4.53.44
42 Scott Cornish and Mike Blewitt (Aus) MULE BAR                                                         4.59.26
43 Kristof Wijckmans (Bel) and Kurt Tempst (Bel) Après-Bikers                                            4.59.54
44 Darren Benson (Chn) and Piers Touzel (Chn) TCR                                                        5.07.59
45 Michael Opper (Ger) and Martin Mootz (Ger) Bonsai Bikes                                               5.08.38
46 Kurt Löffler (Lux) and Steve Fries (Lux) UC DIPPACH                                                   5.11.55
47 Hannes Wörgötter (Aut) and Bernhard Widmann (Aut) Team Martins Bike Shop Unken                        5.20.00
48 Carl Erik Pedersen (Nor) and Stig Lokken (Nor) Team Scott/ Torshov Sport                              5.21.01
49 Stefan Gorscak (Ger) and Peter Reiche (Ger) Zwillingscraft                                            5.25.17
50 Filip Kuzniak (Pol) and Mateusz Maculewicz (Pol) ArcelorMittal JBL Team                               5.30.42
51 Thor Andersen (Den) and Lasse Kirkelund (Den) Die roten singen III                                    5.33.36
52 Tom Van den Plas (Bel) and Jean-Pierre Taymans (Bel) Yellow Bikers                                    5.33.56
53 Pavel Vancurik and Martin Sevcik Merida Biking Team                                                   5.45.11
54 Wolf-Thorsten Witt (Ger) and Bojan Bohorc (Slo) Mr.Bike Pforzheim                                     5.51.14
55 Clau Derungs (Swi) and Niklaus Zippert (Swi) Ameis                                                    6.06.12
56 Matthew Zalewski and Andrew Blair (Aus) Redshift Racing                                               6.08.09
57 Urain Zigor (Spa) and Roldan Ugarte Inigo (Spa) Ederra Team A                                         6.08.25
58 Morten Iversen (Nor) and Tom Lund (Nor) Sykkelmagasinet                                               6.13.36
59 Hugo Velthuis (Ned) and Mart Otten (Ned) Gazelle Transalp Team                                        6.15.29
60 Andreas Gebert (Ger) and Torsten Hettich (Ger) DRAHTESEL                                              6.16.05
61 Andrew Wrigley and Christopher Hope Keswick Bikes                                                     6.24.13
62 Gregori Enric Ramoneda (Spa) and Julià Bonmati Arnau (Spa) TOT VICI EN BICI                           6.25.43
63 Markus Enzler (Swi) and Kevin Biehl (Swi) Team Stöckli                                                6.29.27
64 Martin Gruber (Ita) and Patrick Wallnöfer (Ita) www.vinschgaubike.com                                 6.30.58
65 Dyvind Aas (Nor) and Patrick Aserud (Nor) Team Terrengsykkel                                          6.36.27
66 Will Thomas and Paul Butler Lava                                                                      6.39.39
67 Jodi Kooijman (Ned) and Niels Dijkstra (Ned) WTOS                                                     6.44.59
68 Alexander Kostner (Aut) and Christian Angerer (Aut) rtr 31                                            6.47.33
69 Maurizio Lazzarini (Ita) and Mario Giovanni Gorlani (Ita) lupi grigi                                  6.59.11
70 Mike Seidel (Ger) and Sven Gerber (Ger) www.team-waldpark-vogtland.de                                 7.03.50
71 Kolja Hesse (Ger) and Andreas Müller (Ger) Bernardi Klassische Automobile                             7.04.27
72 Morten Simonsen (Nor) and Geir Kjær (Nor) Team Terrengsykkel                                          7.09.46
73 Oskar Pittracher (Ita) and Andrea Canciani (Ita) GS Esercito                                          7.10.32
74 Alfredo Bormolini (Ita) and Filippo Sensoli (Ita) Team Livigno                                        7.13.44
75 Oliver Süess (Swi) and Patrick Zollinger (Swi) Stöckli Outdoor Sports                                 7.14.57
76 Michael Lella (Ger) and Slim Gamh-Drid (Ger) Team-HMC Singen 2                                        7.19.10
77 Eriz Quintana Zarate (Spa) and Jorge Gonzalez Diez (Spa) Ciclos Sport 2                               7.20.49
78 Johannes Hund (Ger) and David Schwendemann (Ger) RSV Staubwolke Haslach                               7.28.17
79 Vock Balazs (Hun) and Varallyaii Laszlo (Hun) Bikemag-George KSE                                      7.28.21
80 Friedrich Sobotka (Aut) and Andrea Chinaglia (Aut) Team Vaude Wien                                    7.29.00
81 Andreas Toth (Aut) and Michael Seer (Aut) www.zop-salzburg.at                                         7.29.15
82 Jürgen Pamminger (Aut) and Harald Grobbauer (Aut) xxteam.at-botschnpicka.at                           7.33.33
83 Manfred Sagmeister (Ita) and Patrick Olivieri (Ita) Bike Club Klausen                                 7.37.14
84 Martin Loeliger (Swi) and Roger Loeliger (Swi) loeliger brothers                                      7.43.28
85 Axel Senf (Ger) and Marcel Delmer (Ger) Hüftgold                                                      7.52.52
86 Will Hayter and Martin Williamson London Dynamo / Freeridespain                                       7.56.07
87 Michal Glowacki (Nor) and Darryl Taylor (Swi) Team NZ                                                 7.57.58
88 Markus Gisler (Swi) and Anthony Mayr (Swi) Sponser Sport Food                                         7.58.50
89 Kjetil Vatne (Nor) and Bjorn Thomas Stenersen (Nor) Northern Light                                    7.59.08
90 Markus Kraus (Ger) and Robert Zwyrtek (Ger) Bäckerei Sipl/Sinoland/Fozzybike                          8.06.50
91 Lars Elsäßer (Ger) and Marcel Geurts (Ger) MTBC Wehrheim II                                           8.15.27
92 Alexander Lange (Ger) and Stefan Allgaier (Ger) Team Adidas Schwäbische Alb II                        8.17.04
93 Thomas Egger (Ita) and Roland Ausserhofer (Ita) SAN. BRUNECK                                          8.17.53
94 Volker Leipner (Ger) and Andreas Decker (Ger) die Glücksritter                                        8.20.44
95 Israel Perea (Spa) and Gonzalo Ibanez (Spa) CICLOS GETXO TEAM                                         8.23.58
96 Reto Aschenberger (Swi) and Samuel Krähenbühl (Swi) aaalpencruizers                                   8.24.06
97 Hans-Dieter Gnann (Ger) and Daniel Becher (Ger) Team Radgarage                                        8.26.47
98 Stefan Niemöller (Ger) and Jochen Hurlebaus (Ger) Bergzwerg                                           8.31.18
99 Stefan Knoll (Aut) and Roland Messner (Aut) Team Kramsach                                             8.36.31
100 Jörg Waldmann (Ger) and Jan Grebe (Ger) Ritchey                                                      8.37.32
101 Morten Munch-Andersen (Den) and Christian Skovgaard Nielsen (Den) Die Roten Singen II                8.41.23
102 Dennis Marinus (Bel) and Mariio Wouters (Bel) Gierke                                                 8.42.55
103 Göte de Pillecyn (Bel) and William Vetters (Bel) filthy lucre                                        8.48.36
104 Ninko Doornbos (Ned) and Eric Bogaard (Ned) Transalp Duchenne                                        8.56.15
105 Kris De Nef (Bel) and Peter Maes (Bel) bonanza                                                       8.58.08
106 Matthias Seidner (Ger) and Carsten Baurigk (Ger) www.team-woba.de                                    8.58.17
107 Christian Casadio (Ita) and Manuel Di Barbora (Ita) Team Bike & More 8 - Surfing Shop                8.58.43
108 Martin Hollmann (Ger) and Tomasz Skrzypek (Ger) Spinning Wheelz                                      9.01.27
109 Paul Davies and Marcus Brueton aircom/mountain trax/torq                                             9.01.30
110 Martin Müller (Ger) and Alexander Kumpf (Ger) AC Weinheim/Team Bergstrasse                           9.02.04
111 Nenad Miric and Igor Jemcov Progressive                                                                     
112 Kevin Curtis and Joseph Berg SquareD                                                                 9.04.44
113 Andries van der Merwe and Johan Le Roux (RSA) Shofar                                                 9.06.01
114 Markus Stephani (Ger) and Mathias Wild (Ger) tri top racing                                          9.07.03
115 Gal Fridman (Isr) and Avner Yassur (Isr) Epic Volvo                                                  9.10.30
116 Mike Shchekotilov (Rus) and Dmitry Senin (Rus) redBike                                               9.13.32
117 Jochen Wehrheim (Ger) and Matthias Klug (Ger) MTBC Wehrheim I                                        9.16.54
118 Andrey Zhukov (Rus) and Oleg Zamotin (Rus) World Class Russia                                        9.20.22
119 Andreas Müller (Ger) and Johannes Mutscheller (Ger) Sherpa / SCR Schnaittach                         9.23.27
120 Brendan Banovic and Nelson Snyder Colossi                                                            9.23.50
121 Raphael Schweda (Ger) and Frank Schmaehling (Ger) The marvelous 2                                    9.26.20
122 Jesper Flach (Den) and Kim Wochner (Den) Joint Adventure                                             9.28.40
123 Marcel Frenk (Ned) and Jeroen Smit (Ned) 024mtbikers.nl Team 2                                       9.31.50
124 Holger Kolb (Ger) and Norbert Straub (Ger) Team Füssen                                               9.41.39
125 Göran Blaschke (Ger) and Sebastian Diekmann (Ger) Sattelfest                                         9.42.09
126 Oliver Schmidbauer (Ger) and Markus Preis (Ger) SpVgg Mitterdorf                                     9.43.20
127 Karsten Held (Ger) and Thomas Steimle (Ger) Schwarzfahrer                                            9.44.21
128 Philipp Weinert (Ger) and Christian Wiese (Ger) Stiftung Wadentest II                                9.44.40
129 Maurijn de Wit (Ned) and Ralph Grootjes (Ned) Bike Action 4                                          9.45.23
130 Johan Erlandsson (Nor) and Gaute Havik (Nor) Team Gulrot                                             9.45.38
131 Sebastian Kroll (Ger) and Stephan Mende (Ger) Zi.116 - BMW - Radsport - Mountainbike Team            9.46.37
132 Rolf Ehrismann (Swi) and Peter Ehrismann (Swi) Jeantex Bike Zone Fun Racer                           9.50.01
133 Danny Roes (Bel) and Werner Daneels (Bel) Gierke                                                     9.54.14
134 Gijs Dohmen (Ned) and Joep Dohmen (Ned) Team Look-a-Like                                             9.55.13
135 Matthias Markl (Ger) and Harald Stolka (Ger) moooove Racing Team                                     9.59.56
136 Jochen Raabe (Ger) and Markus Derjung (Ger) Team Cube 2                                             10.00.49
137 Stefan Hackl (Aut) and Wolfgang Hackl (Aut) RC Kollar                                               10.07.50
138 Alexander von Engelhardt (Ger) and Burkhard Dahl (Ger) Hasenjagd                                    10.12.14
139 Marco van den Berg (Ned) and Micha Salden (Ned) 024mtbikers.nl Team 1                               10.13.52
140 Joachim Thiele (Ger) and Michael Stiller (Ger) Mike&JOJO                                            10.17.42
141 Dennis Rosenplänter (Ger) and Andreas Rosenplänter (Ger) Rosenracers                                10.18.32
142 Lieven Schroyen (Bel) and Jeroen Schroyen (Bel) La Pipe 2                                           10.23.15
143 Baz Igor (Spa) and Zugasti Felix (Spa) Ederra Team B                                                10.25.27
144 Guido Thalmann (Swi) and Sascha Emmenegger (Swi) E-Power Team                                       10.27.13
145 Bernd Bilek (Ger) and Thomas Kretzberg (Ger) ladybiker                                              10.27.21
146 Frank Hartl (Ger) and Ralph Hartl (Ger) Crazy Hartls                                                10.32.26
147 Norbert Parusel (Ger) and Thomas Schmid (Ger) Kreuth-Tegernsee                                      10.33.53
148 Tijl Verhoelst (Bel) and Stan Bovyn (Bel) K. Stoempers                                              10.36.14
149 Marcello Silva (CRc) and Victor Alfaro (CRc) Magnarealtycostarica.com                               10.36.58
150 Jürgen Appenzeller (Ger) and Markus Eschmann (Ger) Radladen-Ulm.de / Aktiv3.de                      10.38.32
151 Ulf Schirmeister (Ger) and Harald Kissel (Ger) Team BadenWälder                                     10.51.35
152 Will Kirkwood (Swi) and Magnus Akesson (Swi) Cheeky Monkey                                          10.57.37
153 Martin Ruprecht (Ger) and Herbert Ruprecht (Ger) Die Ruprecht Buaba                                 10.59.06
154 Daniël Paardekooper (Ned) and Rudy Vos (Ned) team X-treme 2                                         10.59.50
155 Garcia Unai Paniagua (Spa) and Oscar Castro Requena (Spa) ciclos getxo                              11.08.46
156 Luis Franc De Ezpeleta Aguilar (CRc) and Carlos Marin Anottia (CRc) Litespeed-Fox CR                11.12.55
157 Thorsten Rietze (Ger) and Maik Trachte-Grundler (Ger) Gerbracht Racing/Team Nordhessen              11.21.49
158 Thomas Wilschrei (Ger) and André Hinzmann (Ita) Salomon-Scott Rentabike                             11.24.26
159 Sergey Goremykin (Rus) and Sergey Gerasimchuk (Rus) Velomarket-CSKA-Russia                          11.26.34
160 Dries Leys (Bel) and Wim Bracke (Bel) VedeTT                                                        11.33.05
161 Marcus von Harlessem (Ger) and Dirk Vetter (Ger) Bike Corner Siegen                                 11.35.05
162 Heinz Posch (Swi) and Andreas Guignard (Swi) www.gasthofseefeld.ch                                  11.35.06
163 Lars Naundorf (Ger) and Matthias Heineke (Ger) Lowland lawriders                                    11.36.18
164 Erlend Rotvik (Nor) and Bjorn Ellingsen (Nor) Krankenstein                                          11.37.01
165 Remco van Bekkum (Ned) and Eelco Mosselman (Ned) Magura Q-Raceteam                                  11.46.18
166 John Spapens (Ned) and Stephan Coppelmans (Ned) BraBikers 1                                         11.46.36
167 Jens Frank (Ger) and Jörg Schrod (Ger) Ogilvy/U3-Hohemark                                           11.53.43
168 Enric De Llorens Valeri (Spa) and Franscesc Calvo Riera (Spa) Barna Powers-Basoli                   12.01.01
169 Bernd Laukenmann (Ger) and Robert Rogan (Slo) Filstaljäger                                          12.07.58
170 Bernd Lamplmayr (Aut) and Markus Schipflinger (Aut) Allianz TEAM Tirol                              12.13.23
171 Oliver Vitt (Ger) and Andreas Hahn (Ger) kettenhunde                                                12.21.41
172 Thorsten Beuter (Ger) and Georg Rücker (Ger) Team Bunnyhoppers                                      12.41.39
173 Christian Kafka (Ger) and Michael Hank (Ger) Lemmy's crew                                           12.41.46
174 Anders Klavberg (Swe) and Johan Dovemark (Swe) Varbergs MTB                                         12.42.47
175 Ruben Gonzalez (Spa) and Aitor Idigoras Lasaga (Ger) Ciclos Sport 2                                 12.56.23
176 Matthijs Pot (Ned) and Vinne Los (Ned) Bike One Team                                                13.08.41
177 Guy Swolfs (Bel) and Philip Vandeput (Bel) MTBike.be                                                13.11.29
178 Jaroslav Kohoutek and Tomas Zapletal Merida Brno                                                    13.12.32
179 Keith Tatley and Stephen Winton Mud Island Two                                                      13.13.12
180 Sebastian Zimmermann (Ger) and Oliver Lahr (Ger) Team Sackfett                                      13.18.30
181 Hansjörg Reiner (Ger) and Stefan Döring (Ger) Team Langsam                                          13.20.02
182 Ard Kessels (Bel) and Dave Raes (Bel) de zwette maanen                                              13.20.14
183 Florian Erbe (Ger) and Sebastian Kurz (Ger) Team Dienstagsradler                                    13.21.50
184 John Ingle and Paul Nelson Alpine Aardvark Alpine Aardvark Alpine                                   13.23.49
185 Ryan Steele and Bryan Turner Silver Back                                                            13.26.13
186 Tobias Wahle (Ger) and Benedikt Tigges (Ger) Sauerlandfeger                                         13.32.14
187 Shane Peters (RSA) and Nicholas Stephenson (RSA) Aero                                               13.35.42
188 Michael Kleinwort (Chn) and Julian Wilson (Chn) Gate Crashers                                       13.35.57
189 Volker Hess (Ger) and David Roscher (Ger) MODI-CRAFT 2                                              13.36.43
190 Michael Kunkel (Ger) and Jens Glorer (Ger) Fanta 2                                                  13.38.19
191 Gregor Wilde (Ger) and Patrick Großpietsch (Ger) TT                                                 13.44.25
192 Matthias Kreutzer (Ger) and Andreas Grützmacher (Ger) Bike Aid Racing                               13.45.48
193 Mikko Merisaari (Fin) and Lauri Österman (Fin) black knights                                        13.49.18
194 Oliver Sequenz (Ger) and Christian Hoverath (Ger) Team Hannibal                                     13.58.33
195 Nathan Turner and Mark Shepherd Marrow                                                              14.11.07
196 Menno Klunder (Ned) and Floris Klunder (Ned) klunder                                                14.11.26
197 Iroy Cosse (Ned) and Gosse Bakker (Ned) bredabikes                                                  14.16.00
198 Werner Van Der Merwe and Willem Oelofse What next?                                                  14.16.31
199 Gero Halbgebauer (Ger) and Stefan Loehle (Swi) RSCStuttgartWest                                     14.18.44
200 Oliver Kurz (Ger) and Christian Del Gaizo (Ger) rsc stuttgart west                                  14.19.15
201 Matthäus Lorenz (Ger) and Andreas Oess (Ger) Radhaus Winterlingen                                   14.26.23
202 Dominik Pesta (Aut) and Stefan Schmid (Aut) Die Zwei                                                14.27.35
203 Nik Heyns (Bel) and Hans Van Peer (Bel) Aventi 1                                                    14.35.03
204 Peter Wouters (Ned) and Schellekens Sjack (Ned) Roxky Mountain-Peerkes Bike Team 2                          
205 Patrick Bews (Ger) and Fabian Kautz (Ger) ballerbrüder                                              14.36.01
206 Oyvind Borgersen (Nor) and Ole Christian Lunna (Nor) Lunna/Borgersen                                14.41.31
207 Christoph Kirchmeier (Aut) and Mario Ziegler (Aut) Mons Auriga                                      14.46.38
208 Dennis Wolf (Ger) and Tim Block (Ger) Desperados                                                    14.52.45
209 Thomas Jecke (Ger) and Marcel Schmied (Ger) Schmiedo Racing                                         14.53.57
210 Christian Trummer (Aut) and Wilfried Macher (Aut) Bikecenter Schager                                14.54.16
211 Frank Zöllner (Ger) and Sebastian Reimer (Ger) Jeantex                                              14.59.49
212 Shane Thomson (RSA) and Marco Pulvirenti (RSA) Team Fullimput 1                                     15.06.03
213 Sebastian Kelb (Ger) and Sebastian Hoyer (Ger) Jeantex Team Fahrrad-Schiwy                          15.19.47
214 Daniel Conka (Ger) and Kay Fütterer (Ger) polar-soq.de Bike Team                                    15.20.01
215 Harald Pfurtscheller (Swi) and Paul van`t Hullenaar (Aut) the adventurers                           15.21.46
216 Andreas Stueckler (Aut) and Jürgen Steiner (Lie) Gsiberger                                          15.30.27
217 Eric Behnsen (Ger) and Jakob Gross (Ger) Team Ralph Wiggum                                          15.40.38
218 Eric Spahn (Ger) and Stefan Wade (Ger) Rodgau Racer                                                 15.49.11
219 Ilja Van Ermingen (Ned) and Erik Schmetz (Ned) Dirty Deeds - Men                                    15.51.25
220 Michael Neser (RSA) and Christiaan Neser (RSA) Maties                                               15.52.27
221 Paul Meijboom (Ned) and Joep Houten (Ned) Witte Tonnies                                             15.54.15
222 Stefano Boffelli (Ita) and Michael Schulz (Ger) BOFFELLIS                                           16.01.30
223 Thomas Hofmuth (Ger) and Robert Stöckl (Ger) Sensor-Technik Wiedemann                               16.11.00
224 Sascha Söhngen (Ger) and Andreas Stettin (Ger) fat-tire-flyer1                                      16.17.54
225 Robert Jacobs (Ned) and Geert-Jan Moors (Ned) MOORS-GIJSMAN ASSURANTIEN                             16.35.38
226 Salvador Olivares Munuera (Spa) and Soria Gonzalez Antonio (Spa) INVERSE-RM                         16.37.22
227 Nehemia Paardekooper (Ned) and Alexander Paardekooper (Ned) team X-treme 1                          16.38.53
228 Wilhelm Schaffner and Frank Werner (Zim) The latin Pirates Team                                     16.54.39
229 Frank Prußat (Ger) and Christian Schmidt (Ger) TAC'os                                               17.01.56
230 Christian Bertemes (Lux) and Tom Engel (Lux) Daf Team                                               17.09.36
231 Bob Stroomer (Ned) and Martin Rijswijk (Ned) Gaus & SB Biking                                       17.10.41
232 Emilio Gaspari (Ita) and Emanuelito Catalini (Ita) Team Bike & More 10 - Inergia Castel Trosino     17.12.51
233 Jens Endler (Ger) and Yves Pojtinger (Ger) Waldknecht                                               17.20.20
234 Antoine Vos (Swi) and Jörgen Naaijer (Swi) Wärtsilä                                                 17.22.41
235 Michael Hey (Ger) and Martin Mattlener (Ger) Team xenoon                                            17.23.40
236 Pascal Olislagers (Ned) and Jurgen Olislagers (Ned) chainbrothers                                   17.30.58
237 Victor Manuel Garcia Montoro (Spa) and Alesandro Garcia Montoro (Spa) Bidone Roma Team              17.35.02
238 Patrick Faust (Ger) and Niels Mayer (Ger) Transen                                                   18.00.46
239 Michael Ebner (Aut) and Gilbert Pfanner (Aut) Zwei Himmelhunde auf dem Weg zur Hölle                18.06.22
240 Patrick Dressel (Ger) and Jörn Rischmüller (Ger) Wir sind dann mal weg ...                          18.07.39
241 Holger Hoffmann (Ger) and Tobias Hoffmann (Ger) Craft and friends                                   18.20.31
242 Bart Schoenmaekers (Bel) and Bart Jordaens (Bel) Aventi Racing Team 2                               18.22.06
243 James Hinsby (Aut) and Sebastjan Kocijancic (Aut) SPIRIT FOR ADVENTURE                              18.30.58
244 Marco Van den Helm (Ned) and Sven Stoffelen (Ned) BraBikers 3                                       19.32.25
245 Marcus Kim (Ger) and Tim Callies (Ger) Mokka Team                                                   19.35.16
246 Tilman Gollner (Ger) and Jörg Hafner (Ger) Qurius-Team                                              20.06.06
247 Daniel Seipp (Ger) and Sebastian Christ (Ger) Meanmachine                                           21.11.43
248 Andreas Herrmann (Ger) and Markus Widmann (Ger) Netviewer                                           22.44.59
 
Women
 
1 Alison Sydor (Can) and Pia Sundstedt (Ger) Team Rocky Mountain                                        27.47.51
2 Anna-Sofie Noorgard (Den) and Christin Noorgard (Den) Team Cube 5                                        35.48
3 Kerstin Brachtendorf (Ger) and Daniele Troesch (Fra) Fiat/Rotwild                                      2.42.46
4 Barbara Merkofer (Swi) and Margrit Jörg (Swi) Giant Swiss Ladies                                       3.48.33
5 Gunn Hilleren (Nor) and Monika Olofssen (Nor) Team Scott/ Torskov Sport                                5.18.42
6 Natascha Binder (Ger) and Bettina Dietzen (Ger) Conway - immer 2 mal mehr wie Du!                      5.50.37
7 Christin Kehrli (Swi) and Astrid Keusen (Swi) Heidies - Scott                                          9.22.42
8 Andrea Hiller (Ger) and Katja Holzer (Ger) moooove RacingTeam                                          9.53.44
9 Emily Brooks and Jane Reedy keswickbikes.co.uk                                                        13.01.51
 
Mixed
 
1 Werner Fischer (Swi) and Milena Landtwing (Swi) Institut Ftan/Velo Franz Univega                      28.00.42
2 Anita Steiner (Swi) and Cornel Bamert (Swi) Team Stöckli Wädenswil                                       33.34
3 Jon Richardson (NZl) and Sara MacDonald (NZl) R & R Sport                                              1.34.36
4 Heike Hundertmark (Ger) and Sam Baeten (Ger) Rothaus - Cube 3                                          1.55.47
5 Claudia Till (Ger) and Franz Trattler (Ger) Zwillingscraft-Ideal-Mixed                                 2.01.40
6 Andrea Kuster (Swi) and Lars Vollmer (Ger) Die Königskinder 69                                         2.49.40
7 Paul Bühler (Swi) and Sabina Compassi (Swi) Lumpaz                                                     3.54.30
8 Andre Paschke (Ger) and Conny Marquardt (Ger) Steppenwolf Bikes/Bonsai                                 4.03.58
9 Iztok Dogsa (Slo) and Spela Skrajnar (Slo) GANESHATEAM-vegepower                                       4.33.29
10 Marco Carrer (Swi) and Eva Carrer (Swi) Kraftwerk Rennteam                                            5.08.15
11 Miguel Alia Gonzalez (Spa) and Nuria Lauco Martinez (Spa) ALPCROSS-BARNA POWERS                       5.16.46
12 Thomas Bretting (Ger) and Silvia Klee-Bretting (Ger) BerGaMont                                        5.42.00
13 Sibylle Schnarr (Swi) and Marco Frank (Swi) Farfallina                                                5.51.48
14 Katrina Brown and Peter Dennis Deeside Total Endurance                                                6.02.51
15 Marlen Ulrich (Swi) and Andy Stadelmann (Swi) voremzmorgä                                             6.11.47
16 Vicenc Pacios Pujado (Spa) and Pujado Merce Pacios (Spa) Bici Sprint                                  7.15.48
17 Kurt Anderau (Swi) and Judith Locher (Swi) Repack the grease                                          7.17.49
18 Kristof Schoonbaert (Bel) and Sofie De Wulf (Bel) VT4                                                 7.24.59
19 Christine Dietsche (Swi) and Wolfgang Fischer (Ger) Supernova-lights.com                              7.27.56
20 Reiner Künzel (Ger) and Stefanie Hartmaier (Ger) Team mabitz                                          7.47.24
21 Dirk Henke (Ger) and Nicola Baum (Ger) NIDI - Racing Team                                             8.10.20
22 Anton Lebutsch (Aut) and Barbara Lebutsch (Aut) Jeantex Sports Experts                                8.12.20
23 Susanne Juranek (Ger) and Henning Früchtenicht (Ger) buhl-bikes.de                                    8.19.25
24 Martijn Bilthof (Ned) and Petra Bruin de (Ned) Bar End                                                8.22.16
25 Doris Steenfatt (Ger) and jens Ludwigs (Ger) Team Conway 2                                            8.32.17
26 Steffen Cramer (Ger) and Ilka Scholz (Ger) RC Diana                                                   9.16.43
27 Andre Feldmann (Ger) and Katrin Hellwig (Ger) Team Rheinenergie                                      10.02.53
28 Peter Keil (Ger) and Pia Graulich-Kring (Ger) Schneider Sports                                       10.26.13
29 Sebastiaan van der Greft (Ned) and Nicoletta de Jager (Ned) Bikers Bussum                            10.42.33
30 Sven Meier (Ger) and Andrea Meier (Ger) mtb-südbaden                                                 11.05.20
31 Carl Huygen (Bel) and Natalie Franken (Bel) Carl & Nat                                               11.09.42
32 Spalek Miroslav and Spalkova Mirka REV_Kebek Chomutov                                                11.18.55
33 Marisa Tosi (Can) and Roy Custodio (Can) RAM2                                                        11.26.18
34 Iris Ohlig (Ger) and Oliver Schmitt (Ger) Aufwärts!                                                  11.40.07
35 Paul Ziegler (Ger) and Anette Kaufmann (Ger) ap                                                      12.01.30
36 Susanne Ernst (Ger) and Wolfgang Ernst (Ger) Bike-doc.de                                             12.09.39
37 Vittorio Viglino (Ita) and Piera Morando (Ita) Team Flinstones                                       12.10.04
38 Esther Stockhofe (Ger) and Christoph Prokop (Ger) Schlickenrieder II                                 12.23.44
39 Greg Norombaba and Lisa Riehl Norombaba                                                              12.32.27
40 Alberto Puddu (RSA) and Landy Puddu (RSA) Amashova                                                   13.12.17
41 Alexandra Dessombes (Ger) and Jens Witt (Ger) Blümchenpflücker                                       13.31.30
42 Tom Hemmant and Lucy Dove (Ger) London Dynamo special pair                                           13.44.18
43 Corinna Geldsetzer (Ger) and Frank Schonath (Ger) RMV Concordia Strullendorf                         19.12.25
 
Master
 
1 Ekkehard Dörschlag (Aut) and Heinz Zörweg (Aut) Team KTM                                              24.34.28
2 Walter Platzgummer (Ita) and Johann Grasegger (Ger) Scott-adidas-Naturns                                 32.04
3 Siegfried Hochenwarter (Aut) and Georg Koch (Aut) Team Generali                         48.41
4 Udo Bölts (Ger) and Werner Wagner (Ger) Team Cube 3                                                    1.58.12
5 Andi Schatz (Ger) and Andreas Bühler (Ger) Team goX                                                    2.15.24
6 Hansjürg Gerber (Swi) and Daniel Feuz (Swi) ZellwegerArchitektenThun                                   2.33.30
7 Walter Perkmann (Ita) and Hansjörg Oberkalmsteiner (Ita) AMONN OFFICE Team                             3.16.49
8 Roman Untersee (Swi) and Roland Störi (Swi) Team Ebneter                                               3.56.20
9 Andreas Graf (Swi) and Martin Altermatt (Swi) Move on                                                  4.09.18
10 Thomas Rüegg (Swi) and Max Bertschinger (Swi) Thomax Bike Team                                        4.11.14
11 Günter Sandmann (Ger) and Silvester Weinmeyer (Ger) Team Hummel - Radlabor                            4.27.27
12 Mike Hogan and Thomas Dooley Chipotle-Titus-Velo News                                                 4.36.29
13 Uwe Windmüller (Ger) and Martin Schneider (Ger) MODI-CRAFT 1                                          4.51.42
14 Axel Rücker (Ger) and Frank Wittmann (Ger) IsarRider                                                  4.59.41
15 Thomas Mennecke (Ger) and Matthias Ocklenburg (Ger) SCHIERKER FEUERSTEIN RACING TEAM                  5.56.31
16 Uwe Scherzer (Ger) and Stephan Kühnel (Ger) medfachschule.de                                          6.05.32
17 Franco Martini (Ita) and Bruno Furlan (Ita) ISOLMANT-RTTR                                             6.35.16
18 Dominick Hegarty (Irl) and Michael Jordan (Irl) Irish Austrilian Coalition                            6.36.43
19 Dieter Marquardt (Ger) and Martin Perrot (Ger) CARBO(N)-JUNKIES                                       6.51.23
20 Enzo Macor (Ita) and Paolo Zanoner (Ita) Team Bike & More 9 - Marcialonga                             7.02.31
21 Hans Theo Hell (Ita) and Andrea Giuliani (Ita) Team Kaltern                                           7.03.29
22 Drew Geer and Mark Gouge Chipotle/Velonews                                                            7.19.47
23 Geir Sundin (Nor) and Alexander Holm (Nor) Team Froy 1                                                7.29.44
24 Gerald Vogel (Ger) and Anders Skantz (Ger) Eddy-Merckx                                                7.33.27
25 Marcus Werf (Ger) and Joachim Oberföll (Ger) Bike-werf/ team-speedzone.de                             7.46.19
26 Markus Thomas (Ger) and Michael Gerhartz (Ger) Team Schmidde M www.cannondalestore.de                 7.50.25
27 Greg Anderson and George Oertel Bald Eagles                                                           7.56.25
28 Detlef Buser (Ger) and Andreas Hahn (Ger) Die Pulloverschweine                                        7.59.39
29 Andreas Köhler (Ger) and Stefan Fritz (Ger) Not & Elend                                               8.13.01
30 Thorsten Damm (Ger) and Veit Susallek (Ger) Auf ein Neues !                                           8.13.18
31 Alberto Coto (CRc) and Melvin Rojas (CRc) Litespeed - Costa Rica                                      8.25.13
32 Hubert Pernter (Ita) and Manfred Klammsteiner (Ita) Dynamik bike                                      8.29.42
33 Stephan Hummitzsch (Ger) and Rico Hauk (Ger) Ponta-versal-Bike-Team                                   8.34.07
34 Stefan Koller (Ger) and Karlheinz Volkmann (Ger) Blackmasters                                         8.40.02
35 Louis Brockhoven (Bel) and Wim Waeckens (Bel) DC-Construct Team                                       8.42.17
36 Wolfgang Pohl (Ger) and Nico Wich-Schwarz (Ger) VIVALPIN                                              8.44.29
37 Stefano Ciarleglio (Ita) and Franco Amati (Ita) TRIANGOLO LARIANO                                     8.58.02
38 Matthias Wolf (Ger) and Walter Schmitz (Ger) RSLC Holzkirchen                                         8.58.12
39 Giancarlo Cassani (Ita) and Giovanni Bombardini (Ita) Team Bike & More 1 - S.C. Velociraptor          9.01.35
40 Stephan Wagner (Ger) and Michael Breiner (Ger) Toxoholics                                             9.03.17
41 Frank Drechsel (Aut) and Rainer Hilbrand (Aut) Rocky Mountain/Kleinwalsertal                          9.03.20
42 Johnny McCabe (Irl) and Gerry McCabe (Irl) Cuchulainn Warriors                                        9.08.25
43 Arthur Van Wezel (Ned) and Carlos Van Wanrooy (Ned) peaplastics                                       9.16.48
44 Phil Miles and Steve Davidson Pocket Rockets                                                          9.20.42
45 Stefan Pöhlmann (Ger) and Harry Geiger (Ger) Deutsche Mountainbike-Union e.V.                         9.23.03
46 Andreas Hanke (Ger) and Sepp Gschwendtner (Ger) Redheads                                              9.23.25
47 381                                                                                                   9.24.58
48 Andreas Hauser (Aut) and Martin Ullrich (Aut) powerman on Tour                                        9.35.42
49 Bo Falck Hansen (Den) and Carsten Lundby (Den) HMTBK SRAM B3                                          9.39.01
50 Felix Prinz (Ger) and Hrvoje Brlek (Ger) Max und Moritz                                               9.41.58
51 Stefano Pasqua (Ita) and Rudy Prandi (Ita) Team Riva del Garda                                        9.49.09
52 Martin Hanemaaijer (Ned) and Frank Feijen (Ned) Bike action 1                                        10.04.40
53 Tibor Kaufmann (Ger) and Frank Puschold (Ger) Die Thüringer                                          10.08.50
54 Heiko Höfner (Ger) and Jens Martin (Ger) Team IQ Busch & Müller                                      10.18.41
55 Wolfgang Schaupp (Ger) and Norbert Fischer (Ger) UPHILL                                              10.33.45
56 Ian Palmer and Paul Trott Wheelbase                                                                  10.39.46
57 Marc Roggen (Bel) and Paul Andries (Bel) La Pipe 1                                                   10.40.19
58 Peter Wiese (Ger) and Andreas Rüther (Ger) Langenberg Marathon                                       10.44.49
59 Clemens Huber (Ger) and Isidor Kaffl (Ger) Dore & Clemens                                            10.50.46
60 Stefan Jungmann (Aut) and Walter Schimpfössl (Aut) Ischgl Haibike Team                               10.51.51
61 Bart Grevink (Ned) and Wim Vangelder (Ned) wv Noordveluwe                                            11.08.45
62 Daniel Sandoz (Swi) and Johan Walraven (Ned) BraBikers-4                                             11.17.04
63 Gary Shields and Grant Miller LavaMen                                                                11.30.16
64 Claus Wachsmann (Ger) and Klaus Rübensaal (Ger) Team Cube 1                                          11.31.01
65 Abraham Dolf (Swi) and Thomas Pfeffer (Swi) Ameis-Master                                             11.31.47
66 Andrea Massaccesi (Ita) and Fabrizio Tobaldi (Ita) Team Bike & More 4 - Avis Cingoli                 11.31.50
67 Stephen Davies (Aus) and Richard Paine (Sin) Think Global                                            11.33.27
68 Günther Palla (Aut) and Michael Müller (Aut) Mountain Bike Holidays                                  11.43.42
69 Stephen Mark and Patrick Meffan 2 Kiwis                                                              11.54.57
70 Frank Raschke (Ger) and Thomas Grimm (Ger) Team Taberski Berlin                                      12.03.27
71 Alexander Ubland (Ger) and Karl-Heinz Becker (Ger) Tourguides                                        12.10.39
72 Michael Fischer (Ger) and Maik Rotermund (Ger) MTB Hamburg                                           12.33.50
73 Pierre Debs and Michael Fleischmann (Ger) Nucking Futz                                               12.36.19
74 Peter Wortmann (Ger) and Jochen Eiting (Ger) Haard Racing Team                                       12.39.59
75 Andreas Bichler (Aut) and Reinhard Bichler (Aut) Bike & Run Imst                                     12.41.48
76 Andrew Overfield (Ger) and Christopher Koch (Ger) African Dirt Pigs                                  12.45.14
77 Holger Sperb (Ger) and Bernhard Gangkofer (Ger) Berggorillas                                         13.01.14
78 Harry Krischanz (Aut) and Gernot Mittersteiner (Aut) Freundliche Ältere Herren                       13.01.46
79 Reto Rickenbach (Swi) and Markus Christ (Swi) Swiss Mountain Raiders                                 13.04.12
80 Domenico Mozzone (Ita) and Giorgio Delfino (Ita) Team Bike & More 2 - Team Olmo 1                    13.06.27
81 Thomas Fischer (Ger) and Peter Stoll (Ger) Deam Bratwurscht                                          13.11.18
82 Truls Lura (Nor) and Roald Misje (Nor) Team Misje Rederi                                             13.13.26
83 Christoph Kemmer (Ger) and Udo Laber (Ger) Zwillingscraft Friends                                    13.18.57
84 Steffen Winkelmann (Ger) and Uwe Gosch (Ger) Team Südharz                                            13.29.40
85 Gerald Straßer (Aut) and Stefan Kubach (Ger) Bikepiraten von TMS                                     13.42.43
86 Ronald Vogely (Ned) and Leon Van der Schoor (Ned) Death on Arrival                                   13.44.30
87 Josef Saska and Otta Matousek IT Challenge                                                           13.45.05
88 Karli Hachenberg (Ger) and Andi Fetter (Ger) Westerwald-Express                                      13.52.34
89 Helmut Seidel (Ger) and Michael Goffin (Ger) Mplus                                                   13.53.46
90 Mike Saunders and Alan Sparks S&S                                                                    13.54.32
91 Josef Riedenauer (Ger) and Christian Steigerwald (Ger) bike & surf                                   14.02.48
92 Frank Rautenberg (Ger) and Stephan Angerer (Ger) Stiftung Wadentest                                  14.09.12
93 Noel Magermans (Ned) and Erwin Rothkrantz (Ned) Dirty Deeds - Masters                                14.11.07
94 Michael Laverty (Irl) and Declan McCabe (Irl) cooley bulls                                           14.25.26
95 Paolo Beltramo (RSA) and Wayne Mac Farlane (RSA) Azzuri                                              15.01.38
96 Jean Éric Lacotte (Fra) and Daniel Degeans (Fra) transalp raid aventure                              15.11.27
97 Philippe Droz (Swi) and Roland Fetzer (Swi) Debil bikers                                             15.32.01
98 Stefan Seltenhofer (Ger) and Alfred Schönemann (Ger) Alfred-Stefan                                   15.35.28
99 Christian Hanawitsch (Ger) and Johannes Edelhäuser (Ger) Biber Power                                 15.51.49
100 Hans Hörmann (Ger) and Wilfried Hoffmann (Ger) Team High 5                                          16.03.42
101 Larry Michienzi (Can) and Peter Male (Aus) muscat tears                                             16.05.56
102 Wolfgang Blittersdorf (Ger) and Martin Paffenholz (Ger) Team WM                                     16.11.04
103 Markus Greif (Ger) and Dieter Dobitsch (Ger) Hirschvogel Automotive                                 16.46.51
104 Loris Tinelli (Ita) and Giampaolo Cristoforetti (Ita) Team Todesco                                  17.02.15
105 Adalbert Kramer (Ger) and Jan-Peter Rudolf (Ger) avolonia.com                                       17.09.07
106 Jonathan Morton and John Denny Cheshire Crankers                                                    17.15.32
107 Erik van Nispen (Ned) and Gerrie van Dijk (Ned) The Dutch Giants                                    17.37.11
108 Antony Gray and Michael Spiteri team milo                                                           17.58.50
109 Jos Van Der Velden (Ned) and Daan Maijer (Ned) Politie amsterdam                                    18.31.50
110 Niklaus Hess (Swi) and Alexander Hess (Ger) Die Rocky Mountain Brüder                               18.32.36
111 Toscana Sergio (Ita) and Angeli Graziano (Ita) Team Paganella-Trentino                              18.54.25
 
Senior masters
 
1 Ferdinand Ganser (Ger) and Georg Niggl (Ger) ept connect                                              27.47.26
2 Walter Ehrler (Swi) and Marcel Arnold (Swi) Giant Swiss D'Ürner Oldies                                   27.52
3 Core Silvio (Ita) and Maltauro Ruggero (Ita) Maghagati                                                 1.51.56
4 Bill Benson (Can) and Don Sissons (Can) Team Syngenta Prairie Boys                                     3.10.48
5 Jiri Cesal (Swi) and Urs Güntensperger (Swi) BBT BüliBikeTigers                                        3.14.24
6 Gerhard Moll (Ger) and Alfred Jocher (Ger) Scott Team Heilenmann/MOM grand Masters                     3.23.52
7 Terje Lund (Nor) and Sigurd Roeggen (Nor) Team Scott/ Torshov Sport                                    3.32.06
8 Peter Potocnik (Aut) and Michael Haas (Aut) Zweirad Janger Simplon                                     4.05.45
9 Georg Heugenhauser (Aut) and Georg Streitberger (Aut) Team Tirol                                       5.00.48
10 Thomas Jäger (Ger) and Hans-Peter Thönnes (Ger) Jeantex V-Max senior                                  5.30.29
11 Pio Tomasetig (Ita) and Giuseppe Zanini (Ita) Team Granzon                                            6.56.11
12 Thomas Brugger (Aut) and Helmut Lau (Aut) Rocky Mountain/Kleinwalser Tal                              7.33.10
13 Jesper Crone (Den) and Thomas Maegaard (Den) HMTBK Mountaintop 1 SRAM                                 7.42.54
14 Alois Rey (Swi) and Erich Schuler (Swi) Hopp Schwyz                                                  10.00.13
15 Martin Strik (Ned) and Henk Willems (Ned) 024mtbikers.nl Team 3                                      11.02.24
16 Tony Cole (RSA) and Dennis Lawrie (RSA) Cool Bananaz!!                                               11.42.52
17 Thys Neser (RSA) and Brett Sachs (RSA) Oshkosh                                                       13.27.36
18 Erik Loubser (RSA) and Dewald Botha (RSA) De vosse                                                   13.44.46
19 Chris De Villiers (RSA) and Roelof Oosthuizen (RSA) Batman and Robin                                 14.16.00
20 Reinhold Schwulera (Ger) and Erik Schwulera (Ger) Vater & Sohn                                       14.43.41
20 Frank Dittrich (Ger) and Rudi Wild (Ger) Blumentopf Racing Team 1                                    16.29.19