MTB index page for all MTB content
National Mountain Bike Series #5 (NMBS) - NE
East Coast National, Windham, New York, USA, July 11-13, 2008
Main Page Results Previous Race Next Race
Race 17 - July 13: Elite Men Short Track
Wells claims first short track win of '08
By Dave McElwaine in Windham, New York
Todd Wells (GT/Pacific) wins
Photo ©: Dave McElwaine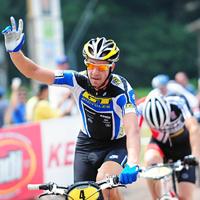 In what was certainly the most tactical short track race of the season, Todd Wells (GT/Pacific) was able to get around Jeremiah Bishop (Trek/VW) on the final turn to take his first short track win in two years. Wells, just named to the United States of America Olympic Team, had significant help from his bother Troy Wells (Tokyo Joes), before his sibling broke a pedal.
"It was good to have my brother Troy up there to go at it with," said Todd Wells. "It's hard to get away on this course. By the time you attack, you're going down the hill so everyone can kind of recover. Then Bishop hit it with two to go and I was able to hang on and come around him at the end."
Adam Craig (Giant), also headed to the Beijing Olympic Games, finished third as he surged in the final two laps. After leading early Ryan Trebon (Kona) finished in fourth place ahead of Carl Decker (Giant). Nipping at the heels of the veteran riders were young Sam Jurekovic (U-23 National Team) and Sam Schultz (Gary Fisher/Subaru), who finished sixth and seventh respectively.
Jeremy Horgan-Kobelski (Gary Fisher/Subaru)
Photo ©: Dave McElwaine

When Troy Wells was asked if he had been working for his brother, he replied, "It was a bit of a cat and mouse game. One of us goes out and then the other sits up."
The Windham Mountain short track course featured a long climb, followed by a long bumpy descent. On the backside of the course riders faced one small hill on the run in to the finish. Many attacks were made on the initial climb during a race that saw many lead changes.
It has become almost expected that Trebon will attack the field in a short track cross country race and Windham was no exception. Trebon stayed away for several laps but finally sat up as a very strong group, including Bishop and the Wells brothers, chased him down. Both the Giant riders Craig and Decker were in the group, but were not dictating the pace.
Bishop was quite pleased with his race, given his poor starting grid. He said "It went exceptional," he said. "It was the best I've ever done in an NMBS short track. I was that close to the win. Had I had four more pedal strokes up that hill, I would have had the pole position coming into the finish and the win."
"With a 23rd start position, I did an excellent job and felt like a winner," he added.
How it unfolded
The leaders were all together again
Photo ©: Dave McElwaine

Normally Todd Wells wins the start but Jeremy Horgan-Kobelski got the hole shot this time around as Wells had a poor starting position having been in Europe. Following JHK were Troy Wells, Schultz, Decker, and Cody Peterson (Scott).
Ryan Trebon had moved to the front by the end of the first lap and attacked on the second, opening up a larger gap. It grew to 12 seconds by lap five, while Troy Wells led the chase along with his brother Todd. Bishop had sliced through the field to assume fifth wheel.
Trebon sat up on lap seven realizing the chasers were about to make contact. Troy Wells attacked hard two laps later and Decker chased followed by Bishop, Todd Wells, and Trebon.
After closing down the gap to Troy Wells, Trebon moved to the front on lap 11. Todd Wells overtook Trebon less than a lap later while Craig had quietly moved up to fifth place.
Troy Wells attacked again on lap 14 and got a gap on his brother. Bishop led the chasers and quickly brought the race back together again. Bishop attacked hard on lap 15, with only Todd and Trebon able to stay with him.
A sizeable gap grew back to the Giant riders. Due to all the energy that had been expended so far, the attack fizzled out and all the main contenders, including Craig and Decker, came together at the start/finish.
For a short time the riders sat up, content that they were together, and hoping to recover a bit. Bishop attacked as hard as he could with two laps remaining and only Todd Wells had the legs to go with him this time.
Wells shadowed Bishop until the final turn of the last lap and got by Bishop on the inside for the victory.
Photography
For a thumbnail gallery of these images, click here
Images by Dave McElwaine/www.trailwatch.net
Results
1 Todd Wells (USA) GT Bikes                          24.01
2 Jeremiah Bishop (USA) Trek/VW                       0.04
3 Adam Craig (USA) Giant MTB Team                         
4 Ryan Trebon (USA) Kona                              0.06
5 Carl Decker (USA) Giant MTB Team                    0.14
6 Sam Jurekovic (USA) U23 National Team               0.18
7 Sam Schultz (USA) Subaru-Gary Fisher                0.37
8 Andy Schultz (USA) Kenda Titus Hayes                0.38
9 Cody Peterson (USA) Scott Bicycles                  0.40
10 Jesse Lalonde (USA) Gary Fisher 29/T6/Bkb          0.44
11 Mathieu Toulouse (Can) Team Maxxis                 0.50
12 Thomas Turner (USA) Outspokin Bicycles             1.03
13 Jeremy Horgan-Kobelski (USA) Subaru-Gary Fisher    1.05
14 Barry Wicks (USA) Kona                                 
15 Troy Wells (USA) Tokyo Joes                        1.14


Lapped

16 Adam Morka (Can) 3 Rox Cycling                         
17 Tad Elliott (USA) U23 National Team                    
18 Colin Cares (USA) U23 National Team                    
19 Marko Lalonde (USA) Gary Fisher 29/Bkb/T6              
20 Stephen Ettinger (USA) Black Diamond Sports Therapy    
21 Samuel Koerber (USA) Gary Fisher 29Er Crew             
22 Bryan Alders (USA) Mona-Vie/Cannondale                 
23 Mitchell Hoke (USA) Tokyo Jos                          
24 Jeff Schalk (USA) Trek Vw- East                        
25 Charles Pendry (USA) Inland - Btd                      
26 Eric Batty (Can) Trek Bicycles Store Team              
27 Mcconnell Franklin (USA) Team Devo                     
28 Travis Livermon (USA) Kobold Watch Comp                
29 Bryan Fawley (USA) Park Place Lexus                    
30 Robert Marion (USA) Kenda Titus                        
31 Travis Woodruff (USA) Bmc/Momentumendurance            
32 Aaron Snyder (USA) Scotts Bikes                        
33 Blake Zumbrunnen (USA) Revolution/Crank Bros           
34 Adam Snyder (USA) 3-D Racing                           
35 Jay Richards (USA) Salsa/Maplelag Resort               
36 Chris Peterson (USA) Devo                              
37 Spencer Paxson (USA) Team S&M Young Guns               
38 Manuel Prado (CRc) Sho-Air                             
39 Chris Peariso (USA) Adventure 212 /Titus               
40 Drew Edsall (USA) Endurancefactor.Com/Scott            
41 Greg Carpenter (USA) Devo                              
42 Matt Rotroff (USA) Btd/Inland Construction             
43 Alex Ryan (USA) Kobold/Cannondale                      
44 Timothy Madgwick (NZl)                                 
45 Dylan Alesio (USA) Fuji Bikes                          
46 Andrew Alesio (USA) Fuji Bikes                         
47 Matt Freeman (USA) Cyclery Usa/Gary Fisher             
48 Lucas Livermon (USA) Inland Construction               
49 Ryan Woodall (USA) Industrynine/Powerbar               
DNS Mitchell Peterson (USA) Mona Vie/Cannondale           
DNS Ethan Gilmour (USA) U23 National MTB Team