MTB index page for all MTB content
Wildside MTB - NE
Tasmania, Australia, January 19-22, 2008
Main Page Results Overall standings Previous Stage
Stage 7 - January 22: Hells Gates, 36km
Jackson collects biggest win at Wildside
Fry wins women's race
Sid Taberlay went for a gutsy solo breakaway along Ocean Beach, but he was beaten by a puncture in 2008.
Photo ©: Rick Eaves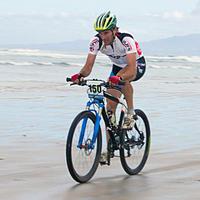 24 year-old Victorian, Adrian Jackson has won the fifth Pure Tasmania Wildside Mountain Bike Ride on Tasmania's west coast. Jackson managed to keep up the pace, despite a strong challenge from fellow Victorian, 22 year-old Daniel McConnell while Rowena Fry convincingly won the women's overall title.
More than 450 riders competed in the four day, multi-stage event through some of Tasmania's remote wilderness, from Cradle Mountain to Strahan. Conditions were perfect for most of the ride, although the riders did battle drizzle on the Cradle Mountain stage. The weather for today's final ride was sunny and clear, although riders did battle the typical coastal winds on Ocean Beach.
How it unfolded
Sid Taberlay led today's stage going out strong at the start, with a 100 metre break onto Ocean Beach. The 27 year-old Olympian's experience and speed saw him in front for at least half of the seven kilometre beach run, but McConnell , Jackson and Launceston's Ben Mather soon caught up.
The elite riders stayed in a pack on the beach, with the lead changing regularly. They kept up the pace going into the bush, with the tussle for the lead continuing, until the last kilometre when Mc Connell and Taberlay pushed through.
"For the rest of the way along the beach we were working together to keep up the pace, then Dan and Sid broke away," said Jackson.
Wildside 2008 champion Adrian Jackson sits safely in the chasing pack
Photo ©: Rick Eaves

Taberlay took out the stage just ahead of McConnell, but their times were not enough to challenge the overall leaders Jackson and Mather. Jackson ended up taking out the overall title, two minutes ahead of Mather.
"Dan and Sid are good racers, I was hoping to get a podium finish, but I didn't expect to win, I'm so excited," said Jackson. "I'm a smaller rider, good at climbing hills, so I just tried to stick with them today," said Jackson. "To win is unbelievable, fantastic, it's my biggest win so far in Australian mountain bike riding, I've never won anything this prestigious before," he added.
McConnell was another 20 seconds behind the second place getter Mather. Taberlay ended up 9th overall , 34 minutes off the pace. "It ended up being a training run for me after I shredded a tyre in the early stages of the race, but it was good to keep up the pace with these guys," Taberlay said.
25 year-old Rowena Fry was the first woman home, well ahead of her competitors. "I was really happy with my ride, it's a challenging event but a really enjoyable course," she said.
The elite compiters will head off to the national titles in Canberra this weekend , with the competition tight for a mountain bike spot to represent Australia at the Beijing Olympics.
Photography
For a thumbnail gallery of these images, click here
Images by Rick Eaves Photography
Results
Men Under 23 (18-22)

1 Daniel McConnell (VIC)              58.28 (37.24 km/h)
2 Ben Grieve-Johnson (TAS)             1.15
3 Luke Fetch (VIC)                     1.57
4 Josh Keep (QLD)                      2.25
5 Steele Von Hoff (VIC)                4.28
6 Chris Soanes (VIC)                   4.29
7 Jeremy Hills (TAS)                   8.03
8 Ross Bugg (TAS)                      9.02
9 James Wirsu (TAS)                   11.47
10 Ken Hoffman (TAS)                  12.25
11 Jack Mullaly (QLD)                 15.26
12 Andrew Stanley (TAS)               20.51
13 Huw Apted (VIC)                    22.32
14 Brett Cirulis (VIC)                30.08
15 Liam Riles (NSW)                   42.16
 
Men Open (23-29)

1 Sid Taberlay (TAS)                  58.28 (37.24 km/h)
2 Adrian Jackson (VIC)                 1.08
3 Jason English (NSW)                  1.11
4 Ben Mather (TAS)                     1.19
5 Stuart Keep (TAS)                    1.54
6 Matthew Potter (NSW)                 2.27
7 Andrew Fellows (QLD)                 4.35
8 Tim Watson (TAS)                     4.36
9 Simon Fielding (TAS)                 4.41
10 Milford McArthur (TAS)              7.14
11 Andrew Maynard (TAS)                7.31
12 Alan Crisp (NSW)                    8.16
13 Matthew Patten (TAS)                8.21
14 Damian French (TAS)                 8.31
15 Alex Ashley- Jones (QLD)            9.22
16 Phill Miller (TAS)                  9.29
17 Alan Bolton (VIC)                  10.08
18 Clinton Richards (VIC)             11.53
19 Benjamin Norden (VIC)              12.25
20 Kym Pardey (VIC)                   12.41
21 Andre Vogel (QLD)                  13.50
22 Campbell Godfrey (TAS)             14.02
23 Mark Diprose (TAS)                 14.16
24 Benjamin O'Donnell (TAS)           15.32
25 Simon Myers (QLD)                  15.37
26 Conrad Daniels (TAS)               15.56
27 Dylan Reilly (VIC)                 16.07
28 Rick Southwell (TAS)               17.52
29 Troy Davidson (TAS)                18.01
30 Malcolm Beattie (TAS)              18.39
31 Hugh Murray-Walker (NSW)           19.16
32 Rodney Lyons (VIC)                 19.37
33 Adam Watson (TAS)                  20.55
34 Christopher Crocker (TAS)          21.25
35 Alister Hazeldine (SA)             21.39
36 James Thomason (TAS)               21.56
37 Antanas Spokevicius (VIC)          22.04
38 Phillip Duggan (NT)                23.46
39 Tim Officer (NSW)                  24.07
40 William Ritchie (QLD)              24.48
41 Andrew Forbes (WA)                 25.00
42 Shannon Luttrell (TAS)             26.10
43 Matthew Smith (TAS)                26.21
44 Douglas Miller (TAS)               26.56
45 Rodney Brown (TAS)                 28.27
46 Daniel Wojciechowski (NSW)         29.45
47 Leigh Breen (TAS)                  31.49
48 Marcus Yong (TAS)                  34.58
49 Thomas Walder (The Netherlands)    42.09
50 Thomas Wright (VIC)                42.10
 
Men Veterans (30-39)

1 Damien Jones (VIC)                1.00.51 (36.00 km/h)
2 Warren Burgess (NSW)                 0.06
3 Wayne Anderson (NSW)                 0.07
4 Chris Shaw (VIC)                     1.53
5 Mick Café (NT)                       1.57
6 Kel Boers (VIC)                      1.58
7 John Clingo (TAS)                    2.01
8 Sam Maffett (VIC)                    2.08
9 Dion Shaw (TAS)                      2.09
10 Steven Brown (TAS)                  2.11
11 Kim Curtis (TAS)                    2.12
12 Dave Palmer (WA)                    2.16
13 Carl Patton (New Zealand)           2.17
14 Mark Travers (VIC)                  3.46
15 Craig Findlow (VIC)                 4.01
16 Nathan Wilson (VIC)                 4.06
17 Angus Rodwell (VIC)                 4.38
18 Bradley Powles (VIC)                4.42
19 Jim Robinson (QLD)                  4.52
20 Dion Maber (VIC)                    4.53
21 Peter Freeman (VIC)                 5.04
22 Aaron Wood (QLD)                        
23 Christopher Clarke (ACT)            5.07
24 Adam Pater (VIC)                    5.09
25 Trevor Innes (TAS)                  5.24
26 Ross Farrell (TAS)                  5.55
27 Michael Dawson (VIC)                5.57
28 Philip Crothers (TAS)               6.00
29 Scott Rowell (TAS)                  6.04
30 Ashley Noble (TAS)                  6.06
31 Roy Langman (TAS)                   6.07
32 Tony Freijah (VIC)                  6.09
33 Andrew Wakefield (TAS)              6.12
34 Russell Edgar (VIC)                 6.28
35 Andrew Cathcart (TAS)               6.55
36 Simon Dec (WA)                      7.03
37 Vaughan Andrews (TAS)                   
38 Greg Sherriff (TAS)                 7.05
39 Steve Blake (TAS)                   7.07
40 Lee Floyd (VIC)                     7.09
41 Matthew Holligan (TAS)              7.20
42 Cameron Gibson (TAS)                7.21
43 Christopher Ravenhall (NT)          7.23
44 Grant Rowbottom (TAS)               7.27
45 Gary Wellman (TAS)                  7.41
46 Christopher Carter (QLD)            7.50
47 Chris Sims (TAS)                    8.02
48 Joshua Morrison (VIC)               8.09
49 Glen Pleffer (NSW)                  8.19
50 Jamie Burton (WA)                   8.25
51 Adam Elias (NSW)                    8.43
52 Clive Poulton (TAS)                 9.01
53 Christopher Wright (NSW)            9.25
54 Jason Attard (NSW)                  9.26
55 Waco Hamlin (QLD)                   9.29
56 Wayne Chester (VIC)                 9.42
57 Benjamin Cirulis (TAS)              9.54
58 Peter Kennedy (VIC)                10.05
59 Angus Martin (TAS)                 10.06
60 Philip Routley (NSW)               10.21
61 Nikolas Preece (TAS)               10.53
62 Niall Henry (TAS)                  10.57
63 David Ransome (TAS)                11.07
64 Michael Cantwell (VIC)             11.20
65 Jan Verbesselt (VIC)               11.30
66 Brett Bradley (VIC)                11.32
67 Phillip Timpano (VIC)              11.37
68 Rob Dooley (NSW)                   11.38
69 Christopher Fice (VIC)             11.42
70 Glenn Newnham (VIC)                     
71 Lance Albrecht (VIC)               12.07
72 Jason McAvoy (ACT)                 12.08
73 Phil Kelly (VIC)                   12.17
74 David Pollington (TAS)             12.23
75 John Corbett (TAS)                 12.30
76 Greg Foster (VIC)                  12.35
77 Richard Quinn (TAS)                12.51
78 Trent Hewitt (NSW)                 12.59
79 Martin Stephenson (TAS)            13.01
80 Peter West (QLD)                   13.02
81 David White (VIC)                  13.20
82 Rodney Mills (TAS)                 13.21
83 Daniel McLaughlin (VIC)            13.45
84 Stephen Howard (TAS)               13.50
85 Robert Child (TAS)                 13.53
86 Ashley McCormack (TAS)             13.57
87 Matt Lindus (TAS)                  14.28
88 Peter Brozicevich (WA)             14.39
89 Martyn Sweet (TAS)                 14.48
90 Adrian McCulloch (TAS)             14.57
91 Andrew Ling (TAS)                  15.03
92 Trent Moore (ACT)                  15.20
93 Campbell Junor (New Zealand)       15.22
94 Ben Strugnell (TAS)                15.24
95 Ian Trayler (WA)                   15.30
96 Anthony Abbott (NSW)               15.34
97 Nick Byrne (TAS)                   15.37
98 Simon Carins (TAS)                 16.20
99 Anthony Chisholm (TAS)             16.22
100 Michel de Vos (WA)                16.26
101 Dylan Coulson (VIC)               16.29
102 Daniel McKenzie (TAS)             16.32
103 Leon Savage (TAS)                 16.37
104 Russell Goslin (TAS)              16.45
105 Paul Shinkfield (TAS)             16.52
106 Adam Boyd (ACT)                   16.53
107 Matthew Stone (VIC)               17.07
108 Domhnall Brannigan (TAS)          17.13
109 Martin Robards (TAS)              17.18
110 Patrick Wright (QLD)              17.19
111 Todd Stanton (TAS)                18.01
112 David Sutton (VIC)                18.24
113 Scott Philp (NSW)                 18.25
114 Winton Maher (TAS)                18.28
115 Neil Martin (ACT)                 18.40
116 Nathan Fellows (TAS)              19.08
117 Simon Hamilton (NSW)              19.14
118 Julian Dalco (TAS)                19.15
119 Alexander Liauw (NSW)             19.20
120 David Wakefield (TAS)             20.03
121 Michael Harkness (VIC)            20.24
122 Arran Pearson (NSW)               20.37
123 Kristian Smythe (Canada)          20.50
124 Kieron Smythe (VIC)               20.51
125 Glen Potter (SA)                  20.59
126 Damien Geason (TAS)               21.03
127 Stephen Geason (TAS)              21.04
128 John Ruhle (NSW)                  21.22
129 Steven Scharapow (TAS)            21.33
130 Alex Stone (WA)                   21.46
131 Jonas Varcoe (SA)                 21.56
132 Daniel Bromley (NSW)              22.04
133 Paul Karis (NSW)                  22.31
134 Brett Chandler (VIC)              22.34
135 Warwick Gray (WA)                 23.11
136 Martin Quinn (TAS)                23.14
137 Julian Augustini (VIC)            23.21
138 James Shaddick (TAS)              23.23
139 Todd Stafford (NSW)               23.52
140 Derek Morrison (NSW)              24.02
141 Brent Ranson (TAS)                24.13
142 Paul Oxley (VIC)                  24.14
143 Matthew Carlsson (TAS)            24.31
144 Christopher Gumley (VIC)          24.52
145 Jason Johnson (VIC)               25.27
146 Lindsay Malley (TAS)              26.04
147 Martin Jack (TAS)                 27.06
148 Seamus Quick (NSW)                27.58
149 Jason Selman (QLD)                28.26
150 Lachlan Graham (NSW)              28.32
151 Craig Van der Valk (VIC)          28.44
152 Paul Moran (QLD)                  28.51
153 Steven Leslie (TAS)               29.01
154 Simon Curtain (VIC)               29.41
155 Rod Johnson (QLD)                 30.41
156 John Milfull (VIC)                31.41
157 Garry Moss (VIC)                  33.58
158 Peter Dean (NSW)                  36.14
159 Patrick Bessell (TAS)             38.24
160 Thomas Hansen (TAS)               42.12
161 Russell Liston (SA)               43.12
162 Scott Dransfield (TAS)            52.40
163 Michael Andrews (NSW)             59.38
DNS Nicholas Deane (VIC)                   
DNS Josh Charlesworth (VIC)                
DNS Bron Suchecki (WA)                     
DNS Paul Liebenberg (NT)                   
DNS Jonathan Welch (TAS)                   
DNS David Lacey (VIC)                      
DNS Willem van den Bosch (TAS)             
DNS Stephen Brown (VIC)                    
 
Men Masters (40-49)

1 Rodney Hart (NSW)                 1.06.05 (32.73 km/h)
2 Michael Groom (TAS)                  0.01
3 Tim Jamieson (VIC)                   0.14
4 David Cottee (NSW)                   0.41
5 Jay Heather (VIC)                    0.50
6 Robert Matthews (TAS)                1.45
7 John Whittington (TAS)               1.48
8 Peter Winfield (QLD)                 2.05
9 Grant Young (TAS)                    2.33
10 Craig Cummings (VIC)                2.57
11 Matt Perchard (TAS)                 2.58
12 Dean Clark (VIC)                    3.45
13 Paul Kleywegt (TAS)                 4.24
14 Swarz (TAS)                         4.38
15 Simon Vandestadt (VIC)              4.39
16 James Heron (NSW)                   4.54
17 Rod Ascui (TAS)                     5.02
18 Lynton Stretton (QLD)               5.36
19 Gregory Blackman (VIC)              5.37
20 Damian Bourke (VIC)                 5.43
21 Mark Cashion (TAS)                  5.52
22 Stu Bland (VIC)                     6.27
23 John Richardson (VIC)               6.38
24 Tony Baker (TAS)                    6.43
25 Michael Kennish (VIC)               6.51
26 Gavin Wakefield (TAS)               7.17
27 Marcus Langham (TAS)                7.18
28 Warren Pike (QLD)                   7.23
29 Peter Hepworth (VIC)                7.40
30 Andrew Palmer (Switzerland)         7.47
31 Tim Stevens (VIC)                   8.08
32 Nigel Blake (NSW)                   8.10
33 Craig Watkin (SA)                   8.49
34 Matthias Reinhardt (Germany)        9.14
35 Brian Devlin (NSW)                  9.26
36 Bernard Walker (TAS)                9.48
37 Steve Munyard (VIC)                 9.59
38 Neil O'Leary (WA)                  10.08
39 Karl Albrecht (VIC)                10.28
40 Scott Murchison (TAS)              10.33
41 Paul Kingston (VIC)                10.53
42 Scott Yaxley (WA)                  11.05
43 Matthew Aldridge (VIC)             11.30
44 Duncan Rose (VIC)                  11.34
45 Gordon Taylor (TAS)                11.38
46 Grant Dixon (TAS)                  11.54
47 Jonty Barnett (TAS)                12.43
48 Keith Murfet (TAS)                 13.06
49 Nicholas Hauser (VIC)              13.23
50 Mark Flynn (QLD)                   14.07
51 Edward King (ACT)                  14.20
52 Rients Lootsma (QLD)               14.32
53 Andrew Strugnell (TAS)             15.12
54 Andrew Lloyd (NSW)                 15.15
55 Frank Clark (TAS)                  15.20
56 Craig Rosevear (TAS)               16.02
57 Mark Scarborough (ACT)             16.29
58 Peter Zielony (NSW)                     
59 Peter Millard (WA)                 16.52
60 David McPherson (VIC)              17.38
61 Gary Hitches (NSW)                 17.42
62 Konrad Blackman (TAS)              17.45
63 Simon Foster (TAS)                 17.48
64 Ben Goscombe (SA)                  18.14
65 Ken Fallaver (WA)                  18.20
66 Mordy Bromberg (VIC)               18.47
67 John Fisher (TAS)                  18.58
68 Jack Birrell (TAS)                 19.05
69 Paul McGaw (NSW)                   19.06
70 Greg Tunnock (NSW)                 19.19
71 David Graham (NSW)                 19.24
72 Stuart Taylor (WA)                 21.28
73 Paul Scarfe (NSW)                  22.00
74 Chris Moltzer (VIC)                22.08
75 Matthew Horsburgh (VIC)            22.23
76 Andrew Musgrave (VIC)              22.26
77 Stephen Bradbury (VIC)             23.23
78 Danny Moore (NSW)                  24.26
79 Kenneth Moloney (WA)               25.07
80 Tony Roberts (VIC)                 26.12
81 Craig Kentwell (ACT)               27.24
82 Robert Medway (NSW)                27.41
83 Mark Causer (NSW)                  29.09
84 Tony Wood (VIC)                    29.28
85 Malcolm Barrett (QLD)              30.00
86 Richard De Waal (VIC)              31.37
87 Julian Giddings (TAS)              38.49
88 Paul McDonald (WA)                 48.08
89 Tom Wass (TAS)                     49.01
90 Kelly Ryan (TAS)                   49.03
91 Philip Casale (VIC)                51.46
92 Luke Carroll (ACT)               1.05.19
DNS Justin Dabner (QLD)                    
DNS Nick Lambert (New Zealand)             
DNS David Ruthenberg (NSW)                 
DNS Christopher Evans (TAS)                
 
Men Super Masters (50-59)

1 Brian Scarborough (SA)            1.06.14 (32.73 km/h)
2 Phillip Dent (TAS)                   0.36
3 Robert Faull (Aus)                   2.34
4 Nick Tilbrook (SA)                   6.15
5 Arthur English (NSW)                 8.56
6 Nigel Davies (TAS)                  11.11
7 Richard Roffe (TAS)                 12.59
8 Ian Stanley (TAS)                   13.01
9 Darryl Smith (TAS)                  13.08
10 Stephen Bence (TAS)                13.55
11 Bernard Murphy (VIC)               14.07
12 Craig Saunders (TAS)               14.29
13 Anthony Lawton (QLD)               16.41
14 Ian McGuffie (VIC)                 19.03
15 David Stary (TAS)                  22.06
16 John Bonnett (NSW)                 24.56
17 Richard Pullinger (NSW)            25.00
18 Tony Branchflower (VIC)            25.49
19 Arthur Apted (VIC)                 27.00
20 Neil Kinder (VIC)                  29.39
21 David Kiely (TAS)                  33.56
22 John Dalco (TAS)                   37.25
23 Alan Riles (NSW)                   51.46
24 Kenneth Blake (VIC)                57.17
 
Men Grand Masters (60+)

1 Kerry Ryan (VIC)                  1.12.11 (30.00 km/h)
2 Bruno Wicki (WA)                     0.50
3 Keith Mobbs (TAS)                   11.35
4 Leon Bren (VIC)                     33.16
5 Garry Clark (WA)                    41.48
 
Women Open (23-29)

1 Rowena Fry (TAS)                  1.06.23 (32.73 km/h)
2 Julie Blake (TAS)                    1.36
3 Stephanie Russell (WA)               3.28
4 Anna Wittert (SA)                   15.32
5 Angela Hayes (TAS)                  17.14
6 Rebecca Gorton (TAS)                20.16
7 Bronwyn Kimber (TAS)                22.34
8 Carolyn Mills (TAS)                 22.38
9 Natalie Nohra (NSW)                 22.44
10 Kate Clark (TAS)                   28.27
11 Kristy Douglas (TAS)               29.09
12 Jenny O'Hern (TAS)                 39.45
 
Women Veteran (30-39)

1 Naomi Hansen (QLD)                1.08.51 (31.76 km/h)
2 Alexandra Kiendl (VIC)               1.43
3 Alison Hunter (VIC)                  4.02
4 Jeanette Mayr (Switzerland)          4.29
5 Su Sprott (TAS)                     10.36
6 Claire Stevens (VIC)                13.03
7 Melissa Curry (TAS)                 13.58
8 Jen Brodie (TAS)                    15.16
9 Renata Fliegner (VIC)               17.29
10 Jessica Strugnell (TAS)            17.38
11 Robyn Holmes (TAS)                 18.30
12 Nicole McLaughlin (VIC)            19.00
13 Katrina Cathcart (TAS)             19.08
14 Jane Guiver (TAS)                  19.25
15 Adrienne Dougal (QLD)              19.59
16 Emma Sandy (TAS)                   21.41
17 Diane Chisholm (TAS)               22.52
18 Amanda Herd (VIC)                  25.58
19 Jane Ollerenshaw (VIC)             26.59
20 Megan Farebrother (NSW)            27.38
21 Kirsty Busch (NSW)                 27.39
22 Gill Course (TAS)                  27.55
23 Katrina Hamilton (NSW)             28.49
24 Tracey Boadle (VIC)                32.54
25 Catherine Robinson (TAS)           33.06
26 Erica Williams (TAS)               34.57
27 Jo-Anne Wise (TAS)                 36.32
28 Kym Fitzpatrick (TAS)              40.32
 
Women Masters (40-49)

1 Meg Carrigan (QLD)                1.14.27 (29.19 km/h)
2 Bettina Terry (VIC)                  3.40
3 Joanne Oliver (TAS)                 10.52
4 Catherine Mackay (NSW)              11.33
5 Carolyn Jackson (VIC)               11.46
6 Jane Kingston (VIC)                 13.31
7 Karen Robertson (TAS)               15.43
8 Debbie Millard (WA)                 20.09
9 Megan O'Leary (WA)                  26.14
10 Karen Wishart (SA)                 31.15
11 Sylvia Outridge (TAS)              40.38
12 Michelle Watkin (SA)               44.45
13 Michaela Powell (ACT)              49.02
14 Jenny Carroll (ACT)                56.57
 
Singlespeed

1 Simon van der Aa (TAS)            1.07.17 (32.24 km/h)
2 Keith Macqueen (TAS)                 1.56
3 Dylan Cirulis (VIC)                  3.25
4 Michael Oxley (VIC)                  7.20
5 Matt Davis (TAS)                     7.58
6 Graham Holden (WA)                  11.48
7 Scott Lidgett (VIC)                 16.42
8 Greg Maren (VIC)                    24.32
9 Jody Dennison (TAS)                 30.03
10 Richard Douglas (TAS)              33.49

Open (all categories)

1 Sid Taberlay (TAS)                   58.28 (37.24 km/h)
2 Daniel McConnell ()                       
3 Adrian Jackson (VIC)                  1.08
4 Jason English (NSW)                   1.11
5 Ben Grieve-Johnson (TAS)              1.15
6 Ben Mather (TAS)                      1.19
7 Stuart Keep (TAS)                     1.54
8 Luke Fetch (VIC)                      1.57
9 Damien Jones (VIC)                    2.23
10 Josh Keep (QLD)                      2.25
11 Matthew Potter (NSW)                 2.27
12 Warren Burgess (NSW)                 2.29
13 Wayne Anderson (NSW)                 2.30
14 Chris Shaw (VIC)                     4.16
15 Mick Café (NT)                       4.20
16 Kel Boers (VIC)                      4.21
17 John Clingo (TAS)                    4.24
18 Steele Von Hoff (VIC)                4.28
19 Chris Soanes (VIC)                   4.29
20 Sam Maffett (VIC)                    4.31
21 Dion Shaw (TAS)                      4.32
22 Steven Brown (TAS)                   4.34
23 Andrew Fellows (QLD)                 4.35
24 Kim Curtis (TAS)                         
25 Tim Watson (TAS)                     4.36
26 Dave Palmer (WA)                     4.39
27 Carl Patton (New Zealand)            4.40
28 Simon Fielding (TAS)                 4.41
29 Mark Travers (VIC)                   6.09
30 Craig Findlow (VIC)                  6.24
31 Nathan Wilson (VIC)                  6.29
32 Angus Rodwell (VIC)                  7.01
33 Bradley Powles (VIC)                 7.05
34 Milford McArthur (TAS)               7.14
35 Jim Robinson (QLD)                   7.15
36 Dion Maber (VIC)                     7.16
37 Peter Freeman (VIC)                  7.27
38 Aaron Wood (QLD)                         
39 Christopher Clarke (ACT)             7.30
40 Andrew Maynard (TAS)                 7.31
41 Adam Pater (VIC)                     7.32
42 Rodney Hart (NSW)                    7.37
43 Michael Groom (TAS)                  7.38
44 Brian Scarborough (SA)               7.46
45 Trevor Innes (TAS)                   7.47
46 Tim Jamieson (VIC)                   7.51
47 Rowena Fry (TAS)                     7.55
48 Jeremy Hills (TAS)                   8.03
49 Alan Crisp (NSW)                     8.16
50 Ross Farrell (TAS)                   8.18
51 David Cottee (NSW)                       
52 Michael Dawson (VIC)                 8.20
53 Matthew Patten (TAS)                 8.21
54 Phillip Dent (TAS)                   8.22
55 Philip Crothers (TAS)                8.23
56 Jay Heather (VIC)                    8.27
57 Scott Rowell (TAS)                       
58 Ashley Noble (TAS)                   8.29
59 Roy Langman (TAS)                    8.30
60 Damian French (TAS)                  8.31
61 Tony Freijah (VIC)                   8.32
62 Andrew Wakefield (TAS)               8.35
63 Simon van der Aa (TAS)               8.49
64 Russell Edgar (VIC)                  8.51
65 Ross Bugg (TAS)                      9.02
66 Andrew Cathcart (TAS)                9.18
67 Alex Ashley- Jones (QLD)             9.22
68 Robert Matthews (TAS)                    
69 John Whittington (TAS)               9.25
70 Simon Dec (WA)                      9.26
71 Vaughan Andrews (TAS)                    
72 Greg Sherriff (TAS)                  9.28
73 Phill Miller (TAS)                   9.29
74 Steve Blake (TAS)                    9.30
75 Julie Blake (TAS)                    9.31
76 Lee Floyd (VIC)                      9.32
77 Peter Winfield (QLD)                 9.42
78 Matthew Holligan (TAS)               9.43
79 Cameron Gibson (TAS)                 9.44
80 Christopher Ravenhall (NT)           9.46
81 Grant Rowbottom (TAS)                9.50
82 Gary Wellman (TAS)                  10.04
83 Alan Bolton (VIC)                   10.08
84 Grant Young (TAS)                   10.10
85 Christopher Carter (QLD)            10.13
86 Robert Faull (Aus)                  10.20
87 Naomi Hansen (QLD)                  10.23
88 Chris Sims (TAS)                    10.25
89 Joshua Morrison (VIC)               10.32
90 Craig Cummings (VIC)                10.34
91 Matt Perchard (TAS)                 10.35
92 Glen Pleffer (NSW)                  10.42
93 Obscene Macqueen (Kazakhstan)       10.45
94 Jamie Burton (WA)                   10.48
95 Adam Elias (NSW)                    11.06
96 Dean Clark (VIC)                    11.22
97 Stephanie Russell (WA)              11.23
98 Clive Poulton (TAS)                 11.24
99 James Wirsu (TAS)                   11.47
100 Christopher Wright (NSW)           11.48
101 Jason Attard (NSW)                 11.49
102 Waco Hamlin (QLD)                  11.52
103 Clinton Richards (VIC)             11.53
104 Paul Kleywegt (TAS)                12.01
105 Wayne Chester (VIC)                12.05
106 Alexandra Kiendl (VIC)             12.06
107 Dylan Cirulis (VIC)                12.14
108 Swarz (TAS)                        12.15
109 Simon Vandestadt (VIC)             12.16
110 Benjamin Cirulis (TAS)             12.17
111 Ken Hoffman (TAS)                  12.25
112 Benjamin Norden (VIC)                   
113 Peter Kennedy (VIC)                12.28
114 Angus Martin (TAS)                 12.29
115 James Heron (NSW)                  12.31
116 Rod Ascui (TAS)                    12.39
117 Kym Pardey (VIC)                   12.41
118 Philip Routley (NSW)               12.44
119 Lynton Stretton (QLD)              13.13
120 Gregory Blackman (VIC)             13.14
121 Nikolas Preece (TAS)               13.16
122 Niall Henry (TAS)                  13.20
123 Damian Bourke (VIC)                     
124 Mark Cashion (TAS)                 13.29
125 David Ransome (TAS)                13.30
126 Kerry Ryan (VIC)                   13.43
127 Michael Cantwell (VIC)                  
128 Andre Vogel (QLD)                  13.50
129 Jan Verbesselt (VIC)               13.53
130 Brett Bradley (VIC)                13.55
131 Phillip Timpano (VIC)              14.00
132 Rob Dooley (NSW)                   14.01
133 Nick Tilbrook (SA)                      
134 Campbell Godfrey (TAS)             14.02
135 Stu Bland (VIC)                    14.04
136 Christopher Fice (VIC)             14.05
137 Glenn Newnham (VIC)                     
138 John Richardson (VIC)              14.15
139 Mark Diprose (TAS)                 14.16
140 Tony Baker (TAS)                   14.20
141 Alison Hunter (VIC)                14.25
142 Michael Kennish (VIC)              14.28
143 Lance Albrecht (VIC)               14.30
144 Jason McAvoy (ACT)                 14.31
145 Bruno Wicki (WA)                   14.33
146 Phil Kelly (VIC)                   14.40
147 David Pollington (TAS)             14.46
148 Jeanette Mayr (Switzerland)        14.52
149 John Corbett (TAS)                 14.53
150 Gavin Wakefield (TAS)              14.54
151 Marcus Langham (TAS)               14.55
152 Greg Foster (VIC)                  14.58
153 Warren Pike (QLD)                  15.00
154 Richard Quinn (TAS)                15.14
155 Peter Hepworth (VIC)               15.17
156 Trent Hewitt (NSW)                 15.22
157 Martin Stephenson (TAS)            15.24
158 Andrew Palmer (Switzerland)             
159 Peter West (QLD)                   15.25
160 Jack Mullaly (QLD)                 15.26
161 Benjamin O'Donnell (TAS)           15.32
162 Simon Myers (QLD)                  15.37
163 David White (VIC)                  15.43
164 Rodney Mills (TAS)                 15.44
165 Tim Stevens (VIC)                  15.45
166 Nigel Blake (NSW)                  15.47
167 Conrad Daniels (TAS)               15.56
168 Meg Carrigan (QLD)                 15.59
169 Dylan Reilly (VIC)                 16.07
170 Daniel McLaughlin (VIC)            16.08
171 Michael Oxley (VIC)                16.09
172 Stephen Howard (TAS)               16.13
173 Robert Child (TAS)                 16.16
174 Ashley McCormack (TAS)             16.20
175 Craig Watkin (SA)                  16.26
176 Arthur English (NSW)               16.42
177 Matt Davis (TAS)                   16.47
178 Matthias Reinhardt (Germany)       16.51
179 Matt Lindus (TAS)                       
180 Peter Brozicevich (WA)             17.02
181 Brian Devlin (NSW)                 17.03
182 Martyn Sweet (TAS)                 17.11
183 Adrian McCulloch (TAS)             17.20
184 Bernard Walker (TAS)               17.25
185 Andrew Ling (TAS)                  17.26
186 Steve Munyard (VIC)                17.36
187 Trent Moore (ACT)                  17.43
188 Campbell Junor (New Zealand)       17.45
189 Neil O'Leary (WA)                       
190 Ben Strugnell (TAS)                17.47
191 Rick Southwell (TAS)               17.52
192 Ian Trayler (WA)                   17.53
193 Anthony Abbott (NSW)               17.57
194 Nick Byrne (TAS)                   18.00
195 Troy Davidson (TAS)                18.01
196 Karl Albrecht (VIC)                18.05
197 Scott Murchison (TAS)              18.10
198 Paul Kingston (VIC)                18.30
199 Malcolm Beattie (TAS)              18.39
200 Scott Yaxley (WA)                  18.42
201 Simon Carins (TAS)                 18.43
202 Anthony Chisholm (TAS)             18.45
203 Michel de Vos (WA)                 18.49
204 Dylan Coulson (VIC)                18.52
205 Daniel McKenzie (TAS)              18.55
206 Nigel Davies (TAS)                 18.57
207 Leon Savage (TAS)                  19.00
208 Matthew Aldridge (VIC)             19.07
209 Russell Goslin (TAS)               19.08
210 Duncan Rose (VIC)                  19.11
211 Paul Shinkfield (TAS)              19.15
212 Gordon Taylor (TAS)                     
213 Hugh Murray-Walker (NSW)           19.16
214 Adam Boyd (ACT)                         
215 Matthew Stone (VIC)                19.30
216 Grant Dixon (TAS)                  19.31
217 Domhnall Brannigan (TAS)           19.36
218 Rodney Lyons (VIC)                 19.37
219 Bettina Terry (VIC)                19.39
220 Martin Robards (TAS)               19.41
221 Patrick Wright (QLD)               19.42
222 Jonty Barnett (TAS)                20.20
223 Todd Stanton (TAS)                 20.24
224 Graham Holden (WA)                 20.37
225 Keith Murfet (TAS)                 20.43
226 Richard Roffe (TAS)                20.45
227 David Sutton (VIC)                 20.47
228 Ian Stanley (TAS)                       
229 Scott Philp (NSW)                  20.48
230 Andrew Stanley (TAS)               20.51
231 Winton Maher (TAS)                      
232 Darryl Smith (TAS)                 20.54
233 Adam Watson (TAS)                  20.55
234 Su Sprott (TAS)                    20.59
235 Nicholas Hauser (VIC)              21.00
236 Neil Martin (ACT)                  21.03
237 Christopher Crocker (TAS)          21.25
238 Nathan Fellows (TAS)               21.31
239 Simon Hamilton (NSW)               21.37
240 Julian Dalco (TAS)                 21.38
241 Alister Hazeldine (SA)             21.39
242 Stephen Bence (TAS)                21.41
243 Alexander Liauw (NSW)              21.43
244 Mark Flynn (QLD)                   21.44
245 Bernard Murphy (VIC)               21.53
246 James Thomason (TAS)               21.56
247 Edward King (ACT)                  21.57
248 Antanas Spokevicius (VIC)          22.04
249 Rients Lootsma (QLD)               22.09
250 Craig Saunders (TAS)               22.15
251 David Wakefield (TAS)              22.26
252 Huw Apted (VIC)                    22.32
253 Michael Harkness (VIC)             22.47
254 Andrew Strugnell (TAS)             22.49
255 Andrew Lloyd (NSW)                 22.52
256 Frank Clark (TAS)                  22.57
257 Arran Pearson (NSW)                23.00
258 Kristian Smythe (Canada)           23.13
259 Kieron Smythe (VIC)                23.14
260 Glen Potter (SA)                   23.22
261 Damien Geason (TAS)                23.26
262 Claire Stevens (VIC)                    
263 Anna Wittert (SA)                  23.27
264 Stephen Geason (TAS)                    
265 Craig Rosevear (TAS)               23.39
266 John Ruhle (NSW)                   23.45
267 Phillip Duggan (NT)                23.46
268 Steven Scharapow (TAS)             23.56
269 Mark Scarborough (ACT)             24.06
270 Peter Zielony (NSW)                     
271 Tim Officer (NSW)                  24.07
272 Alex Stone (WA)                    24.09
273 Jonas Varcoe (SA)                  24.19
274 Melissa Curry (TAS)                24.21
275 Anthony Lawton (QLD)               24.27
276 Daniel Bromley (NSW)                    
277 Peter Millard (WA)                 24.29
278 William Ritchie (QLD)              24.48
279 Paul Karis (NSW)                   24.54
280 Brett Chandler (VIC)               24.57
281 Andrew Forbes (WA)                 25.00
282 Angela Hayes (TAS)                 25.09
283 David McPherson (VIC)              25.15
284 Keith Mobbs (TAS)                  25.18
285 Gary Hitches (NSW)                 25.19
286 Konrad Blackman (TAS)              25.22
287 Simon Foster (TAS)                 25.25
288 Scott Lidgett (VIC)                25.31
289 Warwick Gray (WA)                  25.34
290 Martin Quinn (TAS)                 25.37
291 Jen Brodie (TAS)                   25.39
292 Julian Augustini (VIC)             25.44
293 James Shaddick (TAS)               25.46
294 Ben Goscombe (SA)                  25.51
295 Ken Fallaver (WA)                  25.57
296 Shannon Luttrell (TAS)             26.10
297 Todd Stafford (NSW)                26.15
298 Matthew Smith (TAS)                26.21
299 Mordy Bromberg (VIC)               26.24
300 Derek Morrison (NSW)               26.25
301 John Fisher (TAS)                  26.35
302 Brent Ranson (TAS)                 26.36
303 Paul Oxley (VIC)                   26.37
304 Jack Birrell (TAS)                 26.42
305 Paul McGaw (NSW)                   26.43
306 Ian McGuffie (VIC)                 26.49
307 Joanne Oliver (TAS)                26.51
308 Matthew Carlsson (TAS)             26.54
309 Greg Tunnock (NSW)                 26.56
310 Douglas Miller (TAS)                    
311 David Graham (NSW)                 27.01
312 Christopher Gumley (VIC)           27.15
313 Catherine Mackay (NSW)             27.32
314 Carolyn Jackson (VIC)              27.45
315 Jason Johnson (VIC)                27.50
316 Renata Fliegner (VIC)              27.52
317 Jessica Strugnell (TAS)            28.01
318 Rebecca Gorton (TAS)               28.11
319 Rodney Brown (TAS)                 28.27
320 Lindsay Malley (TAS)                    
321 Robyn Holmes (TAS)                 28.53
322 Stuart Taylor (WA)                 29.05
323 Nicole McLaughlin (VIC)            29.23
324 Martin Jack (TAS)                  29.29
325 Jane Kingston (VIC)                29.30
326 Katrina Cathcart (TAS)             29.31
327 Paul Scarfe (NSW)                  29.37
328 Daniel Wojciechowski (NSW)         29.45
329 Chris Moltzer (VIC)                     
330 Jane Guiver (TAS)                  29.48
331 David Stary (TAS)                  29.52
332 Matthew Horsburgh (VIC)            30.00
333 Andrew Musgrave (VIC)              30.03
334 Brett Cirulis (VIC)                30.08
335 Seamus Quick (NSW)                 30.21
336 Adrienne Dougal (QLD)              30.22
337 Bronwyn Kimber (TAS)               30.29
338 Carolyn Mills (TAS)                30.33
339 Natalie Nohra (NSW)                30.39
340 Jason Selman (QLD)                 30.49
341 Lachlan Graham (NSW)               30.55
342 Stephen Bradbury (VIC)             31.00
343 Craig Van der Valk (VIC)           31.07
344 Paul Moran (QLD)                   31.14
345 Steven Leslie (TAS)                31.24
346 Karen Robertson (TAS)              31.42
347 Leigh Breen (TAS)                  31.49
348 Danny Moore (NSW)                  32.03
349 Simon Curtain (VIC)                32.04
350 Emma Sandy (TAS)                        
351 John Bonnett (NSW)                 32.42
352 Kenneth Moloney (WA)               32.44
353 Richard Pullinger (NSW)            32.46
354 Rod Johnson (QLD)                  33.04
355 Diane Chisholm (TAS)               33.15
356 Greg Maren (VIC)                   33.21
357 Tony Branchflower (VIC)            33.35
358 Tony Roberts (VIC)                 33.49
359 John Milfull (VIC)                 34.04
360 Arthur Apted (VIC)                 34.46
361 Marcus Yong (TAS)                  34.58
362 Craig Kentwell (ACT)               35.01
363 Robert Medway (NSW)                35.18
364 Debbie Millard (WA)                36.08
365 Garry Moss (VIC)                   36.21
366 Amanda Herd (VIC)                       
367 Kate Clark (TAS)                   36.22
368 Mark Causer (NSW)                  36.46
369 Kristy Douglas (TAS)               37.04
370 Tony Wood (VIC)                    37.05
371 Jane Ollerenshaw (VIC)             37.22
372 Neil Kinder (VIC)                  37.25
373 Malcolm Barrett (QLD)              37.37
374 Megan Farebrother (NSW)            38.01
375 Kirsty Busch (NSW)                 38.02
376 Gill Course (TAS)                  38.18
377 Peter Dean (NSW)                   38.37
378 Jody Dennison (TAS)                38.52
379 Katrina Hamilton (NSW)             39.12
380 Richard De Waal (VIC)              39.14
381 Patrick Bessell (TAS)              40.47
382 David Kiely (TAS)                  41.42
383 Thomas Walder (The Netherlands)    42.09
384 Thomas Wright (VIC)                42.10
385 Megan O'Leary (WA)                 42.13
386 Liam Riles (NSW)                   42.16
387 Richard Douglas (TAS)              42.38
388 Tracey Boadle (VIC)                43.17
389 Catherine Robinson (TAS)           43.29
390 Thomas Hansen (TAS)                44.35
391 John Dalco (TAS)                   45.11
392 Erica Williams (TAS)               45.20
393 Russell Liston (SA)                45.35
394 Julian Giddings (TAS)              46.26
395 Jo-Anne Wise (TAS)                 46.55
396 Leon Bren (VIC)                    46.59
397 Karen Wishart (SA)                 47.14
398 Jenny O'Hern (TAS)                 47.40
399 Kym Fitzpatrick (TAS)              50.55
400 Scott Dransfield (TAS)             55.03
401 Garry Clark (WA)                   55.31
402 Paul McDonald (WA)                 55.45
403 Sylvia Outridge (TAS)              56.37
404 Tom Wass (TAS)                     56.38
405 Kelly Ryan (TAS)                   56.40
406 Philip Casale (VIC)                59.23
407 Alan Riles (NSW)                   59.32
408 Michelle Watkin (SA)             1.00.44
409 Michael Andrews (NSW)            1.02.01
410 Michaela Powell (ACT)            1.05.01
411 Kenneth Blake (VIC)              1.05.03
412 Jenny Carroll (ACT)              1.12.56
413 Luke Carroll (ACT)                      
DNS David Lacey (VIC)                       
DNS Bron Suchecki (WA)                      
DNS Justin Dabner (QLD)                     
DNS Willem van den Bosch (TAS)              
DNS Christopher Evans (TAS)                 
DNS Paul Liebenberg (NT)                    
DNS Nicholas Deane (VIC)                    
DNS Stephen Brown (VIC)                     
DNS Josh Charlesworth (VIC)                 
DNS Nick Lambert (New Zealand)              
DNS Jonathan Welch (TAS)                    
DNS David Ruthenberg (NSW)                  

Final general classification

Men Under 23 (18-22)

1 Daniel McConnell (VIC)              6.00.25
2 Ben Grieve-Johnson (TAS)              15.34
3 Josh Keep (QLD)                       21.08
4 Luke Fetch (VIC)                      27.00
5 Steele Von Hoff (VIC)                 40.36
6 Chris Soanes (VIC)                    55.26
7 Jeremy Hills (TAS)                  1.24.07
8 James Wirsu (TAS)                   1.49.15
9 Ken Hoffman (TAS)                   1.54.30
10 Ross Bugg (TAS)                    1.57.57
11 Jack Mullaly (QLD)                 2.21.53
12 Andrew Stanley (TAS)               3.13.54
13 Brett Cirulis (VIC)                3.15.42
14 Huw Apted (VIC)                    3.44.44
15 Liam Riles (NSW)                   5.27.59
 
Men Open (23-29)

1 Adrian Jackson (VIC)                5.57.10
2 Ben Mather (TAS)                       2.55
3 Jason English (NSW)                   16.39
4 Stuart Keep (TAS)                     25.26
5 Sid Taberlay (TAS)                    34.30
6 Tim Watson (TAS)                      47.46
7 Andrew Fellows (QLD)                  51.50
8 Matthew Potter (NSW)                  59.45
9 Simon Fielding (TAS)                1.02.18
10 Milford McArthur (TAS)             1.13.00
11 Damian French (TAS)                1.16.51
12 Andrew Maynard (TAS)               1.21.48
13 Alex Ashley- Jones (QLD)           1.25.22
14 Matthew Patten (TAS)               1.34.35
15 Alan Crisp (NSW)                   1.41.19
16 Alan Bolton (VIC)                  1.43.37
17 Benjamin Norden (VIC)              1.53.42
18 Phill Miller (TAS)                 1.56.09
19 Conrad Daniels (TAS)               2.07.01
20 Andre Vogel (QLD)                  2.13.52
21 Benjamin O'Donnell (TAS)           2.14.47
22 Clinton Richards (VIC)             2.15.18
23 Kym Pardey (VIC)                   2.15.56
24 Campbell Godfrey (TAS)             2.16.17
25 Rodney Lyons (VIC)                 2.27.21
26 Rick Southwell (TAS)               2.27.51
27 James Thomason (TAS)               2.34.22
28 Alister Hazeldine (SA)             2.35.25
29 Dylan Reilly (VIC)                 2.36.11
30 Hugh Murray-Walker (NSW)           2.41.52
31 Malcolm Beattie (TAS)              2.43.53
32 Troy Davidson (TAS)                2.46.26
33 Mark Diprose (TAS)                 2.50.57
34 Antanas Spokevicius (VIC)          2.54.14
35 Simon Myers (QLD)                  2.54.47
36 Marcus Yong (TAS)                  2.55.03
37 Rodney Brown (TAS)                 2.55.22
38 Adam Watson (TAS)                  3.09.02
39 Daniel Wojciechowski (NSW)         3.16.06
40 Matthew Smith (TAS)                3.27.07
41 Christopher Crocker (TAS)          3.28.38
42 William Ritchie (QLD)              3.28.41
43 Phillip Duggan (NT)                3.31.36
44 Andrew Forbes (WA)                 3.33.22
45 Tim Officer (NSW)                  3.36.43
46 Douglas Miller (TAS)               4.09.29
47 Shannon Luttrell (TAS)             4.17.17
48 Leigh Breen (TAS)                  4.39.34
49 Thomas Wright (VIC)                4.55.46
50 Thomas Walder (The Netherlands)    6.04.03
 
Men Veterans (30-39)

1 Warren Burgess (NSW)                6.32.03
2 Mick Café (NT)                         0.47
3 John Clingo (TAS)                      3.21
4 Wayne Anderson (NSW)                   4.10
5 Kel Boers (VIC)                       10.42
6 Damien Jones (VIC)                    14.01
7 Sam Maffett (VIC)                     14.23
8 Carl Patton (New Zealand)             18.13
9 Dion Shaw (TAS)                       21.33
10 Steven Brown (TAS)                   22.00
11 Dion Maber (VIC)                     26.46
12 Dave Palmer (WA)                     27.38
13 Russell Edgar (VIC)                  30.27
14 Kim Curtis (TAS)                     30.39
15 Trevor Innes (TAS)                   35.22
16 Peter Freeman (VIC)                  37.12
17 Aaron Wood (QLD)                     40.47
18 Ross Farrell (TAS)                   41.15
19 Grant Rowbottom (TAS)                41.41
20 Greg Sherriff (TAS)                  41.49
21 Mark Travers (VIC)                   44.30
22 Christopher Clarke (ACT)             46.35
23 Scott Rowell (TAS)                   47.51
24 Cameron Gibson (TAS)                 51.34
25 Angus Rodwell (VIC)                  52.53
26 Roy Langman (TAS)                    54.07
27 Steve Blake (TAS)                    54.13
28 Philip Crothers (TAS)                54.42
29 Christopher Carter (QLD)             55.31
30 Andrew Wakefield (TAS)               55.43
31 Adam Pater (VIC)                     55.59
32 Chris Shaw (VIC)                     59.09
33 Michael Dawson (VIC)                 59.43
34 Matthew Holligan (TAS)             1.02.04
35 Christopher Ravenhall (NT)         1.03.43
36 Craig Findlow (VIC)                1.04.47
37 Nathan Wilson (VIC)                1.05.03
38 Chris Sims (TAS)                   1.05.15
39 Glen Pleffer (NSW)                        
40 Lee Floyd (VIC)                    1.06.35
41 Bradley Powles (VIC)               1.09.59
42 Ashley Noble (TAS)                 1.10.48
43 Nikolas Preece (TAS)               1.13.51
44 Gary Wellman (TAS)                 1.14.31
45 Jim Robinson (QLD)                 1.17.32
46 Jamie Burton (WA)                  1.18.20
47 Andrew Cathcart (TAS)              1.19.10
48 Vaughan Andrews (TAS)              1.19.35
49 Joshua Morrison (VIC)              1.21.57
50 Peter Kennedy (VIC)                1.22.10
51 Richard Quinn (TAS)                1.23.13
52 Tony Freijah (VIC)                 1.23.55
53 Wayne Chester (VIC)                1.24.09
54 David Ransome (TAS)                1.27.50
55 Jason Attard (NSW)                 1.28.22
56 Jason McAvoy (ACT)                 1.29.15
57 Peter West (QLD)                   1.29.52
58 Rodney Mills (TAS)                 1.31.07
59 Martyn Sweet (TAS)                 1.32.03
60 Adam Elias (NSW)                   1.34.13
61 Niall Henry (TAS)                  1.34.53
62 Benjamin Cirulis (TAS)             1.35.00
63 John Corbett (TAS)                 1.35.39
64 Adrian McCulloch (TAS)             1.35.52
65 Simon Dec (WA)                    1.37.02
66 Julian Dalco (TAS)                 1.37.44
67 Matt Lindus (TAS)                  1.39.18
68 Phil Kelly (VIC)                   1.39.59
69 Ian Trayler (WA)                   1.40.03
70 Trent Hewitt (NSW)                 1.40.18
71 Andrew Ling (TAS)                  1.42.42
72 Martin Stephenson (TAS)            1.43.51
73 Clive Poulton (TAS)                1.44.07
74 Stephen Howard (TAS)               1.44.38
75 Brett Bradley (VIC)                1.45.38
76 Michael Cantwell (VIC)             1.45.50
77 Waco Hamlin (QLD)                  1.47.01
78 Phillip Timpano (VIC)              1.48.30
79 David Pollington (TAS)             1.49.06
80 Rob Dooley (NSW)                   1.52.15
81 Christopher Fice (VIC)             1.54.18
82 Daniel McLaughlin (VIC)            1.54.25
83 Greg Foster (VIC)                  1.56.17
84 Trent Moore (ACT)                  1.57.44
85 Robert Child (TAS)                 1.59.58
86 Ashley McCormack (TAS)             2.00.02
87 Jan Verbesselt (VIC)               2.00.04
88 Campbell Junor (New Zealand)       2.01.30
89 Adam Boyd (ACT)                    2.02.42
90 Lance Albrecht (VIC)               2.03.45
91 Ben Strugnell (TAS)                2.05.14
92 Paul Shinkfield (TAS)              2.05.41
93 Jonas Varcoe (SA)                  2.06.16
94 Steven Scharapow (TAS)             2.07.40
95 Scott Philp (NSW)                  2.08.40
96 Peter Brozicevich (WA)             2.09.24
97 Philip Routley (NSW)               2.09.29
98 Christopher Wright (NSW)           2.11.21
99 Scott Dransfield (TAS)             2.11.27
100 Glenn Newnham (VIC)               2.11.45
101 Angus Martin (TAS)                2.13.38
102 Simon Carins (TAS)                2.16.38
103 Nick Byrne (TAS)                  2.16.39
104 Anthony Abbott (NSW)              2.16.51
105 Winton Maher (TAS)                2.17.52
106 Todd Stanton (TAS)                2.19.35
107 Paul Karis (NSW)                  2.21.18
108 Patrick Wright (QLD)              2.21.41
109 Matthew Stone (VIC)               2.24.31
110 Thomas Hansen (TAS)               2.25.13
111 Paul Moran (QLD)                  2.25.18
112 David Wakefield (TAS)             2.28.50
113 Michel de Vos (WA)                2.29.13
114 Dylan Coulson (VIC)               2.29.38
115 John Ruhle (NSW)                  2.29.50
116 Nathan Fellows (TAS)              2.30.25
117 Matthew Carlsson (TAS)            2.32.29
118 Alex Stone (WA)                   2.33.16
119 Martin Quinn (TAS)                2.35.01
120 Daniel McKenzie (TAS)             2.35.16
121 David Sutton (VIC)                2.35.30
122 Damien Geason (TAS)               2.36.09
123 Brett Chandler (VIC)              2.37.50
124 Leon Savage (TAS)                 2.38.33
125 Craig Van der Valk (VIC)          2.38.43
126 Neil Martin (ACT)                 2.39.02
127 Stephen Geason (TAS)              2.40.37
128 Lachlan Graham (NSW)              2.41.42
129 Simon Hamilton (NSW)              2.41.52
130 Arran Pearson (NSW)               2.42.56
131 Brent Ranson (TAS)                2.44.27
132 Jason Johnson (VIC)               2.44.41
133 Rod Johnson (QLD)                 2.44.47
134 Julian Augustini (VIC)            2.46.48
135 Russell Goslin (TAS)              2.49.33
136 Anthony Chisholm (TAS)            2.50.47
137 Alexander Liauw (NSW)             2.53.18
138 Martin Robards (TAS)              2.57.05
139 Warwick Gray (WA)                 3.03.59
140 Todd Stafford (NSW)               3.11.43
141 Martin Jack (TAS)                 3.18.25
142 James Shaddick (TAS)              3.26.02
143 Michael Harkness (VIC)            3.26.03
144 Steven Leslie (TAS)               3.26.04
145 Derek Morrison (NSW)              3.27.22
146 Garry Moss (VIC)                  3.33.02
147 Glen Potter (SA)                  3.37.52
148 Kieron Smythe (VIC)               3.39.05
149 Lindsay Malley (TAS)              3.42.49
150 Paul Oxley (VIC)                  3.48.22
151 Kristian Smythe (Canada)          3.50.44
152 John Milfull (VIC)                3.53.27
153 Peter Dean (NSW)                  4.01.27
154 Jason Selman (QLD)                4.15.47
155 Russell Liston (SA)               4.21.31
156 Simon Curtain (VIC)               4.27.48
157 Patrick Bessell (TAS)             4.47.37
158 Seamus Quick (NSW)                4.48.05
159 Michael Andrews (NSW)             5.17.16
DNF Christopher Gumley (VIC)                 
DNF Daniel Bromley (NSW)                     
DNF David Lacey (VIC)                        
DNF David White (VIC)                        
DNF Nicholas Deane (VIC)                     
DNF Domhnall Brannigan (TAS)                 
DNF Willem van den Bosch (TAS)               
DNF Josh Charlesworth (VIC)                  
DNF Jonathan Welch (TAS)                     
DNF Stephen Brown (VIC)                      
DNF Paul Liebenberg (NT)                     
DNF Bron Suchecki (WA)                       
 
Men Masters (40-49)

1 Rodney Hart (NSW)                   7.17.45
2 Tim Jamieson (VIC)                     8.07
3 Michael Groom (TAS)                   11.54
4 David Cottee (NSW)                    20.24
5 Robert Matthews (TAS)                 20.32
6 Lynton Stretton (QLD)                 23.11
7 John Whittington (TAS)                25.09
8 Peter Winfield (QLD)                  25.40
9 Rod Ascui (TAS)                       26.53
10 Jay Heather (VIC)                    27.44
11 Craig Cummings (VIC)                 28.17
12 James Heron (NSW)                    31.29
13 Swarz (TAS)                          32.39
14 Mark Cashion (TAS)                   33.13
15 Scott Murchison (TAS)                39.01
16 Matt Perchard (TAS)                  41.36
17 Dean Clark (VIC)                     41.53
18 Paul Kleywegt (TAS)                  44.35
19 Grant Young (TAS)                    45.16
20 Gregory Blackman (VIC)               49.48
21 Stu Bland (VIC)                      53.19
22 Tony Baker (TAS)                     53.33
23 Marcus Langham (TAS)                 58.11
24 Gavin Wakefield (TAS)                58.15
25 Warren Pike (QLD)                     0.00
26 Damian Bourke (VIC)                1.06.09
27 Peter Hepworth (VIC)               1.06.23
28 Duncan Rose (VIC)                  1.08.36
29 Steve Munyard (VIC)                1.09.21
30 Bernard Walker (TAS)               1.09.23
31 Simon Vandestadt (VIC)             1.09.40
32 Tim Stevens (VIC)                  1.09.59
33 John Fisher (TAS)                  1.10.39
34 Grant Dixon (TAS)                  1.11.52
35 Gordon Taylor (TAS)                1.13.36
36 Matthias Reinhardt (Germany)       1.15.39
37 Andrew Lloyd (NSW)                 1.15.54
38 Andrew Palmer (Switzerland)        1.16.41
39 Nigel Blake (NSW)                  1.17.26
40 Neil O'Leary (WA)                  1.22.09
41 Michael Kennish (VIC)              1.26.34
42 Brian Devlin (NSW)                 1.27.25
43 Paul Kingston (VIC)                1.28.12
44 John Richardson (VIC)              1.29.37
45 Matthew Aldridge (VIC)             1.31.12
46 Jonty Barnett (TAS)                1.32.17
47 Nicholas Hauser (VIC)              1.34.44
48 Craig Watkin (SA)                  1.39.27
49 Karl Albrecht (VIC)                1.44.30
50 Rients Lootsma (QLD)               1.45.18
51 Mark Flynn (QLD)                   1.52.43
52 Scott Yaxley (WA)                  1.53.17
53 Simon Foster (TAS)                 1.54.57
54 Stuart Taylor (WA)                 1.59.01
55 Tony Roberts (VIC)                 2.00.38
56 Mark Scarborough (ACT)             2.00.43
57 Peter Millard (WA)                 2.02.44
58 David Graham (NSW)                 2.03.09
59 Greg Tunnock (NSW)                 2.05.38
60 Kenneth Moloney (WA)               2.08.11
61 David McPherson (VIC)              2.08.31
62 Gary Hitches (NSW)                 2.08.43
63 Craig Rosevear (TAS)               2.10.46
64 Frank Clark (TAS)                  2.11.40
65 Keith Murfet (TAS)                 2.11.54
66 Peter Zielony (NSW)                2.16.39
67 Matthew Horsburgh (VIC)            2.19.41
68 Andrew Strugnell (TAS)             2.23.54
69 Edward King (ACT)                  2.30.19
70 Jack Birrell (TAS)                 2.33.49
71 Robert Medway (NSW)                2.39.29
72 Paul McGaw (NSW)                   2.41.05
73 Ben Goscombe (SA)                  2.44.16
74 Chris Moltzer (VIC)                2.45.09
75 Paul Scarfe (NSW)                  2.46.46
76 Ken Fallaver (WA)                  2.47.04
77 Malcolm Barrett (QLD)              2.53.47
78 Danny Moore (NSW)                  2.59.09
79 Tony Wood (VIC)                    3.04.58
80 Mordy Bromberg (VIC)               3.05.11
81 Craig Kentwell (ACT)               3.11.39
82 Andrew Musgrave (VIC)              3.22.01
83 Stephen Bradbury (VIC)             3.27.11
84 Richard De Waal (VIC)              3.39.07
85 Julian Giddings (TAS)              3.44.15
86 Mark Causer (NSW)                  4.24.18
87 Tom Wass (TAS)                     4.42.59
88 Paul McDonald (WA)                 5.02.15
89 Kelly Ryan (TAS)                   5.04.07
90 Philip Casale (VIC)                6.11.22
DNF Konrad Blackman (TAS)                    
DNF Nick Lambert (New Zealand)               
DNF Christopher Evans (TAS)                  
DNF Luke Carroll (ACT)                       
DNF Justin Dabner (QLD)                      
DNF David Ruthenberg (NSW)                   
 
Men Super Masters (50-59)

1 Brian Scarborough (SA)              7.25.34
2 Phillip Dent (TAS)                     2.49
3 Robert Faull (Aus)                    25.55
4 Nick Tilbrook (SA)                    27.03
5 Darryl Smith (TAS)                    58.26
6 Arthur English (NSW)                1.06.49
7 Nigel Davies (TAS)                  1.16.55
8 Richard Roffe (TAS)                 1.32.58
9 Stephen Bence (TAS)                 1.35.36
10 Anthony Lawton (QLD)               1.36.50
11 Ian Stanley (TAS)                  1.38.09
12 Craig Saunders (TAS)               1.39.17
13 David Stary (TAS)                  2.37.07
14 Bernard Murphy (VIC)               2.38.04
15 Tony Branchflower (VIC)            3.15.39
16 David Kiely (TAS)                  3.26.28
17 Richard Pullinger (NSW)            3.37.20
18 John Bonnett (NSW)                 3.37.42
19 Arthur Apted (VIC)                 3.55.10
20 Neil Kinder (VIC)                  3.55.40
21 John Dalco (TAS)                   4.50.32
22 Alan Riles (NSW)                   5.10.38
23 Kenneth Blake (VIC)                7.09.35
DNF Ian McGuffie (VIC)                       
 
Men Grand Masters (60+)

1 Kerry Ryan (VIC)                    8.13.30
2 Bruno Wicki (WA)                       8.48
3 Keith Mobbs (TAS)                   1.28.18
4 Leon Bren (VIC)                     4.20.45
5 Garry Clark (WA)                    5.30.32
 
Women Open (23-29)

1 Rowena Fry (TAS)                    7.19.50
2 Julie Blake (TAS)                      8.51
3 Stephanie Russell (WA)                33.10
4 Anna Wittert (SA)                   1.48.43
5 Angela Hayes (TAS)                  2.05.18
6 Rebecca Gorton (TAS)                2.10.35
7 Carolyn Mills (TAS)                 2.17.29
8 Natalie Nohra (NSW)                 2.44.43
9 Bronwyn Kimber (TAS)                3.22.36
10 Kristy Douglas (TAS)               3.50.59
11 Kate Clark (TAS)                   5.35.52
DNF Jenny O'Hern (TAS)                       
 
Women Veteran (30-39)

1 Naomi Hansen (QLD)                  7.53.09
2 Jeanette Mayr (Switzerland)           13.31
3 Alison Hunter (VIC)                   16.45
4 Alexandra Kiendl (VIC)                24.53
5 Su Sprott (TAS)                       56.56
6 Jessica Strugnell (TAS)             1.23.46
7 Jen Brodie (TAS)                    1.26.29
8 Robyn Holmes (TAS)                  1.28.50
9 Nicole McLaughlin (VIC)             1.35.51
10 Renata Fliegner (VIC)              1.37.15
11 Jane Guiver (TAS)                  1.42.48
12 Gill Course (TAS)                  1.49.54
13 Katrina Cathcart (TAS)             1.54.49
14 Claire Stevens (VIC)               2.02.13
15 Emma Sandy (TAS)                   2.02.43
16 Jane Ollerenshaw (VIC)             2.12.05
17 Amanda Herd (VIC)                  2.16.30
18 Adrienne Dougal (QLD)              2.19.13
19 Catherine Robinson (TAS)           2.50.10
20 Diane Chisholm (TAS)               3.06.09
21 Katrina Hamilton (NSW)             3.22.52
22 Megan Farebrother (NSW)            3.35.21
23 Tracey Boadle (VIC)                3.42.46
24 Erica Williams (TAS)               3.44.41
25 Jo-Anne Wise (TAS)                 4.24.38
DNF Kirsty Busch (NSW)                       
DNF Melissa Curry (TAS)                      
DNF Kym Fitzpatrick (TAS)                    
 
Women Masters (40-49)

1 Meg Carrigan (QLD)                  8.42.15
2 Bettina Terry (VIC)                   35.03
3 Karen Robertson (TAS)                 51.17
4 Carolyn Jackson (VIC)                 53.27
5 Catherine Mackay (NSW)              1.17.16
6 Joanne Oliver (TAS)                 1.22.41
7 Jane Kingston (VIC)                 2.15.06
8 Megan O'Leary (WA)                  3.02.13
9 Sylvia Outridge (TAS)               3.29.09
10 Karen Wishart (SA)                 3.44.11
11 Michaela Powell (ACT)              3.48.17
12 Michelle Watkin (SA)               4.48.47
DNF Debbie Millard (WA)                      
DNF Jenny Carroll (ACT)                      
 
Singlespeed
1 Obscene Macqueen (Kazakhstan)       7.28.45
2 Dylan Cirulis (VIC)                    0.49
3 Simon van der Aa (TAS)                15.45
4 Matt Davis (TAS)                      58.24
5 Michael Oxley (VIC)                 1.04.01
6 Graham Holden (WA)                  1.04.37
7 Scott Lidgett (VIC)                 2.12.23
8 Jody Dennison (TAS)                 2.14.48
9 Richard Douglas (TAS)               3.41.11
DNF Greg Maren (VIC)                         

Open (all categories)

1 Adrian Jackson (VIC)                 5.57.10
2 Ben Mather (TAS)                        2.55
3 Daniel McConnell (VIC)                  3.15
4 Jason English (NSW)                    16.39
5 Ben Grieve-Johnson (TAS)               18.49
6 Josh Keep (QLD)                        24.23
7 Stuart Keep (TAS)                      25.26
8 Luke Fetch (VIC)                       30.15
9 Sid Taberlay (TAS)                     34.30
10 Warren Burgess (NSW)                  34.53
11 Mick Café (NT)                        35.40
12 John Clingo (TAS)                     38.14
13 Wayne Anderson (NSW)                  39.03
14 Steele Von Hoff (VIC)                 43.51
15 Kel Boers (VIC)                       45.35
16 Tim Watson (TAS)                      47.46
17 Damien Jones (VIC)                    48.54
18 Sam Maffett (VIC)                     49.16
19 Andrew Fellows (QLD)                  51.50
20 Carl Patton (New Zealand)             53.06
21 Dion Shaw (TAS)                       56.26
22 Steven Brown (TAS)                    56.53
23 Chris Soanes (VIC)                    58.41
24 Matthew Potter (NSW)                  59.45
25 Dion Maber (VIC)                    1.01.39
26 Simon Fielding (TAS)                1.02.18
27 Dave Palmer (WA)                    1.02.31
28 Russell Edgar (VIC)                 1.05.20
29 Kim Curtis (TAS)                    1.05.32
30 Trevor Innes (TAS)                  1.10.15
31 Peter Freeman (VIC)                 1.12.05
32 Milford McArthur (TAS)              1.13.00
33 Aaron Wood (QLD)                    1.15.40
34 Ross Farrell (TAS)                  1.16.08
35 Grant Rowbottom (TAS)               1.16.34
36 Greg Sherriff (TAS)                 1.16.42
37 Damian French (TAS)                 1.16.51
38 Mark Travers (VIC)                  1.19.23
39 Rodney Hart (NSW)                   1.20.35
40 Christopher Clarke (ACT)            1.21.28
41 Andrew Maynard (TAS)                1.21.48
42 Rowena Fry (TAS)                    1.22.40
43 Scott Rowell (TAS)                  1.22.44
44 Alex Ashley- Jones (QLD)            1.25.22
45 Cameron Gibson (TAS)                1.26.27
46 Jeremy Hills (TAS)                  1.27.22
47 Angus Rodwell (VIC)                 1.27.46
48 Brian Scarborough (SA)              1.28.24
49 Tim Jamieson (VIC)                  1.28.42
50 Roy Langman (TAS)                   1.29.00
51 Steve Blake (TAS)                   1.29.06
52 Philip Crothers (TAS)               1.29.35
53 Christopher Carter (QLD)            1.30.24
54 Andrew Wakefield (TAS)              1.30.36
55 Adam Pater (VIC)                    1.30.52
56 Phillip Dent (TAS)                  1.31.13
57 Julie Blake (TAS)                   1.31.31
58 Obscene Macqueen (Kazakhstan)       1.31.35
59 Dylan Cirulis (VIC)                 1.32.24
60 Michael Groom (TAS)                 1.32.29
61 Chris Shaw (VIC)                    1.34.02
62 Matthew Patten (TAS)                1.34.35
63 Michael Dawson (VIC)                1.34.36
64 Matthew Holligan (TAS)              1.36.57
65 Christopher Ravenhall (NT)          1.38.36
66 Craig Findlow (VIC)                 1.39.40
67 Nathan Wilson (VIC)                 1.39.56
68 Chris Sims (TAS)                    1.40.08
69 Glen Pleffer (NSW)                         
70 David Cottee (NSW)                  1.40.59
71 Robert Matthews (TAS)               1.41.07
72 Alan Crisp (NSW)                    1.41.19
73 Lee Floyd (VIC)                     1.41.28
74 Alan Bolton (VIC)                   1.43.37
75 Lynton Stretton (QLD)               1.43.46
76 Bradley Powles (VIC)                1.44.52
77 Ashley Noble (TAS)                  1.45.41
78 John Whittington (TAS)              1.45.44
79 Peter Winfield (QLD)                1.46.15
80 Simon van der Aa (TAS)              1.47.20
81 Rod Ascui (TAS)                     1.47.28
82 Jay Heather (VIC)                   1.48.19
83 Nikolas Preece (TAS)                1.48.44
84 Craig Cummings (VIC)                1.48.52
85 Gary Wellman (TAS)                  1.49.24
86 James Heron (NSW)                   1.52.04
87 Jim Robinson (QLD)                  1.52.25
88 James Wirsu (TAS)                   1.52.30
89 Jamie Burton (WA)                   1.53.13
90 Swarz (TAS)                         1.53.14
91 Benjamin Norden (VIC)               1.53.42
92 Mark Cashion (TAS)                  1.53.48
93 Andrew Cathcart (TAS)               1.54.03
94 Robert Faull (Aus)                  1.54.19
95 Vaughan Andrews (TAS)               1.54.28
96 Nick Tilbrook (SA)                  1.55.27
97 Stephanie Russell (WA)              1.55.50
98 Naomi Hansen (QLD)                  1.55.59
99 Phill Miller (TAS)                  1.56.09
100 Joshua Morrison (VIC)              1.56.50
101 Peter Kennedy (VIC)                1.57.03
102 Ken Hoffman (TAS)                  1.57.45
103 Richard Quinn (TAS)                1.58.06
104 Tony Freijah (VIC)                 1.58.48
105 Wayne Chester (VIC)                1.59.02
106 Scott Murchison (TAS)              1.59.36
107 Ross Bugg (TAS)                    2.01.12
108 Matt Perchard (TAS)                2.02.11
109 Dean Clark (VIC)                   2.02.28
110 David Ransome (TAS)                2.02.43
111 Jason Attard (NSW)                 2.03.15
112 Jason McAvoy (ACT)                 2.04.08
113 Peter West (QLD)                   2.04.45
114 Paul Kleywegt (TAS)                2.05.10
115 Grant Young (TAS)                  2.05.51
116 Rodney Mills (TAS)                 2.06.00
117 Martyn Sweet (TAS)                 2.06.56
118 Conrad Daniels (TAS)               2.07.01
119 Adam Elias (NSW)                   2.09.06
120 Jeanette Mayr (Switzerland)        2.09.30
121 Niall Henry (TAS)                  2.09.46
122 Benjamin Cirulis (TAS)             2.09.53
123 Gregory Blackman (VIC)             2.10.23
124 John Corbett (TAS)                 2.10.32
125 Adrian McCulloch (TAS)             2.10.45
126 Simon Dec (WA)                     2.11.55
127 Julian Dalco (TAS)                 2.12.37
128 Alison Hunter (VIC)                2.12.44
129 Andre Vogel (QLD)                  2.13.52
130 Stu Bland (VIC)                    2.13.54
131 Tony Baker (TAS)                   2.14.08
132 Matt Lindus (TAS)                  2.14.11
133 Benjamin O'Donnell (TAS)           2.14.47
134 Phil Kelly (VIC)                   2.14.52
135 Ian Trayler (WA)                   2.14.56
136 Trent Hewitt (NSW)                 2.15.11
137 Clinton Richards (VIC)             2.15.18
138 Kym Pardey (VIC)                   2.15.56
139 Campbell Godfrey (TAS)             2.16.17
140 Kerry Ryan (VIC)                   2.16.20
141 Andrew Ling (TAS)                  2.17.35
142 Martin Stephenson (TAS)            2.18.44
143 Marcus Langham (TAS)               2.18.46
144 Gavin Wakefield (TAS)              2.18.50
145 Clive Poulton (TAS)                2.19.00
146 Stephen Howard (TAS)               2.19.31
147 Brett Bradley (VIC)                2.20.31
148 Warren Pike (QLD)                  2.20.35
149 Michael Cantwell (VIC)             2.20.43
150 Alexandra Kiendl (VIC)             2.20.52
151 Waco Hamlin (QLD)                  2.21.54
152 Phillip Timpano (VIC)              2.23.23
153 David Pollington (TAS)             2.23.59
154 Bruno Wicki (WA)                   2.25.08
155 Jack Mullaly (QLD)                        
156 Damian Bourke (VIC)                2.26.44
157 Darryl Smith (TAS)                 2.26.50
158 Peter Hepworth (VIC)               2.26.58
159 Rob Dooley (NSW)                   2.27.08
160 Rodney Lyons (VIC)                 2.27.21
161 Rick Southwell (TAS)               2.27.51
162 Duncan Rose (VIC)                  2.29.11
163 Christopher Fice (VIC)                    
164 Daniel McLaughlin (VIC)            2.29.18
165 Steve Munyard (VIC)                2.29.56
166 Bernard Walker (TAS)               2.29.58
167 Matt Davis (TAS)                   2.29.59
168 Simon Vandestadt (VIC)             2.30.15
169 Tim Stevens (VIC)                  2.30.34
170 Greg Foster (VIC)                  2.31.10
171 John Fisher (TAS)                  2.31.14
172 Grant Dixon (TAS)                  2.32.27
173 Trent Moore (ACT)                  2.32.37
174 Gordon Taylor (TAS)                2.34.11
175 James Thomason (TAS)               2.34.22
176 Robert Child (TAS)                 2.34.51
177 Ashley McCormack (TAS)             2.34.55
178 Jan Verbesselt (VIC)               2.34.57
179 Arthur English (NSW)               2.35.13
180 Alister Hazeldine (SA)             2.35.25
181 Michael Oxley (VIC)                2.35.36
182 Dylan Reilly (VIC)                 2.36.11
183 Graham Holden (WA)                 2.36.12
184 Matthias Reinhardt (Germany)       2.36.14
185 Campbell Junor (New Zealand)       2.36.23
186 Andrew Lloyd (NSW)                 2.36.29
187 Andrew Palmer (Switzerland)        2.37.16
188 Adam Boyd (ACT)                    2.37.35
189 Nigel Blake (NSW)                  2.38.01
190 Lance Albrecht (VIC)               2.38.38
191 Ben Strugnell (TAS)                2.40.07
192 Paul Shinkfield (TAS)              2.40.34
193 Jonas Varcoe (SA)                  2.41.09
194 Hugh Murray-Walker (NSW)           2.41.52
195 Steven Scharapow (TAS)             2.42.33
196 Neil O'Leary (WA)                  2.42.44
197 Scott Philp (NSW)                  2.43.33
198 Malcolm Beattie (TAS)              2.43.53
199 Peter Brozicevich (WA)             2.44.17
200 Philip Routley (NSW)               2.44.22
201 Meg Carrigan (QLD)                 2.45.05
202 Nigel Davies (TAS)                 2.45.19
203 Christopher Wright (NSW)           2.46.14
204 Scott Dransfield (TAS)             2.46.20
205 Troy Davidson (TAS)                2.46.26
206 Glenn Newnham (VIC)                2.46.38
207 Michael Kennish (VIC)              2.47.09
208 Brian Devlin (NSW)                 2.48.00
209 Angus Martin (TAS)                 2.48.31
210 Paul Kingston (VIC)                2.48.47
211 John Richardson (VIC)              2.50.12
212 Mark Diprose (TAS)                 2.50.57
213 Simon Carins (TAS)                 2.51.31
214 Nick Byrne (TAS)                   2.51.32
215 Anthony Abbott (NSW)               2.51.44
216 Matthew Aldridge (VIC)             2.51.47
217 Winton Maher (TAS)                 2.52.45
218 Jonty Barnett (TAS)                2.52.52
219 Su Sprott (TAS)                    2.52.55
220 Antanas Spokevicius (VIC)          2.54.14
221 Todd Stanton (TAS)                 2.54.28
222 Simon Myers (QLD)                  2.54.47
223 Marcus Yong (TAS)                  2.55.03
224 Nicholas Hauser (VIC)              2.55.19
225 Rodney Brown (TAS)                 2.55.22
226 Paul Karis (NSW)                   2.56.11
227 Patrick Wright (QLD)               2.56.34
228 Matthew Stone (VIC)                2.59.24
229 Craig Watkin (SA)                  3.00.02
230 Thomas Hansen (TAS)                3.00.06
231 Paul Moran (QLD)                   3.00.11
232 Richard Roffe (TAS)                3.01.22
233 David Wakefield (TAS)              3.03.43
234 Stephen Bence (TAS)                3.04.00
235 Michel de Vos (WA)                 3.04.06
236 Dylan Coulson (VIC)                3.04.31
237 John Ruhle (NSW)                   3.04.43
238 Karl Albrecht (VIC)                3.05.05
239 Anthony Lawton (QLD)               3.05.14
240 Nathan Fellows (TAS)               3.05.18
241 Rients Lootsma (QLD)               3.05.53
242 Ian Stanley (TAS)                  3.06.33
243 Matthew Carlsson (TAS)             3.07.22
244 Craig Saunders (TAS)               3.07.41
245 Alex Stone (WA)                    3.08.09
246 Adam Watson (TAS)                  3.09.02
247 Martin Quinn (TAS)                 3.09.54
248 Daniel McKenzie (TAS)              3.10.09
249 David Sutton (VIC)                 3.10.23
250 Damien Geason (TAS)                3.11.02
251 Anna Wittert (SA)                  3.11.23
252 Brett Chandler (VIC)               3.12.43
253 Mark Flynn (QLD)                   3.13.18
254 Leon Savage (TAS)                  3.13.26
255 Craig Van der Valk (VIC)           3.13.36
256 Scott Yaxley (WA)                  3.13.52
257 Neil Martin (ACT)                  3.13.55
258 Stephen Geason (TAS)               3.15.30
259 Simon Foster (TAS)                 3.15.32
260 Daniel Wojciechowski (NSW)         3.16.06
261 Lachlan Graham (NSW)               3.16.35
262 Simon Hamilton (NSW)               3.16.45
263 Andrew Stanley (TAS)               3.17.09
264 Arran Pearson (NSW)                3.17.49
265 Brett Cirulis (VIC)                3.18.57
266 Brent Ranson (TAS)                 3.19.20
267 Jason Johnson (VIC)                3.19.34
268 Stuart Taylor (WA)                 3.19.36
269 Rod Johnson (QLD)                  3.19.40
270 Jessica Strugnell (TAS)            3.19.45
271 Bettina Terry (VIC)                3.20.08
272 Tony Roberts (VIC)                 3.21.13
273 Mark Scarborough (ACT)             3.21.18
274 Julian Augustini (VIC)             3.21.41
275 Jen Brodie (TAS)                   3.22.28
276 Peter Millard (WA)                 3.23.19
277 David Graham (NSW)                 3.23.44
278 Russell Goslin (TAS)               3.24.26
279 Robyn Holmes (TAS)                 3.24.49
280 Anthony Chisholm (TAS)             3.25.40
281 Greg Tunnock (NSW)                 3.26.13
282 Matthew Smith (TAS)                3.27.07
283 Angela Hayes (TAS)                 3.27.58
284 Alexander Liauw (NSW)              3.28.11
285 Christopher Crocker (TAS)          3.28.38
286 William Ritchie (QLD)              3.28.41
287 Kenneth Moloney (WA)               3.28.46
288 David McPherson (VIC)              3.29.06
289 Gary Hitches (NSW)                 3.29.18
290 Craig Rosevear (TAS)               3.31.21
291 Phillip Duggan (NT)                3.31.36
292 Nicole McLaughlin (VIC)            3.31.50
293 Martin Robards (TAS)               3.31.58
294 Frank Clark (TAS)                  3.32.15
295 Keith Murfet (TAS)                 3.32.29
296 Renata Fliegner (VIC)              3.33.14
297 Rebecca Gorton (TAS)               3.33.15
298 Andrew Forbes (WA)                 3.33.22
299 Karen Robertson (TAS)              3.36.22
300 Tim Officer (NSW)                  3.36.43
301 Peter Zielony (NSW)                3.37.14
302 Carolyn Jackson (VIC)              3.38.32
303 Jane Guiver (TAS)                  3.38.47
304 Warwick Gray (WA)                  3.38.52
305 Carolyn Mills (TAS)                3.40.09
306 Matthew Horsburgh (VIC)            3.40.16
307 Scott Lidgett (VIC)                3.43.58
308 Andrew Strugnell (TAS)             3.44.29
309 Keith Mobbs (TAS)                  3.44.38
310 Gill Course (TAS)                  3.45.53
311 Jody Dennison (TAS)                3.46.23
312 Todd Stafford (NSW)                3.46.36
313 Huw Apted (VIC)                    3.47.59
314 Katrina Cathcart (TAS)             3.50.48
315 Edward King (ACT)                  3.50.54
316 Martin Jack (TAS)                  3.53.18
317 Jack Birrell (TAS)                 3.54.24
318 Claire Stevens (VIC)               3.58.12
319 Emma Sandy (TAS)                   3.58.42
320 Robert Medway (NSW)                4.00.04
321 James Shaddick (TAS)               4.00.55
322 Michael Harkness (VIC)             4.00.56
323 Steven Leslie (TAS)                4.00.57
324 Paul McGaw (NSW)                   4.01.40
325 Derek Morrison (NSW)               4.02.15
326 Catherine Mackay (NSW)             4.02.21
327 Ben Goscombe (SA)                  4.04.51
328 David Stary (TAS)                  4.05.31
329 Chris Moltzer (VIC)                4.05.44
330 Bernard Murphy (VIC)               4.06.28
331 Paul Scarfe (NSW)                  4.07.21
332 Natalie Nohra (NSW)                4.07.23
333 Ken Fallaver (WA)                  4.07.39
334 Joanne Oliver (TAS)                4.07.46
335 Garry Moss (VIC)                   4.07.55
336 Jane Ollerenshaw (VIC)             4.08.04
337 Douglas Miller (TAS)               4.09.29
338 Amanda Herd (VIC)                  4.12.29
339 Glen Potter (SA)                   4.12.45
340 Kieron Smythe (VIC)                4.13.58
341 Malcolm Barrett (QLD)              4.14.22
342 Adrienne Dougal (QLD)              4.15.12
343 Shannon Luttrell (TAS)             4.17.17
344 Lindsay Malley (TAS)               4.17.42
345 Danny Moore (NSW)                  4.19.44
346 Paul Oxley (VIC)                   4.23.15
347 Tony Wood (VIC)                    4.25.33
348 Kristian Smythe (Canada)           4.25.37
349 Mordy Bromberg (VIC)               4.25.46
350 John Milfull (VIC)                 4.28.20
351 Craig Kentwell (ACT)               4.32.14
352 Peter Dean (NSW)                   4.36.20
353 Leigh Breen (TAS)                  4.39.34
354 Andrew Musgrave (VIC)              4.42.36
355 Tony Branchflower (VIC)            4.44.03
356 Bronwyn Kimber (TAS)               4.45.16
357 Catherine Robinson (TAS)           4.46.09
358 Stephen Bradbury (VIC)             4.47.46
359 Jason Selman (QLD)                 4.50.40
360 David Kiely (TAS)                  4.54.52
361 Thomas Wright (VIC)                4.55.46
362 Russell Liston (SA)                4.56.24
363 Richard De Waal (VIC)              4.59.42
364 Jane Kingston (VIC)                5.00.11
365 Diane Chisholm (TAS)               5.02.08
366 Simon Curtain (VIC)                5.02.41
367 Julian Giddings (TAS)              5.04.50
368 Richard Pullinger (NSW)            5.05.44
369 John Bonnett (NSW)                 5.06.06
370 Richard Douglas (TAS)              5.12.46
371 Kristy Douglas (TAS)               5.13.39
372 Katrina Hamilton (NSW)             5.18.51
373 Patrick Bessell (TAS)              5.22.30
374 Seamus Quick (NSW)                 5.22.58
375 Arthur Apted (VIC)                 5.23.34
376 Neil Kinder (VIC)                  5.24.04
377 Liam Riles (NSW)                   5.31.14
378 Megan Farebrother (NSW)            5.31.20
379 Tracey Boadle (VIC)                5.38.45
380 Erica Williams (TAS)               5.40.40
381 Mark Causer (NSW)                  5.44.53
382 Megan O'Leary (WA)                 5.47.18
383 Michael Andrews (NSW)              5.52.09
384 Tom Wass (TAS)                     6.03.34
385 Thomas Walder (The Netherlands)    6.04.03
386 Sylvia Outridge (TAS)              6.14.14
387 John Dalco (TAS)                   6.18.56
388 Jo-Anne Wise (TAS)                 6.20.37
389 Paul McDonald (WA)                 6.22.50
390 Kelly Ryan (TAS)                   6.24.42
391 Karen Wishart (SA)                 6.29.16
392 Michaela Powell (ACT)              6.33.22
393 Leon Bren (VIC)                    6.37.05
394 Alan Riles (NSW)                   6.39.02
395 Kate Clark (TAS)                   6.58.32
396 Philip Casale (VIC)                7.31.57
397 Michelle Watkin (SA)               7.33.52
398 Garry Clark (WA)                   7.46.52
399 Kenneth Blake (VIC)                8.37.59
DNF Christopher Gumley (VIC)                  
DNF Greg Maren (VIC)                          
DNF Kirsty Busch (NSW)                        
DNF Daniel Bromley (NSW)                      
DNF David Lacey (VIC)                         
DNF Jenny O'Hern (TAS)                        
DNF Debbie Millard (WA)                       
DNF David White (VIC)                         
DNF Konrad Blackman (TAS)                     
DNF Melissa Curry (TAS)                       
DNF Nick Lambert (New Zealand)                
DNF Kym Fitzpatrick (TAS)                     
DNF Nicholas Deane (VIC)                      
DNF Domhnall Brannigan (TAS)                  
DNF Willem van den Bosch (TAS)                
DNF Christopher Evans (TAS)                   
DNF Luke Carroll (ACT)                        
DNF Jenny Carroll (ACT)                       
DNF Ian McGuffie (VIC)                        
DNF Josh Charlesworth (VIC)                   
DNF Jonathan Welch (TAS)                      
DNF Stephen Brown (VIC)                       
DNF Justin Dabner (QLD)                       
DNF Paul Liebenberg (NT)                      
DNF Bron Suchecki (WA)                        
DNF David Ruthenberg (NSW)