Recently on Cyclingnews.com
MTB index page for all MTB content
24 Hours of Old Pueblo - NE
Tucson, Arizona, USA, February 16-17, 2008
Kenda Titus Hayes team takes first 2008 win
A Kenda racer
Photo ©: Dave McElwaine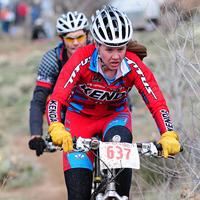 Members of the Kenda Titus Hayes women's mountain bike team took their first podium of the 2008 season by winning the four person women's category of the 24 Hours in the Old Pueblo this past weekend in Tucson, Arizona. Team members Zephanie Blasi, Heather Holmes, Krista Park and Amanda Riley covered 19 laps of the 16 mile course during the 24 hour event, finishing two laps ahead of their closest competitors Menage A Quatro (Deborah Martin- Wille, Linden Kimmerer, Sue Rawley, Jennifer Sica) in second and Swiss Chix (Lisa Barnes, Nicole Eikenberry, Chrissy Saraceni, Karen Lewis) in third.
The Kenda team was clearly not slowed by the fire that broke out in the welding area of the Titus factory last Friday. Fortunately, the team, which was there assembling bikes, was able to relocate to a nearby hotel for final bike assembly and new team kit testing.
The morning of the race brought dry skies but cold temperatures in the low 30s (degrees Fahrenheit). Thanks to some pre-race rains, Team Kenda was among those who visited a muddy ditch en route to the race on a weekend that would just keep getting nicer with temperatures rising into the high 50s with clear skies on Sunday. The early season race, held in the desert climate of Arizona, drew many big names to the race. Most were there to have fun and test both their February legs and new equipment for 2008.
Barry Wicks crosses the finish line
Photo ©: Dave McElwaine

Kona Open Wheel Racing, with Barry Wicks, Luke Brechwald, Kris Sneddon and Matthew Slaven won the men's four person open race. Also with 21 laps was second-placed Tres Hueddos Y Un Coyote including Jason Quenzler, Damian Calvert, Marty Moriarty and Adam Hoppe. Chris Mears, Todd Cassan, Mark Gilbreath, and Grant Folske of Rocinante finished one lap behind for third place.
In the women's solo category, Heidi Clayton (Heidi Mark) took the win with 13 laps ahead of Mary Collier (Mary Collier - Siren Bicycles) and Terri Wahlberg (Intense / Nite Rider).
Kimo Seymour (Kimo) won the men's solo category and was followed by Brad Majors (Dan Brennan - World Bicycle Relief) and Todd Carpenter (Siren Bicycles - Todd Carpenter). All three finished with 15 laps.
It's important to wear fashionable socks at a 24 hour race.
Photo ©: Dave McElwaine

With 18 laps for a five lap lead, Team Born Famous, including Sue Haywood and Spring Clegg) won the women's race. Arc/Red Energy, with Jane Larkindale and Michelle Kelly and 9 laps 3 Damsels In De-Stress with Sarah Rarick and Jordan Rarick finished second and third.
Dean Miller and Dax Massey (Shake & Bake) won the men's duo category with Jeff Zurakowski and Jordan Williford (Bach Builders Featuring Jordache And Z Cavaricci) and Doug Kennedy and Chris Crosby (Dos Chicos De Friday) rounding out the podium.
Chelsea Mcgowan (Spot Brand Oster Blues) and Michael Melley (Morepleez) won the women's and men's singlespeed solo categories.
Photography
For a thumbnail gallery of these images, click here
Images by Dave McElwaine /www.trailwatch.net
Results
Solo women
 
13 laps
1 Heidi Clayton (Heidi Mark)                                                            12.10.50
2 Mary Collier (Mary Collier - Siren Bicycles)                                             28.00
 
12 laps
3 Terri Wahlberg (Intense / Nite Rider)                                                 12.01.54
 
11 laps
4 Caroline Goulard (Gazelle)                                                            12.04.22
5 Sara Krause (Trek/ Vw)                                                                12.44.18
 
10 laps
6 Lisa Wishard (Big Wheel Racing)                                                       12.01.32
 
9 laps
7 Heather Williams (Heather Williams)                                                   12.03.12
 
8 laps
8 Alacia Sooter (Old Pueblo Gymnastics Academy)                                         12.00.21
9 Wendy Skean (Wendy Skean)                                                             12.00.24
10 Danielle Musto (Kenda Titus Hayes)                                                   12.04.04
11 Kristen Bonkoski (Kristen Bonkoski)                                                  12.04.33
12 Natalie Dustman (Dude...Where's My Team?)                                            12.09.05
13 Linda Kopp (Linda Kopp)                                                              12.11.32
 
7 laps
14 Joann Grether (Karma)                                                                12.02.23
 
6 laps
15 Melissa Newbrey (Female Newb)                                                        12.05.07
16 Anne Schultz (Lucystoner Loner)                                                      12.21.15
 
4 laps
17 Kristen Self (Pops Racing 2)                                                         12.26.32
 
2 laps
18 Lee-Anna Walker (Coug It)                                                            12.08.11
DNF Sarah Kaufmann (Titus Cycles/Roaring Monse Cycles/Br Lights)                                
                                                               
Solo men
 
15 laps
1 Kimo Seymour (Kimo)                                                                   12.00.27
2 Brad Majors (Dan Brennan - World Bicycle Relief)                                          0.02
3 Todd Carpenter (Siren Bicycles - Todd Carpenter)                                          0.05
 
14 laps
4 Steven Yore (Steven Yore)                                                             12.01.08
5 Taylor Lideen (Taylor Lideen)                                                         12.35.38
6 Chuck Wheeler (Chuck Wheeler)                                                         12.37.37
 
13 laps
7 Chad Brown (Tri-Sports)                                                               12.02.40
8 John Mazzola (Big Wheel Racing)                                                       13.10.39
9 Handy Jeff (Grinding To A Halt)                                                       13.46.57
 
12 laps
10 Larry Dewitt (Dirtdawg)                                                              12.08.25
 
11 laps
11 Michael Mangan (Mikeezero)                                                           12.10.23
12 David Mcafee (Team Dave)                                                             12.43.36
13 Jeff Overstreet (Overstreet Racing)                                                  12.52.56
14 Stephen Boland (Stevo)                                                               14.04.41
 
10 laps
15 Chris Gardner (Chris Gardner)                                                        12.01.49
16 Sean Mcdevitt (Sean Mcdevitt)                                                        12.03.16
17 Randy Profeta (Velo Sport)                                                           12.04.26
18 Tad Fagerholm (Tad Fagerholm)                                                        12.40.10
 
9 laps
19 Christopher Branson (Adventure Bikes)                                                12.00.02
20 Ron Bell (Shredder)                                                                  12.02.19
21 Laurence Kluck (All Night Larry)                                                     12.33.59
22 Jens Raz (Did I, Or Did I Not...)                                                    12.44.08
23 Mike Fleishman (Mike Fleishman)                                                      13.06.56
 
8 laps
24 Ron Strand (Ron Strand)                                                              12.01.23
25 Ben Sullivan (Drunkcyclist 2)                                                        12.01.46
26 Tom Barnum (Tom Barnum)                                                              12.04.11
27 John Stevens (John Stevens)                                                          12.08.07
28 Nicholas Patzer (Team Wiry)                                                          12.08.56
29 Greg Parham (Caveman Productions)                                                    12.11.39
30 Eric Newville (Thud Monkey)                                                          12.13.29
31 Scott Taylor (Www.Cascadecreampuff.Com)                                              12.34.26
32 Walter Schmidt (Walter Schmidt)                                                      13.55.30
 
7 laps
33 Toby Ford (Do'h!)                                                                    12.00.10
34 Stephen Paige (Shr)                                                                  12.00.43
35 Arty Blanco (K9)                                                                     12.01.26
36 Adam Graehl (Adam Graehl)                                                            12.02.06
37 Charles Johnson (Yohansen Yo-Johnson)                                                12.03.42
38 Mark Stiles (Left Turn)                                                              12.20.18
39 John Lockhart (Bitty Bitty Cycling - Clyde Division)                                 12.37.28
40 Harry Brenton (Uno Chingones)                                                        12.54.15
 
6 laps
41 Donnie Cole (Big Wheel Racing)                                                       12.01.36
42 Tommy Kelly Jr (Team Red Energy Ar - Solo)                                           12.05.29
43 Richard Boulter (Ncsmf)                                                              12.08.38
44 James Sipe (Dudah)                                                                   12.12.54
45 Dallas Green (Scared Rabbit Racing)                                                  12.13.00
46 Adam Shepard (Isitover?)                                                             12.16.06
47 Paul Dewitt (Dew Itt)                                                                12.19.15
48 Josh Sprague (Team Ascent)                                                           12.51.01
49 Cesar Perez (Caveman)                                                                14.02.26
 
5 laps
50 Brett Johnson (Brett Johnson)                                                        12.00.19
51 Lyle Steely (...The Original Napster)                                                12.01.18
52 Daniel Nunez (Pimpled Gimp)                                                          12.06.18
53 Dave Taylor (Chamois Butter Bandits)                                                 12.07.36
54 Daniel Pedersen (Team Viento Viejo)                                                  12.09.00
55 Matthew Pacheco (Cyclebound)                                                         12.25.17
56 Greg Haynes (Bitty Bitty Fb)                                                         12.37.38
57 Casey Kelso (Casey Kelso)                                                            12.45.31
58 Corey Bernardo (Rubber Side Down)                                                    12.52.31
 
4 laps
59 David Midel (Super Dave)                                                             12.04.00
60 Dan Kravets (Bj And The Bears)                                                       12.04.17
61 Brian Newbrey (Kickmypoo)                                                            12.05.02
62 Richard Cunningham (Hisposa-Hombre)                                                  12.06.13
63 Jeff Stanton (Blazing Saddle)                                                        12.08.00
64 Mark Larsen (Mark's Gonna Be Tired)                                                  12.09.47
65 Greg De Cori (Two Dogs Two Wheels)                                                   12.11.10
66 David Schumacher (Zapato)                                                            12.13.41
67 Jeffrey Kellywood (Winterstorm)                                                      12.32.56
68 Rob Kotelman (Team Robo)                                                             12.35.09
69 David Lammers (Arizonamountainbike.Com)                                              12.44.37
70 Brad Gardner (Brad Gardner)                                                          12.51.54
 
3 laps
71 Joe Lockett (Team Buzzard)                                                           12.03.51
72 Eddie Rea (Scott Taylor Of The Cream Puff)                                           12.05.16
73 Dwayne Ziegler (Scaldedmonkey)                                                       12.05.51
74 Cutler Ferchaud (Jesme)                                                              12.39.31
 
2 laps
75 Brian Gould (Dfl)                                                                    12.11.14
DNF Sean Allan (Team Motley Grinders)                                                           
DNF Nick Thelen (Thelen)                                                                        
DNF Gene Hannon (Solipsism My Taint)                                                            
DNF Nelson Snyder (Nelson Snyder)                                                               
DNF Josh Oppenheimer (Team Razignators)                                                         
DNF Simon Zmyslinski (Nizerian Warrior)                                                         
DNF Brian Bennett (Brian Bennett)                                                               
DNF Chuck Riddell (Focus Solo - Chuck Riddell)                                                  
DNF Ed Aleman (Ed Aleman)                                                                       
DNF Greg Rogers (Dadwith2Kids)                                                                  
DNF Robert Butler (Robert Butler)                                                               
DNF Oscar Corona (Oscar Corona)                                                                 
DNF Kevin Riseborough (San Tan Racing-Paragon Cycling)                                          
DNF Max Morris (Endurance Junkie)                                                               
DNF Ron Deradourian (Me And My Shadow)                                                          
DNF Richard Daggett (Saddle Love)                                                               
DNF Eric Williams (Eric K Williams, Ph.D.)                                                      

Duo women
 
18 laps
1 Born Famous (Susan Haywood, Spring Clegg)                                             12.53.35
 
13 laps
2 Arc/Red Energy (Jane Larkindale, Michelle Kelly)                                      12.06.11
 
9 laps
3 Damsels In De-Stress (Sarah Rarick, Jordan Rarick)                                    12.00.47
 
8 laps
4 Punany Peddlers (Jennifer Beck, Julie Voyles)                                         12.05.42
 
5 laps
5 Bitchfest (Vanessa Cianci, Kelly Valyou)                                              12.22.54
DNF Chick Rides Dirt (Jan Capages, Janet Capages)                                               

Duo men
 
19 laps
1 Shake & Bake (Dean Miller, Dax Massey)                                                12.31.43
2 Bach Builders Featuring Jordache And Z Cavaricci (Jeff Zurakowski, Jordan Williford)     14.03
 
18 laps
3 Dos Chicos De Friday (Doug Kennedy, Chris Crosby)                                     12.02.50
4 Hops (Dylan Schlott, Ed Cashin)                                                       12.29.08
 
17 laps
5 Tennessee Pass Cookhouse/Nordic Center (Casey Puntenney, Blake Heren)                 12.00.08
6 Big Wheel Racing - B100 Addition (Richard Capener, Nate Berg)                         12.32.31
7 Cacti Canucks (Rob Kelly, Pete Hayes)                                                 12.49.59
8 Dos Loco (Shawn Gregory, Alex Howard)                                                 12.52.40
 
16 laps
9 Team Meerkat (Aaron Vanderwaal, Tom Hayes)                                            12.21.05
10 Hansel & Gretel (Corey Coplea, Scott Miller)                                         13.03.08
 
15 laps
11 Big Head And Christo (Todd Meier, Chris Gardner)                                     12.04.45
12 Prickle My Timber (Marty Halprin, Danny Lockery)                                     12.04.48
 
14 laps
13 F4/Spot Brand (Nicholas Howe, Scott Fleigleman)                                      12.03.15
14 Bikefix.Net (Marc Basiliere, Aaron Johnson)                                          12.04.58
15 Adventure Racing Concepts (Jim Holmes, Pierre Blanche)                               12.05.43
16 2 Slow 2 Coast (Nathaniel Pellman, Dave Nice)                                        12.46.30
 
13 laps
17 Vicious Cycle (Scott Spangler, Chad Watson)                                          12.04.37
18 Hug Me! Eso Eso Eso! (Jeff Miller, Joe Caslin)                                       12.04.40
19 Bigger Language Haircuts (Sean Randolph, Kyle D'auria)                               12.26.52
 
12 laps
20 Sample B (Richard Austin, Christian Bondi)                                           12.02.13
21 Team Wildebeast (Bruce Wildermth, Pat Smallwood)                                     12.10.29
22 Ramstrong (Adam Stepanovic, Nathanael Ksiazkiewicz)                                  12.24.19
23 Los Dos Locos (Gary Bakken, E.T. Collinsworth)                                       13.51.56
 
11 laps
24 Pine Nuts (Adam Kroger, Alex Alvarez)                                                12.03.58
25 Athlete In You (Ted Rasoumoff, Gary Honea)                                           12.14.46
26 2 Guys 1 Cup (Alex Christensen, Jesse Peck)                                          13.03.16
 
10 laps
27 Twist My Knobbies (David Halliburton, Mark Castelo)                                  12.01.02
28 Vaya Con Perros (Thomas Furgason, William Meyer)                                     12.03.09
29 Old Shits Who Go Slow (Marc Koepsel, James Koepsel)                                  12.04.03
30 Bk Riders (Karl Mason, Barry Jetton)                                                 12.04.36
31 Sportz Outdoor 2 (Jeffrey Fleming, Rick Wenner)                                      12.10.59
 
9 laps
32 The Prophet And Drb (Aaron Stiner, Greg Brown)                                       12.00.56
33 Git 'Er Done (Rupert Laumann, David Tipton)                                          12.02.53
 
8 laps
34 Several Spokes Short (Timothy White, Timothy Maloney)                                12.01.01
35 Fbo Demon Bikers (Neil Ross, Ryan Geiger)                                            12.26.46
36 Dirt Rag (Justin Steiner, Shannon Mominee)                                           12.29.26
37 The Columbus Meats (Jeff Poirier, Matt Poirier)                                      12.41.18
38 Chamois Butter On Toast (Jonathan Cirincione, Mark Desmond)                          13.43.57
 
7 laps
39 Dos Keeners (Bryan Smith, Zeff Smith)                                                12.03.45
40 I Know (Greg Landers, Blake Landers)                                                 13.41.50
 
6 laps
41 The Dragon Tea Bags (Bill Finnell, Jesse Finnell)                                    12.02.19
42 Broken Nuts (James Perkins, Stephen Perkins)                                         12.04.21
43 C&N (Greg Nagle, Ronnie Cherkin)                                                     12.06.49
44 Half Sharkalligator Half Man (Vernie Aikins, James Reese)                            12.09.32
45 Crash King & The Cactus Kid (David Vancas, Mark Vancas)                              12.22.14
46 Vellum Dragons (Jack Skeffington, Matt Rotando)                                      13.11.34
47 Eye Go (Mike Peterson, Bob Hughes)                                                   13.36.39
 
5 laps
48 J Bug And The Big Cheese (Bill Lindberg, Jordon Lindberg)                            12.09.26
49 Pizza Hut (John Pieper, Robert Bracamonte)                                           12.34.44
 
3 laps
50 Old Easy Riders (Bill Barnes, Dave Ryan)                                             13.26.31
DNF Eclipse Racing (Jeff Parker, Chris Beardsley)                                               
DNF Inverted Headstand (Randy Wolfe, Jeff Wolfe)                                                
DNF More Chamois Butter Please (Eddie Curiel, Justin Silverman)                                 
DNF I Had An Uncle Named Sol (Josh Zollinger, Rhys Fleig)                                       
DNF The Mud, The Blood, And The Beer (Jeremy Wells, Joel Robertson)                             
DNF Sand Devils (Ray Byrd, Don Cummings)                                                        
DNF Single Track Mind (Isaac Deneen, Clark Limoges)                                             
DNF Red Merkin (Jeffrey Prince, Curtis Pierce)                                                  

Duo-open
 
16 laps
1 Ganesh And The Silver Moon (Karen Rishel, Alan Rishel)                                12.56.22
 
14 laps
2 I Do O (Anne Thames-Real, Octavio "O" Real)                                           12.03.23
3 It Takes Two (Kata Chapin, Nick Skaggs)                                               12.06.44
 
13 laps
4 North Of Here (Chad Houston, Kate Aardal)                                             12.01.17
5 Ass Callus (Tom Purvis, Marjorie Conrad)                                              12.46.54
 
12 laps
6 Partners In Grime (Ken Downey, Jennifer Williams)                                     13.14.57
 
11 laps
7 Bloody & Stinky (Kevin Flynn, Debi Brokke)                                            12.49.23
8 Beauty And The Beast (Rj Ponchione, Gretel Follingstad)                               13.16.07
 
10 laps
9 Escape Adventures (Jared Fisher, Jared Fisher)                                        12.05.07
9 laps
 
 
10 Prickly Pair (Cat Downing, David Henderson)                                          12.43.17
11 Two Dogs (Robert Havrda, Carol Havrda)                                               12.51.21
 
8 laps
12 Green Team Go! (Troy Laffey, Lori Kohls)                                             12.01.16
13 Signal Butte Pirates (Jen Donahue, Josh Donahue)                                     12.37.13
14 Cycle Mania (Todd Fernau, Katie Fernau)                                              12.46.45
15 She's Faster Than Me So (Zac Tucker, Julie Conner)                                   13.01.06
 
7 laps
16 Mother & Son Moving Company (Amy Andrews, Jacob Layer)                               13.01.34
17 Growing Old Disgracefully (Roy Mcneill, Judy Mcneill)                                13.31.39
 
 
6 laps
18 Tukee's (Joe Boyles, Colin Lewis)                                                    12.59.34
 
5 laps
19 The Pretenders (Angela Larochelle, Lee Larochelle)                                   12.03.27
20 Collister Clan (Matthew Collister, Chanara Collister)                                12.43.25
 
4 laps
21 Dick In Jane (Kimberley Clark, Thomas Clark)                                         12.55.26
DNF Pam-N-Juan (Pamela Garcia-Neveu, Juan Garcia-Neveu)                                         
DNF Ride And Vroom (Aaron Gulley, Jen Judge)                                                    
DNF Slackers (Alyssa Beach, Chris Knoche)                                                       
DNF Team Free Lunch-Duo (Jan Haugen, Alex Fannon)                                               
DNF Bleu/Alex (Phillip Meza, Laura Leigh Meza)                                                     

Solo singlespeed women
 
9 laps
1 Chelsea Mcgowan (Spot Brand Oster Blues)                                              12.35.02
 
7 laps
2 Jennifer Albright (Big Wheel Racing)                                                  12.05.00
 
6 laps
3 June Johnson (June Johnson)                                                           12.00.51
4 Veronika Benson (Czech Affector)                                                      12.49.47

Solo singlespeed men
 
16 laps
1 Michael Melley (Morepleez)                                                            12.45.25
 
15 laps
2 Jeff Hemperley (Jeff Hemperley)                                                       12.03.29
3 Randy Mason (Drunkcyclist 1)                                                          12.59.46
4 Sean Sullivan (Independent Fabrication Sully)                                         13.15.58
 
12 laps
5 Herbie Bool (Sf One World)                                                            12.01.56
6 Mark Mcdaniel (Havin' Fun Now)                                                        12.13.19
 
11 laps
7 David Mccarville (Captain Bleeder)                                                    12.54.04
8 Dana Crujido (Dana Crujido)                                                           13.06.27
 
10 laps
9 Roger Lackey (Roger Lackey)                                                           12.00.14
10 Rob Brinkerhoff (Rob Brinkerhoff)                                                    12.02.09
 
9 laps
11 Nathan Friedman (Handlebar Sandwich)                                                 12.07.18
12 Dan Durland (Dan Durland)                                                            12.18.14
13 Leonard Goodell (Solo Mojo)                                                          12.25.59
 
8 laps
14 Jeff Wilson (Jeffsolo)                                                               12.43.02
15 Brian Hannon (In(Sane)Sect)                                                          12.45.15
16 James Cox (This One Shall Pass Too)                                                  12.50.02
17 Bryan Barr (Fightin' Oj)                                                             13.16.12
 
7 laps
18 Jeff Mabry (Mcghies Las Vegas)                                                       12.00.40
19 Adam Pace (Nu Vision Cyclery)                                                        12.03.32
20 Marshall Evans (Pops Racing)                                                         12.04.38
21 Ken Harrison (Ain't Geered!)                                                         12.05.01
22 Matt Carstens (Pedal Damn It)                                                        12.08.06
23 Mj Torres (Sandwich De Manillar)                                                     12.08.29
24 Cory Benson (Czech Defector)                                                         12.48.10
25 Mitch Fedak (The Cereal Killer)                                                      13.15.37
 
6 laps
26 Aaron Sublett (The Donny And Marie Show)                                             12.00.51
27 Gabe Adcock (M&M Cycles)                                                             12.02.40
28 Mike Henderson (Team Bacon Strip)                                                    12.03.17
29 David Bednar (Tio Innocente)                                                         12.04.43
30 Rob Holden (Rob Holden)                                                              12.05.22
31 Douglas Thompson (Blue Nipples)                                                      12.07.45
32 Mark Eikenberry (Big Fat Man)                                                        12.08.21
33 Chad Haynes (Datch Datcherson)                                                       12.33.14
 
5 laps
34 Paul Stewart (Paul Stewart)                                                          12.08.41
35 Robert Schorn (Solo Bitty Bitty)                                                     12.08.49
36 Jeff Kellum (Chico's Bail Bonds)                                                     12.11.20
 
4 laps
37 Geoffrey Khotim (Dirdir's Anus Wipes)                                                12.10.41
38 Brian Cannon (Mountain Goat)                                                         12.21.21
 
3 laps
39 Scott Sportsman (Sportivo Velo Solo)                                                 12.07.28
DNF John Hudspeth (Incycle)                                                                     
DNF Frank Cornelius (Voodoo Holds)                                                              
DNF David Witko (Gearless Heroes)                                                               
DNF James Ishman (29 And Single)                                                                
DNF Kevin Laroe (Kona Bikes - Dead In The Dirt)                                                 
DNF Chris Reichel (Onionhead)                                                                   
DNF Richard Dawson (Dirtchurch)   

Click here to view results from four and five person team categories.

Corporate teams
 
19 laps
1 Adams Avenue Bicycles                                                                 12.34.51
2 Area 51 Audio                                                                            10.28
 
18 laps
3 Granite Construction                                                                  12.15.50
 
17 laps
4 Muy Dangeroso!                                                                        12.08.47
 
16 laps
5 Cemex Bootleggers                                                                     12.16.41
6 All Bush, One Horn And Neil                                                           12.38.09
7 Las Vegas Desperado'S                                                                 12.57.19
8 Team Hosie Cow/Cirrus Visual                                                          13.01.22
9 Crash Test Dummies                                                                    13.38.46
10 Team Pull My Finger                                                                  12.03.51
 
15 laps
11 El Paso Stretchy Pants                                                               12.43.30
12 Ridin' Dirty                                                                         13.09.36
13 Sun 'N Spokes Dawn To Dust Racing                                                    13.19.11
14 Megasoreass                                                                          13.26.38
 
14 laps
15 Team Simpleview                                                                      12.01.45
16 Beyond Bread                                                                         12.04.53
17 Team Air Evac                                                                        12.05.57
18 Smithco Heavy Haulers Ii                                                             12.23.55
19 Fat Spatula                                                                          12.34.37
 
13 laps
20 Team Pwnage                                                                          12.20.14
21 Securaplane Bikers                                                                   12.34.07
22 Arizona Emergency Medicine                                                           13.08.22
 
12 laps
23 Smithco Heavy Haulers                                                                13.37.16
24 Galluptrails 2010                                                                    13.43.20
 
10 laps
25 M3 Enginerds                                                                         12.15.07
26 Willow Springs Properties                                                            12.15.52
 
9 laps
27 Summit Hut                                                                           12.03.41
 
8 laps
28 Urs                                                                                  12.09.14
29 Team Hanger                                                                          12.27.36
DNF Dirty Harry And The Desert Drifters