Recently on Cyclingnews.com
MTB index page for all MTB content
Australian MTB Series #3 - NE
You Yang MTB Park, Geelong, Victoria, Australia, December 13-14, 2008
Race 1 - December 13: Cross country
National Champ Jongewaard outclasses Olympians
By Sharon Payne
Even winner Chris Jongewaard found conditions difficult
Photo ©: Evan Jeffery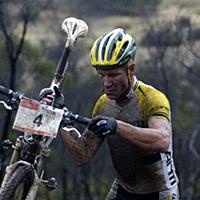 National Cross Country rider Chris Jongewaard from Adelaide won the National Mountain Bike Series race held in Geelong today. Despite unexpected rain, Jongewaard led from the first of five laps winning in an overall time of two hours nine minutes and 17 seconds. A top class field was assembled for the third series akin to a national championship. The field included three Olympians, Beijing's Dan McConnell and Athens Olympians Sid Taberlay and Josh Flemming.
Jongewaard was unchallenged throughout the race and surprised himself after recently returning from a five-week lay off. "I just went out and wanted to have a good workout. I did fade in last three laps," said Jongewaard. "My front brakes went so I just took it easier on the downhills. A couple of spots you had to load up the brakes a bit. There were three or four sections I had to slow down a bit."
Jongewaard said the granite tracks at the You Yang's Regional Park held up surprisingly well despite the deluge. "It was horrendous conditions but it's probably the track I would rather ride in the wet," Jongewaard said. "The conditions didn't affect the race results overall."
Jongewaard was positive about his form and his future. "I've got a lot of plans this season. I've got a great contract here in Australia and big plans for overseas," he added.
Second was Aiden Lefmann (Brisbane) and third was Under 23 rider Nathan Haas (Canberra). Jongewaard now takes over the series lead after winning the first round in Adelaide. Haas takes the series lead in the Under 23 division.
O'Shea surprised by rain
Katherine O'Shea celebrates her win
Photo ©: Evan Jeffery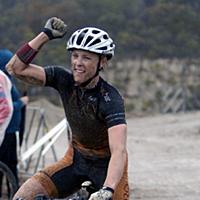 Melbourne's Katherine O'Shea from Port Melbourne won the elite women's race proving her growing ability. The 29-year-old only started cycling after taking part in a talent identification program. Now O'Shea is one of five women riders in the "Dirt Roads to London" program aimed a developing depth in Australia's mountain bike riders. Prior to this O'Shea was a state softball representative.
O'Shea was surprised by the constant rain. "I have ridden out here so many times. It's really close to home and I think I've ridden here twice when it's been wet. It's the driest place usually," she said. "It was hard going through this section but the rest of the course is a whole lot of fun."
O'Shea went out strong in the first of four laps. "I went out hard again, following my plan from Queensland." explained O'Shea. "I actually didn't think people would let me go. I got a decent lead and just tried to maintain it after that. It was hard out here but hard for everyone."
O'Shea's delight shone through the mud covering her from head to toe. "It's quite cold now. A shower would be great!" she admitted.
Aiden Lefmann after finishing the race
Photo ©: Evan Jeffery

Second was Brisbane's Jodie Willett after bunting got tangled up on bike following strong winds. Third was Jo Wall. Wall and O'Shea are both members of the "Dirt Road to London" program as well as hailing from Bendigo and members of the newly formed TORQ team.
O'Shea's time was 1.59.48, a full one minute ahead of Willett. However Willett retains the series lead by a narrow margin of two points after winning the first round and placing second in the next two rounds.
There are five national series events with the remaining two being held in Mt Buller at the end of January and Hobart at the end of February. The national championships over Australia Day weekend will be held on the 2009 World Championships course in Canberra.
On Sunday the cross country riders return for the short course criterium while downhillers try their skills on the picturesque granite boulder course. Weather forecasters predict continuing rain.
Photography
For a thumbnail gallery of these images, click here
Images by Evan Jeffery / www.evanjeffery.com.au
Results
Elite men

1 Chris Jongewaard (Avanti,JT Cycles,Shimano)        2.09.17
2 Aiden Lefmann (Cannondale, SRAM, RLC, MAX)            3.02
3 Nathan Haas* (Orbea Australia, ACTAS, Catlike)        3.43
4 Ben Henderson (Mongoose Bikes, SRAM, Maxx)            4.44
5 Adrian Jackson (Merida, Flight Centre, Schwalbe)      5.10
6 Murray Spink (Giant Bicycles)                         5.41
7 Lachlan Norris* (Cycling Australia - TIS)             6.09
8 Brent Miller                                          7.29
9 Joshua Fleming (felt, high 5, sram)                   7.32
10 Daniel McConnell                                    10.21
11 Luke Fetch* (Torq Nutrition)                        10.21
12 Sam Bach                                            10.37
13 Joshua Carlson (Spearman cycles, GIANT)             11.18
14 Paul VanDerPloeg (Felt)                             12.13
15 Matthew Potter (Yeti Gu)                            12.34
16 Scott Liston* (FELT, Pinnacle Cycles)               12.38
17 Paul McEntee                                        13.09
18 Travis Frisby* (SASI, Gawler Cycles)                13.10
19 Brett Anderson* (Trak Cycles, Squirt Lube)          14.06
20 Mark Fenner (Total Rush,HIGH5,Skins,Hid)            14.36
21 Ben Grieve-Johnson                                  15.10
22 Andrew Arthur*                                      16.25
23 James Williamson                                    16.32
24 James Maebus (Torq Nutrition, Mum)                  16.34
25 Glenn Stewart* (cannondale, sram, maxxis)           18.40
26 Joel Ryan                                           19.56
27 Ben Hogarth (Giant, Mitcham Cycle Centre)           21.51
28 Russell Collett (Yeti Cycles, GU, TWE, Kenda)       23.03
29 Cal Britten* (Torq Nutrition)                       24.39
30 Daniel Mackay (Giant)                               25.08
31 Steven Draper                                       31.29
32 Mark Flood*                                         36.16

Behind one lap

33 Dave Merritt                                             
34 Cam Winn (Orbea Bicycles, Northwave)                     
35 William Bowron*                                          

Behind two laps

36 David Whitney*                                           
37 Nick Both (Merida/Flightcentre)                          
38 Steele VonHoff* (Torq Nutrition)                         

Behind three laps

39 James Walker (Scott Bikes, Camelbak, Rapido)             
40 Neil VanDerPloeg* (Felt Bicycles)                        
41 Angus Harding* (Team Orbea Australia)                    
42 Paul Traynor (Merida Flight Centre)                      

Behind four laps

43 Gary Wearmouth (Hendry Cycles)                           
44 James Kennedy (Merida Flight Centre)                     
DNF Matt Ligtermoet                                         
DNF Paul Weymouth* (Torq Nutrition)                         
DNF Robbie Hucker* (Torq Nutrition)                         
DNF Sid Taberlay                                            
DNF Peter Braunsteins                                       
DNS Andrew Arthur* (Clarence Street Cyclery)                
DNS Matthew Fleming (Clarence St Cyclery, TREK)             
DNS Joel Read (Total Rush, Sram, Rock Shox)                 
 
Elite Women

1 Katherine O'Shea (Torq Nutrition)                  1.59.49
2 Jodie Willett (Scody, eDiscovery Tools)               1.54
3 Joanne Wall (Torq Nutrition)                          2.27
4 Tory Thomas (Torq Nutrition)                          5.14
5 Jenni King                                            5.42
6 Jo Bennett (Merida Flight Centre MTB Team)            7.50
7 Niki Fisher (scott, adidas, ascend, giro)            11.04
8 Kelly Bartlett                                       12.23
9 Trudy Nicholas                                       15.15
10 Rebecca Henderson* (Mongoose, SRAM, Maxxis)         18.27
11 Jessica Douglas (Torquay Cycling Factory)           18.59
12 Bianca Mauch (TLC Cycles, SRAM, Jet Black)          20.19
13 Therese Rhodes* (Ultimate Ride Bike Shop)           20.24
14 Philippa Rostan                                     21.17
15 Kylie Webb (Lonsdale Street Cyclery)                23.06
16 Sarah Holmes*                                       24.09
17 Sarah Riley                                         27.34

Behind two laps

18 Anna Beck (RLC, Scud Carbon, Aiden)                      
19 Gracie Elvin* (Orbea)                                    
DNF Bronwyn Ryan                                            
DNF Jacqui Hickey                                           
DNF Emma Colson (Topbike Tours)                             
DNS Lee Schultz (Hampton Bicycles)                          
DNS Erica Gurner                                            
DNS Melinda Jackson*                                        

Under 19 men

1 Trenton Day (Breakaway Cycles, Scott Bikes)        1.24.41
2 James Peacock (merida, flight centre, nightrider,)    0.51
3 Brendan Johnston (Mongoose Bikes,SRAM,Maxxis)         3.29
4 Michael Baker (ONYA Bike Belconnen, CORC)             5.02
5 Mitchell Codner (GU Energy Gel)                       5.02
6 Phillip Bellingham (KONA)                             7.44
7 Sam Ferguson                                          9.17
8 Ryan Macanally (River City Cycles)                   10.11
9 Josh Prete (Discovery Cycles)                        10.31
10 Andrew Costello                                     11.36
11 Brenton Jones (Bicycle Superstore, GT Bicycle)      11.36
12 Sean Moloney                                        11.37
13 Kyle Ward                                           13.43
14 Glen Sinnott (Sportsmans Warehouse, Skins)          14.48
15 Stephen Pitt (Blackman Cycles)                      29.53
16 Thomas Power                                        33.32
DNS Chris Mall                                              
DNS Matthew Keays (Hampton bicycles, Castlemaine)           
 
Under 19 women

1 Shelly Flood (Ay up)                               1.10.17
2 Gillian Burgess                                       3.19
 
Expert Men

1 Craig Borham                                       1.58.11
2 John Groves                                           2.54
3 Peter Kutschera (Peter Kutschera)                     4.55
4 Darren Smith                                          5.01
5 Ashley Hayat (The Fitzroy Revolution)                 6.04
6 Simon Wright (Salsa Cycles)                           7.10
7 Merlin Spranze                                        7.39
8 David Thomas                                          8.08
9 Christopher Soanes (Fuji)                             9.05
10 SeanTheMan Hurley (Orbea Bicycles, Northwave)       10.21
11 Damian French (Treadlies Bike Shop)                 14.44
12 Peter Malcolm                                       15.29
13 Edward Hood                                         18.23
14 Neil Robinson (Baum)                                23.47
15 Chris Quain                                         29.05

Behind two laps

16 Jeremy Ross (TREK, Ride Shop)                            
DNF Mick Pietkiewicz                                        
DNF John Griffiths                                          
DNF Jason Chalker (bikeshed)                                
DNF Jim Hsu (Baum Cycles)                                   
DNF Neil Bennett (Tekin Suspension, Giant Bicycle)          
DNS Stu Shaw                                                
DNS Rowan Smith                                             
DNS Darren Groves (Porsche Centre Gold Coast)               
DNS Grant Lebbink                                           
DNS Scott Chancellor (Giant, BicyclesInc)                   
DNS Darren Smith (TLC Cycles ACT)                           
DNS Andrew Choma (TrailMix.com.au, Cannondale)              
DNS Lewis Rattray                                           

U17 men

1 Ryan Standish                                      1.20.09
2 Alexander Meyland                                     5.10
3 Daniel McDonald                                       7.19
4 Jack Haig                                             8.47
5 Josh Sek (Anaconda Bayswater)                        18.28
6 Alistair Crameri                                     27.21

Behind one lap

7 Adam Roberts                                              
8 Ben Clarkash                                              
9 Laurent Groom                                             
10 Jarryd Jones                                             
11 James Hanus (Lifecycle Bicycles, Avanti Plus)            
12 Shaun Wright                                             
13 Tim Beaver                                               

Behind two laps

14 Russell Nankervis                                        
15 Oliver Doreian                                           
DNF Ryan Lloyd (Bike Hub Geelong)                           
DNS Jack Watson                                             
 
Under 15 men

1 Ben Bradley                                        1.03.00
2 Luke Ellison (XCR Junior Development Program)         3.17
3 Tasman Nankervis                                      4.29
4 Sam Davis (dad)                                      20.34
1 Tim Chadd                                          1.04.13
2 Evan Jones                                            2.09
3 Scott Kramer                                          8.31
4 Lucas Pitt                                            9.09
5 Grant Bluch                                          14.41
6 SimonTheFlash Carr (Bendigo MTB Club)                16.28
7 Tim Rowe (BikeNow)                                   33.56
DNF Gavin Dunk                                              
DNS Joel Healy (g+g carpentry)                              
DNS Warren Sanders                                          
DNS Jon Weijers (Hendry Cycles)                             
DNS Shane Curran (Hendry Cycles)                            
DNS Nick Hilliard (Anaconda)                                

Super masters women

1 Peggy Douglass                                       40.56
 
Masters women

1 Jane Ollerenshaw (Norco)                             38.29

Veteran women

DNS Rebecca Hill                                            
 
Sport women

1 Jacqui Lovett                                      1.16.59
2 Kate Welford                                          0.01
3 Shelley McColl (MBC - Scott Bikes)                   10.10
 
Super masters men

1 David Olle (Topbike Tours, Sooty Park TV)          1.02.42
2 Peter Pink                                            1.06
3 Steve Flood                                           3.00
4 Kahn Franke (Walkers Wheels)                         10.31
5 Gregor Blairsmith                                    14.09
6 Mal Doreian                                          14.49
7 Martin Griffith (Switchmode Power Supply)            23.19
DNF Geoff DeCampo                                           
 
Grand master men

1 Kerry Ryan                                         1.11.12
2 Ashley Grivell (Aldgate Bike Shop SA)                14.58
 
Masters men

1 Justin Wornes (The Fitzroy Revolution)             1.24.36
2 Brian John (Brunswick Street Cycles)                  0.48
3 Andrew Hall (Great Divide Coffee)                     1.29
4 Tim McColl (MBC - Scott Bikes)                        4.18
5 Evan James (Bicycle Express Adelaide)                 4.58
6 Lee Floyd                                             5.56
7 Tim McGrath (Spoken)                                  6.35
8 Paul Darvodelsky (Scott bikes)                        7.36
9 Steve Munyard                                        10.42
10 Matthew McGill                                      15.18
11 Liam McCrory                                        16.31
12 Antoni Timonowicz                                   25.02
13 Tony French                                         25.44
14 John Wright                                         40.30

Behind one lap

15 John Henderson (OnyaBike Belconnen)                      
16 Mark Codner (Myself)                                     
DNF John Groom                                              
DNF David Sprague                                           
DNF Craig Cummings                                          
DNS Craig Peacock (merida, flight centre, nightrider)       
DNS Frank Gasperic                                          
 
Veteran men

1 Andrew Wilcher (Race Elements / For The Riders)    1.25.57
2 James Downing (Lonsdale Cyclery)                      5.09
3 Sam Maffett                                           6.07
4 Peter Kreilis                                         7.50

Behind two laps

5 Dion Shaw                                                 
DNF Shane Obrien                                            
DNF Tim Ferres (anaconda, jamis, maxis tires)               
DNF Tommy Pietkiewicz (O2 Networks)                         
DNF Clinton Lemaitre                                        
DNS Ivan Kallaur                                            
DNS Shane Bedford (Cycling Science, Fit 2 Excel, Pe)        
DNS Simon Ellis                                             
DNS Brett Henderson                                         
DNS Brett Willoughby                                        
DNS Phillip Orr                                             
DNS Lucas Jinnette                                          
DNS Julien Redmond (Wheeler, Rotor)