MTB index page for all MTB content
MTB World Cup XC #7 & DH #5 - CDM
Bromont, Canada, August 1-3, 2008
Main Page Results Previous Race Next Race World Cup Standings
Race 5 - August 2: Elite men downhill
Hill powers to win
By Sue George in Bromont, Québec
Sam Hill (Monster Energy) won
Photo ©: FJ Hughes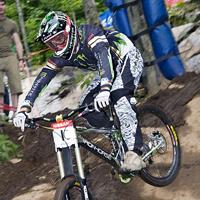 After setting the top qualifying mark, Sam Hill (Monster Energy) was again the fastest man down the hill during the finals on his way to the World Cup win. As the last man to ride in the finals, he descended 2.7 seconds faster to boot second placed Greg Minnaar (Santa Cruz Syndicate) from the hot seat. Minnaar's team-mate Steve Peat finished third after losing some time on the top part of the course where it was important to carry momentum.
"It's been a bit of a dry spell since Maribor," said Hill. "Since winning there, I've been concentrating on trying to keep my points lead and instead of trying to focus on winning and I feel like that's kind of why I haven't been riding as good. So after last weekend, I came in with the mindset that I just gotta go there and win."
World Champion Gee Atherton (Animal Commencal) put in a ride that he said was too conservative, but it was still good enough for fourth, and in his best performance of the season, Marc Beaumont (Team Bike Radar) finished fifth.
The men raced in front of an excited and large crowd - spread throughout the 1,500m track.
Remi Thirion (Team Sunn) clocked the first time to stick for awhile at 2:55.82. Several riders came close to him, but no one could oust him from the hot seat until French compatriot Damien Spagnolo, who finished in 2:54.68.
More than a half dozen racers later, the privilege of occupying the hot seat was being passed around like a hot potato. First up was Chris Kovarik in 2:54.64. Luke Strobel followed immediately in 2:54.56.
"It was really rough out there, but it was fun. I tried to keep it as smooth as I could," said Strobel who finished as the top American and was pleased to beat Kovarik. "I like taking Kovarik out," he played up a friendly rivalry. "He's one of my favourite riders, but usually he smokes me."
Next up with the then-best time was Mitchell Delfs with a 2:54.17.
"I made a few mistakes - nearly came off and went over the bars in one turn. I kept it together and my tires were hooking up super nice. It was a good run," said Delfs who more than met his goal of a top 20 finish by ending up in ninth.
Brendan Fairclough (Monster Energy) knocked several seconds off Delfs' time with a 2:51.65. "My run was the best I've done so far this year," said Fairclough.
Fairclough's time seemed promising and held up as favorites Sam Blenkinsop (Yeti Fox Shox), Fabien Pedemanaud (Team Pyrenees Morewood), Josh Bryceland (Santa Cruz Syndicate), Nathan Rennie (Santa Cruz Syndicate), Justin Leov (Yeti Fox Shox) and Matti Lehikoinen (MS-Intense Factory-Racing) completed their runs. The Finnish Lehikoinen rode with a noticeably aggressive style at clocked a time that was second best at the time.
"The track was a lot more slippery than I expected, so I was trying to push harder," said Lehikoinen, who is coming back from a broken back eight weeks ago and an injured knee five to six weeks ago, which caused him to miss the World Championships. "I didn't think it had rained that much and I was trying to ride hard, but I I paid for it. I just kind of slid and skid everywhere."
"I'm getting better," he said of his recovery. "I've been pretty hard on myself - not being satisfied with my results, but I guess I have to accept that I'm a bit off the back at the moment, but I'm building my way back up again. I'm hopefully back on the podium by Canberra."
Beaumont sent a signal to the world that he, too, is back after injury by taking a turn in the hot seat. He clocked a 2:53.03.
"I put a good run together so I'm pretty stoked. It was my first top 10 of the year - I've been injured since the start of the season when I separated my shoulder," said Beaumont. "It's been all weak and I've been trying to get my way back up with the boys because everyone is going so fast."
Last weekend's winner Minnaar replaced him in the hot seat with a 2:44.84 and only time would tell if Minnaar's race was good enough for another win.
Gee Atherton couldn't beat him and neither could team-mate Steve Peat. Fabien Barel (Subaru Pro MTB team), who qualified in third, looked like he had a shot, but a flat tire high up on the course cost him all chances of a medal.
"It was shocking up top - pretty good down at the bottom," said Peat, who explained his race. "I lost all my time up at the top, in the flat woods - I stalled in a couple of turns where I needed to carry more speed. It was really early on and so I was trying to make up for it and get going. Then I made another little stall at the bottom of the technical rocks. You know you've made little mistakes and you know you have to try to rectify them and sometimes it can work in your favour and sometimes not."
Only Hill would beat Minnaar. He finished with a 2:42.14.
"I'm glad I rode the way I did in the final. I'm obviously a little disappointed in second, but I'm still really stoked," Minnaar said.
Hill said he improved from the semi-final to the final on the middle section of the course. "I figured out a couple of good lines in my last practice session today. So I'd only done them once before qualifying in practice and then that was another go through in qualifying and then this was the third time. The third time was lucky."
The technical and slippery terrain may have played a role in the crashes of several of the elite men. Nathan Rankin (Playbiker - Iron Horse), Nick Beer (Ixs Sports Division Racing), and Ryan Condrashoff were among those who went down.
"I crashed and then I tried to make up for it and that's always a mistake," said Condrashoff, who qualified as the second fastest American. When comparing the course to typical American downhill courses, he called Bromont exciting due to the jumps and spectators.
Photography
For a thumbnail gallery of these images, click here
Images by FJ Hughes / www.fhughesphoto.com
Images by Dave McElwaine/www.trailwatch.net
Results
Finals

1 Samuel Hill (Aus) Monster Energy                      2.42.14
2 Greg Minnaar (RSA) Santa Cruz Syndicate               0.02.70
3 Steve Peat (GBr) Santa Cruz Syndicate                 0.03.86
4 Gee Atherton (GBr) Animal Commencal                   0.05.95
5 Marc Beaumont (GBr) Team Bike Radar                   0.07.46
6 Brendan Fairclough (GBr) Monster Energy               0.09.51
7 Samuel Blenkinsop (NZl) Yeti Fox Shox Factory         0.10.72
8 Matti Lehikoinen (Fin) MS-Intense Factory-Racing      0.10.89
9 Mitchell Delfs (Aus) Kenda Tomac                      0.12.01
10 Luke Strobel (USA) Team Maxxis                       0.12.42
11 Chris Kovarik (Aus) Chain Reaction Cycle             0.12.50
12 Damien Spagnolo (Fra) Subaru Mountain Bike Pro       0.12.54
13 Justin Leov (NZl) Yeti Fox Shox Factory              0.13.32
14 Andrew Neethling (RSA) GT Bicycles                   0.13.48
15 Jared Rando (Aus) Giant Mountain Bike Team           0.13.58
16 Remi Thirion (Fra) Team Sunn                         0.13.68
17 Amiel Cavalier (Aus) Giant Mountain Bike Team        0.13.90
18 Cameron Cole (NZl) Team Maxxis                       0.14.03
19 Nathan Rennie (Aus) Santa Cruz Syndicate             0.14.26
20 Josh Bryceland (GBr) Santa Cruz Syndicate            0.14.77
21 Pasqual Canals Flix (Spa) Massi                             
22 Thibaut Ruffin (Fra)                                 0.15.69
23 Nico Vink (Bel) Dolphin-Trek Mountainbike            0.15.86
24 Julien Camellini (Fra) Chain Reaction Cycle          0.16.75
25 Pierre Charles Georges (Fra)                         0.17.03
26 Ben Reid (Irl)                                       0.17.26
27 Oscar Saiz Castane (Spa) Giant Mountain Bike Team    0.17.52
28 Florent Payet (Fra) Subaru Mountain Bike Pro         0.17.79
29 Sam Dale (GBr) Cannondale Factory Racing             0.18.21
30 Alan Beggin (Ita)                                    0.18.48
31 Joseph Smith (GBr) Tomac Factory Racing              0.18.58
32 Maxime Remy (Fra) Team Sunn                          0.18.83
33 Kieran Bennett (NZl)                                 0.19.24
34 Filip Polc (Svk) Kenda Tomac                         0.19.49
35 Aaron Holmes Gwin (USA) Yeti Fox Shox Factory Rac           
36 Steve Smith (Can)                                    0.19.56
37 Adam Brayton (GBr) Playbiker - Iron Horse            0.20.03
38 Boris Tetzlaff (Aut) Solid Aclass Factory Team       0.20.19
39 Ruaridh Cunningham (GBr) Chain Reaction Cycle        0.20.42
40 Hans Lambert (Can) Norco World Team                  0.20.77
41 Valentin Juillard (Fra) Team Sunn                    0.20.89
42 Kyle Strait (USA) Specialized Factory Racin          0.21.07
43 Dean Tennant (Can)                                   0.21.40
44 Charles-Alexandre Dube (Can)                         0.21.81
45 Danny Hart (GBr) Lapierre DH Powered By Sa           0.22.36
46 Thomas Braithwaite (GBr)                             0.22.59
47 Will Rischbieth (Aus)                                0.22.81
48 Toni Berg (Fin)                                      0.22.98
49 Ralph Jones (GBr)                                    0.23.01
50 Markolf Berchtold (Bra)                              0.23.04
51 Matej Charvat (Cze)                                  0.23.27
52 Duncan Riffle (USA) Cannondale Factory Racing        0.23.46
53 Marcelo Gutierrez (Col)                              0.23.72
54 Chris Hutchens (GBr) Mojo Orange                     0.23.79
55 Mathieu Troquier (Fra) Solid Aclass Factory Team     0.24.08
56 Alastair Wilson (GBr)                                0.24.37
57 Eli Krahenbuhl (USA)                                 0.24.46
58 Lorenzo Suding (Ita) Playbiker - Iron Horse          0.24.51
59 Ludovic May (Swi)                                    0.24.69
60 Daniel Critchlow (GBr) Chain Reaction Cycle          0.25.05
61 Dylan Morley (Can) Playbiker - Iron Horse            0.26.78
62 Jason Memmelaar (USA)                                0.26.87
63 Cody Warren (USA)                                    0.27.58
64 Drew Pautler (Can)                                   0.27.71
65 Samuel Zbinden (Swi) Argentina Bike Gravity Te       0.28.77
66 Neil Donoghue (GBr) Team Bike Radar                  0.31.56
67 Erik Irmisch (Ger)                                   0.32.32
68 Nathan Rankin (NZl) Playbiker - Iron Horse           0.36.13
69 Georg Sieder (Aut) Solid Aclass Factory Team         0.36.40
70 Fabien Pedemanaud (Fra) Team Pyrenees Morewood       0.37.00
71 Nick Beer (Swi) Ixs Sports Division Racing           0.37.41
72 Dominik Gspan (Swi)                                  0.40.91
73 Ryan Condrashoff (USA)                               0.42.72
74 Emyr Davies (GBr) Reverse Components                 0.51.19
75 Matthew Simmonds (GBr) Chain Reaction Cycle          0.57.44
76 Mathieu Laurin (Can)                                 1.14.20
77 Michael Skinner (NZl) Playbiker - Iron Horse         1.36.48
78 Fabien Barel (Fra) Subaru Mountain Bike Pro          1.40.33
79 Jonty Neethling (RSA)                                1.59.81
80 Dan Atherton (GBr)                                   3.37.42
 
Teams

1 Santa Cruz Syndicate                                       90 pts
2 Animal Commencal                                           70
3 Team Maxxis                                                69
4 Monster Energy / Iron Horse                                66
5 MS-Intense Factory-Racing                                  47
6 Playbiker - Iron Horse                                     46
7 Yeti Fox Shox Factory Race Team                            42
8 Giant Mountain Bike Team                                   34
9 Kona                                                       32
10 Suspension Center                                         30
11 Team Bike Radar                                           28
12 Chain Reaction Cycles/Intense                             27
13 4 Elements Yeti/Hotec/RSP                                 23
14 Subaru Mountain Bike Pro Team                             22
15 Kenda Tomac                                               22
16 Norco World Team                                          19
17 GT Bicycles                                               17
18 Team Sunn                                                 15
19 Massi                                                     11
20 Dolphin-Trek Mountainbike Racing Team                      8
21 Cannondale Factory Racing                                  2
                                               
Semi-finals

1 Samuel Hill (Aus)                 2.46.79
2 Steve Peat (GBr)                  0.00.54
3 Fabien Barel (Fra)                0.00.69
4 Gee Atherton (GBr)                0.03.11
5 Greg Minnaar (RSA)                0.03.21
6 Marc Beaumont (GBr)               0.04.46
7 Matti Lehikoinen (Fin)            0.05.72
8 Justin Leov (NZl)                 0.06.01
9 Nathan Rennie (Aus)               0.06.14
10 Josh Bryceland (GBr)             0.06.26
11 Fabien Pedemanaud (Fra)          0.06.73
12 Samuel Blenkinsop (NZl)          0.06.95
13 Brendan Fairclough (GBr)         0.07.78
14 Matthew Simmonds (GBr)           0.08.58
15 Dan Atherton (GBr)               0.08.73
16 Mitchell Delfs (Aus)             0.09.48
17 Andrew Neethling (RSA)           0.09.66
18 Luke Strobel (USA)               0.09.72
19 Chris Kovarik (Aus)              0.09.87
20 Ryan Condrashoff (USA)           0.09.93
21 Jared Rando (Aus)                0.10.09
22 Amiel Cavalier (Aus)             0.10.64
23 Filip Polc (Svk)                 0.11.12
24 Pasqual Canals Flix (Spa)        0.11.56
25 Nick Beer (Swi)                  0.11.70
26 Neil Donoghue (GBr)              0.12.13
27 Nico Vink (Bel)                  0.12.26
28 Damien Spagnolo (Fra)            0.12.46
29 Oscar Saiz Castane (Spa)         0.12.70
30 Nathan Rankin (NZl)              0.12.85
31 Aaron Holmes Gwin (USA)          0.13.36
32 Steve Smith (Can)                0.13.45
33 Ralph Jones (GBr)                0.13.58
34 Cameron Cole (NZl)               0.13.84
35 Ruaridh Cunningham (GBr)         0.14.55
36 Pierre Charles Georges (Fra)     0.14.56
37 Thibaut Ruffin (Fra)             0.14.88
38 Cody Warren (USA)                0.14.90
39 Duncan Riffle (USA)              0.15.19
40 Joseph Smith (GBr)               0.15.24
41 Toni Berg (Fin)                  0.15.25
42 Hans Lambert (Can)               0.15.44
43 Sam Dale (GBr)                   0.15.53
44 Maxime Remy (Fra)                0.15.63
45 Kyle Strait (USA)                0.15.72
46 Julien Camellini (Fra)           0.15.73
47 Chris Hutchens (GBr)             0.15.78
48 Boris Tetzlaff (Aut)             0.15.93
49 Adam Brayton (GBr)               0.15.98
50 Dean Tennant (Can)               0.15.99
51 Dominik Gspan (Swi)              0.16.75
52 Marcelo Gutierrez (Col)          0.16.78
53 Ben Reid (Irl)                   0.17.31
54 Rémi Thirion (Fra)               0.17.33
55 Kieran Bennett (NZl)             0.17.35
56 Charles-Alexandre Dube (Can)     0.17.58
57 Samuel Zbinden (Swi)             0.17.70
58 Lorenzo Suding (Ita)             0.17.89
59 Erik Irmisch (Ger)               0.18.09
60 Emyr Davies (GBr)                0.18.15
61 Alan Beggin (Ita)                0.18.56
62 Florent Payet (Fra)              0.18.61
63 Jonty Neethling (RSA)            0.19.14
64 Georg Sieder (Aut)               0.19.15
65 Will Rischbieth (Aus)            0.19.52
66 Thomas Braithwaite (GBr)         0.19.65
67 Valentin Juillard (Fra)          0.19.91
68 Danny Hart (GBr)                 0.20.15
69 Alastair Wilson (GBr)            0.20.43
70 Mathieu Troquier (Fra)           0.20.51
71 Matej Charvat (Cze)              0.20.62
72 Dylan Morley (Can)               0.20.82
73 Michael Skinner (NZl)            0.20.87
74 Drew Pautler (Can)               0.21.73
75 Markolf Berchtold (Bra)          0.22.29
76 Daniel Critchlow (GBr)           0.22.43
77 Ludovic May (Swi)                0.22.46
78 Mathieu Laurin (Can)             0.22.60
79 Jason Memmelaar (USA)            0.22.67
80 Eli Krahenbuhl (USA)             0.22.91
81 Tamryn Murrell (Aus)             0.23.29
82 Tom Patton (Aus)                 0.24.10
83 Markus Schwab (Swi)              0.24.26
84 Mario Sieder (Aut)               0.24.63
85 Will Longden (GBr)               0.24.74
86 Lars Peyer (Swi)                 0.25.25
87 Cody Eichhorn (Aus)              0.26.26
88 Ferreira Landskran P. (Chi)      0.27.07
89 David Camp (USA)                 0.27.14
90 Esteban Deronzier (Fra)          0.27.23
91 Brad Oien (USA)                  0.27.42
92 Matthew Johnston (USA)           0.27.55
93 Claudio Caluori (Swi)            0.27.94
94 Scott Laughland (GBr)            0.28.12
95 Joshua Button (Aus)              0.28.64
96 Clément Benoit (Fra)             0.28.73
97 Arnaud Delente (Fra)             0.29.32
98 Matthieu Gallean (Fra)           0.29.44
99 Matthew Fisher (USA)             0.29.58
100 Sasha Merljak (Slo)             0.29.65
101 Ben Ineson (GBr)                0.29.67
102 Laurie Dinham (Aus)             0.29.79
103 Dave Trumpore (USA)             0.31.79
104 Markus Pekoll (Aut)             0.32.25
105 Cyrenne Blanchard P. ° (Can)    0.32.45
106 Rhys Willemse (Aus)             0.32.82
107 Scott Beaumont (GBr)            0.33.02
108 Acuna Quintana M. (Chi)         0.33.56
109 Geoff Pendrel (Can)             0.34.44
110 Justin Brown (Can)              0.34.67
111 Cédric Gracia (Fra)             0.35.97
112 Rob Fraser (Can)                0.36.03
113 Edoardo Franco (Ita)            0.36.31
114 Luca Bertocchi (Ita)            0.37.48
115 John Swanguen (USA)             0.40.74
116 Caleb Cambern (USA)             0.40.90
117 Stuart Jenkinson (GBr)          0.41.43
118 Chris Shewmake (USA)            0.41.62
119 Douglas Ewer (USA)              0.42.53
120 Geoffrey Arthur Ulmer (USA)     0.42.57
121 Emmanuel Daoust (Can)           0.44.63
122 John Hauer (USA)                0.44.75
123 Loïc Delteil (Fra)              0.45.49
124 Cozar Hernandez J. (Chi)        0.47.22
125 Pierre Laurent Bucci (Fra)      0.47.59
126 Philip Wheeler (USA)            0.48.77
127 Fabien Cousinie (Fra)           0.50.05
128 Tim Eaton (Aus)                 0.50.79
129 Thiago Velardi (Bra)            0.53.65
130 James Jeannet-Chipman (Can)     0.55.36
131 Alastair Parkin (GBr)           1.00.95
132 Geritt Beytagh (USA)            1.03.68
133 Cyrille Kurtz (Fra)             1.19.30
134 Scott Mears (GBr)               1.28.77
135 Richard Lee (Aus)               1.37.23
136 Nick Dent (Can)                 1.44.19
137 Andrew Phillips (GBr)           1.56.16
138 Garcia Aros A. ° (Chi)          2.22.28
139 Evan Turpen (USA)               2.26.17
140 Jamie Biluk (Can)               2.56.77
141 Andrew Pierce (USA)             4.45.75
DNF Ferreiro Pajuelo A. ° (Spa)            
DNF Acuna Quintana J. (Chi)                
DNF Bradley Benedict (USA)                 
DNF Mitchell Mckinlay (Aus)                
DNS Ben Cathro (GBr)                       
DNS Bryn Atkinson (Aus)                    
DNS Thomas Jeandin (Swi)                   
DNS Thomas Rose (Aus)                      
DNS Nicolas Gspan (Swi)                    
DNS Louis-Philippe Leonard (Can)           
DNS Thomas Warmuth (Aut)                   
DNS Mads Weidemann (Den)                   
DNS Derrick Nobman (USA)                   
DNS Alexander Vidal (USA)                  
DNS Lee Trumpore (USA)     

World Cup Standings after five rounds
 
1 Samuel Hill (Aus) Monster Energy / Iron Horse                   1020 pts
2 Greg Minnaar (RSA) Santa Cruz Syndicate                          974
3 Gee Atherton (GBr) Animal Commencal                              877
4 Steve Peat (GBr) Santa Cruz Syndicate                            822
5 Chris Kovarik (Aus) Chain Reaction Cycles/Intense                463
6 Fabien Barel (Fra) Subaru Mountain Bike Pro Team                 459
7 Samuel Blenkinsop (NZl) Yeti Fox Shox Factory Race Team          451
8 Julien Camellini (Fra) Chain Reaction Cycles/Intense             437
9 Justin Leov (NZl) Yeti Fox Shox Factory Race Team                436
10 Nathan Rennie (Aus) Santa Cruz Syndicate                        373
11 Brendan Fairclough (GBr) Monster Energy / Iron Horse            335
12 Marc Beaumont (GBr) Team BikeRadar                              294
13 Dan Atherton (GBr) Animal Commencal                             285
14 Florent Payet (Fra) Subaru Mountain Bike Pro Team               273
15 Andrew Neethling (RSA) GT Bicycle                               269
16 Matti Lehikoinen (Fin) MS-Intense Factory-Racing                267
17 Pasqual Canals Flix (Spa) Massi                                 265
18 Mitchell Delfs (Aus) Kenda Tomac                                232
19 Fabien Pedemanaud (Fra) Team Pyrenees Morewood                  225
20 Mickael Pascal (Fra) MSC Bikes                                  212
21 Ben Cathro (GBr) Mojo Orange                                    194
22 Damien Spagnolo (Fra) Subaru Mountain Bike Pro Team             188
23 Josh Bryceland (GBr) Santa Cruz Syndicate                       184
24 Steve Smith (Can)                                               160
25 Thibaut Ruffin (Fra)                                            156
26 Jared Rando (Aus) Giant Mountain Bike Team                      147
27 Bernat Guardia Pascual (Spa) MSC Bikes                          145
28 Nick Beer (Swi) IXS Sports Division Racing Team                 140
29 Amiel Cavalier (Aus) Giant Mountain Bike Team                   136
30 Rémi Thirion (Fra) Team Sunn                                    131
31 Cameron Cole (NZl) Team Maxxis                                  123
32 Cédric Gracia (Fra) Commencal - Furious - Oakley Team           123
33 Nico Vink (Bel) Dolphin-Trek Mountainbike Racing Team           119
34 Aaron Holmes Gwin (USA) Yeti Fox Shox Factory Race Team         111
35 Oscar Saiz Castane (Spa) Giant Mountain Bike Team               109
36 Luke Strobel (USA) Team Maxxis                                  107
37 Matthew Simmonds (GBr) Chain Reaction Cycles/Intense            107
38 Ben Reid (Irl)                                                  101
39 Alan Beggin (Ita)                                                97
40 Danny Hart (GBr) Lapierre Dh Powered By Saab Salomon             97
41 Dan Stanbridge (GBr) Mojo Orange                                 95
42 Filip Polc (Svk) Kenda Tomac                                     94
43 Kyle Strait (USA) Specialized Factory Racing                     93
44 Ruaridh Cunningham (GBr) Chain Reaction Cycles/Intense           91
45 Nathan Rankin (NZl) Playbiker - Iron Horse                       88
46 Adam Vagner (Cze)                                                86
47 Bryn Atkinson (Aus) GT Bicycle                                   84
48 David Vazquez Lopez (Spa) Lapierre Dh Powered By Saab Salomon    84
49 Maxime Remy (Fra) Team Sunn                                      83
50 Dominik Gspan (Swi)                                              82
51 Sam Dale (GBr) Cannondale Factory Racing                         81
52 Chris Hutchens (GBr) Mojo Orange                                 80
53 Ivan Oulego Moreno (Spa) Massi                                   78
54 Duncan Riffle (USA) Cannondale Factory Racing                    77
55 Joseph Smith (GBr) Tomac Factory Racing                          76
56 Neil Donoghue (GBr) Team BikeRadar                               71
57 Pierre Charles Georges (Fra)                                     68
58 Markus Pekoll (Aut) Solid Aclass Factory Team                    66
59 Joshua Button (Aus)                                              65
60 Adam Brayton (GBr) Playbiker - Iron Horse                        63
61 Kieran Bennett (NZl)                                             60
62 Samuel Zbinden (Swi) Argentina Bike Gravity Team                 58
63 Antonio Ferreiro Pajuelo (Spa) Massi                             57
64 Marcus Klausmann (Ger) Team Ghost International                  56
65 Valentin Juillard (Fra) Team Sunn                                53
66 John Swanguen (USA) MS-Intense Factory-Racing                    53
67 Cody Warren (USA)                                                51
68 Joris Bigoni (Fra)                                               51
69 Robin Wallner (Swe)                                              50
70 Wyn Masters (NZl)                                                49
71 Daniel Critchlow (GBr) Chain Reaction Cycles/Intense             42
72 Toni Berg (Fin)                                                  41
73 Mathieu Troquier (Fra) Solid Aclass Factory Team                 41
74 Boris Tetzlaff (Aut) Solid Aclass Factory Team                   39
75 Ryan Condrashoff (USA)                                           39
76 Will Rischbieth (Aus)                                            38
77 Marcel Beer (Swi) IXS Sports Division Racing Team                38
78 Ralph Jones (GBr)                                                35
79 Antoine Badouard (Fra)                                           32
80 Markolf Berchtold (Bra)                                          31
81 Michael Skinner (NZl) Playbiker - Iron Horse                     30
82 Claudio Caluori (Swi) Tomac Factory Racing                       30
83 Herman Olund (Swe)                                               30
84 Rowan Sorrell (GBr)                                              26
85 Charles-Alexandre Dube (Can)                                     25
86 Lorenzo Suding (Ita) Playbiker - Iron Horse                      25
87 Arnaud Delente (Fra)                                             25
88 Marco Bugnone (Ita)                                              24
89 Lars Peyer (Swi) Suspension Center                               23
90 Matej Charvat (Cze)                                              22
91 Georg Sieder (Aut) Solid Aclass Factory Team                     22
92 Esteban Deronzier (Fra) Sport Promotion                          22
93 Ben Ineson (GBr) Reverse Components                              22
94 Bradley Benedict (USA)                                           22
95 Marco Milivinti (Ita)                                            22
96 Hans Lambert (Can) Norco World Team                              21
97 Thomas Braithwaite (GBr)                                         20
98 Erik Irmisch (Ger)                                               20
99 Jonty Neethling (RSA)                                            20
100 Stuart Jenkinson (GBr) Printexpress UK MTB Team                 20
101 Fabien Cousinie (Fra)                                           20
102 Tim Eaton (Aus)                                                 20
103 Jack Geoghegan (GBr)                                            19
104 Kévin Danh Pha (Fra) Team Pyrenees Morewood                     19
105 Cole Bangert (USA)                                              19
106 Andreas Sieber (Ger) Solid Aclass Factory Team                  19
107 Dean Tennant (Can)                                              18
108 Frank Schneider (Ger)                                           18
109 Alastair Wilson (GBr)                                           17
110 Will Longden (GBr) Team BikeRadar                               17
111 Scott Mears (GBr)                                               17
112 Jamie Biluk (Can) Mojo Orange                                   17
113 Jason Memmelaar (USA)                                           16
114 Drew Pautler (Can)                                              16
115 Brook Macdonald (NZl)                                           16
116 Matthieu Gallean (Fra) Argentina Bike Gravity Team              15
117 Laurie Dinham (Aus) Tomac Factory Racing                        15
118 Rhys Willemse (Aus) Tomac Factory Racing                        15
119 Edoardo Franco (Ita) Playbiker - Iron Horse                     15
120 Luca Bertocchi (Ita) Playbiker - Iron Horse                     15
121 Geoffrey Arthur Ulmer (USA) Playbiker - Iron Horse              15
122 Pierre Laurent Bucci (Fra) Corsica Fed Consulting               15
123 Tamryn Murrell (Aus) Tomac Factory Racing                       14
124 Markus Schwab (Swi)                                             14
125 Geritt Beytagh (USA)                                            14
126 Cyrille Kurtz (Fra)                                             14
127 Espen Johnsen (Nor)                                             14
128 Renato Ventura (Por)                                            14
129 Nathan Vials (GBr) Reverse Components                           14
130 Mathias Haas (Aut)                                              13
131 Mario Sieder (Aut) Solid Aclass Factory Team                    12
132 Pedro Antonio Ferreira Landskran (Chi)                          12
133 Brad Oien (USA)                                                 12
134 Scott Laughland (GBr) Reverse Components                        12
135 Scott Beaumont (GBr) Rocky Mountain UK                          12
136 Caleb Cambern (USA) The Fix                                     12
137 Alastair Parkin (GBr) Reverse Components                        12
138 Richard Lee (Aus)                                               12
139 Andrew Phillips (GBr) Reverse Components                        12
140 Nicolas Gspan (Swi)                                             12
141 Eli Krahenbuhl (USA)                                            11
142 Ludovic May (Swi)                                               11
143 Dylan Morley (Can) Playbiker - Iron Horse                       11
144 Emyr Davies (GBr) Reverse Components                            11
145 Mathieu Laurin (Can)                                            11
146 Justin Brown (Can)                                              11
147 Lars Sternberg (USA)                                            11
148 Tom Deacon (GBr)                                                11
149 Matthew Walker (NZl)                                            11
150 Joe Barnes (GBr)                                                11
151 Dertell Dennis ° (Swe)                                          11
152 Philip Ashbridge (GBr)                                          11
153 Arnau Sugranes Mateu (Spa) MSC Bikes                            11
154 Ivan Oziol (Fra)                                                11
155 Vlastimil Hyncica (Cze)                                         11
156 Tom Patton (Aus)                                                 9
157 David Camp (USA) Team Sol Vista Basin                            9
158 Clément Benoit (Fra)                                             9
159 Sasha Merljak (Slo) Solid Aclass Factory Team                    9
160 John Hauer (USA) GT Bicycle                                      9
161 Alexi Felipe Garcia Aros (Chi)                                   9
162 Joey Schusler (USA) Yeti Fox Shox Factory Race Team              9
163 Thomas Warmuth (Aut) 4 Elements Yeti/Hotec/Rsp                   9
164 Thomas Jeandin (Swi) Argentina Bike Gravity Team                 9
165 Aari Barrett (NZl)                                               9
166 Ewan Doherty (Irl)                                               9
167 Patrick Meyer (Swi) IXS Sports Division Racing Team              9
168 Benny Strasser (Ger) IXS Sports Division Racing Team             9
169 Daniel Wolfe (Irl)                                               9
170 Richard Cunynghame (GBr)                                         9
171 Paul Aston (GBr) Solid Aclass Factory Team                       9
172 Seanan O'riordan (Irl)                                           9
173 Bernard Kerr (GBr)                                               9
174 Marco Fidalgo (Por)                                              9
175 Vittorio Gambirasio (Ita) Surfing Shop                           9
176 Tim Hammar (Swe)                                                 9
177 Jordi Bago (Spa)                                                 9
178 Lucas Meyer (Swi) IXS Sports Division Racing Team                9
179 Marco Fernandez Garcia (Spa) Motril-Sierra Nevada Bike Park      9
180 Sacha Robert (Swi) Suspension Center                             9
181 Liam Mason (GBr) Printexpress UK MTB Team                        9
182 Roman Roschi (Swi) Suspension Center                             9
183 John Holbrook (GBr) Reverse Components                           9
184 Oyvind Maehle (Nor)                                              9
185 Gareth Brewin (GBr)                                              9
186 Marcelo Gutierrez (Col)                                          8
187 Derrick Nobman (USA)                                             8
188 Andrew Mitchell (Can)                                            8
189 Carlo Gambirasio (Ita) Surfing Shop                              8
190 Emanuel Pombo (Por)                                              8
191 Jorge Aguin Castro (Spa)                                         8
192 Aki Färm (Fin)                                                   8
193 Dave Wardell (GBr)                                               8
194 Rutar Nejc (Slo) Team Scott Lactat                               8
195 Aurélien Giordanengo (Fra)                                       8
196 Cody Eichhorn (Aus)                                              6
197 Matthew Johnston (USA)                                           6
198 Matthew Fisher (USA) The Fix                                     6
199 Dave Trumpore (USA) Transcend Magazine                           6
200 Philippe Cyrenne Blanchard (Can)                                 6
201 Mauricio Andres Acuna Quintana (Chi)                             6
202 Geoff Pendrel (Can)                                              6
203 Chris Shewmake (USA) Team Sol Vista Basin                        6
204 Douglas Ewer (USA) Team Sol Vista Basin                          6
205 Javier Ignacio Cozar Hernandez (Chi)                             6
206 Philip Wheeler (USA) The Fix                                     6
207 James Jeannet-Chipman (Can) Transcend Magazine                   6
208 Evan Turpen (USA)                                                6
209 Andrew Pierce (USA)                                              6
210 Mads Weidemann (Den)                                             6
211 Alex Prochazka (Can)                                             6
212 Liam Little (GBr) Reverse Components                             6
213 David Smith (GBr)                                                6
214 Gerard Wolfe (Irl)                                               6
215 Erik Kallstrom (Swe)                                             6
216 Craig Pattle (NZl)                                               6
217 Martin Frei (Swi)                                                6
218 Alexander Evans (GBr)                                            6
219 Dave Goris (Bel)                                                 6
220 Niklas Wallner (Swe)                                             6
221 Daniel Aitken (NZl)                                              6
222 Petr Heinik (Cze) Suzuki-RB                                      6
223 Brian Buell (USA) The Fix                                        6
224 Justin Norek (Ita)                                               6
225 Michael Buell (USA) The Fix                                      6
226 Steve Wentz (USA) Team Sol Vista Basin                           6
227 Samuele Aicardi (Ita) Argentina Bike Gravity Team                6
228 Martins Sprogis (Lat)                                            6
229 Bjorn Ballangrud (Nor)                                           6
230 Leoluca Scurria (Ita) Surfing Shop                               6
231 Martin Chenicek (Cze) Suzuki-RB                                  6
232 Thomas Power (Irl)                                               6
233 Joseph Nation (NZl)                                              6
234 Pavel Cep (Cze)                                                  6
235 Yannick Colomb (Fra)                                             6
236 Guilhem Andre (Fra) Team Sunn                                    6
237 Félix Groizard (Fra)                                             6
238 Rémy Charrier (Fra) Team Sunn                                    6
239 Kevin Mollard (Fra)                                              6
240 Camille Blanchard (Fra) Team Sunn                                6
241 Massimo Rosson (Ita)                                             6
242 Roland Seereiner (Aut) Team Scott Lactat                         6
243 Luca Pittino (Ita) Pro-Bike Riding Team                          6
244 Robin Hagen (Swi) Tomac Factory Racing                           6
245 Simon Charvat (Cze)                                              6
246 Ben Mullen (Irl)                                                 6
247 Bostjan Volf (Slo)                                               6
248 Alexander Mikowitsch (Aut) Team Scott Lactat                     6
249 David Kennan (Irl)                                               6
250 Martin Hanak (Cze)                                               6
251 Martin Mikulenka (Cze)                                           6
252 Tobias Sieber (Ger)                                              6
253 Matej Laktis (Svk)                                               6
254 Tine Mahkovec (Slo) Team Scott Lactat                            6
255 Michael Matt (Aut)                                               6
256 Michal Wiesenganger (Svk)                                        6
257 Marcel Vasko (Svk)                                               6
258 Stephen Beattie (Irl)                                            6
259 Rob Fraser (Can)                                                 3
260 Emmanuel Daoust (Can) Transcend Magazine                         3
261 Loïc Delteil (Fra)                                               3
262 Thiago Velardi (Bra)                                             3
263 Nick Dent (Can)                                                  3
264 Louis-Philippe Leonard (Can)                                     3
265 Lee Trumpore (USA) Transcend Magazine                            3
266 Thomas Rose (Aus)                                                3
267 Matthew Thompson (USA) Team Sol Vista Basin                      3
268 Jorge Alejandro Acuna Quintana (Chi)                             3
269 Alexander Vidal (USA) The Fix                                    3
270 Mitchell Mckinlay (Aus)                                          3
271 Robert Smith (GBr) Reverse Components                            3
272 Gareth Mc Kee (Irl)                                              3
273 Harry Heath (GBr)                                                3
274 James Scott (GBr)                                                3
275 Colin Ross (Irl)                                                 3
276 Patrick Thome (Fra)                                              3
277 Denis Zareskiy (Rus)                                             3
278 Ashley Mullane (GBr)                                             3
279 Ruben Garcia Ramon (Spa) Motril-Sierra Nevada Bike Park          3
280 Claudio Loureiro (Por)                                           3
281 Mario José Jarrin Molina (Ecu)                                   3
282 Nicolas Ortiz (Fra)                                              3
283 Jonas Simon (Fra)                                                3
284 José Manuel Soares Borges (Por)                                  3
285 Jose Carlos Bartolome Aviles (Spa) Giant Mountain Bike Team      3
286 Romain Lescure (Fra)                                             3
287 Andréa Gamenara (Ita) Argentina Bike Gravity Team                3
288 Sjur Faerden (Nor)                                               3
289 Richard Leacock (NZl)                                            3
290 Santiago De Santiago (Arg)                                       3
291 Kristof Lenssens (Bel)                                           3
292 Matej Vitko (Svk)                                                3
293 Edgar Carballo Gonzalez (Spa)                                    3
294 Dylan Prohm (Aus)                                                3
295 Ondrej Barta (Cze)                                               3
296 Boris Petrau (Fra) Team Pyrenees Morewood                        3
297 Afonso Ferreira (Por)                                            3
298 Matthew Vincent (Aus)                                            3
299 Albert Barilaro Caparros (And)                                   3
300 Tomas Kybic (Cze)                                                3
301 Petr Nechutny (Cze)                                              3
302 Martin Mitvalsky (Cze)                                           3
303 Thibaud Radermecker (Bel)                                        3
304 Andrew Godfrey (Irl)                                             3
305 Filip Srail (Cze)                                                3
306 Jorge Jaramillo Salazar (Col)                                    3
307 Ricard Ferreira Campos (And)                                     3
308 Florent Wolter (Fra) Sport Promotion                             3
309 Falco Ruppert (Ger)                                              3
310 Denis Paradiz (Slo) Team Enduro Mulisha                          3
311 Ben Baker (GBr) Printexpress UK MTB Team                         3
312 Luka Novak (Slo) Team Enduro Mulisha                             3
313 Markus Olkkonen (Fin)                                            3
314 Fergus Lamb (GBr)                                                3
315 Jan Javornik (Svk)                                               3
316 Curtis Keene (USA)                                               3
317 Bertrand Gilles (Bel)                                            3
318 Jan Cestnik (Slo)                                                3
319 Jure Logar (Slo) Team Enduro Mulisha                             3
320 Patrik Kotrla (Cze)                                              3
321 Quentin Derbier (Fra)                                            3
322 Quentin Leroy (Fra)                                              3
323 Jan Savr (Cze)                                                   3
324 Michal Marosi (Cze)                                              3
325 James Hughes (GBr) Reverse Components                            3
325 Jaka Seme (Slo)                                                  3
327 Janick Lieberherr (Swi) IXS Sports Division Racing Team          3
328 Jörg Neuhart (Aut)                                               3
329 Rossen Kovachev (Bul)                                            3
330 Matus Paulovic (Svk)                                             3
331 Sam Shucksmith (GBr)                                             3
332 Greg O'keefe (Irl)                                               3
333 Blair Christmas (NZl)                                            3
334 Walter Martinschitz (Aut)                                        3
335 Arkadiusz Perin (Pol)                                            3
336 Aku Hjelm (Fin)                                                  3
337 Rostislav Stencel (Cze) Max Cursor                               3
338 Chris Heath (USA)                                                3
339 Jiri Placek (Cze) Max Cursor                                     3
340 Patrik Zölei (Hun)                                               3
341 Radek Machycek (Cze)                                             3
342 Janko Zubcevic (Cro)                                             3
343 Peter Novacik (Svk)                                              3
344 Paolo Viola (Ita) Pro-Bike Riding Team                           3
345 Urban Pogladic (Slo)                                             3
346 Zan Jurca (Slo)                                                  3
347 Chris Boice (USA) Yeti Fox Shox Factory Race Team                3
348 Hynek Hajek (Cze)                                                3
349 Matej Drnovsek (Slo)                                             3
350 Janis Ozolins (Lat)                                              3
351 Andras Szecskay (Hun)                                            3
352 Dino Zunjic (Cro)                                                3
353 Maciej Kucbora (Pol)                                             3
354 Martin Buck (Swi)                                                3
355 Igor Jadlovsky (Svk)                                             3
356 Matevz Zupanc (Slo)                                              3
357 Nicklas Fastegaard (Nor)                                         3
358 Didar Amin (Bul)                                                 3
359 Chris Kilmurray (Irl)                                            3
360 Rok Podbevsek (Slo)                                              3
361 Heikki Hall (USA)                                                3
362 Dusan Leposa (Slo)                                               3
363 Christian Daxner (Aut)                                           3
364 Lorenzo Dal Re (Ita) Surfing Shop                                3
365 Krisztian Halasz (Hun)                                           3
366 Martin Kafka (Svk)                                               3
367 Tibor Kolozsvari (Hun)                                           3
368 Walter Zeidler (Aut)                                             3
369 Juris Luscenoks (Lat)                                            3
370 Adam Toth (Hun)                                                  3
371 Anton Nastev (Bul)                                               3
372 Ninoslav Ruzicka (Cro)                                           3
373 Mauro Sirotic (Cro)                                              3
374 Attila Kovacs (Hun)                                              3
375 Balazs Veres (Hun)                                               3
376 Gergely Veres (Hun)                                              3
377 Tobias Meister (Aut)                                             3
378 Rade Curcic (Srb) Team Scott Lactat                              3
379 David Hosang (Swi) Suspension Center                             3
380 Andras Jako (Hun)                                                3
381 Tomas Toth (Svk)                                                 3
382 Nino Dusak (Cro) Mammoth                                         3
383 Martin Markov (Bul)                                              3
384 Elias Vonier (Aut)                                               3
385 Andraz Jersin (Slo)                                              3
386 Jakub Fiser (Cze)                                                3
387 Tommy Folkoy (Nor)                                               3

Team

1 Santa Cruz Syndicate                                             449 pts
2 Animal Commencal                                                 415
3 Monster Energy / Iron Horse                                      253
4 Yeti Fox Shox Factory Race Team                                  225
5 Team Maxxis                                                      218
6 Chain Reaction Cycles/Intense                                    204
7 Subaru Mountain Bike Pro Team                                    190
8 Ms-Intense Factory-Racing                                        187
9 Suspension Center                                                177
10 Kona                                                            158
11 Playbiker - Iron Horse                                          153
12 Norco World Team                                                126
13 Massi                                                            86
14 Msc Bikes                                                        85
15 4 Elements Yeti/Hotec/RSP                                        84
16 Solid Aclass Factory Team                                        76
17 Gt Bicycles                                                      70
18 Team Bike Radar                                                  69
19 Team Sunn                                                        69
20 Mojo Orange                                                      63
21 Kenda Tomac                                                      58
22 Giant Mountain Bike Team                                         56
23 Sport Promotion                                                  55
24 Team Pyrenees Morewood                                           46
25 Ixs Sports Division Racing Team                                  30
26 Lapierre Dh Powered By Saab Salomon                              24
27 Dolphin-Trek Mountainbike Racing Team                            23
28 Commencal - Furious - Oakley Team                                18
29 Team Ghost International                                          9
30 Cannondale Factory Racing                                         8
31 Specialized Factory Racing                                        7