MTB index page for all MTB content
National Mountain Bike Series #6 (NMBS Finals) - NE
Brian Head, Utah, USA, August 30-31, 2008
Main Page Results Final standings Previous Race Next Race
Race 7 - August 31: Elite Men & Women Downhill
Buhl and Oien win at Brian Head
By Dave McElwaine
Darien Harvey (Sobe/Cannondale) won the overall series title
Photo ©: Dave McElwaine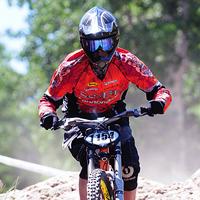 Melissa Buhl (KHS) won her fourth NMBS race this season in high altitude at Brian Head Mountain. She finished 27 seconds ahead of Darien Harvey (Sobe/Cannondale) who took second place. Tasa Herndon (Tore Up Racing) was third, Christine Hirst (Incycle) fourth, and Michelle Rivera fifth.
Buhl was undefeated this season but missed two races this season including Deer Valley due to a hand injury. She also skipped the Windham Mountain race to compete in the Mountain States Cup. Buhl's crowning achievement this year was winning the World 4X Championship at Val di Sole, Italy.
Darien Harvey won the NMBS Series Championship and was the most consistent racer this season. She also missed the race at Windham Mountain but had enough points to beat out Buhl for the title.
Brad Oien (ODI/Southridge) bested Logan Binggeli (KHS) by four seconds to take the win at Brian Head. Brad Benedict (X-Fusion) took third place and was less than two seconds behind Binggeli. Ben Furbee (WTB/ Art's Cyclery) was fourth, and Jon Wilson (Northstar/Giant) fifth.
Brad Benedict won the NMBS Series Championship after a slow start at Fontana, California but came back to win the second race of the season. Oien finished the series in second place, 68 points behind Benedict. He won the race at Windham Mountain.
Photography
For a thumbnail gallery of these images, click here
Images by Dave McElwaine / www.trailwatch.net
Results
Elite men

1 Brad Oien (USA) ODI/Southridge/Tuner                            3.15.84
2 Logan Binggeli (USA) Team KHS                                   0.04.14
3 Brad Benedict (USA) X-Fusion                                    0.05.70
4 Ben Furbee (USA) WTB/Arts Cyclery/Gamut                         0.10.70
5 Jon Wilson (USA) Northstar/Giant                                0.11.21
6 Anthony Diaz (USA) Durango Cyclery                              0.11.67
7 Quinton Spaulding (USA) KHS Bicycles                            0.11.77
8 Keith Mott (USA) KHS                                            0.13.11
9 Hank Cadle (USA) Amp'd Racing                                   0.16.76
10 Tyler Wilson (USA) Intense Cycles                              0.22.44
11 Sam Benedict (USA) Specialized                                 0.22.94
12 Ian Odom (USA) Brodie Cycles                                   0.24.60
13 Mike Haderer (USA) Fox Shox/Yeti                               0.25.45
14 Alfonso Garcia (USA) Sobe/Cannondale                           0.27.27
15 John Hauer (USA) X-Fusion/Mongoose Bicycles                    0.56.42
16 Waylon Smith (GBr)                                             1.14.93
17 Tom Wehe (USA) Kenda/Turner                                    2.48.24
DNF Ryan Condrashoff (USA) X-Fusion/Santa Cruz Bicycles/Nema/Dean        
 
Elite women

1 Melissa Buhl (USA) KHS Bicycles                                 3.56
2 Darian Harvey (USA) Sobe/Cannondale                             0.27
3 Tasa Herndon (USA) Tore Up Racing                               0.40
4 Christine Hirst (USA) Incycle/661/Atomlab                       0.54
5 Michele Rivera (USA) Green 614/Eiber Radiology/Active Cycles    1.01
6 Mariska Chuse (USA) Dark Horse Racing                           1.03

Final NMBS downhill standings

Elite men

1 Brad Benedict (USA) X-Fusion                    798 pts
2 Brad Oien (USA) ODI/Southridge                  730
3 Waylon Smith (GBr)                              626
4 Logan Binggeli (USA) Team KHS                   560
5 Ben Furbee (USA) WTB/Arts Cycler                538
6 Kieran Bennett (NZl) ODI/Southridge             532
7 Ryan Condrashoff (USA) X-Fusion/Santa           532
8 Jon Wilson (USA) Northstar/Giant                523
9 Ian Odom (USA) Brodie Cycles                    516
10 Mike Haderer (USA) Fox Shox/Yeti               501
11 John Hauer (USA) X-Fusion/Mongoose             417
12 Quinton Spaulding (USA) KHS Bicycles           412
13 Anthony Diaz (USA) Durango Cycler              388
14 Justin Leov (NZl) Yeti/Fox Shox                379
15 Tyler Wilson (USA) Intense Cycles              366
16 Sam Blenkisop (NZl) Yeti/Fox Shox              355
17 Aaron Gwin (USA) Yeti/Foxshox                  350
18 Cameron Cole (NZl) Maxxis                      347
19 Geritt Beytagh (USA) Morewoodbikes             298
20 Eli Krahenbuhl (USA) Trek/Hayes                275
21 Alfonso Garcia (USA) Sobe/Cannondale           275
22 Cody Wilderman (USA) Totally Wired             267
23 Rich Houseman (USA) Yeti/Fox Shox              259
24 Matt Johnston (USA) KHS Bikes                  252
25 Andrew Pierce (USA) Specilized/Go-Ride         232
26 Julius Syvanen (Fin) Cortina                   231
27 Rick Goldrup (USA) Swd/Fox Racing              229
28 Chris Boice (USA) Yeti/Fox Shox                225
29 Matt Fisher (USA) Thefixbikes.Com              225
30 Hank Cadle (USA) Amp'd Racing                  222
31 Eric Carter (USA) Mongoose Bicycle             218
32 Ryan Stayskal (USA) Swd/Fox Shox               204
33 Orlando Martinez (Cub)                         198
34 Chris Kovarik (Aus) Chain Reaction             198
35 Phil Wheeler (USA) The Fix                     187
36 Nathan Rennie (Aus) Santa Cruz Syndicate       187
37 Chris Heath (USA) Manitou                      183
38 Szymon Kowalski (Pol) Mojo Wheels              181
39 Dave Ziegman (USA) Yeti Cycles                 175
40 Amiel Cavalier NSW Giant                       173
41 Kain Leonard (USA) Crested Butte               172
42 Jason Memmelaar (USA) Scott Diablo             166
43 Chris Van Dine (USA) Cannondale                166
44 Keith Mott (USA) KHS                           165
45 Mike Kreger (USA) The Fix/Fly                  164
46 Duncan Riffle (USA) Cannondale Factory         159
47 Lars Sternberg (USA) Fluidride/Ironhorse       155
48 Nick Van Dine (USA) Sobe Cannondale            147
49 Jared Rando (Aus) Giant Mtb Team               146
50 George Stephenson (USA) Sobe Cannondal         144
51 Sasha Merljak (USA) Solid A Class              143
52 Tommy Tokarczyk (USA) Jamis Bikes              143
53 Luke Strobel (USA) Maxxis                      143
54 Chris Shewmake (USA) Sol Vista Bike            139
55 Andrew Mince (USA) Specialized/Svcs            136
56 Adam Morse (USA) Cobra Cons                    132
57 David Klaassenvanoorsc (USA) ODI/Southridge    132
58 Oscar Saiz (Spa) Giant Mtb Team                131
59 Zachary Griffith (USA) Yeti/Fox                127
60 Tim *Tj* Sharp (USA) Paradise Power            122
61 Daniel Weinman (USA) Morewood                  122
62 Chris Higgerson (USA) Sobe Cannondale          121
63 Josh Misevcis (USA) Empulseclothin             120
64 Scott Martinez (USA) Re-Cycle Ski              118
65 Todd Olsen (USA) Specialized                   117
66 Sam Benedict (USA) Yeti/Fox                    117
67 Joey Schusler (USA) Ms/Intense                 113
68 Jd Swanguen (USA) Team Platekill               109
69 Ben Hulse (USA)                                107
70 Dante Harmony (USA) Zambie/Amc/Hayes           107
71 Kyle Hickey (USA) Old Spokes Home              106
72 Derrick Nobman (USA) Ninety Degrees            100
73 Daniel Umland (USA) Nicolai                    100
74 Tom Wehe (USA) Kenda/Turner                     99
75 Evan Turpen (USA) Kona Bikes                    94
76 Steve Wentz (USA) Sol Vista                     91
77 Doug Ewer (USA) Team Big Crank                  90
78 Jason Beckley (USA) Mmr/Marin/Kenda             88
79 Christop Herndon (USA) Specialized              88
80 Nathan Hoch (USA) Fluidride                     87
81 Nate Hills (USA) Marzocchi                      87
82 William Warren (USA) Kona Bicycles              85
83 Curtis Keene (USA) Specialied                   85
84 Erik Hudson (USA) Brooklyn                      83
85 Alex Vidal (USA) The Fix                        82
86 Leland Oconnor (USA) Arts Cyclery               82
87 Bj Treglia (USA) 9.8/Kenda                      76
88 Kyle Wideman (USA) WTB                          76
89 Mike Howse (USA) E13/Ruby Canyon                72
90 David Camp (USA) Sol Vista Bike                 61
91 Gene Hamilton (USA) Betterride/Ruby             56
92 Jeff Kendall-Weed (USA) Bicycleweed.Com         53
93 Cody Warren (USA) Specialized                   52
94 Jamas Stiber (USA) Lenz Sport                   50
95 Matt Medore (USA) Nicolai Usa                   46
96 Brian Ballard (USA) Mojo Wheels                 44
97 Trevor Martin (USA) Pedal The Peaks             40
98 Leif Lorenzen (USA)                             40
99 Anthony Medaglia (USA) Sram                     38
100 Kriss Walton (USA) Shiloh Cyclery              37
101 Miles Payton (USA) Swd Racing                  36
102 Sean Mcclendon (USA) Decline Griz              34
103 Chad Lorrain (USA) Brodie Usa                  29
104 Evelio Suarez (USA) Ironhorese/Nema            28
105 Ryan Delong (USA) Another Bike                  3
106 Christop Canfield (USA) Canfield Bros           1
 
Elite women

1 Darian Harvey (USA) Sobe/Cannondale             823 pts
2 Melissa Buhl (USA) KHS Bicycles                 768
3 Mariska Chuse (USA) Dark Horse Racing           692
4 Michelle Rivera (USA) Stevenksd                 596
5 Joanna Petterson (RSA) Maxxis Tires             582
6 Lisa Myklak (USA) Spyder/Fox                    544
7 Christine Hirst (USA) Incycle/661/Atom          435
8 Sondra Williamson (USA) Specialized/Sram        422
9 Amy Laird (NZl)                                 360
10 Abigail Hippely (USA)                          314
11 Lauren Petersen (USA) Liquid Lightening        303
12 Rachel Bauer (USA) Team Dead Bros.             300
13 Leana Gerrard (USA) Mona Vie Cannondale        290
14 Allegra Burch (USA) Velo Bella                 281
15 Jessica Vogt (USA) Turner                      206
16 Alexis Wruble (USA) Vitamin Water              179
17 Claire Buchar (Can) Intens Sram Max            172
18 Fionn Griffiths (GBr) Norco World Team         167
19 Tasa Herndon (USA) Tore Up Racing              163
20 Kathi Krause (USA) Azonic/Arrow                160
21 Jackie Harmony (USA) Zumbi/Loeka/Amc           155
22 Alicia Hamilton (USA)                          151
23 Addie Stewart (USA) Go Ride/Hayes              151
24 Tenille Smith (USA)                            145
25 Wendy Reynolds (USA) Sobe Cannondal            132
26 Jenna Kowalski (USA) Arts Cyclery              132
27 Stephanie Hatalsky (USA) Crested Butte         127
28 Caroline Jarolimek (USA) The Fix               114
29 Lisa Reinhard (USA)                            108
30 Carol Gibbs (USA) Haro/Rotec                   106
31 Connie Misket (USA) Velo Bella                 105
32 Kimber Gabryszak (USA) Vellobellakona          102
33 Jackie Baker (USA) Giant/Fox Shox               99