MTB index page for all MTB content
National Mountain Bike Series #6 (NMBS Finals) - NE
Brian Head, Utah, USA, August 30-31, 2008
Main Page Results Final Standings Previous Race Next Race
Race 3 - August 30: Elite Men & Women Short Track
Trek/VW's Schnell and Davison take first-time short track wins
By Dave McElwaine
Lea Davison (Trek / VW) took a win
Photo ©: Dave McElwaine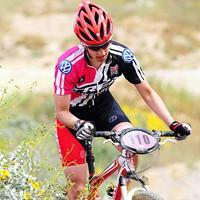 Trek / VW's Lea Davison and Ross Schnell took top honors in the elite women's and men's short track cross country at the National Mountain Bike Series (NMBS) finals in Brian Head, Utah.
A rapidly improving Davison won her first short track. Last weekend, she competed at Brian Head at the American Mountain Classic stage race, which may have helped her to acclimate to the 10,000 ft altitude at which the NMBS race was held. Katerina Nash (Luna Women's MTB) took second and easily cruised to win another NMBS short track Series Championship. She is the most prolific winner of the short track event in NMBS series history.
Kelli Emmett (Giant) finished third, Georgia Gould (Luna Women's MTB) fourth, and Judy Freeman (Tough Girl) fifth. Gould also finished second to Nash on the NMBS series podium.
Nash, the Czech Cross Country National Champion, has had a remarkable year despite a mid-season knee injury that kept her from qualifying for her country's Olympic Team. After losing the opening NMBS short track race at Fontana, California, she went on to win four straight. In addition, while frequently appearing on the cross country podiums, she finally got her first cross country victory at Deer Valley, Utah. She also finished sixth at the World Cup race in Bromont, Quebec.
Nash was a big part of the Luna Women's Team this season that included Gould and Catherine Pendrel. They were the top ranked women's team for the entire World Cup season. What is more remarkable is that they won the team competition at every race, despite strong teams from China, Germany, and other countries. At the World Cup race at Mont-Sainte-Anne, all three Luna women finished in the top ten.
Katerina Nash (Luna Women's MTB) took the NMBS series win
Photo ©: Dave McElwaine

Lea Davison has had a breakout season that started by winning the short track race at the Sea Otter Classic. In addition to many podium appearances this season, she finished a strong third place in the short track at the US National Championships in Mount Snow, Vermont. She also finished top ten at the World Cup race in Bromont, Quebec.
Davison's rise to the top of the sport could not come at a better time for the Trek/VW team. Superstar Susan Haywood announced at the US National Championships that she was retiring from World Cup and NMBS racing. Unfortunately, in what was to be her last race, she seriously broke her leg and is now recovering at her home in Virginia.
The race today included some primes (cash bonuses). "There was a prime halfway through the race that was contested by Mical (Dyck) and Katerina (Nash). Then they slowed down a bit and I counter-attacked," said Davison.
"A group then formed that included Georgia, Kelli, Katerina, and me. With two laps to go, Kelli was leading, I was second, and Katerina was third," Davison said.
Ross Schnell (Trek / VW) capped off a good day for his team with a win
Photo ©: Dave McElwaine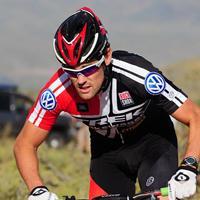 "I was waiting for Katerina to attack and she went, so I hopped on her wheel. We sprinted to the top of the last climb because I knew whoever got onto the downhill first would win. It ended with a full sprint on the pavement... . I could not be more excited," said a jubilant Davison.
Schnell capped off a great day for Trek / VW by also winning his first-ever NMBS short track even over Colin Cares (U23 National Team). It was also Cares' best short track result to date.
Jeremiah Bishop (Trek/VW) finished third, Sam Jurekovic (U23 National Team) fourth, and Franklin McConnel (Team Devo) fifth. Jurekovic's return to form comes after a horrific crash at the National Championships that caused him to miss several races.
With Geoff Kabush (Maxxis) at the World Cup race in Canberra, Australia, Barry Wicks (Kona) moved up to take the series championship. Wicks was the Short Track National Champion in 2006 and has one NMBS win this season.
Kabush is attempting to fly in from Australia in time to compete in Sunday's cross country final. IF everything goes well he will land in Los Angeles early Sunday morning and change planes for Las Vegas. He finished third in the World Cup race, contributing to his best World Cup season ever.
Colin Cares (U23 US National Team) logged his best-ever short track
Photo ©: Dave McElwaine

Wicks said after the race, "I only went as hard as I had to. We were racing at 10,000 feet and nobody did well except J.B. (Jeremiah Bishop) and the guys from Colorado."
"Colin, Sam J., Jeremiah, and Ross were all in a group when Ross attacked (for the win)," said Wicks. "Colin tried to bridge across and got second." Jeremy Horgan-Kobelski (Gary Fisher/Subaru) flatted but was able to finish 16th. Ryan Trebon (Kona) finished seventh which helped him earn second place in the series behind team-mate Wicks.
Race Notes
Saturday's weather on Brian Head was in the high 60s (degrees Fahrenheit) with scattered clouds. However, plunging temperatures and rain canceled the Super D scheduled for Saturday evening. It is uncertain at this time how the races scheduled for Sunday will be affected.
Photography
For a thumbnail gallery of these images, click here
Images by Dave McElwaine / www.trailwatch.net
Results
Elite women
 
1 Lea Davison (USA) Trek/VW                          22.39
2 Katerina Nash (USA) Luna Womens MTB Team            0.01
3 Kelli Emmett (USA) Giant MTB Team                   0.18
4 Georgia Gould (USA) Luna Womens MTB Team            0.18
5 Judy Freeman (USA) Tough Girl/Contessa              0.35
6 Sue Butler (USA) Monavie/Cannondale                 0.40
7 Jennifer Smith (USA) Trek/VW                        1.06
8 Willow Koerber (USA) Subaru-Gary Fisher             1.25
9 Zephanie Blasi (USA) Kenda Titus Hayes              1.28

Lapped

10 Mical Dyck (Can) Trek/Terrascape Racing                
11 Nina Baum (USA) Sobe-Cannondale                        
12 Chloe Forsman (USA) Luna Womens MTB Team               
13 Krista Park (USA) Kenda-Titus-Hayes                    
14 Maureen Kunz (USA) Lost Coast Brewery                  
15 Joy Duerksen (USA) Cole/Marten Transport               
16 Erika Powers (USA) Revolution/Peak Fastners            
17 Heather Irmiger (USA) Subaru-Gary Fisher               
                     
Elite men
 
1 Ross Schnell (USA) Trek/VW                         23.04
2 Colin Cares (USA) U23 National Team                 0.06
3 Jeremiah Bishop (USA) Trek/VW                       0.07
4 Sam Jurekovic (USA) U23 National Team               0.09
5 Mcconnell Franklin (USA) Team Devo                  0.10
6 Andy Schultz (USA) Kenda Titus Hayes                0.26
7 Ryan Trebon (USA) Kona                              0.34
8 Carl Decker (USA) Giant MTB Team                    0.35
9 Tim Allen (USA) Voodoo                              0.40
10 Benjamin Sonntag (Ger) 3D Racing                   0.54
11 Sam Schultz (USA) Subaru-Gary Fisher               1.27
12 Mitchell Hoke (USA) Tokyo Joes                     1.35

Lapped

13 Robert Marion (USA) Kenda Titus                        
14 Ben Thompson (USA) Sobe-Cannondale                     
15 Barry Wicks (USA) Kona                                 
16 Jeremy Horgan-Kobelski (USA) Subaru-Gary Fisher        
17 Stephen Ettinger (USA) Black Diamond Sports Therapy    
18 Manuel Prado (USA) Sho-Air                             
19 Mitchell Peterson (USA) Monavie/Cannondale             
20 Adam Snyder (USA) 3-D Racing                           
21 Alex Grant (USA) Rocky Mountain Bicycles               
22 Dana Weber (USA) Trek VW/Westcoast                     
23 Tad Elliott (USA) U23 National Team                    
24 Chad Wells (USA) 3D Racing                             
25 Blake Zumbrunnen (USA) Revolution/Crank Bros           
26 Kris Sneddon (Can) Kona Les Gets                       
27 Matt Freeman (USA) Cyclery Usa/Gary Fisher             
28 Trevor Downing (USA) Devo                              
DNF Ryan Woodall (USA) Industrynine/Powerbar              
DNF Brian Smith (USA) Trek/VW                             
DNS Ray Storm (USA) 138 Racing.Com                        
DNS Cody Peterson (USA) Scott Bicycles                         
 
NMBS Final Short Track Series Standings
 
Elite women

1 Katerina Nash (Cze) Luna Womens MTB                900 pts
2 Georgia Gould (USA) Luna Womens MTB                844
3 Mical Dyck (Can) Trek/Terrascape                   722
4 Lea Davison (USA) Trek/VW                          718
5 Heather Irmiger (USA) Subaru-Gary Fisher           702
6 Chloe Forsman (USA) Luna Womens MTB                594
7 Catherine Pendrel (Can) Luna Womens MTB            594
8 Kelli Emmett (USA) Giant MTB Team                  581
9 Sue Butler (USA) Monavie/Cannondale                578
10 Judy Freeman (USA) Tough Girl/Contes              555
11 Nina Baum (USA) Sobe-Cannondale                   504
12 Krista Park (USA) Kenda-Titus-Hayes               489
13 Heather Holmes (USA) Kenda/Titus/Hayes            489
14 Jenna Zander (USA) Sobe Cannondale                485
15 Zephanie Blasi (USA) Kenda Titus Hayes            482
16 Emily Batty (Can) Trek Bicycle Store              474
17 Wendy Simms (Can) Kona                            473
18 Willow Koerber (USA) Subaru-Gary Fisher           416
19 Kathy Sherwin (USA) Sobe-Cannondale               407
20 Joy Duerksen (USA) Cole/Marten Trans              402
21 Amanda Riley-Carey (USA) Kenda/Titus/Hayes        372
22 Emily Van Meter (USA) Sobe/Cannondale             361
23 Maureen Kunz (USA) Lost Coast Brewer              360
24 Jennifer Smith (NZl) Trek/VW                      359
25 Caitlyn Tuel (USA) Trek/VW /Rocky                 352
26 Kyia Anderson (USA) Ekho/Cannondale               307
27 Jennifer Tilley (USA) Velo Bella/Kona             301
28 Theresa Richardson (USA) Sobe Cannondale          287
29 Amanda Sin (Can) 3 Rox Racing                     246
30 Pua Sawicki (USA) Ellsworth                       219
31 Jamie Dinkins (USA) Devo/Vantaggio                213
32 Catherine Vipond (Can) Norco                      195
33 Carolyn Popovic (USA) Cicle/Bear Valley           189
34 Patricia Buerkle (USA) Vanderkitten               180
35 Lindsey Bishop (USA) Mafia Racing/Felt            165
36 Dellys Starr (Aus) Dales Pale Ale                 163
37 Kimberly Flynn (USA) Vantaggio/Speciali           141
38 Stacey Scanlan (USA) Team Tamarack                141
39 Shannon Gibson (USA) Velo-Bella/Kona              141
40 Heather Ranoa (USA) Intense                       140
41 Shonny Vanlandingham (USA) Luna Womens MTB        122
42 Sonya Looney (USA) Sobe Cannondale                109
43 Rachel Throop (USA) Devo                          104
44 Erika Powers (USA) Revolution/Peak                102
45 Annajean Dallaire (USA) Sobe-Cannondale            96
46 Becca Blay (USA) Sobe/Cannondale                   90
47 Melanie Mcquaid (Can) Bmc/Natures Path             90
48 Melanie Meyers (USA) Specialized Design            87
49 Danelle Kabush (Can) Luna Womens MTB               78
50 Sarah Maile (USA) Ventana Mountian                 66
51 Jennifer Tribe-Wilson (USA)                        60
52 Megan Monroe (USA) Dales Pale Ale                  52
53 Mary-Elle Ash (Can) Easton/Sugarcrm                50
54 Erin Huck (USA) Tokyo Joes                         44
55 Jana Repulski (USA) Team Tamarack                  40
56 Jennifer Sica (USA) Schampa                        39
57 Melissa Buhl (USA) Khs Bicycles                    36
58 Paz Bash (Isr) Spider-Kona                         34
   
Elite men

1 Barry Wicks (USA) Kona                             739 pts
2 Ryan Trebon (USA) Kona                             738
3 Carl Decker (USA) Giant MTB Team                   733
4 Geoff Kabush (Can) Team Maxxis                     709
5 Jeremy Horgan-Kobelski (USA) Subaru-Gary Fisher    674
6 Sam Schultz (USA) Subaru-Gary Fisher               650
7 Ross Schnell (USA) Trek/VW                         627
8 Andy Schultz (USA) Kenda Titus Hayes               624
9 Troy Wells (USA) Tokyo Joes                        507
10 Jeremiah Bishop (USA) Trek/VW                     490
11 Cody Peterson (USA) Scott Bicycles                485
12 Robert Marion (USA) Kenda Titus                   471
13 Adam Craig (USA) Giant MTB Team                   467
14 Colin Cares (USA) U23 National Team               439
15 Sam Jurekovic (USA) U23 National Team             439
16 Dana Weber (USA) Trek VW/Westcoas                 432
17 Adam Morka (Can) 3 Rox Cycling                    430
18 Mitchell Hoke (USA) Tokyo Joes                    427
19 Tad Elliott (USA) U23 National Team               413
20 Charles Pendry (USA) Inland - Btd                 384
21 Adam Snyder (USA) 3-D Racing                      359
22 Chance Noble (USA) Calif Giant Berry              351
23 Mike Phillips (USA) Adventure 212                 345
24 Todd Wells (USA) Gt Bikes                         337
25 Tim Allen (USA) Voodoo                            331
26 Mitchell Peterson (USA) Monavie/Cannondale        328
27 Jeff Schalk (USA) Trek VW- East                   325
28 Stephen Ettinger (USA) Black Diamond Spo          321
29 Mcconnell Franklin (USA) Team Devo                303
30 Chris Peariso (USA) Adventure 212 /Titus          288
31 Kris Sneddon (Can) Kona Les Gets                  279
32 Ryan Woodall (USA) Industrynine/Powe              279
33 Trevor Downing (USA) Devo                         257
34 Manuel Prado (CRc) Sho-Air                        256
35 Liam Killeen (GBr) Specialized Factory            254
36 Mathieu Toulouse (Can) Team Maxxis                249
37 Bryan Fawley (USA) Park Place Lexus               214
38 Travis Livermon (USA) Kobold Watch Com            198
39 Eric Batty (Can) Trek Bicycles                    196
40 Blake Zumbrunnen (USA) Revolution/Crank           192
41 Bryan Alders (USA) Mona-Vie/Cannondale            189
42 Chad Wells (USA) 3D Racing                        181
43 Matt Rotroff (USA) Btd/Inland Constr              181
44 Alex Grant (USA) Rocky Mountain                   180
45 Dylan Stucki (USA) Mafia Racing                   170
46 Brett Morgan (USA) Sobe/Cannondale                166
47 Matt Freeman (USA) Cyclery Usa/Gary Fisher        158
48 Sid Taberlay (Aus) Avanti Sram                    148
49 Max Plaxton (Can) Rocky Mountain                  148
50 Kenji Takeya (Jpn) Specialized Japan              137
51 Ben Thompson (USA) Sobe-Cannondale                135
52 Michael Lee (USA) Trek/VW West Coas               133
53 Yuki Saito (USA) Fuentes Design                   129
54 Spencer Paxson (USA) Team S&M Young               127
55 Stefan Widmer (Can) Rocky Mountain                124
56 Benjamin Sonntag (Ger) 3D Racing                  122
57 Jesse Lalonde (USA) Gary Fisher 29/T6             122
58 Mike Andres (USA) Trek/VW West Coas               118
59 Chris Peterson (USA) Devo                         117
60 Thomas Turner (USA) Outspokin Bicycle             114
61 Eric Salstrand (USA) Bicycle Haus/Oakley          109
62 Travis Woodruff (USA) Momentumenduran             102
63 Damian Calvert (USA) Sobe Cannondale               99
64 Ricky Federau (Can)                                99
65 Kevin Smallman (USA) Sobe Cannondale               98
66 Kevin Bradford-Parish (USA) Lapierrebikes.Com      96
67 Marko Lalonde (USA) Gary Fisher 29/Bkb             93
68 Kamden Reedy (USA) Four Unity Racing               93
69 Sean Donovan (USA) Cytomax/Khs                     92
70 Dustin Wanstrath (USA) Tamarack Resort             90
71 Drew Edsall (USA) Endurancefactor                  88
72 Samuel Koerber (USA) Gary Fisher 29Er              87
73 Keith Hickerson (USA) Tamarack                     87
74 Scott Keller (USA) Schampa/Tribe                   86
75 Matthew Hadley (Can) Xprezo                        86
76 Tim Olson (USA) Trek/VW Westcoas                   85
77 Alex Ryan (USA) Kobold/Cannondale                  81
78 Lucas Livermon (USA) Inland Construction           81
79 Aroussen Laflamme (Can) Webcor-Alto-Velo           81
80 Paul Freiwald (USA) Titus Cycles                   78
81 Ignacio Torres (Mex) Turbo Bikes                   75
82 Kyle Douglas (Can) 3 Rox Racing                    71
83 Christian Helmig (USA) Pivot/Mad Duck              69
84 Jay Henry (USA) Tokyo Joes                         66
85 Brian Bain (Can) Cmc/Bow Cycle                     66
86 Daniel Sessford (USA) Blue Competiton              64
87 Rotem Ishai (Isr) Spider-Kona Bikes                63
88 Ethan Gilmour (USA) U23 National MTB               60
89 Colin Osborn (USA) Team Bikeparts                  58
90 Aaron Snyder (USA) Scotts Bikes                    56
91 Dallas Morris (Can) H&R Block                      54
92 Nat Ross (USA) Subaru-Gary Fisher                  54
93 Paul Hanson (USA) Sobe Cannondale                  52
94 Jay Richards (USA) Salsa/Maplelag                  50
95 Derek Zandstra (Can) 3 Rox Racing                  50
96 Peter Glassford (Can) Trek Bicycle Store           48
97 Emmanuel Valencia (Mex) Turbo                      48
98 Ryan Iddings (USA) Lapierre                        46
99 Martin Lazarski (Can) Rocky Mountain               44
100 Eric Ransom (USA) Team Tamarack                   40
101 Greg Carpenter (USA) Devo                         39
102 Timothy Madgwick (NZl)                            36
103 Dylan Alesio (USA) Fuji Bikes                     35
104 Andrew Alesio (USA) Fuji Bikes                    34
105 Jake Wells (USA) Mafiaracing.Com                  34
106 Amon Pease (USA) Team Lost Coast                  32
107 Ken Onodera (Jpn) Subaru-Gary Fisher              30
108 Steve Kinney (USA) Steven K Sports                27
109 Nigel Hill (USA) Trekvwwestcoast                  24
110 Chanoch Redlich (Isr) Citycyclingclub             23
111 Nate Whitman (USA) Hammer Nutrition               21
112 Kelly Magelky (USA) Trek-VW-Rocky Mtn             20
113 James Williams (USA) Sobe/Cannondale              17
114 Michael Mooradian (USA) Spin/Rr Donnelly          17
115 John Salskov (USA) Team Bicycle                   16
116 Evan Plews (USA) Scottusa/Csc                     15
117 Michael Mccalla (USA) Spinner/Waltwork            14
118 Luke Pennington (USA) S & M Young Guns            14
119 Cameron Jette (Can) Trek Bicycle Store            13
120 Noah Holcomb (USA) Sobe Cannondale                10
121 Alex Howard (USA)                                  7