MTB index page for all MTB content
MTB World Cup XC #2 - CDM
Offenburg, Germany, April 26-27, 2008
Main Page Results Previous Race Next Race World Cup Standings
Race 3 - April 27: Elite women cross country
Kalentieva comes back
By Luke Webber in Offenburg, Germany
Kalentieva celebrates her first win of the season
Photo ©: Luke Webber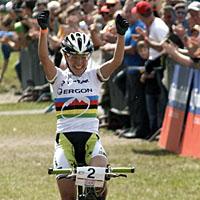 Irina Kalentieva, World Champion is back on top of the World Cup following an emphatic victory today at a hot and dry Offenburg. Tackling six full laps and a start loop over 100 elite women took to the line which at first resembled an off road criterium.
Georgia Gould led out from the start and by the first singletrack an endless line of riders fired through something that typified the course – anyone with a poor start would be queuing and making the best of minimal overtaking opportunities.
One of these riders was last week's winner Ren Chengyuan who was down in the thirties following a poor start. Following a soft tyre last week Marie Helene Premont was taking no chances in the early stages, leading in the singletrack and eventually moving away to form a select group of four riders.
One casualty of this hot early pace was Gunn-Rita Dahle Flesja who had been suffering with a cold before the race. Not wanting to risk any further illness and wary of what happened the previous year here, she stopped the race after two laps, preferring to stay healthy and keep hopes alive for events later in the year.
Without Dahle the group of four containing Fullana, Kalentieva, Premont and Ying were allowed to get a gap while Gould was paying the price for her early effort. Soon Ying would also fade and the group was only three strong before Fullana was dropped on the fourth lap.
Just Premont and Kalentieva remained and when the World Champion got a slight gap she needed no invitation to attack and open a lead through the fifth and final lap coming home alone to win by 33 seconds over Premont who was surprised with her form.
"We had a lot of snow over winter in Quebec and I haven't done much riding – only jogging so to be up in the company of the top riders and to feel so good is something of a surprise."
Performance of the day however went to Ren Chengyuan. Despite a singletrack loop she took every possible risk – even crashing and cutting her lip on the final lap – to recover and finish third. It was not enough however to hold her lead in the series which is taken by Kalentieva.
Despite leading for a short time Georgia Gould recorded the best American result finishing 13th, three up on Mary McConneloug. Lene Byberg is also regaining top race form, placing seventh and at one time in the lead group.
Photography
For a thumbnail gallery of these images, click here
Images by Luke Webber
Images by Dave McElwaine /www.trailwatch.net
Results
1 Irina Kalentieva (Rus) Topeak Ergon Racing Team                        2.00.19 (16,36 km/h)
2 Marie-Helene Premont (Can) Rocky Mountain                                 0.33
3 Ren Chengyuan (Chn)                                                       1.21
4 Margarita Fullana (Spa) Massi                                             1.39
5 Ying Liu (Chn)                                                            1.59
6 Sabine Spitz (Ger) Central Ghost Pro Team                                 2.28
7 Lene Byberg (Nor) Specialized Factory Racing                              2.33
8 Catherine Pendrel (Can) Luna Womens MTB Team                              3.49
9 Elisabeth Osl (Aut) Team Ghost International                              4.16
10 Nathalie Schneitter (Swi) Colnago Cap Arreghini                          4.37
11 Tereza Hurikova (Cze) Ceska Sporitelna MTB                               4.58
12 Maja Wloszczowska (Pol) Halls Professional MTB Team                      5.06
13 Georgia Gould (USA) Luna Womens MTB Team                                 5.25
14 Blaza Klemencic (Slo) Giant Italia Team                                  5.47
15 Cécile Rode Ravanel (Fra) Team Lapierre International                    6.07
16 Mary Mc Conneloug (USA)                                                  6.26
17 Petra Henzi (Swi) Fischer-BMC                                            6.39
18 Kiara Bisaro (Can)                                                       6.58
19 Maroussia Rusca (Swi)                                                    7.16
20 Jingjing Wang (Chn)                                                      7.38
21 Laura Turpijn (Ned)                                                      8.03
22 Wendy Simms (Can) Kona                                                   8.23
23 Katrin Leumann (Swi)                                                     8.47
24 Esther Süss (Swi)                                                        9.08
25 Marielle Saner-Guinchard (Swi) Bikepark.ch BMC                           9.25
26 Katerina Nash (Cze) Luna Womens MTB Team                                 9.37
27 Adelheid Morath (Ger)                                                    9.53
28 Sandra Walter (Can)                                                     10.11
29 Mical Dyck (Can)                                                        11.00
30 Nina Homovec (Slo)                                                      11.00
31 Susan Haywood (USA) Trek-VW                                             11.38
32 Maria Osl (Aut) SUN                                                     11.48
33 Anna Villar Argente (Spa) Massi                                         11.54
34 Tanja Zakelj (Slo)                                                      11.59
35 Séverine Hansen (Fra) BH - SR. Suntour                                  12.11
36 Eva Lechner (Ita) Colnago Cap Arreghini                                 12.26
37 Emiliy Batty (Can)                                                      12.33
38 Dellys Starr (Aus)                                                      12.41
39 Laurence Leboucher (Fra)                                                12.45
40 Vera Andreeva (Rus)                                                     12.57
41 Alison Sydor (Can) Rocky Mountain                                       12.57
42 Anna Szafraniec (Pol) Halls Professional MTB Team                       13.08
43 Nataliya Krompets (Ukr)                                                 13.12
44 Magdalena Sadlecka (Pol) Halls Professional MTB Team                    13.33
45 Laura Metzler (Fra) BH - SR. Suntour                                    14.11
46 Willow Koerber (USA) Subaru-Gary Fisher                                 14.38
47 Aleksandra Dawidowicz (Pol) Halls Professional MTB Team                 14.51
48 Julie Bresset (Fra) Breiz Mountain 22                                   15.05
49 Francisca Campos Salas (Chi) Massi                                      15.28
50 Amanda Sin (Can)                                                        15.38
51 Sabrina Enaux (Fra) Team Lapierre International                         16.12
52 Ivonne Kraft (Ger)                                                      16.32
53 Kaytee Boyd (NZl)                                                       16.40
54 Helene Marcouyre (Fra) BH - SR. Suntour                                 16.59
55 Julie Krasniak (Fra) Team Lapierre International                        17.15
56 Maaike Polspoel (Bel)                                                   17.27
57 Githa Michiels (Bel)                                                    17.51
58 Caroline Mani (Fra)                                                     18.14
59 Hanna Klein (Ger)                                                       18.27
60 Katrin Schwing (Ger) Dolphin-Trek Mountainbike Racing Team              19.08
61 Emma Colson (Aus)                                                       1 lap
62 Janka Stevkova (Svk)
63 Rowena Fry (Aus)
64 Jenny Copnall (GBr) Subaru-Gary Fisher
65 Cristina Mascarreras Sabria (Spa) Conor - Camping La Siesta
66 Claudia Seidel (Ger)
67 Zoe King (Aus)
68 Fabienne Niederberger (Swi)
69 Barbara Oberdorfer (Ita)
70 Maaris Meier (Est)
71 Sandra Santanyes Murillo (Spa) Cemelorca-Seguros10.com
72 Laure Boulay (Fra) Team CIBF Keops
73 Sandra Dolcerocca (Den)
74 Susan Butler (USA)
75 Kate Potter (Aus)
76 Tory Thomas (Aus)
77 Ksenia Chernykh (Rus)
78 Kristien Nelen (Bel)
79 Coralie Redelsperger (Fra)
80 Alexandra Engen (Swe)
81 Jennifer Fischer (Fra) Team CIBF Keops
82 Tatjana Dold (Ger)
83 Katharina Haase (Ger)                                                   2 laps
84 Myriam Saugy (Swi)
85 Heather Irmiger (USA) Subaru-Gary Fisher
86 Kathrin Stirnemann (Swi)
87 Silke Schmidt (Ger)
88 Daniela Bunzli Rojas (Chi)
89 Yolanda Speedy (RSA)
90 Monique Zeldenrust (Ned)
91 Fabienne Heinzmann (Swi) Dolphin-Trek Mountainbike Racing Team
92 Oxana Rybakova (Rus)
93 Hanna Israel (Fra)
94 Marie Kunst (Den)
95 Evgenia Belozerova (Rus)
96 Katherine O'Shea (Aus)
97 Nina Kunz (Ger)                                                         3 laps
98 Karen Brouwer (Ned)
99 Iryna Slobodyan (Ukr)
100 Nicole Lechl (Ger) Team XLC Haibike
101 Janine Droz (Swi)
102 Therese Rhodes (Aus)
103 Berengere Boes (Fra) Breiz Mountain 22
104 Sofia Shashova (Rus) Format-Udmurtia                                   4 laps
105 Elisabeth Mottet (Bel) Windose Houffalize                              5 laps

Teams

1 Luna Womens MTB Team                                                        46 pts
2 Topeak Ergon Racing Team                                                    40
3 Rocky Mountain                                                              35
4 Massi                                                                       30
5 Central Ghost Pro Team                                                      26
6 Specialized Factory Racing                                                  24
7 Team Ghost International                                                    22
8 Colnago Cap Arreghini                                                       21
9 Ceska Sporitelna MTB                                                        20
10 Halls Professional MTB Team                                                19
11 Giant Italia Team                                                          17
12 Team Lapierre International                                                16
13 Fischer-BMC                                                                14
14 Kona                                                                        9
15 Bikepark.ch BMC                                                             6

World Cup Standings after two events

1 Irina Kalentieva (Rus) Topeak Ergon Racing                    450 pts
2 Ren Chengyuan (Chn)                                           410
3 Marie-Helene Premont (Can) Rocky Mountain                     360
4 Margarita Fullana (Spa) Massi                                 300
5 Sabine Spitz (Ger) Central Ghost Pro Team                     225
6 Ying Liu (Chn)                                                220
7 Georgia Gould (USA) Luna Women's MTB Team                     220
8 Nathalie Schneitter (Swi) Colnago Cap Arreghini               215
9 Lene Byberg (Nor) Specialized Factory Racing                  210
10 Tereza Hurikova (Cze) Ceska Sporitelna MTB                   190
11 Catherine Pendrel (Can) Luna Women's MTB Team                188
12 Elisabeth Osl (Aut) Team Ghost International                 185
13 Petra Henzi (Swi) Fischer-BMC                                182
14 Blaza Klemencic (Slo) Giant Italia Team                      150
15 Kiara Bisaro (Can)                                           146
16 Mary Mc Conneloug (USA)                                      142
17 Katrin Leumann (Swi)                                         130
18 Gunn-Rita Dahle Flesjaa (Nor) Multivan Merida MTB Team       130
19 Jingjing Wang (Chn)                                          128
20 Esther Süss (Swi)                                            124
21 Wendy Simms (Can) Kona                                       114
22 Cécile Rode Ravanel (Fra) Team LaPierre International        110
23 Katerina Nash (Cze) Luna Women's MTB Team                    108
24 Sandra Walter (Can)                                          106
25 Laura Turpijn (Ned)                                          102
26 Adelheid Morath (Ger)                                        100
27 Marielle Saner-Guinchard (Swi) Bikepark.ch BMC                96
28 Nina Homovec (Slo)                                            96
29 Sabrina Enaux (Fra) Team LaPierre International               91
30 Laurence Leboucher (Fra)                                      87
31 Maja Wloszczowska (Pol) Hall's Professional MTB Team          85
32 Tanja Zakelj (Slo)                                            82
33 Susan Haywood (USA) Trek / VW                                 76
34 Magdalena Sadlecka (Pol) Hall's Professional MTB Team         70
35 Maria Osl (Aut)                                               69
36 Maroussia Rusca (Swi)                                         68
37 Anna Villar Argente (Spa) Massi                               68
38 Nina Wrobel (Ger) Multivan Merida MTB Team                    64
39 Aleksandra Dawidowicz (Pol) Hall's Professional MTB Team      63
40 Heather Irmiger (USA) Subaru Gary Fiser                       60
41 Mical Dyck (Can)                                              59
42 Eva Lechner (Ita) Colnago Cap Arreghini                       58
43 Séverine Hansen (Fra) BH - SR. Suntour                        54
44 Anna Szafraniec (Pol) Hall's Professional MTB Team            48
45 Amanda Sin (Can)                                              47
46 Willow Koerber (USA) Subaru Gary Fiser                        45
47 Nataliya Krompets (Ukr)                                       39
48 Julie Bresset (Fra) Breiz Mountain 22                         39
49 Francisca Campos Salas (Chi) Massi                            39
50 Helene Marcouyre (Fra) BH - SR. Suntour                       39
51 Vera Andreeva (Rus)                                           38
52 Sarah Koba (Swi)                                              36
53 Emiliy Batty (Can)                                            32
54 Ivonne Kraft (Ger)                                            32
55 Laura Metzler (Fra) BH - SR. Suntour                          31
56 Dellys Starr (Aus)                                            30
57 Bernardine Boog-Rauwerda (Ned)                                30
58 Kaytee Boyd (NZl)                                             28
59 Alison Sydor (Can) Rocky Mountain                             27
60 Sarka Chmurova (Cze)                                          26
61 Maaike Polspoel (Bel)                                         21
62 Arielle Van Meurs (Ned)                                       21
63 Claudia Seidel (Ger)                                          17
64 Emma Colson (Aus)                                             15
65 Julie Krasniak (Fra) Team LaPierre International              13
66 Kate Potter (Aus)                                             12
67 Githa Michiels (Bel)                                          11
68 Caroline Mani (Fra)                                           10
69 Hanna Klein (Ger)                                              9
70 Katrin Schwing (Ger) Dolphin Trek MTB Team                     8
 
Team standings

1 Luna Womens MTB Team                                           96 pts
2 Topeak Ergon Racing Team                                       75
3 Rocky Mountain                                                 67
4 Massi                                                          60
5 Central Ghost Pro Team                                         47
6 Colnago Cap Arreghini                                          45
7 Specialized Factory Racing                                     44
8 Ceska Sporitelna MTB                                           42
9 Team Ghost International                                       41
10 Fischer-BMC                                                   37
11 Multivan Merida Biking Team                                   36
12 Giant Italia Team                                             31
13 Team Lapierre International                                   31
14 Halls Professional MTB Team                                   20
15 Kona                                                          13
16 Subaru-Gary Fisher                                             8
17 Bikepark.ch BMC                                                6