MTB index page for all MTB content
MTB World Cup XC #1 - CDM
Houffalize, Belgium, April 19-20, 2008
Main Page Results Previous Race
Race 5 - April 20: Elite men cross country,
Absalon takes maiden Houffalize victory
By Luke Webber in Houffalize, Belgium
Frenchman Julien Absalon (Orbea)
Photo ©: Luke Webber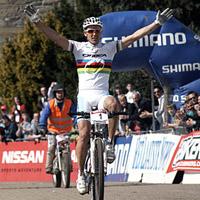 Julien Absalon opened the year of his Olympic title defence in perfect fashion by convincingly passing his first big test of 2008 and for the first time winning the riders' favourite race. As the national anthem of France played Absalon's fan club brought the arena to life with their rendition of La Marseillaise as the tricolour rose.
From the start Absalon was in the lead group on a far drier course than the women had faced two hours earlier. There were however parts of singletrack that were cut up leaving exposed roots and ruts. Tyre choice was critical in these changing conditions along with a strong nerve and good bike handling skills.
Following the start loop a select group of seven riders formed, containing Absalon and his teammate Jean Christoph Peraud, Nino Schurter, Florian Vogel, Jose Hermida, Roel Paulissen and Cedric Ravanel. It was Schurter who got impatient first and struck in the singletrack on lap two getting a gap and splitting the group. It was only moments though until Absalon sensed danger from the under-23 rider and launched his own attack. Knowing the race was long with several brutal climbs per lap, Schurter preferred to stay at his own pace to finish a comfortable second.
Julien Absalon leads the
Photo ©: Luke Webber

The race for third was the hardest fought – after the early flyers finished their stints on lap three it was time for the diesel engine of Christoph Sauser to make his way forward. A slipped pedal was the cause of his bad start, which was followed by some chain suck in the muddier sections but eventually he clawed back through the pack to take the final podium spot and important points for the series. This was not an ideal result but Sauser is looking forward to a quick succession of races where he can build on his form.
Last years winner Jose Hermida did not fare so well in the drying conditions and could only manage seventh, while Geoff Kabush repeated his 12th placing from last year thanks to a good grid position.
The first lap lead group
Photo ©: Luke Webber

Top American was Todd Wells in eleventh who rode a superb five laps and at one stage just seconds from the lead group. Considering that all the GT team bikes were stolen the day before and new frames had to be built from scratch this performance showed no nerves in a stressful situation. He will be eager to race again in Offenburg with a stronger grid position and great confidence.
The riders have just one week now until Offenburg for round two of the cross country competition.
On another note, both of the Fumic brothers raced despite a doping charge from the UCI, with Lado finishing 35th and Manuel 67th.
Photography
For a thumbnail gallery of these images, click here
Images by Luke Webber
Images by Lejarreta
Results
1 Julien Absalon (Fra) Orbea                                     2.06.56
2 Nino Schurter (Swi) Swisspower MTB Team                           0.51
3 Christoph Sauser (Swi) Specialized Factory Racing                 1.14
4 Jakob Fuglsang (Den) Cannondale-Vredestein                        2.00
5 Ravanel Cédric (Fra) Team Lapierre International                  2.37
6 Jean-Christophe Peraud (Fra) Orbea                                3.10
7 José Antonio Hermida Ramos (Spa) Multivan Merida Biking Team      3.33
8 Roel Paulissen (Bel) Cannondale-Vredestein                        3.55
9 Kashi Leuchs (NZl) Cannondale-Vredestein                          4.09
10 Martin Gujan (Swi) Athleticum-MTB-Team                           4.34
11 Todd Wells (USA) GT Bicycles / Pacific Cycle                     5.16
12 Geoff Kabush (Can) Team Maxxis                                   5.30
13 Marco Aurelio Fontana (Ita)                                      5.35
14 Wolfram Kurschat (Ger) Topeak Ergon Racing Team                  5.36
15 Adam Craig (USA) Giant Mountain Bike Team                        5.55
16 Graf Jürg (Swi) Swisspower MTB Team                              6.07
17 Inaki Lejarreta Errasti (Spa) Orbea                              6.23
18 Oliver Beckingsale (GBr) Giant Mountain Bike Team                6.34
19 Florian Vogel (Swi) Swisspower MTB Team                          7.04
20 Yader Zoli (Ita) Giant Italia Team                               7.05
21 Ralph Naef (Swi) Multivan Merida Biking Team                         
22 Ruben Ruzafa Cueto (Spa) Orbea                                   7.16
23 Seamus McGrath (Can)                                             7.49
24 Christoph Soukup (Aut)                                           8.06
25 Jaroslav Kulhavy (Cze)                                           8.26
26 Rudi Van Houts (Ned) Dolphin-Trek Mountainbike Racing Team       8.37
27 Fredrik Kessiakoff (Swe) Full-Dynamix-It                         8.44
28 Tony Longo (Ita) Full-Dynamix-It                                 9.00
29 Lukas Flückiger (Swi) Athleticum-MTB-Team                        9.31
30 Alexis Vuillermoz (Fra) Scott Valloire Galibier                  9.33
31 Moritz Milatz (Ger) Multivan Merida Biking Team                  9.34
32 Hannes Metzler (Aut) Giant Mountain Bike Team                    9.49
33 Peter Riis Andersen (Den) Team ALB-Gold Mountainbike             9.52
34 Till Marx (Swi) Swisspower MTB Team                              9.55
35 Lado Fumic (Ger) Fumic.Brothers.International                   10.09
36 Tim Bohme (Ger) Team ALB-Gold Mountainbike                      10.18
37 Michael Weiss (Aut)                                             10.40
38 Daniel McConnell (Aus)                                          11.06
39 Martino Fruet (Ita)                                             11.17
40 Marc Trayter Alemany (Spa) Ecp-Tau Ceramica                     11.23
41 Davy Coenen (Bel)                                               11.44
42 Karl Platt (Ger) Team Bulls                                     11.52
43 Patrik Gallati (Swi) Swisspower MTB Team                        12.03
44 Karl Markt (Aut)                                                12.11
45 Thomas Frischknecht (Swi) Swisspower MTB Team                   12.24
46 Milan Spesny (Cze) Merida Biking Team                           12.31
47 Matthias Flückiger (Swi) Athleticum-MTB-Team                    12.41
48 Emil Lindgren (Swe) Full-Dynamix-It                             12.47
49 Bas Peters (Ned)                                                12.57
50 Gion Manetsch (Swi) Athleticum-MTB-Team                         13.09
51 Andreas Kugler (Swi) Fischer-Bmc                                13.16
52 Ricky Federau (Can)                                             13.55
53 Jochen Kass (Ger) Team ALB-Gold Mountainbike                    14.21
54 Sergio Mantecon Gutierrez (Spa) Cemelorca-Seguros10.Com         14.24
55 Frank Schotman (Ned)                                            14.31
56 Torsten Marx (Ger) Team ALB-Gold Mountainbike                   14.32
57 Marek Galinski (Pol) JBG2-APC Presmet                           14.47
58 Filip Meirhaeghe (Bel) Versluys-Landbouwkrediet MTB Team        15.06
59 Burry Stander (RSA) GT Mongoose / Pacific Cycle                 15.15
60 Jeremy Horgan-Kobelski (USA) Subaru-Gary Fisher                 15.28
61 Barry Wicks (USA) Kona                                          15.37
62 Chris Jongewaard (Aus) Dolphin-Trek Mountainbike Racing Team    15.57
63 Kristian Hynek (Cze)                                            16.09
64 Carlos Coloma Nicolas (Spa) Ecp-Tau Ceramica                    16.19
65 Mirko Pirazzoli (Ita)                                           16.33
66 Igor Bogdan (Ukr) Isd-International                             16.42
67 Manuel Fumic (Ger) Fumic.Brothers.International                 16.45
68 Frank Beemer (Ned)                                              16.50
69 Liam Killeen (GBr) Specialized Factory Racing                   16.51
70 Silvio Bundi (Swi) Giant Mountain Bike Team                     16.52
71 Lachlan Norris (Aus)                                            16.58
72 Rene Tann (Ger)                                                 17.05
73 Mathieu Toulouse (Can) Team Maxxis                              17.07
74 Lukas Kaufmann (Swi)                                            17.15
75 Filip Eberl (Cze)                                               17.20
76 Milan Barenyi (Svk)                                             17.23
77 Jeremiah Bishop (USA) Trek-VW                                        
78 Fabian Giger (Swi)                                              17.24
79 Hector Leonardo Paez Leon (Col) Gewiss Bianchi                  17.30
80 Martin Fanger (Swi)                                             17.38
81 Bart Brentjens (Ned) Dolphin-Trek Mountainbike Racing Team           
82 Israel Nunez Baticon (Spa) Massi                                18.12
83 Umberto Corti (Ita) Team Cbe Tecnoimpianti A.S.D                18.35
84 Tim Wijnants (Bel) Dolphin-Trek Mountainbike Racing Team        18.49
85 Steffen Thum (Ger) Team Mayer Stevens                           18.53
86 Mattias Wengelin (Swe)                                          18.55
87 Dario Alejandro Gasco (Arg) Massi                               18.58
88 Derek Zandstra (Can)                                            19.10
89 Pascal Meyer (Swi)                                              19.16
90 Stéphane Tempier (Fra) Gewiss Bianchi                           19.20
91 François Bailly Maitre (Fra) Scott Valloire Galibier            19.22
92 Magnus Darvell (Swe)                                            19.30
93 Marcin Karczynski (Pol) Halls Professional MTB Team             19.41
94 Kohei Yamamoto (Jpn)                                            19.48
95 Maxim Gogolev (Rus)                                             20.03
96 Stefan Sahm (Ger) Team Bulls                                    20.19
97 Hannes Genze (Ger) Team ALB-Gold Mountainbike                   20.32
98 Jan Skarnitzl (Cze)                                             20.43
99 Daniel Suter (Swi)                                              20.58
100 Severin Disch (Swi)                                            21.19
101 Sergiy Rysenko (Ukr) Isd-International                         21.29
102 Jelmer Pietersma (Ned) Beone Chainreaction Mountainbiketeam    21.48
103 Nicolas Bazin (Fra) BH-SR. Suntour                             22.12
104 Javier Puschel (Chi)                                                
105 Ivan Planzer (Swi)                                             22.35
106 Michel Luginbuehl (Swi)                                        22.48
107 Maxime Marotte (Fra) BH-SR. Suntour                            23.46
One lap down
108 Joris Massaer (Bel)                                                 
109 Cristobal Silva (Chi)                                               
110 Robert Gehbauer (Aut) Multivan Merida Biking Team                   
111 Michael Broderick (USA)                                             
112 Ross Creber (GBr)                                                   
113 Robert Mennen (Ger)                                                 
114 Thomas Litscher (Swi)                                               
115 Nicola Rohrbach (Swi) Central Ghost Pro Team                        
116 Alban Lakata (Aut) Dolphin-Trek Mountainbike Racing Team            
117 Pierre Geoffroy Plantet (Fra) Team Lapierre International           
118 Ian Field (GBr)                                                     
119 Denis Vorontsov (Rus)                                               
120 Mannie Heymans (Nam)                                                
121 Giuseppe Lamastra (Ita)                                             
122 Massimo De Bertolis (Ita) Full-Dynamix-It                           
123 Matous Ulman (Cze)                                                  
124 Samuele Porro (Ita) Team Cbe Tecnoimpianti A.S.D                    
125 Mattias Nilsson (Swe)                                               
126 Ji Jianhua (Chn)                                                    
127 Patxi Cia Apezteguia (Spa)                                          
128 Sepp Freiburghaus (Swi)                                             
129 Pierre Lebreton (Fra) BH-SR. Suntour                                
130 Markus Bauer (Ger)                                                  
131 Julio Humberto Caro Silva (Col) Gewiss Bianchi                      
132 Arnaud Grosjean (Fra) BH-SR. Suntour                                
133 Kris Sneddon (Can) Kona                                             
134 Anders Hovdenes (Nor) Team Etto Hoydahl                             
135 Hans Becking (Ned) Beone Chainreaction Mountainbiketeam             
136 Marc Colom (Fra)                                                    
137 Alexander Wetterhall (Swe)                                          
138 Taavi Selder (Est)                                                  
139 Jiri Novak (Cze)                                                    
140 Andi Weinhold (Ger)                                                 
141 Cristian Cominelli (Ita) Gewiss Bianchi                             
142 Freddy Betremiaux (Fra) BH-SR. Suntour                              
143 Dmitry Medvedev (Rus)                                               
144 Fabien Canal (Fra) Team Lapierre International                      
145 Sergio Pulido Rodriguez (Spa) Cemelorca-Seguros10.Com               
Two laps down
146 Vivien Legastelois (Fra) Team Lapierre International                
147 Nieck Busser (Ned)                                                  
148 Jo Norskar (Nor) Team Etto Hoydahl                                  
149 Lee Williams (GBr)                                                  
150 Paul Van Der Ploeg (Aus)                                            
151 Sebastien Carabin (Bel)                                             
152 Rob Vangenechten (Bel)                                              
153 Niels Wubben (Ned)                                                  
154 Martin Bratland (Nor) Team Etto Hoydahl                             
155 Heiko Gutmann (Ger)                                                 
156 Ruud Rentmeester (Ned)                                              
157 Chun Hing Chan (HKg)                                                
158 Andriy Khripta (Ukr)                                                
159 David Lozano Riba (Spa) MSC Bikes                                   
160 Patrick Gaudy (Bel)                                                 
161 Bilal Akgul (Tur)                                                   
162 Paul Remy (Fra)                                                     
163 Lukas Hanus (Svk)                                                   
164 Irjan Luttenberg (Ned)                                              
165 Kevin Van Hoovels (Bel)                                             
166 Tim Ottens (Ned) Beone Chainreaction Mountainbiketeam               
167 Martin Skopek (Svk)                                                 
168 Erik Nellen (Ned) Beone Chainreaction Mountainbiketeam              
169 Diego Rosa (Ita) Giant Italia Team                                  
170 Tobias Ullmann (Ger) Team XLC Haibike                               
171 Axel Bult (Ned)                                                     
172 Alejandro Diaz De La Pena Lopez (Spa)                               
173 Laurent Mineur (Bel)                                                
174 Christof Bischof (Swi)                                              
175 Calle Friberg (Swe)                                                 
176 Jelmer Jubbega (Ned)                                                
177 Bjorn Rondelez (Bel) Lingier-Versluys Team                          
178 Sebastian Szraucner (Ger)                                           
179 Nicolas Jeantet (Ita) Team Cbe Tecnoimpianti A.S.D                  
180 Ludovic Mottet (Bel) Windose Houffalzie                             
181 Hubert Pollinger (Ita) Sunshine Racers Asv Nals                     
182 Tim Lemmers (Ned)                                                   
183 David Escolar Ballesteros (Spa) Sunshine Racers Asv Nals            
184 Le Naour Sébastien (Fra) Breiz Mountain                             
185 Nicolas Vermeulen (Bel) Lingier-Versluys Team                       
186 Felix Euteneuer (Ger)                                               
187 Guillaume Vinit (Fra) Scott Valloire Galibier                       
188 Roland Plank (Aut)                                                  
189 Bart Maas (Ned) Beone Chainreaction Mountainbiketeam                
190 Marco Minnaard (Ned) Beone Chainreaction Mountainbiketeam           
191 Andy Eyring (Ger)                                                   
192 Nick Daems (Bel)                                                    
193 Colin Cares (USA)                                                   
194 Wilko Rochow (Ger) Team Mayer Stevens                               
195 Andriy Gumenyuk (Ukr)                                               
196 Nikolay Zagulyaev (Rus)                                             
197 Pascal Hossay (Bel)                                                 
198 Jaco Wagenaar (Ned) Beone Chainreaction Mountainbiketeam            
199 Josef Kamler (Cze) Ceska Sporitelna MTB                             
200 David Fletcher (GBr)                                                
201 Peter Coddens (Bel) Lingier-Versluys Team                           
202 Paul Gaillard (Fra)                                                 
203 Evgeniy Medvetsskyy (Ukr)                                           
Three laps down
204 Markus Knott (Ger) Team XLC Haibike                                 
205 Max Oste Macdonald (Swe)                                            
206 Vladislavs Neroznaks (Lat)                                          
207 Bart Van Hecke (Bel) Lingier-Versluys Team                          
208 Thomas Van Regenmortel (Ned)                                        
209 Vero Lüscher (Ger) Team Mayer Stevens                               
210 Florent Martin (Fra)                                                
211 Olivier Chauvet (Fra)                                               
212 Jiri Hudecek (Cze)                                                  
213 Steven Garcin (Fra)                                                 
214 Hugo Navarian (Fra) Team Cibf Keops                                 
215 Benoît Thyreault (Fra) Team Cibf Keops                              
216 Alex Lupato (Ita) Giant Italia Team                                 
217 Boris Vasilyev (Rus) Format-Udmurtia                                
218 Dennis Ebert (Ned)                                                  
219 Hans Urkens (Bel) Lingier-Versluys Team                             
220 Dries Govaerts (Bel) Lingier-Versluys Team                          
221 Pierre Fuseau (Fra) Team Cibf Keops                                 
222 Thomas Baisir (Bel) Windose Houffalzie                              
223 Michal Plesnik (Svk)                                                
224 Julien Plagne (Fra) Team Cibf Keops                                 
225 Kevin Soller (USA)                                                  
226 Clément Boes (Fra) Breiz Mountain                                   
227 Yunus Yetkin (Tur) Goldcity Alanya                                  
228 Ethan Gilmour (USA)                                                 
229 Alexey Belokrylov (Rus) Format-Udmurtia                             
230 Kamil Alev (Tur) Goldcity Alanya                                    
231 Tomas Pesek (Cze)                                                   
232 Adrien Pastor (Fra) Team Cibf Keops