MTB index page for all MTB content
National Mountain Bike Series #2 (NMBS) - 2
Fountain Hills, Arizona, USA, April 4-6, 2008
Main Page Results Overall standings Previous Race Next Race
Race 6 - April 6: Elite Women Cross Country
Another Gould solo time trial
By Dave McElwaine in Fountain Hills, Arizona
Georgia Gould (Luna Women's MTB)
Photo ©: Dave McElwaine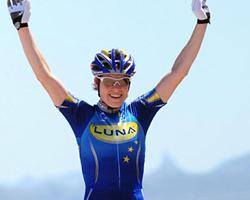 Georgia Gould (Luna Women's MTB) continued her streak of NMBS cross country victories that extends back to the beginning of the 2007 season. She rode off the front of the entire race and completed the two laps at McDowell Mountain Park in 1:20:13 to take the win. Katerina Nash (Luna Women's MTB) was second with a time of 1:22:01. Following her were Australian national champion Dellys Starr (Dale's Pale Ale) at 1:22:13, Kelli Emmett (Giant) at 1:22:22, and a much improved Kathy Sherwin (Sobe/Cannondale) at 1:23:03. Dellys Starr overcame a poor second row starting position in the first quarter mile of the race.
The 9.3 mile course in Fountain Hills did not have as much climbing as most NMBS races, but featured many other challenges that included sandy washes, short steep climbs, and a very rocky 1.5 mile descent down South Ridge.
Many of the top riders flatted on the sharp rocks including Willow Koerber (Subaru/Gary Fisher), Wendy Simms (Kona), Catherine Pendrel (Luna Women's MTB), Mical Dyck (Trek/Terra), and Emily Batty (Trek Bicycle Stores). When riding many of the more technical sections of the course there was only one line. If you happened to get off that line you found yourself on razor sharp rocks.
"It was very hard to pass...Georgia got to the front, then the two Gary Fisher girls held up the whole field, and she (Georgia) got a huge gap...then we finally got past. On the last lap Kelli was catching me so I had to dig deep to take third" commented Starr after the race.
Kelli Emmet said after the race "I know this race. I have raced it so many times it was just a matter of riding smooth and staying out of the wind...and ride a dually. It was awesome. You can recover on the downhills when every one else's hardtails are suffering".
How it unfolded
Fifteen minutes into the race it was reported that Gould had a one minute lead over chasers Heather Irmiger (Subaru/Gary Fisher), Willow Koerber (Subaru/Gary Fisher), Catherine Pendrel (Luna Women's MTB), Dellys Starr, and Katerina Nash. Nash crashed early in the first lap and spent much of the remaining portion of the lap making up time. She suffered a bone deep gash to her knee and was later taken to the hospital for treatment.
The racers completed the first lap in 39 minutes with Gould in the lead with team-mate Pendrell less than a minute behind. Following her was a chase group of Koerber, Starr, Nash, Sherwin, and Simms.
Halfway through the second and final lap Gould increased her lead to 1.5 minutes and held it there throughout the rest of the race. Positions behind her were hotly contested, with Starr assuming second place followed by a surging crash-inspired Nash.
With three miles to go Nash moved into second place. Emmett had been picking off riders from the eight place position until she assumed fourth place for good. Kathy Sherwin seemed to have one speed but her consistency paid off with a fifth place finish and the final spot on the podium.
Photography
For a thumbnail gallery of these images, click here
Images by Dave McElwaine /www.trailwatch.net
Results
1 Georgia Gould (USA) Luna Womens MTB team               1.20.14
2 Katerina Nash (Cze) Luna Womens MTB team                  1.47
3 Dellys Starr (Aus) Dales Pale Ale/Spot Brand              2.00
4 Kelli Emmett (USA) Giant MTB team                         2.08
5 Kathy Sherwin (USA) Sobe-Cannondale                       2.49
6 Monique Sawicki (USA) Ellsworth                           3.19
7 Lea Davison (USA) Trek/VW                                 3.55
8 Heather Irmiger (USA) Subaru-Gary Fisher                  4.42
9 Jenna Zander (USA) Sobe Cannondale                        4.55
10 Melanie Mcquaid (Can) BMC/Natures Path                   5.30
11 Chloe Forsman (USA) Luna womens MTB team                 5.41
12 Amanda Sin (Can) 3 Rox Racing                            5.50
13 Amanda Riley-Carey (USA) Kenda/Titus/Hayes               7.09
14 Carolyn Popovic (USA) Cicle/Bear Valley bikes            7.09
15 Sue Butler (USA) Monavie/Cannondale                      7.47
16 Jennifer Gersbach (USA) Dales Pale Ale/Spot Brand        8.14
17 Nina Baum (USA) Sobe-Cannondale                          8.30
18 Caitlyn Tuel (USA) Trek/VW /Rocky Mountain               8.45
19 Emily Van Meter (USA) Sobe/Cannondale                    8.49
20 Maureen Kunz (USA) Lost Coast Brewery                    9.09
21 Willow Koerber (USA) Subaru-Gary Fisher                  9.46
22 Shannon Gibson (USA) Velo-Bella/Kona                    10.05
23 Jamie Dinkins (USA) Devo                                10.10
24 Mical Dyck (Can) Trek/Terrascape racing                 11.06
25 Megan Monroe (USA) Dales Pale Ale                       11.17
26 Heather Ranoa (USA) Intense                             11.32
27 Jennifer Tilley (USA) Velo Bella/Kona                   12.24
28 Theresa Richardson (USA) Sobe Cannondale                12.47
29 Jana Repulski (USA) Team Tamarack Resort                12.53
30 Jennifer Sica (USA) Schampa                             12.56
31 Sonya Looney (USA) Sobe Cannondale                      13.05
32 Erin Huck (USA) Tokyo Joes                              13.37
33 Catherine Vipond (Can) Norco                            14.01
34 Catherine Pendrel (Can) Luna Eomens MTB team            14.25
35 Danae York (USA) velobum.com/Turner suspension bikes    14.34
36 Kimberly Flynn (USA) Vantaggio/Specialized              15.45
37 Krista Park (USA) Kenda-Titus-Hayes                     17.21
38 Emily Batty (Can) Trek bicycle store toronto            18.58
39 Stacey Scanlan (USA) Team Tamarack                      20.25
40 Joy Duerksen (USA) Cole/Marten Transport                20.25
41 Melissa Buhl (USA) KHS bicycles                         22.32
42 Rachel Throop (USA) Devo                                26.39
43 Jennifer Tribe-Wilson (USA)                             26.47
44 Paz Bash (Isr) Spider-Kona                              31.58
45 Kyia Anderson ekho hrm/Cannondale                       32.57
46 Heather Holmes (USA) Kenda/Titus/Hayes                  32.59
DNF Wendy Simms (Can) Kona                                      
DNF Judy Freeman (USA) Toughgirl Cycling                        
DNF Mikaela Kofman (Can) 3 rox racing                           
DNF Melanie Meyers (USA) Specialized Designs                    
DNS Christie Pleiss (USA) Cicle/Bear Valley Bikes               


Overall classification after 3 events

1 Georgia Gould (Luna Women's MTB)               
2 Katerina Nash (Luna Women's MTB)               
3 Dellys Starr (Dale's Pale Ale)                 
4 Kelli Emmette (Giant)                          
6 Lea Davison (Trek / VW)