MTB index page for all MTB content
MTB World Cup XC #6 & DH #5 - CDM
Maribor, Slovenia, September 14-16, 2007
Main Page Results Previous Race Next Race
Race 3 - September 15: Elite Men Cross Country
Kessiakoff wins his first World Cup
By Rob Jones in Maribor
Fredrik Kessiakoff (Cannondale-Vredestein)
Photo ©: Rob Jones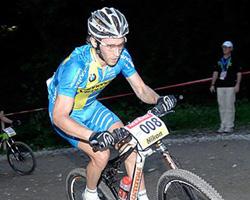 The final round of the cross-country World Cup was the first cross-country World Cup to be held in Maribor, Slovenia, so it was only fitting that a first-time winner took the top step of the podium as Fredrik Kessiakoff (Cannondale-Vredestein) became the first Swede to win a World Cup. There were no surprises in the overall standings, with recently crowned world champions Irina Kalentyeva (Topeak-Ergon) and Julien Absalon (Orbea) winning the overall titles.
Cannondale-Vredestein took firm control of the race from the start, with team mates Roel Paulissen, Jakob Fuglsang, Kessiakoff and Kashi Leuchs all at the front on the first descent. They were joined by Christoph Sauser (Specialized), Manuel Fumic (Fumic Brothers Racing), Jose Hermida (Multivan-Merida) and Geoff Kabush (Maxxis). Kabush was still feeling the effects of an arm injury two weeks earlier, and faded as the race went on (finishing 45th), but the others proved to be the main race animators.
The one name missing was that of world champion and already World Cup champion Julien Absalon. Absalon admitted to having little motivation for the race, saying: "I did it just for fun today. I had a really bad start, and it is hard to fight back when you have no goal in the race. In the middle I caught up to my team mate Inaki Lejarreta, who is fighting for a Spanish Olympic selection, so my goal became to work for him during the race."
Absalon patiently worked for Lejarreta all race, moving him up to 17th and then holding back at the line to let the Spaniard cross first.
Christoph Sauser (Specialized)
Photo ©: Rob Jones

Back at the front, the race was down to three riders by the start of lap two - Kessiakoff, Sauser and Hermida. The Swede attacked halfway up the climb, splitting the group, with Hermida immediately giving chase and Sauser deciding to play a waiting game.
"They were both too fast, and it was too early," commented Sauser. "I know Freddy blows when he goes out so hard, so I was waiting for weakness there. But this time he didn't. I caught Jose (on lap five), but Freddy was out of reach."
Manuel Fumic also caught a tiring Hermida with a lap to go, to take third, with Paulissen rounding out the top-five. Adam Craig (Giant), after his patented slow start, moved up steadily through the field to finish 12th, the top North American result. "I finally got going halfway through the race," said Craig. "Once it opened up I could pass, and catch riders on the tricky bits. I haven't been feeling super tip-top, so I'll take this result."
Road professional Gilberto Simoni (Saunier Duval-Prodir)
Photo ©: Rob Jones

Kessiakoff was ecstatic with his win; riding much of the last lap with a grin on his face after the gap to Sauser went over a minute and his win seemed assured. "Finally! I've been waiting for this one for a long time," he exclaimed. "I just decided to give it everything; why hold back? It is the last important race of the season, so it was do or die for me."
Hermida took second in the final overall standings behind Absalon, with Sauser third, Paulissen fourth and Kessiakoff moving into fifth.
Race Notes
- Despite the team announcing that he would ride a full suspension bike in a World Cup for the first time, Julien Absalon ended up sticking to his usual hard tail. "I am more comfortable with it," he explained. "Maybe this winter I will spend some time testing a full suspension bike."
Photography
For a thumbnail gallery of these images, click here
Images by Rob Jones/www.canadiancyclist.com
Results

1 Fredrik Kessiakoff (Swe) Cannondale-Vredestein               1.53.44
2 Christoph Sauser (Swi) Specialized                              1.25
3 Manuel Fumic (Ger) Fumic.Brothers.International                 1.41
4 José Antonio Hermida Ramos (Esp) Multivan Merida Biking Team    2.01
5 Roel Paulissen (Bel) Cannondale-Vredestein                      2.48
6 Jean-Christophe Peraud (Fra) Orbea                              3.22
7 Lado Fumic (Ger) Fumic.Brothers.International                   3.37
8 Jakob Fuglsang (Den) Cannondale-Vredestein                      3.52
9 Kashi Leuchs (NZl) Cannondale-Vredestein                        4.38
10 Filip Meirhaeghe (Bel) Versluys-Landbouwkrediet                4.45
11 Moritz Milatz (Ger) Multivan Merida Biking Team                    
12 Adam Craig (USA) Giant Mountain Bike Team                      4.54
13 Carlos Coloma Nicolas (Esp) Spiuk-Tau Ceramica                 5.17
14 Cédric Ravanel (Fra) Team Lapierre International               5.26
15 Christoph Soukup (Aut)                                         5.57
16 Wolfram Kurschat (Ger)                                         6.08
17 Inaki Lejarreta Errasti (Esp) Orbea                            6.33
18 Julien Absalon (Fra) Orbea                                     6.34
19 Ralph Naef (Swi) Multivan Merida Biking Team                   7.04
20 Milan Spesny (Cze) Merida Biking Team                          7.24
21 Jeremy Horgan-Kobelski (USA) Subaru-Gary Fisher                7.27
22 Jürg Graf (Swi)                                                7.34
23 Peter Riis Andersen (Den) Team Alb-Gold Mountainbike           7.37
24 Jeremiah Bishop (USA) Trek-VW                                  7.55
25 Hannes Metzler (Aut)                                           8.14
26 Martin Gujan (Swi)                                             8.24
27 Marti Gispert Labarta (Esp) Spiuk-Tau Ceramica                 8.30
28 Oliver Beckingsale (GBr)                                       8.39
29 Ivan Alvarez Gutierrez (Esp) ASD KTM International Team        8.53
30 Karl Platt (Ger) Team Bulls                                    9.17
31 Dariusz Batek (Pol) Halls Professional Mtb Team                9.42
32 Rudi Van Houts (Ned) Dolphin Bike Team                         9.54
33 Alban Lakata (Aut) Trek-VW                                     9.59
34 Stefan Sahm (Ger) Team Bulls                                  10.00
35 Liam Killeen (GBr) Specialized                                10.02
36 Seamus Mcgrath (Can) Rocky Mountain Haywood                   10.14
37 Gion Manetsch (Swi)                                           10.48
38 Thomas Frischknecht (Swi) Swisspower MTB Team                 10.53
39 Lukas Flückiger (Swi)                                         10.54
40 Jochen Kass (Ger) Team Alb-Gold Mountainbike                       
41 Marek Galinski (Pol)                                          10.58
42 Ruben Ruzafa Cueto (Esp) Orbea                                11.12
43 Jiri Friedl (Cze) Merida Biking Team                          11.33
44 Todd Wells (USA)                                              11.38
45 Geoff Kabush (Can)                                            12.03
46 Daniel Mcconnell (Aus)                                        12.29
47 Bart Brentjens (Ned) Dolphin Bike Team                        12.39
48 Robert Gehbauer (Aut) Multivan Merida Biking Team                  
49 Pierre Geoffroy Plantet (Fra) Team Lapierre International     12.40
50 Silvio Bundi (Swi)                                            12.42
51 Bjorn Brems (Bel) Dolphin Bike Team                           12.43
52 Andreas Kugler (Swi) Fischer-BMC                              12.48
53 Sergy Kysenko (Ukr)                                           13.18
54 Christof Bischof (Swi) Bikin'cyprus Int'l Mtb Team            13.56
55 Mathieu Toulouse (Can)                                        14.19
56 Klaus Nielsen (Den) Team Alb-Gold Mountainbike                14.46
57 Balz Weber (Swi) Bikepark.Ch Tui                              14.51
58 Vaclav Hlavac (Cze)                                           14.57
59 Giuseppe Lamastra (Ita)                                       15.02
60 Yader Zoli (Ita) ASD KTM International Team                        
61 Robin Seymour (Irl) Dolphin Bike Team                         15.12
62 Michael Broderick (USA)                                       15.30
63 Tim Wijnants (Bel) ASD KTM International Team                 15.57
64 Magnus Darvell (Swe) Team Alb-Gold Mountainbike               16.10
65 Ruud Rentmeester (Ned)                                        16.19
66 Niall Davis (Irl)                                             16.27
67 Andrea Tiberi (Ita)                                           16.50
68 Tim Bohme (Ger)                                               17.11
69 Filip Eberl (Cze)                                             17.13
70 Stéphane Tempier (Fra) Gewiss Bianchi                         17.30
71 Matous Ulman (Cze)                                            17.41
72 Lachlan Norris (Aus)                                          18.54
73 Andras Parti (Hun)                                            19.15

One lap behind

74 Kris Sneddon (Can) Kona Les Gets                                   
75 Sid Taberlay (Aus) Dolphin Bike Team                               
76 Max Oste Macdonald (Swe)                                           
77 Roland Plank (Aut)                                                 
78 Max Plaxton (Can) Rocky Mountain Haywood                           
79 Lee Williams (GBr)                                                 
80 Olaf Rochow (Ger)                                                  
81 Oleksanar Yakymenko (Ukr)                                          
82 Gilberto Simoni (Ita)                                              
83 Ricky Federau (Can)                                                
84 Uwe Hochenwarter (Aut)                                             
85 Luka Mezgec (Slo)                                                  
86 Jan Skarnitzl (Cze)                                                
87 Ian Bibby (GBr)                                                    
88 Ian Wilkinson (GBr)                                                
89 Marcus Roy (NZl)                                                   
90 Steffen Thum (Ger) Team Mayer Stevens                              
91 Luka Homovec (Slo)                                                 
92 Robert Kircher (Aut)                                               
93 Samuel Schultz (USA) Subaru-Gary Fisher                            
94 Marco Aurelio Fontana (Ita)                                        
95 Evguen Petchenine (Rus) Format-Udmurtia                            
96 Umberto Corti (Ita)                                                

Two laps behind

97 Jakob Nimpf (Aut)                                                  
98 Robert Mennen (Ger)                                                
99 Anze Bizjak (Slo)                                                  
100 Luka Rakusa (Slo)                                                 
101 Borut Fonda (Slo)                                                 
102 Mitja Tancik (Slo)                                                
103 Szilard Buruczki (Hun)                                            
104 Anddry Gumenyuk (Ukr)                                             
105 Kristian Hynek (Cze)                                              
106 Wilko Rochow (Ger)                                                
107 Alexey Belokrylov (Rus) Format-Udmurtia                           
108 Zsolt Szlobodnyik (Hun)                                           
109 Vero Lüscher (Ger)                                                
110 Jaka Tancik (Slo)                                                 

Three laps behind

111 Marios Athanasiades (Cyp) Bikin'cyprus Int'l Mtb Team             
112 Florian Vogel (Swi) Swisspower MTB Team                           
113 Jernej Muzga (Slo)                                                
114 Samo Rauter (Slo)                                                 
115 Dani Simcic (Cro)                                                 
116 David Vogrin (Slo)                                                

Four laps behind

117 Chris Jongewaard (Aus) Dolphin Bike Team                          
DSQ Matthias Flückiger (Swi)                                          
DNF Nino Schurter (Swi) Swisspower MTB Team                           
DNF Bas Peters (Ned)                                                  
DNF Jaroslav Kulhavy (Cze)                                            
DNF Torsten Marx (Ger) Team Alb-Gold Mountainbike                     
DNF Emil Lindgren (Swe) Gewiss Bianchi                                
DNF Till Marx (Swi) Swisspower MTB Team                               
DNF Tony Longo (Ita)                                                  
DNF Cristobal Silva (Chi)                                             
DNF Marc Colom (Fra)                                                  
DNF Conner Mcconvey (Irl)                                             
DNF Andras Melts (Hun)                                                
DNF Carl Decker (USA) Giant Mountain Bike Team                        
DNF Gerald Hauer (Aut)                                                
              
 
World Cup Overall Standings

Individual
 
1 Julien Absalon (Fra) Orbea                                      1270 pts
2 Jose Antonio Hermida Ramos (Spa) Multivan Merida Biking Team    1030
3 Christoph Sauser (Swi)                                           916
4 Roel Paulissen (Bel) Cannondale-Vredestein                       730
5 Fredrik Kessiakoff (Swe) Cannondale-Vredestein                   706
6 Cedric Ravanel (Fra) Team Lapierre International                 666
7 Kashi Leuchs (NZl) Cannondale-Vredestein                         580
8 Nino Schurter (Swi) Swisspower Mtb Team                          560
9 Jakob Fuglsang (Den) Cannondale-Vredestein                       545
10 Filip Meirhaeghe (Bel) Versluys-Landbouwkrediet Mtb Team        497
11 Ralph Naef (Swi) Multivan Merida Biking Team                    470
12 Manuel Fumic (Ger) Fumic.Brothers.International                 424
13 Inaki Lejarreta Errasti (Spa) Orbea                             413
14 Jean-Christophe Peraud (Fra) Orbea                              410
15 Adam Craig (USA) Giant Mountain Bike Team                       363
16 Lado Fumic (Ger) Fumic.Brothers.International                   354
17 Wolfram Kurschat (Ger)                                          354
18 Geoff Kabush (Can)                                              351
19 Milan Spesny (Cze) Merida Biking Team                           342
20 Thomas Frischknecht (Swi) Swisspower Mtb Team                   330
21 Lukas Fluckiger (Swi)                                           297
22 Jader Zoli (Ita) Asd Ktm International Team                     294
23 Florian Vogel (Swi) Swisspower Mtb Team                         270
24 Balz Weber (Swi) Bikepark.Ch Tui                                257
25 Jeremy Horgan-Kobelski (USA) Subaru-Gary Fisher                 255
26 Stefan Sahm (Ger) Team Bulls                                    248
27 Moritz Milatz (Ger) Multivan Merida Biking Team                 244
28 Ruben Ruzafa Cueto (Spa) Orbea                                  241
29 Seamus McGrath (Can) Rocky Mountain Haywood                     240
30 Christoph Soukup (Aut)                                          228
31 Rudi Van Houts (Ned) Dolphin Bike Team                          217
32 Jurg Graf (Swi)                                                 208
33 Hannes Metzler (Aut)                                            202
34 Bas Peters (Ned)                                                196
35 Karl Platt (Ger) Team Bulls                                     193
36 Carlos Coloma Nicolas (Spa) Spiuk-Tau Ceramica                  192
37 Marek Galinski (Pol)                                            187
38 Jaroslav Kulhavy (Cze)                                          185
39 Todd Wells (USA)                                                180
40 Torsten Marx (Ger) Team Alb-Gold Mountainbike                   176
41 Chris Jongewaard (Aus) Dolphin Bike Team                        175
42 Marti Gispert Labarta (Spa) Spiuk-Tau Ceramica                  174
42 Martin Gujan (Swi)                                              174
44 Peter Riis Andersen (Den) Team Alb-Gold Mountainbike            173
45 Ivan Alvarez Gutierrez (Spa) Asd Ktm International Team         173
46 Jeremiah Bishop (USA) Trek-Vw                                   164
47 Bart Brentjens (Ned) Dolphin Bike Team                          155
48 Yury Trofimov (Rus)                                             151
49 Oliver Beckingsale (GBr)                                        148
50 Max Plaxton (Can) Rocky Mountain Haywood                        148
51 Silvio Bundi (Swi)                                              145
52 Burry Stander (RSA)                                             143
53 Gion Manetsch (Swi)                                             139
54 Jochen Kass (Ger) Team Alb-Gold Mountainbike                    130
55 Emil Lindgren (Swe) Gewiss Bianchi                              121
56 Ricky Federau (Can)                                             118
57 Marco Aurelio Fontana (Ita)                                     108
58 Till Marx (Swi) Swisspower Mtb Team                              97
59 Michael Weiss (Aut) Bikin'cyprus Int'l Mtb Team                  96
60 Stephane Tempier (Fra) Gewiss Bianchi                            92
61 Hector Leonardo Paez Leon (Col) Full-Dynamix-R.S.M.              87
62 Ricardo Pscheidt (Bra)                                           84
63 Valeriano Rubens Donizeti (Bra)                                  83
64 Rene Tann (Ger)                                                  82
65 Dariusz Batek (Pol) Halls Professional Mtb Team                  80
66 Jiri Friedl (Cze) Merida Biking Team                             80
67 Sid Taberlay (Aus) Dolphin Bike Team                             72
68 Alban Lakata (Aut) Trek-Vw                                       71
69 Christof Bischof (Swi) Bikin'cyprus Int'l Mtb Team               69
70 Sven Nys (Bel)                                                   58
71 Ludovic Dubau (Fra) Team New Cycling                             56
72 Martino Fruet (Ita)                                              51
73 Jan Skarnitzl (Cze)                                              47
74 Mathieu Toulouse (Can)                                           45
75 Klaus Nielsen (Den) Team Alb-Gold Mountainbike                   44
76 Michael Broderick (USA)                                          44
77 Miha Solar (Slo)                                                 42
78 Bjorn Brems (Bel) Dolphin Bike Team                              40
79 Derek Zandstra (Can)                                             40
80 Jelmer Pietersma (Ned) Beone Mountainbiketeam                    40
81 Nicolas Bazin (Fra) Bh-Sr. Suntour                               38
82 Alexandre Moos (Swi) Bmc Racing                                  38
83 Tony Longo (Ita)                                                 38
84 Mirko Pirazzoli (Ita)                                            38
85 Israel Nunez Baticon (Spa) Massi                                 37
86 Neal Kindree (Can) Kona Les Gets                                 36
87 Liam Killeen (GBr)                                               36
88 Matthias Fluckiger (Swi)                                         36
89 Sergiy Rysenko (Ukr)                                             35
90 Francois Bailly Maitre (Fra) Scott Valloire Galibier             34
91 Robin Seymour (Irl)                                              32
92 Massimo De Bertolis (Ita) Full-Dynamix-R.S.M.                    32
93 Martin Kraler (Aut) Gewiss Bianchi                               30
94 Olivier Maignan (Fra) Bh-Sr. Suntour                             28
95 Samuel Schultz (USA) Subaru-Gary Fisher                          28
96 Alexis Vuillermoz (Fra) Scott Valloire Galibier                  26
97 Tim Bohme (Ger) Team Alb-Gold Mountainbike                       25
98 Oleksandr Yakymenko (Ukr)                                        23
99 Karl Markt (Aut)                                                 23
100 Daniel McConnell (Aus)                                          22
101 Giuseppe Lamastra (Ita)                                         21
102 Carl Decker (USA) Giant Mountain Bike Team                      21
103 Andrew Watson (Can)                                             21
104 Filip Eberl (Cze)                                               20
105 Robert Gehbauer (Aut) Multivan Merida Biking Team               20
106 Nicolas Filippi (Fra) Scott Valloire Galibier                   20
107 Pierre Geoffroy Plantet (Fra) Team Lapierre International       19
108 Andreas Kugler (Swi) Fischer-Bmc                                16
109 Jeff Hall (USA)                                                 16
110 Maxim Gogolev (Rus)                                             16
111 Edivando Cruz (Bra)                                             15
112 Sergy Kysenko (Ukr)                                             15
113 Tim Heemskerk (Ned)                                             14
114 Kris Sneddon (Can) Kona Les Gets                                13
115 Sergio Mantecon Gutierrez (Spa) Massi                           11
116 Kenji Takeya (Jpn)                                              10
117 Vaclav Hlavac (Cze)                                             10
118 Benoit Simard (Can)                                             10
119 Pascal Meyer (Swi)                                              10
120 Marc Trayter Alemany (Spa) Spiuk-Tau Ceramica                    9
121 Yader Zoli (Ita) Asd Ktm International Team                      8
122 Jerome Chevallier (Fra)                                          8
 
U23 men's winner

1 Nino Schurter (Swi) Swisspower Mtb Team                          560 pts
2 Jakob Fuglsang (Den) Cannondale-Vredestein                       545
3 Jaroslav Kulhavy (Cze)                                           185
4 Max Plaxton (Can) Rocky Mountain Haywood                         148
5 Burry Stander (RSA)                                              143
6 Emil Lindgren (Swe) Gewiss Bianchi                               121
7 Stephane Tempier (Fra) Gewiss Bianchi                             92
8 Rene Tann (Ger)                                                   82
9 Dariusz Batek (Pol) Halls Professional Mtb Team                   80
10 Jiri Friedl (Cze) Merida Biking Team                             80
11 Jan Skarnitzl (Cze)                                              47
12 Bjorn Brems (Bel) Dolphin Bike Team                              40
13 Neal Kindree (Can) Kona Les Gets                                 36
14 Matthias Fluckiger (Swi)                                         36
15 Francois Bailly Maitre (Fra) Scott Valloire Galibier             34
16 Samuel Schultz (USA) Subaru-Gary Fisher                          28
17 Alexis Vuillermoz (Fra) Scott Valloire Galibier                  26
18 Oleksandr Yakymenko (Ukr)                                        23
19 Daniel McConnell (Aus)                                           22
20 Robert Gehbauer (Aut) Multivan Merida Biking Team                20
21 Vaclav Hlavac (Cze)                                              10
22 Pascal Meyer (Swi)                                               10         
 
Team overall

1 Cannondale-Vredestein                                            506 pts
2 Orbea                                                            389
3 Multivan Merida Biking Team                                      307
4 Swisspower Mtb Team                                              246
5 Fumic.Brothers.International                                     138
6 Team Lapierre International                                      135
7 Versluys-Landbouwkrediet Mtb Team                                106
8 Giant Mountain Bike Team                                          70
9 Asd Ktm International Team                                        70
10 Dolphin Bike Team                                                56
11 Rocky Mountain Haywood                                           53
12 Merida Biking Team                                               50
13 Team Bulls                                                       50
14 Bikepark.Ch Tui                                                  40
15 Team Alb-Gold Mountainbike                                       38
16 Spiuk-Tau Ceramica                                               34
17 Subaru-Gary Fisher                                               26
18 Trek-Vw                                                          16
19 Full-Dynamix-R.S.M.                                              15
20 Gewiss Bianchi                                                    8
21 Bikin'cyprus Int'l Mtb Team                                       4