MTB index page for all MTB content
Maplelag MTB Spring Opener - 2
Maplelag Resort, Callaway, USA, May 12, 2007
Emmett and Hall cruise to strong wins
Women's champion Kelli Emmett
Photo ©: Bruce Adelsman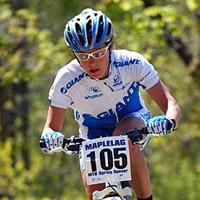 Kelli Emmett (Giant) and Jeff Hall (Salsa Cycles) score dominating wins in the elite races in the Maplelag MTB Spring Opener, a class 2 UCI event.

Emmett held off challenges from local stars Jenna Zander (Bear Naked/Cannondale) and Sara Kylander-Johnson (Trek/VW/Midwest) by putting to use her strong bike handling skills in the technical singletrack that featured quick drops near the lakeside.

Kyia Malenkovich (Head Method), who has won other races at Maplelag, went for an early flyer to get to the singletrack and test the field, but Emmett rode steadily and solidly to make her way to the front, where she held her lead until the end. Zander chased hard, keeping the gap around 45 seconds the entire race but was unable to bridge to Emmett despite a valiant effort on the day. Kylander-Johnson and Sue Butler (Bear Naked/Cannondale) secured the third and fourth spots on the podium with Malenkovich rounding out the top five.

In the men's race, Doug Swanson (Trek/VW/Midwest) took the lead before the lakeside singletrack and held a 15 second gap for two miles before Tristan Schouten (Trek/VW/Midwest) took over at the top of Suicide Hill. Erik Tonkin (Kona) and Hall chased hard before Hall moved to the front at the start of lap two of the four-lap race and he built his lead throughout the race until the finish. Tonkin, who thought his front-end suspension had blown out, got worse news with a flat front tire at the start of the lakeside drops. The repair dropped him to sixth place. Chasing hard, he moved back up to the third spot by the race's end. Paul Hanson hung tough to Tonkin's wheel, but was unable to match Tonkin's power at the end of the race and took fourth. Rounding out the podium fifth was Evan Plews (Capitol Subaru Cycling/Scott USA).

After hosting mountain bike events for the past 16 years, race promoter Jay Richards took the opportunity to bid for the UCI event after talking to Midwest riders about the importance of earning points as the Olympics loom. Although slightly disappointed with the smaller pro field turnouts, the racing action was tough, and west and east coast riders alike commented that it was one of the best courses and venues of the year. Richards, who has himself raced the past 16 years and still holds a pro license, built and designed the infamous singletrack with no motorized equipment. He was helped by friends including course coordinator Steve Wenzel.

Maplelag Resort, featuring over a dozen cabin accommodations including some converted cabooses, provides a festive environment for racers. A majority of the riders spent the weekend at the resort taking part in the fun atmosphere with all-you-can-eat home cooked meals, snacking from the bottomless cookie jars, and enjoying the wood fired sauna with plunges into the cool lake as part of the post-race recovery.
Photography
For a thumbnail gallery of these images, click here
Images by Bruce Adelsman/www.skinnyski.com
Results
Elite men
 
1 Jeff Hall (Salsa)                          1.21.42
2 Tristan Schouten (Trek/VW Midwest)           34.08
3 Erik Tonkin (Kona)                           36.08
4 Paul Hanson (Bear Naked/Cannondale)          36.11
5 Evan Plews (Capitol Subaru Cycling)          37.36
6 Justin Finn (Iron Horse New England)         44.06
7 Jesse Rients (Nature Valley/Penn Cycle)      55.46
DNF Doug Swanson (Trek/VW/JBL)                      
 
Elite women
 
1 Kelli Emmett (Giant Mountain Bike Team)    1.39.35
2 Jenna Zander (Bear Naked/Cannondale)          0.53
3 Sara Kylander-Johnso (Trek/VW/JBL)            2.53
4 Sue Butler (Bear Naked/Cannondale)            3.50
5 Kyia Malenkovich (Head Method)                7.51
6 Megan Monroe (BMC-Sports Garage)              8.43
7 Emily Van Meter (Bear Naked/Cannondale)      14.39