MTB index page for all MTB content
Karapoti Classic - NE
Upper Hutt, New Zealand, March 3, 2007
Records all around at Karapoti
Clinton Avery
Photo ©: Michael Jacques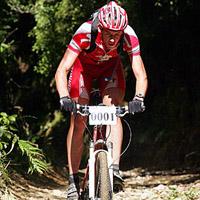 New race records and a record turnout from a record number of countries marked the 22nd edition of the Scott Karapoti Classic.
As the southern hemisphere's longest-running mountain bike event, Upper Hutt's Karapoti Classic has been happening since 1986. The savage 50km test through the Akatarawa Ranges has been the benchmark for aspiring mountain bikers. Commonwealth Games representatives Clinton Avery and Jennifer Smith lined up as favourites, but facing strong fields, no one expected them to dominate quite like they did.
Avery rode a collection of New Zealand, American, and Australian riders off his wheel. The strapping 190cm, 90kg rider rode at the front all the way, powering away on the flat and technical riding and maintaining his lead as the smaller riders tried to attack him on the uphill. But the Rotorua rider's relentless pace tore the chasers apart until eventually his only competition was the clock.
Avery crossed the line 10 minutes ahead of Australian Nic Both, but had no idea that he'd achieved anything other than his first Karapoti title. A year ago, he and Australian rep Peter Hatton had battled for the entire distance only for Avery to lose out when he crashed in one of Karapoti's famous river crossings when within sight of the finish line. Hatton went on to claim the win by 14 seconds in 2 hours, 18 minutes, and one second-- time that eclipsed the previous race record held by world ranked rider Kashi Leuchs. This year Avery set a whole new standard.
The 20-year-old stopped the clock in exactly 2 hours 14 minutes, but was lost for words when he saw his record-breaking time. "The track didn't seem any faster than last year," he shrugged almost apologetically. "I was feeling good and was going better on the climbs than last year, so I just went for it. But I didn't expect to go that fast."
Behind Avery, the other contenders to his new crown were stunned. Australian Nick Both improved three placings and six minutes over his Karapoti debut last year, but was still 10 minutes back in second. "He was just in another class today. We couldn't get near him," said the Australian after holding off American Rob Schnell.
Schnell had been the dangerous dark-horse in this year's Scott Karapoti Classic. The Colorado native is US's sixth ranked rider and had been training in New Zealand for several weeks in the build up to Karapoti. But he had never faced a race quite like the savage 50km route around Upper Hutt's Akatarawa Ranges.
"That was amazing," he said after claiming third place, just 40 seconds behind Both. "I've never raced anything like it. The terrain, with all those hills and bogs and bike carrying was more like an adventure than a race. I loved it, but I wasn't ready for a race like that."
Jenny Smith carries her bike
Photo ©: Michael Jacques

Schnell's fellow Colorado rider, Jennifer Smith, wasn't quite expecting what happened at Karapoti either. She had raced here before, finishing second to Commonwealth Games medallist Susy Pryde four years previously. This year, the Kiwi-born runner-turned mountain biker out-classed New Zealand's best women to claim her first Karapoti title by almost four minutes. But even she was surprised by how fast she raced it. The West Coast native smashed the 13-year-old woman's record set by endurance sport legend Kathy Lynch by more than two minutes, stopping the clock at 2 hours 47 minutes and 35 seconds.
Like Avery, Smith had no idea what she'd achieved. "Really," she exclaimed upon hearing her time. "That's amazing. I knew I was winning, but I had no idea how fast I was riding."
Wellington's Indian summer produced the fastest Karapoti on record. Prior to this race only seven women had ever broken Karapoti's three-hour mark. But this year, four new women entered the club as current New Zealand number one Fiona MacDermid (2:51.15), Wellington Olympian Roby Wong (2:55.40) and Taumarunui firefighter Katrine Lawton (2:59.51) all broke three hours.
A record 1,300 riders started. This year organisers had increased the entry limit to cope with an ever-increasing demand. Next year's event is already scheduled for March 1, 2008.
Photography
For a thumbnail gallery of these images, click here
Images by Michael Jacques/www.cycle-photos.com
Results
Women Pro

1 Jennifer Smith               2.47.35
2 Fiona Macdermid                 3.40
3 Robyn Wong                      8.05
4 Katrine Lawton                 12.16
5 Erin Greene                    22.42
6 Sonia Hill                     23.03
7 Sandy Kunz                     25.18
8 Brenda Clapp                   28.31
9 Lisa Morgan                    30.08
10 Michelle Bellamy              31.32
11 Sally Pearson                 33.41
DNF Emma Wright                       
DNF Jennifer O'connor       

Men Pro

1 Clinton Avery                2.14.00
2 Nick Both                      10.02
3 Ross Schnell                   11.00
4 Wayne Hiscock                  12.00
5 Gavin Mccarthy                 13.59
6 Mark Leishman                  15.54
7 Dean Fulton                    16.20
8 Jonty Ritchie                  17.58
9 John Gray                      19.06
10 Simon Kennett                 19.07
11 Gary Hall                     22.29
12 Christopher White             23.18
13 Mike Northcott                23.30
14 Jason Mccarty                 24.17
15 Rodney Wallace                25.25
16 Jason Goldie                  25.50
17 Timothy Pearson               27.28
18 Chris Kendall                 27.40
19 Ricky Pincott                 27.42
20 Blair Stuthridge              27.59
21 Chris Fisher                  28.05
22 James Hufflet                 29.49
23 Michael Anderson              30.22
24 Matt Christmas                31.08
25 Derek Milne                   32.08
26 Steve Pedley                  32.13
27 John Randal                   33.04
28 Richard Smith                 33.11
29 Nick Warring                  33.17
30 Cameron Durno                 33.56
31 Ant Bradshaw                  33.58
32 Ross Weston                   35.45
33 Joshu Mountjoy                36.02
34 Ian Goodwin                   36.50
35 Paul Macdermid                37.17
36 Murray Sheridan               37.30
37 David Howard                  37.54
38 Marco Renali                  37.56
39 Steve Scott                   38.24
40 James Gurney                  38.33
41 Jonathan Kalma                38.39
42 James Duncan                  41.02
43 Jeremy Inglis                 41.12
44 Warrick Mosen                 42.29
45 Leon Dawson                   43.11
46 Rhys Hayward                  43.17
47 Joel Healy                    43.24
48 Jon Prescott                  43.32
49 Ned Barraud                   44.33
50 Craig Lyons                   45.49
51 Rob Soothill                  46.12
52 Rob Holmes                    46.21
53 Tijs Robinson                 47.22
54 Hans Van Der Voorn            47.24
55 Lindsay Horton                48.35
56 Mark Minehan                  48.49
57 Neil Poskitt                  49.10
58 Peter Lucock                  49.13
59 Oliver Ferry                  49.37
60 Campbell Wilson               50.48
61 Paul Fowler                   51.04
62 Mike Price                    51.33
63 David Masters                 51.37
64 Wayne Hastie                  51.43
65 Dave Woods                    51.57
66 Stephen Coppard               52.28
67 Andrew Mcfarlane              53.08
68 Thomas Zink                   53.21
69 Mike Mackey                   54.13
70 Mirko Zatezalo                54.29
71 Ewan Smith                    55.29
72 Francis Hoen                  56.17
73 Warren Borlase                56.19
74 Michael Newman                57.07
75 Neville Bailey                58.16
76 Rod Weinberg                  59.16
77 Dominic Blissett              59.18
78 Paul Kennett                  59.36
79 Frank Schlaffmann           1.00.06
80 Geoff Tilbrook              1.01.18
81 Daron Colvill               1.01.42
82 Ross Mcculloch              1.04.37
83 Conal Mckenna               1.06.06
84 Jurjen Geerts               1.10.27
85 Mike Sherwin                1.12.40
86 Clive Bennett               1.12.42
87 Vaughn Phillipson           1.12.46
88 Geoff Faithfull             1.16.38
89 Brent Watson                1.20.11
90 Terry Macpherson            1.20.52
91 Mark Robotham               1.21.29
92 Steve Mackey                1.22.03
93 Alan Lemaitre               1.26.23
94 Kieran Gunn                 1.28.02
95 Transit Trev                1.44.11
96 John Williamson             1.45.47
97 Lindsay Gault               1.46.08
DNF Tim Vincent                       
DNF Luke Mills                        
DNF Craig Saunders                    
DNF Peter Radford                     
DNF Evan Braddock                     
DNF Adam Gosney                       
DNF Stewart Grimm                     
DNF Richard Hayman                    
DNF Josh Barley                              

Women Under 18

1 Samara Sheppard              3.04.13
DNF Monique Avery                     
DNF Raewyn Morrison                   
 
Women 19-29

1 Amanda Jenkins               3.25.34
2 Laura Smith                     3.49
3 Nicole Swain                    6.33
4 Melody Mcnight                 17.19
5 Kattryn Campbell               24.42
6 Lara Shepherd                  28.04
7 Sarah Brown                    32.18
8 Emily Moss                     33.41
9 Alice Kevern                   37.07
10 Emma Newall                   38.07
11 Rita Langley                  38.38
12 Liz Smith                     44.44
13 Ilse Vermeulen                45.22
14 Jillian Ross                  47.26
15 Jo Randall                    58.03
16 Debbie Bidlake                58.34
17 Kristie Fogarty             1.02.11
18 Georgie Mclean              1.06.34
19 Nora Patterson              1.14.34
20 Jo Goudie                   1.19.21
21 Catherine Armstrong         1.20.00
22 Caroline Moore              1.21.25
23 Zoe Haws                    1.33.50
24 Anita Hiscock               1.49.36
25 Amie Nicholls               2.01.15
 
Women 30-39

1 Fiona Howatt                 3.25.17
2 Jayne Ryeland                  14.36
3 Hanna Suckling                 19.16
4 Natasha Van Hoppe              19.57
5 Amanda Brooks                  20.17
6 Sheila Hart                    22.16
7 Toni Byrne                     22.39
8 Richelle Marshall              27.57
9 Hilary Miller                  35.35
10 Catherine Haviv               36.16
11 Sharleen Raynel               36.56
12 Rachael Stratton              44.32
13 Cherie Rusbatch               44.55
14 Renee Fowler                  46.44
15 Catherine Rush                49.15
16 Katie Rusbatch                51.07
17 Susanna Bauer                 52.39
18 Alison Whitehead            1.00.43
19 Lucy Bone                   1.02.34
20 Kaylene Wilson              1.02.35
21 Vivienne Mote               1.18.44
22 Charlotte Ireland           1.34.08
DNF Rosanna Hedges                    
DNF Suzanne Main                      
 
Women 40-49

1 Maryann Avery                3.41.41
2 Sarah Mcrae                    14.20
3 Jeni Knight                    19.14
4 Karen Tweed                    25.26
5 Wendy Horning                  29.49
6 Denise Thorne                  32.02
7 Carolyn Hawe                   34.49
8 Carolyn Gammie                 35.39
9 Jude Ellis                     38.44
10 Jill Heseltine              1.03.50
11 Lesley Ferkins                     
12 Marilyn Northcotte          1.07.10
13 Adrienne Croad              1.11.29
14 Kelly Topliss               1.17.37
15 Sherry Mckinnon             2.03.31
 
Men Under 18

1 Carl Jones                   2.34.17
2 George Bennett                  5.01
3 Ben Thomas                     11.46
4 Ash Hough                      15.45
5 Kane Armstrong                 22.11
6 Miles Davies                   26.28
7 Tom Bradshaw                   28.28
8 Scott Green                    43.08
9 Patrick Avery                  43.18
10 Dirk Peters                   44.35
11 Rory Hart                     45.23
12 Matthew Waghorn               45.54
13 Kieran Hamabrook              47.39
14 Rupert Maclachlan             48.19
15 Nick Brunsdon                 49.20
16 James Robbins                 50.42
17 Jordan Blake                  51.55
18 Callum Mathieson              52.28
19 Sam George                  1.05.28
20 Simon Callahan              1.10.48
21 Jimmy Finlayson             1.13.12
22 Adin Johnson                1.32.38
23 Henry Sommerville           1.41.40
24 Stefan Jones                1.41.41
25 James Prouse                1.41.43
26 Ethan Kuypers               1.50.44
27 Nathan Waghorn              1.51.55
28 Rick Zwaan                  1.53.50
29 Nathan Bramley              2.04.19
30 Derel Mckenzie              2.31.26
DNF Aaron Bonner                      
 
Men 19-29

1 Shane Armstrong              2.42.49
2 Hadley Boyce                    2.18
3 Nick Kennedy                    4.43
4 George Baxter                   5.15
5 Tim Boxford                    10.15
6 Mike Milner                    13.24
7 Damien Steel-Baker             13.47
8 Kelly Clark                    14.16
9 Fraser Hewett                  14.20
10 Chris Walters                 15.05
11 Damon Mead                    18.32
12 Andy Selwood                  19.34
13 Peter Beehuis                 19.53
14 Rory Fitzgerald               20.21
15 Mat Devery                    23.25
16 Grant Nicoll                  24.24
17 Chrisopher Harte              26.40
18 Owen Matthews                 27.04
19 David Driscole                28.37
20 Kieron Ingram                 29.02
21 Cam Smailes                   31.46
22 Tim Turner                    32.20
23 Blythe Rees-Jones             32.57
24 Will Brown Douglas            33.58
25 Hayden Russell                36.51
26 Wade Kenchington              40.56
27 Alan Mail                     41.20
28 Craig Mcginnity               41.22
29 Paul Chaplow                  41.45
30 James Pugsley                 42.19
31 Magnus Bengtsson              43.03
32 Dale Albrecht                 43.05
33 Michael Lee                   44.41
34 Grant Beattie                 45.44
35 Andrew Hall                   46.02
36 Mark Seelye                   46.12
37 Craig Ross                    47.22
38 Regan Hill                    48.30
39 Mikael Ekman                  48.31
40 Brendon Cantwell              49.40
41 Mike Haworth                  50.09
42 Scott Willson                 51.36
43 Alistair Kennedy              54.20
44 Michael Thurston              54.55
45 Richard Westerby              55.04
46 Sean Gledhill                 55.38
47 Scott Johnson                 56.29
48 Michael Wills                 57.20
49 Andrew Perry                       
50 Hayden Riggs                       
51 Johnny Mcclymont              57.21
52 James Wech                    57.22
53 Ryan Shaughnessy            1.00.22
54 Adrian Leach                1.00.46
55 Damian Pootjes              1.03.45
56 Aaron Forde                 1.04.24
57 James Long                  1.06.20
58 Christopher Hall            1.06.27
59 Glenn Thomson               1.08.02
60 Darren Mcnae                1.08.12
61 Grant Perry                 1.08.21
62 Stewart Hercus              1.08.36
63 Shaun O'donnell             1.11.37
64 John Baddeley               1.12.41
65 Blair Redington             1.14.24
66 Simon York                  1.14.45
67 Chris Leblanc               1.18.07
68 Lance Wadham                1.19.11
69 Brendan Pheasant            1.21.01
70 Paul Geck                   1.21.38
71 Corin Healy                 1.21.40
72 Jamie Short                 1.24.09
73 James Service               1.24.27
74 Paul Wrigley                1.25.09
75 Andrew Han                  1.25.41
76 Hugh Hesketh                1.25.42
77 Theo Mcdonnell              1.29.21
78 Eddie Hussey                1.30.06
79 Mathew Cumming              1.31.00
80 Michael Hampton             1.31.20
81 A Arslanov                  1.31.33
82 Ezra Keddell                1.35.45
83 Steve Matheson              1.36.25
84 Lincoln Smith               1.37.43
85 Ashley Wood                 1.43.08
86 Chris Guddop                1.45.34
87 Glenn Hodgson               1.45.54
88 Matt Mcdonnell              1.47.45
89 Samuel Cripps               1.52.14
90 James Fitzgerald            1.53.16
91 Phill Sherring              1.53.40
92 Jason Swanson               1.54.06
93 Hamahona Mcneill            1.54.41
94 Gary Peebles                2.12.47
95 Ewan Murrihy                2.19.11
96 Nathan Isaac                2.36.37
97 Stephen Beckworth           2.38.46
98 Collin Crabble              2.50.13
99 Simon 'Biscuits' Bickers    2.57.42
100 Blair Martin               3.16.11
101 Bert Bleyenbergh           3.47.43
DNF Matt Boulcott                     
DNF Geoff Kaandorp                    
DNF Rick Martin                       
DNF Stephen Mcneil                    
DNF Joe Moke                          
DNF Dave Turnbull                     
DNF Lee Poston                        
 
Men 30-39

1 Carl Patton                  2.35.13
2 Simon Pope                      2.47
3 Shane Deal                      3.27
4 Pierre Jordan                   4.17
5 Marty Dinniss                   7.47
6 Tony Brownrigg                  9.31
7 Dan Kellow                     11.12
8 Gerrard Wilson                 12.21
9 Jonathan Dunne                 13.02
10 Tristram Langford             13.06
11 Wayne Howarth                 13.30
12 Brent Simpson                 14.35
13 Aaron Baddiley                16.27
14 Michael Craine                17.13
15 Gregg Simpson                      
16 Brendan Ashton                17.15
17 Sam Du Fresne                 19.58
18 Tim Caushles                  21.20
19 Tim Snadden                   21.22
20 Kether Gati                   24.51
21 Mark Wallace                  26.13
22 Brendon Trower                26.41
23 Mel Titter                    27.02
24 Brent Symes                   29.31
25 Craig Stevens                 29.58
26 Harry Turner                  30.03
27 John Garrett                  30.07
28 Tod Horton                    32.17
29 Gray Patterson                32.42
30 Shane Timperley               32.48
31 Reuben Peterson               33.03
32 Jonathan Halliwell            33.31
33 Philip Southey                33.50
34 Craig Anderson                34.33
35 Ryan Bagrie                   34.49
36 Richard Trask                 35.16
37 Mike Harding                  35.28
38 Adam Nancekivell              35.38
39 Murray Osgood                 36.34
40 Daren Courtnage               36.35
41 Stephen Fearon                36.56
42 Andrew Isbister               37.07
43 Geoff Mcdonnell               37.14
44 Scott Raynes                  37.59
45 Blair Pfahlert                38.26
46 Justin Whelan                 39.21
47 Wayne Harrison                39.24
48 Marty Devonport               39.27
49 Kevin Brown                   40.44
50 Matthew St Amand              41.02
51 Niall Brown                   41.46
52 Mark Waterland                41.50
53 Richard Ainsworth             44.50
54 Steve Bosch                   44.58
55 Matt Amos                     45.00
56 Paul Andrewes                 45.05
57 Morgan Willson                45.09
58 Paul Conner                   45.15
59 Steve Ewart                   46.02
60 Mark Blythen                  46.28
61 Nathan Strong                 46.47
62 Barry Johnson                 46.59
63 Shaun Stuart                  47.40
64 Michael Williamson            47.57
65 Craig Poad                    48.11
66 James Cameron                 48.16
67 Christopher Stark             48.17
68 Stuart Davies                 48.22
69 Vaughan Love                  48.57
70 Andrew Digby                  49.06
71 Ronnie Reading                49.08
72 Dave Norriss                  49.33
73 Michael Molony                50.02
74 Bevan Falloon                 50.06
75 Jamie Sinclair                50.50
76 Scott Breman                  51.05
77 Wayne Cresswell               51.12
78 Jeff Morgan                   51.25
79 Jason Whiteman                51.36
80 Bevan Thrower                 51.49
81 Graeme Mcbeth                 52.06
82 Laurence Kent                 52.15
83 Anton Gibson                  52.16
84 Hugh Walcott                  52.27
85 Dayne Mcandrews               52.48
86 Neil Hickford                 52.53
87 Craig Troughton               53.07
88 Jared Morris                  53.31
89 Nicholas Cooper               53.39
90 David Foster                  54.23
91 William Thorp                 54.29
92 Matt Bridge                   54.30
93 Paul Brodnicki                55.22
94 Kerry Price                   56.56
95 Ian Harrison                  57.01
96 David Addison                 57.05
97 Anton Schmitz                 57.17
98 Anders Waiker                 57.47
99 Murray Drake                  58.26
100 Dougal List                  58.59
101 Andy Osborne                      
102 Matt Sheehy                  59.25
103 Richard Western              59.54
104 William Raudsepp           1.00.07
105 David Herman               1.00.08
106 Dan Popham                 1.00.20
107 John Justice               1.00.41
108 Nick Julian                1.00.50
109 Peter Marshall             1.00.57
110 Graeme Hall                1.01.24
111 Bruce Troughton            1.01.45
112 Euan Henderson             1.02.01
113 Marcus Baguley             1.02.05
114 Jamie Hodgkinson           1.02.14
115 Neville Henderson          1.02.16
116 David Barnard              1.02.27
117 Malcolm Wilson             1.02.48
118 Doug Haines                1.02.51
119 Fraser Taylor              1.03.25
120 Brian Dodds                1.03.31
121 Tristan Barnes             1.03.38
122 Craig Mclintock            1.04.05
123 Craig Briggs               1.05.17
124 Jason Begg                 1.05.33
125 Duane Watene               1.07.36
126 Adam Lewis                 1.08.27
127 Nick Crang                 1.09.39
128 David Jacobsen             1.09.47
129 Mark Sheehy                1.10.58
130 Michael Norton             1.11.23
131 Paul Kelleher              1.11.36
132 Andrew Marriott            1.11.52
133 David Ryan                 1.11.54
134 Chris Wilson               1.12.30
135 Laurence Cutts             1.12.32
136 Keith Mitchell             1.12.47
137 David Ambler               1.13.40
138 Paul Larkin                1.13.48
139 Karl Merriman              1.13.51
140 Ian Barrows                1.14.19
141 Anthony Blythen            1.14.54
142 Lincoln Mackay             1.14.57
143 Mark Upton                 1.15.12
144 Darren Love                1.15.25
145 Paul Alexander             1.15.44
146 Jarlath Blair              1.16.08
147 Iwan Lane                  1.16.10
148 Johnathan Bayley           1.16.25
149 Simon Gibb                 1.16.47
150 Christopher Malcolm        1.17.06
151 Shane Williams             1.18.07
152 Shane Rangihaeata          1.18.50
153 Richard Skilton            1.18.52
154 Hugh Biss                  1.19.46
155 Paul Harford               1.20.00
156 Pete Gilbert               1.20.30
157 Matthew Mcculloch          1.20.39
158 Steve Blennerhassett       1.21.13
159 Paul Baldock               1.21.17
160 Matthew Isaac              1.21.40
161 Marty Lindsay              1.21.48
162 Jason Oakley               1.21.49
163 Blair Francis              1.22.19
164 Dave Pillar                1.22.31
165 John Burgess               1.22.54
166 Paul Dickie                1.23.16
167 Jose Henriquez             1.23.21
168 David Bergin               1.23.23
169 Steve Lock                 1.23.43
170 Andrew Dale                1.24.16
171 Martin Madie               1.24.19
172 Erik Vanderspek            1.24.34
173 Carl Horsley               1.24.36
174 Nick Pharo                 1.24.42
175 Brent Kearney              1.24.51
176 David Douglas              1.25.02
177 Mark Hamilton              1.25.10
178 Blair Waghorn              1.26.08
179 Steve Howat                1.26.09
180 Andrew Cohen               1.26.16
181 Michael Anderson           1.26.56
182 Athol Gardiner             1.27.34
183 Lyndon Hookham             1.28.13
184 David Martin               1.28.17
185 Jasen Mccutcheon           1.28.29
186 Ross Bailey                1.28.59
187 Justin Crawshaw            1.29.54
188 Roy Norrington             1.30.07
189 Richard Powell             1.30.16
190 Raymond Bailey             1.30.22
191 Glenn Wilson               1.30.24
192 Kevin Lampen-Smith         1.30.53
193 Andre Russell              1.31.04
194 Andrew Kilby               1.31.38
195 Scott Campbell             1.32.13
196 Jonathan Hooker            1.32.24
197 Carl Steward               1.32.49
198 Andrew Cooper              1.33.02
199 Clark Townsley             1.33.06
200 Sam James                  1.33.36
201 Sam Shrimpton              1.35.02
202 Martijn Van Der Tol        1.35.16
203 Darren Johns               1.35.39
204 Paul Griffin               1.35.59
205 Lawrence Young             1.36.02
206 Thomas Lindegaard          1.36.03
207 Clive Baring               1.36.32
208 David Humphreys            1.37.29
209 Andrew Murray              1.37.35
210 Darren Smith               1.37.40
211 Mark Lockyer               1.37.44
212 Tim Sutherland             1.38.50
213 Brent Moody                1.40.07
214 Kirk Boyle                 1.40.44
215 Andrew Dalziel             1.41.15
216 James Palmer               1.42.06
217 Gerard Peterson            1.42.16
218 Colin Paige                1.42.27
219 Steve Canham               1.42.54
220 Jeremy Haines              1.42.58
221 Mike Beale                 1.44.08
222 Nicholas Swanson           1.44.21
223 Karl Rippey                1.47.30
224 Daniel Mars                1.47.48
225 Simon Crook                1.48.46
226 John Groth                 1.48.55
227 Colin Martin               1.49.33
228 Matt Fowler                1.49.45
229 Richard Williams           1.50.18
230 Kenneth Ryan               1.51.35
231 Shane Dickson              1.52.01
232 Jez Weston                 1.52.37
233 Jarrod Eades               1.52.52
234 Geoff Acethorp             1.53.40
235 Russell Brebner            1.55.58
236 Matthew Streeter           1.56.24
237 Phil Richardson            1.56.25
238 Craig Armstrong            1.56.26
239 Matt Keown                 1.56.30
240 Ross Mclachlan             1.56.40
241 Chris Fitzwater            1.56.42
242 Michael Jonson             1.57.44
243 Blair Taylor               1.58.03
244 Chris Meade                1.58.13
245 Ron Whitehead              1.59.12
246 Mike Gregan                2.00.49
247 Robbie Sutherland          2.02.08
248 Blair Gollop               2.03.07
249 Darryl Gray                2.03.20
250 Minoru Shimada             2.04.55
251 Mike Parker                2.06.30
252 Ian Cooper                 2.07.33
253 Desigin Thulkanam          2.09.15
254 Alasdair Wallace           2.09.52
255 Mike Bradford              2.13.27
256 Paul Greenaway             2.15.00
257 Darryl Kara                2.15.02
258 Evan Debenham              2.15.40
259 Janz Suckling              2.15.57
260 Vincent Trotter            2.15.59
261 Jason Langman              2.16.14
262 Martin Gribble             2.18.42
263 David Douglas              2.19.41
264 Andre Gaston               2.19.44
265 Richard Pearce             2.19.59
266 Graeme Walton              2.24.00
267 Kevin Walsh                2.24.31
268 Chris Wirjapranata         2.25.21
269 Bruce Cullen               2.25.35
270 Nigel Lock                 2.26.05
271 Paul Marsh                 2.26.25
272 Chris Costello             2.30.54
273 Duncan Gower               2.33.37
274 Brett Ryan                 2.34.04
275 Brett Gray                 2.35.39
276 Todd Gray                  2.35.40
277 Daniel Coe                 2.44.19
278 Simon Edhouse              2.48.50
279 Brent Mcgregor             2.51.57
280 Dave Kent                  2.54.00
281 Richard Crerar             2.54.23
282 Paul Hansen                3.28.57
283 Hugh Wilson                3.45.03
DNF Haydon Dewes                      
DNF Marc Figgins                      
DNF Andrew Frazer                     
DNF Simon Gallagher                   
DNF Simon Hall                        
DNF Martin Henry                      
DNF Karl Holmes                       
DNF Paul Holmes                       
DNF Glenn Kirk                        
DNF Steve Kyle                        
DNF Matthew Leach                     
DNF Rob Lee                           
DNF Nick Moore                        
DNF Mark Prickett                     
DNF Warrick Reid                      
DNF Jon Rosemergy                     
DNF Grant Rowbottom                   
DNF Andrew Roy                        
DNF Warren Scott                      
DNF Michael Searle                    
DNF Robert Shortcliffe                
DNF Marcel Tesoriero                  
DNF Justin White                      
DNF Andre Whittaker                   
DNF Simon Winstanley                  
DNF Mark Zeman                        
DNF Brian Zurek                       
 
Men 40-49

1 Trevor Woodward              2.32.25
2 Ian Paintin                     7.08
3 Matthew Isles                  12.49
4 Murray Thomas                  18.13
5 Wayne Pool                     22.25
6 Martyn Ogden                   24.51
7 Scott Maclachlan               24.52
8 Micheal Thompson               26.59
9 Peter Nott                     29.49
10 Wayne Leighton                31.45
11 Brett Kennedy                 32.56
12 Murray Alston                 32.58
13 Robert Hambrook               33.01
14 Grant Cottle                  35.04
15 Rob Snep                      38.22
16 Geof Blance                   39.52
17 Phil Etheridge                42.34
18 David King                    44.00
19 Darryl Carpenter              44.14
20 Mark Roberts                  44.24
21 Jason Mccrystal               47.58
22 Barry Jowett                  48.04
23 Trevor Macdonald              48.37
24 Dave Bishop                   48.55
25 Brian Faulknor                49.23
26 Hugh Perryman                 50.51
27 Steve Orchard                 50.56
28 Matthew Stevens               51.02
29 Gil Peters                    51.20
30 Dave Della Barca              51.59
31 Matthew Walker                53.13
32 Chris Toovey                  53.33
33 Steve Grenside                53.53
34 Steve Strain                  55.15
35 Gerald Bajema                 56.17
36 Wayne Boyd                    56.28
37 David Clarke                  56.30
38 Ash Bloomfield                59.19
39 Trevor Mail                   59.23
40 David Woodnorth               59.32
41 Tom Hirst                     59.51
42 Iain Mcdonald               1.00.11
43 Greg Corbett                1.00.24
44 Stephen Owens               1.00.46
45 Steve Deane                 1.00.49
46 Andrew Fisher               1.01.17
47 Brent Daniel                1.01.31
48 Adam Simpson                1.01.35
49 Ian Lambie                  1.02.44
50 Carl Penwarden              1.02.53
51 Sven Mehzoud                1.03.18
52 Eddie Kattenberg            1.04.44
53 Richard Balm                1.04.45
54 Ralph Roberts               1.04.56
55 Mark Woods                  1.05.17
56 Michael Delahunty           1.05.24
57 Rick Zydenbos               1.05.43
58 Simon Hanbury-Sparrow       1.06.28
59 Ian Moore                   1.07.01
60 Andrew Patten               1.07.10
61 Dallas Brown                1.07.23
62 Peter Marriott              1.07.47
63 Chris Anderson              1.07.50
64 Phil Becker                 1.08.28
65 Guy Kerrison                1.09.17
66 Rob Macquarrie              1.09.27
67 Gary Dunnett                1.09.58
68 Brendon O'neill             1.10.16
69 Nick Kyle                   1.11.02
70 Kevin Leevers               1.11.08
71 Stephen Smith               1.11.15
72 Pat Edwards                 1.11.17
73 James Costello              1.11.20
74 Bill Zeier                  1.12.11
75 Simon Tregear               1.12.15
76 Steve Laken                 1.12.21
77 Andrew Hendriks             1.12.56
78 Peter Van Der Pligt         1.13.21
79 Andrew Seeley               1.13.31
80 Mick Zeewold                1.13.38
81 Gordon Campbell                    
82 Phil Bartley                1.13.52
83 Kerry Fitzgerald            1.14.01
84 Paul Prendergast            1.14.15
85 Ronald Gammie               1.14.23
86 Sandy Milliken              1.14.34
87 Chris Stone                 1.15.30
88 Lyndon Burns                1.15.57
89 Rory Newsam                 1.16.07
90 Richard Croad               1.16.31
91 Scott Adin                  1.16.35
92 John Limpus                 1.18.14
93 Nick Hunn                   1.19.15
94 Malcolm Robbins             1.19.41
95 Tony Offord                 1.21.09
96 Mark Topliss                1.21.56
97 Patrick Hogan               1.22.02
98 Mike Hunn                   1.22.04
99 Andrew Curtis-Cody          1.22.32
100 Marc Wheeler               1.22.40
101 Simon Walton               1.22.48
102 Peter Young                1.23.04
103 Erwin Kerbus               1.23.13
104 Dave Donovan               1.23.21
105 Rod Kamphorst              1.24.25
106 Neville Williams           1.24.49
107 Ian Mcgill                 1.25.06
108 Jonathon Coats             1.25.59
109 Alan Milliken              1.26.06
110 Mike Dalton                1.26.11
111 Suri Bartlett              1.27.45
112 Brent Doile                1.28.31
113 Paul Atkins                1.30.30
114 Brent Smith                1.31.15
115 John Mcknight              1.31.19
116 Andrew Willers             1.32.27
117 Kevin Wakeling             1.33.07
118 Roland Bell                1.33.32
119 Alan Dickson               1.33.50
120 Grenville Main             1.33.59
121 Robert Bird                1.34.51
122 Drew Blair                 1.34.57
123 Geoff Castle               1.35.13
124 Joe Maning                 1.36.00
125 Gavin Valentine            1.36.47
126 Ardis O'conner             1.36.49
127 Don Johnson                1.37.17
128 Dave Wood                  1.37.23
129 Dean Jervis                1.37.59
130 Terry Read                 1.38.50
131 Steve Martin               1.38.51
132 Nigel Raymond              1.40.04
133 Damon Stowell              1.41.10
134 Steve Cullen               1.41.31
135 Andrew Eales               1.42.30
136 Richard Eltherington       1.43.42
137 Gavin Mortlock             1.44.21
138 John Bullen                1.44.27
139 Steve Couper               1.44.38
140 Garry Wadsworth            1.46.29
141 Scott Barker               1.46.48
142 John Gardiner              1.48.05
143 Jim Sutherland             1.48.06
144 Maurice Heappey            1.48.56
145 Richard Lawrence           1.49.43
146 Marcel Van Den Assum       1.50.43
147 Kevin Palmer               1.51.13
148 Peter Burrell              1.51.14
149 Guy Barker                 1.51.42
150 Mark Davidson              1.52.49
151 John Van Der Spuy          1.53.35
152 John Taylor                1.54.23
153 Perry Loader               1.57.55
154 Jozsef Bognar              2.00.32
155 Michael Burke              2.02.22
156 Peter Taylor               2.03.07
157 Grant Blackie              2.03.36
158 Mike Vanderspeck           2.04.01
159 Alan Mccormack             2.04.15
160 Rodney Barber              2.04.25
161 Stephen Purchas            2.04.32
162 Tony Fenton                2.04.34
163 Simon Firth                2.05.00
164 Marco Kraayvanger          2.08.23
165 Dave Hutchings             2.09.17
166 Neil Cunningham            2.11.34
167 Ed Rafferty                2.15.16
168 George Smart               2.15.31
169 Grant Neilson              2.16.47
170 Roy Hughes                 2.18.30
171 Simon Elphick              2.18.34
172 Clarence Collier           2.19.34
173 Peter Goodman              2.21.05
174 Stephen Gee                2.23.08
175 Bruce Parkes               2.23.11
176 Brian Orman                2.24.18
177 Gary Crawford              2.26.12
178 Mark Meyer                 2.27.42
179 John Moke                  2.32.41
180 Noel Read                  2.34.28
181 Brent Hoy                  2.47.13
182 Les Wilson                 2.48.06
183 Richard Norton             2.55.11
184 Dean Hodgson               2.59.34
185 Marc Ashton                3.18.05
186 Jim Pye                    3.50.04
DNF Keith Alexander                   
DNF Lincoln Bruce                     
DNF Peter Creagh                      
DNF Richard Everitt                   
DNF Cliff Fellingham                  
DNF Martin Firth                      
DNF Andy Gilbert                      
DNF Greg Hamilton                     
DNF Stan Hawkins                      
DNF Bernard Hermans                   
DNF Paul Hudson                       
DNF Donald Macleod                    
DNF Keith Pittams                     
DNF Mike Thomson                      
DNF Ross Wilson                       
DNF Darryl Yakas                      
 
Men 50-59

1 Hans Dielacher               2.46.58
2 Niels Madsen                    4.26
3 Dave Wallace                   13.22
4 Trevor Stevens                 18.22
5 Geoffrey Miller                26.50
6 Peter Lockwood                 27.05
7 Arlo Guthrie                   32.34
8 Michael Revell                 39.27
9 Peter Rothwell                 40.42
10 Robert Carpenter              43.51
11 Phillip Della Barca           44.25
12 Tony Cussins                  45.35
13 Jon Davison                   46.47
14 Noel Eley                     48.41
15 Michael Harte                 55.59
16 Paul Simpson                  56.21
17 Greg Sherley                  57.14
18 David Shillington             57.52
19 John Rowland                  57.57
20 Chris Logan                   59.21
21 Alastair Salmond              59.48
22 Peter Dowers                1.00.57
23 Mark Sweeney                1.04.09
24 Allan Cole                  1.04.43
25 John Pickering              1.05.10
26 Lance Des Landes            1.05.13
27 David Mahony                1.05.50
28 Frank Hofmans               1.06.26
29 Ray Warnock                 1.08.57
30 Perry Ingram                1.10.29
31 Warren Tocker               1.15.41
32 Brent Sullivan              1.16.44
33 Barrie Eccles               1.23.20
34 Brent Harrison              1.29.50
35 Geoff Logan                 1.31.03
36 Tim Frendin                 1.33.14
37 Barry Lindsay               1.34.51
38 Steven Lum                  1.35.53
39 Ron Maher                   1.37.18
40 Bryce Wilkinson             1.38.52
41 Noel Suckling               1.39.27
42 Malcolm Finlayson           1.43.06
43 Joey Groves                 1.44.20
44 Ross Healey                 1.44.24
45 Colin Alexander             1.45.04
46 Tim Cookson                 1.48.48
47 Trevor Mallard              1.49.29
48 Russell Leishman            1.50.10
49 John Vickerman              1.52.23
50 Graeme Mills                1.57.34
51 Bill Clarke                 1.57.40
52 Eric Shaw                   2.05.20
53 Alex Gray                   2.08.19
54 Brydon Mitchell             2.13.07
55 Tom Greenwood               2.15.05
56 Julian Warren               2.25.07
57 Peter Sherwin               2.35.47
58 Phil Pollero                2.38.30
59 Richard Bleyenbergh         3.03.37
DNF Tim Boyd-Wilson                   
DNF Mark Farrell                      
DNF John Hutchings                    
DNF Manfred Spitz                     
DNF Neil Ward                         
 
Men 60-69

1 Noel Pollard                 3.40.18
2 Peter Schmitz                   9.47
3 Tom Clarkson                   12.29
4 Ken Richardson                 16.44
5 Garth Ireland                  24.45
6 Max Clark                      32.28
7 Dennis Jackson                 48.35
8 Ray Scott                      55.53
9 Alister Rhodes               1.00.38
10 Theo Barsanti               1.26.21
11 Doug Stevens                1.30.03
DNF Chris Huff                        
 
Retro

1 Ben Schon                    3.29.46
2 John Thompson                  14.54
3 Theo Deen                      19.15
4 Kevin Dickins                  29.25
5 Ash Vincent                    29.35
6 Tom Stewart                    35.38
7 Adam Ray                     1.09.16
8 Phil Watts                   1.33.00
9 Graeme Tindall               1.59.26
10 Glenn Tocker                2.15.12
 
Singlespeed

1 Turquoise Warrior May        2.40.56
2 Garth Weinberg                  1.38
3 Aaron Reardon                  10.15
4 Tristan Rawlence               11.06
5 Chris Burr                     24.02
6 Bryce Lorcet                   25.35
7 Geoffrey Notman                25.41
8 Paul Smith                     28.39
9 Ben Wilde                      44.51
10 Carl Mcparland                50.53
11 Warwick Styles                51.31
12 Karl Murton                 1.03.27
13 Nathan Farmer               1.04.24
14 Mark Dangerfield            1.07.03
15 Stephen Betts               1.37.25
 
Unicycle

1 Ken Looi                     5.08.18
2 Joe Marshall                   57.38