MTB index page for all MTB content
Cape Epic - S2
South Africa, March 24-31, 2007
Main Page Results Overall standings Previous Stage Next Stage
Stage 5 - March 28: Barrydale - Montagu, 102km
Team Bulls charge back into the lead
Stage 5 winners: Bart Brentjens and Rudi van Houts
Photo ©: Frank Bodenmuller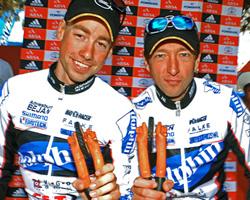 Former Olympic champion Bart Brentjens and compatriot Rudi van Houts of Team Dolphin staged a remarkable recovery to claim victory on Stage 5, on a day that saw six changes in the top-10 positions: including the overall lead. On Tuesday Van Houts was visibly ill and the Dutch duo finished 12th, 21 minutes behind the Stage 4 winners.
But just 24 hours later Van Houts was a different man as he and Brentjens powered through the 102km stage from Barrydale to Montagu in 3:41.32. Fourteen seconds later, the Team Bulls pair of Karl Platt and Stefan Sahm, crossed the finish to claim second on the stage, in the process regaining the race lead. The Germans now have a 1.21 minute lead over Cannondale Vredestein 1's Roel Paulissen and Jakob Fuglsang, who were once again hindered by mechanical trouble.
The Cannondale Vredestein 2 pair of Kashi Leuchs and Axel Bult completed the podium positions in 3:42.11 more than four minutes ahead of their stable mates Paulissen and Fuglsang, who were fifth in 3:46.31. The latter pair punctured just before halfway, and were unable to match the fierce pace of the leading two teams, The Bulls and Team Dolphin, who averaged almost 28kph for the stage.
Riders pass through orchards
Photo ©: Gallo Images

The top four South African teams finished together in a group 20 minutes behind the stage winners, with Raleigh MTN Energade 1's Kevin Evans and Brandon Stewart ending 12th, but retaining the Absa African team leaders' jerseys. Shan Wilson and Jacques Rossouw were eighth followed by fellow Adidas William Simpson squad members, Oliver Munnik and Max Knox in 10th. Raleigh MTN Energade 2's Mannie Heymans and Melt Swanepoel were 11th.
"Brandon and I went with the early break but punctured after 10km. In hindsight it was a probably a blessing because my legs were a bit numb after yesterday's breakaway so we ended up riding tempo with a few other teams to the finish," said Evans. "Hopefully tomorrow we'll feel a bit fresher as there is some climbing towards the end and some of the teams that took it easy today are probably going to be firing tomorrow!"
Karl Platt leads the chase pack.
Photo ©: Gallo Images

Early on Wednesday's stage a break containing most of the leading teams, including Evans and Stewart, moved clear of the field. When the lead group reached the first major climb at 28km, the Multivan Merida 2 duo of Milatz Moritz and Tim Boehme attacked, splintering the pack on the steep, five kilometre, singletrack slope. They set about building a solid lead but then punctured, leaving the Cannondale Vredestein 2 pair of Leuchs and Bult to ride in front alone in search of stage glory.
But a hard chasing quartet comprising Team Dolphin (Brentjens/Van Hout) and The Bulls (Platt/Sahm) eventually caught and passed Leuchs and Bult and charged relentlessly on to the finish: The Bulls trying to regain the race lead and Team Dolphin in search of a pride-salvaging stage win. With three kilometres remaining, Brentjens attacked hard and Van Hout was able to join him in the move that gave them the advantage they needed to secure the stage win.
Kashi Leuchs leads the breakaway
Photo ©: Gallo Images

Changes in the top 10 saw Cannondale Vredestein 1 slip to second and Team Bulls reclaim the top spot. Team Dolphin moved up from fourth to third with the Multivan Merida 1 pair of Ralf Naf and Jose Hermida, winners of Stage 4, slipping down a position to fourth. And the all-German Stevens team of Johannes Sickmeuller and Rene Birkenfeld continued their good form with a seventh place on the stage that moved them into seventh on GC, pushing the Raleigh MTN Energade 1 team down one notch to eighth.
It was business as usual for Anke Erlank and Yolande de Villiers (Duravit) and Yolande Speedy and Paul Cordes (IMC Mongoose) who won their fifth consecutive stages in the Women's and Mixed categories respectively, while 55-year-old Linus van Onselen and partner Doug Brown (Absa Masters) outsprinted Cycle Lab's Andrew McLean and Damian Booth to claim their first stage win in the Master's division.
Stage 6, a 111km haul from Montagu to Villiersdorp, holds 1565m of climbing in store for the participants, virtually all of it coming in the second half.
Photography
For a thumbnail gallery of these images, click here
Images by Frank Bodenmuller/PhotoSport International
Images by Gallo Images
Results
Men
 
1 Team Dolphin – Bart Brentjens (Ned)/Rudi van Houts (Ned)                 3.41.32
2 Team Bulls – Karl Platt (Ger)/Stefan Sahm (Ger)                             0.14
3 Cannondale Vredestein 2 – Kashi Leuchs (NZl)/Axel Bult (Ned)                0.39
4 Texner-Stoeckli – Thomas Zahnd (Sui)/Sandro Spaeth (Sui)                    4.35
5 Cannondale Vredestein 1 – Roel Paulissen (Bel)/Jakob Fuglsang (Den)         4.59
6 Trek Volkswagen – Alban Lakata (Aut)/Peter Roman (Sui)                      6.59
7 STevens – Johannes Sickmeuller (Ger)/Rene Birkenfeld (Ger)                  7.29
8 Adidas William Simpson 1 – Shan Wilson (RSA)/Jacques Rossouw (RSA)         19.55
9 Texner BMC Acqiris – Jonas Vuille (Sui)/Vullioud Phillipe (Sui)            19.57
10 Adidas William Simpson 2 – Max Knox (RSA)/Oliver Munnik (RSA)             20.03
11 Raleigh MTN Energade 2 – Mannie Heymans (NAM)/Melt Swanepoel (RSA)        20.07
12 Raleigh MTN Energade 1 – Kevin Evans (RSA)/Brandon Stewart (RSA)               
 
Masters
 
1 ABSA Masters – Linus van Onselen (RSA)/Doug Brown (RSA)                  4.14.44
2 Cycle Lab – Andrew McLean (RSA)/Damian Booth (RSA)                              
3 Marsillio Projects – Lieb Loots (RSA)/Tony Conlon (RSA)                     2.42
 
Mixed
 
1 IMC Mongoose – Yolande Speedy (RSA)/Paul Cordes (RSA)                    4.24.25
2 Maloja BTS – Ivonne Kraft (Ger)/Nico Pfitzenmaier (Ger)                     3.13
3 ABSA Pro Mixed – Geddan Ruddock (RSA)/Jean Ann McKirdy (RSA)                8.32
 
Women 
 
1 Duravit – Anke Erlank (RSA)/Yolande de Villiers (RSA)                    4.19.49
2 Texner BMC Thoemus – Myriam Saugy (Sui)/Fabienne Heinzmann (Sui)           30.44
3 Adidas Fiat Rotwild – Kerstin Brachtendorft (Ger)/Daniele Troesch (Fra)    43.21
 
 
General Classification after Stage 5
 
Men 
 
1 Team Bulls – Karl Platt (Ger)/Stefan Sahm (Ger)                         21.52.34
2 Cannondale Vredestein 1 – Roel Paulissen (Bel)/Jakob Fuglsang (Den)         1.21
3 Team Dolphin – Bart Brentjens (Ned)/Rudi van Houts (Ned)                   38.50
4 Multivan Merida 1 – Ralf Naf (Sui)/Jose Hermida (Esp)                      47.53
5 Trek Volkswagen – Alban Lakata (Aut)/Peter Roman (Sui)                     50.08
6 Texner-Stoeckli – Thomas Zahnd (Sui)/Sandro Spaeth (Sui)                 1.00.43
7 Stevens – Johannes Sickmeuller (Ger)/Rene Birkenfeld (Ger)               1.17.00
8 Raleigh MTN Energade 1 – Kevin Evans (RSA)/Brandon Stewart (RSA)         1.20.41
9 Raleigh MTN Energade 2 – Mannie Heymans (NAM)/Melt Swanepoel (RSA)       1.32.08
10 Adidas William Simpson 1 – Shan Wilson (RSA)/Jacques Rossouw (RSA)      1.51.21
 
Masters
 
1 Cycle Lab – Andrew McLean (RSA)/Damian Booth (RSA)                      25.00.46
2 ABSA Masters – Linus van Onselen (RSA)/Doug Brown (RSA)                    20.43
3 Red Mongoose – M.C. Franken (RSA)/Fred Coleske (RSA)                       47.45
 
Mixed
 
1 IMC Mongoose – Yolande Speedy (RSA)/Paul Cordes (RSA)                   25.40.07
2 Maloja BTS – Ivonne Kraft (Ger)/Nico Pfitzenmaier (Ger)                    31.09
3 ABSA Pro Mixed – Geddan Ruddock (RSA)/Jean Ann McKirdy (RSA)               55.19
 
Women
 
1 Duravit – Anke Erlank (RSA)/Yolande de Villiers (RSA)                   26.31.51
2 Texner BMC Thoemus – Myriam Saugy (Sui)/Fabienne Heinzmann (Sui)         2.53.23
3 Adidas Fiat Rotwild – Kerstin Brachtendorft (Ger)/Daniele Troesch (Fra)  3.02.59