MTB index page for all MTB content
Cape Epic - S2
South Africa, March 24-31, 2007
Main Page Results Overall standings Next Stage
Stage 1 - March 24: Knysna - Uniondale, 101km
Stefan Sahm and Karl Platt Win 1st Stage of Absa Cape Epic
The riders roll out of Knysna
Photo ©: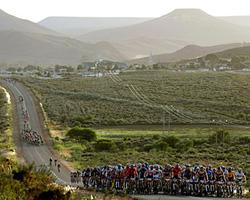 The 2007 Absa Cape Epic presented by adidas got off to a sufficiently gruelling start today, with the 1206 participating riders completing the first leg-crunching stage of the eight-day race. Hundreds of supporters gathered at the Knysna Waterfront to see riders set off on the first leg of the race at a chilly 7.00am.
The men's race ended in a thrilling sprint-finish, with Team Bulls and Team Cannondale-Vredestein 1 vying for first place in the last few metres of the stage. Winners, Stefan Sahm (D) and Karl Platt (D) came in at 4:01.16,1, just 0.5 seconds ahead of Roel Paulissen(B) and Jakob Fuglsang (DK), whose official time was 4:01.16,6. With this somewhat unexpected result for first place, the remainder of the top five reads like a who's who of mountain biking, with Ralph Naef (CH), reigning UCI World Marathon Champion, and team mate Olympic medalist Jose Hermida (E) coming in third, last year's Absa Cape Epic winner Silvio Bundi (CH) and Gion Manetsch (CH) fourth and Olympic Gold medallist Bart Brentjens (NL) and Rudi van Houts (NL) fifth.
Roel Paulissen (Cannondale-Vredestein) leads a bunch
Photo ©:

"This is my inaugural Absa Cape Epic and the first time that Karl and I ride together in a team race", says Stefan Sahm. "I can hardly believe that we won the first stage, neither one of us expected it. And to be the first to put on the leader jersey at the 2007 Absa Cape Epic is very special. I've really enjoyed the ride today, the scenery was gorgeous. But I had to push hard to keep up with Karl. He was the stronger one." The overwhelming display of emotion onde Stefan and Karl had crossed the finish line could not be denied. "For us this victory is very important", Karl explains. "We have formed a new team with new sponsors who are very motivated to work with us and now we can give something back. Of course, there was also a bit of luck involved, too because we we've been riding together with Roel and Jakob and then won the sprint finish."
The first stage challenged riders to a total of 101 kilometres with 2 660 metres of climbing. The initial 50 kilometres saw over 600 two-person teams moving through lush indigenous forest, with 660 metres of ascent in just the first 20 kilometres. Teams then headed north, leaving the shade of the forest behind them, to complete the remainder of the route under the harsh Klein Karoo sun, with the major test of the day still to come. On reaching the water point at the base of the Prince Alfred's Pass, teams were faced with an exhausting climb of 14 kilometres and 272 metres up the Pass, topped with a false crest 2 kilometres short of the full height. It was here that team Cannondale-Vredestein 1 put the hammer down and attacked. Team Bulls and team Dolphin with Bart Brentjens and Rudi van Houts were the only ones able to sustain the pace. While the top riders played race tactics in the gruelling ascent, tired legs were tested in the back of the field in the final stretch to Uniondale with the loose and twisty historic Wagon Trail leading riders into the town to the finish line.
A helicopter looks over riders
Photo ©:

Defending Masters champion Linus van Onselen (54) of team Absa had a bad start into the race experiencing cramps but a great deal of support from his team mate, Doug Brown (46), who used to be one of his strongest competitors in previous years. "The end of the race was a dry, long and difficult climb," explained Linus at the finish line. "The last climb was made even more difficult by loose stones that prevented me from getting a rhythm. But I always say it's not how you start, it's how you finish." Linus and Doug finished third today with a five and a half minute delay.
The leading Ladies team, Duravit, with Anke Erlank (RSA) and Yolande De Villiers (RSA), rode a phenomenal race today finishing in 33rd position overall and just 44 minutes after World Cup Champion, Roel Paulissen. Yolande is a mother of three and works full time, training early mornings and late at night. Anke felt that the strength of her team partner had pulled her through today's race at a time when she had 'no legs'.
Stefan Sahm and Karl Platt (Bulls Team)
Photo ©:

Once in Uniondale, riders were met with hundreds of community supporters, mostly children, proudly waving hand-made flags. Even more spectacular for first timers to the Absa Cape Epic was the first sighting of the tented race village; a regimental spread of more than a thousand tents, dining marquees, masseuse stalls and mobile homes. The energy was at fever pitch as local and international media swarmed on and off the field seeking interviews with the top riders from all over the world.
After a re-fuel and rest, riders will set off at 7.00am tomorrow morning, to face the second stage, spanning from Uniondale to Oudtshoorn. This leg will see riders covering 132 kilometres and
2 245 metres of climbing, complete with the ironically named Stairway to Heaven – a brutal one kilometre section that climbs 169 metres at over 22 per cent.
Photography
For a thumbnail gallery of these images, click here
Images by Bodenmuller/PhotoSport International
Results
1 Stefan Sahm and Karl Platt (Bulls Team)                        4.01.16
2 Roel Paulissen and Jakob Fuglsang (Cannondale-Vredestein)             
3 Ralph Naef and Jose Hermida (Multivan Merida)                     2.36
4 Silvio Bundi and Gion Manetsch (Giant/Athleticum)                 4.10
5 Bart Brentjiens and Rudi van Houts (Dolphin Mountainbike Team)    6.05